Do you wish that you could find fast ways to save money without trying? Let's not beat around the bush – Saving money on a shoestring budget isn't easy. Just thinking about making sacrifices, having to shop around for sales, and sticking to a budget can seem stressful.
One thing is for certain though, we all want to save more money. And when we take control of our finances, this can help reduce and eliminate some of that money-related stress. That's why I enjoy finding unexpected ways to save money.
Today I'm sharing a round-up of creative ways to save money money without noticing. I also included a free savings challenge that can you save money fast on a low income.
Related Posts: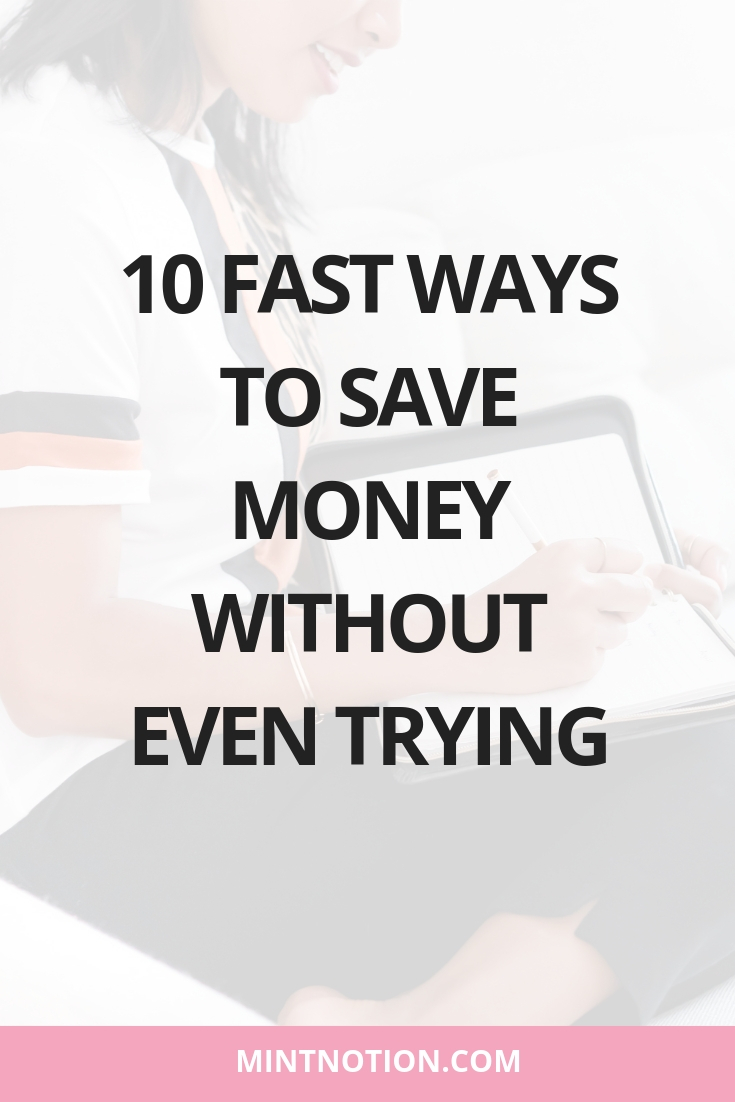 1. Try a money saving challenge
If you're a spender at heart (like me), it can be hard to stay motivated when saving money. One of the best ways I found to help me stick to my financial goals and save money on a tight budget is to do a savings challenge. That's because the secret to saving money is to make it fun.
There are many different money savings challenges you can do, depending on your goals and how much you would like to save. Here is one of my favorite savings challenges that I recommend trying. For me, this provides a realistic way to save money.
Watch me save money challenge
Can you cut back on frivolous spending for one week? If you set your mind to it, most people can stick to a new habit for at least one week.
If you can stick to a new habit for one week, this can help boost your confidence so you can continue to follow the new habit.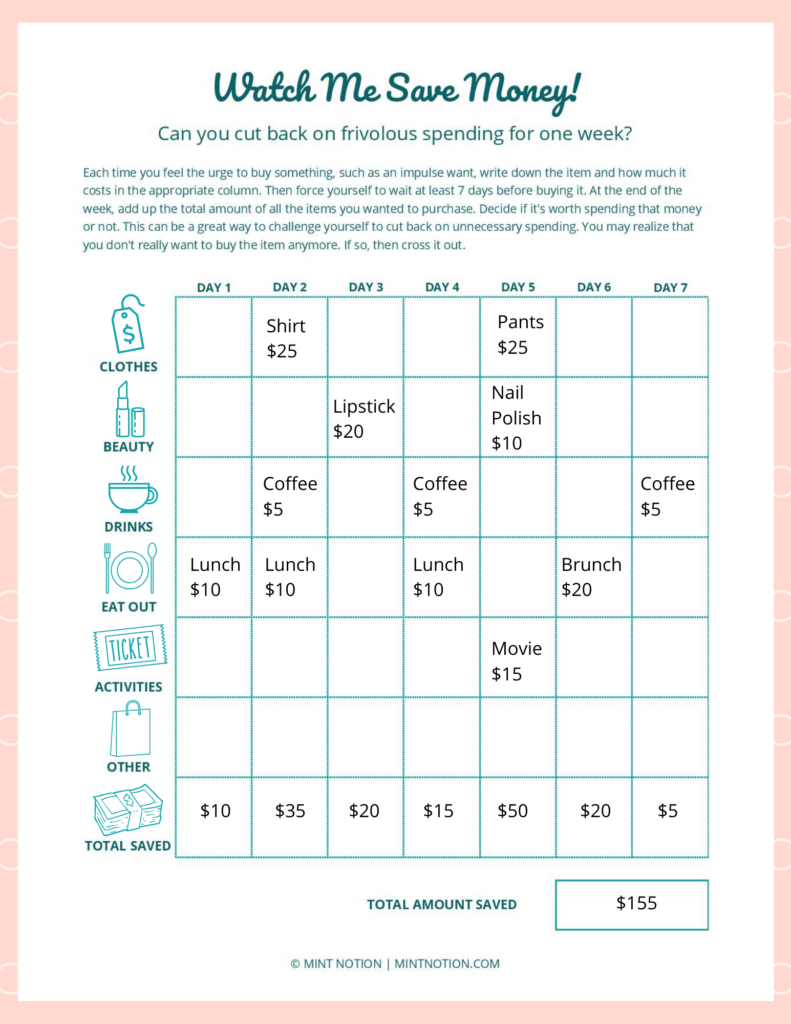 HOW IT WORKS:
Each time you feel the urge to buy something, such as an impulse want, write down the item and how much it costs in the appropriate column. Then force yourself to wait at least 7 days before buying it.
At the end of the week, add up the total amount of all the items you wanted to purchase. Decide if it's worth spending that money or not.
This can be a great way to challenge yourself to cut back on unnecessary spending. You may realize that you don't really want to buy the item anymore. If so, then cross it out.
Here's an example:
Day 1: I made lunch at home instead of getting fast food. This saved me $10.
Day 2: I saw a cute shirt on sale at Target, but decided to not buy it because I didn't need it. This saved me $25. Instead of grabbing a latte at Starbucks, I made coffee at home. This saved me another $5. Then I decided to eat lunch at home again, which saved me $10.
Day 3: I saw a new lipstick color at the mall, but I already have makeup that I need to use at home. By not purchasing it, this saved me $20.
Day 4: I was tempted to grab a coffee in the morning, but decided to make it at home. This saved me $5. I also ate lunch at home instead of getting fast food. This saved me $10.
Day 5: I saw cute lounge wear pants online. I decided not to buy it because I already own lots of comfy clothes. This saved me $25. I was tempted to buy more nail polish, but I didn't need it. This saved me $10. My boyfriend wanted to go to the movie theater, but we decided to watch a funny movie on Netflix instead. This saved me $10.
Day 6: I was tempted to go out for brunch. But we decided to make quick brunch at home instead. This saved me $20.
Day 7: I wanted to go to Starbucks while I was at Target, but decided to enjoy coffee at home instead. This saved me $5.
Here's what you can include in each spending category:
Clothes – This is includes any clothing, shoes, and accessories.
Beauty – This includes makeup, skincare, hair care products, and so on.
Drinks – This includes coffee shop visits, tea, smoothies, juices, alcoholic drinks, and so on.
Eat out – This includes eating at restaurants, take-away, food delivery, and so on.
Activities– This includes entertainment and other fun stuff.
Other – This includes miscellaneous spending, such as home decor, tech gadgets, and kid stuff.
Related Post: How to save $500 in 30 days
2. Automate your savings with Trim
Trim believes that saving money should be easy. That's why they created their free app to help you automate your savings. It analyzes your accounts to find recurring subscriptions and determine where you can save money.
Here are some ways you can save money with Trim:
Trim can negotiate your cable or internet bill
Trim can find and cancel unwanted subscriptions
Trim can automate your savings
Trim can help you say goodbye to debt
Trim has saved their users over $1,000,000 in the last month. Simply sign up here to see how much you can save and get your results in less than a minute.
3. Earn cash back with Rakuten
Rakuten (formerly Ebates) is free to join and it's my favorite way to earn cash back when shopping online. Rakuten will even apply coupons for you automatically at checkout so you'll always know you're getting the best price.
Plus, you'll get a free $10 welcome bonus just for signing up!
I've earned over a thousand dollars by shopping through Rakuten. One thing I will note is that you should never buy something and use the excuse "It's okay to buy this because I can earn cash back". Only make a purchase if you actually need and can afford to get the item.
How to claim your free $10:
Start here to sign up for Rakuten. (It's free to join)
Find your store on Rakuten next time you need to buy something. It's connected to over 2,000 stores, including Amazon, Target, and Walmart. You'll need to spend at least $25 on your first purchase within 90 days.
Your Rakuten account will be credited with reward points. Get this cash sent to a PayPal account or choose to receive a Big Fat Check from Rakuten. It's up to you!
For Canadian shoppers, you can click here to sign up for Rakuten (free $5 welcome bonus).
4. Track your spending and build your savings
When I used to live paycheck to paycheck, it seemed like every week I was left scratching my head and wondering – Where did all money go?
I tried creating a budget, but could never get it to work. I then realized that I needed to track my spending. This was the best way for me to understand where my money was going and to make sure that I was sticking to my budget.
Tracking your spending can also help you identify your current spending habits and show where you can make improvements. Plus, when you take ownership of your finances, this can help you feel less anxious about money.
You can use an app to track your spending, but I like to write everything down on paper. I recommend doing the same because this is the best way to actually see where your money is going. I use this Expense Tracker printable to keep track of my monthly spending.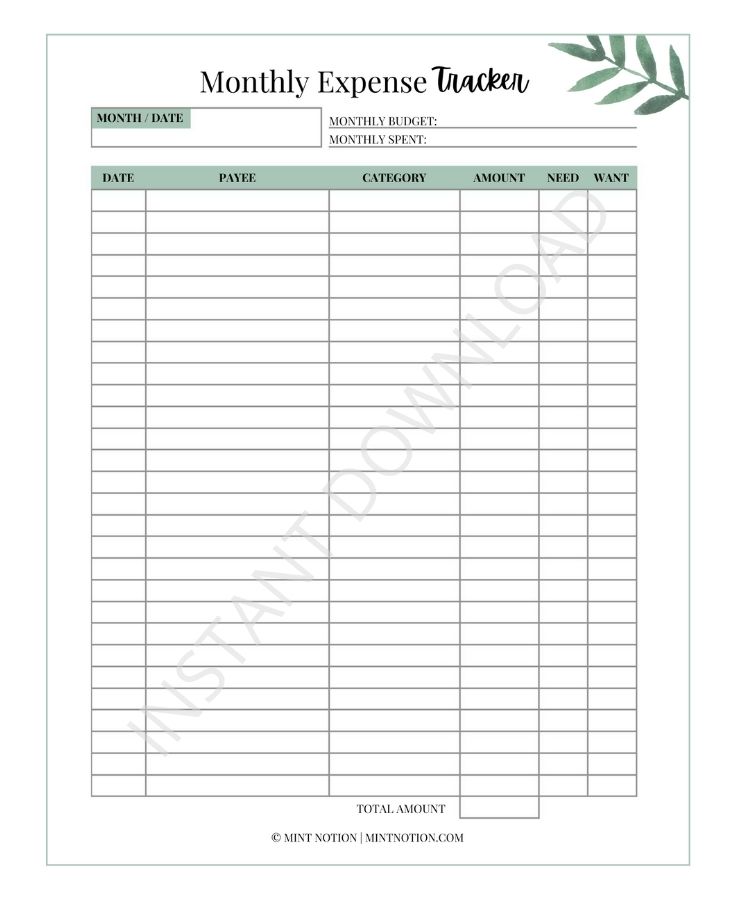 The worksheet is included in my Budget Binder.
5. Automate your savings
Life is so busy today. This is why it's important to find ways to automate your savings so your money can work for you. I already mentioned how the free app, Trim can help you save money on recurring bills.
Another way to save money is to pay yourself first. This means transferring a portion of your pay check into a savings account each time you get paid. You can set up automate transfers with your bank to make it easy. This can be a great way to save money without knowing.
While most financial experts recommend putting at least 10% of your paycheck towards savings, I can appreciate how difficult this can be for those living paycheck to paycheck. In this case, I recommend putting whatever amount you can afford. Even if it's just $10 each week, every little bit helps.
When I was living paycheck to paycheck, I could only afford to add $10 each week to my savings account. Then I found ways to cut back on my spending and increase my income so I could contribute more towards my savings each month.
Want to increase your savings even more? Consider investing your money. While there are no guarantees with investing, it can be an easy way to watch your savings grow.
A simple way to start investing money without much effort is to use Acorns. This is actually one of the easiest ways to make money. Especially if you're new to investing and don't know where to start. You'll even get a $5 welcome bonus just for signing up.
Sign up with Acorns today and claim your free $5 bonus
6. Earn free gift cards with Swagbucks
Swagbucks is a loyalty rewards program that allows you to earn free gift cards when you play games, shop online, watch videos, take surveys, surf the web, and more.
They even have a mobile app so you can earn free gift cards on the go. This is an easy way to save money and it can be fun too. You can click here to get a $5 bonus sign-up bonus with Swagbucks.
How it works
Step 1: Join For Free. You can click here to sign up for Swagbucks.
Step 2: Earn Points. Shop online, watch cool videos, search the web, or answer surveys to earn points.
Step 3: Get Free Gift Cards. Redeem your points for free gift cards to your favorite retailers such as Amazon, Target, and Starbucks. Or you can choose to get cash back from PayPal.
Related Post: 20 free ways to make extra money
7. Get paid for your opinion
Companies are willing to pay you to get your opinion. If you're looking for an easy way to make money fast, this can be a great option. I started doing online surveys when I was in college to help me make extra money. It's been a good way to help my bank account grow each month.
PRO TIP: Earn the most money when you sign up for several survey websites. Then you'll get to choose the surveys which pay the most money. Save time and earn more cash!
Survey Junkie – This is my favorite legit survey company and it's a great way to make money. It's one of the largest survey companies in the world. It's similar to Swagbucks, where you'll earn points for each survey you complete. Then you can exchange your points for cash paid directly to a PayPal account, or you can redeem your points for a gift card. It's super easy.
Sign up to start making money with Survey Junkie today
Other survey companies I recommend checking out include Swagbucks, Branded Surveys, Inbox Dollars, and Toluna Influencer.
8. Increase your income
If you've already worked hard to cut back on unnecessary spending, but you're still finding it difficult to save money, then you may want to consider looking for ways to increase your income.
Making extra money can help you save more each month, reach your financial goals, and pay off debt faster.
Here are some ways you can boost your income:
Ask for a raise
Find a second job
Find a new, higher-paying job
Get a side hustle
More than one-third of Americans engage in a regular side hustle. If you're short on time and don't want to take on extra hours with a second job, a side hustle can be a great opportunity for you. With a side hustle, you can work from home, so you can still spend quality time with your family while making extra money.
Related Posts:
9. Avoid the temptation to spend money
This may be the easiest way to save money – simply avoid the temptation to spend.
If you know that you'll be tempted to shop online while waiting for your dentist appointment, delete ALL shopping apps from your phone.
If you know that you're tempted to shop online whenever you open a sales email, then unsubscribe from ALL retailer emails.
If you know that you'll be tempted to add extra items to your cart when shopping at the grocery store, then choose for grocery delivery or pick up instead.
The best part about avoiding the temptation is that you don't have to rely on using willpower to fight the urge to overspend.
For example, if you go in the store and see a cute jacket, you may start thinking about places you'll want to wear that jacket, such as a brunch with friends. Then you'll look at the price tag and see that it's on sale. Then you'll instantly start coming up with reasons to justify why you need to buy it.
Instead of putting yourself in a position to "fight" this urge, avoid the temptation by not entering the store in the first place.
Related Post: 5 ways to stop overspending on impulse shopping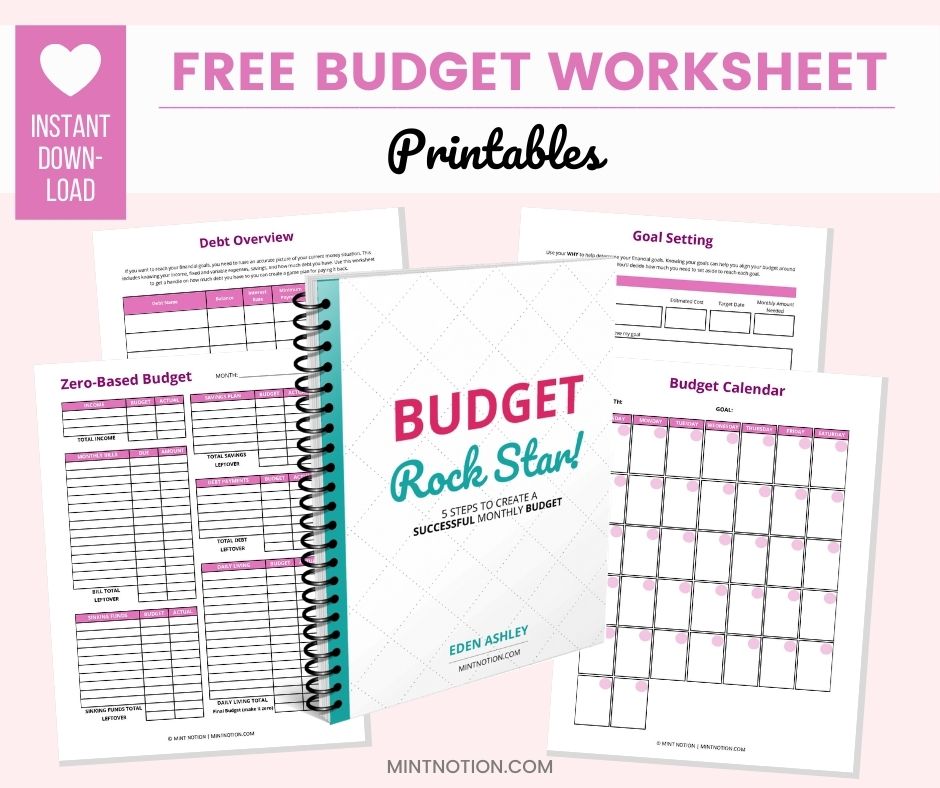 10. Ditch the plastic and switch to cash
Studies have shown that people are willing to spend more (up to 83%) when paying with credit card instead of cash. This is because credit card payments may not be as noticeable as paying with cash.
We don't realize the pain of our payment until the bill comes in weeks later. So if you're having trouble sticking to your budget, leave the credit cards at home and switch to a cash diet instead.