Are you looking for legitimate stay-at-home mom jobs that you can do online or require no experience?
Many women ask how they can be a stay at home mom and make money. Being able to enjoy the flexibility of staying at home with your kids and making money on your own schedule is possible. There are many work from home jobs for moms with no experience required.
It's not easy being a working mom. Finding work outside of the home can be difficult after taking time off to have a baby. Plus, daycare is expensive, which can make it hard to save money.
However, for many families, it's necessary to have two working parents to help contribute financially to the household. This is why many women are in search for legit stay-at-home mom jobs to make money online.
That's why I'm sharing some of the best side jobs for stay-at-home moms. Many of these jobs ideas require no experience or degree.
There are over 10 million women-owned businesses in the United States. And according to a recent survey, 90 percent of women say the desire for family flexibility is the number-one reason they chose to work from home.
Related Posts:
Benefits of Working from Home
There are many reasons why you may want to work from home. Even for those (like myself) who don't have kids yet, prefer to work from home. Being able to work in my pajamas on the couch each day is freeing. Of course there are a number of other benefits for to choosing one of these stay-at-home mom jobs, including:
Flexible hours.
More time with your kids.
Save money on childcare.
Save time + money on commuting.
You get to wear comfortable clothes.
You'll have a better work/life balance.
Today I'm excited to share with you some of the best stay-at-home mom jobs. Many of these jobs don't require a college degree or tons of work experience to get started. Choose the job idea that appeals to your talents and interests.
1. Start a blog
Out of all different ways to make from home, blogging is one of my favorite stay-at-home mom jobs. And I truly believe this is the BEST job for moms with no degree.
Benefits of starting your own blog:
IT'S CHEAP – The start-up costs are low. You can start your own money-making blog for as little as $2.95 USD per month.
FLEXIBILIE SCHEDULE – You can blog any time of day (or night) that works for you.
LOCATION-INDEPENDENT – You can run your blog from anywhere that has an internet connection. You just need a computer or laptop get started.
NO TECH KNOWLEDGE REQUIRED – You don't need to learn coding or a bunch of technical skills. Bluehost makes is easy to set up and run your own blog. Anyone can do it!
If you're interested in starting your own blog, check out my free step-by-step guide. It'll show you how to easily get started. It takes just a few minutes to get your blog up and running.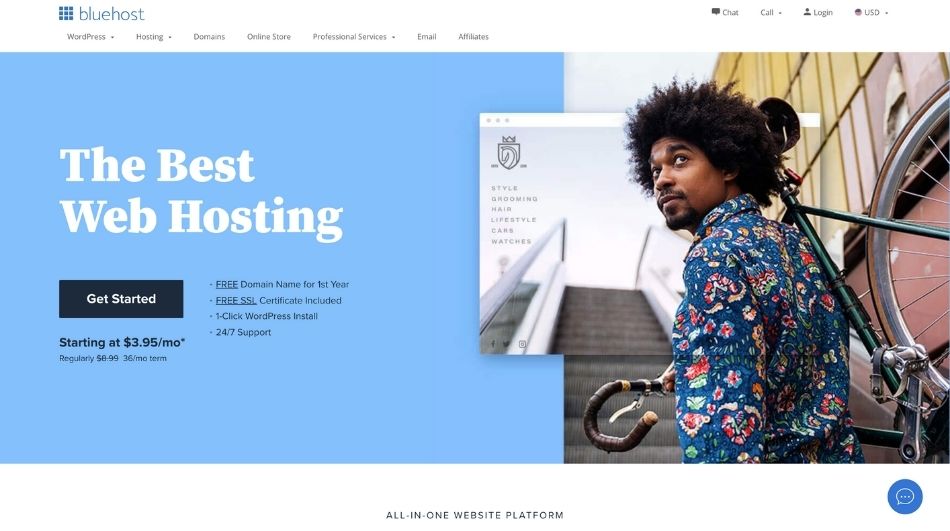 One of the best parts about blogging is that you can make passive income. For example, last summer I flew across the country to visit my dad for a week. I brought my laptop, but I barely touched it because I was busy doing family activities.
Despite taking a week off from working, I still earned passive income from my blog. It was actually one of my most profitable months ever from blogging!
I didn't know anything about blogs when I first started this website. I learned everything from scratch. Now I love connecting with people all over the world. It's pretty amazing how special blogging can be.
Blue Host is offering a great deal right now for getting your blog up and running. They make it quick and easy to get started. It's the web hosting company I used to start this blog, which is why I like recommending them. No tech knowledge required!
Save over 60% off the price of your blog with this special offer (expiring soon)!
Related Posts:
2. Make money on Pinterest
Did you know that you can get paid to pin on Pinterest?
If you enjoy using Pinterest, you can make money online as a Pinterest virtual assistant or Pinterest Manager. As a Pinterest VA, you can help build a client's reach on Pinterest and maintain their presence on the social media platform.
According Kristin, the mastermind behind Become a Pinterest VA, an absolute beginner can earn around $25-$35 per hour.
Some Pinterest VAs and Pinterest Managers can earn up to $100 per hour. The amount of money you make will depend on your experience, skills, education, and so on.
If you think this might be a good opportunity for you, check out Kristin's free workshop.
Read Next: 5 brilliant ways to make money on Pinterest
3. Bake and sell dog treats
If you like dogs and enjoy baking, selling homemade dog treats can a great way to make money from home.
Did you know that the global pet care market was valued at $150.67 billion in 2021? People LOVE to spend money on their pets and treat them as part of the family.
The demand for healthy dog treats is high and continues to grow. This is because most pet treats at big-box stores are really bad for dogs and filled with unhealthy filler ingredients.
You can make and extra $500-$1,000+ per month selling homemade dog treats!
My friend Kristin from Diva Dog Bakery, thought it would be fun to make her own homemade gourmet dog treat.
She started recipe testing in her kitchen using quality ingredients that she felt good about feeding her dog and came up with an all-natural treat that looked great and her dogs loved.
That's when her dog bakery business, Diva Dog Bakery, was born! Below are some of the healthy dog treats she created and sold in her Etsy shop!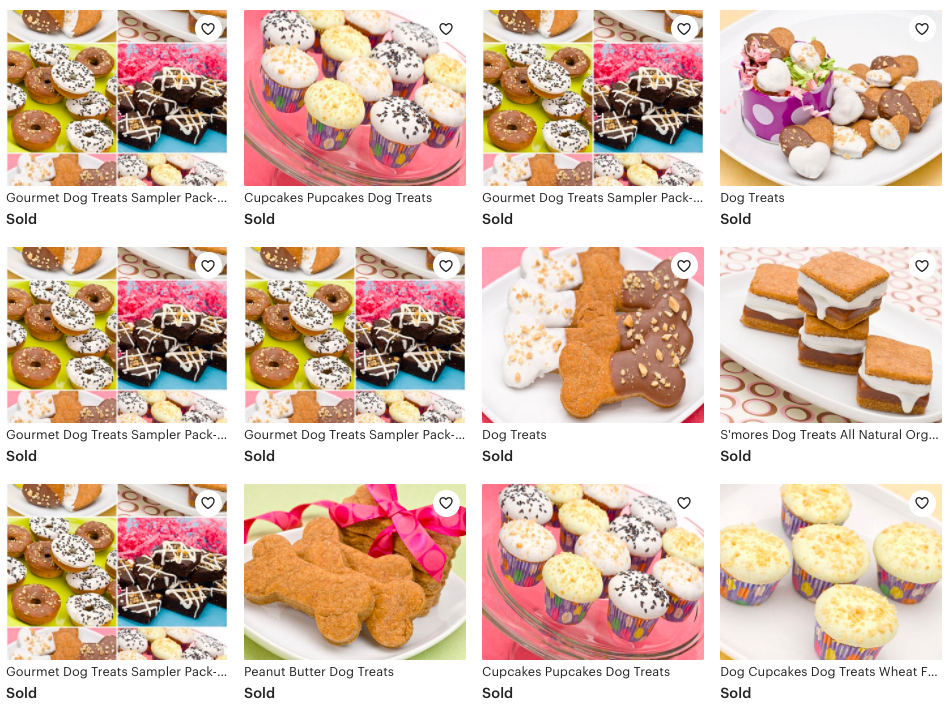 She set up an Etsy Shop to promote and sell her dog treats. On the weekends, she also started selling at a nearby farmer's market. Any leftover treats were dropped off at her local animal shelter, so it was a win-win for everyone.
FREE Workshop: If this sounds like a fun opportunity for you, consider checking out Kristin's free workshop. She'll show you how to start your own dog bakery business from home – no baking experience required!
4. Virtual Assistant
A virtual assistant provides services to organizations, companies or individuals. VAs are in HIGH demand today, especially with the rise in online business owners and bloggers. This can be one of the best stay-at-home mom jobs to do part-time.
Whether it's responding to emails, creating graphic designs, or proofreading, there's a wide range of tasks a VA can offer. Check out this in-depth guide on how to become a virtual assistant — even if you have no experience.
How much can you make as a virtual assistant?
According to Ziprecruiter.com, the average North American virtual assistant salary earns $35 to $50 per hour.
Some earn as high as $100 per hour and others as low as $20 per hour. How much you can make will be based on experience and skills.
My friend Kayla Sloan, the mastermind behind $10K VA, started her VA business from scratch. In the beginning she was making $15 an hour, but it didn't take long before she was able to scale her business and earn over $10,000 a month as a virtual assistant.
She knows exactly what works and what doesn't work, so you don't waste your time focusing on the wrong things.
If you're interested in becoming a virtual assistant, consider checking out Kayla's free workshop. She'll teach you how to become a successful VA in just 5 simple steps.
Read Next: How to become a virtual assistant and work from home
5. Proofreader
If you enjoy reading and are good at catching grammatical mistakes, then working from home as a proofreader is one of the most popular stay-at-home mom jobs.
What does a proofreader do?
As an online proofreader, you are the last set of eyes to look at a piece of copy before it goes live to the public. This means you take content that other people have written and proofread it with a fine-tooth comb.
Want to learn more about becoming a proofreader? Check out this post on how to work from home as a proofreader.
One of the best parts about making money as a proofreader is that you can set your own hours and work from anywhere that has an internet connection. All you need is your computer or laptop to get started.
How much can you make as a proofreader?
According to Salary.com, the average proofreader salary in the USA is $50,846 per year as of February 2019. The amount of money you make will depend on your experience, skills, education, and so on.
How to Get Started as a Freelance Proofreader:
While formal training isn't necessary to get started as a proofreader, brushing up on your skills can definitely help you stand out from the crowd.
My friend Caitlin over at Proofread Anywhere is one of the most talented proofreaders out there. As a former freelance proofreader, she has compiled all of her knowledge into a comprehensive course: General Proofreading: Theory & Practice™.
If you're not ready yet to invest in this course, I recommend checking out Caitlin's FREE 76-minute workshop. Here you'll learn how to elevate your skills and find paid work as a proofreader. Her workshop is completely free to join. You can sign up here.
6. Freelance Writer
Companies and online businesses are always looking for new content to share with their readers. This can be a great option for you if you're not yet ready to launch your own blog, but want to dip your toes into writing.
As a freelance writer, you can write for one just one publication or choose to write for many different online publications at a time. It's up to you! This can let you leave the 9 to 5 behind and set your own hours, making it the perfect stay-at-home mom job.
How much can you make as a freelance writer?
As of May 2011, freelance writers earned a mean of $97,300 per year (or $46.78 per hour), according to the U.S. Bureau of Labor Statistics.
How to get started as a freelance writer:
To help you stand out from the crowd and jump-start your success, I recommend checking out Holly's e-coure: Earn More Writing. In her course, Holly will teach you the exact strategies she used to go from making $0 to over $225,000 from freelance writing.
Holly Johnson is a professional blogger and columist. Her course is different from other freelance writing programs because she actually teaches you how to find and land the type of work you want.
She also earns a living from freelance writing, not just selling courses. You'll learn from someone who knows the business and writes for a living. If you're serious about getting into freelance writing, you can learn more about her program and sign up here.
7. Sell Photos Online
If you're good at taking photos, you could easily earn some extra money by selling your photos online. This is one of the best stay-at-home mom jobs. Companies and online business owners (especially bloggers) are always looking for images to use for their websites or marketing materials.
With this stay-at-home mom job, you have many opportunities to sell your photos online for cash. This can be a great way to earn passive income while you're busy taking care of other things.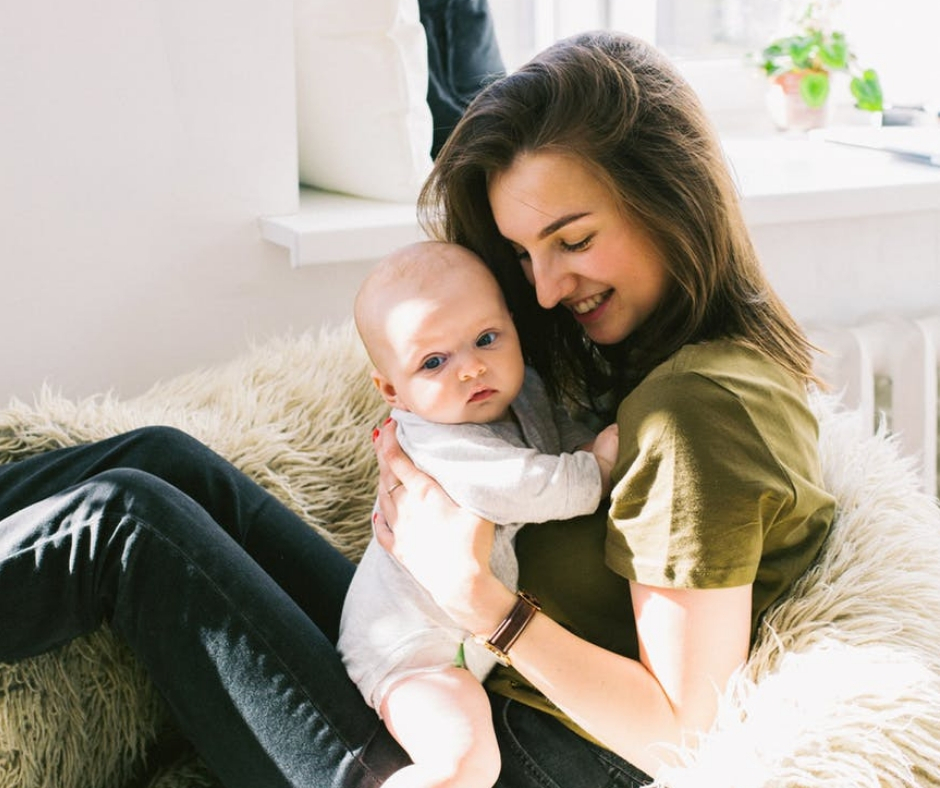 What type of photos are people buying?
Photos in high demand right now include images of people (kids, adults), people working, travel, food, cities, nature, and photos of things (tools, books, laptops).
Best Places to Sell You Photos:
Sell photos on your own website. This is the most popular way to sell photos online. You can set your own prices and have 100% control over how you display your photos. Check out this simple guide on how to create your own photography website.
Shutterstock. This is a great option for those who are not ready to start their own website. Shutterstock has paid out more than $500 million worldwide to their contributors. To get started, simply upload your content to their easy-to-use platform.
Deposit Photos. This website makes it easy to start selling your photos. Simply click here to create your free account and upload your best content. After your account has been approved, you can start selling and earning cash for your photos.
iStock. This is another popular stock photo website where you can sell your photos online. Simply head to iStock.com and scroll to the bottom of the page and click "Sell Stock" to create your free account.
Getty Images. This is well-known stock photography website, serving over 1.5 million customers worldwide. As a contributor, you can make money selling your photos. Learn more here.
8. Become a podcast assistant
If you enjoy working with audio, another great way to make $30-$50 per hour as a podcast virtual assistant.
Podcast assistants help clients manage and market their podcasts. No matter what your skillset is, there is something you can likely offer.
If you're interested in learning how to become a podcast assistant, check out Melanie's free guide. She's a former podcast assistant and helps others kick-start their podcast career.
She also offers a comprehensive course, Podcast Production School, that'll show you everything you need to know to help business owners launch, manage and grow a successful podcast.
Read Next: How to become a Podcast virtual assistant
9. Airbnb Host
Do you have an extra room or space in your home? You could be making some decent money by renting out your space on Airbnb.
With over 6 million listings worldwide, Airbnb is one of the fastest growing online marketplace and hospitality services. Members can use its website or mobile app to arrange or offer homestays or tourism experiences.
I personally use Airbnb all the time when traveling. I prefer Airbnb over hotels because it feels more homely. This can be an excellent stay-at-home mom job to make extra money.
What does an Airbnb Host do?
As an Airbnb host, you can make money by hosting travelers in your home. Whether it's a spare room, or your entire place, you're in full control over your availability, prices, house rules, and how you choose to interact with guests.
How much money can you make as an Airbnb Host?
How much money you can make will be based on your pricing, type and location of your listing. In Toronto for example, you can make nearly $1,000 per month by sharing your spare room on Airbnb.
I know some people who make an easy $2,000+ per month just by renting out their home on the weekends, especially during high travel season. On weekends when your place is booked, you can travel to visit family or stay with friends.
How to Get Started as an Airbnb Host:
List your space for free. Click here to sign up for free. No matter what kind of space you have to share, Airbnb makes it simple and secure to host travelers.
Decide how you want to host. You can choose your own schedule, prices, and requirements for guests. Airbnb charges each guest before arrival to ensure you'll always get paid on time.
Welcome your first guest. You can message qualified guests before they book. Airbnb will pay you usually 24 hours after the guest is scheduled to arrive to make sure check-in goes smoothly.
10. Participate in Market Research
If you're looking for an easy way to make some quick cash, participating in market research is one of the best stay-at-home mom jobs to do in your spare time. Online survey companies, such as Survey Junkie want to pay you cash for your opinion. And they are always looking for new survey participants to join.
This is an easy stay-at-home mom job that doesn't require much effort. All you need is your phone, laptop, or tablet to get started. I recommend joining several survey websites to help you earn the most money. They are free to join so you have nothing to lose.
If you're a new survey taker, I recommend starting out with Survey Junkie. This is one of the best paid survey websites available in the United States and Canada. They currently have a TrustScore rating of 8.7/10 on Trust Pilot, which makes them one of the highest rated survey sites.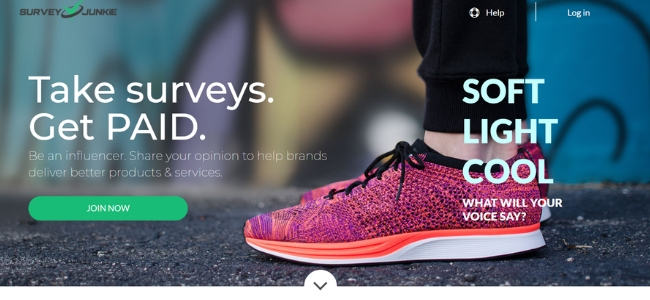 How to Make Money with Survey Junkie:
Take Surveys: Click here to create your free account. This process takes only a few minutes to complete. Then you'll be matched with surveys.
Earn Rewards: Complete surveys and you'll earn virtual points.
Get Paid: You can redeem virtual points for PayPal cash payments or e-gift cards.
To make more money from surveys, I recommend signing up for a few different sites. This will help you qualify for more surveys, then you can select the ones which pay you the most money.
Here are a few other survey sites I love include Swagbucks (FREE $5 bonus), Branded Surveys, Inbox Dollars, and Toluna Influencer.