Are you looking for a real stay-at-home mom job that has flexible hours and pays well?
Many stay-at-home moms are looking for legitimate work opportunities to help add income to the home. Being able to enjoy the flexibility of staying at home with your kids and making money on your own schedule is possible.
It's not easy being a working mom. Finding work outside of the home can be difficult after taking time off to have a baby. Plus, daycare is expensive, which can make it hard to save money.
However, for many families, it's necessary to have two working parents to help contribute financially to the household. This is why many women are in search for real SAHM jobs that pay well.
There are over 10 million women-owned businesses in the United States. And according to  MompreneursOnline.com, 90% of women say the desire for family flexibility is the number-one reason they chose to work from home.
Related Posts:
Benefits of Working from Home
There are many reasons why you may want to work from home. Even for those (like myself) who don't have kids yet, prefer to work from home. Being able to work in my pajamas on the couch each day is freeing. Of course there are a number of other benefits for moms to work from home, including:
Flexible hours.
More time with your kids.
Save money on childcare.
Save time + money on commuting.
You get to wear comfortable clothes.
You'll have a better work/life balance.
Today I'm excited to share with you some stay-at-home mom jobs. The best part is, many of these jobs don't require a college degree or tons of work experience to get started. Choose the job idea that appeals to your talents and interests.
1. Make money blogging
Out of all different ways to make from home, blogging is my favorite. And I truly believe this is the BEST stay-at-home mom job to make extra money.
Benefits of starting your own blog:
IT'S CHEAP – The start-up costs are low. You can start your own money-making blog for as little as $2.95 USD per month.
FLEXIBILIE SCHEDULE – You can blog any time of day (or night) that works for you.
LOCATION-INDEPENDENT – You can run your blog from anywhere that has an internet connection. You just need a computer or laptop get started.
NO TECH KNOWLEDGE REQUIRED – You don't need to learn coding or a bunch of technical skills. Bluehost makes is easy to set up and run your own blog. Anyone can do it!
If you're interested in starting your own blog, check out my free step-by-step guide. It'll show you how to easily get started. It takes just a few minutes to get your blog up and running.
One of the best parts about blogging is that you can make passive income. For example, last summer I flew across the country to visit my dad for a week. I brought my laptop, but I barely touched it because I was busy doing family activities.
Despite taking a week off from working, I still earned passive income from my blog. It was actually one of my most profitable months ever from blogging!
I didn't know anything about blogs when I first started this website. I learned everything from scratch. Now I love connecting with people all over the world. It's pretty amazing how special blogging can be.
Blue Host is offering a great deal right now for getting your blog up and running. They make it quick and easy to get started. It's the web hosting company I used to start this blog, which is why I like recommending them. No tech knowledge required!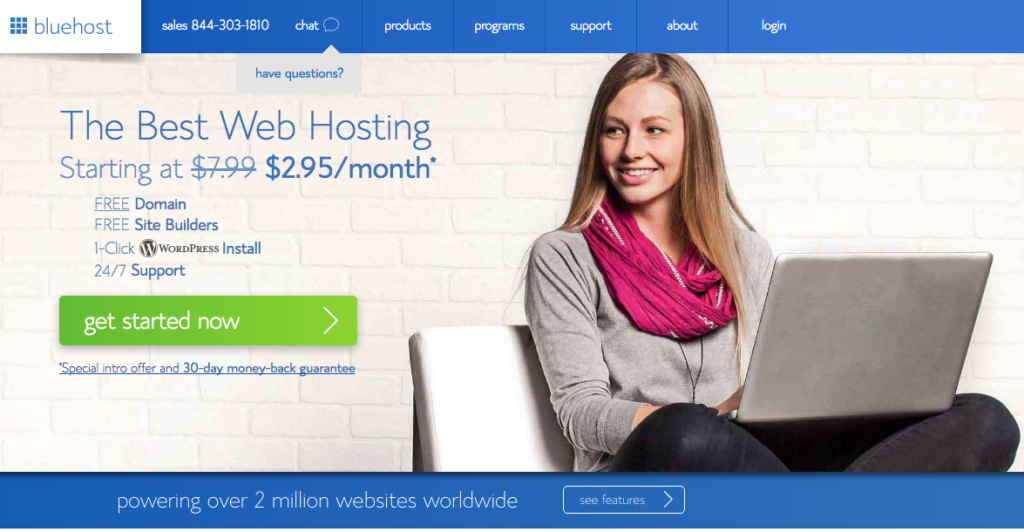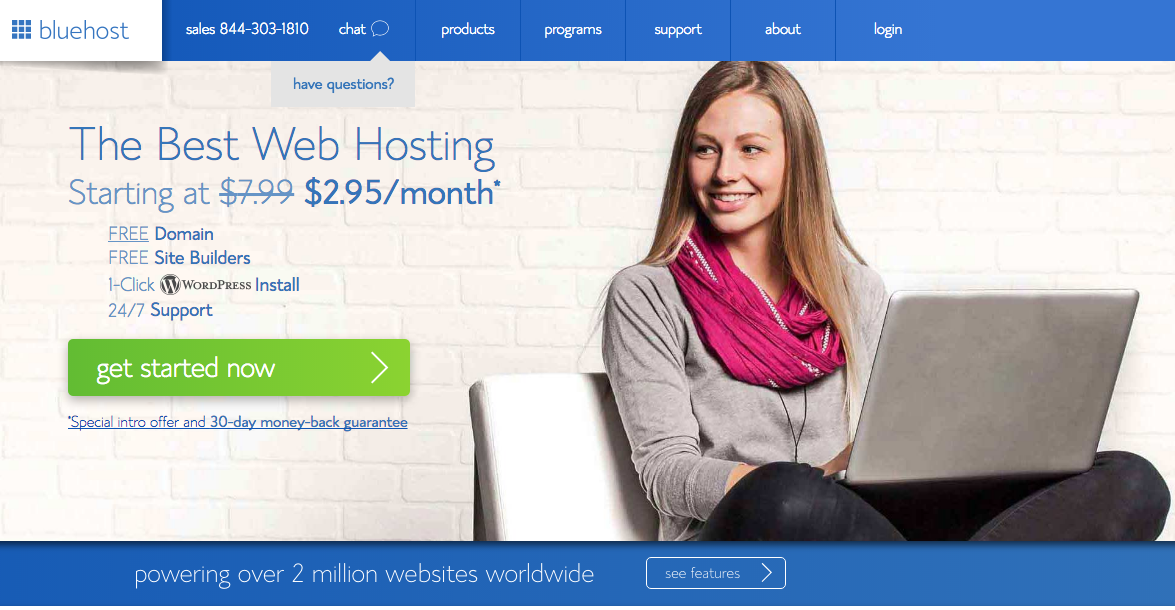 Save over 60% off the price of your blog with this special offer (expiring soon)!
Related Posts:
2. Virtual Assistant
A virtual assistant provides services to organizations, companies or individuals. VAs are in HIGH demand today, especially with the rise in online business owners and bloggers. This can be a great stay-at-home mom job opportunity.
Whether it's responding to emails, creating graphic designs, or proofreading, there's a wide range of tasks a VA can offer. Check out this list of 150+ services you can offer as a virtual assistant.
How much can you make as a virtual assistant?
According to Ziprecruiter.com, the average annual pay for work from home VAs in the USA is $57,371 a year. How much you can make will be based on experience and skills.
Need some inspiration? Gina Horkey started her own side hustle offering writing and email management services in 2014. Within just a few months, she was earning $4,000 per month (in addition to her day job income), while working full-time and raising 2 toddlers.
It wasn't much later that she decided to leave her day job and start working from home on a full-time basis. This let her spend more time with her family while making a good income. You too can start living the life you want – it's easier than you think!
If you need some guidance, I recommend checking out Gina's course, 30 Days or Less to Virtual Assistant Success. This course is perfect for those who are looking to launch and build a rock-solid business from home.
She'll walk you step-by-step through the entire process so you can build a strong foundation, select your niche(s), and learn how to pitch to prospective clients. You can learn more about this course here.
Read Next: How to become a virtual assistant and work from home
3. Proofreader
If you enjoy reading and are good at catching grammatical mistakes, then working from home as a proofreader can be a great stay-at-home mom job.
What does a proofreader do?
As an online proofreader, you are the last set of eyes to look at a piece of copy before it goes live to the public. This means you take content that other people have written and proofread it with a fine-tooth comb.
Want to learn more about becoming a proofreader? Check out this post on how to work from home as a proofreader.
One of the best parts about making money as a proofreader is that you can set your own hours and work from anywhere that has an internet connection. All you need is your computer or laptop to get started.
How much can you make as a proofreader?
According to Salary.com, the average proofreader salary in the USA is $50,846 per year as of February 2019. The amount of money you make will depend on your experience, skills, education, and so on.
How to Get Started as a Freelance Proofreader:
While formal training isn't necessary to get started as a proofreader, brushing up on your skills can definitely help you stand out from the crowd.
My friend Caitlin over at Proofread Anywhere is one of the most talented proofreaders out there. As a former freelance proofreader, she has compiled all of her knowledge into a comprehensive course: General Proofreading: Theory & Practice™.
If you're not ready yet to invest in this course, I recommend checking out Caitlin's FREE 76-minute workshop. Here you'll learn how to elevate your skills and find paid work as a proofreader. Her workshop is completely free to join. You can sign up here.
4. Freelance Writer
Companies and online businesses are always looking for new content to share with their readers. This can be a great option for you if you're not yet ready to launch your own blog, but want to dip your toes into writing.
As a freelance writer, you can write for one just one publication or choose to write for many different online publications at a time. It's up to you! This can let you leave the 9 to 5 behind and set your own hours, making it the perfect stay-at-home mom job.
Read Next: How to become a freelance writer and work from home
How much can you make as a freelance writer?
As of May 2011, freelance writers earned a mean of $97,300 per year (or $46.78 per hour), according to the U.S. Bureau of Labor Statistics.
Gina Horkey, the mastermind behind HorkeyHandbook.com started offering freelance writing and VA services in 2014, which helped her earn an extra $4,000 per month (on top of her day job).
Now she teaches other aspiring writers how to get become a successful freelance writer. Gina says the first step in becoming a paid freelance writer is to decide what topic(s) you'd like to write about. If you need some inspiration, here are over 200 freelance writing niches to help you brainstorm ideas.
How to Get Started as a Freelance Writer:
Decide what you'd like to write about. Here's 200+ freelance writing niches and sub-niches to give you some ideas.
Check out this post: 7 Steps to Become a Paid Freelance Writer
If you need additional guidance, Gina offers an excellent course to help you jumpstart your freelance writing career. You'll learn how to lay the foundation for your new freelance writing business, actionable tips to find paying work, and how to effectively pitch to your prospective clients. You can learn more about her course here.
5. Stella & Dot Ambassador
Calling all the moms who love fashion and accessories! Stella & Dot is looking for aspiring fashionistas just like you to join their team as an Independent Stylist — no experience required!
If you're looking for a fun and flexible career in the fashion industry, this may be the perfect opportunity for you. The best part is you can work as often or as little as you'd like. Whether you choose to work 1-2 hours per week or host a few Trunk Shows per week, you get to create your own schedule.
What is Stella & Dot?
Stella & Dot is a boutique-style accessories and apparel line that is available exclusively online or through in-home Style Sessions by Independent Stylists. It was created to help women (just like you) find a healthy balance between family life and having a successful career.
Their company's mission is simple: to help women be their own boss, on their own terms. This can be an exciting stay-at-home mom job.
What does an Independent Stylist do?
As a Stella & Dot Independent Stylist, you can make money by selling Stella & Dot jewelry and accessories through in-home Trunk Shows or online. You have the flexibility to set your own schedule so you can create a thriving business you love.
How much can you make with Stella & Dot?
As an Independent Stylist, you can earn up to 35% commission on all personal based sales from Trunk Shows, online, or individual orders. Whether you're looking for a way to make some extra spending money or build a six-figure career, Stella & Dot can be a great way to work from home.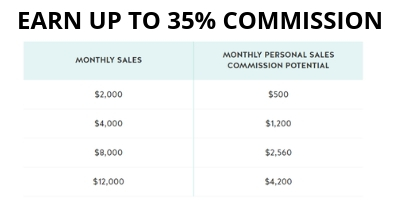 How to get started as an Independent Stylist:
To sign up, you'll need to invest in a Starter Kit, which costs $199. This will give you all the tools and training you need to succeed. Stella & Dot's goal is to help you become profitable as fast as possible.
Read Next: How to become a Stella & Dot Ambassador – Make money from home
6. Sell Photos Online
If you're good at taking photos, you could easily earn some extra money by selling your photos online. Companies and online business owners (especially bloggers) are always looking for images to use for their websites or marketing materials.
With this stay-at-home mom job, you have many opportunities to sell your photos online for cash. This can be a great way to earn passive income while you're busy taking care of other things.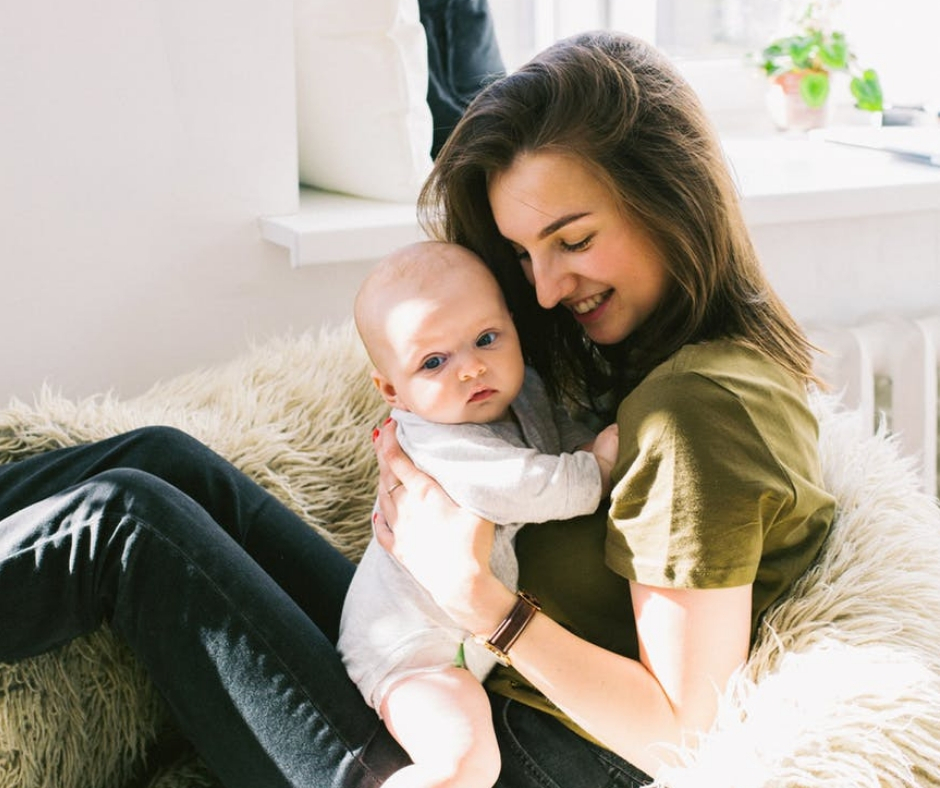 What type of photos are people buying?
Photos in high demand right now include images of people (kids, adults), people working, travel, food, cities, nature, and photos of things (tools, books, laptops).
PRO TIP: If you want to improve your photography skills, I recommend checking out Pinch of Yum's Photography e-book. Even though her book is about food photography, her tips can be applied to any type of photography. This is a great resource for learning how to take amazing photos.
Best Places to Sell You Photos:
Sell photos on your own website. This is the most popular way to sell photos online. You can set your own prices and have 100% control over how you display your photos. Check out this simple guide on how to create your own photography website.
Shutterstock. This is a great option for those who are not ready to start their own website. Shutterstock has paid out more than $500 million worldwide to their contributors. To get started, simply upload your content to their easy-to-use platform.
Deposit Photos. This website makes it easy to start selling your photos. Simply click here to create your free account and upload your best content. After your account has been approved, you can start selling and earning cash for your photos.
iStock. This is another popular stock photo website where you can sell your photos online. Simply head to iStock.com and scroll to the bottom of the page and click "Sell Stock" to create your free account.
Getty Images. This is well-known stock photography website, serving over 1.5 million customers worldwide. As a contributor, you can make money selling your photos. Learn more here.
7. Transcribe
If you're good at typing and have a keen ear, then working from home as a transcriptionist may be a good opportunity for you. This job gives you the freedom to set your own hours and it doesn't involve making sales-calls. Sounds pretty good, right?
What does a Transcriptionist do?
As a transcriptionist, you'll listen to audio files and type out what you hear. Transcription jobs are usually broken down into general, medical and legal categories. For beginners, you'll want to start looking into general transcription first. This is because medical and legal transcription usually requires some work experience or a transcription certification.
The demand for General Transcriptionists is growing rapidly. With the exploding popularity of video all over the internet, there's a huge demand for transcription. These videos need to be turned into a written document so it can be used in marketing, training, website content, e-books, and more.
How much can you make as a Transcriptionist?
According to PayScale, a Transcriber makes an average of $15 per hour, while an advanced transcriptionist can earn $25 to $30 per hour.
Janet used to work in administration, but she needed to find a way to work from home. After pursuing other work-from-home opportunities, she realized her skills in transcription were the best career path for her.
Janet became a successful transcriptionist in the medical, general and legal industries. She formed her own company, Zoom Transcription Services. Now she teaches others how to become successful work-from-home transcriptionists through her self-paced courses.
Janet says the key to becoming a successful transcriptionist is to have patience and a good eye for detail. While this job can be a lot of hard work, it can also be very rewarding. If you're interested in learning more about how to become a transcriptionist, I recommend checking out FREE mini course.
8. Airbnb Host
Do you have an extra room or space in your home? You could be making some decent money by renting out your space on Airbnb.
With over 6 million listings worldwide, Airbnb is one of the fastest growing online marketplace and hospitality services. Members can use its website or mobile app to arrange or offer homestays or tourism experiences.
I personally use Airbnb all the time when traveling. I prefer Airbnb over hotels because it feels more homely. This can be an excellent stay-at-home mom job to make extra money.
What does an Airbnb Host do?
As an Airbnb host, you can make money by hosting travelers in your home. Whether it's a spare room, or your entire place, you're in full control over your availability, prices, house rules, and how you choose to interact with guests.
To learn more, I recommend checking out my complete guide to becoming an Airbnb Host.
How much money can you make as an Airbnb Host?
How much money you can make will be based on your pricing, type and location of your listing. In Toronto for example, you can make nearly $1,000 per month by sharing your spare room on Airbnb.
I know some people who make an easy $2,000+ per month just by renting out their home on the weekends, especially during high travel season. On weekends when your place is booked, you can travel to visit family or stay with friends.
How to Get Started as an Airbnb Host:
List your space for free. Click here to sign up for free. No matter what kind of space you have to share, Airbnb makes it simple and secure to host travelers.
Decide how you want to host. You can choose your own schedule, prices, and requirements for guests. Airbnb charges each guest before arrival to ensure you'll always get paid on time.
Welcome your first guest. You can message qualified guests before they book. Airbnb will pay you usually 24 hours after the guest is scheduled to arrive to make sure check-in goes smoothly.
9. Teach English Online
If you enjoy working with children, you can make up to $22/ hour teaching English online. VIPKID is currently looking for part-time online ESL teachers for young children who are based in China.
All classes are one-on-one and taught online through the VIPKID portal. This can be a fun stay-at-home mom job that pays well.
You need a degree and at least 1 year of teaching or tutoring experience. If this sounds like something you would enjoy, I highly recommend applying for an opportunity with VIPKID. Learn more about how to get started here.
Read Next: How To Make Money Teaching English Online With VIPKID
More great work-from-home opportunities:
10. Participate in Market Research
If you're looking for an easy way to make some quick cash, participating in market research can be a great option. Online survey companies, such as Survey Junkie want to pay you cash for your opinion. And they are always looking for new survey participants to join.
This is an easy stay-at-home mom job that doesn't require much effort. All you need is your phone, laptop, or tablet to get started. I recommend joining several survey websites to help you earn the most money. They are free to join so you have nothing to lose.
If you're a new survey taker, I recommend starting out with Survey Junkie. This is one of the best paid survey websites available in the United States and Canada. They currently have a TrustScore rating of 8.7/10 on Trust Pilot, which makes them one of the highest rated survey sites.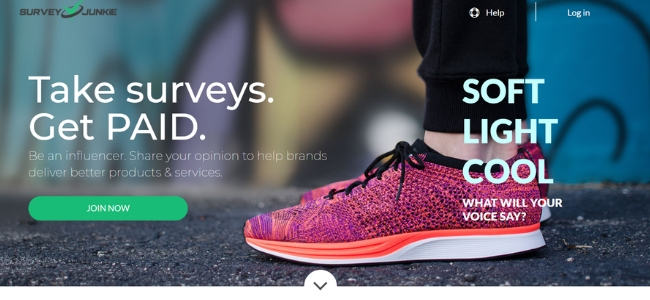 How to Make Money with Survey Junkie:
Take Surveys: Click here to create your free account. This process takes only a few minutes to complete. Then you'll be matched with surveys.
Earn Rewards: Complete surveys and you'll earn virtual points.
Get Paid: You can redeem virtual points for PayPal cash payments or e-gift cards.
To make more money from surveys, I recommend signing up for a few different sites. This will help you qualify for more surveys, then you can select the ones which pay you the most money.
Here are a few other survey sites I love include Swagbucks (FREE $5 bonus), MyPoints (FREE $10 bonus), American Consumer Opinion and Quickrewards.