Chances are you're here because you made a goal to keep your spending under control. But unfortunately, many people still have trouble finding ways to grow their savings and fix their money leaks. Instead they are throwing away money.
The good news is there are lots of ways develop better spending habits so you can boost your savings and reach your financial goals. With a little effort on getting organized and planning ahead, you can prevent further money from going down the drain.
Being aware of the different ways you're throwing away money can help you adopt better financial habits going forward. To get a better handle on your spending, here is a list of common ways you could be wasting money.
Related Posts: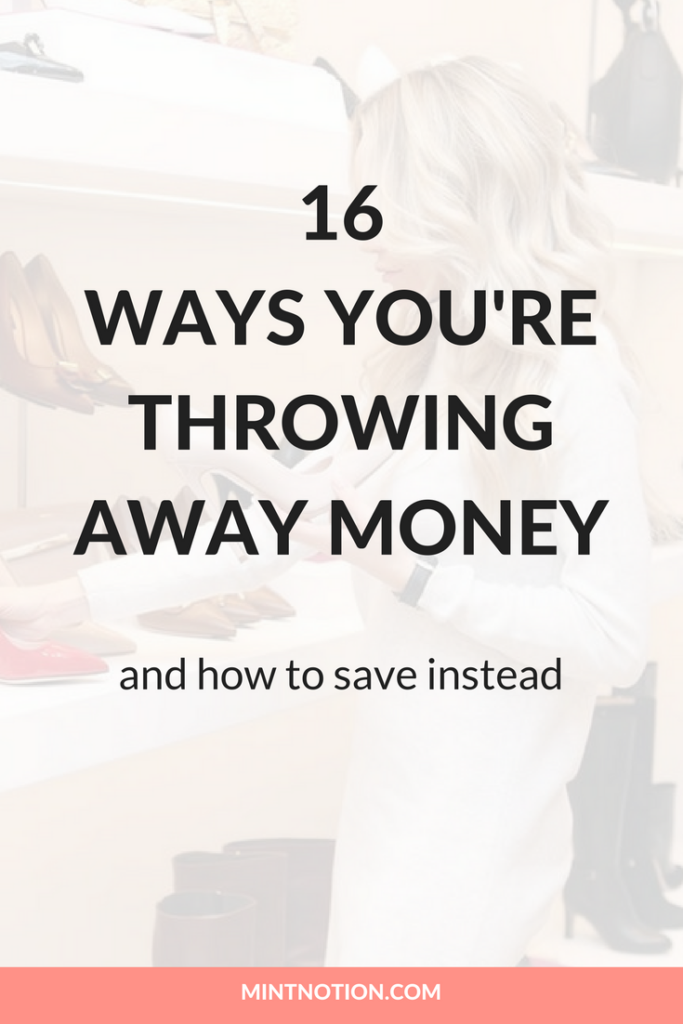 Paying bank fees
Paying for bank fees is one of the most common ways you may be throwing away money. There is no reason to pay for basic banking services.
Whether it's minimum balance requirements, checking account or ATM fees, these charges can add up quickly. You shouldn't have to pay for a bank to hold your money, so I recommend shopping around to find the right account to match your needs.
It's also important to plan ahead and have enough cash on hand so you don't need to pay ATM service fees. You can avoid these fees by getting cashback from debit purchases when you're out grocery shopping.
Not taking advantage of cashback apps
Another way you may be throwing away money is by not earning cash back on your purchases.
There are SO many ways to earn cashback on your everyday purchases that it would be a shame to not take advantage of earning FREE money. Some of my favorite cashback apps include Rakuten and Swagbucks.
Rakuten: Rakuten has over 2,000 stores to choose from, which makes shopping online easy. When you make a purchase, Rakuten will track your purchase and deposit the cash you've earned into your Rakuten account within a few days. Sign up for rakuten today and get a $10 welcome bonus.
Swagbucks: Swagbucks is a simple way to earn gift cards for things you do online. There are many ways to earn points on Swagbucks including filling out surveys, playing games and watching videos. This is a great way to earn money to help pay for gifts during the holiday season. Sign up for Swagbucks and get a $5 bonus today!
Paying credit card interest
Paying interest on consumer purchases is a common you may be throwing away money. This habit takes money away from being saved for traveling, a down payment on a home, retirement, and more.
Make a plan to pay off your credit cards as quickly as possible, then set up reminders to pay them in full each month.
There are lots of perks that can come from using your credit cards, such as travel rewards, cashback, extended warranties, and more. However, if you have trouble paying your credit cards in full each month, it's time to consider closing those accounts.
Utility waste
Chances are there are many ways in which you waste utilities such as electricity and water. An obvious one is leaving the lights on when you're not in the room. Here are some other energy and water wasters to keep in mind:
Leaving devices plugged in (many of them use power even when they're switched to "off")
Having a well-maintained lawn (watering your lawn costs money and it's not environmentally friendly)
Poor home installation (it will cost more money to cool and heat your home)
Not using a water restrictor for your shower
Using older and outdated appliances
Paying for things that are FREE
I know it's nice to get a cup of coffee from Starbucks, but you're throwing away money if you're paying for something you can already get free at work (or home). Other things you can get for free include:
Water (instead of paying for bottled water)
Borrowing books, movies, and magazines from the library
Free meals (birthday freebies, coupons)
Clothing (free clothing through clothing swaps, borrowing clothing from friends/ family)
Entertainment (free museum days, farmer's markets, free community sports games, etc.)
Perks or benefits through your workplace (Do you know all the perks and benefits you get at your workplace? For example, my sister received free meals and dry cleaning when she worked in the hotel industry)
For more tips, please read my post: 12 Things I Stopped Buying (and Why You Should Too)
Not redeeming gift cards
Some gift cards start losing its value after a certain amount of time, which is why it's important to be aware of any expiration dates. If you're not planning on using your gift card, you can sell them online through Card Cash, or give them to someone who will use it. Don't be that person throwing away money by letting their gift cards go to waste.
Living above your means
I recommend living by this motto: spend less than you make (or a lot less than you make).
If you're making $40,000 per year, don't spend like you're making $60,000 per year. Some people try to live a lifestyle on an income they wish to make, rather than spending less than they make.
You may not love your first job, but remember it won't be your last job.
If you have trouble giving up your lavish spending, aim to find a job that makes more than enough to cover your current habits. Alternatively, you can use money-saving tools to be more resourceful so you can afford the lifestyle you want:
Remember though to always spend less than you make and live within your means.
Paying for a gym membership you rarely use
Paying for a gym membership you rarely use is throwing away money. Sure you have good intentions and maybe you were disciplined about using it in the past, but you're throwing money away by paying for something you don't use.
More affordable options include:
Ditching the gym entirely and working out at home (this is what I do)
Finding a gym where you can pay by the day
Joining a FREE community gym
I am also a big fan of exercising to workout videos. It's like being in a fitness class and having your own personal trainer at the same time. Here are a few inexpensive workout DVDs I recommend buying:
Impulse shopping
It's easy to get caught up in the moment when you find a good deal. However, it's important to think about whether you really need that item before making an impulse purchase. A shirt might seem like a steal at 75% off, and you might think to yourself – it's a good deal even if I only wear it once – but do you really need it?
For more tips, please read my post: How to stop impulse buying for good
Not returning unwanted items
How many items do you have in your closet with the price tag still attached? It's easy for us to let unwanted items or gifts sit there in the closet, but you could be getting that money back in your pocket. Some retailers even take items back past the return date or offer free returns online, so it's worth giving it a try.
Expensive cell phone bills
There is no need to pay for an expensive cell phone plan. I recommend shopping around and finding the best deal to match your needs. Chances are you'll currently paying for services that you don't really use and that money could go towards travel, a fun night out with friends, or your emergency fund.
Here in Canada, cell phone plans are some of the most expensive in the world. To save money, I purchased an unlocked phone and called my service provider to negotiate a pay-as-you-go plan. Now, I pay only $7.50 per month for my cell phone.
Buying fast fashion
Fast fashion used to be my weaknesses. When I saw a great deal, I would purchase without thinking if I really needed that item. Before I knew it, I had a closet full of things I barely wore and some items still had the price tag on them!
All the money I spent on these lightly worn clothes could have been spent on more meaningful things and going towards my future.
This also applies to buying the latest trends. Chances are it won't be in style next season so I prefer to buy timeless pieces that add value to my wardrobe instead of gravitating toward the latest fashion trends.
For more tips, please read my post: I Bought No New Clothing For A Year. This is What I Learned.
Not speaking up
Most people who are dissatisfied with their experience don't take the time to voice their opinion. Maybe they see it as too much effort or a waste of time, but it's important to let retailers or service providers know if you're dissatisfied. I recommend staying calm and being polite. You might get a discount or even a full refund by sharing your opinion.
It's also important to speak up if you think your bill may be incorrect. Most businesses will make the correction immediately and this can save you money. There are several times when there was a mistake on my credit card bill or incorrect charges when dining out.
Throwing away leftovers or spoiled food
It's absolutely crazy how much food American and Canadian households throw away each year. This is essentially throwing your hard-earned cash down the drain.
Making a meal plan for the week and buying only necessary items can go a long way to prevent food waste. Also, expiry dates are often just a guideline rather than a rule. Use your judgment.
If you want to start making more homemade meals, but don't like the idea of meal planning, I recommend using the $5 Meal Plan. This is a weekly meal plan service that can make your meal planning super simple.
For just $5 per month, you will receive a delicious meal plan, where every meal will cost about $2 per person (or less). It's a great way to save time and money, plus they offer specialty plans, including gluten-free and vegetarian meals. Click here to try it free for 14 days.
Eating out too often
Sure, it's hard to replicate your favorite Chinese dish at home, but eating out too often could be taking a huge dent out of your budget.
Even that $5-$10 you spend each day eating out for lunch can cost you $1,200-$2,400 per year. Instead I recommend limiting eating out for lunch to just once or twice per week. This can save you up to $1,400 per year. That's more money in the bank for you!
Being disorganized
Being disorganized can lead you to throwing away money. It means you don't have a clearly defined plan for your money and it's leading to costly errors. You need a plan and a great place to start is by organizing your finances with a Budget Binder. This will allow you to:
Record your financial goals and the action steps you need to take to achieve those goals
Your income and monthly expenses so you can create a balanced budget
Set reminders for yourself so you don't miss a bill payment
Create a debt repayment plan so you can pay off your debt faster
Bonus: Save money with these great tools
TRIM: Trim is a free virtual assistant that constantly helps you to save money. It's essentially a robot that analyzes your accounts to find recurring subscriptions and determine where you can save money. Trim has saved folks more than $8,000,000 and can help you save money quickly too. Click here to start saving money with Trim!
RAKUTEN: Want to earn cash back when you shop online? Rakuten acts as a shopping portal offering coupons and cashback from over 2,000 online stores. I always check on Rakuten first whenever I shop online! You can join Rakuten for free and get a $10 welcome bonus when you sign up through this link.