Today I'm sharing how we turned our small den into a DIY walk-in pantry on a budget. When I was younger, I used to dream of having a walk-in closet. I still do. But living in a small apartment means that we have to make some compromises and keep things practical.
We live in a two bedroom plus den. When we first moved in, we had many ideas for our den, but weren't sure which idea would serve us best. Then once the pandemic hit – that's when I had light bulb moment.
I started by creating a dream board on Pinterest to pin ideas for inspiration for building our freestanding pantry. Any picture that spoke to me or got me excited, I added it to my dream board for walk-in pantry ideas. This allowed me to figure out exactly how I wanted to transform our den so it could look nice, be functional, and maximize our small living space.
We've been living in our apartment for almost three years now, but our den quickly became a catch-all room for storage. Every time I walked into our den, I immediately got overwhelmed by all the clutter.
When the pandemic started, we were eating more at home and quickly running out of space to store food and small kitchen appliances. That's when I realized that we needed to find a better solution and our DIY walk-in pantry project began!
Related Posts: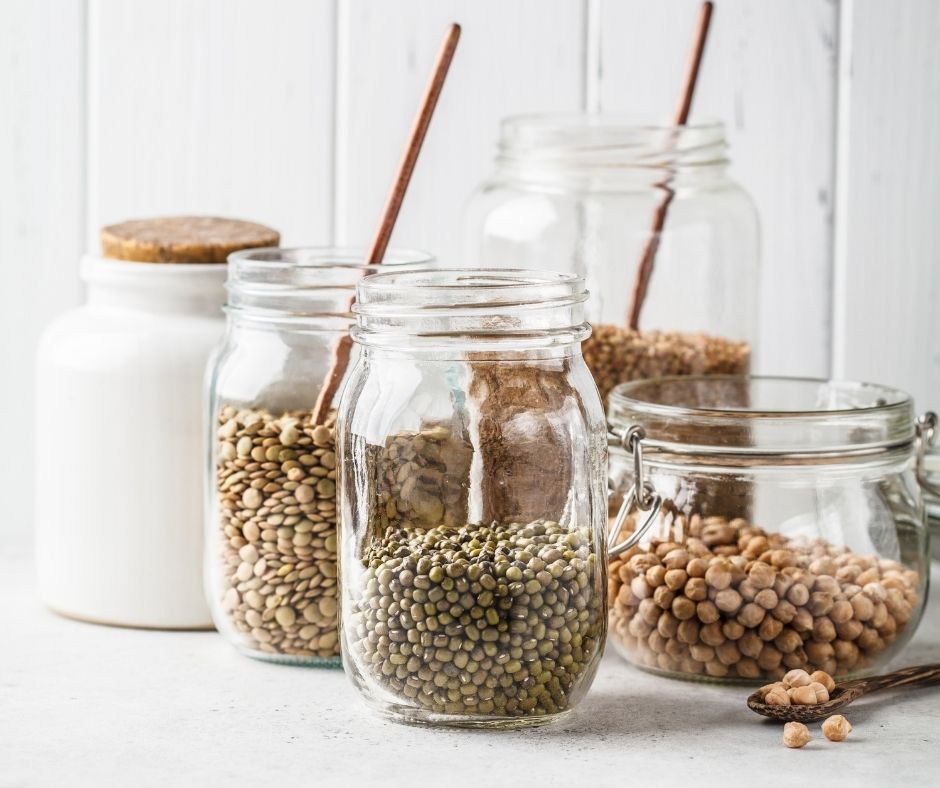 Benefits of a walk-in pantry
A walk-in pantry can be an excellent addition to any home or living space. Here's a few reasons why we decided to turn our den into a walk-in pantry:
More Storage Space
Over the past few years, I've been working on transitioning to a more minimalist lifestyle. Living in a small apartment (just over 900 square feet) has really helped me to be more intentional about the items I choose to let into our home and to keep things clutter-free.
Having more storage space though is super handy, especially now that we're spending more time at home and cooking in the kitchen. A walk-in pantry can provide you with a greater amount of space for food storage. This can allow you to stock more non-perishable items, small appliances, and perishable items that don't require refrigeration.
The biggest benefit of having more storage space means less trips to the grocery store to re-stock items. I live within walking distance to the grocery store, which meant I used to go multiple times a week. But since the pandemic began, I've been trying to go to the grocery store only once a week (or once every two weeks).
Saves Money
Being able to buy items in bulk when they are on sale, allows me to stockpile basics in our pantry. This saves us money because we are less tempted to eat out since we can easily create a healthy meal at home.
Easier to keep up with inventory
Before we built our DIY walk-in pantry, we used to shove everything into our small kitchen cupboard space. This made it difficult to see which items we had, and which items needed to be replaced.
I ended up buying things at the grocery store that I already had at home because it was hard to see what was in my kitchen inventory. Unfortunately, this led to a lot of food waste. By the time I got around to organizing my kitchen cupboards, I would discover things I wanted to use, but they were past their expiration date.
A walk-in pantry was able to solve this problem for us. Now it's easy to take inventory of our kitchen and keep tabs on the food supply in our home. Again, this has helped us save money on groceries and reduce food waste.
Meal planning made easy
One of my favorite ways to save money on groceries and save time in the kitchen is to create a weekly meal plan. A meal plan is basically just thinking ahead about what you'll make for dinner (or all your meals including snacks) and getting prepared.
Our walk-in pantry has helped simplify the process of meal planning. By being able to see exactly what ingredients I have on hand for food prep, this lets me quickly make a meal plan for the week and avoid unnecessary trips to the grocery store or grabbing take-out.
Read Next: How to cook more meals at home to save money
New to meal planning? Consider trying the $5 Meal Plan. Many of my readers have told me great things about how this service makes planning meals each week simple and easy.
Don't have time to go grocery shopping or figure out what's for dinner? You may want to consider trying Hello Fresh. This meal kit delivery is perfect for those busy weeks. I see SO many people in our apartment building ordering from Hello Fresh.
To get started, all you have to do is pick your plan (quick meals, family meals, or vegetarian meals). You can also select the number of people in your household (2-4 people).
Then you'll get fresh ingredients delivered straight to your door for the week. Your Hello Fresh box includes simple step-by-step recipes complete with nutritional information and fresh, pre-measured ingredients to help you put together a delicious meal in no time.
You can click here to try Hello Fresh and get $80 off your order
How we built our DIY walk-in pantry on a budget
There are many different ways to build a walk-in pantry. I wanted to find a solution for us that was practical and budget-friendly.
Below is what our den looked like before the transformation. It was a catch-all storage area that was messy and disorganized.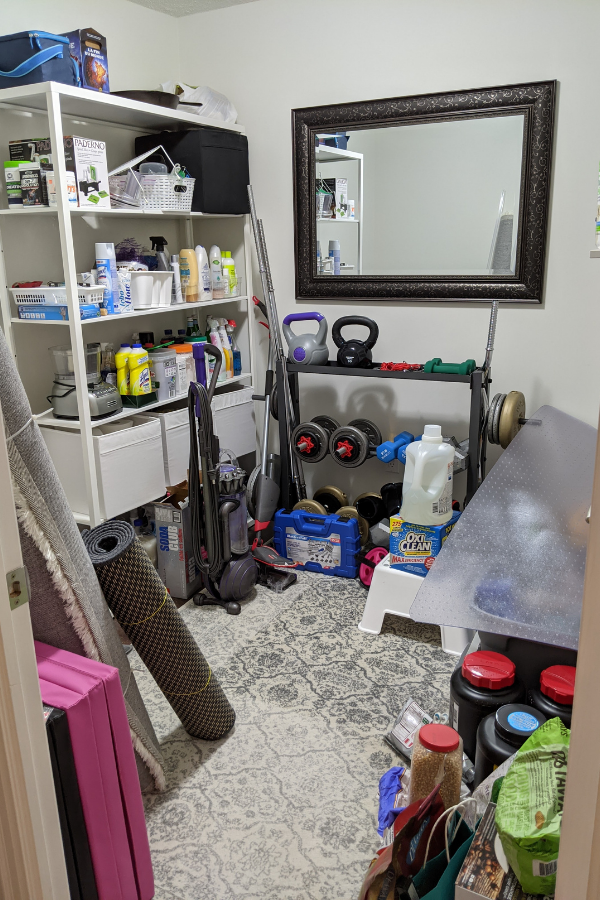 First, we took everything out of the room to clean and declutter. We sold some of the items on Facebook Marketplace to make extra money. We earned enough to pay for the cost of our walk-in pantry transformation, which was awesome!
Read Next: How I made $700 in one week selling stuff on Facebook Marketplace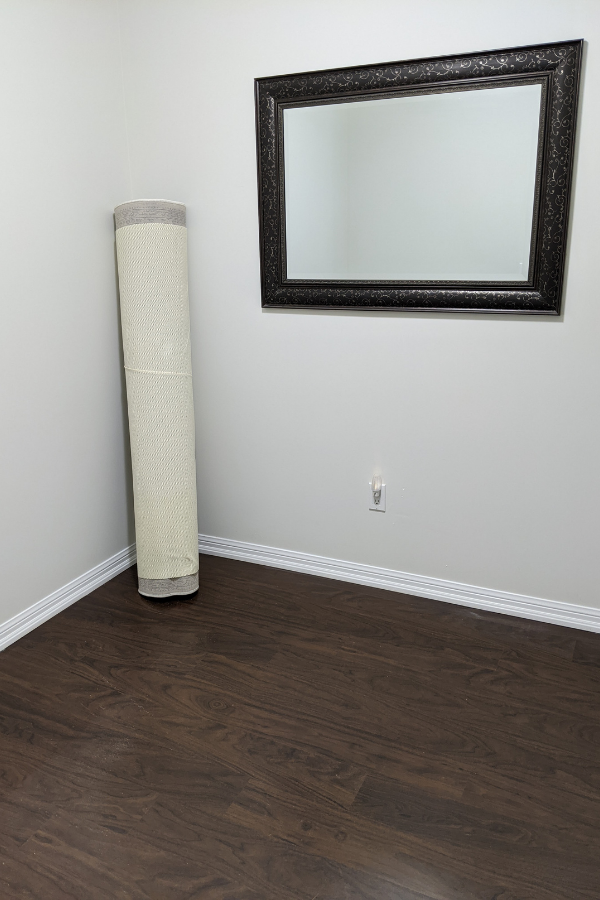 Next, I needed to clean the carpet. Part of the carpet was fading and I wanted to bring new life to it. I used this carpet cleaner to make it look like new again. If you have pets or young kids, having a carpet cleaner can come in handy.
Once the room was spotless, it was time to build our dream walk-in pantry!
How much does it cost to build a walk-in pantry?
We spent around $700 (after taxes) to build our walk-in pantry. This included the Ikea bookcakes, Ikea storage unit, and storage boxes.
Custom walk-in pantries can cost anywhere from $800 – $4,000+, depending on what design you choose. I didn't want to spend this much, so I looked for ways to build our DIY walk-in pantry on a budget.
Food Storage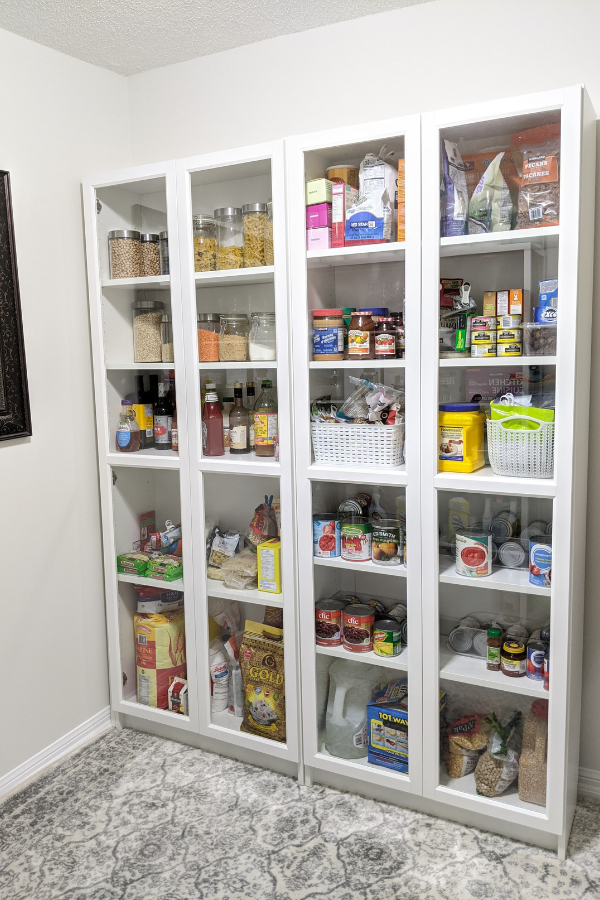 For food storage, we chose to use two Billy bookcases from IKEA with glass doors. I wanted glass doors so I could easily scan our pantry inventory and see where everything was at a glance.
When we eventually move into a house, it will also be easy to re-sell these Billy bookcases since they are popular.
I also like how I can adjust the height of the shelves to accommodate tall or shorter items. This helps to maximize our food storage space.
Cleaning Products and Small Appliances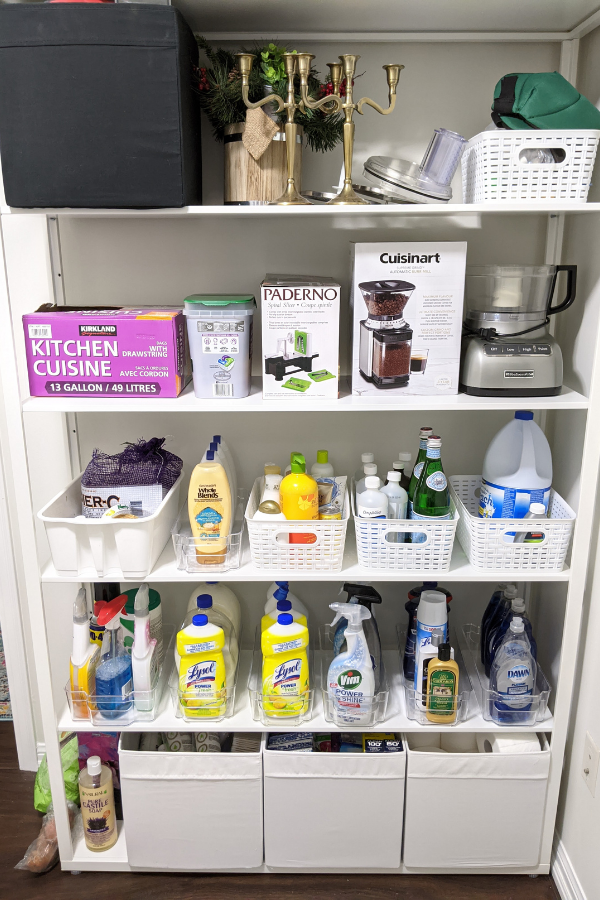 We decided to also store cleaning products in our walk-in pantry, since this was the best location for them in our small apartment.
I found this open shelving unit at IKEA. It's called FJÄLKINGE and it's very sturdy for storing cleaning supplies and small kitchen appliances. The open shelf system makes it easy to grab what I need and keep everything tidy.
Bins and Baskets
I've been following That Organized Kitchen on Instagram to get ideas on how I wanted to organize our walk-in pantry. I like how tidy everything looks when it is stored in bins or baskets.
I bought a few different types of bins and baskets to organize items in my pantry. These bins help maximize space and make it easy to clean, since I can just grab the bin and wipe down the shelves.
I use clear bins for my cleaning supplies and white bins for small items, like spice bags and snacks.
Glass jars to store dried goods
Not only are glass storage jars so satisfying to look at, they also serve a special purpose. That's to prevent unwanted bugs from getting into your dried goods and keeping them fresh longer.
I use glass jars to store lentils, beans, pasta, sugar, corn meal, and other basic dried goods. They also make it easy to see which items I have and when I'm running low on something.
I got my storage jars from IKEA, Amazon and the Dollar Tree. If you decide to use storage jars, make sure to get ones that are air-tight and have a big mouth if you want to dip your measuring spoon inside.
Wall Shelves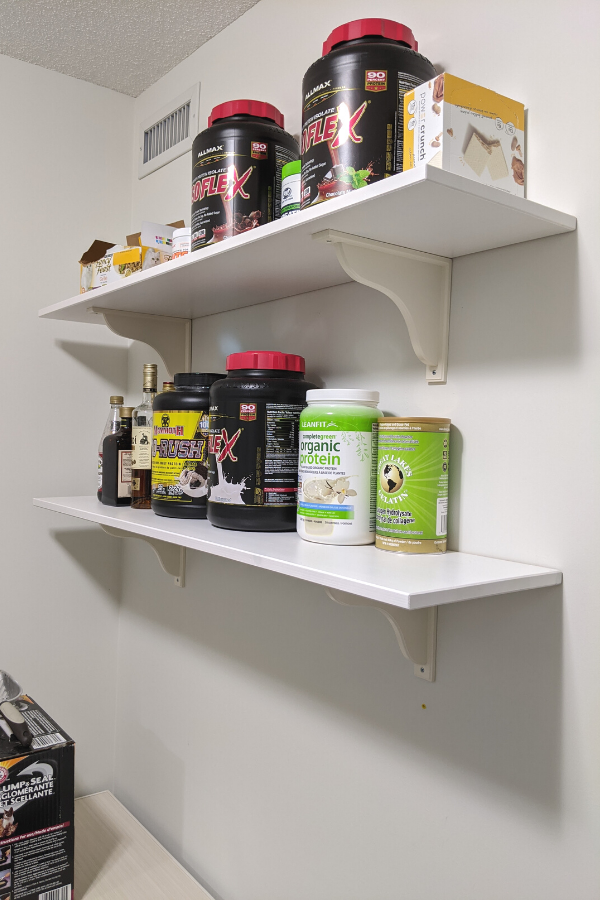 To organize our fitness supplements, we use wall shelves which I got from IKEA. We installed these wall shelves when we first moved into our apartment and decided to keep them up for the walk-in pantry.
For now, they are serving us well, but I may remove them in the future and add something else that's more functional for the space. You can find nice wall shelves here too.
Cat Litter Box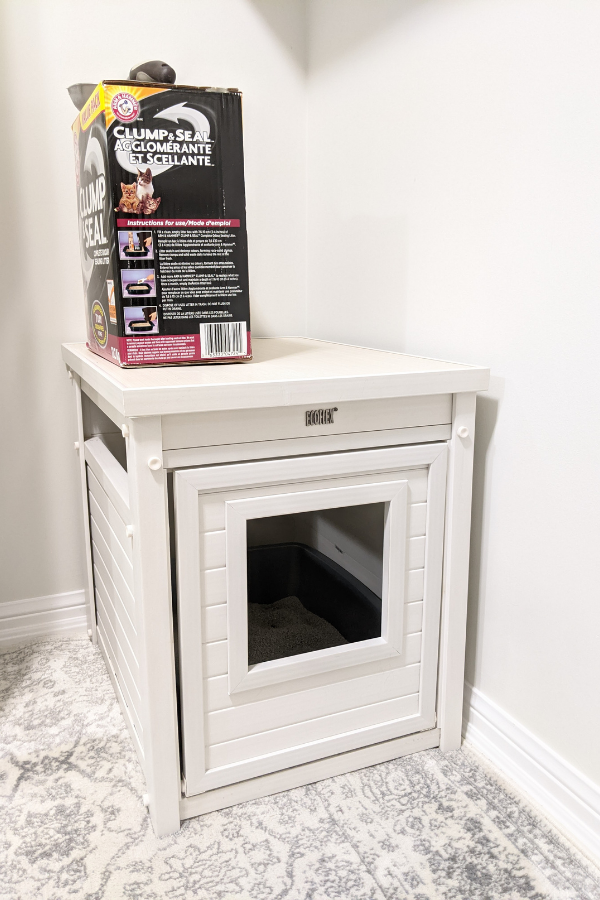 Living in a small apartment, I wasn't sure where to put the cat litter box. Unfortunately, our bathroom space is too small to put the litter box and I didn't the box inside our bedroom.
The best choice for us was to put the litter box in the den, which is now our walk-in pantry. To make sure that everything stays sanitized and clean, all our food is stored inside the closed glass cabinets. This prevents any litter dust from getting on our food.
I also switched to a better-quality litter brand and started using a metal scoop, which is more durable. I've been really happy with it so far. It keeps the room dust-free and odor-free. You can find the litter I use here.
The litter box I chose is covered and looks like furniture, so it blends nicely into our DIY walk-in pantry. You can find the litter box here.
Make
Fast Money

with Surveys

Online survey companies, such as Survey Junkie want to pay you cash for your opinion. Start making extra money in your spare time. Join for free today!
Join the Mint Notion family!
Sign up for my free newsletter to receive weekly tips to help you save money, make money, & live with intention!