Learn how to meal prep for a week with this simple step-by-step guide. Follow these healthy meal prep ideas for beginners to help you put together delicious family meals on a budget.
What is meal prep?
Meal prep is the act of preparing meals (or meal components) in advance. These meals can be stored in the fridge or freezer until it's time to eat.
Meal prepping is easier than you think, and it can be a great way to save time, money and stress. You can choose to just prep tasty dinners for the week, or you can prep the majority of your meals such as breakfast, lunch, and snacks.
Once you get the hang of meal prepping for the week, you'll discover how easy it can be and ask yourself – why didn't I do this sooner?!
Why meal prep is important?
Meal prep is important because it can help you be more productive, stay on track with your health and fitness goals, and save money. By preparing your meals ahead of time, this makes it quick and easy to put dinner on the table during those busy weeks.
Below are some more key benefits of meal prepping:
You'll save time – Spend less time cooking during the week and enjoy more quality time with family, friends and doing the things you love.
You'll save money – Because you can buy ingredients in bulk, freeze extra food for later, prevent food waste, and be less tempted to buy take-out meals.
You'll eat healthier – By eating less take-out meals, you can control the ingredients that go into your body, and control the portion size. This can help you stay on track with your health and fitness goals. Being prepared isn't half the battle – it is the battle!
Reduce stress – You don't have to stress about what to make for dinner every night because you already have meals prepped for the week. This is one less thing to think about each day.
Grocery shopping will be easier – Once you know which meals you'd like to prep for the week, this can make grocery shopping quick and easy. No more aimlessly wandering down the aisles trying to figure out what to make for dinner or impulse buying junk food.
Less food waste – Since you'll be using all the ingredients you buy to prep your meals for the week, it's unlikely that you'll have any leftover items if you plan correctly. No more throwing away produce that's gone bad before you could use it up.
Related Posts:
How to Meal Prep: Step-By-Step Guide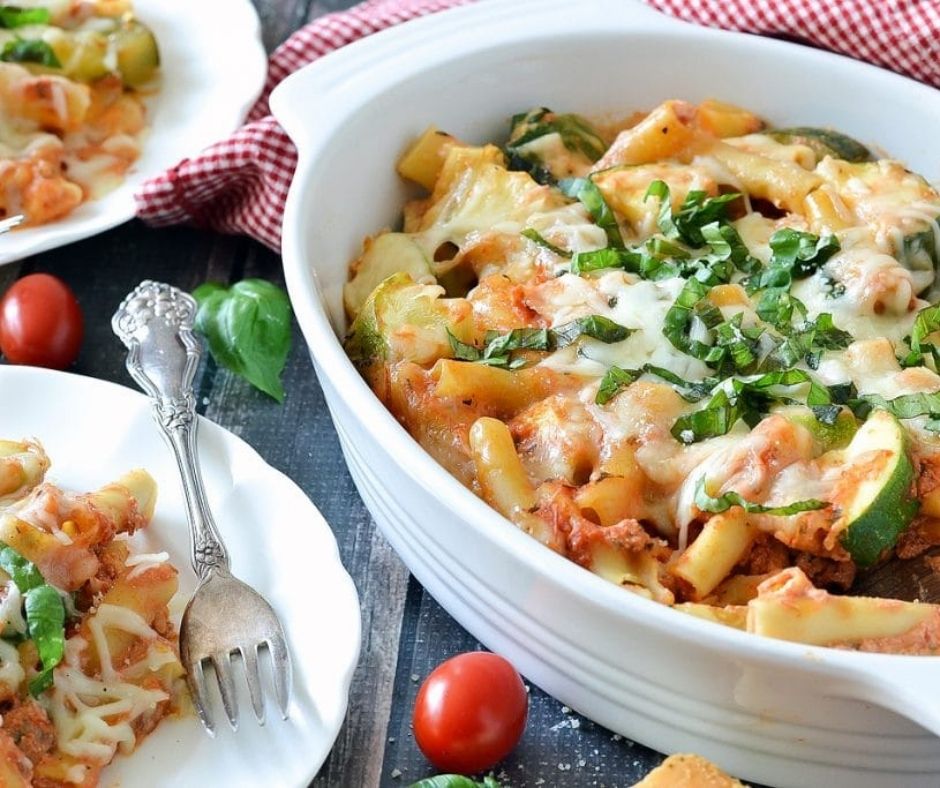 1. Make a meal plan
Decide which meals you would like to make for the week. You can choose to just focus on planning your dinners, or you can plan all your meals for the week (breakfast, lunch and snacks).
If you're new to meal prepping, I recommend choosing just one meal to start. Focus on the meal that causes you the most stress. For me, this is dinner.
Below are some different types of meal prep ideas to help you get inspired:
Reheat meals – Meals that are fully cooked and just need to be reheated.
Cold meals – Meals that are prepared and can be eaten straight from the fridge. These are great options for lunch or when you're short on time. Ideas include wraps, salads, sandwiches, grain bowls, pasta salad, cold noodles, mason jar salads, poke bowls, bento box meals, and so on.
Freezer meals – Meals that are assembled ahead of time (uncooked), and then frozen for later. You can cook them when you're ready to eat. Such as make-ahead lasagna. These are my favorite meal prepping ideas for fast dinners.
Freezer meals also work great for quick and easy Instant Pot meals. Simply put the ingredients in a bag, then freeze it for later. Write down the cook time and instructions on the bag (or an separate index card), then put everything in the Instant Pot (frozen) when you're ready to cook.
Ingredient prep – Chop and portion out ingredients, then you can easily put together meals throughout the week. No cooking required. I like to chop my veggies out for the week, such as peppers, zucchini, and carrots. This is great for fast stir-fry recipes, grain bowls, salads, and soup.
Batch prep – Cook an ingredient ahead of time and use it to create several meals for the week. For example, I like to pick one healthy grain for the week, such as brown rice. I'll cook enough for the week so I can use it for fried rice, burrito bowls, soups, or as a base for stir-fry.
3 Steps to Meal Prep for Beginners
1. Schedule it – To keep it simple, start off by picking one meal that gives you the most grief, such as dinner. Then choose a time in your calendar to prep your meals. Make sure to block off a time that works best for you. Some people choose to meal prep on Sundays, but there's no set rules.
2. Use simple recipes – While it might be tempting to try out new recipes, I recommend sticking to simple and dependable ones in the beginning. Choose recipes that are easy, tasty and your family loves.
3. Make it fun – I like to make meal prepping fun by putting on my favorite music or listening to a good podcast. Sometimes I even treat myself to a fancy coffee.
2. Shop for the ingredients
Once you figure out which recipes you want to cook for the week, then you can create a grocery shopping list. To save money and prevent food waste, try to plan meals around ingredients you already have at home, such as items that need to be used up.
For each recipe that you'll be preparing, write down the required ingredients. Some recipes might use the same ingredients so it's important to quantify your food needs for each recipe. Again, check your pantry to see which ingredients you already have at home.
I like to separate my grocery list by category, such as fruits and vegetables, meats, dairy products, canned goods, baking, and frozen food. This makes it easier to navigate through the grocery store quickly.
Another way to save time is to get your groceries delivered through Instacart. I love this option because I'm less likely to impulse buy or come home with junk food. Learn more about Instacart here.
3. Cook and prep your meals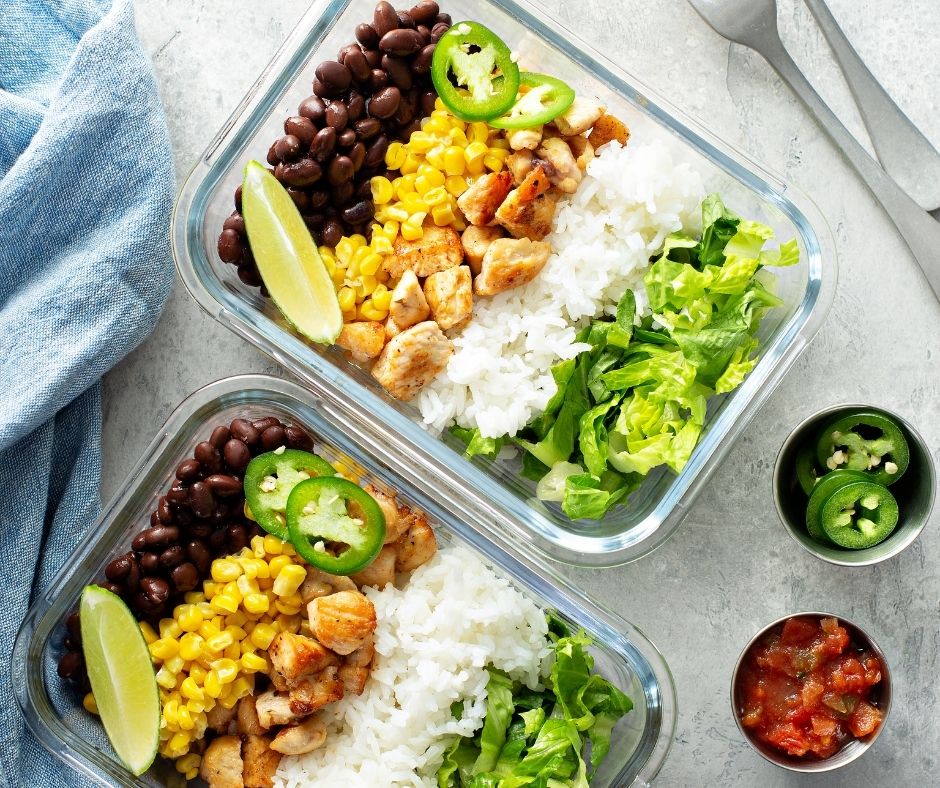 Before you start cooking and prepping your meals, it's a good idea to have all your storage containers ready. My favorite meal prep containers are made of glass. Usually these are safe to use in the oven, microwave, freezer, and dishwasher. I also like glass containers because you can easily see what's inside and they won't alter the taste of your food.
If you're new to meal prepping, there's no need to prep full meals – unless that's what you want to do. Instead, I recommend taking small steps in the beginning, such as cooking a batch of healthy carbs for the week (rice, oatmeal, quinoa, roasted sweet potatoes), or chopping up veggies for easy meals.
Below are some different types of meal prep strategies. You can follow one (or more than one) strategy, it's up to you. Remember, these are just ideas, and you don't have to use all of these strategies.
Batch Cooking
This is meal prep strategy where cook a big batch of something to eat throughout the week. For example, you can base several meals around a batch of protein or a batch of grains (like rice). Below are some ideas that I like to do:
Soups and stews – If there's pasta in the soup or stew like Minestrone soup, I cook it separately. Otherwise, the pasta absorbs all the liquid.
Cook a batch of quinoa or rice – This makes it easy to add to soup, stews, salads, or healthy grain bowls.
Salad dressing – For us, salad is an easy option for dinner so I like to make homemade dressings to use during the week. Homemade dressing lasts about 4-5 days in the fridge.
Cook a whole chicken – This can be good for adding to soups, stews, grain bowls, quesadillas, burritos, sandwiches, and more.
Cook a batch of beans – I like black beans, kidney beans, chickpeas, pinto beans, or navy beans. This is an easy protein to add to meals. Sometimes I use chickpeas to make homemade hummus. This is a great protein option for vegetarians.
Buffet Style Meal Prep
This meal prep strategy is similar to batch cooking, where you'll prep a few different proteins, fruits, veggies, and healthy carbs for the week. This is great for making quick meals, especially if you've already prepped a few different side dishes. Items can be pre-cooked or assembled ahead of time. Below are some ideas to get inspired:
Quinoa salad – Great option to serve as a side dish or to eat on its own.
Roasted vegetables – Great for making power bowls, serving in tacos, or on salads.
Muffins / Quick breads – I love this option for on-the-go snacks or breakfast.
Granola – I love making a big batch of granola to have with yogurt during the week.
Hard boiled eggs – Great for snacks or to serve with toast for breakfast.
Fruit ­– I like to put this on my oatmeal or yogurt in the morning for breakfast.
Mexican taco meat (vegan taco meat) – I like to serve this on tacos, with salsa, or in a power bowl.
Meatballs / Vegan meatballs – Great to put on pasta, spaghetti squash, salad or roasted sweet potato.
Pre-Portioned Meal Prep
This meal prep strategy is where you portion out your entire meal or just a component of your meal. It's one of my favorite ways to meal prep because it saves time. Below are some ideas you can do to pre-portion your meals:
Dips and spreads – These are great to have with veggies or fruit.
Trail mix – I love this quick snack option when I'm on-the-go.
Smoothies – I like to portion out the fruit and mix-ins into freezer safe bags. Then I just put it in my blender with water or non-dairy milk. This is a great meal prep for weight loss if you want to eat more fruits and veggies.
Bento boxes – I like to make different bento boxes that I can grab from the fridge and eat cold.
Mason Jar meals – This is great for lunch or breakfast, such as overnight oats, salads, soups, and more. It's one of my favorite meal prep ideas.
Frozen meals – I like to pre-portion the ingredients into a freezer safe bag, then dump out the contents into my Instant Pot when it's ready to be cooked. This is a good healthy meal prep idea when you're in a pinch.
Tofu, tempeh, chicken or fish in a marinade – I like to marinate my protein so it's flavorful when I'm ready to cook. If you're meal prepping for bodybuilding, this is a great way to have tasty protein options.
You can pick the strategy that works best for you and your family. I find that doing a combination of these strategies works well for me. Feel free to refine the process over time as you tailor it to your needs.
4. Prep your meals for the week
Once you've mastered the basics, such as prepping at least one or two meals, the next step is to prepare multiple meals for the week at the same time. To make life easier, I'm a big fan of using 5Dinners1Hour. I haven't tried every meal prep service, but this is simple and affordable.
How 5Dinners1Hour works: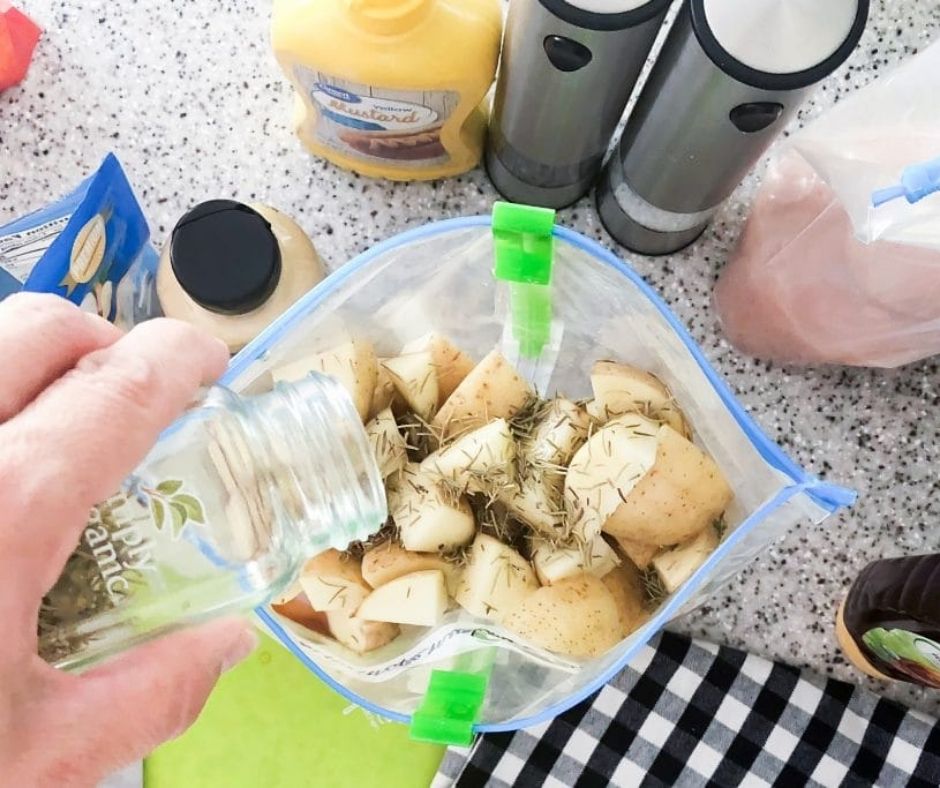 1. Pick your meals – When you sign up, you'll get to pick from a selection of meals that rotate monthly. This means you can create your own custom menu of 5 (or more) meals that you want to prep. You can easily adjust the serving size to fit your family's needs, print or save the menu, and download the grocery list to your device.
If your short on time, consider grabbing one of their pre-made menu plans. All you have to do is get their ready-for-you grocery list, shop, and prep. They provide the meal prepping recipes for you.
2. Shop for groceries – Once you've created your customized menu, you'll receive a grocery list with all the ingredients that you'll need to prepare your meals. Each meal comes with side serving suggestions.
The grocery list is sorted by the different sections in the store to help you quickly get all the items you need. To save even more time, you can choose a grocery delivery service like Instacart, which I highly recommend. They make it easy to stick to your grocery budget.
3. Prep your meals – Follow the easy step-by-step prep instructions on each recipe to assemble 5 meals in under 1 hour. All meals are meant to be kept fresh in the fridge, so they are ready to be cooked over the next 5 days. This means you only need to mess up the kitchen once a week.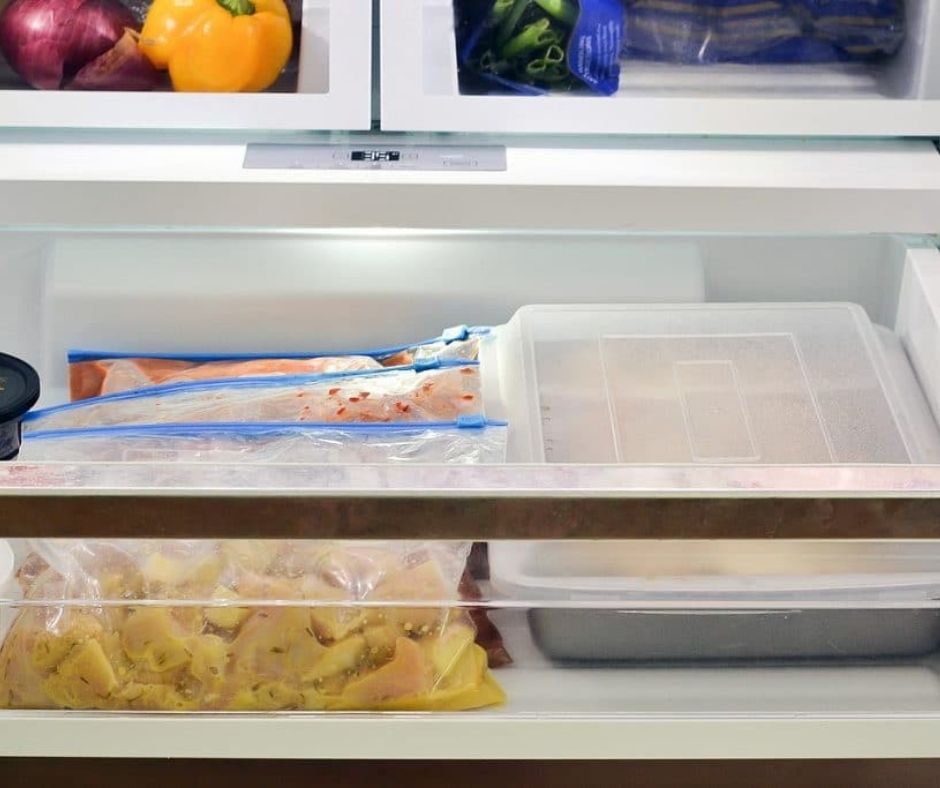 You can easily stack your dinners in the fridge or tuck them into your meat drawer. Don't forget to write down the "best before dates" from the meat packages on your bags so you'll know when to cook it by. Some meals included in the 5Dinners1Hour meal plan can be frozen and thawed before cooking.
4. Cook and enjoy! – Spend less time in the kitchen and more time doing what you love.
5Dinners1Hour membership options:
Classic – This is great for picky eaters and those with no diet restrictions. You'll receive 20 new Classic recipes each month, including side dishes, your custom grocery list, and easy-to-follow instructions to prep and cook your meals.
Family Combo – This is the MOST popular plan and offers the best value. It combines both the Classic and Clean Eating recipes. You'll receive 20 new Classic recipes each month, 20 new Clean Eating recipes each month, including side dishes, your custom grocery list, and easy-to-follow instructions to prep and cook your meals. Plus, with your membership, you'll get a FREE bonus of 170 lunch recipes.
Clean Eating – These meals focus more on whole foods and lots of vegetables. You'll receive 20 new Clean Eating recipes each month, including side dishes, your custom grocery list, and easy-to-follow instructions to prep and cook your meals.
You can see this month's recipes preview here.
---
How to Meal Prep FAQs
Is it safe to meal prep for a week?
Depending on the items you prep, prepared meals should last around 3-4 days in the fridge. To prevent food from spoiling, it's best to plan two prep days per week. Or you can choose to prep meals for the beginning of the week and frozen meals for the end of the week to ensure maximum freshness.
What are the best foods to meal prep?
Hard boiled eggs
Cut up fruit and veggies
Dips and spreads
Overnight oats
Smoothie packs
Quinoa, rice, and farro
Lentils
Beans
Roasted vegetables
Spaghetti squash
Trail mix and granola
Greens for salads and power bowls
Protein (tofu, tempeh, ground meat, chicken, fish)
Can you lose weight with meal prep?
Meal prepping can help you shop for healthier foods, cook ahead, save time and reach your weight-loss goals. When you meal prep, this can help control what you're eating and ensure that you're making healthy food choices. It can also help reduce stress by planning your meals in advance and save you money by avoiding take-out food.
What can you not meal prep?
Dressed salads – This can result in wilted or soggy salad. Instead prep the salad and dressing separately, then put everything together when you're ready to eat.
Avocado – Avocado can spoil quickly. It's best to cut once you're ready to eat. You can save leftover avocado for up to one day in the fridge by preserving it with a little lemon juice.
Yogurt parfaits with granola – Add the granola to your yogurt when you're ready to eat to ensure maximum crunch and freshness.
Chopped tomatoes – Tomatoes can break down and get mushy quickly once they've been chopped. It's great for salsa, but not ideal for salads and other meals. Leave your tomatoes whole and cut them up when you're ready to eat.
Fruit that browns easily – Apples, pears, peaches and bananas can turn brown quickly after they've been cut. Instead, leave these fruits whole and cut them when you're ready to eat.