How can I spend less money on groceries? Today I'm sharing practical tips on how to create a food budget so you can save money and learn how to shop for healthy groceries on a budget.
For the past few years, I've been working hard to find ways to reduce our monthly expenses.
Our monthly grocery budget used to be $500 per month for two adults. Now we spend around $300 per month on groceries for two adults.
What should my budget for groceries be?
The average grocery bill for one person in the USA ranges from $150 to $300 per month, depending on age.
This comes to around $35 to $70 per week on groceries for one person. This average also varies based on where you live and the type of food you purchase.
For example, when planning your monthly budget for groceries, you'll want to consider dietary choices such as gluten-free, dairy-free, keto, vegan and other diets.
This can also impact your grocery budget if you don't pay attention to prices and weekly store sales.
It's important to find a reasonable grocery budget that suits your family's needs. This can help you save more money each month and prevent overspending.
If you want to spend less than $100 a week on groceries, it's important to meal plan, shop by the flyers and sale items, avoid pre-packaged foods, and eat less meat.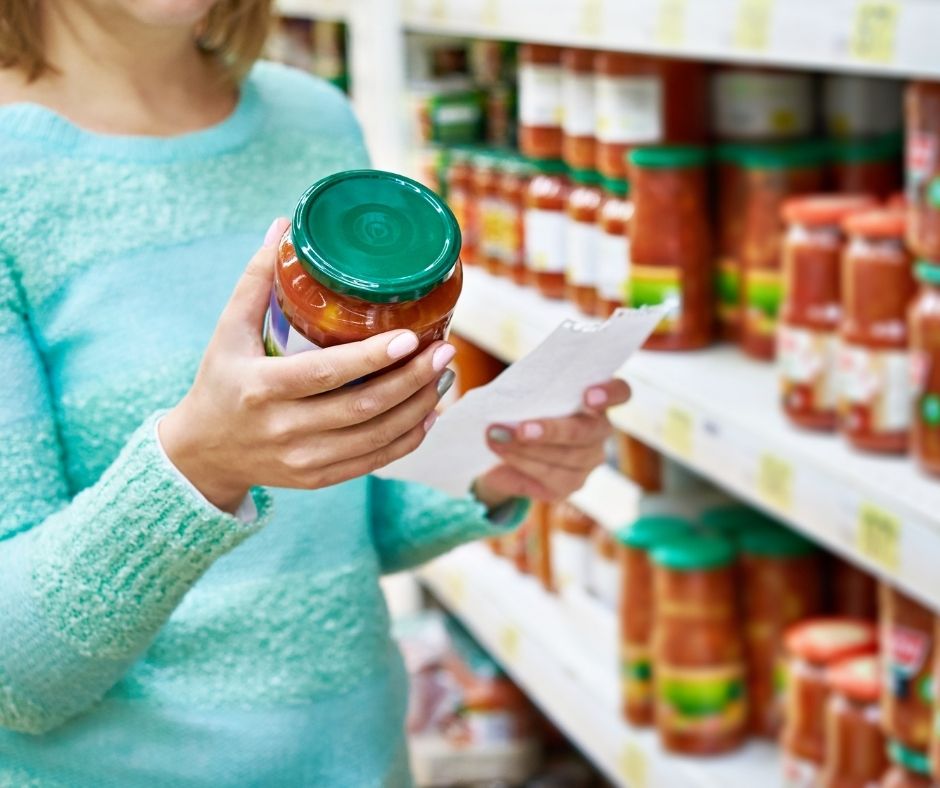 Related Posts:
How do I make a food budget?
Creating a food budget will vary from person to person and family to family. This is because it will depend on a variety of different factors, such as:
Where you live and how much groceries typically cost in your region.
How many people live in your household and how much you need to eat to feel full and satisfied.
Which grocery stores are the most convenient for you to visit.
Your income and how much you can afford to spend on food.
How much time you have available to grocery shop and cook.
Any dietary preferences / restrictions you have (vegan, gluten-free, keto, and so on).
Your food preferences (organic, locally sourced, avoiding soy or dairy, and so on).
How often you eat at restaurants or get take-out.
With so many factors to consider, it can be a challenge to figure out a monthly food budget and stick to it. This means if you have a family of six and you're wondering — how can I spend $100 a week on groceries — then you may need to adjust your expectations.
To help you figure out realistically how much you should spend on groceries per month, here are three things to consider when creating your food budget.
Meal planning has been a game-changer for my family. Use this beautiful printable binder to help you save money on groceries, save time, and eat healthier. Grab it here for just $5.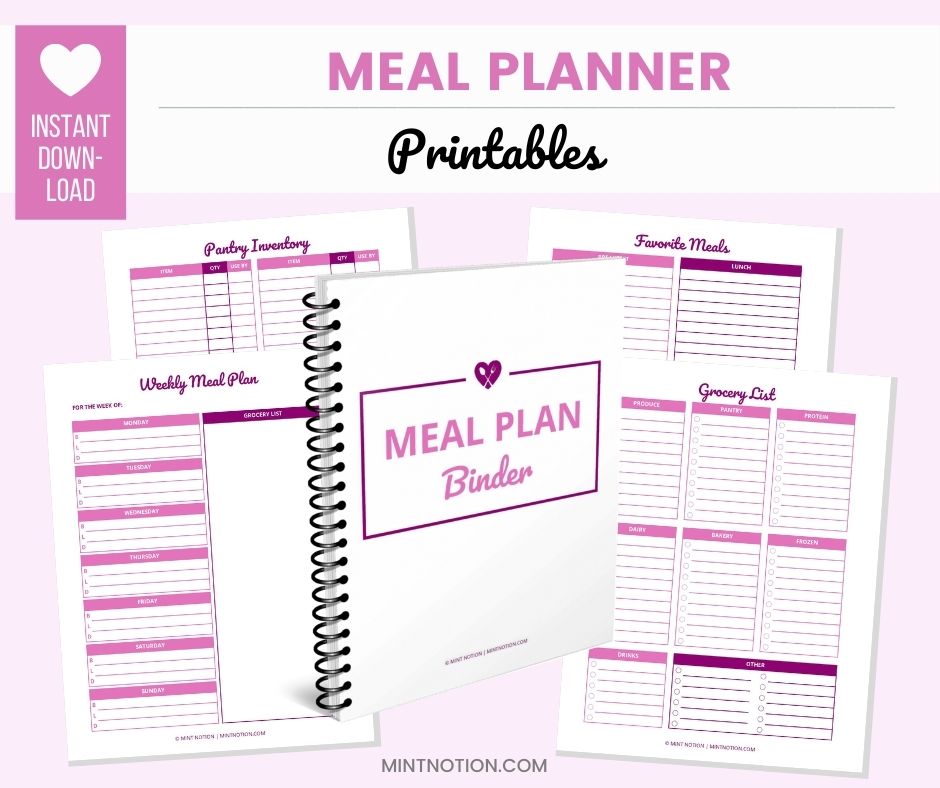 1. How much did you spend on food last month?
Before you can make a food budget, it's important to figure out how much you're currently spending. To do this, check your receipts and subtract non-food items from the amount. This is the first step to help you save money on food.
Personal care and household items such as shampoo, laundry detergent and toilet paper should not be accounted for in your food budget. Instead, you can put these expenses under your "Personal Care" or "Household Items" spending categories in your monthly budget.
Next, I recommend creating a separate budget for groceries and dining out. This is because you'll want to keep track of how much money you're spending on groceries versus how much you're spending on take-out, restaurants, and coffee.
2. Test out different weekly budgets and find out what's realistic for you
Let's say you spent $500 last month on food. Suddenly cutting this amount to $250 a monthly probably won't work. You'll want to start small and test different weekly budgets until you can find a budget that's realistic for you.
If you're currently spending $125 per week on food, try cutting is back to $100 for the next week. If that's easy, try budgeting $75 per week. See how much you can cut without feeling like you have to struggle to stay within your budget.
Instead of dramatically cutting back on your food costs, do it in small steps. It may take a few weeks of testing different food budgets until you can find one that's comfortable and helps you save money.
3. Track your food spending with cash envelopes
Setting a budget is easy. Sticking to it is a different story. One of the best ways to track your spending and keep yourself on accountable is to use cash envelopes (or cashless). Remember, you can only improve what you measure.
Cash envelopes are a budgeting method where you use cash and envelopes to help track and manage your monthly spending. I like to create a separate envelope for groceries and one for restaurants.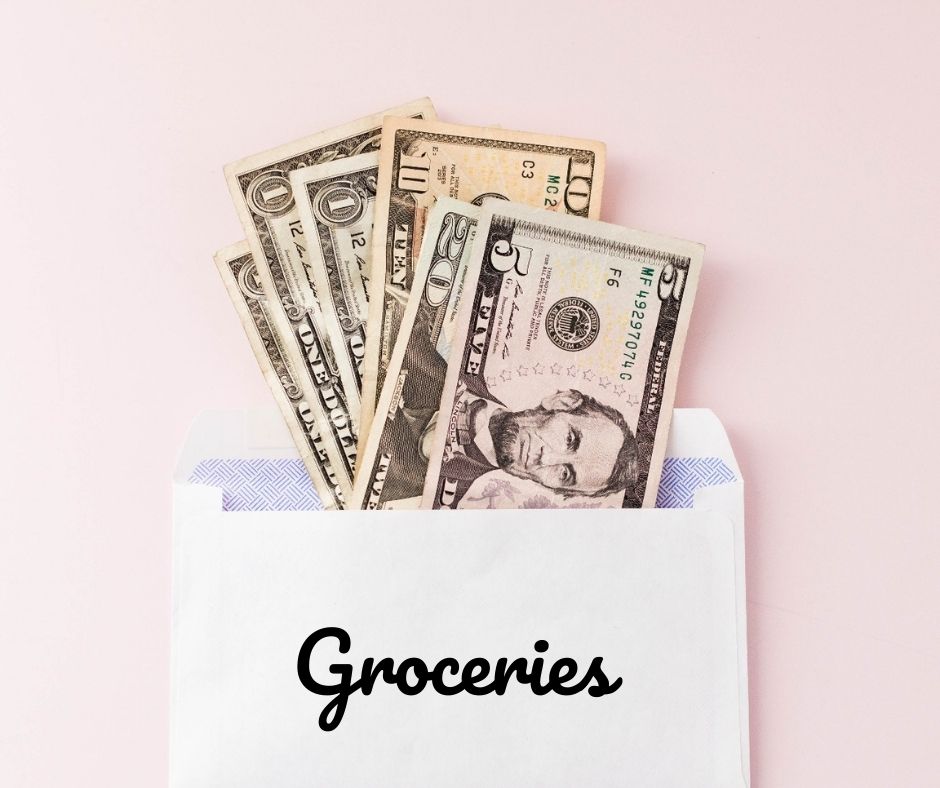 How set up your grocery cash envelope:
Figure out how you want to budget. For example, monthly, bi-weekly or a weekly budget. If you're following a monthly budget, take out the amount of cash you need to cover groceries for the month (or week) and stuff it inside your grocery cash envelope.
Each time you spend money on groceries, you'll use the money inside the cash envelope to pay for groceries. Once you're out of cash, that's it! This can help you stick to your budget and avoid overspending.
You don't have to guess how much money you have left in your grocery budget. When using envelopes, you can see exactly how much money is left in your budget. You're more likely to think through every purchase. This is one of the best ways to save money on groceries and household items.
How to use the cash envelope method without cash:
If you're like me, I prefer to follow the cashless envelope method. This means, instead of stuffing my envelopes with cash, I write down my grocery budget on the envelope. Then each time I spend money on groceries, I record the transaction on a spending log and put the receipt inside the envelope.
This helps me to keep track of my purchases and see how much I have left for the month (or week) in my grocery budget. If you're interested, you can download my free cash envelopes here.
How to save money on groceries
Now that you've established a rough idea of your food budget, the next step is to learn how to save money on groceries every month and stick to your budget! Below are some of my favorite grocery shopping tips.
1. Create a meal plan
This is the #1 way to save money on groceries. A meal plan is basically just thinking ahead about what you'll make for meals and snacks and getting prepared. This can help you create a grocery list which will keep you focused when shopping.
Instead of walking down each aisle and putting items in your cart that catch your fancy, your meal plan grocery list will save time and help you stick to your budget. This is a great way to save money on food.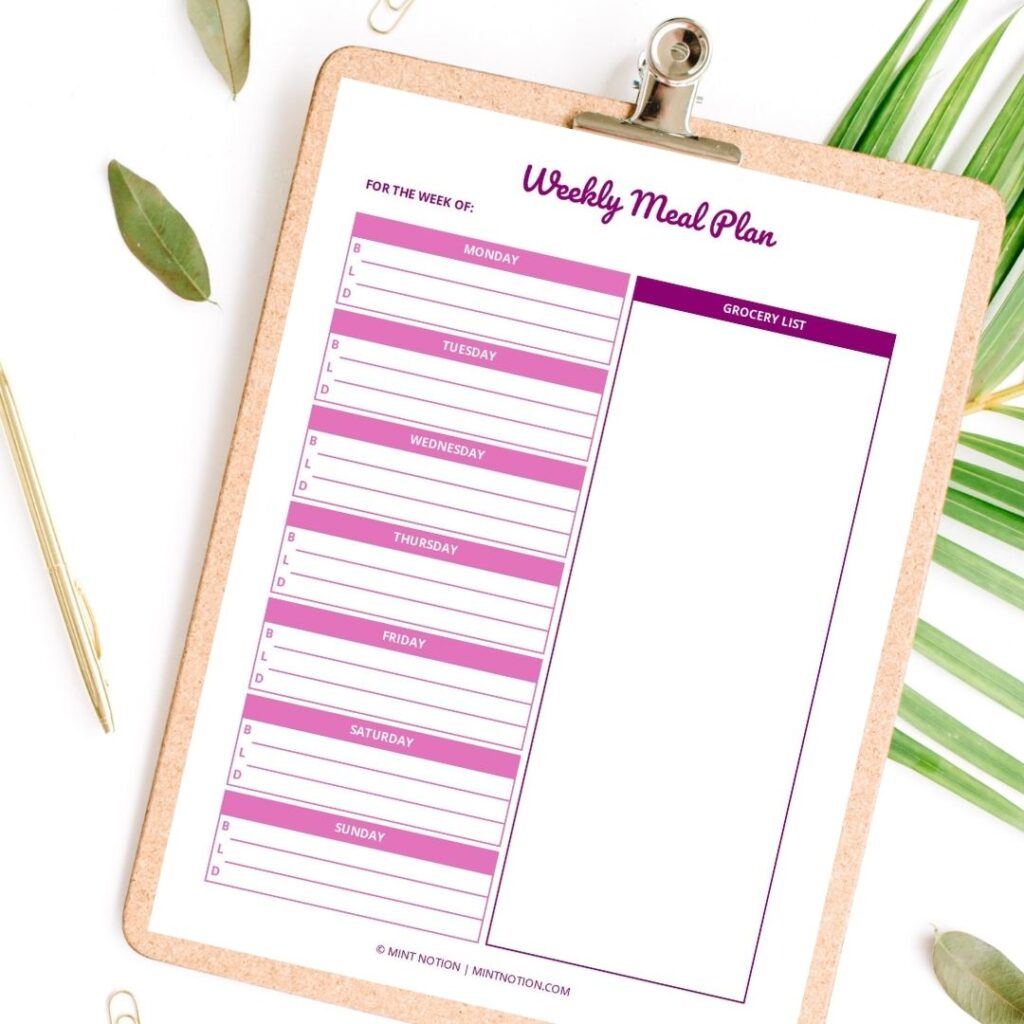 I like to use my printable Meal Plan Binder to keep me organized. It includes a weekly meal plan sheet, grocery list template, and other worksheets to help you keep track of your family's favorite meals, pantry, fridge and freezer inventory.
Plus, my Meal Planner is on sale for just $5 (limited time offer).
For those new to meal planning, check out the $5 Meal Plan to help you save even more money.
2. Earn cash back on groceries
There are several apps that are free to use and can help you earn cash back on grocery shopping. They usually have different offers that qualify for cash back every week. Using these popular apps is a no-brainer when it comes to reducing your food budget.
Rakuten – Earn cash back when grocery shopping online. Includes over 2,000 retailers in their online shopping portal. This is my favorite cash back app and right now you can earn a $10 welcome bonus when you sign up.
Ibotta – This free app lets you earn cash back on hundreds of products at your favorite retailers. You'll get cash back as soon as your order is confirmed. You don't have to worry about dealing with points or coupons, you'll just get real cash.
Rebaid – Earn free rebates on qualifying products when you shop online. Includes deals up to 100% when shopping on Amazon, Wal-Mart, and other retailers. This is a great way to save money on groceries with coupons.
Dosh – This free app gets you automatic cash back at thousands of places when you shop. The good thing about Dosh is that you don't have to worry about scanning receipts or using coupons.
Drop – This free app helps you earn cash back and rewards simply by shopping at your favorite retailers. Receive points when you shop, and you can redeem these points for cash at places like Amazon, Netflix and Starbucks.
3. Get your groceries delivered
If you're short on time or have trouble sticking to your shopping list at the grocery store, you may want to consider getting your items delivered.
There are a few companies, such as Instacart that offer same-day delivery or pick-up. All you need to do is place an order, then someone does all your shopping for you. Within a couple of hours (or a timeframe of your choice) your groceries will be delivered to your doorstep.
You can get in touch with the shopper and let them know to check for expiration dates or make sure to pick out apples with no bruises. It's straightforward and can be a big timer-saver if you have a busy schedule.
How much does it cost to use Instacart?
Depending on the store and the items you're purchasing, most are either the same price or have a slight markup. When shopping through the Instacart website, it will let you know whether or not you can expect higher prices. Keep in mind, you are paying for a service which means there will be a small cost.
Can Instacart save you money? Yes! Even though there's a small cost to get your groceries delivered, it can save you money in a couple of ways:
You're less likely to impulse shop. Sticking to your grocery list is not easy, especially when you're in the store and see items that catch your eye. Using a service like Instacart can help you stick to your meal plan shopping list and only purchase the items you actually need.
You save money on gas. Since you're not driving around to run errands, you can save money on gas. This can also help you free up time to spend doing other things, such as work or spending it with family.
If you're ready to give Instacart a try, you can learn more and sign up here.
4. Try a meal plan kit service
Meal plan kits have become super popular recently and it's easy to see why.
With subscription services such as Hello Fresh or Chef's Plate, each week, you'll receive simple step-by-step recipes complete with nutritional information and fresh pre-measured ingredients to help you whip up delicious dinners in no time. Below are some real reviews from happy Chef's Plate customers!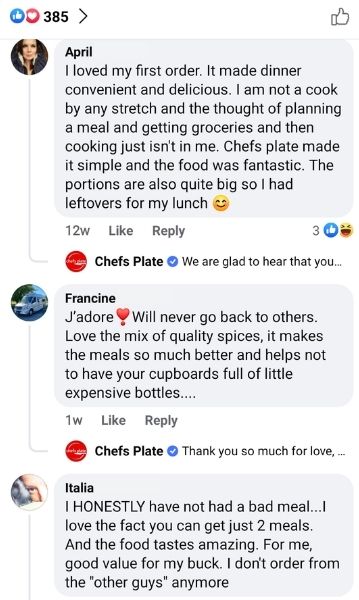 I like to order a box of Hello Fresh or Chef's Plate during busy weeks when I don't have time to meal plan or figure out what's for dinner. This is cheaper than getting take-out and it's much healthier and nutritious too. Both companies are great and I like to choose the box based on what's on their weekly menu.
5. Shop the freezer section
Do you want to know how to save money on groceries eat healthy? Shop the freezer section! This is the best way to save money on groceries without coupons.
My favorite place to shop is the perimeter of the grocery store, including the freezer section. Frozen fruits and vegetables are usually cheaper than buying fresh, and they are picked and frozen at their peak, which means they are highly nutritious.
My freezer is packed with frozen fruit and veggies. This makes it easy to whip up healthy smoothies, soups, stir-frys, stews, and so much more.
6. Learn to love your leftovers
Learning to love and enjoy leftovers can help you save a ton of money and reduce food waste. Plus, it can save you time in the kitchen because you can cook once and eat twice (or more)!
I used to hate leftovers and never ate them. But now I'm learning how to love them. I invested in a good set of glass storage containers, which help my food last longer and taste better.
If you don't want to eat the same food two days in a row, considering investing in a deep freezer. This can allow you to make and prepare freezer meals, which can save time and money.
You'll also want to cook meals that actually taste good as leftovers. Think like soup, stews, chili, lasagna, bean salad, spaghetti sauce, curry, and so on.
7. Comparison shop and check the flyers
Each week, I recommend going through the flyers for stores in your area to see what's on sale. This only takes about 10 minutes or less to do and can be a great way to spend less money on groceries.
Make note of what's on sale and what you actually need to purchase for your meal plan that week. Then choose the store that offers the best prices and shop there that week. This saves you time from having to drive around to multiple grocery stores.
If something is not on sale that week, I don't buy it. I'll only make an exception for an item that I absolutely need and cannot wait for it go on sale.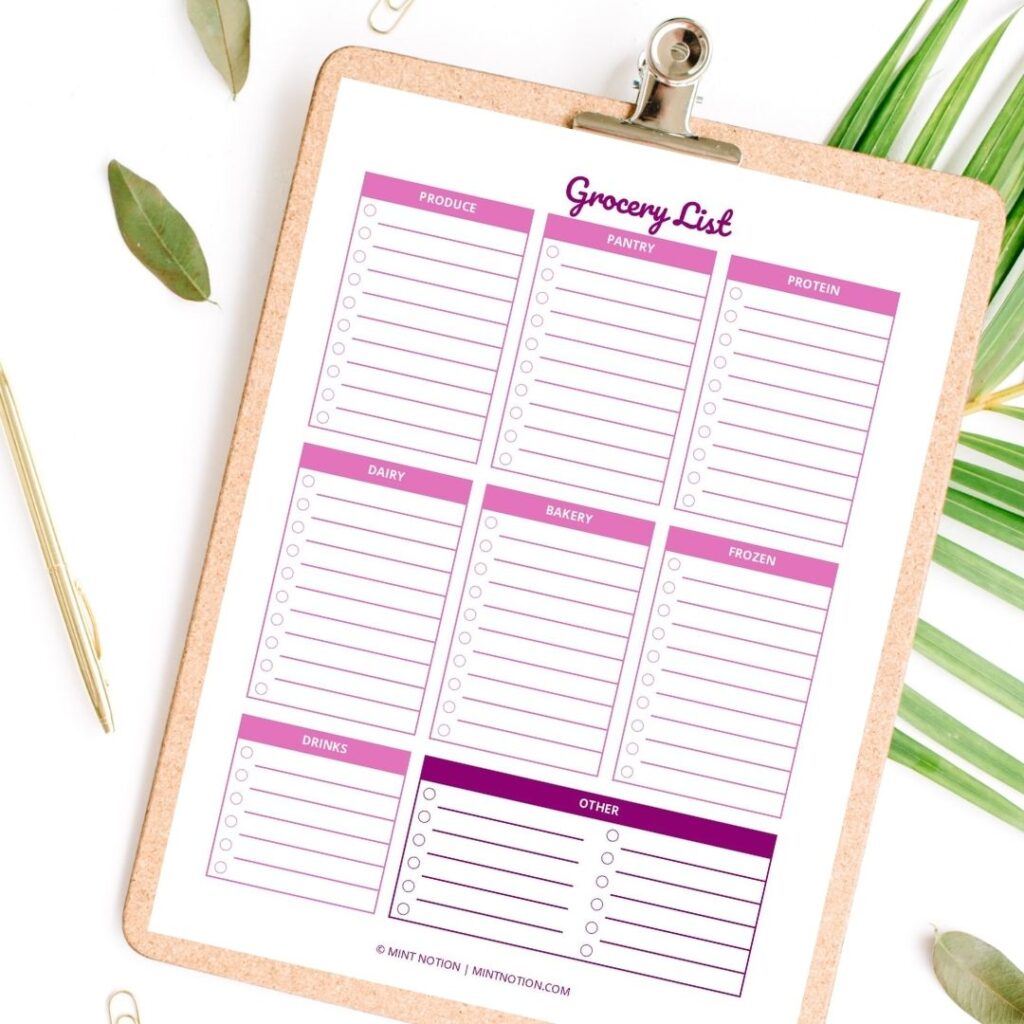 8. Comparison shop within the store
Shop the International aisle – Another smart way to save money on groceries is comparison shop within stores. For example, you may notice that some items are cheaper in the intentional aisle of the grocery store. Or some items in the organic section of the store might be on sale when the regular products are full price.
Buy generic – Consider buying generic brands too. The store brand is usually cheaper and often tastes just as good as the brand name product. Just make sure to compare the ingredients to make sure the generic brand isn't filled with unhealthy stuff.
Compare the price per unit – To help you save money on groceries, compare the price per unit or ounce for the item you're buying.
9. Redefine dinner
What comes to mind when you think of dinner? If you said meat, potatoes, side of vegetables, green salad with a loaf of French bread, and chocolate pie for dessert – think again!
Dinner can be simple and still nutritious. Sometimes we just have sandwiches for dinner, or eggs and toast, or a smoothie, or apple pie oatmeal, or hummus and veggies. Stop putting unnecessary pressure on yourself to make dinner an epic meal every night.
10. Shop your fridge and pantry
The first thing I do when creating my meal plan for the week is to shop my fridge and pantry. I do this BEFORE making my grocery list and stepping foot in the supermarket.
Why? Because you probably have everything you need at home to whip up a quick and tasty meal. There's no need to buy more food if you can make an easy pantry meal.
Some of my favorite pantry meal ideas include vegetarian taco bowls, quesadillas, soup, spaghetti, chickpea salad sandwiches, naan pizza, perogies, breakfast burritos, chili and cornbread, fully loaded baked sweet potatoes, and Cajun red beans and rice.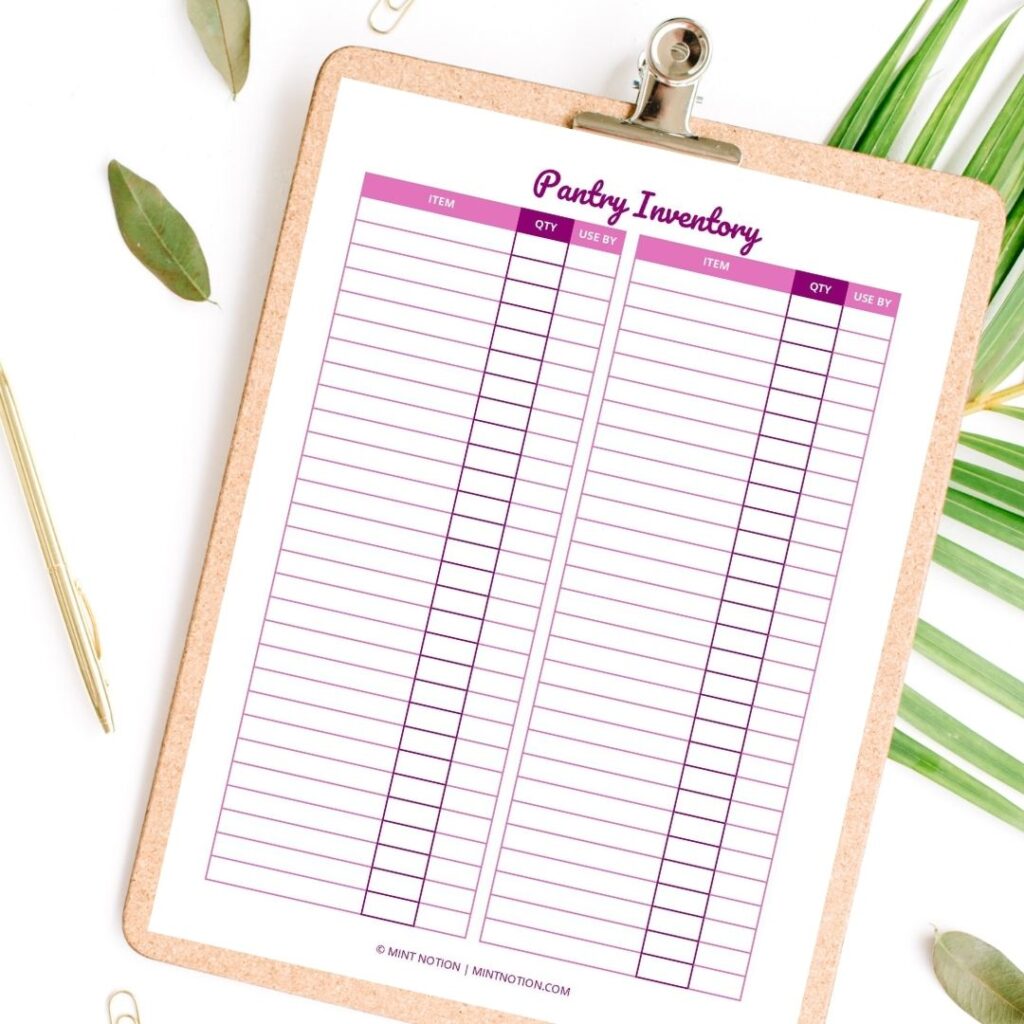 11. Avoid eye-level items
Grocery stores usually put the most expensive products at eye-level on the shelves. This is because it's easy for customers to grab and they want you to see the most expensive items first.
Instead, remember to look up and down while you shop. The more affordable brands can be at the top of bottom of the shelves. This can help you save money on groceries.
12. Try going meatless for a meal
I know most carnivores will scroll past this tip and say "Nope! I need my meat!". But eating a meatless meal once or twice a week can add up to significant savings on your monthly grocery budget. Meat is often more expensive than other sources of protein.
Cheaper sources of protein include, beans, legumes, lentils, tofu, veggie ground, edamame, tempeh, seitan, green peas, eggs, and Greek yogurt. There are many meatless recipes that taste delicious and will leave you feeling full and satisfied.
13. Avoid pre-packed snacks and processed foods
One way we like to keep our grocery budget cheap is to avoid pre-packaged snacks. We don't eat many snacks to be honest. When we do, we prefer to eat fruit, homemade trail mix, veggies and hummus, homemade energy bites, homemade cookies, or homemade banana bread, or air-popped popcorn.
We rarely buy chips, crackers or cheese. The only time we buy chips is if it's on sale for a great price. Otherwise, we try to eat dairy-free. Not buying cheese saves us a lot of money.
14. Grow your own herbs and spices
In the spring and summer months, I love growing my own herbs. Store bought herbs like rosemary, thyme or basil can get pricey. Plus, enjoying herbs from your own garden tastes so much better!
We live in a small condo in the city, so I like to grow my herbs indoors or on my balcony. Any extra herbs leftover at the end of the season, I place them into ice cube trays with olive oil and freeze it for later. This can be a great way to save money on groceries.
15. Buy dried beans and lentils
I used to always buy canned beans, lentils, grains and veggies out of convince. But once I saw how much cheaper it was to buy dried beans, lentils, grains and frozen veggies, I stopped buying the canned varieties. This a smart way to get healthy groceries on a budget.
Now I use my Instant Pot all the time to cook beans and create easy, healthy meals. Cooking dried beans in the Instant Pot is fool-proof and it tastes a million times better than canned beans. I just soak the beans during the day before I make dinner or soak them for 1-hour in hot water if I'm short on time.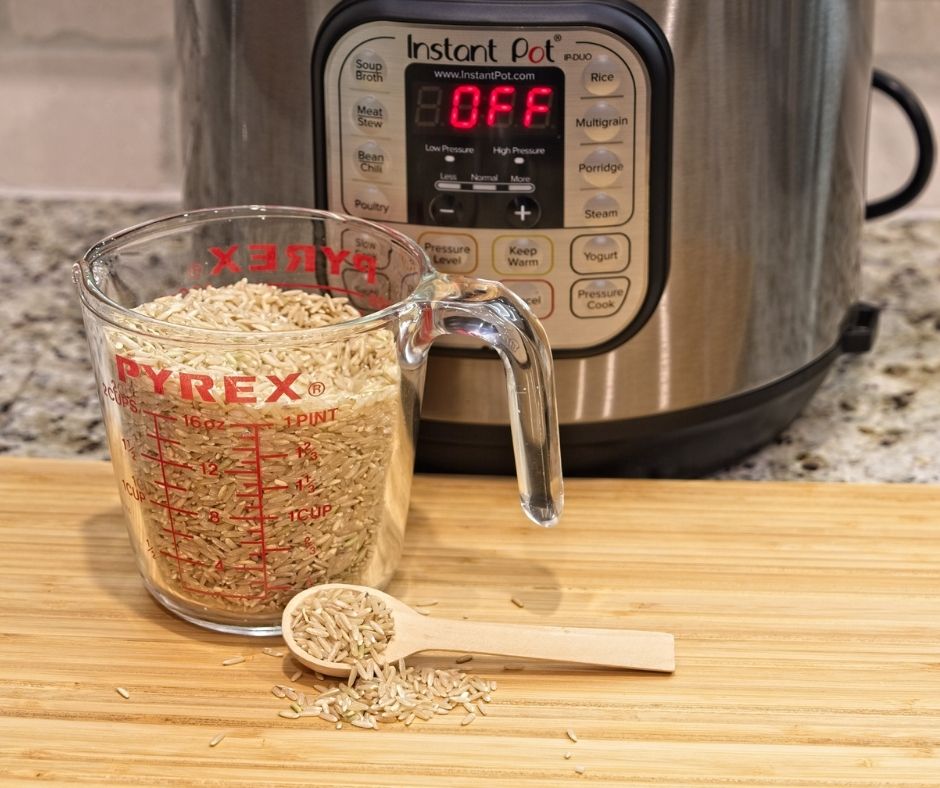 16. Stock up when items are on sale
For items that don't go on sale often, I like to stock up. These are usually non-perishable items or items that have a long shelf-life. You want to make sure that you'll use up these items before they expire and they make sense for your grocery budget.
Be mindful though. A common mistake people make is buying items in bulk or stocking up on sale items thinking it will save them time and money. Buying items in bulk might be great for a family of four. But if it's just you or you and your partner, that big package of yogurt might not be the best idea.