Are you looking to save money to travel the world, pay for a wedding, or to attend University?
Shortly after I started working at my first job after finishing my undergraduate degree, I decided that I wanted to go to Business School. I also got engaged at the same time and it got me thinking about my financial situation. I was earning an entry-level salary at a corporate office, but I wasn't saving any of my money or really thinking about my future.
I knew that I needed to make a change and decided to make Business School my main priority. I started my graduate studies part-time while I continued to work on a full-time basis. However, room for advancement in the company I was working at was limited, and I decided that I wanted to accelerate my education by finishing my MBA sooner.
I got serious about saving money and made a plan which allowed me to quit my job, pay for the remainder of my school tuition and travel.
The first step was to determine how much money I needed and then to create a realistic budget for myself. $35,000 might not seem like a lot of money to save in under two years, but keep in mind that I was making an entry-level salary and paying for my tuition part time. I was also relying on a single source of income and not doing any side hustles to make extra money.
If you have student loans, I recommend using LendKey to get the best deal. LendKey can help you save thousands of dollars by refinancing and consolidating your student loans into one manageable loan with a lower interest rate. Here are some of benefits of using LendKey:
A quick 2-minute rate check with NO impact on your credit score
You can reduce monthly payments up to 40% and save an average of $10,000
Over 275 not-for-profit and community lenders to choose from mean higher chances for approval and LOWER rates
Many people have asked to see a break down of my exact monthly budget, income, and school tuition. This post is already 2,500+ words and I did not feel that it was helpful to include my personal budget in this post. My income at the time was $39,000 annually. I tried to keep my monthly expenses as low as possible in order to help me save money for school. This post is meant to share the financial habits that I practiced. As a side note, I am a homebody and I live a relatively modest lifestyle. Even though I enjoy fancy things, I don't go shopping for fun (only if I need something), I don't own the latest gadgets or tech gear, and I rarely eat out. I hope these tips will help you in saving money for your goals!
Related Posts:
Here's how I saved $35,000 in less than two years on an entry-level salary: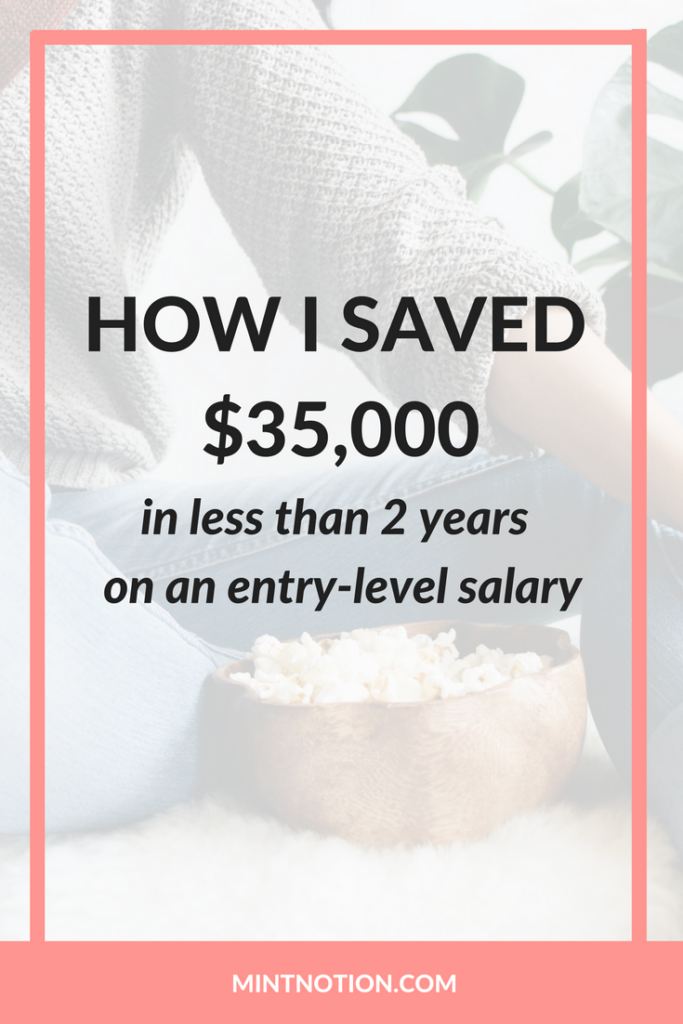 1. I paid myself first
Yes, you may have seen this phrase in many personal finance books and blogs before, and it's for good reason. This is one of the most effective and easiest ways to start saving money. You simply pay yourself first.
I opened up a savings account and automatically deposited a portion of my paycheck into this account for each pay period. Since it was automatic, I wasn't tempted to spend the money before transferring it to my savings account.
Instead it was automatically done for me, and it guaranteed that I saved a portion of my pay cheque each month. I also made a promise to myself that I would not touch any of the money in my savings account unless it was for graduate school.
If you're interested in learning more about investing, I recommend starting with Lending Club. The investing platform is straightforward and easy to use. Lending Club is the largest online lender of personal loans in the United States. This means investors, such as yourself, provide loans to borrowers. You can choose which loans you wish to invest in and earn monthly returns from the payments that borrowers pay. This is a great platform to start investing and has the potential for you, as an investor, to earn a steady cashflow. You can learn more about Lending Club here.
2. I found ways to trim down my monthly bills
I reviewed all my monthly expenses to understand where my money was actually going. Once everything was clear and organized, I was able to determine where I could adjust my spending.
There are SO many great options today to replace cable TV. I highly recommend signing up for Amazon Prime. With Amazon Prime, you get instant access to watch thousands of movies and TV shows. You can also borrow Kindle books, get unlimited FREE two-day shipping, and get special savings exclusively for Prime members. Click here to try Amazon Prime 30-Day Free Trial.
Instead of paying for a monthly gym membership, I started buying workout DVDs instead. Now I'm a big fan of exercising to workout videos. It's like being in a fitness class and having your own personal trainer at the same time. Here are a few inexpensive workout DVDs I recommend buying:
I also noticed that my cell phone contract was coming to an end, and I wanted to upgrade my phone, but I didn't want to get stuck on another 2-year term. Instead, I bought an unlocked phone (on sale) and switched to a pay-as-you-go plan. Now I only pay $7.50 per month for my smartphone. This worked well for my needs and it saved me a lot of money in the long run.
3. I discovered affordable ways to have fun on the weekends
In the past, my weekends consisted of trying a new restaurant or bar, shopping and spending money on non-essentials. I look back on my spending habits and cringe at how much I use to blow on silly things.
Instead of going out to a restaurant, I started entertaining at home. I checked out free events happening in the city. I discovered that there were plenty of affordable ways to have fun on the weekend that didn't involve spending a lot of money.
I also like using Groupon on fun activities and dining out. When I wanted to eat out, I would always check for deals on Groupon first. (I just recently used Groupon to get $30 worth of food at my favorite restaurant for only $5 — I love finding great deals like this).
4. I taught myself how to cook
I used to enjoy eating out ALL THE TIME and trying new restaurants that opened up near my office. I didn't know how to cook, so I liked the convenience of grabbing something to go instead of packing my own lunch for work.
However, this habit was costing me $5-10 a day, not to mention how much I was spending eating out on the weekends too. It was eating up a large chunk of my monthly budget, no pun intended. If I wanted to attend graduate school full-time, I couldn't afford to continue eating out every day.
I started borrowing cookbooks from the library and taught myself how to make my favourite meals. It wasn't easy at first (or fun) because I was a terrible cook. But with more practice, I got better, and now I love to cook. It's a creative outlet for me and I enjoy making new dishes for my family.
Some of my favourite cookbooks are:
If you want to start making more homemade meals, but don't like the idea of meal planning, I recommend using the $5 Meal Plan. This is a weekly meal plan service that can make your meal planning super simple.
For just $5 per month, you will receive a delicious meal plan, where every meal will cost about $2 per person (or less). It's a great way to save time and money, plus they offer specialty plans, including gluten-free and vegetarian meals. Click here to try it free for 14 days.
5. I brought my own tea and snacks to work
My office was located near several cafes, which made it tempting to grab a tea and pastry on my way to work each morning. It was so tempting in fact, that I used to frequent these cafes a few times a week.
$2-5 each day on coffee or tea didn't seem like much, but over the month it became noticeable with my salary. Every penny counted, so I needed to cut back on my visits to Starbucks.
Instead, I started to bring my own tea and snacks to work. I also made an unwritten rule where I could go to Starbucks once a week (usually on Fridays) as a special treat to myself. This small change added up to big savings for me.
Related: 17 easy ways to save money at Starbucks
6. I became a smart shopper
Remember how I said that I use to spend my money on frivolous things? Well, I needed to break that bad habit in order to help me save money. Whenever I needed to buy something, I started shopping on Rakuten so I would earn cashback on all my purchases.
Another great way to get cashback deals is to use Ibotta. This app allows you to earn cashback when buying groceries and other everyday expenses.
Here are some other ways I became a smart shopper:
I bought things I needed only when they were on sale
Before buying anything, I always asked myself if I really needed it. This helped me to separate my wants from my needs. I checked flyers to find out what was on sale that week and made a list so I could shop with a plan.
I stopped experimenting with beauty products
In the past, I used to enjoy trying new beauty products such as face masks, makeup and nail polish. However, I didn't end up liking every new product I would buy, and it was a waste of money. Instead of experimenting with new beauty products, I stuck to products that were tried and true, and ones that worked for me.
I stopped buying dry-clean only clothing
I worked in a corporate office, which meant I needed to wear professional clothing. However, a lot of professional clothing is dry-clean only, and this can get expensive over time. Also, I don't like the chemicals used in dry cleaning, so I avoided buying any new clothing that required dry cleaning.
When buying new clothing, I stuck to neutral colors
Buying neutral colours (black, grey, white, beige, etc.) allowed me to mix and match outfits more easily. Also, I could get away with wearing the same black dress or blazer each week without anyone really knowing. This however, would have been harder to do if it were a red dress for example.
I bought multiples of toiletries when they were on sale
When my favourite face wash or body lotion went on sale, I stocked up. I created a small stock pile of items that I frequently used. This prevented me from having to buy items at full price if I ran out of them before they went on sale again.
7. I switched up my banking
For the longest time, I was only putting my money in one place – a single chequing account at my bank. I didn't have a credit card, I didn't think I had enough money to open up a savings account, or invest it in a TFSA (tax free savings account).
It wasn't until I started learning more about my banking options that I decided to open up a high-interest savings account and start investing in a TFSA. At this time, I also signed up for my first credit card, which I used to pay for my school tuition (since I was attending graduate school on a part-time basis).
I watched my savings, investments and reward points on my credit card grow which was exciting! I regret not exploring my banking options sooner.
8. I changed my priorities
In the past, I use to save up my money to buy designer shoes and splurge on fine dining. There was nothing wrong with that, but if I was serious about saving enough money to pay for graduate school, I needed to change my financial priorities.
Since I was only making an entry-level postgraduate salary, I couldn't afford to continue my current spending habits if I wanted to pursue higher education.
In other words — I couldn't have it all — and that's something I needed to understand.
We are constantly seeing others portray these glamorous lifestyles on social media, which are unrealistic and can result in high amounts of debt to sustain this rich appearance.
I know it's easy to get caught up in that thinking and feel like you deserve to have it all too. But if you want to build wealth, you can't have your cake and eat it too. You have to make compromises, and that's exactly what I needed to do.
9. I stopped trying to keep up with Joneses
I'll admit that I was never really one to keep up with the Joneses. However, I enjoyed reading fashion magazine and would lust after designer shoes or purses that were advertised.
My mind would trick itself into thinking that I needed those items in order to be happy. Eventually I realized that this spending habit was not healthy, and I needed to stop keeping up with the Joneses if I wanted to reach my financial goals.
10. I stayed focused and set a time frame for my goals
Even though this point is last on the list, setting a time frame for my goals was pertinent to my success. If I told myself that I wanted to save $35,000 eventually, it would have taken a lot longer since it's easy to get side tracked when you don't have a specific time frame.
Also, each time I felt tempted to spend money on non-essentials, I would ask myself if this purchase would get me closer to my goals. If the answer was no, then I wouldn't buy the item. This self-discipline took A LOT of practice and was something that I got better at doing over time.
Trust me on this one, nothing worth doing is ever easy. Believing that you can is the first step.
PRODUCTS I LOVE TO SAVE & MAKE MONEY:
LENDKEY: To get the best deal possible on your student loan, I recommend using LendKey. LendKey can help you save thousands of dollars by refinancing and consolidating your student loans into one manageable loan with a lower interest rate. Click here to learn more about how LendKey can help you save money.
TRIM: Trim is a free virtual assistant that constantly helps you to save money. It's essentially a robot that analyzes your accounts to find recurring subscriptions and determine where you can save money. Trim has saved folks more than $8,000,000 and can help you save money quickly too. Click here to start saving money with Trim!
ONLINE SURVEYS: Online surveys are a great way to make money in your spare time. You can earn an extra $100-$600 per month. Here are a few of my favorite websites:
Survey Junkie (The top-rate survey site that pays you cash for each survey you complete)
Branded Surveys (My favorite online survey site. Most surveys take between 5-10 minutes to complete)
Swagbucks (get a $5 bonus when you sign up)
Rakuten: Want to earn cash back when you shop online? Rakuten acts as a shopping portal offering coupons and cashback from over 2,000 online stores. I always check on Rakuten first whenever I shop online! You can join Rakuten for free and get a $10 welcome bonus when you sign up through this link.
START A BLOG: Blogging is one of my favorite ways to earn extra income. You can start a profitable blog for as a low as $2.95/ month. If you enjoy writing and are passionate about a certain topic or niche, then I recommend starting a blog. You can use my free step-by-step tutorial on how to launch a blog, which includes a discount for my readers and a FREE domain.