Do you want to stop buying clothes or reduce clutter in your home? You may want to consider trying the shop your closet challenge.
Perhaps you have a closet full of clothes, but feel paralyzed with indecision when getting dressed because you feel like you have nothing to wear. This is a fun challenge if you want to learn how to wear everything in your closet!
Back when I was struggling with a shopping addiction, I was constantly buying new clothes because it felt like I could never have enough. I ignored 80% of my closet and kept repeating the same outfits.
Did I do this because I was lazy? Or was it because these outfits were already conveniently located on my bedroom floor?
The truth is, I wasn't inspired by most of my clothes and felt overwhelmed. Many of the items I bought were on a whim or because the sale was "too good to pass up".
This led to me to curate a closet full of clothes that I didn't really love. It's no surprise why it felt like I never had anything to wear.
But how could I fix this? There was certainly no way I could afford to continue my weekly shopping sprees. That's why I learned how to wear everything in my closet.
To make the most of my existing wardrobe, I decided to try the 30-Day Shop Your Closet challenge.
For the next 30 days, I was going to stop buying clothes and challenge myself to put together an outfit from my wardrobe. This means you'll be shopping your own closet.
If you want to learn how to create outfits from your closet, then consider giving this challenge a try!
If you know someone that would find this challenge helpful, please share it with them! Over 1,000 women have already done this challenge with great success. It makes me so happy to see you post your outfit ideas on Instagram! Tag me @mintnotion – Thank you!
Related Posts: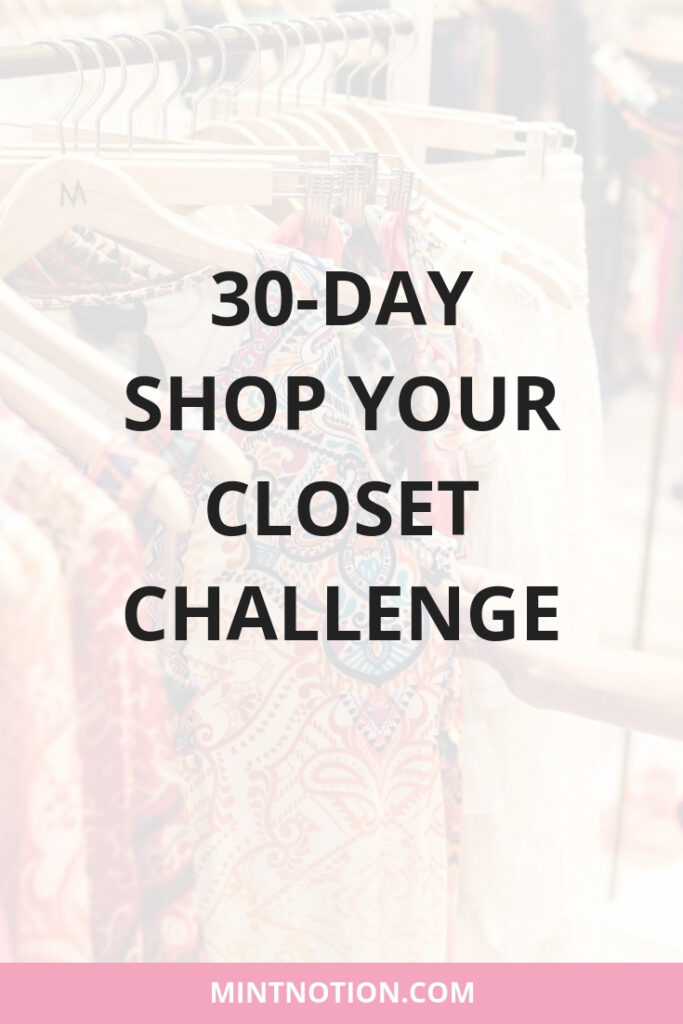 What does shop your closet mean?
Shopping your closet means creating outfits from clothing and accessories that you already own. It can be a helpful way to make the most of your existing wardrobe without spending money on more stuff.
For example, we often see outfit inspiration on Instagram, Pinterest, TV and movies, magazines and so on. When you shop your closet, you can use that outfit inspiration to make it work with what you already have at home.
If you want to be stylish without buying new clothes, then give the shop your closet challenge a try!
The "WHY" behind the shop your closet challenge
I used to believe shopping was life and loved searching for deals or that next "perfect" piece to add to my wardrobe.
But once my shopping habits start taking over my money, my time, and my sanity, I knew that something needed to change.
It's so easy to get caught up in the desire to shop and have the latest fashion trends. Whether it's seeing someone post a cute outfit photo on Instagram or being tempted by sale emails from your favorite stores, it seems like there's always an excuse to shop.
I've been there. I get it.
But once I took a step back and asked myself — why am I really buying this — before handing over my credit card on autopilot, this helped me to say "no" to impulse purchases.
Plus, I recently watched a documentary on Netflix called The True Cost, which opened my eyes to the dark side of the fashion industry. Here are just a few facts from the documentary that I found shocking:
The fashion industry is one of the largest polluters in the world. According to this article, it produces more global wastewater and carbon emissions than all international flights and maritime shipping.
The world now consumes 80 billion pieces of clothing each year. This is up 400% from two decades ago.
Only 10% of clothing donated to charity or thrift stores gets sold. The rest of the clothes ends up in landfill or sent to developing countries like Haiti, which is killing their local industry.
During college, I used to work at a popular thrift store. We had dozens of bags of clothing donated to the store every day.
Part of my job was to sort through the clothing according to the store's standards. A huge amount of clothing didn't make the cut and was taken to landfill.
My WHY behind doing the shop your closet challenge wasn't just to help me save money and overcome my shopping addiction. I wanted to become a more conscious and ethical consumer.
While I am certainly not perfect, I've come a long way from my days of being trapped in the mindless cycle of buy-buy-buy.
Now I LOVE creating new outfits from my closet. It's a fun way to get creative and style your clothes with fresh eyes. If you want to learn more about how to overcome a shopping problem, check out my free audio training.
Read Next: What I learned from my year-long shopping ban
The benefits of shopping your closet
I'll admit, I wasn't very excited when I decided to do this challenge. Taking a breaking from shopping for a month didn't sound like fun. But that's exactly why it's a challenge. And I needed to do this to help reset my finances and my life.
Here are a few of the benefits that I experienced when shopping my closet:
Save money
This is an obvious benefit, but it's still worth mentioning because it's important. When you shop your closet, you'll buy less clothes which can save you A LOT of money. If you decide to do a shopping ban for the month (this means not buying any new clothes), then you have the potential to save even more money.
Depending on your goals, this extra money can be put towards your savings fund, help you build an emergency fund, or pay off debt faster. I used the money I saved from not shopping to help pay for my college tuition.
Identify gaps in your wardrobe
We all want our wardrobe to be functional and reflect our own lifestyle. It's difficult to identify gaps in our wardrobe unless we are forced to use what we have. When you shop your closet, this can help you really get to know what's inside your wardrobe and pinpoint what to keep and what to declutter.
Rediscover clothing items
Once you start shopping your closet, you'll be surprised at how many items are hiding in the back of your wardrobe. Chances are you've forgotten about these items.
I can't tell you how many times I've bought things that I already own. For example, I bought a black blazer for work not realizing that I already had one (almost identical to it) hanging in my closet at home. This was such as waste of time and money!
When you are forced to use what you have, this can help you rediscover clothing items and get more mileage out of your wardrobe.
Define your personal style
When you shop your closet, this can help you better understand and define your own personal style. For example, if you have a pair of pants in your closet that you rarely wear, once you are forced to use this item, you'll realize that it doesn't reflect your personal style or you simply don't like wearing it.
This can help you declutter items you no longer need or love. It can also help you make better spending choices next time you're shopping.
How the 30-Day Shop Your Closet challenge works:
The purpose of the 30-Day Shop Your Closet challenge is to help you buy less clothes, reduce waste, save you time and money, and help you find any hidden magic in your wardrobe.
Whether you're an over-shopper (like I used to be) or you just want to find new ways to maximize your current wardrobe, I encourage you to try shopping your closet first instead of shopping the stores. Challenge yourself to work with what you have by creating new outfit combinations. This can help you determine which items you truly love wearing and which items can be purged from your wardrobe.
To help make the process even easier, I've put together a FREE printable checklist to help you shop your closet. It's the exact same worksheet included in the workbook for my e-book, The Intentional Spender.
Because I know how valuable and helpful this worksheet can be, I've decided that for a limited time, I will be offering it to you for FREE. You can click here to grab your free copy.
This worksheet includes 30 different prompts or themes to make it simple and easy to shop your closet. Each day for 30 days, you can follow the prompts to make getting dressed fun again. All prompts are fairly open-ended, so they can work for a variety of different wardrobes and lifestyle activities.
The great part about this challenge is that it gives you the freedom to help you carve out your own personal style. This means you don't have to follow the prompts in order. I just recommend trying each prompt at least once though. Feel free to mix it up and have fun with this shopy your closet challenge for 2020.
Tips for staying motivated during the challenge
Many people fail the shop your closet challenge because they lose sight of their end goal. To help you be successful and stick to the challenge, here are some tips that helped me. I hope you will find them helpful too!
Unsubscribe from store emails
To prevent feeling tempted to click and shop every time a sales email pops up in your inbox, I recommend unsubscribing from all store emails. If you find yourself shopping on your phone, consider deleting any shopping apps. This is just for the next 30 days while you're doing the challenge. Once the challenge is over, you can decide if you want to re-subscribe or download your favorite shopping apps again.
Know your "WHY"
It's important to get clear on exactly what your big goal is. If you don't have an end point in mind, it's going to be hard to know what you're working towards. I recommend writing down your goal and what you want to achieve. Be as clear and specific as possible so you can easily track your progress. Knowing why you want to do this challenge can help you stay motivated.
Organize your closet
If you have an overflowing wardrobe (like I used to have), it's hard to see everything you own if it's not properly organized. I recommend spending a morning or afternoon making sure that your closet is clean and everything is visible. This will make it easier to shop your closet and help you get the most mileage from your wardrobe.
Read Next: 6 steps to declutter your clothes
Challenge yourself to wear everything in your wardrobe at least once
If you want to make this challenge even more fun, I recommend trying to wear everything in your wardrobe at least once (with the exception of formal wear, unless the occasion calls for it). This can help you really get to know what you like and what you don't enjoy wearing.
Remove items you don't love or need
During this challenge, it's natural to find items in your wardrobe that are worn out or don't reflect your personal style anymore.
If there is anything in your wardrobe that you no longer love or need, I recommend getting rid of them. Why continue to let these items take up valuable space in your closet? Depending on the condition of the item, you can choose to sell, donate or toss it.
How do you wear everything in your closet?
Challenging yourself to wear everything in your closet can be a bit tedious. But when you force yourself to wear each item, this is the ultimate test of whether you want to keep an item or get rid of it.
Shopping my closet has made it possible to save more money, reduce waste, build a healthy relationship with my wardrobe, and overcome my shopping addiction. Using what I already have has helped me get clear on what I truly enjoy wearing, which reduces decision fatigue when getting dressed.
Now before each new season, I like to challenge myself to shop my closet for 30 days. In the past, I used to love buying new pieces to add to my wardrobe at the beginning of each season. I was trying to fill gaps in my wardrobe that didn't even exist, which was costing my a lot of money and time.
By choosing to shop my closet before each new season, this helps prevent impulse spending. I encourage you to try this challenge and see what new insights you gain. It can help you dress better and develop better shopping habits going forward. Now who wouldn't want that? Give it a try and let me know how it goes for you!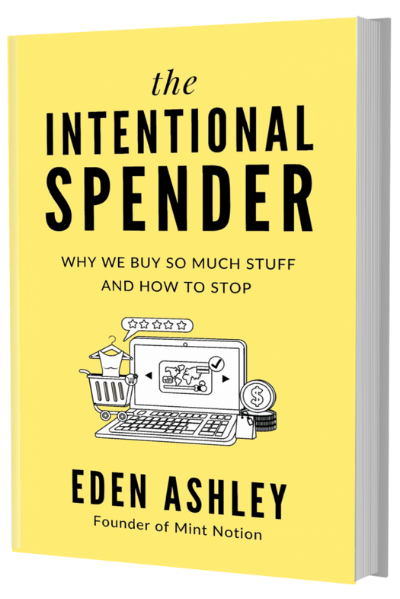 In The Intentional Spender, you'll learn insider secrets on how to conquer your impulse spending for good. As a former shopaholic, I know all too well how emotions can easily influence your spending.
Studies show that is takes 21 days to form a habit. That's why I've put together this 21-day program to help you form and implement healthy spending habits. This includes shopping with intention, living within your means while still having fun, and feeling comfortable and confident with your personal style.
I don't believe in depriving yourself or living on a bare bones budget! I believe that you are 100% capable of transforming your mindset by discovering the root cause behind your spending habit and developing a game-plan that actually works.