Are you considering taking a break from buying clothes and doing a shopping hiatus?
Whether it's a week, a month or longer, not buying any new clothes can be an excellent way to help you save money and tackle a shopping problem that has gotten out of control.
In this post, we'll cover how to do a shopping ban, how to shop your wardrobe, and the top three mistakes people make when doing a shopping hiatus.
If you want to learn more about how to overcome a shopping problem, check out my free audio training.
Why I did a year-long shopping hiatus
My love for fashion started in high school. I wanted to get a degree in Fashion and work for a fashion magazine. (But I ended up studying Psychology instead, which I'm really happy about).
Shopping was a hobby for me, and I dreamed about being able to afford to buy designer clothes and curate a beautiful wardrobe someday. (You could say I was watching too much Sex and the City at the time).
Once I graduated from school, I started working at a corporate office where I needed to dress professionally. This included wearing pretty dresses and high heels regularly. I loved dressing up, and this is where my shopping addiction started.
Before I knew it, I was spending every moment of my spare time browsing online retailers looking for new things to buy. It relaxed me and made me feel like I was being "productive".
I went to the mall on the weekends and almost never came home empty-handed. There was always an excuse to buy something, whether it was on sale or convincing myself that I just had to have it.
It wasn't until my shopping addiction spiraled out of control that I decided to do a year-long shopping hiatus. The no shopping for a year challenge may sound a bit extreme to some, but it's exactly what I needed to do in order to regain control over my shopping problem.
Related Posts: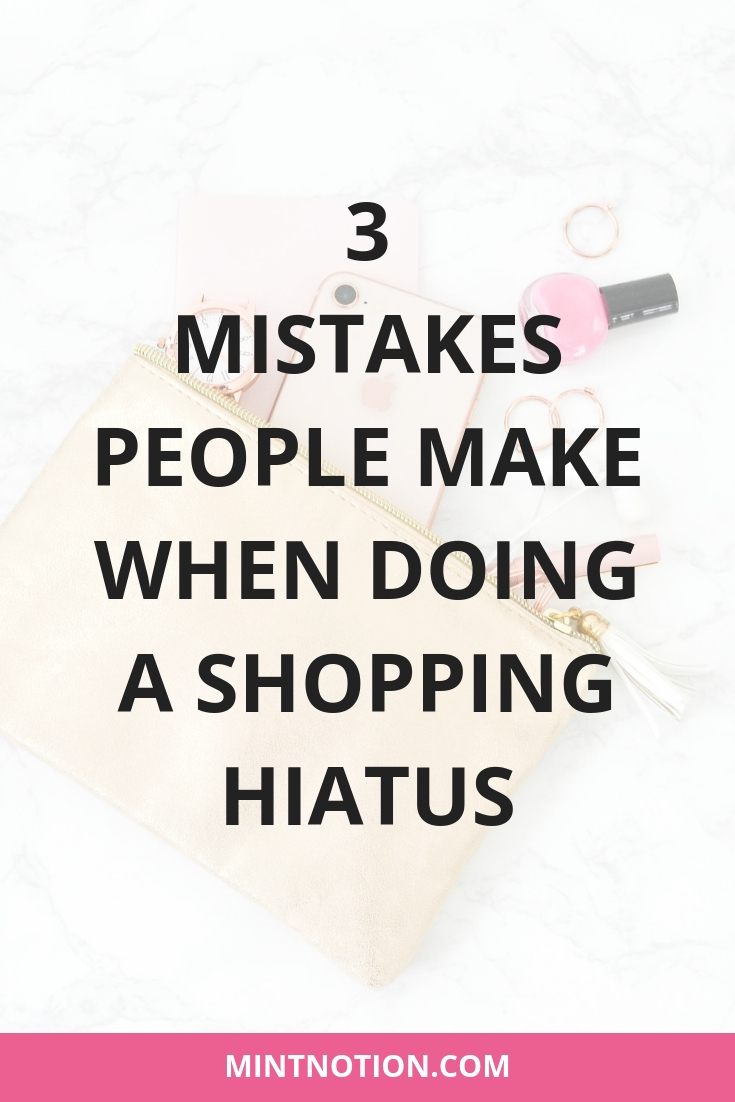 My shopping hiatus changed my life for the better. It helped me develop a healthy relationship with shopping and improved my spending habits going forward. You can read more about my experience doing a shopping-ban here.
But before you decide to stop buying clothes online or take a break from shopping, there's a few things you should know. Here are three common mistakes people make when doing a shopping hiatus.
3 mistakes people make during their shopping hiatus
1. They focus on what they're missing out on
People are afraid to make a change because they focus on what they'll be missing out on, instead of what they have to gain. This can make doing a shopping hiatus feel like you're depriving yourself from the things you enjoy (buying clothes) and act as a form of punishment.
This mindset can make it nearly impossible for you to succeed. You'll constantly be frustrated and keep thinking about what items you want to buy after your hiatus ends.
Instead, focus on why you're doing this challenge in the first place and why your goal matters to you. This can help you make your shopping hiatus more positive and open your mind to embracing new experiences.
2. They don't have a plan for when things get bad
Many people who do a shopping hiatus set themselves up for failure by expecting to be perfect. The truth is we're only human and nobody is perfect. There's no such thing as a perfect journey when healing from an addiction.
There are going to be times when things get tough and you'll feel the urge to shop. But instead of giving into your spending triggers, it's important to make a plan for when things get bad.
If you do have a setback, such as buying something you told yourself you wouldn't, then take a moment to reflect and learn from your experience. Make a commitment to get back on track towards reaching your goals and continue forward. Strive for progress, not perfection.
3. They expect it to magically cure their shopping addiction
People have read inspiring stories or blog posts about how doing a shopping hiatus suddenly cured their shopping addiction. All you need to do is avoid going to the mall and unsubscribe from store emails, then you're all set. Easy peasy, right?
Well, no.
Doing a shopping-ban can certainly be a game-changer for your spending, as it was for me. But simply not buying any new clothes for a week or two isn't going to instantly cure your shopping addiction.
The key to recovery is to use a shopping hiatus to prevent you from shopping, so you can focus on getting to the root cause of what drives you to shop. For example, an alcoholic wouldn't hang out in a bar if they were trying to heal from addiction, right?
This means setting boundaries on your shopping behavior can allow you to better understand and manage your spending triggers.
The first few weeks of a shopping ban are the most difficult. But once you overcome this initial hurdle, you can then develop better spending habits that will stay with you.
Lessons I learned during my shopping hiatus
While my shopping hiatus taught me several valuable lessons, these are the ones which stood out most for me.
Getting dressed became so much easier
When doing a shopping ban, I was forced to use what I had. This helped me to find new ways to get creative with my wardrobe. I put together new outfit combinations that I never tried before and learned how to fall in love with my clothes again.
This made getting dressed so much easier. There was no more stressing about what to wear on an evening out with friends, because I knew I wouldn't be running around to different stores or scrolling online trying to find something to buy. Instead, I got to be my own personal shopper and put together cute outfits using items I already had.
Life will go on if you don't buy a new outfit
Before doing my shopping hiatus, I used to feel anxious when getting dressed for events or nights out with friends. I worried that if I re-wore an outfit, I would feel self-conscious the entire night and everyone would be judging me.
But the reality was, when you limit your options and have no choice but to wear clothes you already own, that anxiety disappears. I realized that people will judge you no matter what and unless you're famous, no one cares how many times you wear the same dress. So instead of trying to dress to impress others, I focused on proving to myself that I could successfully do a shopping hiatus.
You'll be more mindful of future purchases
Once I finished my year of not buying any new clothes, I became more intentional and super selective about what I choose to purchase. For example, I went from having an overflowing wardrobe to building a smaller wardrobe, and I didn't want to add clutter to my closet.
I also looked at other ways to use my money instead of spending all my excess funds on clothes. This helped me to feel better about my purchases and be more mindful of where my money was going.
As you can see, the benefits of doing a shopping hiatus can be life-changing.
Final Note
Keeping these mistakes in mind can help you be successful with a shopping hiatus. Remember doing this challenge can be a great way to reduce impulse spending, save more money, and give you more time to do things that truly matter to you.
Use a shopping hiatus as a chance to get creative with your current wardrobe and find ways to unlock any hidden mileage you have in your closet.
Not sure if you have a shopping addiction? Check out the 10 signs of a shopaholic here.
For more tips on how to make the most of your shopping hiatus, please check out these helpful posts: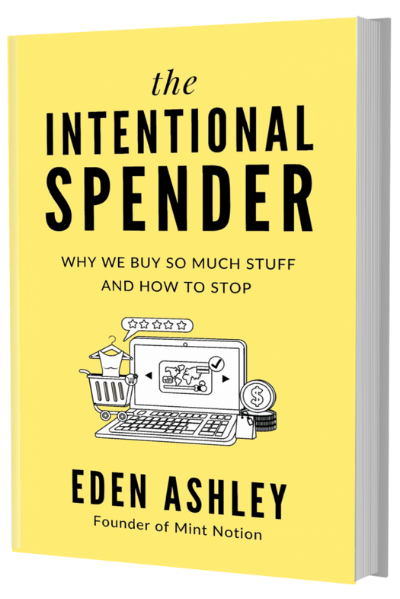 In The Intentional Spender, you'll learn insider secrets on how to conquer your impulse spending for good. As a former shopaholic, I know all too well how emotions can easily influence your spending.
Studies show that is takes 21 days to form a habit. That's why I've put together this 21-day program to help you form and implement healthy spending habits. This includes shopping with intention, living within your means while still having fun, and feeling comfortable and confident with your personal style.
I don't believe in depriving yourself or living on a bare bones budget! I believe that you are 100% capable of transforming your mindset by discovering the root cause behind your spending habit and developing a game-plan that actually works.