These at-home date night ideas are perfect for couples who want to have a romantic night at home. Check out these fun ways to make a stay-at-home date feel special.
Planning regular date nights is important for any relationship. Whether you've been married for years or you're just starting to get to know each other, use this list of stay at home date ideas for couples to get inspired!
While your typical date night idea may look like an evening of watching Netflix at home, there are plenty of unique and creative date night ideas to spice up your routine. And the best part is, many of these ideas are cheap and won't break the bank.
Even though we're spending more time at home today, it's important to make date nights feel special. You may be wondering, what can couples do for fun at home?
There are lots of creative ways to make your at-home date night feel special. Maybe that means dressing up or having a pajama party.
Don't be afraid to make your at-home date night fun! If you're wondering what do you do on a stay at home date night, here's a few at-home date ideas couples can enjoy together.
Related Posts:
1. At home date night box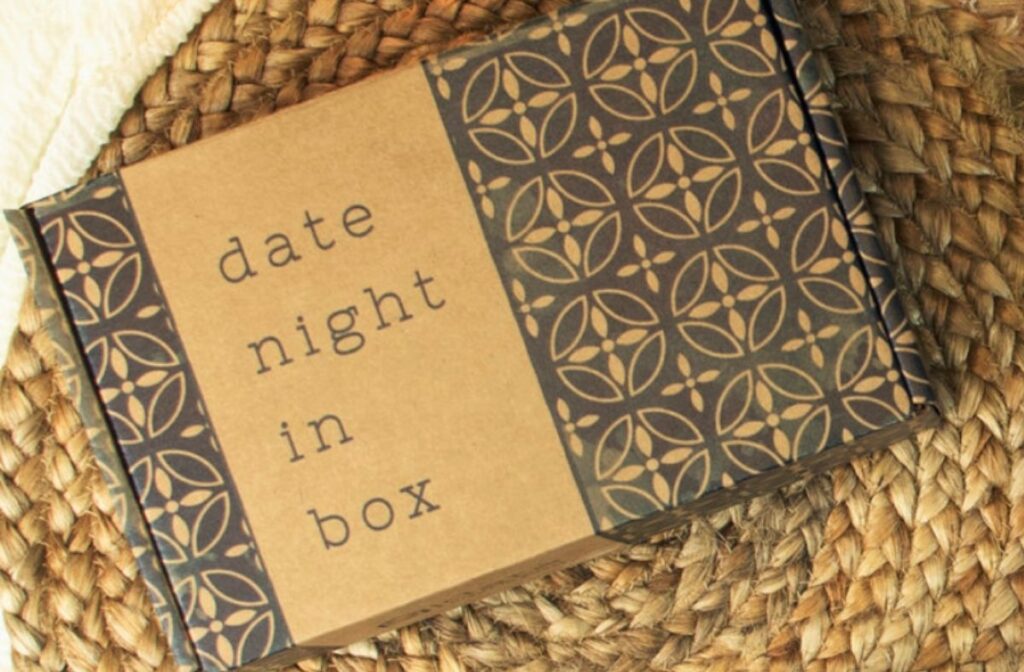 Date nights don't have to be a distant memory. Spice up your evening with a unique Date Night In Box.
You'll get custom curated date night delivered straight to your door. This stay at home date night kit can be the perfect solution to revamp your date nights!
Choose the date that fits you as a couple. Some of their popular boxes include the themes:
Adventure Together – To help foster an adventurous spirit in you and your loved one.
To Have and to Hold – Perfect for those who are celebrating a wedding, recent engagement, or anniversary.
Under the Stars – This date will be filled with romance, adventure, and a little light hearted fun!
Power Outage – Get ready to unplug and focus on building a deeper relationship.
What's in each Date Night In Box? Each subscription box includes several interactive activities, accesorries for ambience & to set the mood, high-quality snacks or mixers, chef curated dinner menu & recipes, and ways to connect with your significant other & more!
You can choose to sign up for a 1 month, 3 month, 6 month or annual subscription. You can learn more here.
Alternative date night box to try:
2. Have an Escape Room date at home
If you and your partner are the adventerous type, then consider having an Escape Room date night! Escape rooms are super popular, but they can get expensive or require multiple people.
Instead, it's easy to create your own escape room experience at home. You can find a tutorial online or grab one of these top-rated escape room kits:
3. Spa night at home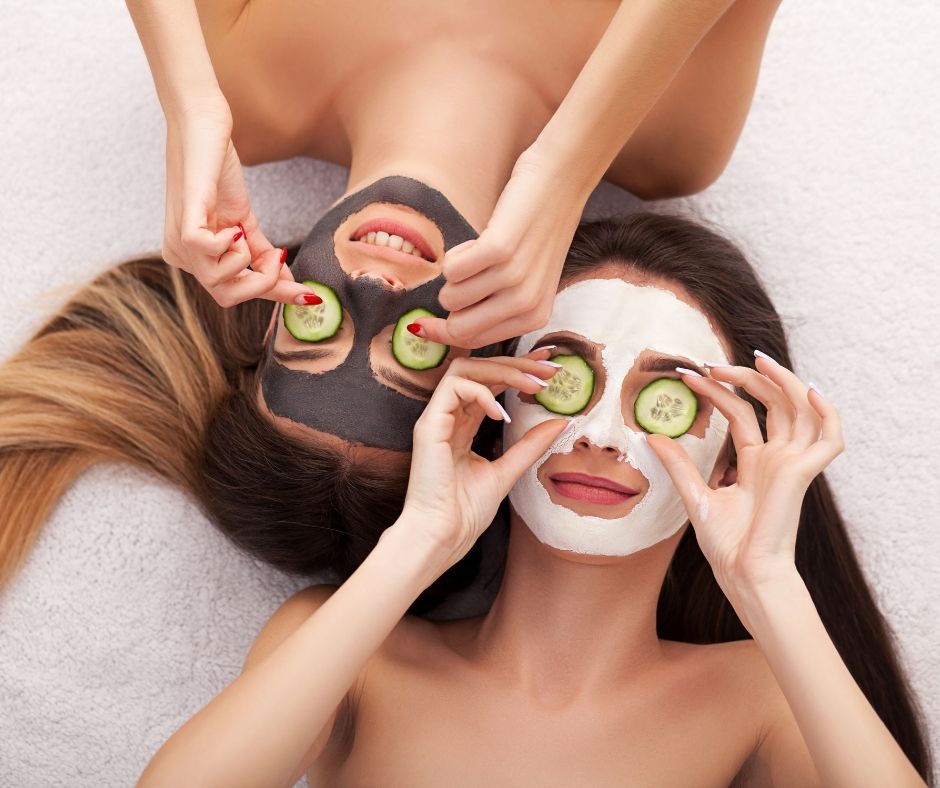 What can I do on a Friday night with my boyfriend or girlfriend at home? Have a spa night.
One of my favorite ways to relax and unwind together is to have an at-home spa date night. Here you can give each other a massage, put on a face mask, light a scented candle or put on an oil diffuser.
Many spas and salons are currently closed here in Toronto. To give myself the royal treatment at home, I bought this affordable spa foot bath. It feels so nice to unwind at home with this vibrating and massaging foot bath.
To make your at-home spa night feel ultra-luxurious, consider slipping into a comfy spa-style robe and slippers. You can even make a pitcher of fruit-infused spa water to stay hydrated and refreshed.
PRO TIP: To save time, consider grabbing a spa box or self-care package from CrateJoy. They have 1,000s of unique subscription boxes available.
4. Wine and cheese tasting at home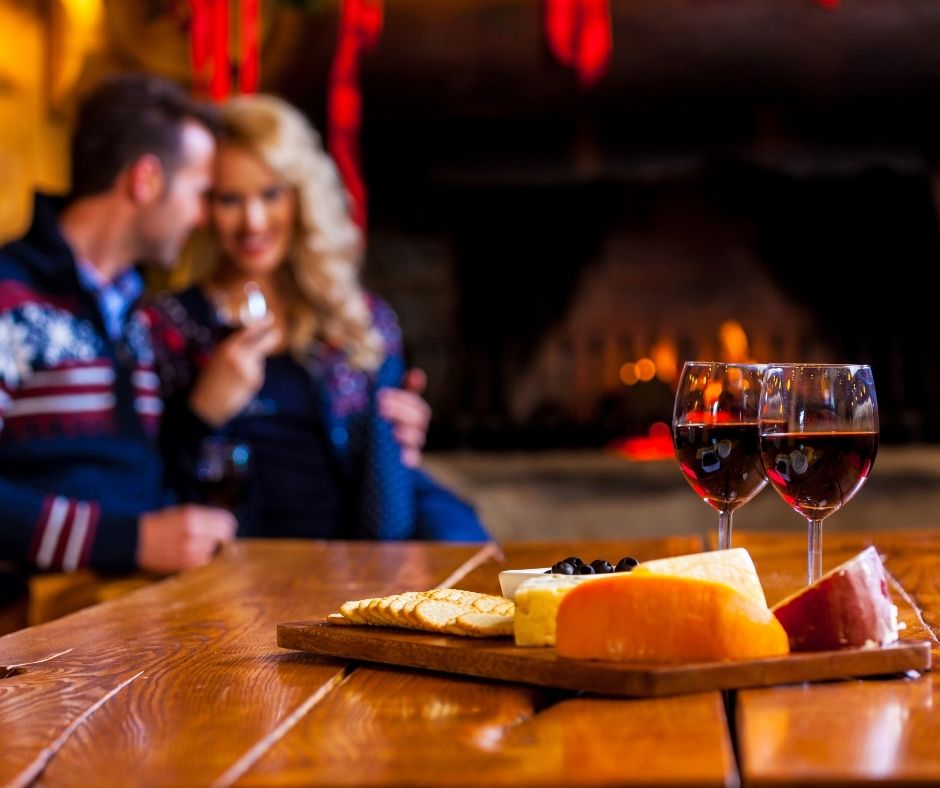 A wine tasting evening sounds fancy, but it's actually really easy to set up at home. Simply grab a few of your favorite cheeses, crackers, dips or spreads, and display everything on a beautiful charcuterie board.
This is a fun idea for a date night idea at home with your husband. Start by selecting a few wines that you think you might like. Then nibble on your display of cheese and crackers. Yum!
Or if you're feeling adventurous, sign up for a monthly wine club membership that sends you hand-crafted bottles of wine from local and intentional wineries. My favorites are California Wine Club and Vinesse Wines.
If wine is not your thing, no problem. You can choose to do a beer, cider or hard seltzer tasting. Some of my favorite subscription boxes include:
Beer Drop – A monthly box of the highest-rated craft beer from award-winning breweries around the country.
Shaker & Spoon – A monthly box where you'll get 3 recipes and everything you need to make 12 drinks (4 from each recipe) besides the alcohol.
Prep for your wine and cheese date night
5. Board game date night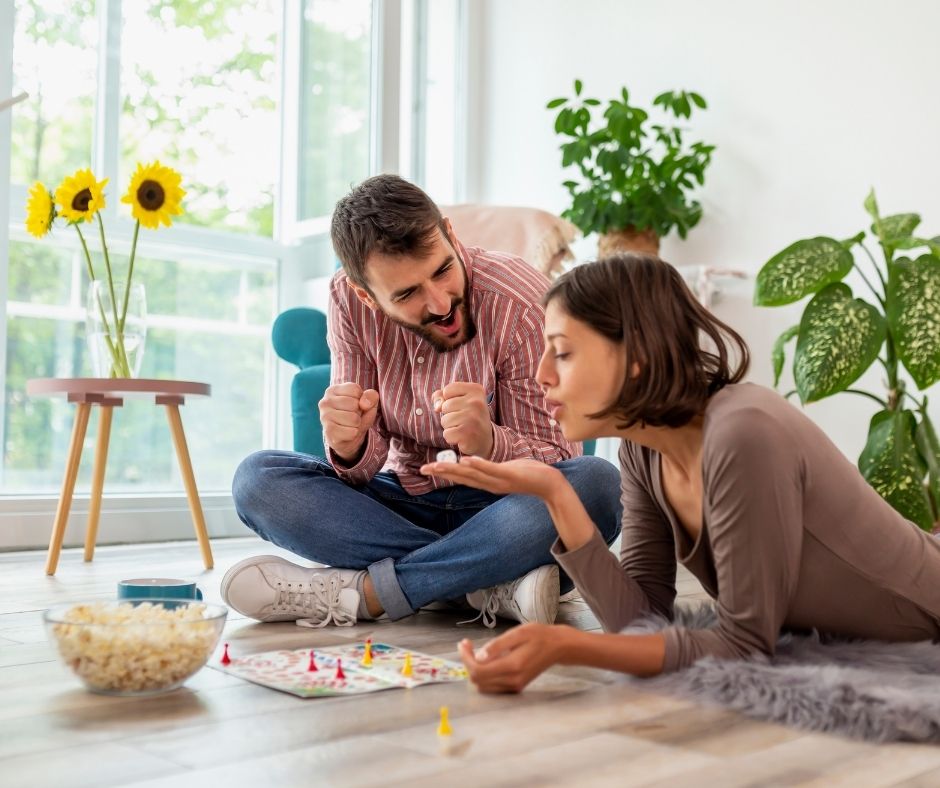 I don't know about you, but my boyfriend and I love playing board games together! We've made this part of our weekly date night ideas.
Chances are you might have a few old games lying around the house. This is one of the best cheap date night ideas at home.
Challenge each other to a fun evening of competition. You can make it more interesting by adding a rule that the loser of each game has to lose one piece of clothing. Get inspired with these date night games for couples.
You can choose to play classic games such as Scrabble, Sorry, Yahtzee, Jenga, or Chess.
Or try some new games such as Our Moments Couples, Talk Flirt Dare, Azul, Ticket to Ride, or Pandemic.
Prep for your date night games at home
6. Cook a gourmet meal at home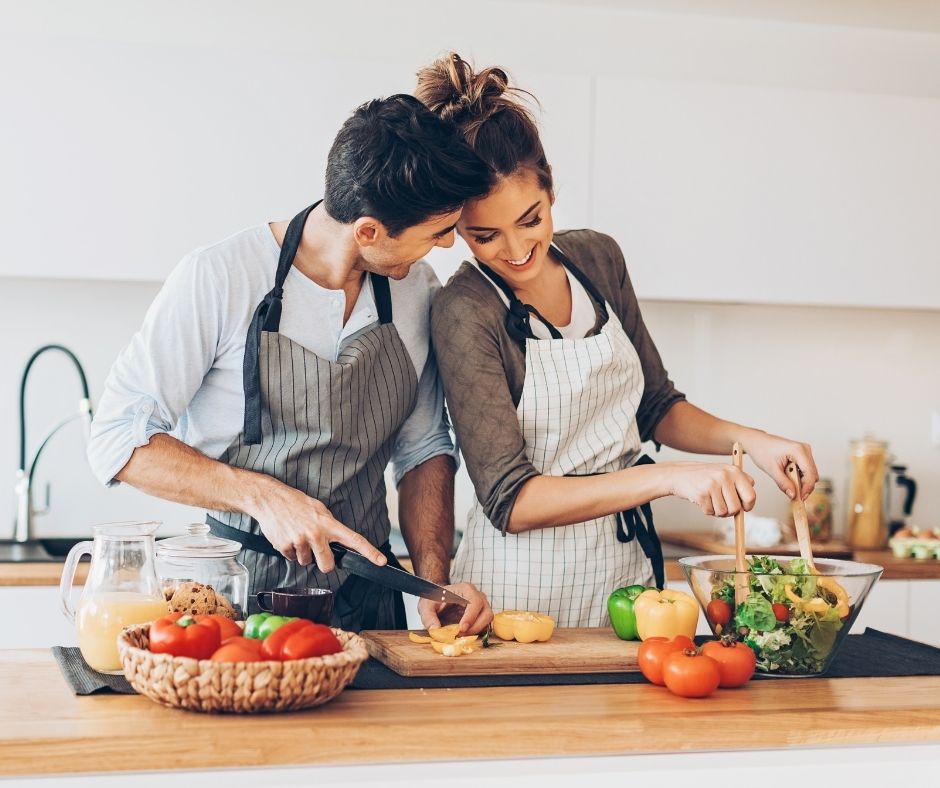 Spend the evening together recreating one of your favorite restaurant meals at home. Grab your favorite cookbook or search for recipes online.
This can be a fun way to boost your confidence in the kitchen and impress each other with your culinary skills.
If you're a total novice in the kitchen, consider grabbing a meal kit such as Chef's Plate or Hello Fresh. When I first started learning how to cook, these meal kits made it easy.
They deliver pre-cut and pre-portioned ingredients with easy-to-follow recipes. Anyone can feel like a gourmet chef when using Chef's Plate.
7. Project a movie in the backyard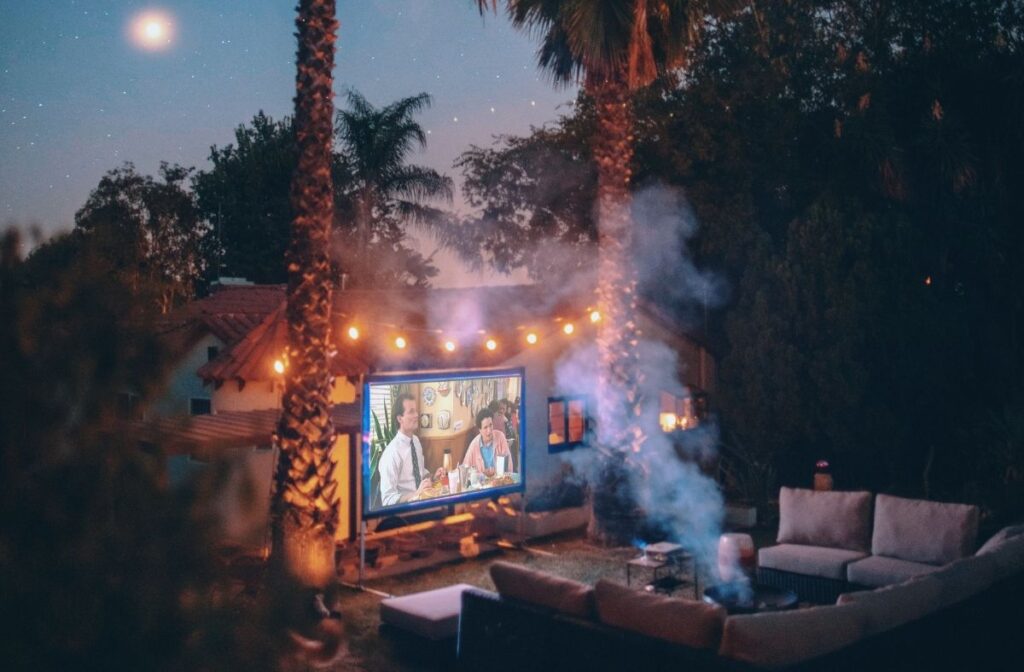 Yes, you'll have to invest in a movie projector, but it's unique and makes for fun entertainment all summer long.
And in the winter months, you can bring the projector indoors to watch movies or sports games on a blank wall.
Lay out a blanket, grab some popcorn or your favorite snacks and drinks. Hang some pretty fairy lights or flameless candles.
Get cozy and enjoy your favorite feel-good movies. This is one of my favorite date night ideas during quarantine.
Prep for your movie date night
8. Do a workout together at home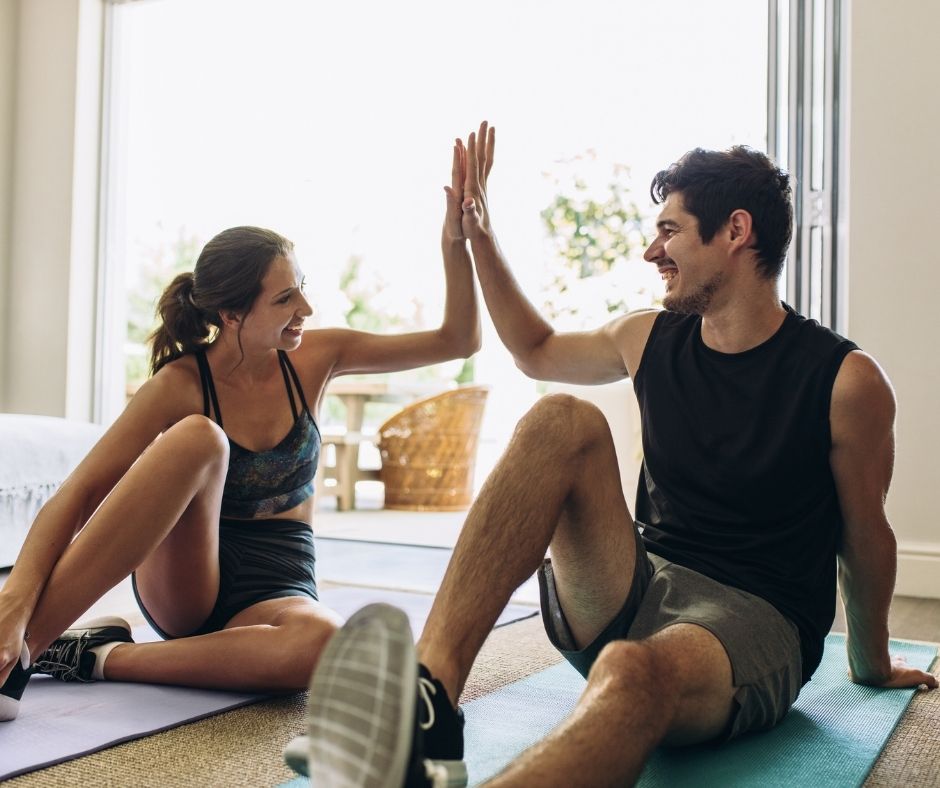 Getting healthy together is always in style. My boyfriend and I started working out together at home this year and it's been so much fun to get into a regular fitness routine. We love cheering each other on and staying motivated to reach our goals.
P.Volve is our favorite at-home workout app. This is a popular monthly fitness subscription service. As a member, they can stream hundreds of videos on demand, from anywhere.
What makes P.Volve different is that their workout programs are perfect for those who are looking for low-impact at-home workouts that aren't too intense.
It's also an excellent option for those who are short on time but want efficient workout routines. You can learn more and sign up here.
9. Do a challenging puzzle together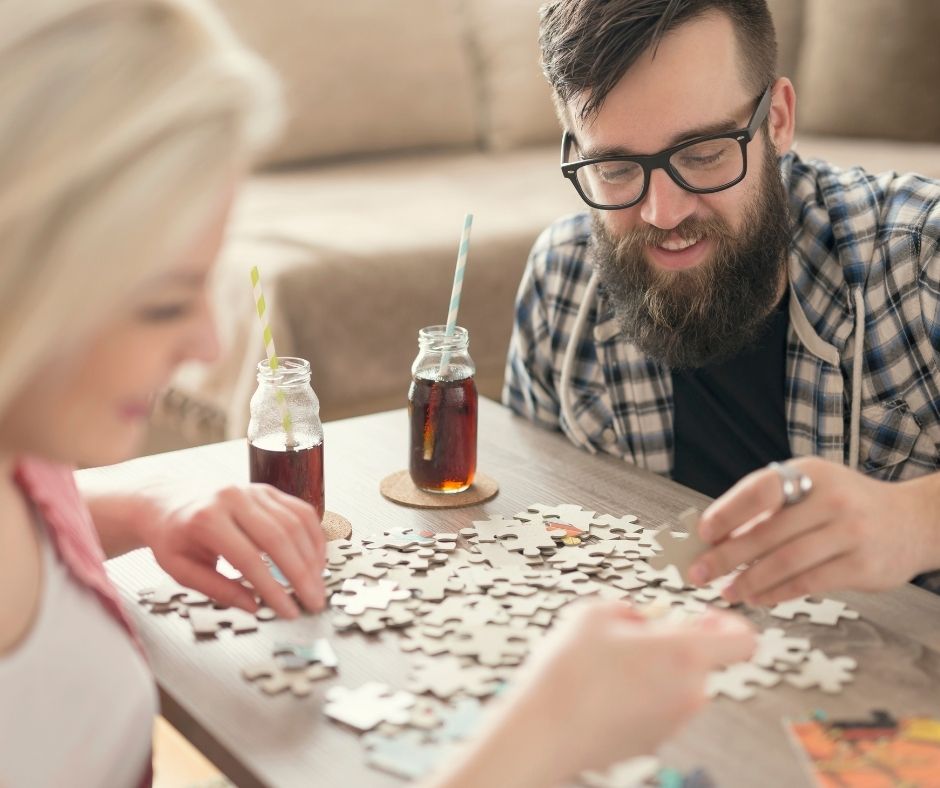 Working on a tough puzzle together can be a fun task that takes a weekend or a few weeks to complete.
Pour yourself a glass of wine or sparkling water and listen to your favorite music as you put together the puzzle.
When you want to take a break, don't forget to use a handy puzzle roll mat to safely store your puzzle until you're ready to tackle it again. This is one of the best date night ideas during lockdown.
Prep for your epic puzzle date night
10. Play mini-golf at home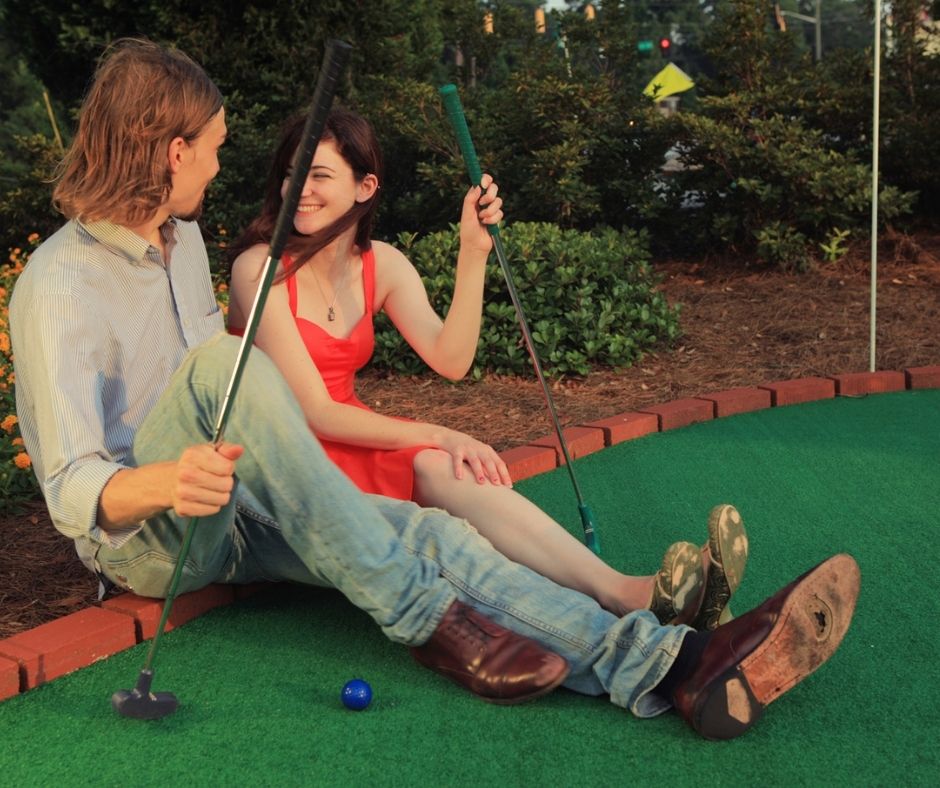 Mini-golf is a classic date night idea, but it can be expensive. Instead, set up a mini-golf course at home or in your backyard.
There are mini-golf sets you can buy online or you can create your own with carboard and cups. Another idea is to do indoor croquet.
Prep for your mini-golf date night
11. Make homemade ice cream together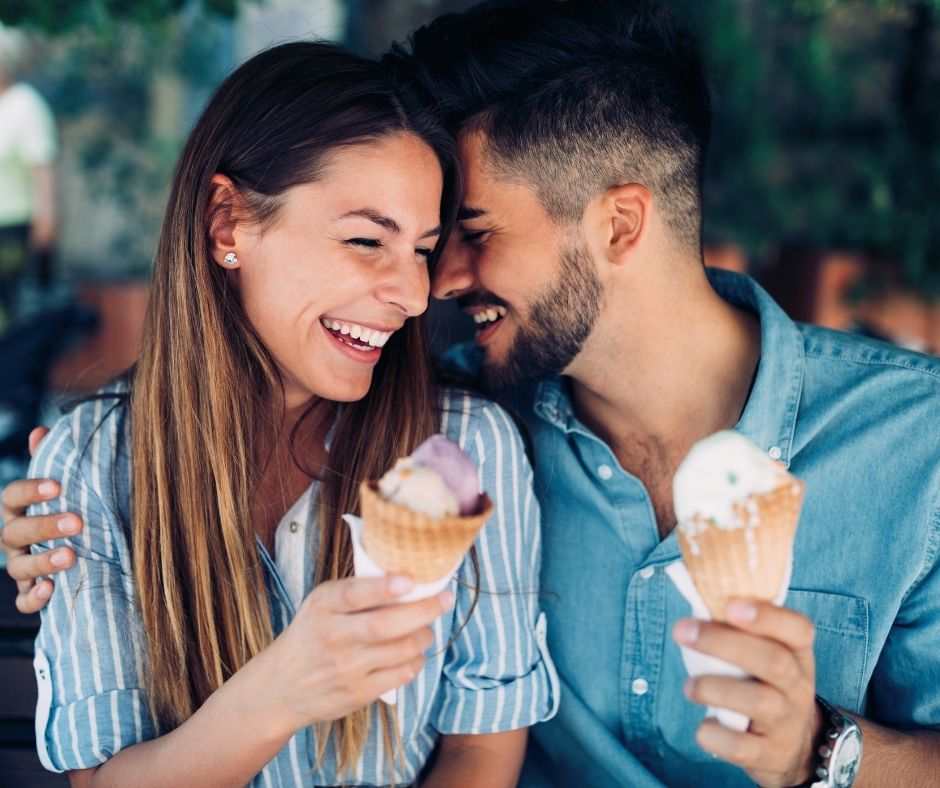 Do you and your significant other love ice cream? Making homemade ice cream is actually pretty easy. This is one of my favorite summer date night ideas.
You can invest in an ice cream maker or borrow one from a friend (if they have one). Find recipes online or get creative and make a new ice cream flavor. You can store your ice cream in these cute containers to keep it fresh.
Prep for your ice cream date night
12. Make homemade donuts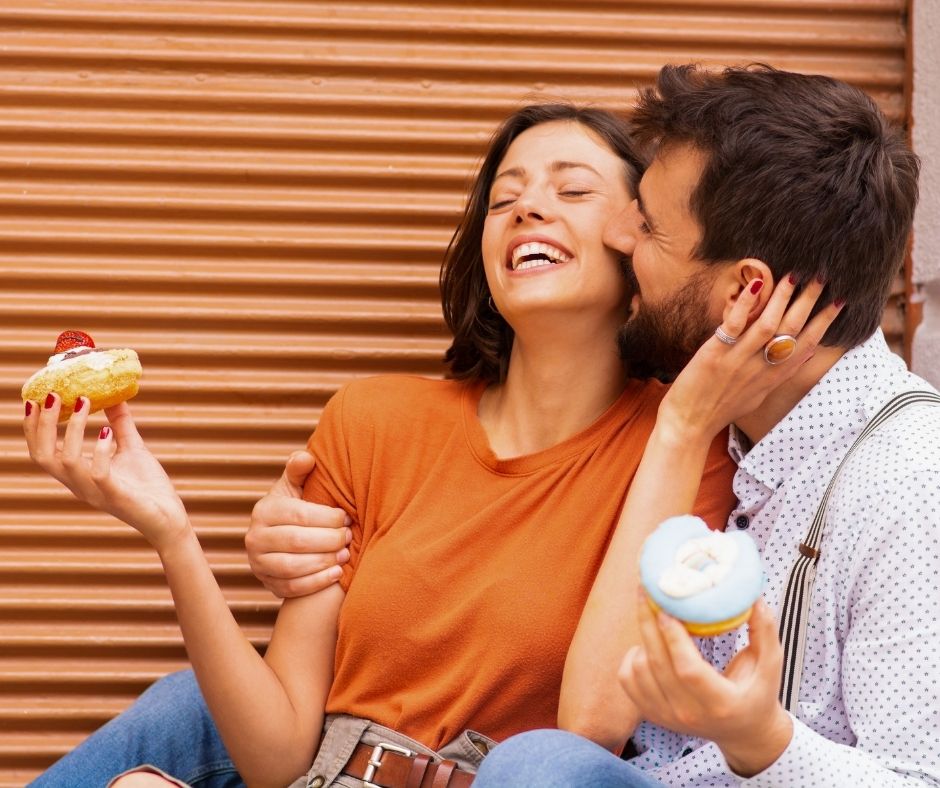 I recently bought a donut pan and have enjoyed making homemade donuts this year. It's super easy and makes for a tasty treat for your stay at home date night idea. Plus, it's a little healthier since these donuts are not deep fried.
13. Binge your favorite TV show with popcorn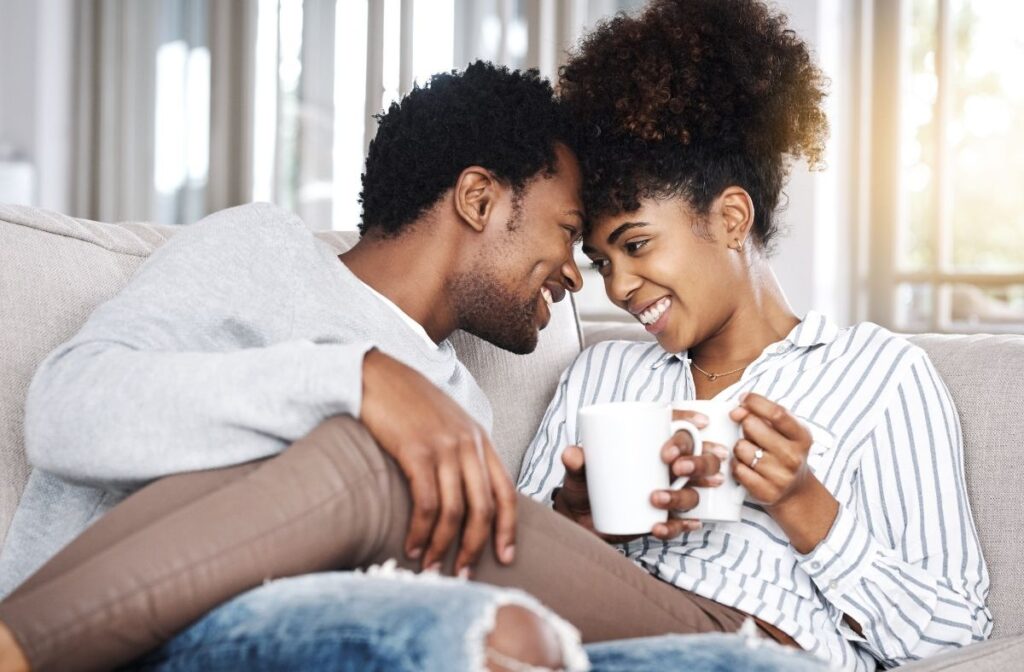 Pick your favorite TV show and plan for an evening of watching back-to-back episodes.
My boyfriend and I recently binged the TV show Lost. We also enjoy watching K-Dramas. This can be a fun cheap date night idea.
Don't forget to have plenty of your favorite snacks. My boyfriend and I LOVE eating popcorn while watching TV shows. We enjoy making popcorn at home in this popcorn machine.
Prep for your TV show marathon date night
14. Have a fondue night at home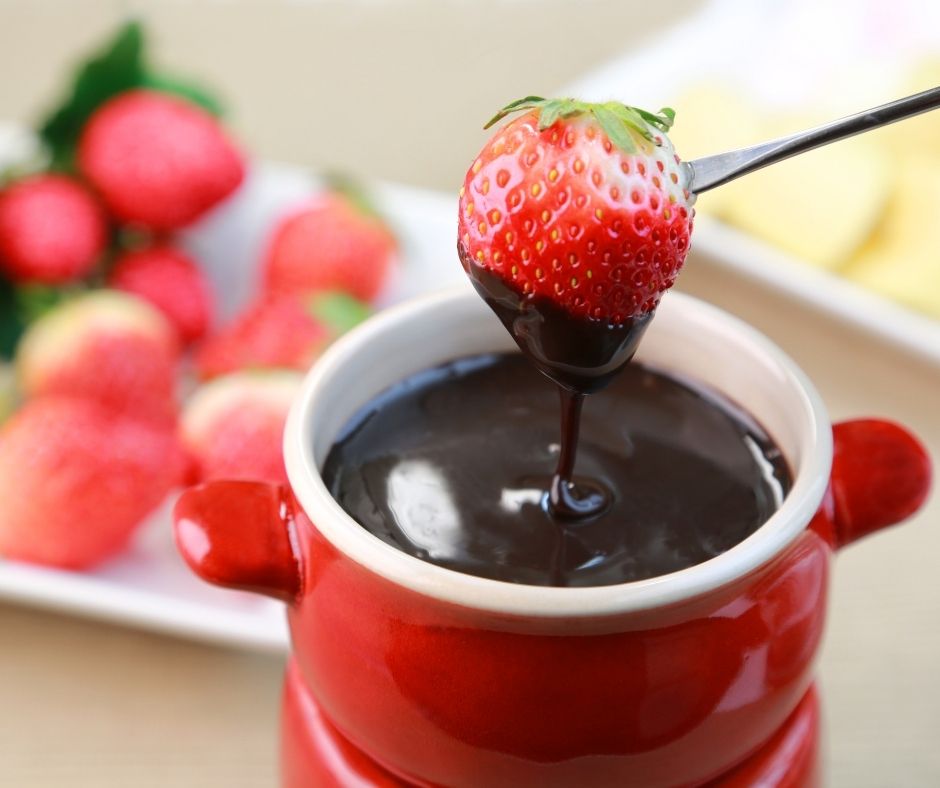 Fondues can be a lot of fun and romantic. You can have a cheese fondue, chocolate fondue, or oil / broth fondue.
One of my family's traditions is to have a fondue on New Year's Day. You can find an affordable fondue set online or borrow one from friends (if they have one).
Prep for your romantic fondue date night
15. Painting at home date night
Paint nights are fun, but they can get expensive. You don't have be an artist in order to have your own painting at home date night.
Grab some cheap canvases and paint – you can choose oil paint, watercolors, or acrylics.
You can look up a painting tutorial on YouTube and paint together at home. Don't worry if your painting doesn't look like the original, it's fun to be creative and express yourself through art. This is a judgement -zone to enjoy yourselves!
But if you want some extra guidance, consider using a paint by numbers kit.
Prep for your at-home paint night
16. Have a karaoke night
Karaoke is a fun at-home date night idea. You don't need a fancy karaoke machine, unless you and your significant other are big karaoke fans.
Simply use a wireless microphone and play a YouTube video with song lyrics on the TV. Sing your hearts out together or do a duet!
Prep for your karaoke date night
17. Learn about each other's love language
Do you know what your love language is? Many couples end up in a rut because they don't know each other's love language.
Knowing your partner's love language can help create better communication in your relationship since you'll understand their needs. This can help make a boring relationship fun again or be great for new couples.
This can be a game changer for your date nights at home. You can take the free quiz here and purchase the book.
Once you've taken the quiz, you can spend some time together reading through the book.
It can actually be really helpful in learning how to speak each other's love language. This is one of the best ideas for date night at home with your husband or partner.
Prep for your romantic date night
18. Take a bubble bath together
Taking a bubble bath together can be a romantic and relaxing at-home date night idea. Light some candles, play chill music, pour a glass of wine, or sip on spa water.
To take your bath to the next level, consider adding a few drops of essential oil, a bath bomb, bubble bath, or using bath salts.
This can be a fun, steamy date night idea. Don't forget to apply moisturizer afterwards to keep your skin hydrated.
Prep for your relaxing bubble bath date night
19. Have breakfast in bed
Turn your at-home date nights into a date day by starting off the morning with breakfast in bed. Grab a tray and serve your favorite breakfast food with tea, coffee, juice or hot chocolate.
Some fun ideas include waffles, smoothie bowls, pastries, French toast, egg breakfast sandwich, pancakes, oatmeal, and avocado toast. This can be a fun thing to do with my boyfriend on a lazy day.
20. Turn your bedroom into a luxury hotel
Staying in luxury hotels is a fun experience, but it's not always in the budget. Why not turn your bedroom into a fancy hotel room as a romantic date night idea at home?
This is one of my favorite stay at home date night ideas. Here are some suggestions to get inspired:
Light a scented candle or oil diffuser to set the mood.
Place a bottle of wine by the bed with two wine glasses. This wine chiller is one of the best things I've invested in.
Wear cozy bathrobes and slippers.
Lay flower petals on the bed or put out a tray of chocolate-covered strawberries.
Order your favorite take-out food to enjoy in your bedroom.
Grab your favorite body lotions or massage oils.
Watch a romantic movie together in bed. Pretend like it's pay-per-view, except you won't have to pay since you're at home.
21. Start a blog together
If you both share a passion together, blogging can be a great way to express yourselves through writing.
Blogging together can be a fun creative outlet and it evens has the potential to make you money.
You can blog about anything you want, such as dating advice, travel, fashion, food and drinks, home improvement or décor, personal finance, beauty, and more.
If you're interested in learning more about how to start a blog, you can check out this in-depth tutorial here.
22. Take a virtual yoga class together
Yoga can be an incredible way to relax and unwind with your significant other. It can invigorate both your body and mind.
Challenge each other by learning how to do different poses. My favorite site to stream yoga classes is Yoga Download.
Yoga Download offers over 1,600 online yoga classes for all levels. They currently has a TrustScore of 4.7/5 on Trust Pilot, making them one of the highest rated online yoga programs. With new classes being added each week, now is the perfect time to give yoga a try.
Prep for your hot yoga date night
23. Create tasty cocktails together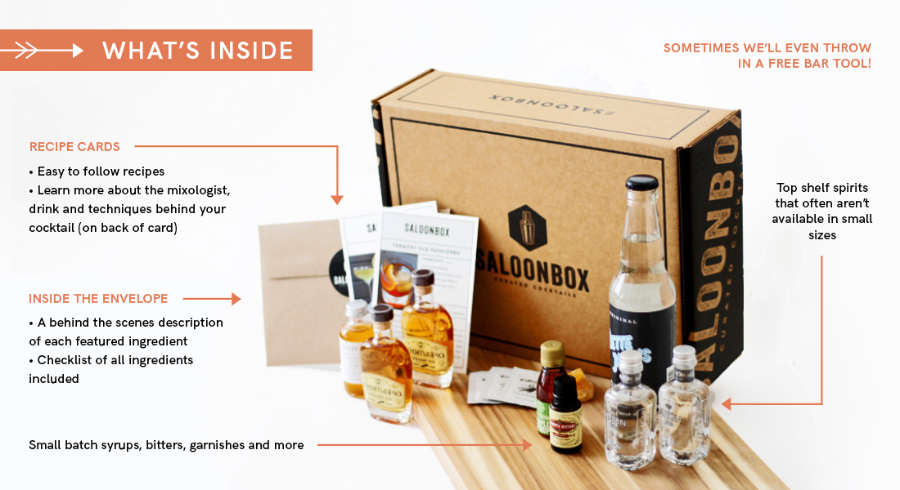 Cocktails at restaurants can be quite expense. Instead, learn how to make your favorite cocktail or mocktail at home. All you need is a cocktail shaker to get started for this stay at home date night idea.
This can be a great way to save money, plus you'll impress each other with your mixology skills. Some of my favorite drinks to make include margaritas, mojitos, and hurricanes.
Want to take your cocktails to the next level? Consider getting the SaloonBox. They send curated cocktails delivered straight to your door each month. Each box includes four cocktails, top shelf spirits, ingredients and recipe cards. Sometimes Saloonbox will even throw in a free bar tool, which is nice. This can be a great date night at home box.
You can learn more about SaloonBox and sign up here.
Prep for your cocktail date night
24. Write your love story together
Your love story is unique and deserves to be told. You can grab one of these books and fill it out together for your date night at home.
It's fun to reminisce and take a trip down memory lane, especially if you've been together for years. This can be a cute stay-at-home date night idea.
25. Go on a virtual tour of museums around the world
Do you enjoy learning about history and art? If you're unable to travel, you can visit some of the top museums around the world without leaving your couch.
This is one of the best stay at home date night ideas, especially for those who love museums.
26. Watch a concert at home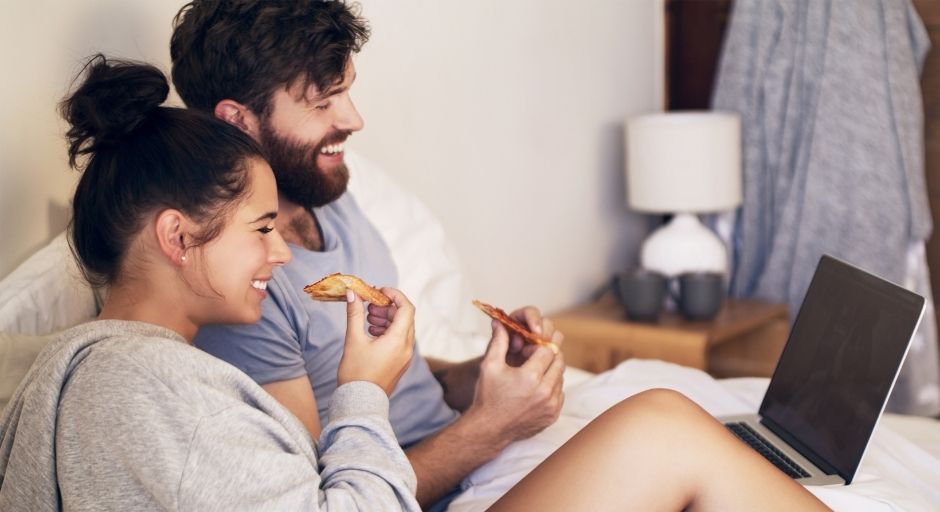 Going to concerts are a lot of fun, but they can be pricey. Bring the experience to your couch, by streaming a live concert on your TV. This is one of my favorite indoor date ideas.
There are also lots of past concert videos available to watch on YouTube. Make a fancy cocktail, put on a funky disco light, and sing along to your favorite band or artist. This is a fun spontaneous thing to do with your boyfriend.
Prep for your concert date night
27. Go on a bookstore date at home
Bookstore dates are a lot of fun and it's easy to replicate at home. Start by finding a cozy spot at home, grab a few of your favorite books or magazines, and make a yummy drink (such as coffee or tea).
Here's a few ideas for your at-home bookstore date night idea:
Re-read your favorite childhood books. My favorites are the Harry Potter books.
Take silly quizzes in magazines
Read a book aloud to each other
Go through travel books and make plans for your dream vacation together
Read old comic books. I love The Far Side comics.
28. Video game night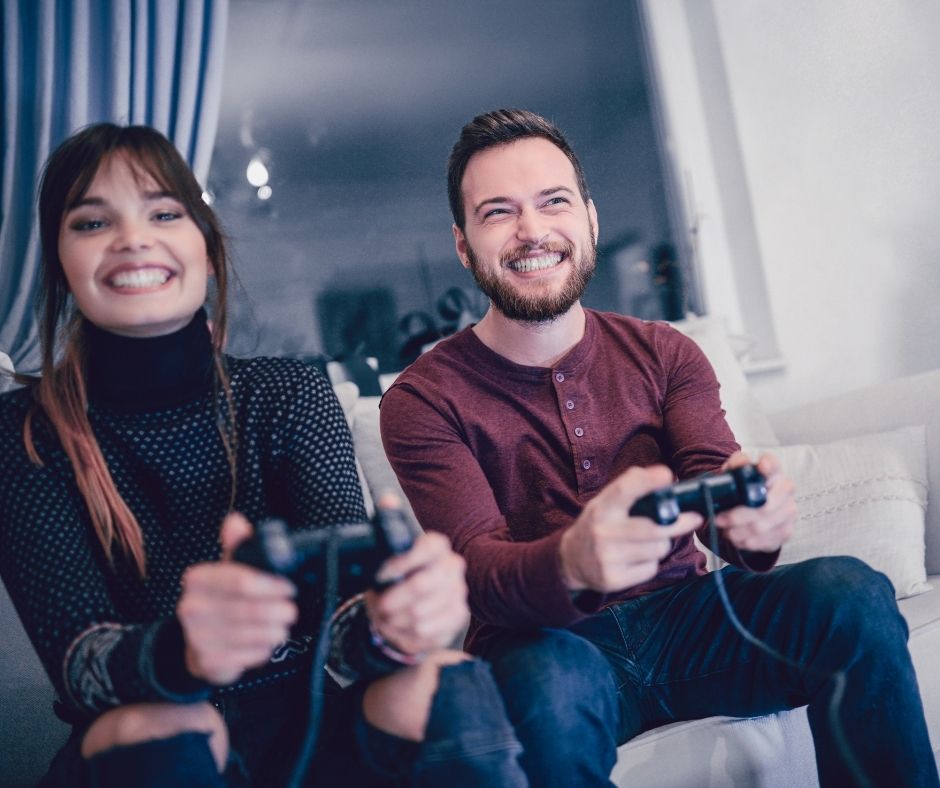 Even if you don't play video games often, this can be a fun teenager date night idea at home.
Whether it's playing classic games from the 90s or new releases, a video game night can spark some friendly competition. This is one of the most romantic date ideas at home for him.
29. Start a hobby together
Starting a hobby together can be a great way to bond and improve your relationship. Some of my favorite hobbies include:
Starting a wine-tasting (or beer) club, starting a book club, taking a class online (I like MasterClass), playing cards, tie-dying shirts, learning a new language, taking a dance class, birdwatching, stargazing, and relaxing with adult coloring books.
30. Plant a garden together
Gardening is a relaxing and rewarding activity you can do together. Add some greenery to your home, balcony or yard by planting herbs, flowers or fruit-bearing plants.
I love using this vertical garden planter on my balcony. It's great for those who live in small spaces, but still want to grow herbs or flowers.
31. Make personalized pizzas at home
Sure it's easy to get pizza delivered, but making pizzas at home can be a fun activity. If you're feeling extra, you can make your own pizza dough or grab pre-made dough at your local grocery store.
Top your pizza with your favorite fixings or get creative with new pizza topping combinations. I like BBQ tofu (or chicken) pizza, Greek style pizza, spicy jalapeno pepper pizza, loaded vegetarian pizza, or vegan pepperoni pizza.
I like using this pizza pan for my oven. It makes the crust crispy and delicious! Or you can step-up your pizza game by using a pizza stone.
Prep for your pizza date night
32. Go camping in your living room
Camping is a fun way to get off the grid and become one with nature. You can sit around the campfire making s'mores, go for walks in the woods, rent a canoe or kayak, or go white water rafting if you're feeling adventurous.
To take the camping experience home, you can go pretend camping in your living room or backyard. Set the mood with some pretty twinkle lights and you'll feel like a kid again.
Prep for your at-home camping date night
33. Have an epic night of Nerf wars
It may sound kind of silly, but once you get started, you'll wonder why you haven't had a Nerf gun date sooner! Don't forget to grab your weapons.
Prep for your Nerf wars date night
34. Eat take-out together by candlelight
Transform your usual take-out experience into a romantic evening. Put a tablecloth on the table (or coffee table), light some candles, turn on some chill music, and talk to each other during your meal. This is one of the best last minute at home date night ideas.
35. Make a travel inspired theme dinner at home
Making a travel inspired dinner is one of the most romantic date night ideas at home for her.
Pick a country or region that you've been wanting to visit and make a dinner inspired by that place. This is a great way to curb wanderlust when you're unable to travel.