A staycation is when you spend your vacation at home or near your home. People enjoy taking a staycation because it's a great way to explore your own city or hometown, save money, and avoid traveling. During your staycation, you can have fun doing leisurely activities within a day trip distance of your home. Keep reading to check out this exciting staycation ideas.
We all know the benefits of taking time off work to relax and recharge ourselves. But not all of us have the time or funds to take a big fancy vacation.
That's why I put together this list of fun staycation ideas to get you inspired.
Nearly 75 percent of Americans have gone into debt to pay for a vacation according to a recent survey by LearnVest.
This is because many Americans forget to factor vacation expenses into their annual budgets.
While I've shared lots of ways to save money and travel on a budget here on Mint Notion, you don't have to visit an exotic destination in order to have a nice vacation. Consider taking a staycation instead.
Here you'll find staycation ideas that you can do at home when you can't travel. This can be great for singles, families, or couples.
The best part is – you don't have to worry about delayed flights or dealing with jetlag.
Plus, some of my favorite staycation ideas cost no money at all, which is great for those on a tight budget. Try one or a few of these staycation ideas to have best holiday ever!
Related Posts:
1. Camping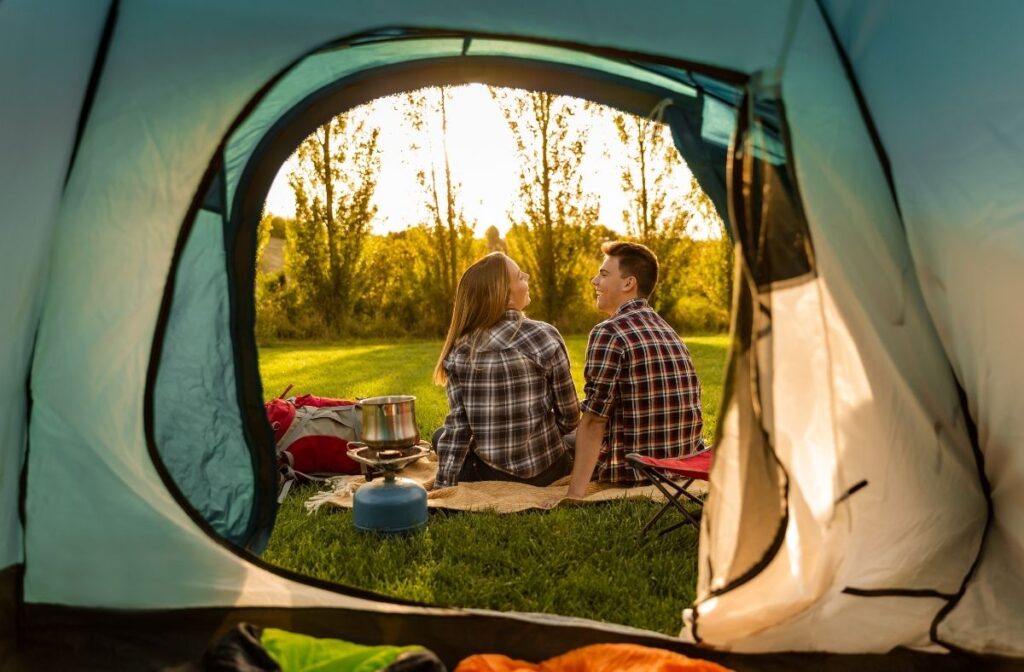 Camping is one of my favorite staycation ideas for families because it's affordable, it's a great way to unplug, and it's a fun way to connect with your loved ones.
If you don't live close to a campsite, you can even go camping in your backyard. Kids love camping, especially in the summer months.
We had a lot of fun and it was easy to set up the tent ourselves. I love how this tent sets up in just 60 seconds.
Ideas to make your camping trip fun include singing camp songs, making s'mores, and telling ghost stories.
Prep for your camping staycation
2. Movie night staycation at home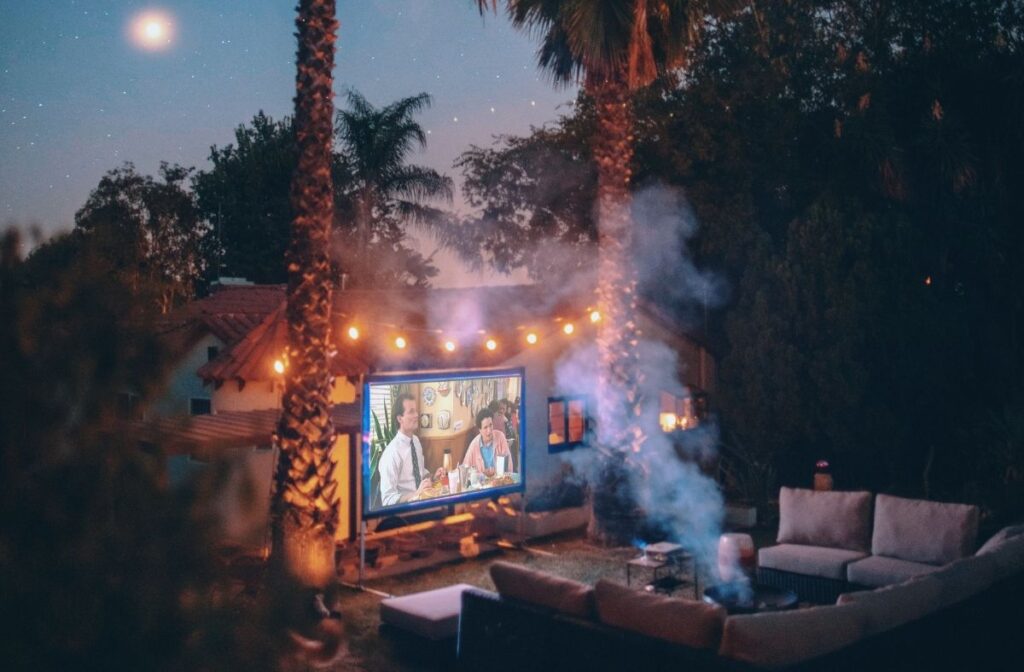 Going to the movie theatres can be expensive. If you're trying to save money, why not enjoy a movie night at home? This can be a fun staycation idea at home.
You can pick a theme, such as Night at the Oscars or have a Harry Potter marathon. The possibilities are endless!
Another creative idea is to use a movie projector so you can watch movies in your backyard or cast them on a wall at home.
This is a lot of fun and it adds something extra special to your movie viewing experience.
My boyfriend and I LOVE watching movies. We take turns picking out movies to watch and it's fun to check out new and old flicks.
We make a big bowl of popcorn to snack on while watching the movie with a glass of wine. You can even have a movie marathon.
Making homemade popcorn is easy and it tastes a thousand times better than microwave popcorn. We like using this popcorn machine.
3. Be a tourist in your city
One of my favorite staycation ideas is be a tourist in my own city for the day. I live in a large city and I'm always discovering new neighborhoods and places of interest to check out.
What can you do during your staycation? There are many ways to see your city or local town with fresh eyes. Below are a few of my favorite things to do on a staycation.
You can visit local museums, historical spots, nature parks, public art displays, art galleries, gardens, and more. Some cities offer admission discounts to local residents.
Some of my favorite cities to use travel passes include Chicago, New York City, San Francisco, New Orleans, London, and Paris.
4. Board game night
If board games make you think of long and boring games of Monopoly – think again!
There are so many great board games available today that are perfect for couples, friends and families. This is a fun indoor staycation idea at home.
Make it interesting by hosting a game night tournament or see how many board games you can play in a day.
Some of my favorite classic board games include Clue, Scrabble, Risk, and Yahtzee.
If you're looking for more modern games, consider checking out Cards Against Humanity, Telestrations, Apples to Apples, and Wits & Wagers.
Not interested in board games? No problem! Pick a game that you enjoy, such as cards or video games.
Prep for your game board tournament
5. Puzzle day
Did you know that doing jigsaw puzzles can improve your short-term memory? It's also a great way to relieve stress after a long day.
Pull out the jigsaw puzzles and grab some tasty snacks to enjoy. I personally like to do puzzles at the kitchen table because it provides a nice big space to lay out all the pieces.
Need to take a break from putting together the puzzle? Use this handy puzzle storage roll up mat to keep all the pieces in one place. Then simply unroll the mat when you're ready to tackle the jigsaw puzzle again.
6. Learn a new hobby
A staycation can be the perfect time to try that new hobby you've been wanting to do.
Maybe it's learning how to do calligraphy, baking dog treats, crocheting, photography, embrodiery, origami, or making bath bombs?
Learning a new hobby or skill can be a lot of fun. Other ideas include cooking, art, dance, a new language, archery, and so on.
To learn from the best, check out MasterClass. This site offers online classes created for students of all skills levels. Each class is taught by some of the best instructors in the world.
Read Next: 23 hobbies that make you money
7. Try Chef's Plate for the week
What do you do on a staycation at home? Well, I don't know about you – but the last thing I want to do on vacation is to worry about what to make for dinner.
That's why I like to use a meal kit delivery service for the week, such as Chef's Plate or HelloFresh.
I've used Chef's Plate in the past and love how easy it is to put together a delicious and healthy meal.
To get started, all you have to do is pick your plan (quick meals, family meals, or vegetarian meals). You can also select the number of people in your household (2-4 people).
8. Paint night
I recently went to my first paint night and had a blast.
You can find a paint night happening at local restaurants and bars in your neighborhood or host your own paint night at home. Just make sure to wear an apron to protect your clothes.
Brand new to painting? If you're just getting into painting, consider using a paint by numbers kit. There's no need to stress or worry about your painting skills.
Instead you can focus on painting the small areas in the canvas and create a beautiful work of art.
Prep for your at-home paint night
9. Picnic in the park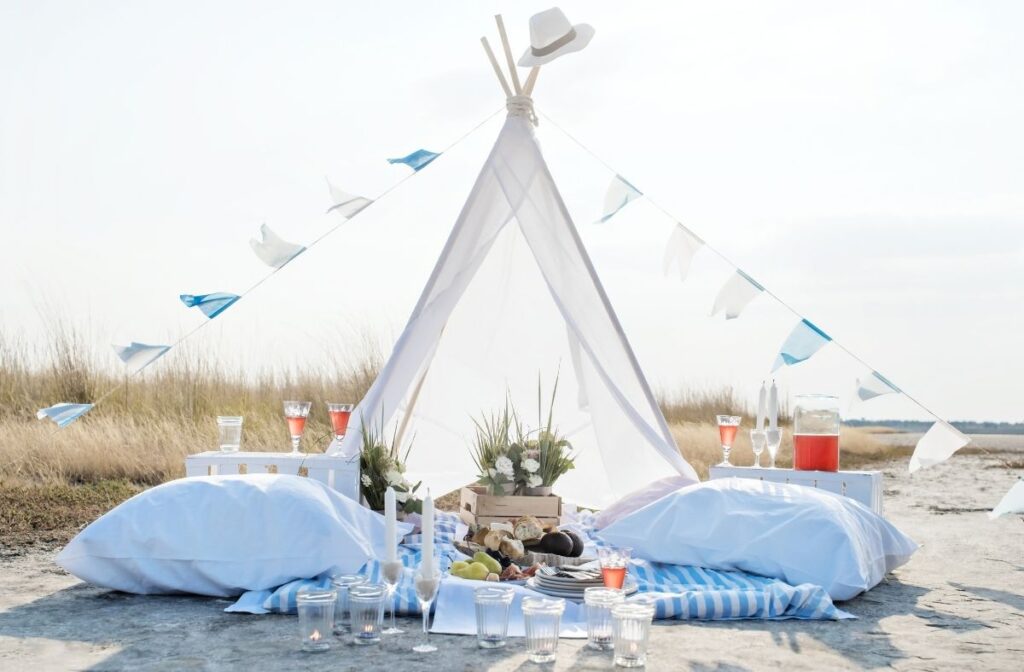 There's something so inviting about laying down a blanket and unpacking a basket full of delicious goodies.
You don't have worry about creating the perfect spread of food, even some simple sandwiches or your favorite take-out will be tasty.
This can be a cheap staycation idea for coulples at home. If the weather isn't favorable, bring the picnic indoors.
You can create a theme to make it fun, such as Mexican food or party appetizers.
Prep for your tasty picnic
10. Have an at-home spa day
Skip the expensive spas and relax with an at-home spa day. This is one of my favorite indoor staycation ideas.
First, you'll want to set the mood with calming music and nice lighting. Put on a diffuser or light a candle to create a relaxing atmosphere.
Then you can give yourself a facial, a foot soak, a hand mask, a hair treatment, or take an aromatherapy bubble bath.
I also like to finish the spa day by giving myself a manicure or pedicure and reading a good book.
Many spas and salons are currently closed here in Toronto. To give myself the royal treatment at home, I bought this affordable spa foot bath.
It feels so nice to unwind at home with this vibrating and massaging foot bath.
I also recently bought a gel nail polish kit so I can give myself a gel manicure at home. It's so easy to use and I save so much money by not going to the nail salon anymore.
11. Visit a winery or have a wine tasting at home
If you live near a winery, consider going on a tour. Sometimes you can find deals on local wine tours which can be a fun option for a day trip.
Don't live near a winery? No problem! Grab your friends and host your own wine tasting at home.
To save money, ask everyone to bring over their favorite bottle of wine. You can supply snacks for your guests, such as fruit, cheese, olives or pretzels.
My mom bought me this charcuterie and cheeseboard last year for Christmas. It's been a great addition to our wine and cheese nights.
If you're feeling fancy, sign up for a monthly wine club membership that sends you hand-crafted bottles of wine from local and intentional wineries.
My favorites are California Wine Club and Vinesse Wines.
PRO TIP: I highly recommend using a wine aerator. We couldn't believe how this little device could make wine taste better. It's a good way to make a cheap bottle of wine taste more expense.
Prep for your at-home wine tasting
12. Catch up on some much-needed sleep
If you're looking for some relaxing staycation ideas at home, now is the perfect time to catch up on sleep.
Relax before bed with a hot bath or a good book. Turn off all electronics and sip on a cup of herbal tea. You may also want to use some essential oils to help you sleep, if needed.
I recently treated myself to some luxury pillows. They have made a huge difference in the quality of my sleep. I also like using a sleep mask and ear plugs to help me sleep better at night.
Prep for the best sleep ever
13. Plan a weekend getaway near you
If your budget has some wiggle room, consider planning a weekend getaway near you. This is one of my favorite staycation ideas for couples.
If you want to get away for the night without having to go too far from home, booking a luxury hotel in your city or a nearby town can be romantic. This can also be a great idea for birthday staycations.
Click the link to search for a deal on luxury hotels near you thanks to Booking.com.
14. Create your own resort exerpience at home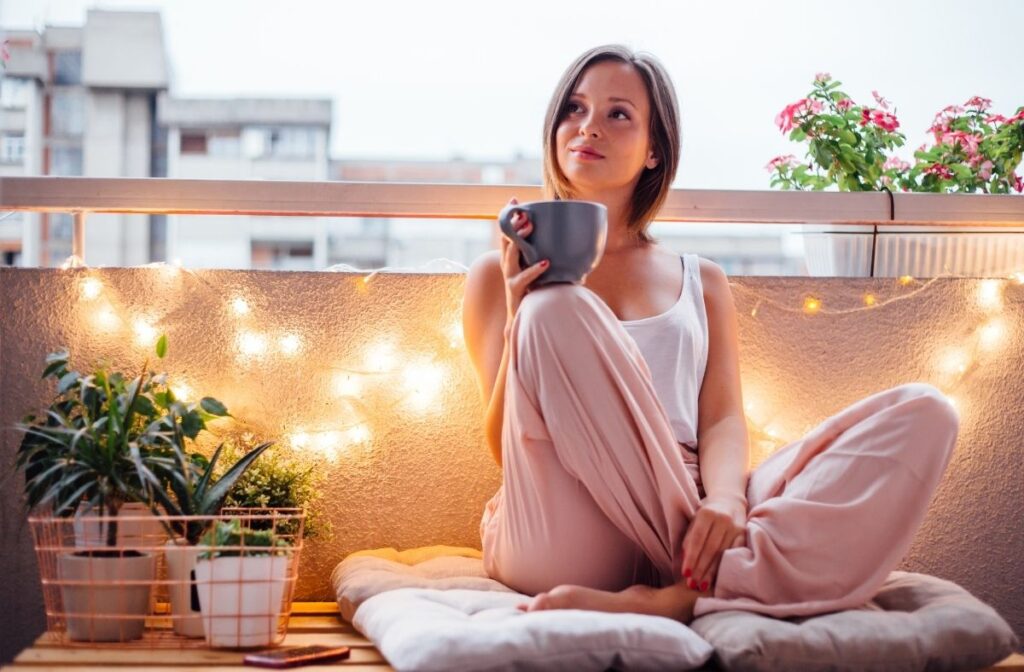 How do you make a staycation feel like a vacation? Look no further than your own balcony or backyard for your own luxury getaway.
We turned our small condo balcony into a beautiful oasis that makes it feel like we're traveling without leaving home.
You can set up a comfortable couch or patio set in your outdoor space. Serve your favorite drinks while listening to a fun vacation playlist.
You can even hang some outdoor twinkle lights so you can enjoy the party all evening long.
Below are some more other small things that can make your outdoor space feel like a luxury vacation at home:
Prep your patio oasis
15. Beach day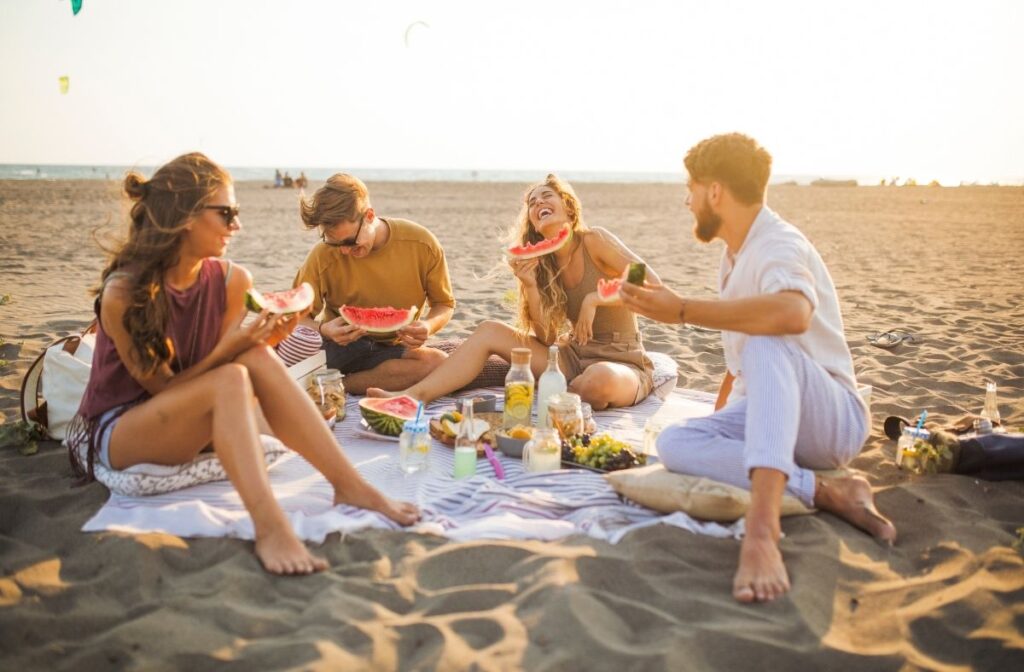 If the weather is nice and you're looking for some staycation ideas, why not head to the beach or the lake for the day?
Even if the water is not warm enough to swim, it's still fun to catch some sun. Just don't forget to wear sunscreen and bring a beach umbrella to stay cool.
Here are some of my favorite activities to do at the beach:
Have a treasure hunt
Suntan
Play beach volleyball
Relax and read a book
Practice yoga or meditation
Play boardgames
Have a BBQ or picnic
Prep for your beach day
16. Craft night
If painting isn't your cup of tea, why not have a craft night instead! Keep the craft ideas simple to make sure everyone can have a fun time. Here are a few ideas to get you brainstorming:
Exfoliating scrub
Christmas ornaments
Paper lanterns
Terrariums
Pottery
Mason jar crafts
17. Attend a sports game
If you're looking for something fun to do with family or friends, consider checking out a sports game. Cheer on your team at a local sports bar or get tickets to attend the game.
If you're on a budget, check for free sports games you can watch in your city. Pack your favorite snacks to give you the fuel you need to root for your favorite team.
18. Free events in your city
You can usually find free events happening all year round in the city, especially during the warmer months.
Whether it's a light festival, farmer's market, food festival, art show, or music festival, there are tons of local attractions for everyone to enjoy.
Check to see what events are happening in your neighborhood or nearby cities. This could make for a fun day trip.
19. Do a food tour of your city
While you can certainly sign up for a professionally organized food tour, a more budget-friendly option is to put together your own itinerary.
Pick at least three spots you want to visit in your city. This can be as simple as checking out different dessert spots in your city or sampling different taco joints. Decide which theme you'd like to do and make it fun.
20. Listen to live music in your city
I recently went to Nashville with my sister and we had so much fun checking out the local Honky Tonks.
Most cities have places where you can listen to live music, such as a concert venue, festival, restaurant or local bar. Check to see who's playing in your neighborhood.
21. Visit your local library
Did you know that the library offers more than just free books? You can also borrow DVDS, magazines, CDs, and audiobooks.
Some libraries offer free classes, workshops, and events for the whole family. Check your local library to see what's happening near you.
22. Explore a local park or national park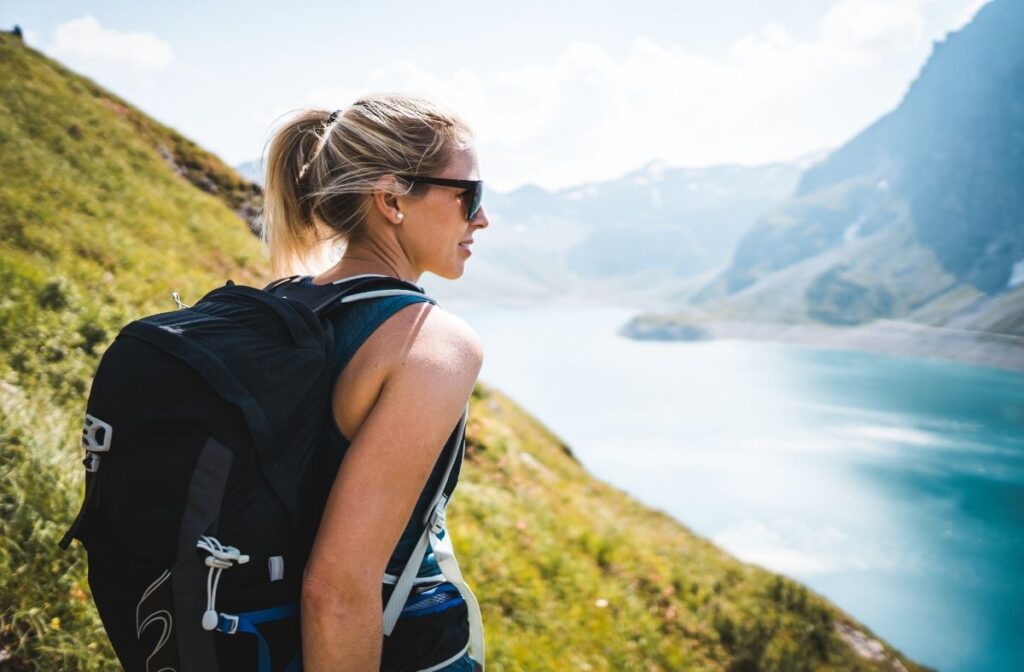 My boyfriend and I love to hike, which makes this one of the best staycation ideas.
We enjoy visiting local parks to unplug for the day and connect with nature. Spending time outdoors can brighten your mood and the fresh air will energize you.
Check to see if there are any nice hiking trails or nature parks near you.
23. Day trips from your city
If you're feeling antsy to get out of town, consider taking a day trip somewhere. This can be a fun way to explore a nearby town without having to worry about booking an overnight stay.
My boyfriend and I love going on day trips during the warmer months. Even if it's just to an unfamiliar suburb in our city, we're always discovering new places to explore. Don't forget to make an epic playlist for your road trip!
24. Bring the vacation destination to your home
If you're unable to travel, why not bring elements of your favorite destination to your home? This is one of my favorite staycation ideas. Here are some ideas to help give you some inspiration:
Paris theme – Drink French wine, watch your favorite French-inspired film, eat cheese and baguettes, and have chocolate eclairs or macarons for dessert.
Hawaiian theme – Have Hawaiian pizza (if you don't feel like cooking), drink fruity cocktails, wear Hawaiian leis, and learn how to hula dance. You can even have a slip-and-slide or water balloons to beat the heat.
Italy theme – Serve your favorite pasta, drink Italian wine or Aperol spritz, eat tiramisu for dessert, and watch your favorite movie set in Italy. I like Under the Tuscan Sun.
Disney theme – Pick your favorite Disney movie to set your theme. You can send out Disney invitations, have Disney decorations, Disney inspired food and dessert. You can even listen to Disney music or have Disney-themed scavanger hunts.
25. Volunteer
It feels good to volunteer and give back to the community. Choose a volunteer position that is meaningful to you.
Some places to volunteer include animal rescue centers, food pantries, local libraries, national parks, retirement homes, and the YMCA.
25. Finish a house project
While you don't want to use your whole staycation to catch up on chores, you may want to take this opportunity to complete a house project.
This is one of the best productive staycation ideas on this list. Some ideas include:
Rearrange furniture in a room to give it a new look
Declutter and organize a room
Plant a flower or herb garden
Paint your kitchen cabinets
27. Rent a bike in your city
Riding a bike is so much fun because it's environmentally friendly and a cost-effective way to get around town. If you don't have a bike, consider renting one for the day.
You can ride your bike in the city, by the lake or ocean, through the park or on a hiking trail. Check online to see the best places to ride a bike near you.
28. Explore a new city
A staycation means that you're spending your vacation in your home country instead of traveling abroad.
If you can safely travel within your country right now, consider booking a weekend trip to explore a new city.
There are so many places that my boyfriend and I want to explore in Canada. Vancouver, Banff, Jasper, Calgary, Montreal, and Quebec City are the top cities on our Canadian bucketlist!
Ready to start your adventure? Click the link to search for hotel deals in your desired staycation destination thanks to Booking.com.
29. Go on a birdwatching adventure
Birdwatching can be a lot of fun and all you need is a pair of binoculars to get started. This can be a unique way to learn about nature and science in your own backyard or local nature trail.
If you want to make this a new hobby, consider grabbing a bird identification guide and a notebook to help you learn more about birds in your community.
30. Make a woodworking project
If you're feeling crafty, consider making a woodworking project. Ideas include a tree house, a Little Free Library, a garden box, a table, a bed headboard, or a chicken coop. Find a tutorial or grab a book to help you get started.
31. Swap homes with a friend
Do you remember the movie The Holiday where Kate Winslet traded her country cottage with Cameron Diaz's Los Angeles home?
If you're looking to explore a new neighborhood, consider swapping houses with a friend. This can be a fun staycation idea.
32. Take a tour around your city in style
If you're budget allows, consider renting a convertible or your dream car and tour your city in style. You can pack a picnic and explore some landmarks or unique areas in your city.
33. Have a water play day
If you can go to the water park, why not create one in your back yard? This is the best way to cool off on a hot day. Ideas include:
If you're feeling extra, consider using a waterproof camera like the GoPro to capture the highlights of your day.
34. Create an escape room at home
Escape rooms are super popular, but they can get expensive for a group to go. Instead, it's easy to create your own escape room experience at home.
You can find a tutorial online or grab one of these top-rated excape room kits:
35. Set up an at-home wellness retreat
Traditional retreats can be expensive. You can set up your own wellness retreat at home.
Ideas include going on a journalling or writing, yoga, reading, meditation, music, spa, adventure, or spiritual retreat. Plan your shedule, meals, and don't forget to turn your phone off so you can relax.
If you're feeling extra fancy, you can even book a massage at a local spa.
36. Go stargazing
Stargazing is something that everyone should experience at least once in their lives. It's perfect for those who have a sense of wonder and enjoy being outside at night.
If possible, look for a dark-sky site near you. These are the best locations to get an amazing view of the stars.
37. Earn free gift cards to use on your staycation
There's nothing like getting a free Starbucks drink, eating at your favorite restaurant for free, or seeing a movie for free at the movie theaters.
Sometimes you can redeem points that you've collected through your credit card, but you can also earn free gift cards in your spare time.
Below are some easy ways you can start earning free gift cards to pay for your staycation!
Swagbucks – Swagbucks is a free app that makes it easy to earn FREE gift cards for things you already do online, such as surfing the web, watching entertaining videos, answering surveys, and more!
If you're not already a member, you can join Swagbucks for free and receive a $5 Welcome Bonus!
Once your cash back balances reaches $25, you can transfer the money to your bank, PayPal, Venmo or donate your cash back to charity.
Other surveys for money I recommend include Survey Junkie, Branded Surveys, MyPoints, and Inbox Dollars.
38. Make extra money
While I've shared a lot of traditional staycation ideas, perhaps you're looking for something a little different to do on your vacation.
If so, consider challenging yourself to make some extra money. Bringing home extra money can help you boost your savings, pay off debt, or save up for your next vacation.
What would you do with an extra $100-$500?
Here are a few of my favorite ways to make extra money on the side:
Get paid to take surveys
Companies are willing to pay you to get your opinion. If you're looking for an easy way to make money fast, this can be a great option.
I started doing online surveys when I was in college to help me make extra money. Most surveys take around 5-15 minutes to complete.
PRO TIP: Earn the most money when you sign up for several survey websites. Then you'll get to choose the surveys which pay the most money. Save time and earn more cash!
Start out with Survey Junkie. This is the largest survey site in the world that actually pays you cash. It's available in the United States and Canada.
They are an online community with over 10 million members dedicated to making their voice heard.
How to get started with Survey Junkie:
Take Surveys: Sign up here to create your free account. This process takes only a few minutes to complete. Then you'll be matched with surveys.
Earn Rewards: Complete surveys and you'll earn virtual points.
Get Paid: You can redeem virtual points for PayPal cash payments or e-gift cards.
Other survey websites I recommend include Branded Surveys ($1 sign up bonus), Toluna Influencers, and Swagbucks (free $5 signup bonus).
Have a garage sale
We all have items that we need to declutter. Having a garage sale can be a great way to give these items a new home while making some extra money.
Start a blog
I quit my 9-5 job to start a blog and turned it into a full-time career. It's easy to get started and the start-up costs are low.
Blogging can be a part-time side hustle, or it can turn into a full-time job (like it did for me). It's up to you!
I didn't know anything about blogs when I first started this website. I learned everything from scratch. Now I love connecting with people all over the world.
It's pretty amazing how special blogging can be. This can be a great side job to make an extra $500 a month or more!
Here's an in-depth tutorial that will walk you through the entire process. Don't worry, there's no tech experience or coding required.
It takes just a few minutes to get your blog up and running. Anyone can do it!
Need some inspiration? You can sign up for my free blogging course here. It'll walk you through the entire process of how to set up and launch your blog in just 5 days.
Flip items for profit
Do you like finding hidden treasures at fleamarkets or garage sales?
Flipping is the art of finding things for free (or at a discount) and selling them for a profit.
With today's technology, there has never been an easier time to resell and flip items to make extra money. This can be a great way to make an extra money.
Rob and Melissa, the masterminds behind FleamarketFlipping.com, make a full-time income from flipping stuff for profit. In their first year full-time, they made $133,000 in sales!
Are you ready to start flipping stuff for cash? I recommend checking out Rob's FREE 75-minute workshop. In this free workshop, you'll learn how to find hidden treasures at flea markets thrift stores, yard sales, and auctions, and how to turn them into maximum profit. His workshop is completely free to join. You can sign up here.
Start a side hustle
According to a recent survey, around 37% of adults in the USA have a side hustle, earning an average of $700 a month.
That's a decent amount of extra money, which can help you boost your travel fund. Here's a few of my favorite side hustle ideas:
---
Staycation at home FAQs
What can you do during staycation?
A staycation is where you enjoy a vacation from the comfort of your own home or near your home. Most people choose to spend the night in their home during a staycation, but you can certainly travel to a nearby city or stay overnight in a hotel.
Due to many travel restrictions around the world, staycations have become more popular as an alternative to international travel.
Here's a few things you can do during your staycation:
Stay at a local hotel
Go camping
Book a local Airbnb
Explore local tourist attractions
Visit a nearby town or city
Visit a national or state park
Go on a bike ride
Go to a spa for the day
Enjoy a boat cruise
Try stargazing
Visit an amusement park
Go on a pub crawl
Take a cooking class
Have a picnic or BBQ
What do you do on a staycation at home?
If you are unable to travel right now or prefer to have a vacation at home, there are many fun ways to relax during a staycation. Here's a few of my favorite things to do on a staycation at home:
Watch the sunrise or sunset
Explore a nearby nature trail or park
Learn how to bake bread
Learn how to can or preserve food
Watch a virtual concert or Broadway show
Visit a museum online
Take an online course to learn a new skill
Learn a new language
Watch a documentary
Binge a TV show
Have a dance party in your living room
Play sports
Plant a garden
Declutter or spring clean your home
What do couples do during staycation?
There are many fun and romantic things you can do as a couple during a staycation. Here's a few of my favorite ideas:
Build a campfire and make s'mores
Read a book together
Watch each other's favorite movies
Have a relaxing day at the beach
Enjoy breakfast in bed
Book a room at a fancy hotel
Enjoy your favorite take-out meal by candlelight
Plan a dream vacation together
Cook a meal together
Go to a drive-in movie
Take an art class
Book a couples massage
How do you make a staycation feel like a vacation?
How to spend a vacation at home? Here are a few ways you can make a staycation feel like a real vacation:
Prep your home before your staycation
Get all your housework and chores done before your time off. Your vacation should be a time to relax and unwind. You don't want to use it to tick off household chores, unless that's your idea of a fun staycation.
Turn off your work phone
This may be difficult for some jobs, however it's important to take a break from work so you can actually enjoy your staycation. If you need to check your work phone or emails, dedicate a specific time block to do so. This can help you create a healthy boundary between work and vacation time.
Pick a theme
What type of staycation do you want to have? This can help you prep and plan ahead for your vacation at home. Ideas include yoga retreat, beach day, spa trip, sports trip, Italian getaway, and so on. You can bring all these ideas to enjoy at home.
Take photos
Just like you would take photos to capture special moments on a real vacation, make sure to take photoson your staycation.
Switch up your routine
To prevent your staycation from feeling like any other day or weekend, try switching up your routine. Maybe this means sleeping in, staying up late, having an all-day pajama party, or having an indoor picnic on the living room floor. Don't be afraid to get creative and have fun!
How do you make a staycation special?
If you're spending your time at home for your staycation, it's so easy to stay in your normal everyday routine. You might find yourself saying – "I'll just finish up this one chore" or "I'm just going to respond to this one work email".
Instead, every great staycation needs a plan. And no, you don't have to plan everything in advance, because it's always fun to keep things sponatenous.
But you do need to plan ahead so you can make your staycation special. Below are a few suggestions.
1. Add something fresh or pretty to your home
Change up your environment to make your home feel special. Some ideas include:
2. Get your house cleaned by someone else
Instead of spending your staycation doing chores, consider getting your house cleaned by someone else.
There's nothing like waking up on the first day of your vacation to a sparkling clean home. No dishes to wash, a fresh smelling bathroom, clean floors, no dust or clutter. You can find someone local on TaskRabbit to clean your home.
3. Plan your meals
One of the best things about going on vacation is getting room service or eating at new restaurants. Below are a few ideas to help you plan your meals so you can enjoy your staycation:
Try a meal kit service – Take a break from grocery shopping or trying to figure out what's for dinner. I like using Chef's Plate.
All the ingredients are delivered fresh at your door step. Meals take 30 minutes or less to make.
Get your groceries delivered – Instead of spending your staycation at the grocery store, consider using a service like Instacart to get your groceries delivered to your home. Get your groceries delivered in as little as 2 hours.
Try a new cocktail or wine – My boyfriend and I love learning how to make fancy cocktails at home. It's fun to master the classics and try new recipes.
You just need a cocktail shaker and you'll be serving up margaritas (or virgin cocktails) in no time.
How to budget for your staycation:
1. Determine how much you can afford to spend for your staycation.
2. Check prices for the activities you're interested in doing.
3. Add up the total cost for these activities. Don't forget to include transportation costs, if necessary.
4. If the total is more than you can afford to spend, take a second look at the list of activities on your itinerary.
Research ways to save money on these activities (discounts, coupons, or deals). You may also want to consider looking for similar activities that are cheaper.
5. Stick to your budget. There are lots of cheap staycation ideas in this post to get you inspired.