"I can't stop shopping online!" – If you want to stop shopping and learn how to take back control of your spending, below are 5 reasons why it's SO hard to stop shopping and how to fix it.
A few years ago, I shared a blog post about how to stop shopping. I wrote this because I was tired of feeling like I couldn't stop buying stuff.
I was constantly chasing and looking for that next item to buy, and I felt trapped in a vicious cycle of buy-buy-buy.
I had so much stuff that I needed to buy storage bins just to organize and manage the clutter. I loved buying shoes, clothes, makeup, perfumes, books, kitchen gadgets, random home décor items, and so on.
Shopping was my go-to habit to relieve stress and boost my mood when I was feeling down. I genuinely thought it made me happy.
Or at least, that's what I thought…
Today, my life looks very different. After years of struggling with shopping, I've learned how to transform my mindset and get good with money. I know how hard it can be to change your shopping habits.
But the good news is that it's not impossible. If I could do it – even after years of being a shopaholic – then you can do it too!
It all started by understanding the root cause behind my shopping addiction and how to shop with intention, which I share in my new e-book, The Intentional Spender.
Here are five reasons why it's so hard to stop shopping and how to fix it.
Related Posts: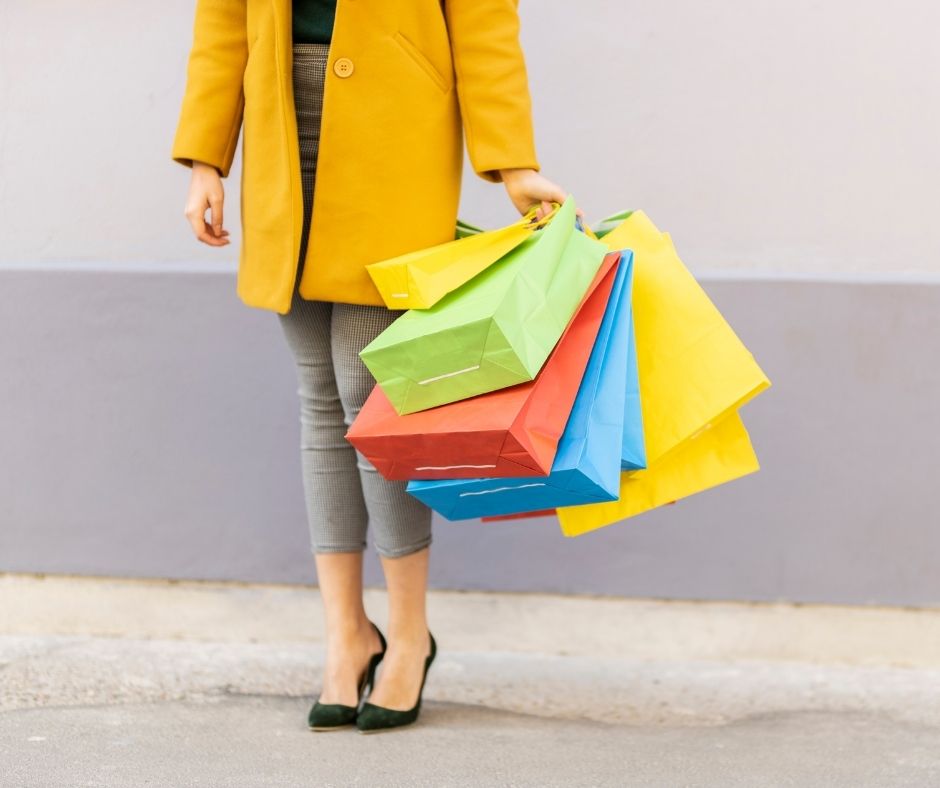 1. You aren't comfortable with who you are
This one is hard to admit, but it was a huge wake up call for me. Because when you shop, it's not really about buying "stuff", it's about buying a fantasy story that you want to manifest.
Marketers know this and they are experts at convincing us of what we want and need.
I can't count the number of times that I told myself, "If I have cute workout clothes, it will motivate me to exercise more". Perhaps you can relate?
I had tons of workout clothes, shoes, yoga mats, resistance bands and other random stuff laying around my home that I rarely used. Each time I bought a new workout outfit, I was buying the motivation to make exercise a daily habit.
Another example was buying a new outfit for work to make myself feel more confident. I felt under-appreciated at my previous job.
When I bought a new outfit for work, I was buying the hope that my boss would take me seriously so I could get a job promotion. I thought I needed to wear expensive clothes and stay on top of trends in order to be valued at work and seen as a worthy human being.
I struggled with self-acceptance and feeling confident in my own skin for a long time.
While buying workout clothes and office attire doesn't necessarily mean you have a shopping addiction, if you feel that you can't stop buying more "stuff", you should ask yourself if low self-esteem is fueling your purchases.
HOW TO FIX IT:
Before you make a purchase, ask yourself why you truly want to buy the item. Is it because you think it will make you prettier, smarter, more likeable, and so on?
What is the story that you're trying to sell to yourself by buying that item? Will buying that item truly give you want you want?
Remember that nobody is perfect. We are all just trying our best. If you're trying to change your shopping habits, please don't be hard on yourself. You're doing great and everything is going to be okay.
If you want to learn more about how to overcome a shopping problem, check out my free audio training.
2. You feel like you're being productive when you're shopping
When I started living the 9-5 lifestyle, I became burntout and tired. I didn't have energy to do much when I got home in the evening. It seemed easy to just sit on the couch, scroll, and buy something to make myself feel better. Shopping is so accessible and it doesn't take much effort to do.
Shopping became my hobby. It was a fun and mindless activity, but it made me feel like I was doing something productive.
By researching products, comparing prices, reading reviews, and buying more stuff – I thought shopping gave me a purpose. It felt good to be fashionable and to see something I wanted and buy it.
I loved spending money and had a hard time saying "no" to myself. But I realized that I was shopping and spending money on "stuff" because I had no direction. I was bored and didn't know how to fill my spare time. I didn't have any goals that I was working towards.
HOW TO FIX IT:
Get clear on what you truly value in your life. Next time you get the urge to shop, pause for a moment and ask yourself, "What am I trying to avoid by shopping? What am I trying to escape from? A job I hate? A relationship that makes me feel alone? A home environment that's cluttered and disorganized?"
This awareness can help you identify any areas of your life that need addressing. For me, I realized that I didn't have any hobbies that truly fulfilled me.
I hated my job and was using shopping as a way to fill that void. But it wasn't bringing me the authentic happiness that I was seeking.
Read Next: 45 things to do instead of shopping
3. You get a sense of belonging when shopping
Another reason why it's so hard to stop shopping is because it makes you feel like you have something in common with others.
It gives a sense of belonging – such as having something in common with a stranger on the internet (influencer), to a group or community, a friend, and so on.
It sounds silly, but it felt nice to have something in common with someone else by having the same "stuff" as them. Being able to wear the same eyeshadow shade I saw an influencer wearing made me happy.
Wearing the same shoes that I saw a celebrity wearing made me feel good. It felt special to be able to wear the same cute dress as someone I looked up to.
I felt a sense of accomplishment that I could obtain the same item as someone else – even if that person was a total stranger that I would never meet someday.
Shopping is a big part of our culture and we crave social acceptance. That's why many of us turn to shopping because it's an easy way to connect and relate to others.
Just seeing "haul" videos on YouTube or your friends wearing a new outfit on the weekend can influence you to shop and buy more stuff too.
HOW TO FIX IT:
Recognize that you can foster a sense of belonging without having to own or buy certain things. Challenge your core beliefs and redefine what you think you need to do in order to identify with a community, an influencer, or your friends.
It's also important to remember that influencers want to sell to you. They want you to buy the products they recommend and support the companies they work with. It's their job to convince you to want and buy more stuff. That's how they make money.
In my e-book, The Intentional Spender, you'll learn the sneaky ways retailers trick you into spending more money. This can help you become a more conscious consumer and shop with intention.
4. You love the anticipation that comes with shopping
One of the reasons why I used to love shopping so much was because I was addicted to the anticipation of a package arriving in the mail. It was so exciting knowing that something was on its way. It gave me something to look forward to when I felt like I didn't have much to look forward to in my life.
This is one of the reasons why it's so hard to stop shopping online. I would get obsessed about tracking the package each day and waiting for it to arrive. It sounds silly, but the anticipation felt like Christmas or my birthday.
But when the package finally arrived, I would be faced with the reality that I spent money and it would show up on my credit card bill. I also felt overwhelmed and stressed by trying to find a home to put the "stuff" that I bought when my closet was already overflowing.
HOW TO FIX IT:
Pay attention to what triggers you to shop. I noticed that whenever I spent more time on scrolling on social media, I would get the sudden urge to buy shoes I saw an influencer wearing or something random from Instagram ads. Perhaps it's friends or family or strangers you see online? If so, think about what boundaries you can set for yourself so your shopping decisions aren't influenced by others.
In the Intentional Spender, I'll show you how to set healthy boundaries so you can align your spending with your goals.
5. You're trying to escape from something
One of the reasons why it's so hard to stop shopping is because buying stuff makes us feel good… at least temporarily. Studies have also shown that when we shop, we get a hit of dopamine (the feel-good hormone), which is an easy way to escape from your everyday life.
Perhaps it's a relationship that makes you feel inadequate, a job that makes you feel underappreciated, or a pile of clutter waiting for you at home? We all have something that we want to escape from, and shopping is an easy outlet to boost our mood and forget about life's stressors.
Plus, advertisements and online influencers do a good job at making us believe that buying new products will make us happier and improve our lives. So we shop because it helps us regain a sense of control when we're feeling down or overwhelmed.
We feel that instant gratification of excitement and happiness when we make a purchase, but spending this money takes away any extra funds that we could've put towards other things, such as our reaching our goals.
While it might seem like retail therapy isn't a big deal, if it encourages you to make an impulse purchase – no matter how small – it demonstrates that you are not in control of your spending. Your emotions are. This may be a sign that you're using shopping as a coping mechanism and you're avoiding dealing with your problems.
I know this because I used shopping to distract myself for years and I didn't know where my money was going. But once I addressed the root cause of my shopping problem, I was able to manage my emotions better instead of letting them control me. Sometimes we get so busy chasing all the things that we don't have that we forget to notice all the things that we already have.
HOW TO FIX IT:
Next time you feel the urge to shop, pay attention to what emotions you're feeling. Are you trying to relieve boredom? Are you trying to numb negative emotions? Are you trying to regain a sense of control in your life?
Whenever I felt the urge to make an impulse buy, I made a personal rule to wait 24 hours before making the purchase. This gave me time to "cool off" and consciously respond to my emotions instead of reacting to them. During this cooling off period, I found healthier ways to manage uncomfortable feelings, such as meditating, writing in my journal, or going for a walk in nature.
Read Next: How to stop impulse buying for good
---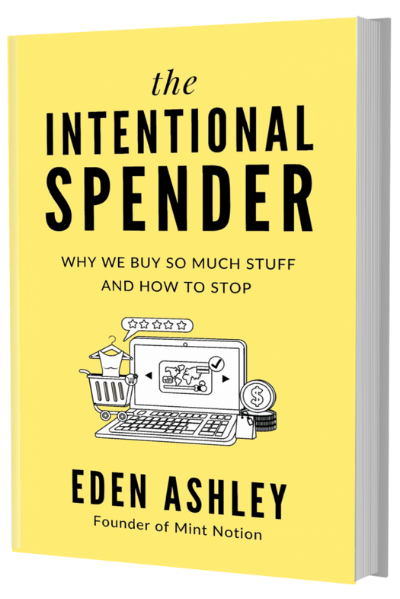 In The Intentional Spender, you'll learn insider secrets on how to conquer your impulse spending for good. As a former shopaholic, I know all too well how emotions can easily influence your spending.
Studies show that is takes 21 days to form a habit. That's why I've put together this 21-day program to help you form and implement healthy spending habits. This includes shopping with intention, living within your means while still having fun, and feeling comfortable and confident with your personal style.
I don't believe in depriving yourself or living on a bare bones budget! I believe that you are 100% capable of transforming your mindset by discovering the root cause behind your spending habit and developing a game-plan that actually works.