When you go on vacation, hotel accommodations are often the biggest fixed travel expense, along with flights.
Fortunately there are a variety of resources available today that can help you save money on hotel accommodations, so you can relax and actually enjoy your vacation, without worrying about returning home with an empty wallet.
When it comes to finding hotel accommodation for myself, I like to find the best value for my money, rather than book the cheapest place possible. (I'm not a big fan of sharing bathrooms or roughing it when I'm on vacation).
Your hotel accommodation will depend on a few different factors:
your budget
your chosen destination and location of the hotel
your travel companions (how many people you're traveling with and their comfort levels)
your comfort level and necessary hotel amenities
your interests and the type of vacation you wish to enjoy
Paying too much for your hotel accommodation is an easy way to eat up your travel budget. On the other hand, booking the cheapest place possible could actually ruin your vacation if it doesn't meet your comfort levels.
Instead, my goal is to help you find a hotel accommodation that offers the best value at a price you're happy with.
Before you book your next vacation, consider these 18 ways to save money on hotel accommodation: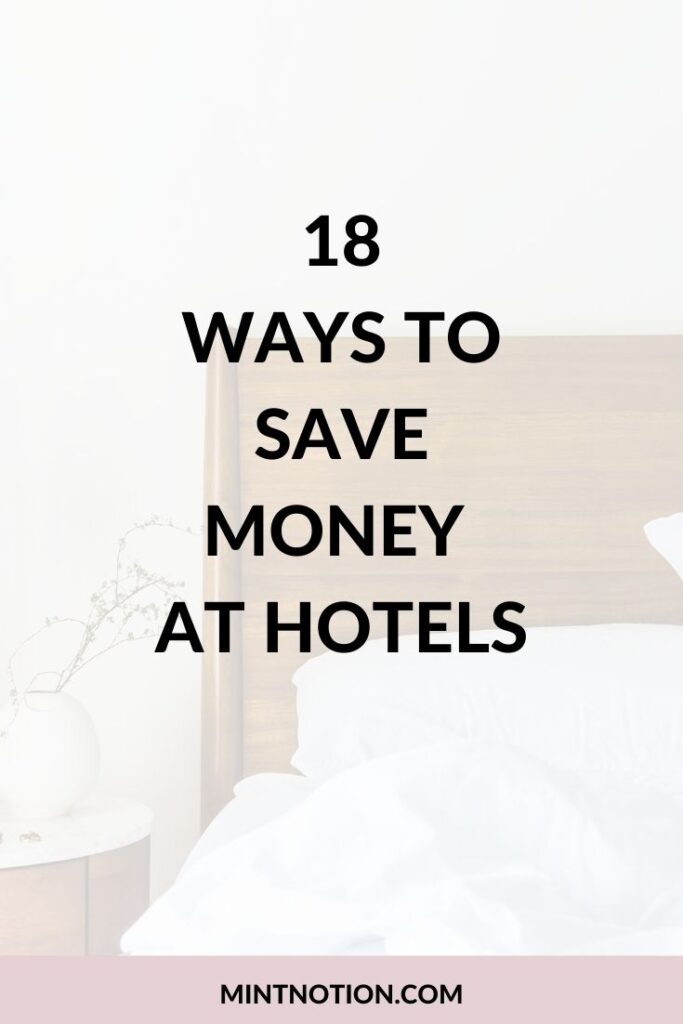 1. Make a budget and stick to it
Before you start planning your trip, it's import to determine a realistic budget. Decide how much you want to spend on your vacation and what you're looking for in your hotel accommodation.
I rarely spend much time in the hotel room when I travel, so instead of paying extra for a fancy suite, I rather save the money to spend on sightseeing and entertainment.
Remember that it's OK to compromise on certain aspects of your trip. For example, if you plan on spending a lot of money on activities or dining at fancy restaurants, consider staying at a more affordable hotel.
However, if you don't want to stay at a budget property, consider booking a luxury hotel through websites like Hotwire or Booking.com. If not, I recommend cutting your trip short to save money.
2. Plan ahead
While last minute deals can sometimes be found, planning ahead is the key to saving money when booking hotels.
When you plan ahead, you'll be given more hotel options, which means it'll be easier to find one in your desired price point and in the location you want.
On the other hand, if you leave booking to the last minute, hotels might be limited and they could be more expensive than if you had booked in advance.
Hotels may also reward their guests with a special discount for advanced bookings which is all the more reason to plan ahead!
3. Be flexible
Having a flexible schedule goes hand in hand with saving money. One way to save is by visiting your chosen destination during the off or shoulder season.
This worked in my favour when I went to London in November. Despite it being a little chilly, I got a great deal on my flight and hotel, plus it was nice to enjoy sightseeing without the large summer crowds.
Here are some simple ways being flexible can save you money:
Stay in the off or shoulder season
Stay during midweek (instead of on the weekend)
Avoid staying on days when large events or conferences are happening in town
Stay outside of a central location (for example, in metropolitan cities like NYC, hotel prices vary by neighbourhood)
4. Shop around on third party travel websites
Sometimes the best deals can be found on third party travel websites. Subscribe to their mailing list to receive exclusive discounts via email.
One of my favourite third party travel websites to use is Booking.com. This is a great site for booking both domestic and international travel accommodations. Booking.com usually offers the best price compared to other third party travel websites.
I also recommend using TripAdvisor to check reviews and compare prices for your chosen destination and dates.
TripAdvisor compares many third party travel websites with one click, and lets you know which site offers the cheapest rate.
5. Bundle it
By bundling your flights, hotel and car rental through websites like Expedia, you can save hundreds of dollars on your vacation.
This worked in my favour when I went to Paris in February. I saved $300 when I used Expedia to bundle my flight and hotel.
6. Book with a rewards credit card
Apply for a credit card that offers travel points or is affiliated with hotel rewards programs.
You'll earn points each time you make a purchase with your credit card, which can earn you a free hotel room on your next vacation.
I use my travel credit card to pay for all my purchases, which helps me collect points faster than if I paid by cash. Of course I always pay off my credit card bill in full each month, so I don't have to worry about interest fees.
7. Take advantage of discounts you already have
Many hotels offer discounts for AAA / CAA members, government employees, military personnel, teachers, emergency workers, etc.
I recommend calling the hotel directly to find out what discounts are available. Sometimes you can save even more money by calling the hotel to book your stay.
8. Join rewards programs
Many hotels offer a free rewards program for guests to join, which allows you to earn points each time you book with them.
For example, I'm a Hilton HHonours Member, which means I can enjoy free WiFi and collect points towards free stays when I book with Hilton hotels.
9. Check for deals and coupons
Subscribe via email to money-saving websites like Groupon and Travelzoo. This is a great way to find low rates on hotels, attractions, entertainment, restaurants and vacation packages.
Thanks to Travelzoo, I saved 50% off the regular rate when I stayed at the Millennium Broadway Hotel – Times Square in New York City.
10. Follow on social media
Follow your favourite hotel and search sites on social media (Facebook and Twitter) to find out when special promotions and sales become available.
Sometimes these deals are released first on their social media platforms.
11. Delete your web history / cookies
Just like when booking flights, hotel websites store your search data and may charge you more if you come back to book as a repeat visitor.
Always search for hotel deals in private browsing or incognito mode to get the lowest rate.
12. Book directly through the hotel website
While third party travel websites might offer a good deal, sometimes booking directly through the hotel website will guarantee you the lowest rate.
Always check to see if there's a special promotion or package available on the hotel website – this could include a dining credit, late check out or a free room upgrade.
Promotions and packages usually vary by season, and you might save even more money by staying during their low season.
13. Take a chance by booking through Hotwire
While some people might feel uncomfortable at the thought of using an opaque booking website – sometimes this offers the best deal.
When traveling in the USA and Canada, I almost always book my hotel through Hotwire. This allows me to stay in a luxury hotel for a price that I can afford.
14. Be flexible with your location
When I booked my hotel in Chicago, I noticed that staying at a hotel in the heart of the city cost twice as much as staying a few miles away.
Instead I was able to find a luxury hotel on Hotwire for a budget rate in Chicago's Gold Coast district.
Staying outside of the city can also help you save money on your hotel. For example, I stayed in New Rochelle when I went to New York City for New Year's Eve.
While this was a great way to save money, there are a few things to consider before booking a hotel outside of the city:
Research the area to know what's around (restaurants, ease of public transportation, etc.)
Determine the best mode of transportation for getting to and from the city (sometimes the amount of money you saved by staying outside of the city will be eaten up in transportation expenses)
Determine how long it will take you to commute back and forth to the city (you want to enjoy your vacation rather than spend all your time commuting)
15. Stay in alternative accommodations
Don't feel that a hotel or motel is your only option. Today you can choose from a variety of alternative vacation accommodations.
If I'm not booking a hotel, my preferred way to travel is to stay in a short-term vacation rental through Airbnb (use the Airbnb link to get a coupon for your next stay). Airbnb vacation rates are comparable and often cheaper than a hotel.
Airbnb vacation homes are usually more spacious than a hotel room, which is perfect for groups. It's also cheaper to split the cost of an Airbnb home between everyone than it would be to stay at a hotel.
Plus, many Airbnb vacation rentals include access to a kitchen, which is a great way to save money by not eating out when you're traveling.
Alternative accommodations can also be found on TripAdvisor. They have a section which allows you to explore vacation rentals worldwide.
16. Be aware of what's included
Check to see what amenities are included in your hotel, such as complimentary breakfast, which can save you money from dining out each morning.
Some hotels offer a free airport shuttle or transportation to nearby points of interests.
Check with someone at the hotel's front desk or concierge to see what free perks or discounts are available for guests.
For example, the hotel I stayed at in New York City offered hotel guests discount tickets to the Top of the Rock.
17. Be aware of what's not included
Not all hotels provide free parking and in-room WiFi. Check all the details before booking to make sure that it includes all the necessary amenities in the room rate.
The last thing you want is to get to the hotel and realize that parking costs an extra $20 per night when you thought it was included for free.
If WiFi is an additional fee, ask if they offer free WiFi for guests in the hotel lobby. Sometimes hotels have loyalty programs you can sign up for (ahead of time) which offer perks like free WiFi.
Some hotels charge a resort fee per day, which is usually charged once you arrive to the hotel.
This was the case when I went to Las Vegas, I was charged a resort fee of $25 each day, in addition to the nightly hotel rate.
It's important to be aware of any hidden fees, so there are no surprises on your hotel bill.
18. Book a room that has free cancellation
While booking an advanced purchase and non-refundable rate can save you money, be aware that sometimes your vacation plan can change.
I only book non-refundable rates when I am 99.9% sure that my plans will not change.
Another reason why I love using Booking.com is because most of their rooms offer free cancellation. I also love their book now, pay later at check in feature, which is a great way to save money if plans change.
This worked in my favour when I went to Tampa and Orlando in June. I had originally booked a hotel in Tampa for 5 nights and a hotel in Orlando for 1 night – however my plans changed last minute.
We decided to stay in Tampa for only 4 nights instead of 5, and wanted to spend an extra day in Orlando.
By booking a room that offered free cancellation, we didn't have to pay a penalty to modify our reservations.
Related Posts:
12 ways to save money on car rentals
23 secrets to booking cheap flights
30 airport hacks every traveler should know