Traveling is fun and exciting, but even the most meticulous packer might forget something at home. We've all been there before, and for some of us, it has taught us a very important lesson.
Perhaps you've scored a great deal on your trip thanks to all the tips I share here on Mint Notion.
However, before you get too excited and let some of these important to-dos slip your mind, read through this list of things people often forget to pack or do before going on vacation.
Your vacation time is too important to put off packing for your trip until the night before you leave. Plus we tend to forget things when we are pressed for time, which could lead to unplanned vacation expenses if you need to replace items while you're away.
Here are 20 things we forget to do before going on vacation!
Related Posts: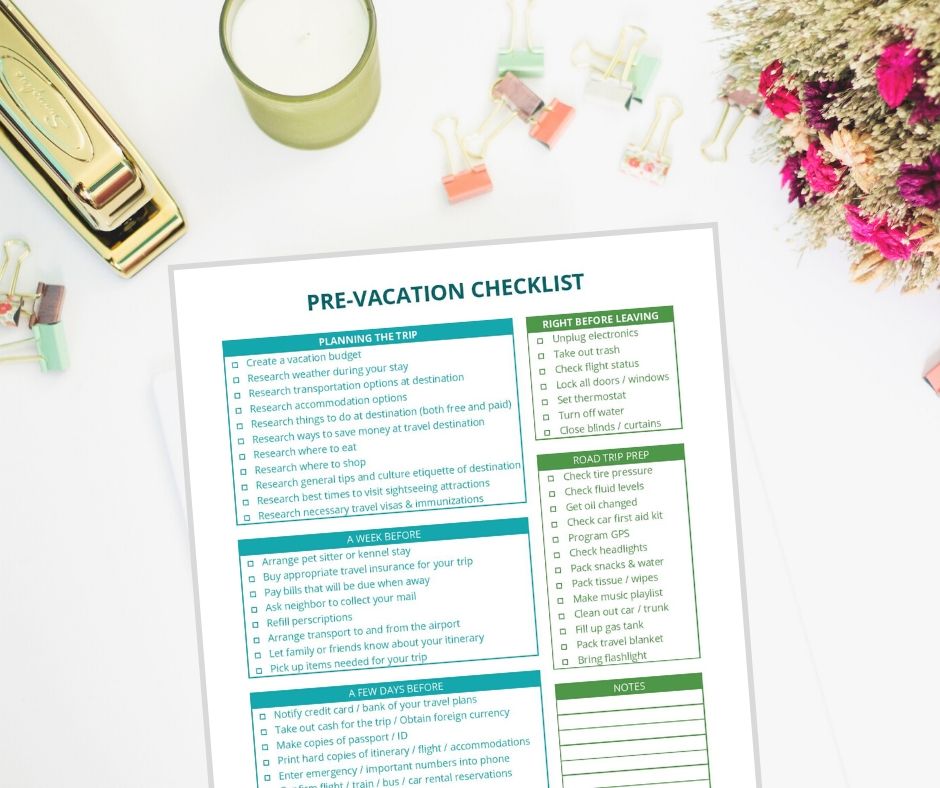 1. Call your bank to notify them of your travel dates
Call the number on the back of your debit or credit card and let them know where you will be traveling to and your dates of travel. Your bank may be partnered with a foreign bank which allows for free cash withdrawals.
2. Pay off your bills before you leave
If your bills are not already scheduled for automatic payments, make sure to pay off any outstanding balances before you leave. You don't want to receive any unnecessary late fees.
3. Make sure you have adequate travel insurance for your trip
It's important to make sure that your travel insurance will provide the necessary coverage for your trip – just in case. Also, if you're planning on renting a car, make sure that your driver's license is valid at your destination.
4. Make copies of important documents
I like to have copies of my passport, credit cards and travel itinerary on me just in case I lose them on my trip. Whether it's an electronic or hard copy – just make sure that you'll be able to retrieve it, if needed.
5. Update your calendar and create an automatic email response
Make sure any appointments or commitments that have been scheduled during your trip are either taken care of before you leave or rescheduled for a later date.
It's also important to create an "out of office" email to let others know that you will be out of town.
6. Put your mail on hold
If you receive the daily newspaper or are expecting packages, make sure to put your mail on hold so they are not sitting at your door step.
7. Unplug your electronics
Save money and energy by remembering to unplug and switch off electronics at home.
8. Make a checklist of items to bring
Include essential items like your passport, travel itinerary, prescription medications, first-aid supplies, chargers, adapters, clothing, toiletries, and so on. Double check your list to make sure you don't forget anything important.
You can download a copy of my FREE packing checklist below. It's a blank list that you can customize to any trip.
9. Fully charge your electronics and bring your chargers / adapters
I forgot to bring a travel adapter when I went to London and had to purchase one there. You also want to make sure that your electronics are fully charged so you don't run out of battery before you reach your destination.
My Must-Have Travel Accessories

Click the product to shop
10. Make sure your fridge is clean before you leave
Eat up any food that will expire or perish before your trip to prevent waste and unpleasant smells.
11. Clean your bathroom and wash your bed sheets before your leave
This may sound silly, but trust me on this one! There is nothing like coming home to a spotless bathroom and freshly washed bed sheets after traveling.
12. Bring reading materials or snacks
These items tend to be more expensive at the airport or on the train. Also don't depend on being able to watch movies or TV shows on the plane all the time.
When I flew home from London last month, I was on an older aircraft that did not have movies available. I forgot to bring reading material so needless to say, it was a long flight home. I also like to bring snacks since airplane food leaves a lot to be desired.
13. Be mindful of your liquids
Make sure to pack all liquids into your checked luggage. If you bring liquids in your carry-on luggage, make sure they are within the limit and stored in a clear resalable bag when going through airport security.
14. Avoid over-packing your luggage
Try to pack lightly, to prevent paying extra for over-sized luggage. This will also give you more room to bring back any purchases you make while on vacation. I love using these packing cubes when traveling. It helps keep everything organized and saves space in my luggage.
15. Keep all your valuables in your carry-on luggage
Just in case your checked luggage gets lost or damaged, make sure to pack all your valuables in your carry-on luggage so they can be with you at all times.
16. Pack a change of clothes in your carry-on luggage
Just in case your checked luggage doesn't arrive at your destination when you do, you'll be happy that you brought a change of clothes along. It doesn't have to fancy, I like to stick to the basics.
17. Check the weather before you arrive
It's important to be prepared for the weather conditions at your destination. Don't assume that it'll be hot and sunny just because you're headed to a beach destination. Always check the weather before you arrive so you can pack any necessary items, such as a travel umbrella. This is the travel umbrella I like using and it's held up well over the years.
18. Know what amenities are available at your hotel
You probably don't need to pack a hairdryer if one is already available in your hotel room. Or maybe you need to pack extra items since your hotel doesn't provide towels or toiletries.
Check to see what will be available so you can pack accordingly.
Read Next: 25 free things you can get at hotels
19. A lock for your luggage
You never know when you might need to use a lock on your trip. I don't like to bring all my cash with me when I'm out exploring a city.
Instead I keep important items in my luggage and lock it up. This will also come in handy if you need to use a locker at the hotel gym or you want to lock your backpack / handbag to protect against pickpockets.
20. Slippers for the hotel room / bathroom
I always bring an old pair of flip-flops to wear when taking a shower in the hotel bathroom, and I suggest that you do the same! Even 5-star hotel rooms are not as clean as you might expect.
Unfortunately the truth behind hotel cleaning practices will scare you and I highly recommend bringing a pair of slippers to wear in the shower. You may also want to bring a pair to wear in the room too.
Ready to book your next adventure? Check out hotel deals below thanks to Booking.com.
Make
Fast Money

with Surveys

Online survey companies, such as Survey Junkie want to pay you cash for your opinion. Start making extra money in your spare time. Join for free today!