When it comes to planning and booking your next vacation, you're probably just factoring the three big expenses into your travel budget:
Transportation (airfare/ car rental)
Accommodations (hotels, vacation home)
Sightseeing (attractions, entertainment)
However, there are several smaller expenses that could eat up a big part of your travel budget. Many services in the travel industry which used to be complimentary are no longer free.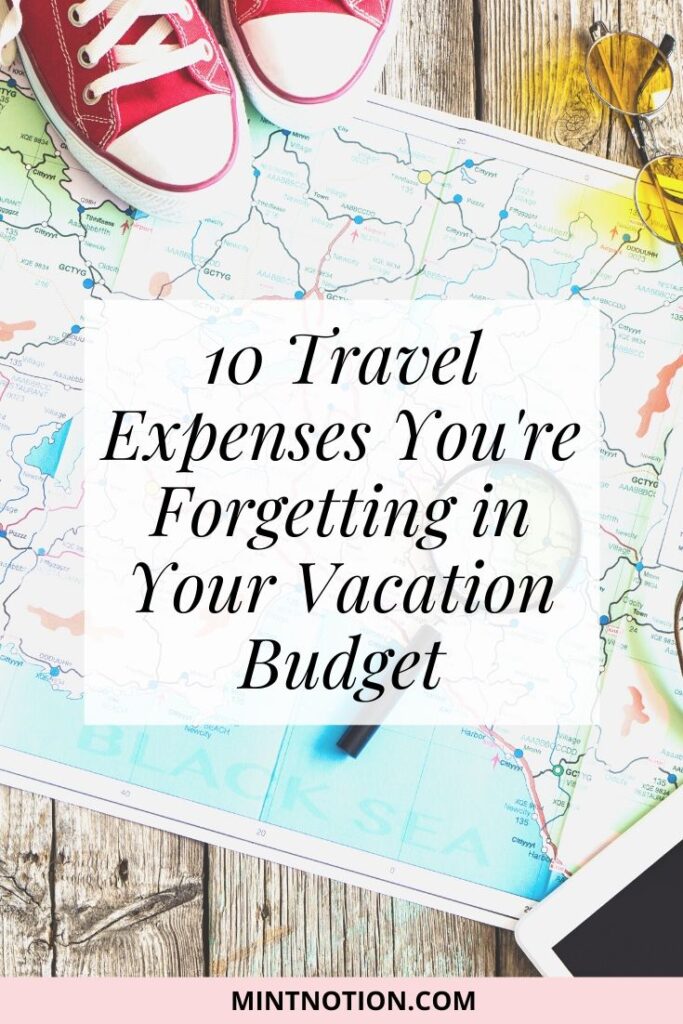 This is why I always recommend having extra room in your budget so you can cover these unexpected costs.
In order to help you plan and budget effectively for your next vacation, I've rounded up a list of 10 hidden travel expenses so you can avoid them and actually enjoy your trip.
Related Posts:
1. Emergency expenses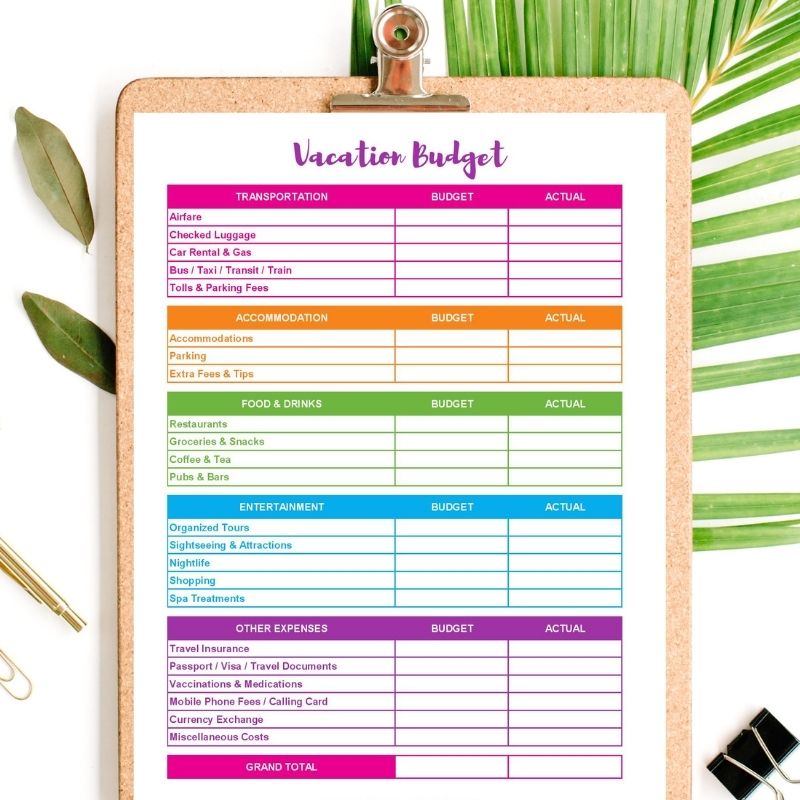 Unfortunately unplanned expenses can arise when you're on vacation, which is why it's important to leave some wiggle room in your budget for these costs.
Emergency expenses can include:
Getting an injury that is not covered by your travel insurance
Missing your flight and having to pay out of pocket for another one
Having to book different accommodations because you were unhappy with the original booking
When my sister and I traveled to New Orleans for her birthday, we missed our connection flight home due to weather delays. We were flying to from New Orleans to Toronto with a stop in New York City.
Because we missed our connecting flight due to weather delays, we had to take a flight home the following day. This meant we had to pay out of pocket for a hotel near the airport.
Fortunately we had extra money in our budget planned for emergencies to cover this cost. I like to use this Travel Planner to help me organize my vacation budget. It includes a vacation budget template to help you breakdown the cost of your trip and other helpful worksheets to plan your holiday.
2. Foreign transaction fees
If you're traveling abroad, you'll most likely encounter foreign transactions fees from your credit or debit card. These fees can quickly add up if you're using your card a lot during your trip.
This is why I recommend using a card that has no foreign transaction fees. It's also important to call your bank beforehand to let them know you'll be traveling. This will ensure that you won't run into any problems when using your card abroad.
Read Next: 20 things we forget to do before traveling internationally
3. Spontaneous travel activities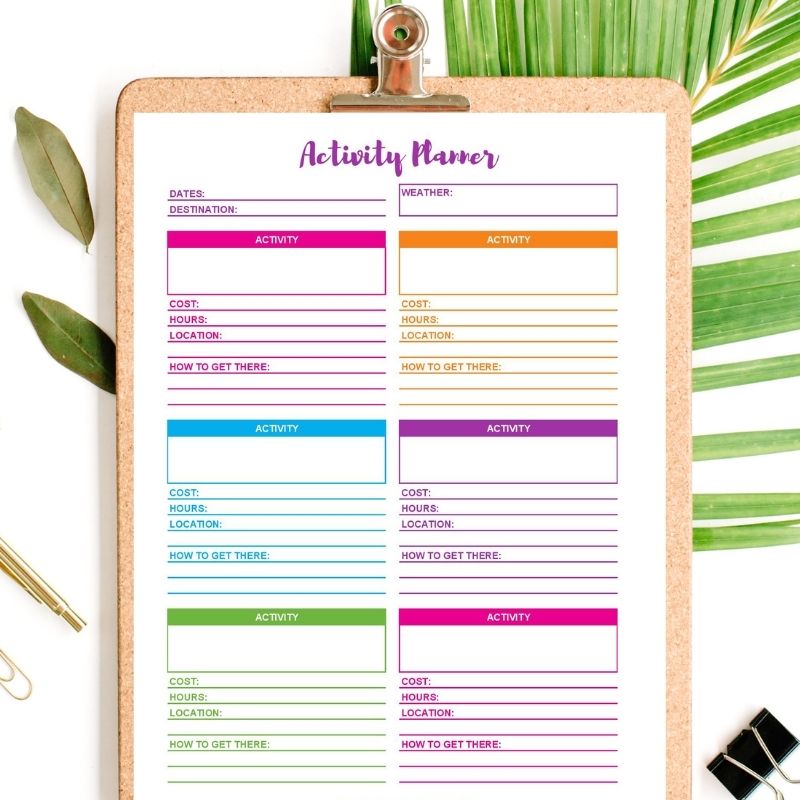 If you're traveling to a new destination, it's natural to want to see and do as much as you can. That's why it's important to leave room in your budget for spontaneous travel activities.
Whether it's a rainy day and you need to do some unexpected indoor activities or you want to do a fun activity that's unique to your travel destination, having a flexible budget can allow you to enjoy these spontaneous adventures.
I like to use this Acitivty Planner worksheet included in my Travel Planner to help me plan bucket list activities that I want to do on vacation. This helps me to figure out how much money to set aside in my vacation budget for activities.
4. Food and drink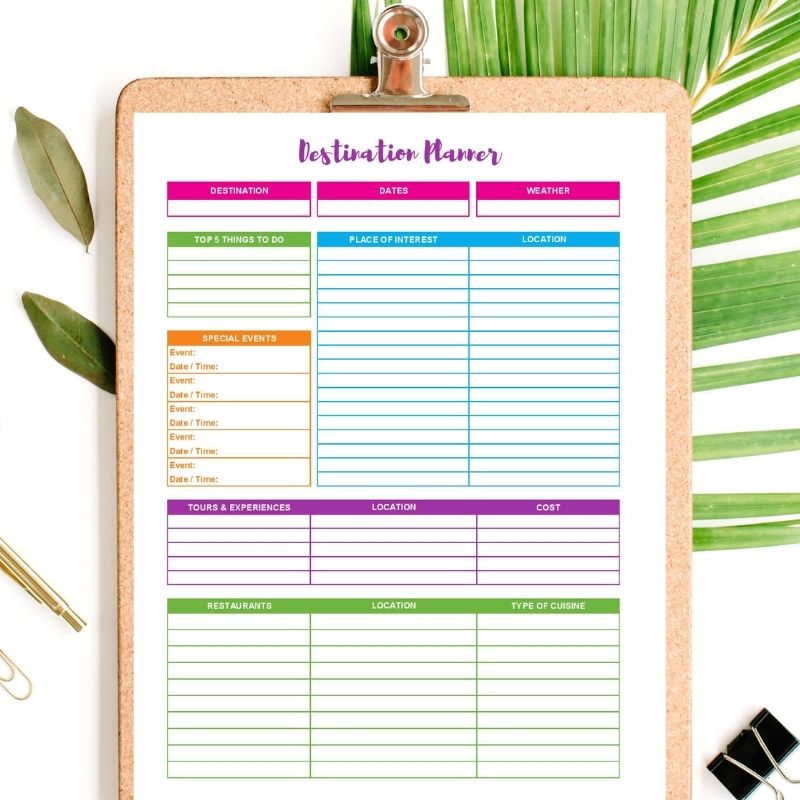 Yes, food and drink costs are an obvious part of your travel budget. However, if you're eating out for three meals a day plus snacks, these costs can add up quickly.
I recommend searching for restaurants in your budget before your trip. This will prevent you from having to search around for an affordable place to eat and help maximize your vacation time.
I like to use this Destination Planner worksheet included in my Travel Planner to help me research where I want to eat on vacation.
It's also a good idea to bring your own snacks and drinks to help you stay on budget. Head to a local grocery store or bring stuff from home. I like to bring granola bars to eat for snacks. This helps me save a lot of money on food costs.
5. Vaccinations and medications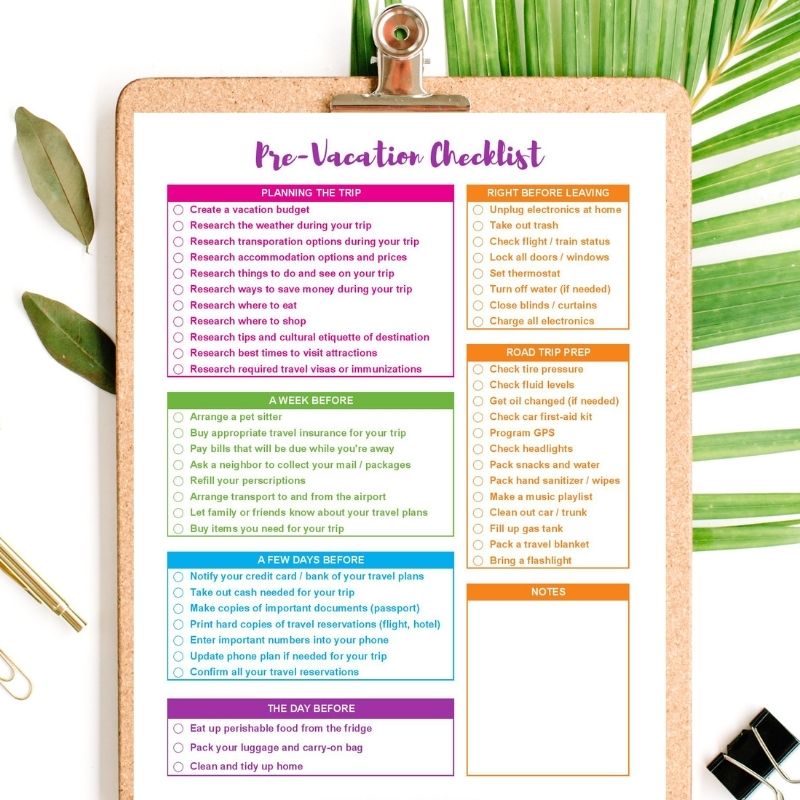 Some countries require proof that you have received a vaccination before allowing you to enter the country. You may also want to get some of the recommend immunizations, which can be an effective way to prevent travel-related infections.
I like to follow this Pre-Vacation Checklist worksheet included in my Travel Planner to help me research anything I need to do before going on vacation.
Travel insurance doesn't usually cover the costs of vaccination, but it can protect you from unexpected medical costs while you're away.
I also recommend putting together a travel first aid kit. You'll want to include band-aids, antibiotic ointment, gauze, Tylenol or Advil, anti-nausea medication, anti-diarrhea medication, and so on.
6. Items you forget to bring with you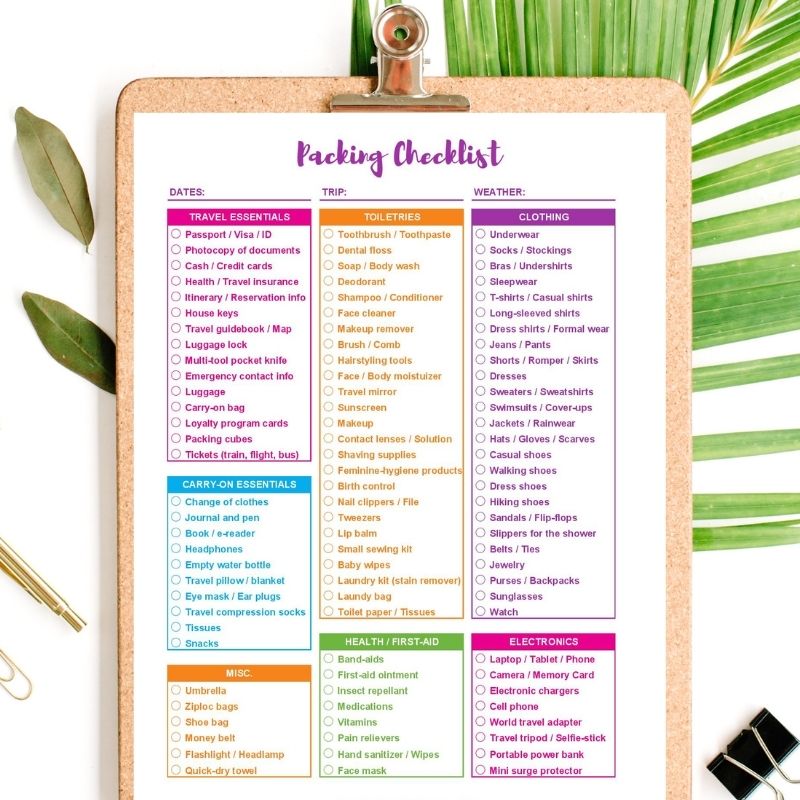 This can include toiletries, proper clothing, footwear, sunscreen, an umbrella and more.
When I went on my first trip abroad to Italy, I forgot to bring proper footwear. I didn't realize how much walking I'd be doing and literally broke my flats. Having to buy new shoes was an unexpected costs, which is why I'm more mindful about what I pack in my luggage.
Also, some items are not easy to find at your destination. For example, I noticed that it was hard to find affordable deodorant in South Korea, so I recommend making a packing list and checking it twice!
Related Post: 20 things we forget to do before going on vacation
7. Transportation costs (taxi and transit)
When flying to your destination, you'll need to take public transportation, a shuttle car or a taxi to get to your hotel. It's important to know how much each of these transportation methods will costs so you can plan accordingly.
When I went to New York City, I was planning on taking public transportation to get to my hotel. However, our flight was delayed by almost 9 hours so we arrived late at night and took a taxi to our hotel instead. Plans can change, so it's good to have some extra cash on you to cover these expenses.
You'll also want to budget for your daily transportation costs during your trip. If you plan on using the city's public transportation a lot, it might be cheaper to buy a daily or weekly transit pass, instead of paying per ride.
8. Mobile phone charges
Our smartphones can be helpful when traveling. It's a great way to take photos and keep in touch with family and friends back home.
Plus, I love using my smartphone to check for nearby restaurants and directions when traveling. However, if you're not careful, roaming charges can cost a fortune.
To save money, I like to turn my phone on airplane mode and use free WiFi when traveling. If WiFi is not easily available, I like to buy an affordable Talk, Text and Data package (depending on my needs) before my trip.
I also recommend bringing a portable charger with you. This has been one of the best travel investments I've made. I never leave home without my portable charger.
9. Forgetting to store liquids in your checked luggage
Have you ever had to throw out liquid or gel products when going through airport security? I remember when I was coming home from South Korea, I bought a bunch of Korean skincare products and completely forgot to put them in my checked luggage.
I was questioned by airport security about why the products were in my carry-on bag. Airport security was ready to confiscate all my liquids and throw them out, but fortunately they looked at them closely and decided to let me keep everything.
Now I always remember to store liquid and gel products in my checked luggage, so I don't have to worry about throwing anything out when I go through airport security.
10. Hidden hotel and resort fees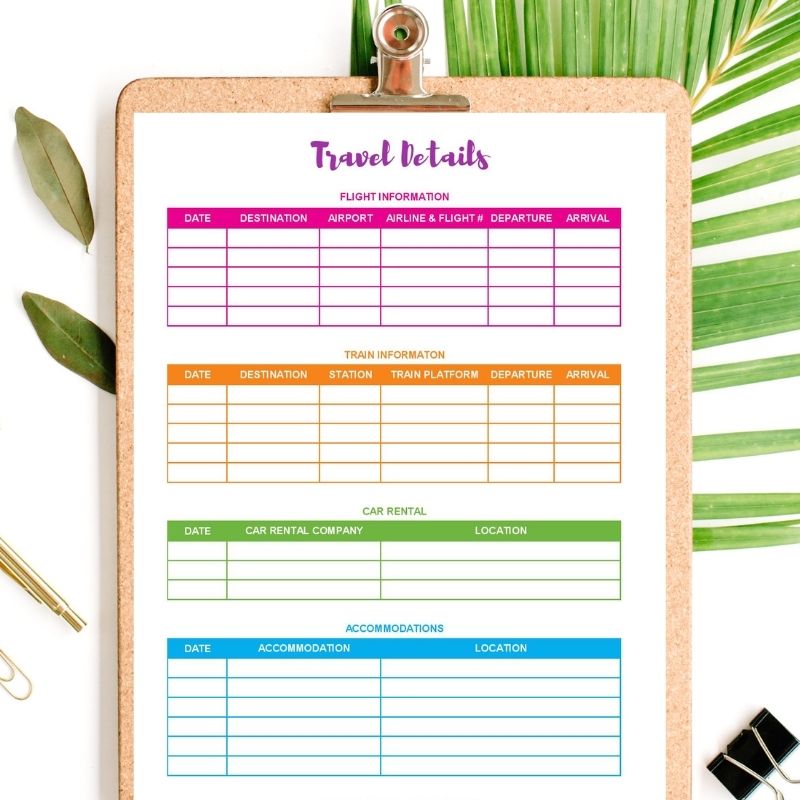 You just booked a fun trip to Vegas, but did you remember to include the hotel's daily resort fee in your travel budget? Some hotels tack on resort fees, which can add an additional $25-$50+ to the cost of your nightly rate.
It's important to be aware of what's included and not included in your hotels' advertised price. Is WiFi and parking included in your room rate for free?
Sometimes hotels can charge if you want extra towels, a rollaway bed, or daily maid service. I always recommend asking what's included in the hotel room rate before booking.
Ready to book your next adventure? Click the link to find deals on hotels thanks to Booking.com.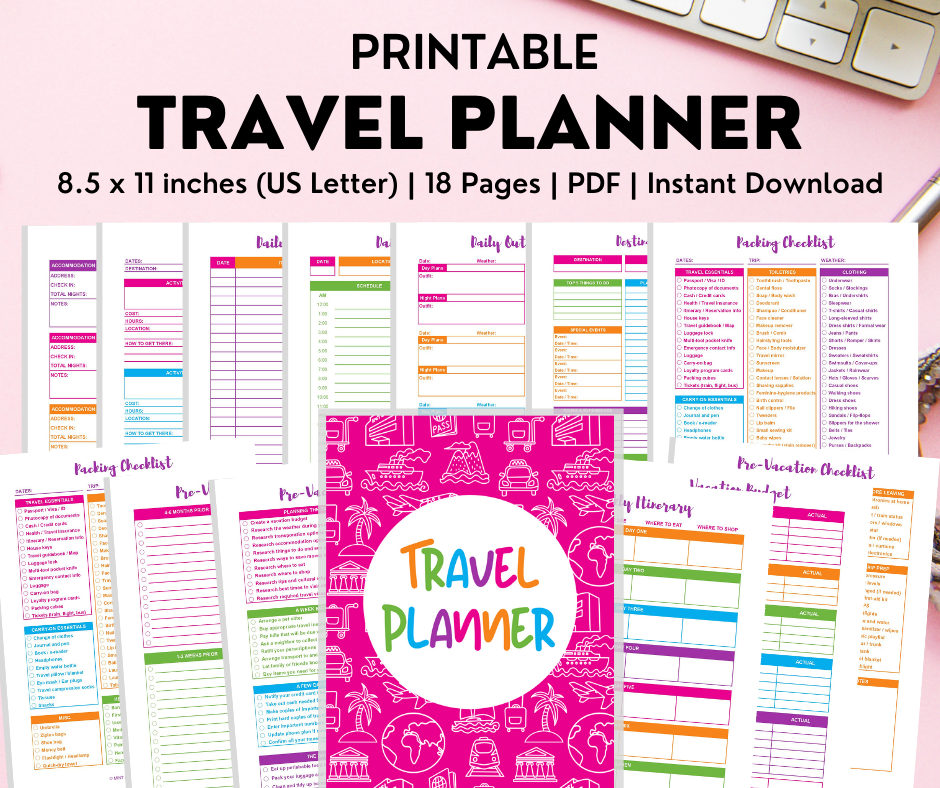 ---
Travel Expenses FAQs
What are some travel expenses?
Below are some common travel expenses that you'll want to consider when planning your vacation.
Transportation
Airfare (Checked luggage, Seat selection, On-flight meals & Entertainment)
Car Rental (Gas, Car insurance, Tolls & Parking fees)
Bus, Taxi, Train, Boat, Metro (Public Transportation)
Accommodations
Hotel / Vacation rental / Camp sites
Daily resort fee (for some hotels)
Extra fees & Tips
Food & Drinks
Restaurants
Coffee / Tea
Pubs & Bars
Groceries & Snacks
Entertainment
Organized tours
Sightseeing & Attractions
Nightlife / Concerts
Shopping (Gifts, souvenirs)
Spa treatments
Administrative Travel Expenses
Travel insurance
Passport / Visa / Travel documents
Vaccinations & Medications
Mobile phone fees / Calling card
Currency exchange
Maps / Guide books
Pet / Child care
Misc. Travel Expenses