If you're planning a trip to Vegas on a budget, I've got good news. There are SO many free things to do in Las Vegas!
Whether you're taking a last minute trip with your friends, traveling as a couple, or enjoying a family vacation – there are plenty of fun things to do in Las Vegas that won't break the bank.
I love visiting Las Vegas because you can feel like a VIP on a small budget. Many people don't realize, but the hotels and shopping centers on the Las Vegas Strip are like destinations within themselves.
With their beautiful art interiors, live performances, and incredible building facades, they are worth a visit even if you're just browsing.
Before we dive into the free things to do in Vegas, here are 5 quick tips on how to save money during your trip.
Visiting Vegas on a budget
1. Plan your visit during the week
Vegas can get pretty crazy on the weekends and hotel prices can skyrocket depending on which conventions or major events are happening.
Hotel rooms are generally cheaper during the week. You can save up to 50% off hotel rates when booking through Vegas.com. I always use this site or Booking.com finding cheap Vegas hotels.
Best affordable hotels on the Vegas Strip:
Bally's – Right in the middle of the Vegas Strip. Good option if you're traveling on a budget.
Luxor – This Egyptian theme hotel offers great value on the Strip.
Excalibur – This is a great family-friendly hotel that offers affordable rates.
Flamingo – This classic hotel offers one of the best locations for experiencing the Vegas Strip.
The LINQ – This hotel is located near the center of the Strip and great for a younger crowd.
Harrah's – This hotel is near the center of the Strip and offers budget-friendly rates.
Below you can find cheap hotels in Las Vegas:
Getting the most bang for your buck is my #1 priority when planning a vacation and the Go City Las Vegas Explorer Pass was rated the #1 Vegas tourism pass by TripAdvisor.
They're also recommended by Expedia and Go City Passes currently have a TrustScore rating of 8.5/10 on Trust Pilot. Many people have already used the Explorer Pass for their Vegas trip and posted happy reviews.
With the Las Vegas Explorer Pass, you can save time, money, and enjoy stress-free sightseeing.
3. Book attractions online to get a discount
Save money on individual attraction tickets when you book online. You can usually find extra discounts on Vegas.com. This is my go-to website for scoring discounts on Vegas attractions and tours.
4. Eat dinner during happy hour
Many restaurants in Las Vegas offer happy hour specials on food and drinks. If you don't mind having a late lunch or an early dinner, this is a great way to save money on dining costs.
5. Buy your show tickets online
Las Vegas show tickets are always cheaper online. If you want to see a top show in Vegas, I recommend buying your tickets online to save money and secure a seat. Check out a full list of Las Vegas shows here.
Check out the top 20 free things to do in Las Vegas!
Related Posts:
1. Fall of Atlantis Show
Location: Caesars Palace Hotel
The Fall of Atlantis show inside the Forum Shops at Caesars is a fun experience for all ages. Here you'll be treated to an animatronic display of water, fire elements, and nine-foot talking statues. This is one of the best free shows in Vegas.
The costumes and props were created by the same people who worked on Pirates of the Caribbean and Thor. The show is free to watch and plays every hour on the hour, starting at 11:00am.
2. Enjoy free Circus Acts at Circus Circus
Location: Circus Circus Hotel
Enjoy high flying circus acts at the world's largest permanent circus. See free performances starting at 11:30am daily at the Carnival Midway. This is one of the best free things to do in Las Vegas with kids.
I remember having so much fun visiting Circus Circus when I was a kid. While the rides can be expensive, the free circus acts are a great way for families to have fun on a budget.
Read Next: 10 best kid-friendly hotels in Las Vegas for families
3. Take a free chocolate tour
Location: Ethel M Chocolate Factory
Just outside of Las Vegas, you can take a free self-guided tour at Ethel M Chocolate Factory and Cactus Garden. The newly remodeled self-guided viewing aisle is now open to celebrate their 35th anniversary.
4. Free 3-D movie at M&M World
M&M World is a must-visit for any chocolate lover. Located next door to the MGM Grand hotel, you can step into four floors of chocolate heaven. Each floor has fun activates for all ages, including free 3-D film, "I Left My M in Vegas" in the M&M's movie theater.
5. Bellagio Conservatory & Botanical Gardens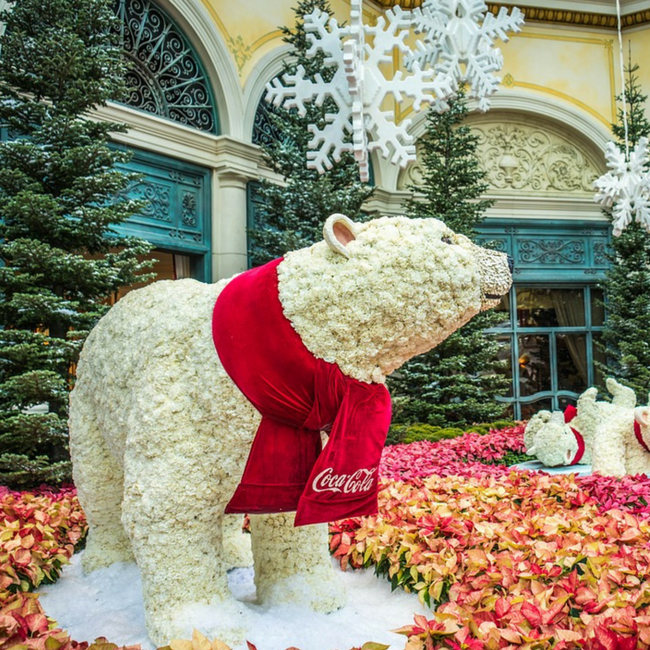 Location: Bellagio Hotel
Each season, you'll get the chance to marvel at the incredible 14,000-square foot floral paradise which Bellagio's Conservatory team of talented horticulturalists design, including a special display for Chinese New Year. Every installation is unique and it's a great spot to visit for all ages.
6. The Wildlife Habitat at the Flamingo
Location: Flamingo Hotel
Experience 15-acres of lush foliage at Flamingo's Wildlife Habitat. Open free to the public daily — you can see exotic birds, fishes, and turtles. Plus, the Wildlife Habitat is home to a beautiful flock of Chilean flamingos. This is a great place to take a break and escape from the busy Las Vegas Strip.
7. Explore the Park at the heart of the Vegas Strip
The Park is a beautiful open-air space between the Monte Carlo and New York-New York hotel. It's a fun place to hang out with friends or grab a quick bite to eat before seeing a show. You'll definitely want to check out Bliss Dance, which is a 40-foot sculpture of a dancing woman, which debuted at Burning Man.
8. Mirage Volcano
Location: The Mirage Hotel
One of my favorite free things to do on the Las Vegas Stip is to watch the Mirage Volcano. This is one of the most awesome free outdoor acitivities in Vegas.
The best view of the volcano is right in front of the hotel, where you can feel the heat of the fire. Enjoy the show of two volcanoes, a lagoon, and fire shooters that shot flames more than 12 feet in the air.
9. Fremont Street Experience
The free Viva Vision light shows at Fremont Street Experience is a spectacular sight to see! You can enjoy a variety of different light shows with incredible high-resolution imagery and 550-000 watt, concert-quality sound. This is one of the best free things to do in Las Vegas off the Strip.
10. Streetmosphere at the Venetian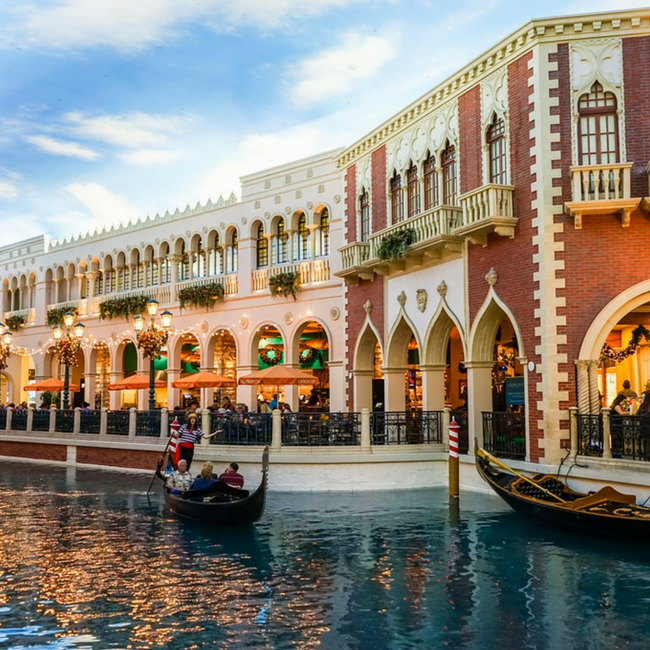 While you're browsing the Grand Canal Shoppes at The Venetian Hotel, don't miss your chance to experience Italian-inspired live entertainment. This is one of the best things to do in Las Vegas for couples.
Enjoy daily performances at St. Mark's Square, where you'll be transported to the sounds and sights of Venice with opera singers, stilt walkers, dancers, and living statues. Kids have a lot of fun watching the stilt walkers.
11. Carnival Court at Harrah's
Location: Harrah's Hotel
This open-air street party in the center of the Strip is a great spot to listen to live bands covering popular hits, DJs spinning music, and bartenders performing tricks. Whether it's day or night, Carnival Court is a fun place to get the party started.
12. Go on a hike
Just a short distance from the Las Vegas Strip, you can explore Red Rock Canyon. This is a fun place for the whole family to hike, enjoy a picnic, and view plant and animal life. Some of the red rock formations reach up 3,000 feet high!
For more great hikes, I recommend checking out Valley of Fire, the Grand Canyon, and Zion National Park.
13. Hershey's Chocolate World
Stepping into Hershey's Chocolate World is a chocolate-lover's dream come true! This 13,000-square foot West Coast flagship store is worth a visit to see two stories of photo opportunities, interactive experiences, and over 800 types of Hershey's brand products. You can find Hershey's Chocolate World on the Vegas Strip in front of the New York-New York Hotel.
14. See Big Elvis at Harrah's Piano Bar
If you're an Elvis fan, you don't want to miss your chance to see Big Elvis at Harrah's Piano Bar. The show is free and it's a fun place to listen to all your favorite Elvis hits. Plus, Big Elvis interacts with the audience by taking your song requests and inviting guests to participate.
15. Fountains at Bellagio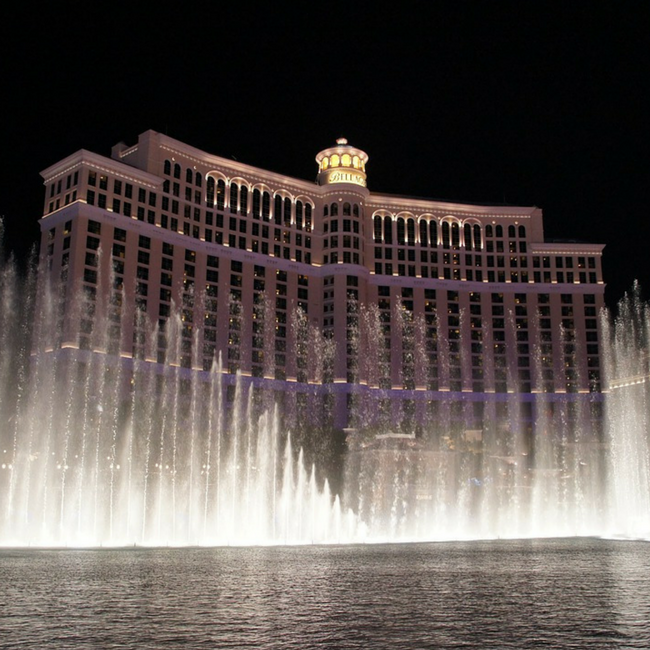 One of the most popular free things to do on the Las Vegas Strip is to watch the fountains at Bellagio. You'll get the chance to marvel at choreographed dancing streams of water, which are illuminated from within and move to the beat of whichever song is playing.
The 8.5-acre lake has 1,214 jets that can shoot higher than a 24-story building. It's pretty incredible how much work is put into this free show. I recommend it for all ages!
16. Aria Campus Fine Art Collection
Location: Aria Hotel
If you're an art fan, then it's worth checking out Vegas' first permanent public space art collection. Here you'll find cool sculptures, paintings, and large-scale installations. On the campus, you'll find art everywhere you go — in the walkways, lobbies, and hotels.
17. Wynn's Lake of Dreams show
Location: Wynn Hotel
Lake of Dreams is a spectacular free show that runs nightly every half hour beginning at 7:30pm. The show includes a 40-foot waterfall with music and dazzling imagery created by over four thousand lights, holographics, and puppetry.
Read Next: Las Vegas on a budget – 30 ways to save money
18. Hoover Dam Bypass Bridge
Hoover Dam is a popular spot on everyone's Vegas vacation bucket list. If you don't have time to do a full tour, you can take the Mike O'Callaghan – Pat Tillman Memorial Bridge to marvel at the beautiful architecture of Hoover Dam. This is a great spot for photos.
19. Rainstorm Show at Miracle Mile Shops
Take a break from browsing the shops at Miracle Mile and check out the free Rainstorm Show. The rainstorm is a fun activity for anytime of year, especially during the hot summer months. Experience thunder, lightning, fog, and pouring rain inside the shopping center.
20. Welcome to Fabulous Las Vegas sign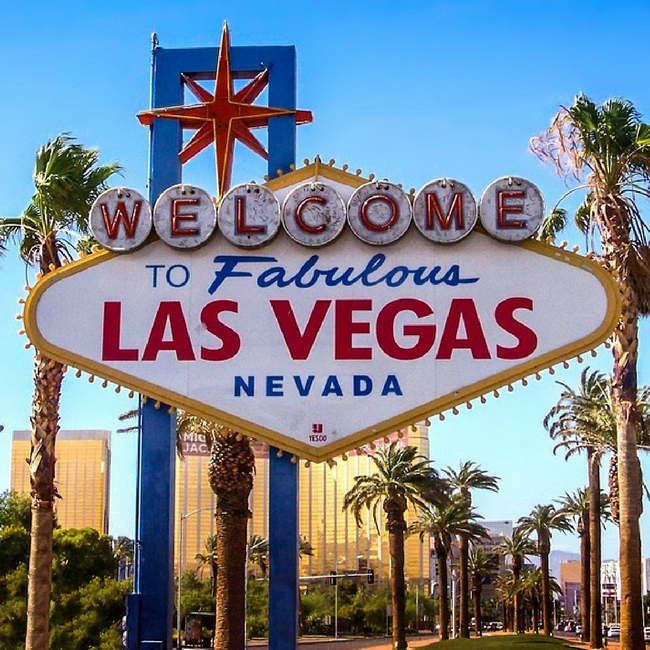 A visit to Vegas is not complete without checking out the Welcome to Fabulous Las Vegas Sign. Since its placement in 1959, this sign has become a popular spot to take photos and make your friends jealous. You can find the sign on the Las Vegas Strip, just south of the Mandalay Bay Hotel & Casino.
---
Free things to do in Las Vegas FAQs
Below are some questions about cheap or free things to do in Vegas.
What should I not miss in Vegas?
When visiting Vegas, you don't want to miss visiting the Las Vegas Strip. There are many free things to do on the Vegas Strip as I mentioned in this post. Here's some other great things you should check out in Vegas:
Bellagio Dancing Fountains
The Strat – Check out Big Shot, X-Scream and Insanity
Caesar's Palace Shops
The Grand Canal and Shop at The Venetian
Manadaly Bay Aquarium
Freemont Street
Neon Museum
What can you do in Las Vegas without spending money?
There are many free things to do in Las Vegas mentioned in this post. Below are some of my favorite things to do in Las Vegas without spending money:
Freemont Street Experience
Fountains of Bellagio
Welcome to Fabulous Las Vegas sign
Mirage Volcano
Streetmosphere at the Venetian Grand Canal Shoppes
What free shows are open in Las Vegas?
Fountains of Bellagio
Circus Circus acts
Mermaid show at Silverton Hotel & Casino
Freemont Street Experience
Volcano show at the Mirage Hotel
Fall of Atlantis at Caesars' Forums Shops
Indoor rainstorm show at Planet Hollywood's Miracle Mile Shops
Streetmosphere at the Venetian's Grand Canal Shoppes
Lake of Dreams at the Wynn Las Vegas
The Flamingo Wildlife Habitat
How can I get a free buffet in Las Vegas?
Below are a few different ways you can get a free buffet in Vegas:
Join a Players Club – Most hotels offer a free reward program that you can join. This will allow you to become eligable for offers and promotions. While you may not earn a free buffet upon signing up, you can receive a free buffet pass over time.
Stay at same Hotel & Casino – When you keep gambling and staying in the same hotel, this can help you accumulate points to earn a free buffet and more perks.
Visit a timeshare presentation – If you don't mind spend an hour or two watching a timeshare presentation, this can get you a free buffet pass.