Important Notice – Las Vegas is now welcoming visitors!
Attractions are starting to open.
The Go Las Vegas Pass is valid for 2 years from the date of purchase.
Last updated September 2020.
So you're visiting Las Vegas for the first time. Great choice! You've seen its bright lights glamorized in the movies. Now you're excited to check out the popular Vegas shows and plan your itinerary.
I LOVE visiting Las Vegas and I'm not ashamed to admit it. I'm always discovering new things each time I go. If you want to make the most of your vacation, I've rounded up the best Las Vegas tips for first-time visitors so you know where to stay, hotel tips, and which Vegas shows are worth seeing.
Follow this guide to help you know what to expect so you don't make these rookie tourist mistakes and travel like a pro!
Related Posts: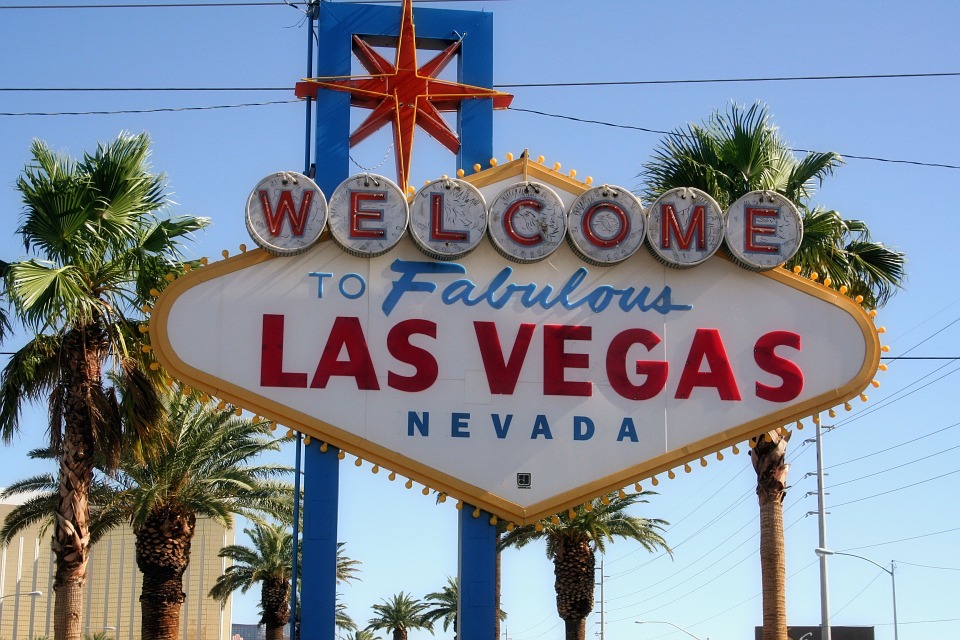 1. Places are not as close as they appear
If you're visiting Las Vegas for the first time, you'll immediately notice that even though buildings on the Vegas Strip appear close together — the blocks are LONG.
Many tourists are surprised at how much walking is required if you're traveling on foot. For example, just walking from my hotel room in Bally's to the parking garage took several minutes.
Don't expect to get anywhere fast in Las Vegas. This means you can't expect to enjoy dinner at the MGM Grand, then walk over to Treasure Island to see an evening show – it's just not going to happen when you're traveling on foot.
I recommend taking a Lyft or driving your car if you need to get somewhere quickly. There are also a number of pedestrian-friendly footbridges at the main intersections for your convenience.
Here are some tips to make your walking experience on the Vegas Strip more enjoyable:
Plan accordingly.
Walk through the air-conditioned hotels or shopping centers.
It's extremely hot during the summer months. Fortunately all the hotels are kept nice and cool inside.
Drive to your destination or take a Lyft.
If you're paying for parking at your hotel, you might be able to get free parking at other hotels. This worked for us when we stayed at the MGM Grand. We could get free parking at other MGM properties.
Ride the Las Vegas Monorail. There are seven convenient stops along the Strip.
Traveling to Las Vegas with kids? Check out this in-depth post sharing the top 10 kid-friendly hotels in Las Vegas.
2. Booking the cheapest hotel (or staying off the Strip)
I know it's tempting to book the cheapest hotel on the Las Vegas Strip, but you'll be disappointed if you do. This is one of the most common mistakes tourists make when visiting Las Vegas for the first time. I'd ask you to trust me on this one, but hey, I'd rather you decide for yourself.
Where is the best place to stay in Las Vegas on the Strip?
The middle of the Vegas Strip is the best location to book your hotel. I recommend this location, especially if this is your first trip to Las Vegas. This will make it easy to get around to all the different attractions, restaurants, and points of interest.
PRO TIP: You'll want select your hotel choice based on its facilities (such as its restaurants, pool, and entertainment). This can help you save money and time.
I always find the best rates when booking my hotel through Vegas.com. I love this website because it's a one-stop shop to get the best deals on Las Vegas hotels, show tickets, and attractions. They can also accommodate group bookings, which is great when traveling with friends.
Is Vegas.com a legit travel website?
Yes! Vegas.com has been around for over 20 years and is a reputable site. I have personally been using this website for the past several years to save money on Vegas shows and attractions. Here's a screenshot from a thread on TripAdvisor.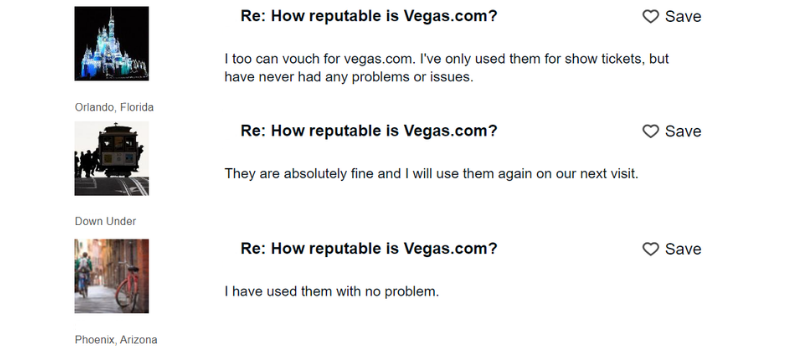 Vegas.com currently has a TrustScore rating of 4.6/5 on Trust Pilot with over 75,000 reviews. Here's a screenshot of real reviews from happy customers.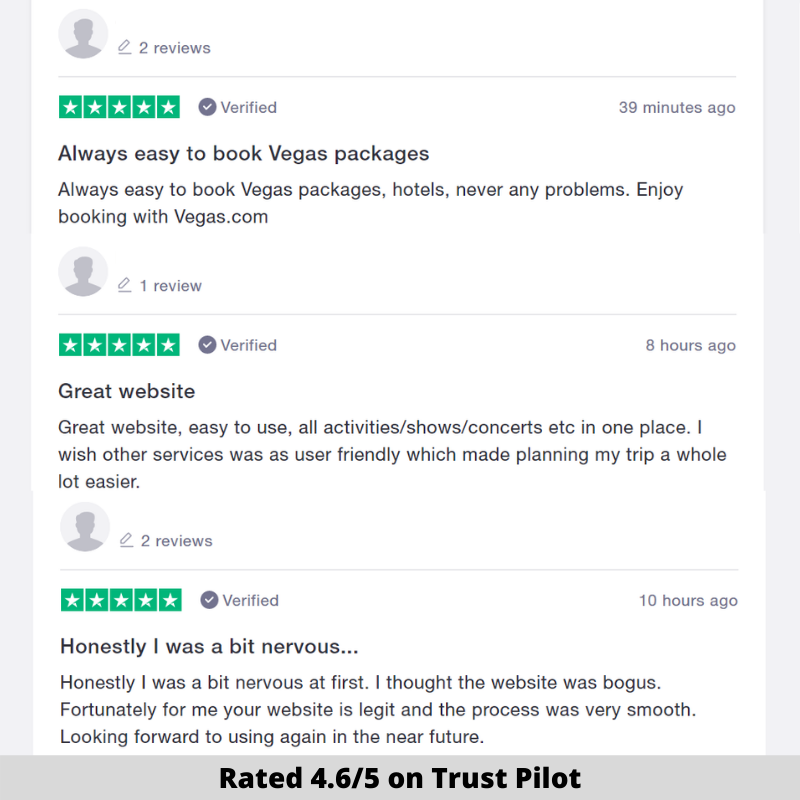 My favorite hotels on the Las Vegas strip:
3. Not taking advantage of mobile check-in at your hotel
Research ahead of time to see if your hotel offers mobile check-in. We recently stayed at the MGM Grand on the Las Vegas Strip in the summer. The regular check-in line was nearly an hour wait.
We signed up for M Life Rewards (which is free) and were able to take advantage of their mobile check-in. It only took about 5 minutes to check-in which was a huge time-saver!
4. Paying full price for show tickets
Here's a quick Las Vegas tip: There's NO reason to pay full price for Las Vegas show tickets. You'll always be able to find a discount.
To get the best deal, I recommend starting your search for show tickets on Vegas.com. Yes, this is the same website I use to find deals on hotel accommodations.
They offer discounts on all the popular Las Vegas shows, including Cirque du Soleil tickets. Plus, you can book dinner + show packages which is super convenient.
LIMITED TIME OFFER: Right now, you can book some of the top Vegas shows for $50 or less. This is a great deal! See the full list of shows here.
What are the top Vegas shows?
There are so many different shows available to watch in Vegas, it can be a little overwhelming for first-timers to figure out which one to see. Here's a few I recommend checking out:
5. Thinking that everything in Las Vegas is expensive
If you're visiting Las Vegas for the first time, it's easy to think that everything is expensive. But if you do a little research, you'll notice that there's plenty of easy ways to save money on just about everything!
Here are some of my favorite ways to save money in Vegas:
Save Money on Vegas Hotels
Save Money on Vegas Tours & Attractions
Save Money on Vegas Restaurants
Eat at one of the many buffets offered in Vegas. Some include unlimited wine or beer if that's your thing.
Take advantage of Las Vegas happy hours for food and drink deals. This is my favorite way to save money when eating out in Vegas.
Don't be afraid to eat off the Vegas Strip. You can find plenty of affordable and top-quality restaurants just a short distance from the Strip.
6. Spending all of your time on the Strip
While the Vegas Strip has plenty to see and do, it would be a shame to spend your entire trip in one place. I highly recommend visiting Fremont Street (old Las Vegas) and taking a day trip somewhere.
For Las Vegas Explorer Pass holders, you can visit the Hoover Dam. This tour is included for FREE with your Explorer Pass. If you're looking for more suggestions, here are some of my other favorite spots to check out:
Another great ways to find deals on Las Vegas day trips is on Vegas.com. They offer discounts on Grand Canyon tours, Hoover Dam tours, Red Rock Canyon tours, white water rafting tours, and more!
Visiting Las Vegas for the first time can be hectic. With so many great things to see and do, it can be challenging to plan an itinerary and determine which attractions are worth spending your money on.
Getting the most bang for your buck is my #1 factor when planning a vacation and the GO Las Vegas Explorer Pass was rated the #1 Vegas tourism pass by TripAdvisor.
They're also recommended by Expedia and Go City Passes currently have a TrustScore rating of 8.5/10 on Trust Pilot. Many people have already used the Explorer Pass for their Vegas trip and posted happy reviews.
With the GO Vegas Explorer Pass, you can save time, money, and enjoy stress-free sightseeing. But don't just take my word for it. Check out these TripAdvisor reviews.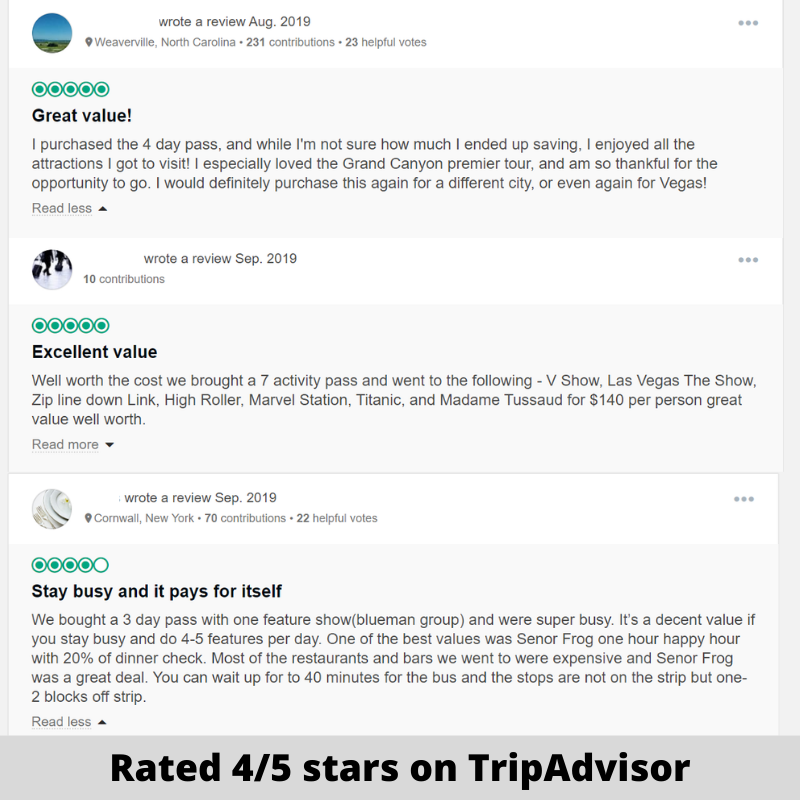 PRO TIP: Buy the pass online to save time and hassle. To buy the GO Las Vegas Explorer pass, click here to go to the official website. The pass is valid for 12 months from the date of purchase.
What's included in the GO Las Vegas Explorer Pass
The GO Las Vegas Explorer Pass is a multi-attraction pass where you can choose to visit 3, 4, 5, or 7 top attractions all for ONE low price, including Hoover Dam, Stratosphere Tower, and the High Roller Observation Wheel.
You also have the option to include a free Hop On Hop Off Bus Tour to enjoy at your leisure. For those not renting a car, this is a smart way to get around Las Vegas.
Is the Vegas Explorer Pass worth it? Check out my review of the GO Las Vegas Explorer pass here.
How to get your Las Vegas Explorer Pass:
Step 1: Choose the pass which best suits your trip. You can visit 3, 4, 5 or 7 different attractions for one low price. Save up to 60% off vs. paying at the gate. You can click here to purchase your Vegas Pass from the official website.
Step 2: Download your pass instantly on any mobile device. Or you can print your pass at home.
Step 3: Simply show your pass at the attraction entrance and walk right in. Your pass is valid for 30 days after the first attraction you visit.
PRO TIP: Choose the 3 or 4-attraction pass if visiting for a couple of days. If staying 3 to 5 days, consider purchasing the 5 or 7-attraction pass.
8. Not signing up for player's clubs
Even if you're not planning to gamble in Las Vegas, I always recommend signing up for a player's card at every casino you visit.
It's free to sign up and you'll get free stuff just by joining! I've received a free $20 playing credit, discounts on shows, food, and so on. This is a great way to save money in Las Vegas.
9. Not renting a car (if staying longer than a weekend)
Not everyone is going to agree with me, but if you're planning on staying in Las Vegas for more than two nights, I recommend renting a car.
Why? Because there is SO much to see and do in Las Vegas beyond the Strip, it would be a shame to spend all your time in one spot.
Alamo is my go-to place for booking rentals cars. I find their prices are competitive and I've always had a good experience with them. If you're not renting a car, I recommend getting around Las Vegas by riding the Monorail or taking a Hop On Hop Off bus tour.
10. Eating bad food
Las Vegas has so many delicious restaurant options at a variety of different price points. There is really no excuse for eating bad food in Vegas. Don't make the mistake of going to Denny's on the Vegas Strip. Do a little research for restaurants on TripAdvisor or Yelp to find something awesome within your budget.
Whether you're looking for a fancy night out or a quick bite, you're never far from a tasty meal. One of my favorite budget options on the Vegas Strip is Earl of Sandwich or Shake Shack.
Side Note: If you're looking for affordable eats, I recommend searching for locations off the Las Vegas Strip. This is where the locals eat when they want delicious food for cheap.
11. Buying a drink at the casino bar
I made this rookie mistake when visiting Las Vegas for the first time. I was looking for a quick place to have a drink and ordered one from the casino bar. Big mistake — the drinks were wayyy over priced!
I've heard that you can get free drinks while gambling (provided you tip your waitress well), however I'm not much of a gambler, so I haven't tried this myself.
Instead, if you're looking to have a drink, I recommend having a drink or two in your hotel room first (I usually pick up my favorite drinks when I arrive in Vegas). Also, it's legal to have an open container on the Strip (as long as it's not a glass container), so you can carry your drinks around in a plastic cup or beer can.
To save money when drinking, I recommend looking for happy hours. There are plenty on the Vegas Strip which offer various specials. It's also a great way to save money on food if you don't mind eating dinner a little early or late at night.
12. Not visiting Las Vegas with an open mind
When visiting Las Vegas for the first time, you'll want to visit with an open mind. You never know what you'll encounter while walking the Vegas Strip, so embrace all the people-watching and be open to anything.
Just don't do something that you'll regret, like getting an impulse tattoo or losing your shirt at the casino. Now that would be a rookie mistake.
My must-have Las Vegas accessories:
Click the product to shop