Are you looking for ways to visit Las Vegas on a budget? Las Vegas is one of the only destinations in the USA where you can party like a Rock Star and enjoy a high roller vacation on a low baller budget.
That is, of course… if you know how to scope out the deals.
If you're planning a trip to Las Vegas for the first time, this post will show you how to stay at luxury hotels, dine at 5-star restaurants, and watch incredible shows all on a budget.
My boyfriend and I LOVE visiting Las Vegas and we're always finding new ways to save money without much effort.
Whether you're planning a weekend getaway, a romantic trip, a bachelor or bachelorette party, or a week-long excursion, use these tips and tricks to help you maximize your budget in Vegas.
Related Posts: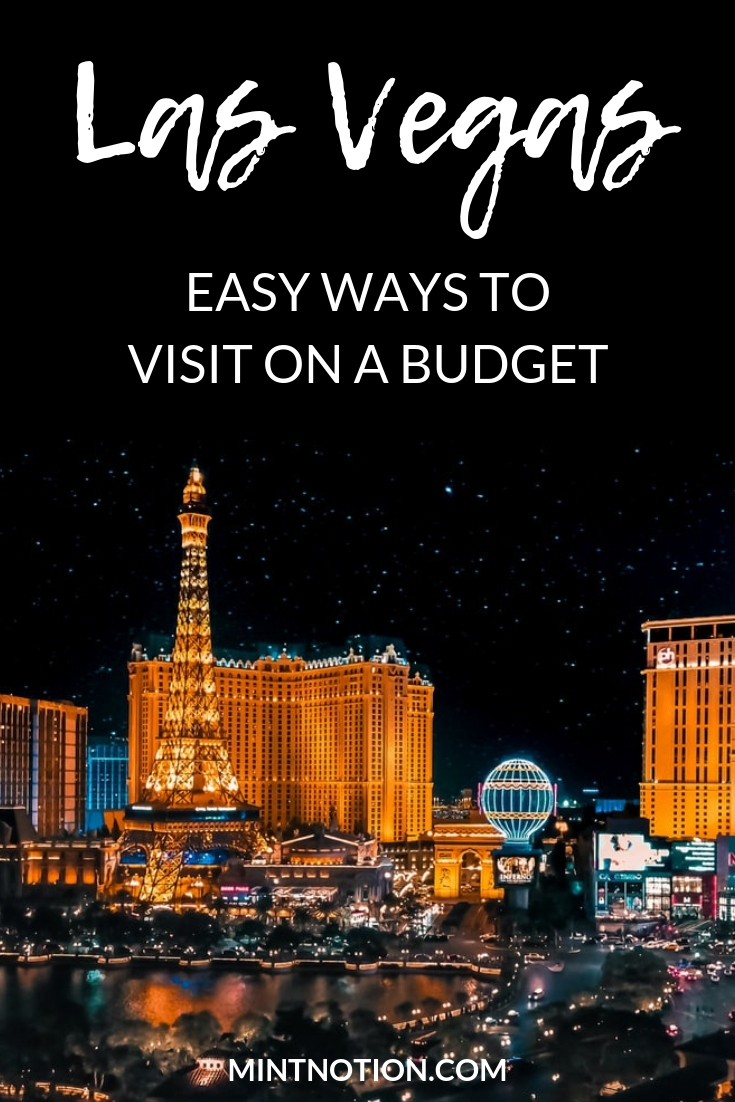 Las Vegas Attractions
1. Save money with the Las Vegas Explorer Pass
If you want to get deep discounts at the most popular attractions in Las Vegas, then consider buying the Las Vegas Explorer Pass.
The Explorer Pass is a multi-attraction Go City pass where you can choose to visit 3, 4, 5, or 7 top attractions all for ONE low price, including Hoover Dam, Stratosphere Observation Deck, and the High Roller Observation Wheel.
Go City currently have a TrustScore rating of 8.5/10 on Trust Pilot, which makes it one of the highest rated sightseeing passes. If you're interested in learning more about the pass, you can check out my review here or head to their official website.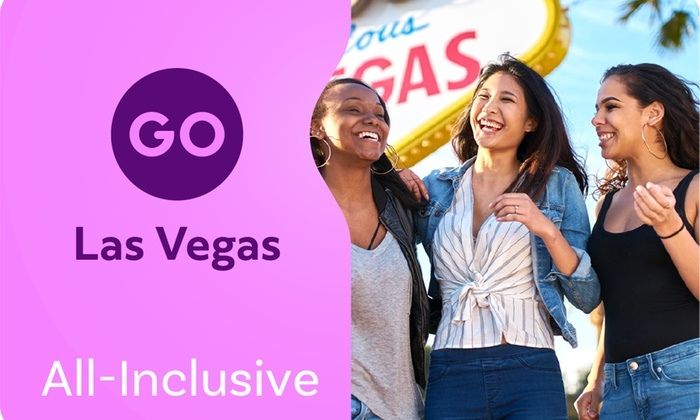 2. Find discounts and book online
There's absolutely no reason to pay full price for Vegas attractions. You'll always be able to find a discount.
Whenever I'm in Las Vegas, THIS is my go-to website for scoring deals. They offer the lowest prices on Las Vegas attractions and tours. I recommend booking online, especially for popular attractions, so you can save time and hassle.
3. Check out free attractions in Vegas
You'll be surprised to learn how many free attractions you can find in Las Vegas. That's why I put together this post sharing 20 of my favorite FREE things to do in Las Vegas. The best part is, there's something for the whole family to enjoy!
4. Look for free live music and shows
One of our favorite things to do in Las Vegas is check out live music and shows. We loved going listening to a live band at Fine Irishman's Bar at the NY NY Hotel. They even had a traditional Irish dancer there which was awesome!
5. Find affordable attractions off the Vegas Strip
Whenever we're in Las Vegas, we always make time to check out attractions off the Vegas Strip. We love hiking and visiting nature trails. Some of our favorite spots include Valley of Fire State Park, Red Rock Canyon, and Zion National Park.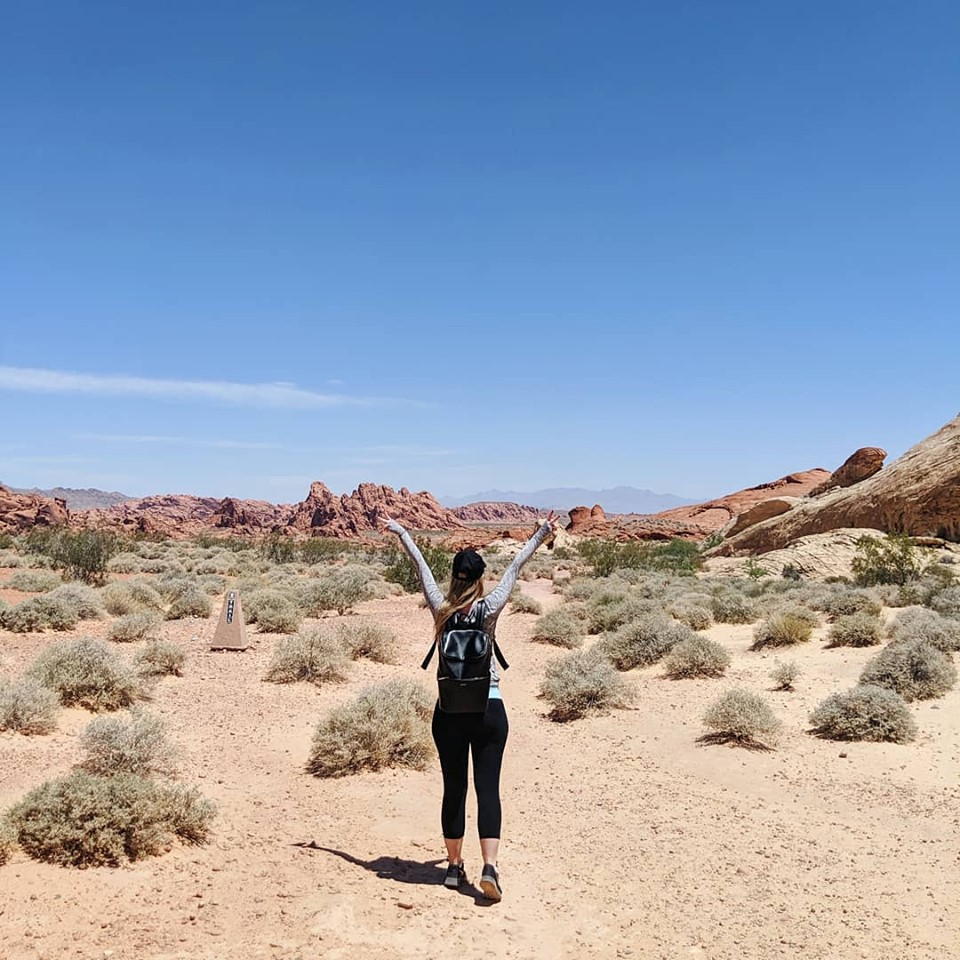 Las Vegas Show Tickets
1. Vegas.com has the cheapest show tickets
One of the best things to do in Las Vegas is see a show. Whether it's a Cirque du Soleil production, such as The Beatles LOVE at the Mirage Hotel or a variety show, such as Absinthe at Caesar's Palace, seeing a show is a MUST when visiting Vegas.
Vegas.com offers the best deals on show tickets. I recommend booking tickets online to save money and time. This website is always our first choice for scoring discounts on Vegas shows.
2. Take advantage of online discounts
There are lots of discounts available online for shows in Las Vegas. If you're planning on having dinner before the show, consider booking a dinner + show special. This is super convenient and can save you a lot of money.
LIMITED TIME OFFER: Right now, you can book some of the top Vegas shows for $50 or less. This is a great deal! See the full list of shows here.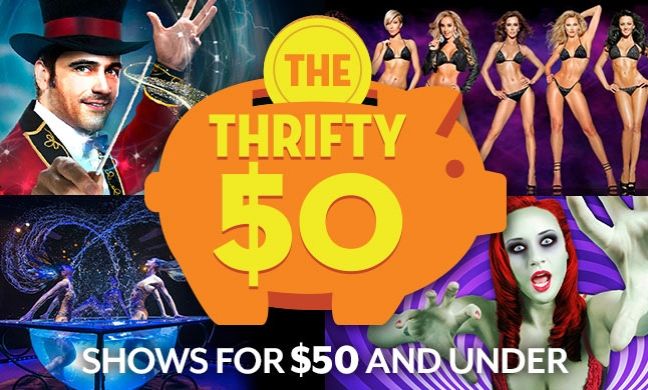 3. See shows with the Las Vegas Explorer Pass
The Las Vegas Explorer Pass allows you to visit 3 to 7 popular attractions all for one low price. You can even use the pass to check out some of the most popular shows in Las Vegas including:
Vegas! The Show (normally $116)
V – The Ultimate Variety Show (normally $94.81)
Zombie Burlesque (normally $86)
The Mentalist (normally $66.98)
And more great shows!
You can learn more here about all the benefits of the Las Vegas Explorer Pass.
If you want to get free show tickets and have time to spare, then consider sitting through a timeshare presentation.
Of course the presenters will try and pressure you into buying a timeshare. But make sure to stand firm and say no. Then you can collect your free tickets, enjoy some free food, and be on your way.
5. Tix 4 Tonight
While I always recommend booking tickets online (and in advance) for popular shows, you can take your chances and see if Tix 4 Tonight is offering last-minute discounts. You can find Tix 4 Tonight booths set up along the Vegas Strip.
Las Vegas Hotels
1. Stay during the week
Las Vegas room rates drop significantly during the week. Monday-Thursday are usually the cheapest days to stay, with Friday and Saturday being the most expensive. This is because a lot of people love to come to Las Vegas on the weekends, which drives hotel rates through the roof.
PRO TIP: Research ahead of time to see if your hotel offers mobile check-in. We recently stayed at the MGM Grand on the Las Vegas Strip in the summer. The regular check-in line was nearly an hour wait. We signed up for M Life Rewards (which is free) and were able to take advantage of their mobile check-in. It only took about 5 minutes to check-in which was a huge time-saver!
2. Take advantage of online discounts
You'll want to compare rates to make sure you're getting the best price. Vegas.com is my go-to website for finding deals on Las Vegas hotels. I also recommend staying near the center of the Vegas Strip so you'll be close to all the action and save money on transportation.
PRO TIP: You can save an extra 10% with a verified military ID at any of the Caesar's Entertainment Hotels.
3. Keep on an eye on events and conferences
There are many events and conferences that happen in Las Vegas. Popular events can cause hotel rates to increase, which can make your vacation very expensive. I recommend visiting when there won't be any major conventions happening to help you save money.
4. Research resort fees
Almost every major hotel on the Las Vegas strip charges a daily resort fee. These fees can range from $20-$45 per night. Resort fees are not included in the initial hotel price. Instead they are due to the hotel at the end of your stay, upon check out.
To avoid this surprise expense, make sure to do your research before booking your hotel. Find out if they charge a daily resort fee and how much it costs. This can help you get a better idea of how much to budget for your hotel accommodations.
5. Stay in Downtown Las Vegas
If you're not keen on staying on the Vegas Strip, I recommend checking out accommodations in Downtown Las Vegas. The most popular hotels downtown include the Golden Nugget, Four Queens, and Downtown Grand Hotel & Casino.
Almost everything is cheaper off the Vegas Strip, including entertainment and food.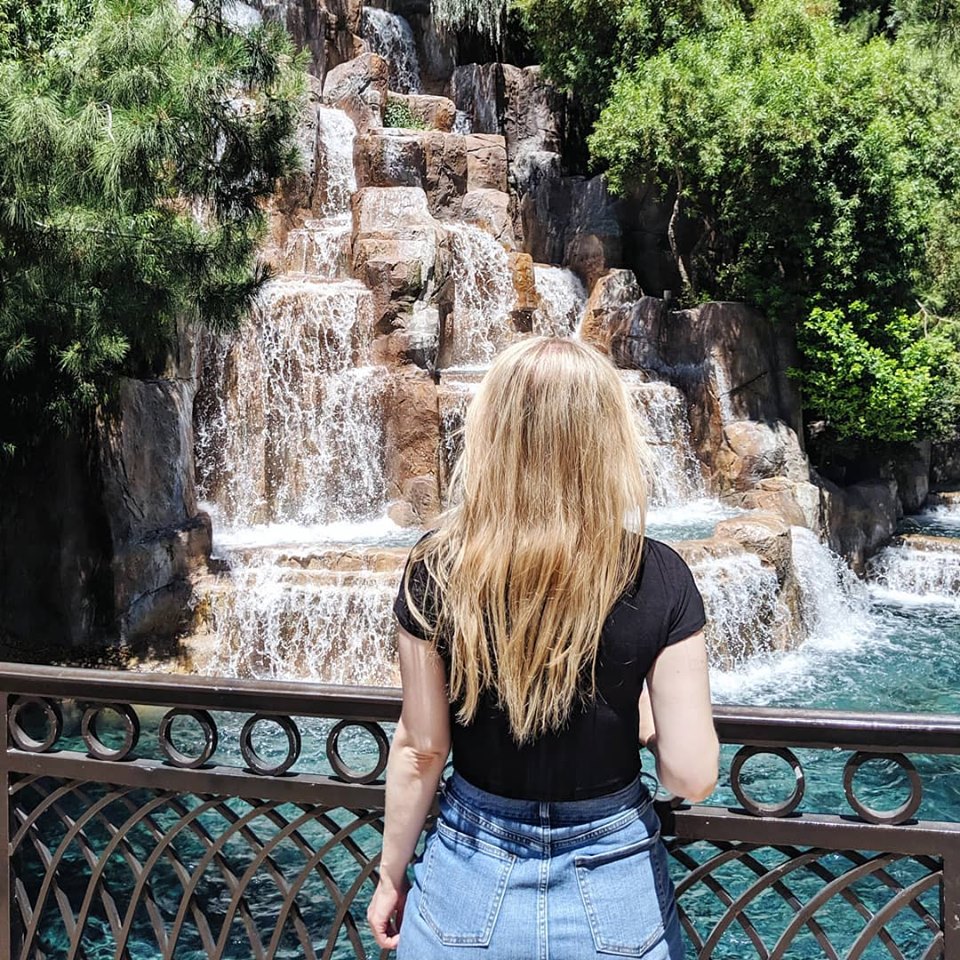 Las Vegas Restaurants
1. Eat and drink during Happy Hour
If you don't mind having a late lunch or early dinner, you can save a lot of money by dining during Happy Hour. Most restaurants and bars offer cheap drinks and discounts on food during this time.
2. Consider eating at resort buffets
If you're planning on ordering an appetizer, entrée, and drinks, then consider eating at a resort buffet. Why pay $40 at a restaurant when you can pay $20-$40 for all you can eat food and drinks?
Some of the best buffets in Vegas include:
Most of the restaurants in Las Vegas offer generous portions. Whenever my boyfriend and I go to Vegas, we usually split a couple of appetizers or share an entrée. This allows us to eat well and save money.
4. Make your biggest meal of the day lunch
If you're trying to save money in Las Vegas, I recommend making your cheapest meal of the day your biggest. Usually this is breakfast, but if breakfast is not your jam, then I recommend making lunch your biggest meal of the day.
Many of the popular restaurants in Las Vegas offer a less expensive lunch menu. You may even be able to get Happy Hour drink specials too.
5. Eat at restaurants off the Vegas Strip
Almost everything is going to be more expensive on the Vegas Strip. But if you're looking for a delicious meal that doesn't break the bank, then considering eating like a local and checking out restaurants off the Strip. I like using Yelp or TripAdvisor to find affordable places to eat.
Las Vegas Transportation
1. Book your flight and hotel package together
Many third-party booking websites, such as Expedia or Vegas.com offer a discount when you book your flight and hotel together.
2. Renting a car? Book through Costco
We always book a rental car when visiting Las Vegas. This is because we love to explore both on and off the Vegas Strip. We also like to check out some of the attractions outside of Las Vegas. Costco travel offers the best rates on rental cars.
3. Avoid taxis and use Uber or Lyft
Taxis can be very expensive in Las Vegas. With the emergence of ride-sharing services, I recommend using Uber and Lyft instead. It's often cheaper and more convenient.
4. Look for free parking
Many of the hotels in Las Vegas now charge a parking fee. However, there are a few places left where you can still find free parking on the Vegas Strip, such as Fashion Show Mall.
For registered hotel guests staying at any of the MGM Resorts, your 24-hour parking fee provides you with in-out privileges across all MGM Las Vegas destinations. This also applies for registered hotel guests staying at any of the Caesar's Entertainment Resorts.
5. Ride the Monorail
The Monorail is one of the easiest ways to get around the Vegas Strip. The Monorail operates along a 3.9-mile route from the SLS Station to MGM Grand Station.
Las Vegas Entertainment
1. Buy drinks from the grocery store
Drinks in Las Vegas can be expensive. A good way to save money is to buy your own alcoholic beverages from a local grocery store. It is legal to have an open container of alcohol while walking on the Las Vegas Strip, as long as it's not in a glass container.
PRO TIP: Another way to get cheap drinks is to ride the High Roller Observation Wheel during Happy Half Hour. A Happy Half Hour ticket includes one 30-minute rotation with an in cabin open bar. You can learn more about it here.
2. Take advantage of free things to do at your hotel
If you're paying a resort fee at your hotel, you might as well take advantage of the amenities being offered.
For example, one of our favorite things to do in Las Vegas is to hang out and relax by the pool. We've stayed at several resorts along the Vegas Strip, but our favorite pool is at the MGM Grand Hotel.
Another free thing we enjoyed at the MGM Grand Hotel was they had a 80's cover band playing one night. It was a free concert so we had fun listening to some classic hits.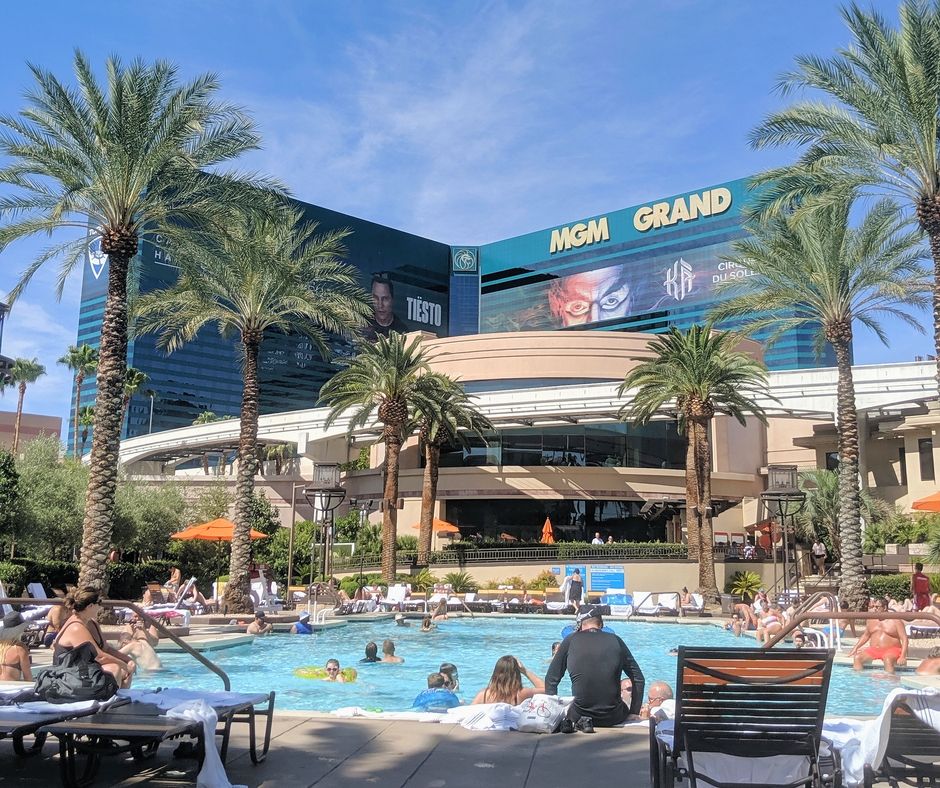 3. Check out free concerts on Freemont Street
Freemont Street in downtown Las Vegas is one of the best places to enjoy free, live music in the city. Plus, you can check out the world's largest video screen, known as Viva Vision. The Freemont Street Experience features free light shows every night of the week.
4. Sign up for Player's card and casino reward programs
Even if you're not gambling, consider signing up for casino player's cards. They are free to sign up for at every casino and sometimes they give you free stuff just for joining. This can include a free credit on your card to gamble, a free buffet pass, and so on.
5. Set a gambling budget and stick to it
If you're planning to gamble in Las Vegas, a good way to save money is to set a budget and stick to it. You don't want to risk more than you can afford to lose.