Just a few months from now, imagine sitting on a beach or exploring a new city, and having your vacation already paid in full… with cash.
This can be you!
I love traveling, but there's no reason to go into debt in order to enjoy a vacation. If you find yourself charging travel expenses that you can't immediately pay back, it's time to stop. You end up paying MUCH more than the original cost of the trip, not to mention the extra financial stress you've just added onto your plate.
Yes, you totally deserve to indulge in your wanderlust and enjoy an incredible vacation. But don't let this "I deserve it" attitude get you into debt. It's not worth it.
You're probably wondering how you're going to find that much money or it's not possible to travel without going into debt.
There are many opportunities to find ways to save and earn extra money so you can make your vacation dreams come true.
I ALWAYS pay for my trips with cash. In fact, just a few years ago when I was in graduate school, my sister and I booked a 2-week trip to London and Edinburgh. The customs officer at the airport asked my sister and I how we were able to afford a trip like this (as students). We were able to afford this trip because we knew the importance of planning ahead and created a vacation budget that worked for us.
Today I'm going to share with you exactly how you can do this too. Follow these tips so you can enjoy a fabulous vacation without going into debt!
Related Posts: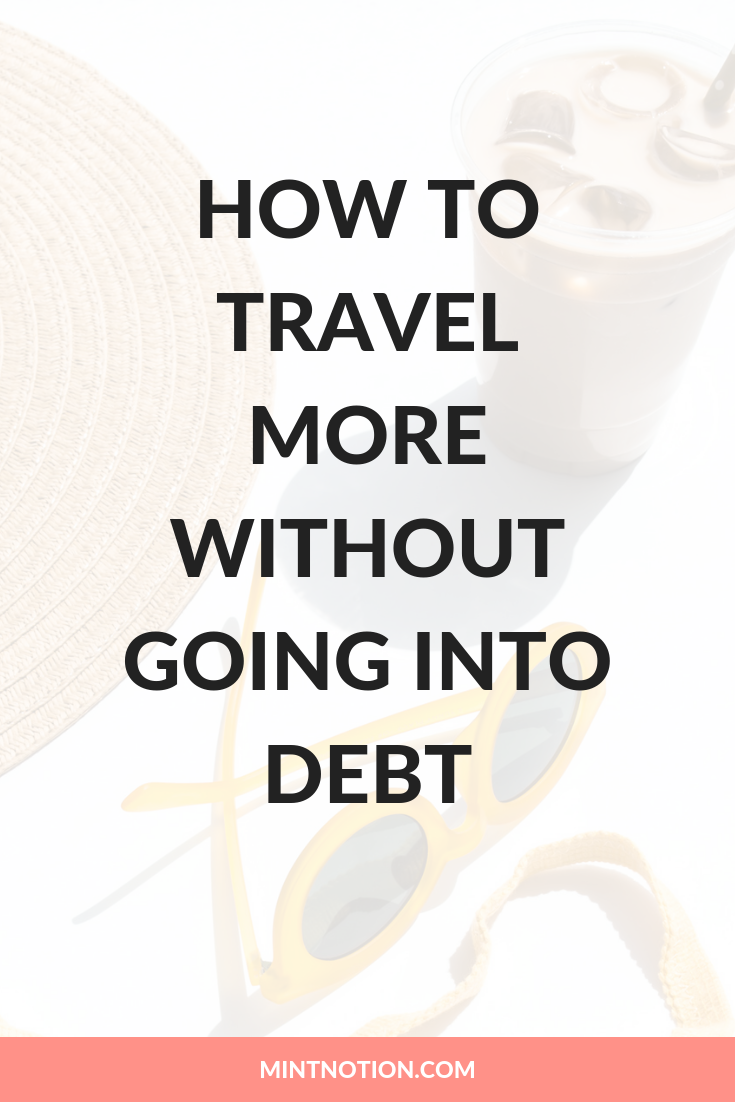 Make a Plan
Tony Robbin's once said, "If you talk about it, it's a dream, if you envision it, it's possible, but if you schedule it, it's real".
I truly believe that if you don't make a plan for what you want to accomplish, it's never going to happen.
So instead of dreaming about sitting on the beach or dancing the night away at a fun music festival, make a solid plan of what you'd like to accomplish.
For me, our most recent trip was spending 10 days in Paris this past summer. As soon as I knew that I wanted to go on this trip, I started planning.
Start Saving Now
Each month, I like to put a portion of my income towards my "travel fund". This forces me to make it a habit to save for travel year-round.
Depending on your financial goals, you can choose to save whatever amount of money you'd like each month.
If you're on a debt-free journey at the moment, paying for things like a vacation in cash may seem difficult. However, if you've created a savings plan that includes putting money aside each month towards your "travel fund", this can add up to significant savings over the year.
As soon as you decide to go on vacation, you'll want to start saving immediately. For example, once I started planning in February that I wanted to go to Paris in July, I consciously started saving right away. This gave me almost 5 months to save enough money so I could pay for my Paris vacation in cash.
The last thing you want to do is wait until a month before you go on vacation to start saving. If possible, you'll always want to plan ahead.
Set a Savings Goal
Now that you've started to save for your trip, it's a good idea to know how much money you need to save.
One way to figure this out is by doing a quick bundle search for flights, hotel, and car rental on Expedia. This helps give me a rough idea of how much money I need to save for the BIG costs (transportation and accommodations).
I usually choose the higher price point as my savings goals. Even though I never spend this full amount, I like to have extra money available just in case.
For smaller costs, such as food & drinks, entertainment & sightseeing, and other travel-related expenses, I do a quick guesstimate. I usually budget for $100 per day in spending money (which covers food, drinks, entertainment, and sightseeing). Then, I add this amount to the transportation and accommodation costs to calculate my vacation savings goal.
PRO TIP: I always err on the side of caution and set my savings goal on the high end. This means I budget for more than I plan to spend, just in case I can't find a great deal. For example, airfare prices fluctuate a lot. I rather be over budget for flights and pay less, than be under budget and have to pay more.
Keep Track 0f Your Savings
To make saving money more exciting, I like to do a money challenge to help reach my goal. This printable includes a 31-day money challenge which helped me save nearly $500 each month. By following this savings challenge each month leading up to my Paris trip, I was able to save nearly $2,500!
I also found ways to cut out unnecessary expenses each month, such as eating out less, getting rid of cable TV, and spending less money on clothing.
Another thing I did to save money was to find ways to increase my income each month by growing my business.
The combination of saving money and adding extra income made it easier to contribute towards my vacation savings goal of $2,500.
At the end of each month, I like to do a monthly reflection where I write down things that went well (in regards to achieving my savings goal). I also like to highlight areas where I could make improvements for next month. This is a good way for me to stay on track and stick to my budget.
Outline Your Vacation Budget
Now that you've started saving money and established a savings goal, I recommend outlining your vacation budget. I like using this printable I created to write everything down in an easy-to-follow manner.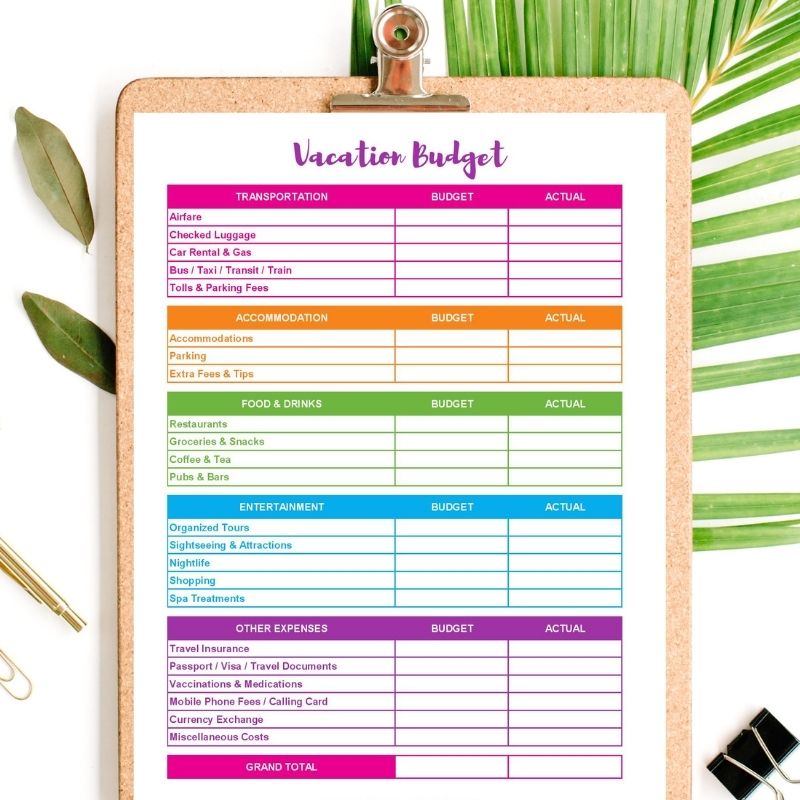 The first step in budgeting for any trip is to decide which type of trip you want to take: a beach trip, camping trip, road trip, shopping trip, foodie trip, sightseeing trip, relaxing spa trip, and so on.
This will help align your budget with your ideal vacation. For example, if you're planning a foodie trip, you'll probably want to set a higher budget for food and drink costs, and save money by planning a lower budget for accommodations or entertainment costs.
Expense Categories
In your vacation budget, you'll want to break down your expenses based on common travel categories, such as transportation, accommodations, food & drinks, entertainment, and other travel-related expenses. This keeps everything organized so you can make sure that you've covered all your bases.
Subcategories
Under each category, you can list subcategories. For example, my Travel Binder offers a page with pre-filled subcategories and one blank copy so you can tailor it to your own trip.
Here I like to set a budget for each subcategory. For example, I budgeted $700 for flights (per person) for my trip to Paris. Then once I booked the flights, I recorded my actual expense in Actual column. In this case, I paid $600 per person for flights.
PRO TIP: I always aim for my actual expenses to be under budget for each sub-category. This means that if I can't find a deal for something, such as my car rental, I can use the extra $100 I saved on my flights (for example) to go towards my car rental cost. This helps to ensure that I stay within my total vacation budget for the trip.
Hidden Travel Expenses
It's easy to overlook some travel expenses when planning your trip. For example, when booking flights, we may forget to budget for related expenses, such as taking a taxi to the airport, our checked luggage, airport parking costs, and so on.
This is why it's important to plan ahead and allow for wiggle room in your budget just in case. If you know that you'll be taking a taxi to the airport, make sure to include this in your transportation costs. If you think you'll be too tired to take public transportation from the airport to your hotel, make sure to research how much an average taxi or Uber ride will cost at your destination. Then include this estimate in your transportation costs.
You'll also want to make sure that you budget for pre-trip costs, such as visas, vaccinations, travel insurance, and so on. I like to add this under other expenses in my Vacation Budget. Planning ahead can help prevent surprise costs and ensure that you save enough money for your trip.
PRO TIP: The most important rule for outlining your Vacation Budget is flexibility. Allow enough room in your budget for the occasional splurge or spontaneous activity. I'm not suggesting that you should be throwing money away on tacky souvenirs or fine dining every night, but it's a good idea to have some flexibility in your budget. This will help take the stress out of your trip so you don't have to be worried about pinching pennies, at the cost of enjoying your trip.
Research, Research, Research
This is easily one of the most important steps when planning an affordable trip. You'll want to take time and research ways you can save money on your trip. I like using this printable to plan my vacation.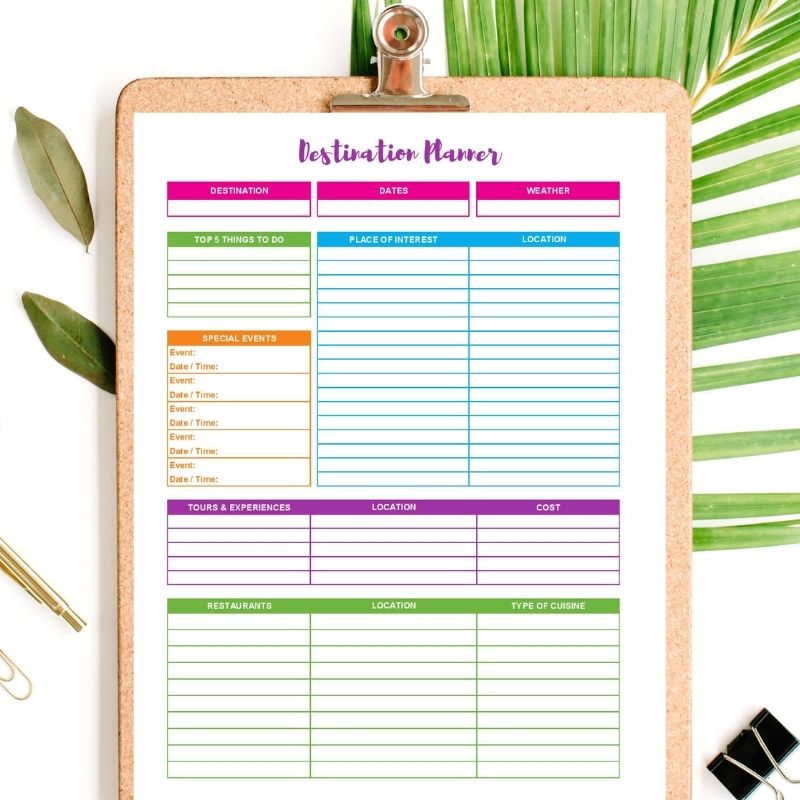 For example, I like to research ways to get from the airport to my hotel accommodations. Options may include taking public transportation (bus or train), hiring a taxi or Uber, taking private or shared shuttle, and so on.
I also like to research where the best neighborhoods are to stay at my destination. Then, I can look for affordable accommodations in these neighborhood. Lately, I have been using Airbnb to book all my travel accommodations. The prices are comparable to staying in a hotel, plus most homes provide access to a kitchen. This is a great option for those who want to cook some of their own meals instead of dining out.
I also like to find affordable restaurants near my accommodations and areas where I'll be hanging out during my trip. When researching where to eat, I like to look for places that are within my budget and get good reviews. I try to find restaurants that locals love, because they usually provide the best value. My favorite websites to read reviews include Google, Yelp, and Trip Advisor.
If I'm planning to cook food at my travel accommodations, I like to look for grocery stores nearby so I can buy ingredients.
I also like to research ways to save money at the destination's must-visit attractions. Sometimes you can purchase a tourism card, which can save you up to 50% off entrance fees at popular tourist attractions. I always find the Go City Card provides great value.
I also like to make a list of free attractions that I want to visit. Free events and tourist attractions are a great way to save money if you're traveling on a tight budget.
By researching ahead of time, you'll be surprised at how many different ways you can save money when planning your vacation. For example, if you save money on accommodations, you can put that extra money towards a nice dinner or a fun tourist attraction.
Final Word
Planning a vacation doesn't have to be stressful. By following these tips, you'll feel more at ease knowing that you've given yourself enough time to research a trip that fits your travel style and budget. Plus, studies have shown that when you plan ahead, it'll boost your overall mood and outlook.
If you want to save money on your next trip and avoid going into debt, I recommend getting started by creating a vacation savings plan now. This will help ensure that you can enjoy a great trip on a budget you can afford.
For my travels, I like to plan and keep everything organized in a travel binder. Here I can write down how much money I need to save for my trip, and list different ways to make this possible. My travel binder also includes a page where I can research ways to save money at my destination on transportation costs, accommodations, food, sightseeing, and more.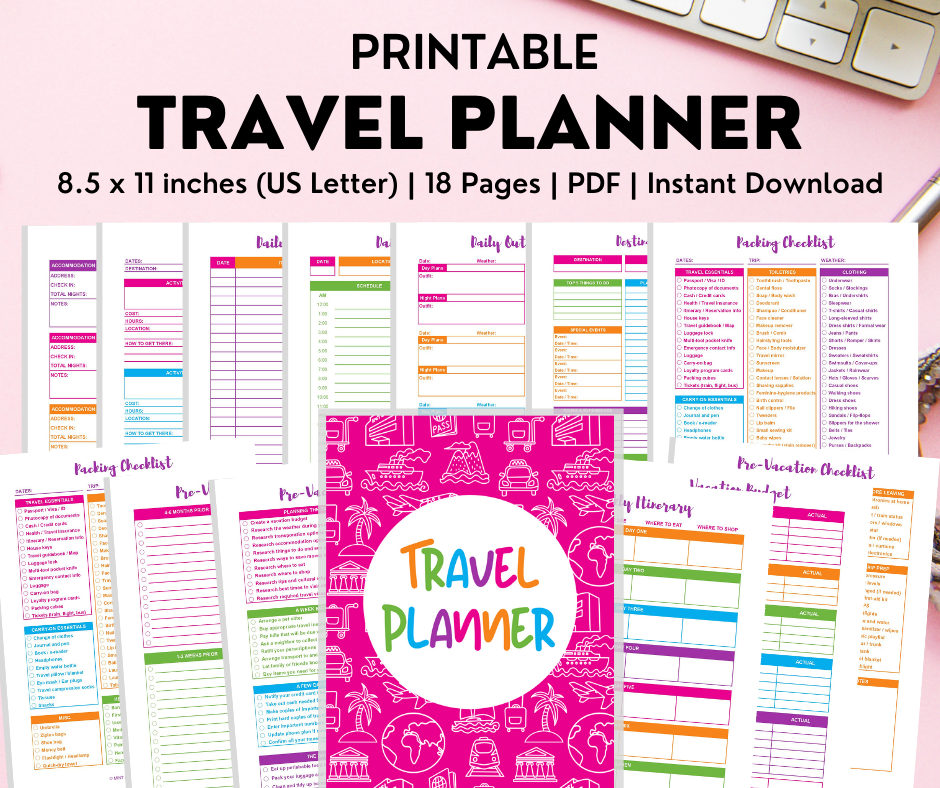 I also find it immensely helpful to outline my vacation budget on paper, so I can see exactly how much money I plan to spend under each travel expense category. You can choose to create your own vacation budget, or you can use my printable sheet available in the Travel Binder.
Each page in my 18-page Travel Binder is specifically designed to help you save money while being able to enjoy an amazing trip. You can use these printables to organize your next vacation so you can travel like a pro, and most importantly — have fun! Click here to learn more about everything included in my Travel Binder printable package.
Happy travels!