Planning a trip to Las Vegas for the first time? Great choice! Follow these Las Vegas travel tips to help you have an amazing trip to Sin City. Includes how to do Vegas right, what to expect, the best things to do in Vegas, where to eat, which shows to see, and how to party on a budget.
You've seen its bright lights glamorized in the movies and can't wait to enjoy your first time in Las Vegas. Today I'm sharing the best tips to help you plan your itinerary!
I LOVE visiting Las Vegas and I'm not ashamed to admit it. I'm always discovering new things to do in Las Vegas each time I go.
If you want to make the most of your vacation, I've rounded up the best Las Vegas tips and tricks for first-time visitors so you know where to stay, hotel tips, and which Vegas shows are worth seeing.
Follow this guide to help you know what to expect during your first time to Vegas so you don't make these rookie tourist mistakes.
Related Posts: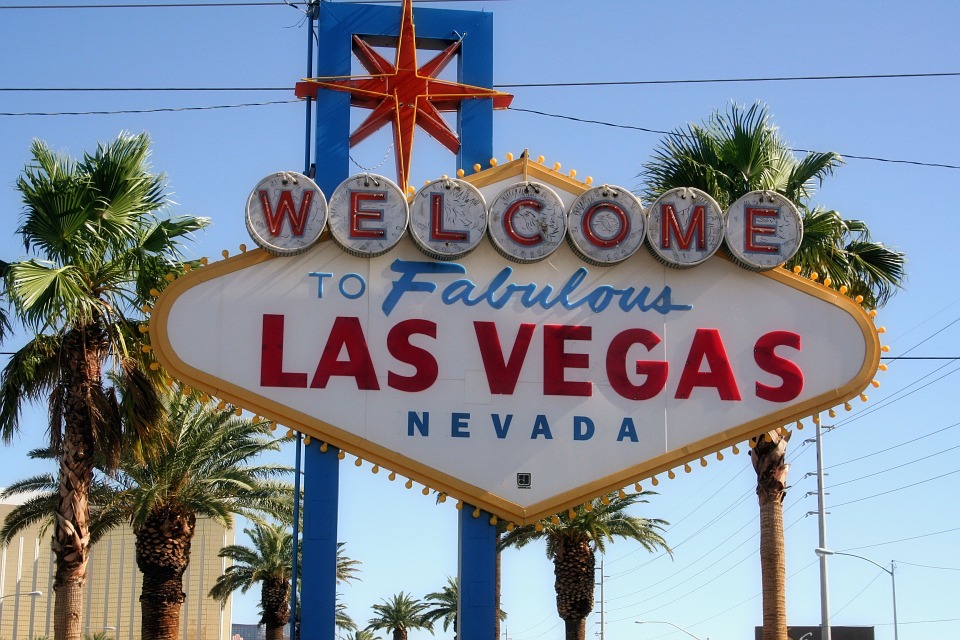 1. Places are not as close as they appear
If you're visiting Las Vegas for the first time, you'll immediately notice that even though buildings on the Vegas Strip appear close together – the blocks are LONG.
Many tourists are surprised at how much walking is required if you're traveling on foot. For example, just walking from my hotel room in Bally's to the parking garage took several minutes.
Don't expect to get anywhere fast in Las Vegas. This means you can't expect to enjoy dinner at the MGM Grand, then walk over to Treasure Island to see an evening show – it's just not going to happen when you're traveling on foot.
I recommend taking a Lyft / Uber or driving your car if you need to get somewhere quickly. There are also a number of pedestrian-friendly footbridges at the main intersections for your convenience.
Best ways to get around the Las Vegas Strip:
Wear comfortable shoes. These shoes and these shoes are my go-to when traveling. Don't think that you need to dress up and wear high-heels. High-heels are not meant for walking around in Vegas. Instead choose comfortable shoes when you're out and about.
Walk through the air-conditioned hotels or shopping centers to stay cool during the hot summer months.
Drive to your destination or take a Lyft or Uber.
If you're paying for parking at your hotel, you might be able to get free parking at other hotels. This worked for us when we stayed at the MGM Grand. We could get free parking at other MGM properties.
Ride the Las Vegas Monorail. There are seven convenient stops along the Strip.
Traveling to Las Vegas with kids? Check out this in-depth post sharing the top 10 kid-friendly hotels in Las Vegas.
2. Don't book the cheapest hotel (or stay off the Strip)
You may be wondering where to stay in Vegas for your first time? I know it's tempting to book the cheapest hotel on the Las Vegas Strip, but you'll be disappointed if you do.
This is one of the most common mistakes tourists make when visiting Las Vegas for the first time. I'd ask you to trust me on this one, but hey, I'd rather you decide for yourself.
What is the best Las Vegas hotel for first-timers?
The middle of the Vegas Strip is the BEST location to book your hotel. I recommend this location, especially if this is your first trip to Las Vegas. This will make it easy to get around to all the different attractions, restaurants, and points of interest.
Best hotels in the middle of The Strip:
I always find the best rates when booking my hotel through Vegas.com or Booking.com.
I love Vegas.com because it's a one-stop shop to get the best deals on Las Vegas hotels, show tickets, and attractions. They can also accommodate group bookings, which is great when traveling with friends or for bachelor and bachelorette parties.
Is Vegas.com a legit travel website?
Yes! Vegas.com has been around for over 20 years and is a reputable site. I have personally been using this website for the past several years to save money on Vegas shows and attractions.
Vegas.com currently has a TrustScore raiting of 4.6/5 on Trust Pilot with over 75,000 reviews.

You'll want select your hotel choice based on its amenities (such as its restaurants, pool, and entertainment). This can help you save money and time.
For example, for paying guests, you can access the hotel's pool for free. However, non-guests can usually access the pool for a small fee. Rules differ by property and day of the week.
Hotels with the best pools in Las Vegas:
Best cheap hotels on the Las Vegas Strip:
Bally's – Right in the middle of the Vegas Strip. Good option if you're traveling on a budget.
Luxor – This Egyptian theme hotel offers great value on the Strip.
Excalibur – This is a great family-friendly hotel that offers affordable rates.
Flamingo – This classic hotel offers one of the best locations for experiencing the Vegas Strip.
The LINQ – This hotel is located near the center of the Strip and great for a younger crowd.
Harrah's – This hotel is near the center of the Strip and offers budget-friendly rates.
Best mid-range hotels on the Las Vegas Strip:
MGM Grand – We stayed here for my birthday. The pool is one of the best in Las Vegas.
Treasure Island – We loved our stay here! Nice pool area and close to shops and restaurants.
Mandalay Bay – Offers one of the best pools and sandy beaches on the Vegas Strip.
The Mirage – A popular hotel on the Vegas Strip known for its Volcano show.
Best luxury hotels on the Las Vegas Strip:
Aria – Beautiful hotel with an excellent location. One of the nicer hotels on the Las Vegas Strip. The is the best place to stay in Vegas on the Strip.
Bellagio – This hotel is famous for its dancing fountain show.
The Venetian Resort – Excellent location and one of the prettiest hotels in my opinion. Lots of great shopping here and one of the best hotels for first time in Las Vegas.
Caesar's Palace – Beautiful hotel known for its shopping and restaurants.
Below you can check out more Vegas hotel deals thanks to Booking.com. This is my other go-to site for scoring cheap Vegas hotels.
3. Take advantage of mobile check-in at your hotel
Research ahead of time to see if your hotel offers mobile check-in. We recently stayed at the MGM Grand on the Las Vegas Strip in the summer. The regular check-in line was nearly an hour wait.
We signed up for M Life Rewards (which is free) and were able to take advantage of their mobile check-in. It only took about 5 minutes to check-in which was a huge time-saver!
4. Don't pay full price for show tickets
Here's a quick Las Vegas tip: There's NO reason to pay full price for Las Vegas show tickets. You'll always be able to find a discount.
To get the best deal, I recommend starting your search for show tickets on Vegas.com. Yes, this is the same website I use to find deals on hotel accommodations.
They offer discounts on all the popular Las Vegas shows, including Cirque du Soleil tickets. Plus, you can book dinner + show packages which is super convenient.
LIMITED TIME OFFER: Right now, you can book some of the top Vegas shows for $50 or less. This is a great deal! See the full list of shows here.
What are the top Vegas shows?
There are so many different shows available to watch in Vegas, it can be a little overwhelming for first-timers to figure out which one to see. Here's a few I recommend checking out:
Cirque du Soleil – The Beatles LOVE, O by Cirque du Soleil, Mystere, KÀ, Michael Jackson ONE.
Magic Shows – Magic Reinvented Nightly, Criss Angel Mindfreak, Penn and Teller, David Copperfield, Piff the Magic Dragon.
Popular Vegas Shows – Blue Man Group, V – The Ultimate Variety Show, Terry Fator, All Shook Up, The Mentalist.
Kid-friendly Shows – Jabbawockeez, Tournament of Kings, Mac King Comedy & Magic Show, Extravaganza,Tape Face.
Adult Shows – Absinthe, Zumanity, Zombie Burlesque, Aussie Heat, Australia's Thunder From Down Under.
I also like using GetYourGuide to book show tickets. They offer free cancellation which can give you peace of mind if your travel plans change.
5. Book your bucketlist activities in advance
Vegas is always busy, no matter what the season is. If you have your heart set on visiting a certain attraction, seeing a particular show, or eating at a specific restaurant, you should book in advance.
Booking in advance is usually cheaper and saves you the hassle of having to wait in long line-ups when you're in Vegas. Just skip the line and head straight to the attraction.
Below are some of the popular attractions and tours that you may want to consider booking in advance.
I like buying attraction and tour tickets through GetYourGuide. They offer free cancellation so you can receive a full refund if you're travel plans change.
6. Plan ahead
Yes, it's fun to be spontaneous in Las Vegas. But planning ahead can go a long ways in making your Vegas experience more enjoyable.
If you're going to be visiting Vegas on a Friday, Saturday, or holiday weekend, then I highly recommend making reservations in advance.
Most restaurants are extremely busy during peak meal times, which is usually at noon or between 6:00PM and 8:00PM. Below are some of the most popular restaurants in Vegas.
Best buffets in Las Vegas:
Best celebrity restaurants in Las Vegas:
Best tours in Las Vegas:
Las Vegas: Grand Canyon West & Hoover Dam Tour *(MOST POPULAR)*

7. Not everything in Las Vegas is expensive
If this is your first time in Las Vegas, it's easy to think that everything is expensive. But if you do a little research, you'll notice that there's plenty of easy ways to save money on just about everything. Here's how to do Vegas cheap:
Save Money on Vegas Hotels
Save Money on Vegas Tours & Attractions
Check out the FREE attractions in Vegas
One of the best ways to explore Vegas is by walking The Strip.
Some of my favorite free attractions include The Volcano (at The Mirage), Bellagio Fountains, Freemont Street Experience, the Welcome to Las Vegas sign, Bellagio Conservatory & Botonical Gardens, and the Flamingo Wildlife Habitat.
For more tips, check out this post of 20 FREE things to do in Las Vegas for all ages.
Save Money on Vegas Restaurants
Eat at one of the many buffets offered in Vegas. Some include unlimited wine or beer if that's your thing.
Take advantage of Las Vegas happy hours for food and drink deals. This is my favorite way to save money when eating out in Vegas.
Don't be afraid to eat off the Vegas Strip. You can find plenty of affordable and top-quality restaurants just a short distance from the Strip.
Instead of paying out of pocket for your Vegas vacation, I like to get free gift cards from Swagbucks.
I've been using Swagbucks for years to earn free gift cards to places like Starbucks, Amazon or PayPal.
This can be a great way to cover some of the costs of traveling. If you're not already a member, you can join for free here.
8. Pay attention to Resort Fees
Before you book any hotel in Las Vegas, be sure to check the resort fees. This is a daily fee that will be added to your total at the end of your stay. Depending on the hotel, these fees can add up quickly.
The average hotel resort fee in Las Vegas for 2022 is $31.89 per day.
Which hotels in Las Vegas don't charge a resort fee?
MOST hotels on the Las Vegas Strip charge a resort fee, which allows you to access some of the services at the hotel, such as the pool.
Below are a few hotels that DON'T have mandatory resort fees yet:
9. Don't spend all of your time on the Vegas Strip
While the Vegas Strip has plenty to see and do, it would be a shame to spend your entire trip in one place. I highly recommend visiting Fremont Street (old Las Vegas) and taking a day trip somewhere.
Below are some of the most popular daytrips and tours from Las Vegas:
Visiting Las Vegas for the first time can be hectic. With so many great things to see and do, it can be challenging to plan an itinerary and determine which attractions are worth spending your money on.
Getting the most bang for your buck is my #1 factor when planning a vacation and the GO City Las Vegas Explorer Pass was rated the #1 Vegas tourism pass by TripAdvisor.
They're also recommended by Expedia and Go City Passes currently have a TrustScore rating of 8.5/10 on Trust Pilot. Many people have already used the Explorer Pass for their Vegas trip and posted happy reviews.
With the GO City Vegas Explorer Pass, you can save time, money, and enjoy stress-free sightseeing. But don't just take my word for it. Check out these happy reviews.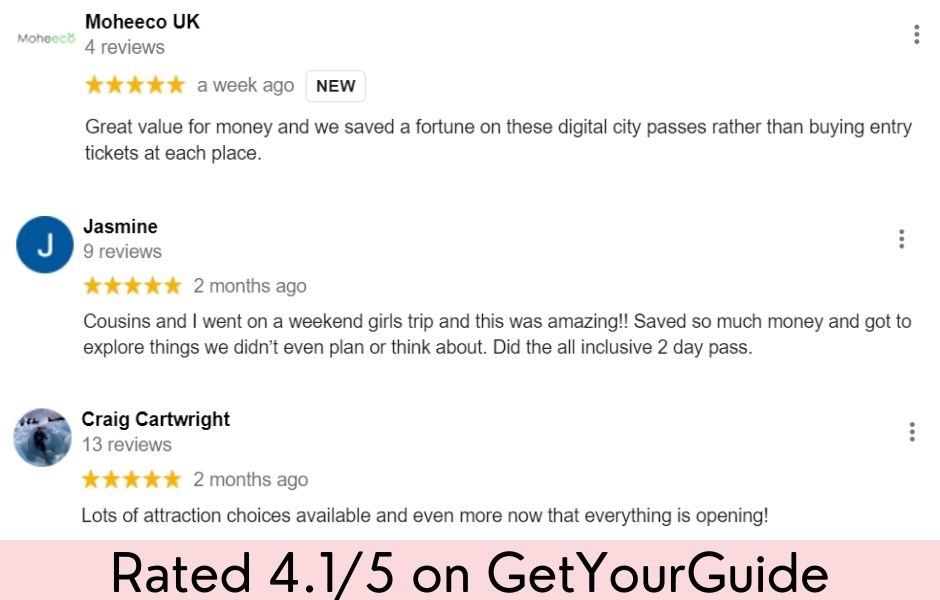 Buy the pass online to save time and hassle. To buy the GO City Las Vegas Explorer pass, click here to go to the official website. 
For a limited time, you can save 10% off the Las Vegas Pass. Use the code: MINTNOTION at checkout. This is an exclusive deal for Mint Notion readers.
What's included in the GO City Las Vegas Explorer Pass
The GO City Las Vegas Explorer Pass is a multi-attraction pass where you can choose to visit 3, 4, 5, or 7 top attractions all for ONE low price, including Hoover Dam, Stratosphere Tower, and the High Roller Observation Wheel.
You also have the option to include a free Hop-On Hop-Off Bus Tour to enjoy at your leisure. For those not renting a car, this is a smart way to get around Las Vegas.
Is the Vegas Explorer Pass worth it? Check out my review of the GO City Las Vegas Explorer pass here.
How to get your Las Vegas Explorer Pass:
Step 1: You can click here to purchase your Vegas Pass from the official website. Choose the pass which best suits your trip.
All-Inclusive Pass: Visit as many Las Vegas attractions as you wish over 2, 3, 4 of 5 consecutive days.
Explorer Pass: You can visit 3, 4, 5 or 7 different attractions for one low price. Save up to 59% off vs. paying at the gate.
For a limited time, you can save 10% off the Las Vegas Pass. Use the code: MINTNOTION at checkout. This is an exclusive deal for Mint Notion readers.
Step 2: Download your pass instantly on any mobile device. Or you can print your pass at home.
Step 3: Simply show your pass at the attraction entrance and walk right in.
11. Sign up for player's clubs
Even if you're not planning to gamble in Las Vegas, I always recommend signing up for a player's card at every casino you visit.
It's free to sign up and you'll get free stuff just by joining! I've received a free $20 playing credit, discounts on shows, food, and so on. This is a great way to save money in Las Vegas.
12. Consider renting a car (if staying longer than a weekend)
Not everyone is going to agree with me, but if you're planning on staying in Las Vegas for more than two nights, I recommend renting a car.
Why? Because there is SO much to see and do in Las Vegas beyond the Strip, it would be a shame to spend all your time in one spot.
If you're staying in Las Vegas for only a couple of nights, then I DON'T recommend renting a car. Instead, the best way to get around is by using the Monorail, Uber / Lyft, or riding the Hop-On Hop-Off bus tour.
13. Don't eat bad food
Las Vegas has so many delicious restaurant options at a variety of different price points.
There is really no excuse for eating bad food in Vegas. Don't make the mistake of going to Denny's on the Vegas Strip.
Whether you're looking for a fancy night out or a quick bite, you're never far from a tasty meal. One of my favorite budget options on the Vegas Strip is Earl of Sandwich or Shake Shack.
If you're looking for affordable eats, I recommend searching for locations OFF the Las Vegas Strip.
This is where the locals eat when they want delicious food for cheap. Check Google for reviews and suggestions.
14. Don't buy a drink at the casino bar
I made this rookie mistake when visiting Las Vegas for the first time. I was looking for a quick place to have a drink and ordered one from the casino bar. Big mistake — the drinks were wayyy over priced!
I've heard that you can get free drinks while gambling (provided you tip your waitress well), however I'm not much of a gambler, so I haven't tried this myself.
Instead, if you're looking to have a drink, I recommend having a drink or two in your hotel room first (I usually pick up my favorite drinks when I arrive in Vegas).
Also, it's legal to have an open container on the Strip (as long as it's not a glass container), so you can carry your drinks around in a plastic cup or beer can.
To save money when drinking, I recommend looking for happy hours. There are plenty on the Vegas Strip which offer various specials. It's also a great way to save money on food if you don't mind eating dinner a little early or late at night.
15. Don't forget water and sunscreen
If you're visiting Las Vegas during the hotter months (June through August), I highly recommend packing a bottle of water and suncreen in your day bag. It's scorching hot outside so it's essential to stay hydrated and protect your skin from the sun.
One time, I made the mistake of not drinking water while I was laying in the sun by the pool. I ended up getting heat exhaustion which made me very sick.
Now whenever I visit Vegas, I like to carry a refillable water bottle, sunscreen and a light jacket in my day bag. It sounds silly, but the air conditioner is usually blasting in the hotels and casinos, so you might get cold even on a hot day.
Prep for your Las Vegas trip
16. Visit Las Vegas with an open mind
When visiting Las Vegas for the first time, you'll want to visit with an open mind. You never know what you'll encounter while walking the Vegas Strip, so embrace all the people-watching and be open to anything.
Just don't do something that you'll regret, like getting an impulse tattoo or losing your shirt at the casino. Now that would be a rookie mistake.
---
Las Vegas for First-Timers FAQs
What should I do on my first trip to Vegas?
Every first-timer in Vegas should cruise the Strip, either by foot or by car. You'll also want to eat at one of the popular buffets or restaurants along the Vegas Strip and see a show, such as LOVE by Cirque du Soleil. If you like shopping, explore the Miracle Mile Shops or Fashion Show. If you like rides, check out the roller coaster at New York-New York or ride the High Roller Observation Wheel.
How long should I stay in Vegas for the first time?
4 days is just right for first-timers in Vegas. I recommend spending three days exploring the Strip and one day checking out downtown Las Vegas. For those who want to extend your vacation, considering checking out Red Rock Canyon, Hoover Dam, or the Grand Canyon.
What should I avoid in Las Vegas?
First-timers in Vegas should avoid paying full-price for show tickets, booking a hotel off the Strip, skipping reward signups, overpaying for drinks, skipping free attractions, not drinking enough water (it's hot in the summer), wearing uncomfortable shoes, not setting a budget for gambling, driving everywhere, and only exploring the Vegas Strip.
What is the best month to go to Las Vegas?
The best time to visit Las Vegas is during the spring and fall — March to May and September to November. This is when the weather is warm, but not uncomfortable hot and the crowds are slightly quieter.
If you don't mind the heat, there are plenty of cheap flight and hotel deals to be found during the summer months. The hot weather usually keeps tourists away between June and August, but this can be an excellent time to visit Las Vegas if you're on a budget.
What are the best casinos for first time in Vegas?
If this is you're a first time gambler in Las Vegas, here's a few casinos that I recommend checking out.
How much money do you need for a good time in Vegas?
Depending on what you plan to do in Las Vegas, you should budget around $200-$300 per day (per person). There are many variables to consider, such as if you'll be gambling, shopping at designer stores, eating at celebrity restaurants, checking out a Vegas show and so on.
Is Las Vegas dangerous for tourists?
Las Vegas is a very safe city and one of the most tourist-friendly destinations in the world. Like with any big city, it's important to remain vigilant around popular tourist attractions and keep an eye on your belongs.
Can you visit other hotels in Las Vegas?
Yes, you can visit any of the hotels in Las Vegas. Even if you're not staying at the hotel, you are welcome to visit, play, shop, and explore the hotel and casinos in Vegas. However, you need to be a hotel guest to access most of the pools in Vegas. Some hotels offer day passes available for purchase.
My must-have Las Vegas accessories:
Ready to plan your Vegas vacation? See what hotel deals are available in the area thanks to Booking.com