There are just a few months left until Christmas, which means it's the perfect time to start finding ways to organize your finances and make extra money. With Halloween and Thanksgiving approaching, you'll want to take advantage of these opportunities to keep your wallet full and have a stress-free Christmas.
We can all use a little extra cash during the holiday season, which is why I recommend starting the ideas on this list early. Whether you prefer to get a seasonal job or find ways to make money from home, there is something for everyone on this list. Let's make this year a debt-free Christmas!
Related Posts:

1. Rent out your guest space to tourists
The holidays are one of the most popular times of the year to travel. Take advantage of the higher demand for accommodations by renting out your guest space to tourists for extra cash.
One of my favorite websites for finding comfortable accommodations is Airbnb. You can rent out your home or unused guest space on Airbnb to make money during the busy holiday season. For example, you can earn an average of $465 per week when renting out your space in Toronto. Click here to learn more about making money with Airbnb. 
2. Get paid to shop online
Many of us are shopping during the holidays, so why not get paid to do our shopping online? You can earn up to 20% cashback on your purchases when shopping on Ebates.
Ebates has over 2,000 stores to choose from, which makes shopping online easy. When you make a purchase, Ebates will track your purchase and deposit the cash you've earned into your Ebates account within a few days. Sign up for Ebates today and get a $10 welcome bonus.
3. Sell old decorations and Halloween costumes online
If you have old adult or kid costumes that you no longer need, why not sell them for some quick cash? You can sell old decorations and Halloween costumes at a garage sale or online via Facebook Marketplace and Craigslist.
4. Earn extra money as a pet sitter
If you love animals, you can make good money by offering your services to pet owners during this busy time of year. Many people are looking for reliable pet sitters during the holiday season to take care of their pet while they are traveling or attending parties.
Rover.com is known as the "Uber for pet owners" and allows freelance pet sitters and dog walkers to make money by offering their services to pet owners in their area.
You could earn $1,000 or more per month all while getting the freedom to choose your services, schedule, and rates. Click here to receive a $25 credit towards your first stay or walk with Rover!
5. Drive people around in your car
Got a car? Uber is looking for partners like you! As an independent contractor, you've got the freedom and flexibility to drive whenever you have time.
It's a great way to make good money during the busy holiday season. When I was taking driving lessons, my instructor was also an Uber Driver in the evening. He said the money he earned was a great way to support his family. You can learn more about making money with Uber here.
6. Earn with Swagbucks
Swagbucks is a simple way to earn gift cards for things you do online. There are many ways to earn points on Swagbucks including filling out surveys, playing games and watching videos.
This is a great way to earn money to help pay for gifts during the holiday season. Sign up for Swagbucks and get a $5 bonus today!
7. Take advantage of earning cashback
A great way to earn cashback is to use the Ibotta app. The best thing about this app is that you can earn cashback when you shop at online retailers (such as Amazon) and local retailers (such as Target and CVS). There are TONS of cashback offers available in the app for both specific brands and general items. Get the app here and receive a $10 welcome bonus!
One of my favorite things about the holiday season is enjoying all the delicious meals and baked goods! Checkout 51 allows you to earn cashback on your groceries, which is a great way to save money when buying food for family dinners and parties.
To get started, simply download the app or browse the available offers online. Then buy these offers at any store and upload your receipt using the app.
8. Make money online
Tis the season to make money for things you already do online. Get paid to shop, watch videos, play games, and for sharing your opinion. These online reward communities are free to join and you could potentially earn an extra $100-$600 per month to go towards holiday shopping. Here are some of my favorite websites to join:
9. Sell your baked goods
One of our family friends makes the most incredible-looking treats for themed parties, school bake sales, events, birthday parties, and more. There is a high demand for baked goods during the holiday season, which allows her to charge top dollar for custom orders.
If you enjoy baking delicious treats, you can make money by offering your baked goods to neighbors for their parties and events. This can be a great way to make extra cash during the holidays.
10. Make money from affiliate marketing
There is BIG money to be made from affiliate marketing during the holiday season. While you don't need a blog to start earning affiliate income, it does help. You can start a website for as little as $2.95 per month (plus a FREE domain name).
To learn more about affiliate marketing, I recommend taking THIS online training. The course creator makes over $50,000 per month from affiliate marketing. She even earned more than $300,000 from ONE blog post! She shares her exact strategies so YOU can do it too. Thanks to the teachings in her course, I have been able to turn my blog into a full-time job!
11. Become a Stella & Dot stylist
Do you have a passion for fashion and accessories? Stella & Dot is looking for aspiring fashionistas just like you to join their team as an independent stylist — no experience required!
As an independent stylist, you can make money by selling Stella & Dot jewelry and accessories through in-home Trunk Shows or online. This is a great way to make extra money during the holidays since many people are looking to buy unique gifts. Sign up as a Stella & Dot stylist for $199 and get $350 in FREE accessories. 
12. Make money writing
Freelance writing is a popular way to make money online, which is a perfect opportunity if you enjoy writing. Holly from the blog, Club Thrifty, earns over $200,000 per year from freelance writing.
If you're interested in learning how to make a living from freelance writing, I recommend taking her eCourse. Holly will show you how to land jobs, earn more money and how to discover what clients you actually want. Click here to learn more.
13. Make money with Uber Eats
Got a bike, scooter, or a car? You can make extra money with Uber Eats! Take a few trips in the morning, evenings or just on the weekends — it's up to you.
Uber Eats allows you to choose your own schedule so you can make money when it's convenient for you. This is a great way to earn extra cash during the busy holiday season. You can learn more about making money from Uber Eats here.
14. Sell your gently used clothing
Selling your gently used items is a great way to make money online. It also plays double duty in helping you to declutter and get organized. One of my neighbors makes good money by selling her unwanted items on Facebook Marketplace. Some of my other favorite platforms to sell things include Swap.com, eBay, Craigslist, and Amazon.
15. Get paid to exercise
While many people wait until the New Year to lose weight or get in shape, there is no reason why you can't get a head start now. If you need some motivation, there are lots of creative ways to get paid to exercise and adopt a healthy lifestyle.
Some of my favorite apps that will pay you to get in fit include HealthyWage, Pact App, and AchieveMint. Many of these apps can integrate with your Fitbit too.
For more fun ideas, click here to read: 6 Creative Ideas To Make Money While Getting Fit
16. Use a personal money-saving assistant
What if I told you that you could cancel your unused subscriptions, get rid of recurring charges you don't use, and fight bank fees with just a few text messages?
Well, there is a tool for that! Trim is a free digital assistant that tracks your finances and cancels subscriptions you aren't using. When Trim identifies recurring charges, it will send a SMS text to your phone or a Facebook Message to ask if you want to cancel them.
If you reply, "Cancel ______", Trim will automatically do the cancelation for you. This free service is a great way to save money, find cashback deals, and even negotiate your internet bill. Trim has helped saved its users over $8,000,000 so it's worth giving it a try! You can learn more about Trim here.
17. Trade-in electronics, books, and DVDs
Do you still have your old smartphone from your last upgrade? You can make easy money by trading in your old gadgets, electronics, books, DVDs, CDs, video games, and more. Electronics are a popular choice for holiday gifts, so this is a great time of year to sell yours for quick money.
I like using Amazon's Trade-In Program to sell my used items for an Amazon gift card. You can also try selling your used electronics through websites such as Gazelle, which focuses on cellphones, tablets, and laptops. You never know if you're sitting on a potential pile of money for holiday shopping.
18. Get a seasonal job
There are lots of companies hiring during the holidays for seasonal help. Ideas include working at a retail store, gift wrapping, catering at parties or events, coat checker at holiday parties, working at a haunted house for Halloween, working at a warehouse, UPS or FedEX store, and more.
19. Sell your arts and crafts
If you're crafty, you can make good money by selling your arts and crafts during the holiday season. Look for opportunities to sell your products at craft fairs, retail stores, or on websites like Etsy. If you're good with photography, you can make extra money by selling stock photos. Shutterstock is a good place to sell your photos for cash.
20. Babysitting
Many people are looking for reliable babysitters during the holiday season to take care of their children while they are attending parties. If you love children, this can be a great opportunity to make extra money.
To find paid babysitting and nanny jobs, I recommend starting your search on Care.com. It's the largest and fastest growing service for finding high-quality caregivers for child care, housekeeping, and more.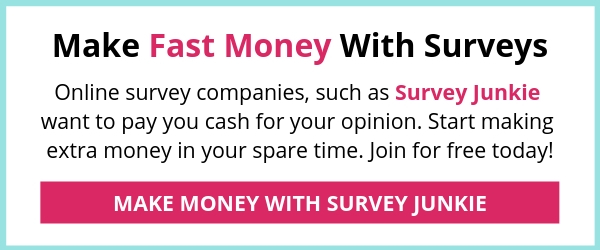 Save $1,000 in 12 weeks!
Save up to $1,000 with this fun money challenge. Get your free printable worksheet now!