Christmas is just three months away, which is the perfect time to start planning how much you'd like to budget for gifts and festivities this year. This Christmas, let's choose to have a debt-free holiday.
Millions of Americans go into major debt each year, using credit cards to purchase gifts that they can't actually afford. A recent survey also suggests that nearly 7 in 10 Americans have only $1,000 or less in their savings account. This means that about two-thirds of the country is living paycheck to paycheck and having a nice Christmas can put financial pressure on many people.
Planning ahead can help prevent going into debt this Christmas. This means you can start saving money now and be prepared to keep an eye out for sales and to shop as early as Black Friday (if possible).
In order to help get my own budget ready for this holiday season, I'm starting a 12-week money saving challenge that will help me save up to $1,000 for Christmas. Even though I rarely spend this amount, it allows me to put any extra money into my savings account for the New Year.
Related Posts: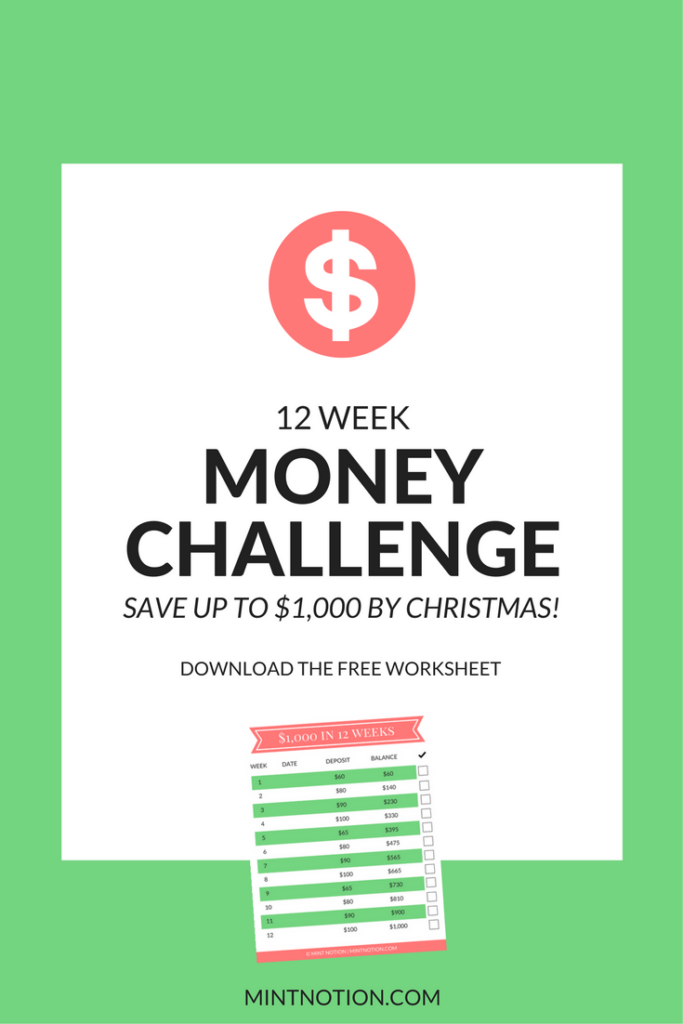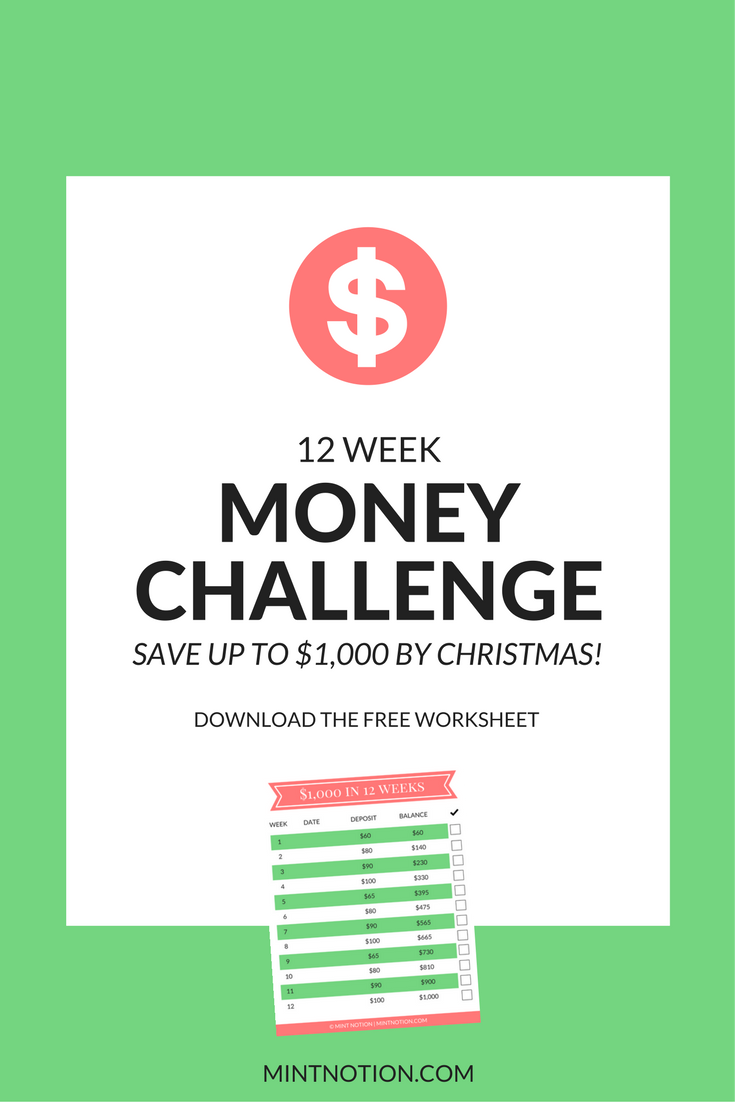 One of my favorite ways to save money when buying Christmas presents is to do all my shopping through THIS website. This site allows me to earn cashback on all my purchases. Plus, you can earn $50+ several times per year just by telling your friends about it. Click here to get a $10 bonus with you sign up — it's free!
I created two free printables to help you get started saving money for Christmas. This challenge is a great way to save $500-$1,000 in the next 12 weeks.
Depending on your current goal, you can follow the $500 money-saving challenge or the $1,000 money-saving challenge. Both worksheets are included in the download below.
This savings plan was created specifically for Christmas, however you can use it for anything you want. For example, it would be perfect to use when you're saving money for a vacation.
You can download my free printables below to get started on saving $500-$1,000 in the next 12 weeks. Click the button below to get the 12-Week Money Challenge PDF worksheets!
To give you a head start, here are some of my favorite ways to save and make extra money:
Making Extra Money
Blogging
Blogging is how I make extra money and it's a great way to earn a part-time or full-time income. Last month I made over $7,000 from blogging. It's super affordable to start a blog of your own. You can use my free step-by-step guide here to create your blog. For only $2.95 per month, you can start your own blog and get a FREE domain name when you sign up through my tutorial.
Online Surveys
There are many online survey websites that will pay you to complete surveys, play games, do online searches and more. They are free to sign up for and free to use. Survey websites I recommend include Swagbucks, American Consumer Opinion, QuickRewards, and Panel Place.
Swagbucks
Swagbucks is a simple way to earn gift cards for things you do online. There are many ways to earn points on Swagbucks including filling out surveys, playing games and watching videos. You can sign up for Swagbucks here.
Shop on Ebates
Whenever I shop online, I try to always use cashback websites like Ebates so I can earn free cashback on all my purchases. Ebates is free to use and it's a great way to earn extra money just for shopping online. You can sign up for Ebates here and get a $10 welcome bonus.
Earn cashback on your groceries
THIS app can help you get cashback on your groceries.  You can download the app or browse the available offers online. Then buy these offers at any store and upload your receipt on the app. Once your purchases have been confirmed, you will receive a credit to your account. When your account reaches $20, you will receive a check in the mail!
Become an Airbnb host
If you have a cabin, cottage or extra room in your home, consider becoming an Airbnb host to make extra money. Don't have any extra space? You can choose to become a host for your neighborhood or make money by hosting a unique experience (hiking, cooking classes, and more).
Make money walking dogs
If you're an animal lover, THIS website allows you to earn extra money by walking dogs.  This is a great way to get fit while making extra money. Click here to receive a $25 credit towards your first stay or walk!
Earn money with Freelance Writing
If you enjoy writing, I highly recommend making extra money with freelance writing. Holly from the blog, Club Thrifty, earns a 6-figure income from freelance writing. She teaches you how to do it in her course Earn More Writing.
Make money from Pinterest
Yes, you can make money from Pinterest. This is NOT a joke. You can even earn a full-time from Pinterest! Check out this post here to learn more: 5 Brilliant Ways To Make Money With Pinterest
Take on extra work
Making extra money each month can be a great way to help boost your savings and reach your financial goal. For some people, earning more money might mean working overtime or taking on extra shifts. If you have a salaried position, I recommend doing a side hustle, such as freelance gigs, or starting your own side business.
Saving Money
Ditch Cable
There are SO many great options today to replace cable TV. I highly recommend signing up for Amazon Prime. With Amazon Prime, you get instant access to watch thousands of movies and TV shows. You can also borrow Kindle books, get unlimited FREE two-day shipping, and get special savings exclusively for Prime members. Click here to try Amazon Prime 30-Day Free Trial.
Eat meals at home with the $5 Meal Plan
If you want to start making more homemade meals, but don't like the idea of meal planning, I recommend using the $5 Meal Plan. This is a weekly meal plan service that can make your meal planning super simple.
Save money with Trim
Trim is a free virtual assistant that constantly helps you to save money. It's essentially a robot that analyzes your accounts to find recurring subscriptions and determine where you can save money. Trim has saved folks more than $8,000,000 and can help you save money quickly too. Click here to start saving money with Trim!
Sell your gently used items for cash
Many of us can easily find at least $100 worth of items we don't use. You can choose to sell these items by having a garage sale, or posting these items on Craigslist, eBay, Amazon, Kijiji, or local Facebook groups.
Find affordable ways to have fun on the weekends
Ideas include visiting museums or art galleries on free days, having a potluck with friends instead of going to a restaurant, watch a movie at home instead of going to the theatres, find deals on Groupon instead of paying full price, go for a hike, etc.
Save money on your student loans
To get the best deal possible on your student loan, I recommend using LendKey. LendKey can help you save thousands of dollars by refinancing and consolidating your student loans into one manageable loan with a lower interest rate. Click here to learn more about how LendKey can help you save money.
Have a No Spending Weekend Challenge
Get into the habit of making at least 1-2 weekends each month a "no spend weekend". This means that you don't spend money on – you guessed it – anything!
Do the No New Clothing Challenge
Clothing can take a huge dent out of our monthly budget. Try to go at least one full month without buying any new clothing for yourself. You can read my experience doing the challenge here.
I hope this list has given you some helpful ideas for you to complete the 12-Week Money Challenge. Imagine having an extra $500-$1,000 by Christmas! Stay focused on your goals, create an action plan, and make it happen!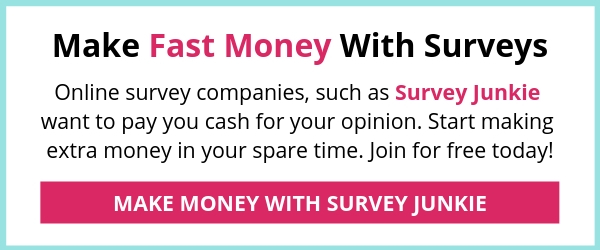 Save $1,000 in 12 weeks!
Save up to $1,000 with this fun money challenge. Get your free printable worksheet now!