A Pinterest virtual assistant helps clients increase their organic traffic to their websites and sales pages. As a beginner, you can make $25-$30 per hour offering Pinterest Management services. With more experience, you can offer rates as high as $100 per hour. This can be a great side hustle to make extra money.
Did you know that you could money money on Pinterest? Yes, that's right! As a Pinterest virtual assistant, you can make extra money by creating and sharing pins for your clients. Becoming a Pinterest VA is a legit work from home job.
With over a million blogs and online businesses in existence today, it's no surprise that Pinterest virtual assistants are in high demand. Many online business owners want to hire Pinterest virtual assistants to help them grow their reach on the platform.
If you enjoy using the Pinterest platform and are good at creating pins, then working from home as a Pinterest VA can be a great opportunity for you.
As a Pinterest virtual assistant, you'll be designing pins that will help drive traffic to your client's website or blog. This means you'll be writing pin descriptions that will help these pins rank well in Pinterest's search results. You'll become a Pinterest manager and help boost your client's growth.
One of the best parts about making money as a Pinterest virutal assistant is that you can set your own hours and work from anywhere that has an internet connection. All you need is your computer or laptop to get started.
Does becoming a Pinterest virutal assistant sound like a good fit for you?
Today I'm sharing how to become a Pinterest expert and get started as a Pinterest virtual assistant.
Related Posts: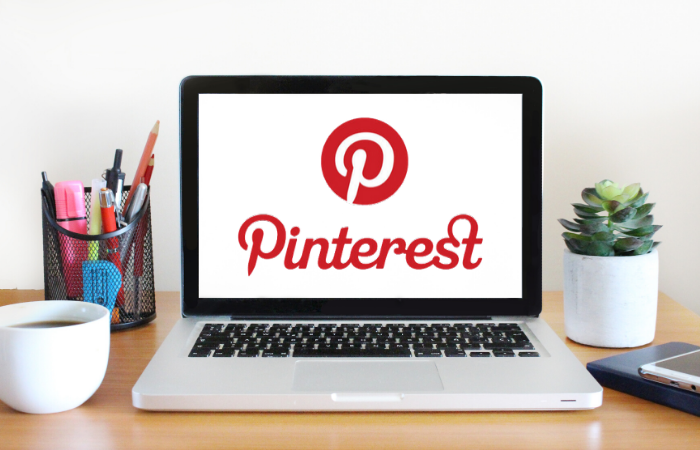 Is Pinterest virtual assistant legit?
Yes! Pinterest virutal assistants are in high demand.
I know what you're thinking though – isn't Pinterest that website you go to for a quick dinner recipe or home décor inspiration?
Well, yes. But Pinterest offers much more than just a place to find a last minute cupcake recipe.
Did you know that 93% of Pinterest users reported that they've used the website to plan for a future purchase? That's great news for businesses and bloggers who are selling good or services!
Pinterest can act as a goldmine for businesses that want to drive targeted traffic to their website or sales page. The only downside is that Pinterest can be time-consuming. And not all business owners or bloggers have the time to be active and visible on Pinterest.
…That's where you have the opportunity to play a big role as a Pinterest Virtual Assistant! There are many Pinterest virtual assistant services you can offer and virtual assistants are in high demand right now.
FREE Workshop for Beginners:
If you're interested in becoming a Pinterest virtual assistant, consider checking out this free workshop from Kristin.
After starting her own successful Pinterest VA business from home, she now helps others learn how to make money as a virtual assistant. You can sign up for free here.
How much do Pinterest virtual assistants make?
According the Kristin, the mastermind behind Become a Pinterest VA, an absolute beginner can earn around $25-$30 per hour.
For some, a Pinterest Virtual Assistant salary can be up to $100 per hour. The amount of money you make will depend on your experience, skills, education, and so on.
In 2015, Kristin was a brand new blogger and had limited tech skills. The only social media platform she seemed to understand was Pinterest. Within one month of using Pinterest, she was able to grow her website's traffic from 5,000 pageviews to 17,000 pageviews!
After sharing her Pinterest success on her blog, she was hired by two fellow bloggers to help them grow their Pinterest presence. In her first month at her Pinterest virtual assistant job, Kristin made $480 working one hour per week with each client.
Within six months, she was earning $3,600 per month on the side of her full-time job.
It wasn't long before Kristin was able to quit her 9-5 job and find success with her online business.
Imagine bringing in extra money each month as a side hustle.
Or maybe you're interested in becoming a full-time Pinterest VA?
As a Pinterest Virtual Assistant, you can make enough money to help pay off debt faster or add more freedom to your life. Plus, as you begin to gain more experience, you can quickly increase your rates.
What does a Pinterest virtual assistant do?
As a Pinterest Virtual Assistant (Pinterest VA for short), you can help build a client's reach on Pinterest and maintain their presence on the social media platform.
That's the simplest definition of being a Pinterest VA. Here's a quick breakdown of some of the tasks you'll be handling as a Pinterest VA:
1. Create awesome pins
You know how when you're scrolling on Pinterest and a pin catches your eye? Whether it's a beautiful image or a title that makes you want to click to read more – there's something special about the pin that captured your attention.
That's what creating a click-worthy pin is all about! A good pin has either:
A great image that makes you want to click through to find out more.
Or it contains intriguing text that makes you want to click through and read more.
Each pin on Pinterest leads to a website or sales page. You'll be creating pins to help drive traffic to your client's online business.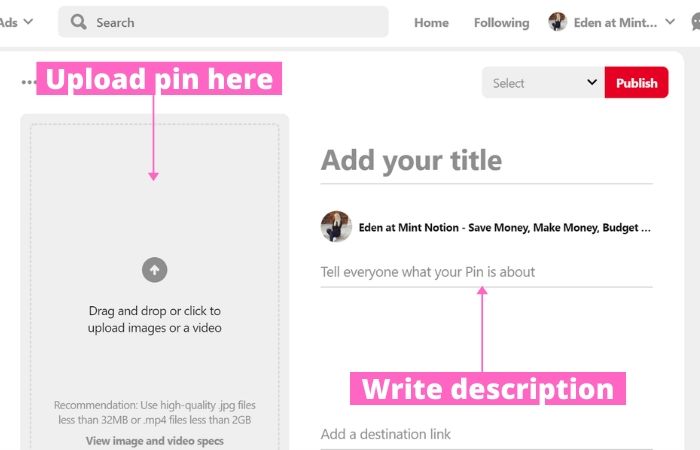 Still confused? I can appreciate if this sounds a little confusing right now. Here's another way to think about it. Let's say your client runs a travel blog and they publish one new blog post per week.
The best way to help your client get traffic to their new blog posts is to create multiple pins for each post.
This means you'll want to create at least 3 different pins for each new blog post. Then you can share these pins on your client's Pinterest account. This can help grow your client's traffic like crazy!
If the blog post is called "10 ways to visit New York City on a budget", you can create a pin using this headline. You can also create 2 more pins with different headlines, such as "How to visit NYC on a tight budget" or "10 ways to save money when visiting New York City".
Below is an example of 3 pins that have different headlines. Each pin would link to the same blog post, article or sales page.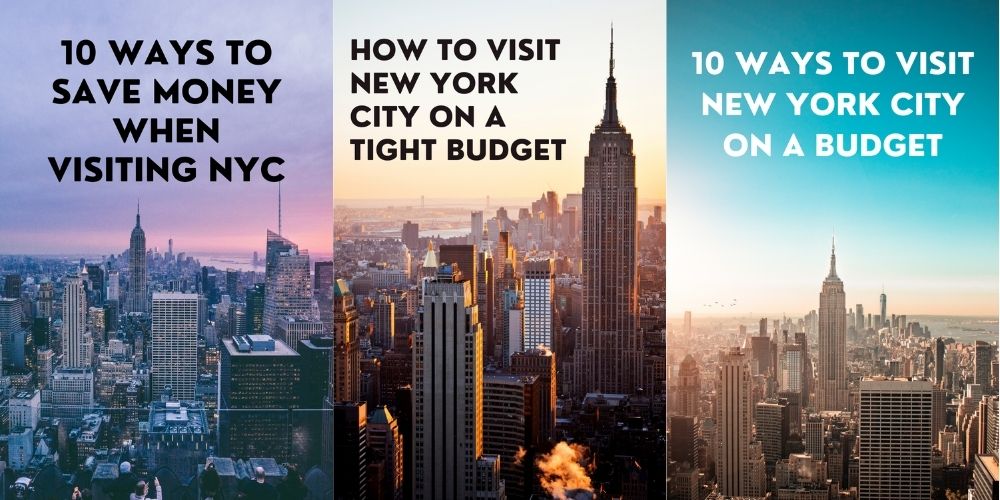 You never know which headline is going to jump out and resonate with your client's audience. This is why it's so important to create a few different pins for each blog post. You'll drive more clicks to your client's website by following this easy strategy.
2. Write pin descriptions
Did you know that Pinterest is more of a search engine than a social media platform?
As a Pinterest VA, you'll write a pin description for every pin that you share on your client's Pinterest account. This will let other users on Pinterest know what your pin is about.
It's also good to include relevant keywords in your pin's description. This will help your client's pins show up in the search results on Pinterest.
3. Use a tool to schedule pins
The great thing about Pinterest is that you don't have to be on the platform all the time pinning for your clients.
Instead you can use a handy tool, such as Tailwind to schedule your client's pins so they'll be shared to Pinterest even when you're not logged in. This means you only need to spend a few hours each week (depending on how many clients you have) scheduling pins in Tailwind.
This is known as task batching, and it's a great way to save time and become an efficient Pinterest VA.
What skills do you need to become a Pinterest manager?
The good news is that you don't need to have a background in graphic design in order to create beautiful pins to share on Pinterest. You also don't need a degree to become a virtual assistant.
You can easily learn how to make awesome pins on a free websites like Canva or PicMonkey. This is how I started creating pins for my own online business.
Here's a good way to help you create click-worthy pins:
Check to see what pins are already ranking well on Pinterest.
What images are these pins using?
What colors are being used on these pins? Warm colors? Cool colors?
What fonts are being used on these pins? One type of font? Multiple fonts?
What are the pin descriptions? What keywords are these pins using in their descriptions?
By just paying attention to these few elements, this can help you create better pins for your clients. This helped me get more traffic to my website.
What types of services can you offer as a Pinterest VA?
In addition to the responsibilities I've listed above, here are some other services you may want to offer as a Pinterest Virtual Assistant:
Pinterest strategy consultations to help your client create a winning game plan
Pinterest manager
Writing pin descriptions that would help your client's content rank well in the Pinterest search results
Creating and launching a Pinterest Business Account
Setting up a scheduling tool, such as Tailwind
Analyzing data with Pinterest analytics
Pinterest account audits
Create a promoted pin campaign for your client and track the results
If you don't feel comfortable analyzing data at this time, no problem. Start by just offering the basic services. This will help you gain more experience while you earn some money.
How much should I charge for Pinterest management?
I don't recommend charging per pin. This isn't the best method and it can lead to burn out.
Instead, focus on creating packages from all the services you plan to offer. Tip: Check from the list above to get ideas!
Once you know which packages you would like to offer to clients, figure out how much time it will take you to perform the tasks in the different packages. Then multiply that time by your hourly rate.
You'll also want to consider how much time you'll spend communicating with clients in your package.
As I mentioned above, the rate for an absolute beginner can start at $25 – $30 per hour. With more experience, the rates for a Pinterest Manager can go as high as $75 – $100 per hour.
Benefits of becoming a Pinterest Manager
Working as a Pinterest VA or Pinterest Manager can have a number of life-changing benefits. Many people are looking to become a stay-at-home mom or dad, but still want to find a way to make money for their family too. Working from home as a Pinterest VA might be the perfect opportunity for you.
Kristin started her Pinterest VA career on the side of her full-time job. She was a little leery of this new venture in the beginning, because she didn't know what to expect. But within a few months, she knew she made the right choice to become a Pinterest VA and never looked back!
If you learn how to become a Pinterest Virtual Assistant, you'll get to have:
MORE FREEDOM– Escape your 9-5 job, work with who you want, work when you want, work where you want.
MORE FINANCIAL SECURITY– You can earn enough money to stop living paycheck to paycheck, pay off debt faster, afford to travel more, save more money.
MORE FLEXIBILITY– Create your own schedule, work when it's best for you.
Do you want to start living a more financially free life? Check out this FREE workshop to kick off your Pinterest VA career.
How to become a Pinterest Virtual Assistant
One of the exciting aspects about becoming a Pinterest VA is that there's a HIGH demand for this type of service. Bloggers and business owners alike are always looking for help to increase their presence on the Pinterest platform.
Sounds good right? Here's how you can get started!
While formal training isn't necessary to get started as a Pinterest VA, brushing up on your skills can definitely help you stand out from the crowd. This can help you learn how to become a Pinterest Manager.
Before you start finding clients, it's important to build the right foundation for your success. To do this, you can:
Set your income goals – Figure out how much you need to make each month to live the way you wish (cover your needs, wants, and have money to for savings). The amount you want to make is up to you. Whether you're looking to make extra money on the side or earn enough to replace your 9-5 job.
Who is your ideal client? Don't be afraid to get specific and niche down. For example: "fitness coaches who want to to increase traffic to their personal training program and coures".
Set up your website – You can easily start a website without having any tech experience. This is a great way to showcase your services and packages for your target audience. If you're ready to get started, check out this in-depth tutorial.
When you get clear about your income goals, ideal client and which services you plan to offer, this can put yourself on the right track for success.
Is there any classes I can take to help me become an expert at Pinterest?
My friend Kristin from Pinterest VA is one of the most successful Pinterest Virtual Assistants out there. As former VA, she's complied all her knowledge into a comprehensive course: Pinterest VA.
She'll teach you how to build your Pinterest VA foundation to make sure you establish the right online presence. After you've mastered these Pinterest skills, Kristin will show you how to turn this newfound knowledge into a thriving and profitable business.
You'll walk away from this course knowing exactly how to find and pitch to clients, build effective relationships, put together Pinterest virtual assistant packages, and run a successful virtual assistant business. Sounds like high-value stuff right?
Nearly all of their course graduates have inspiring success stories. This can be the perfect opportunity for someone with Pinterest skills who's looking to start working for themselves.
Still not sure if Pinterest VA is right for you?
I can appreciate if you're not quite ready to jump headfirst into this. I mean, this course can certainly help you excel as a Pinterest VA, but perhaps you still have some questions.
For example, maybe you're thinking, "This is something I would love…but since I have no experience, how can I just become a Pinterest Virtual Assistant?"
How do you go from knowing nothing about working as a Pinterest VA to winning over clients and making money?
It's funny because that's exactly how ifelt in the beginning. She had no idea that sharing her Pinterest tips with others would lead to her success as a Pinterest VA.
Most online courses don't teach the part where you actually go out into the real world and apply what you've learn. This is what makes Kristin's Pinterest VA course so valuable – because a major part of the course is dedicated to helping you find clients and managing your own Pinterest VA business.
Kristin learned how to become a Pinterest expert. She now works for other online business and has a clear understanding of knowing exactly what businesses are looking for when hiring a VA.
That's why many of their course graduates have been so successful. When you enroll in their course, you'll gain the skills needed to succeed as a Pinterest Virtual Assistant, PLUS you'll learn how to make money from your skills and create a profitable business. Who wouldn't want that?
Pinterest virtual assistant training
Think becoming a Pinterest VA sounds like a good fit for you? I recommend checking out Kristin's FREE workshop. (Details below)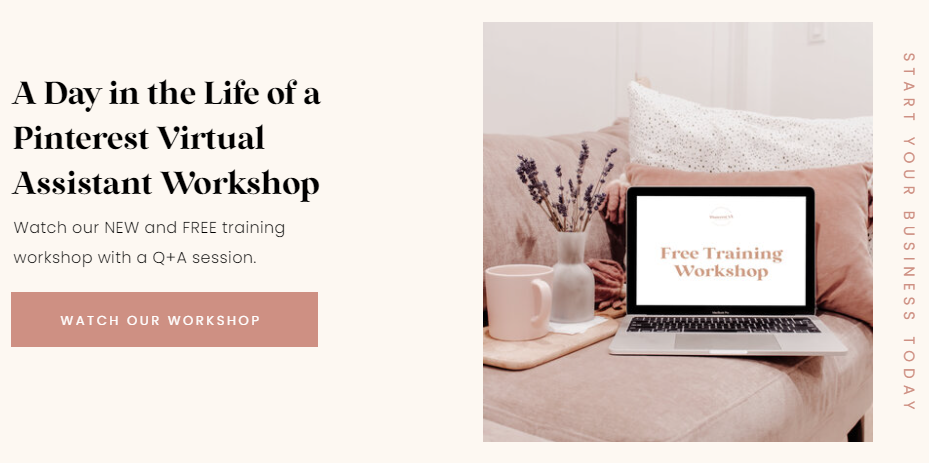 Kristin have put together a free workshop where you'll learn:
Information about themselves, so you can get to know your teacher.
Information about Pinterest VAs as a profession – including how to land new clients by pitching and networking.
How to elevate your skills to become a GREAT Pinterest Virtual Assistant.
Kristin's workshop is completely free. I recommend signing up if you're interested in learning more about how to become a Pinterest VA. You've got nothing to lose!
Pinterest VA success story
I was impressed by Erica's story, who landed her first Pinterest client in less than 30 days after starting Kristin's course. The impressive part is that she landed this client while still working full-time and parenting two young boys!
Erica found the services module in the course, Become a Pinterest VA, the most helpful. This is because she was able to master the skills she needed that would let her offer high-paying services to her clients.
Erica didn't have a background in design. She was also surprised to learn that you didn't need to be super good with technology in order to be a successful Pinterest VA. She did find the tech training in the course immensely helpful though, especially when creating pins, which she refers back to when managing her client's Pinterest accounts.
With the right training and hard work, you too can make some good money with just a few clients. Being a Pinterest VA is not for everyone, but if you already enjoy using Pinterest, why not get paid to play on the platform?
Check out some more great success stories from students of Pinterest VA: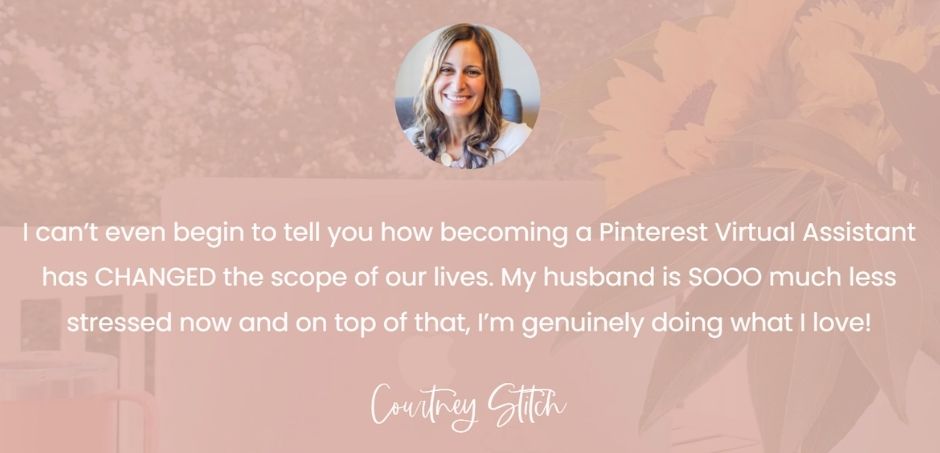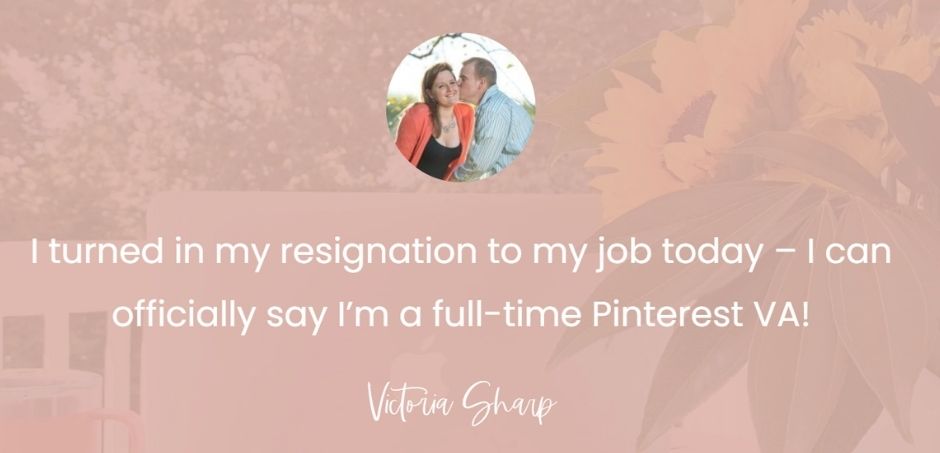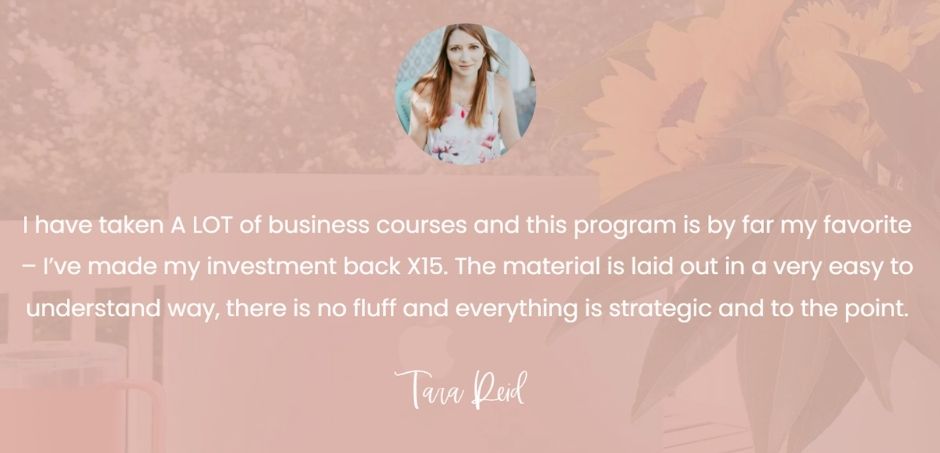 Ready to begin your Pinterest VA career? Start by accessing Kristin's FREE workshop here!