Did you know that you could make an extra $100+ per day from Pinterest? Today I'll show you how to make money on Pinterest.
This can help you pay off debt faster, save money for a downpayment on a home, or make paying the bills each month easier. Today you'll walk away from this post knowing how to make this reality possible!
If you told me a few years ago that I would be making a living from Pinterest, I would've never believed you.
Pinterest was new to me and I really didn't understand how it worked. I thought people used Pinterest to create inspiration boards or get ideas for dinner. I didn't know that each image linked back to a website or that it was even possible to make money from Pinterest.
It was only just a few years ago that I realized Pinterest was a visual search engine. So, instead of Googling recipes to make for dinner, I would search for ideas on Pinterest.
Pinterest is now my go-to website for whenever I need to search for something online. Whether I'm looking for travel tips, home décor ideas, beauty hacks, or even minimalist living tips – I can find it all on Pinterest.
Related Posts: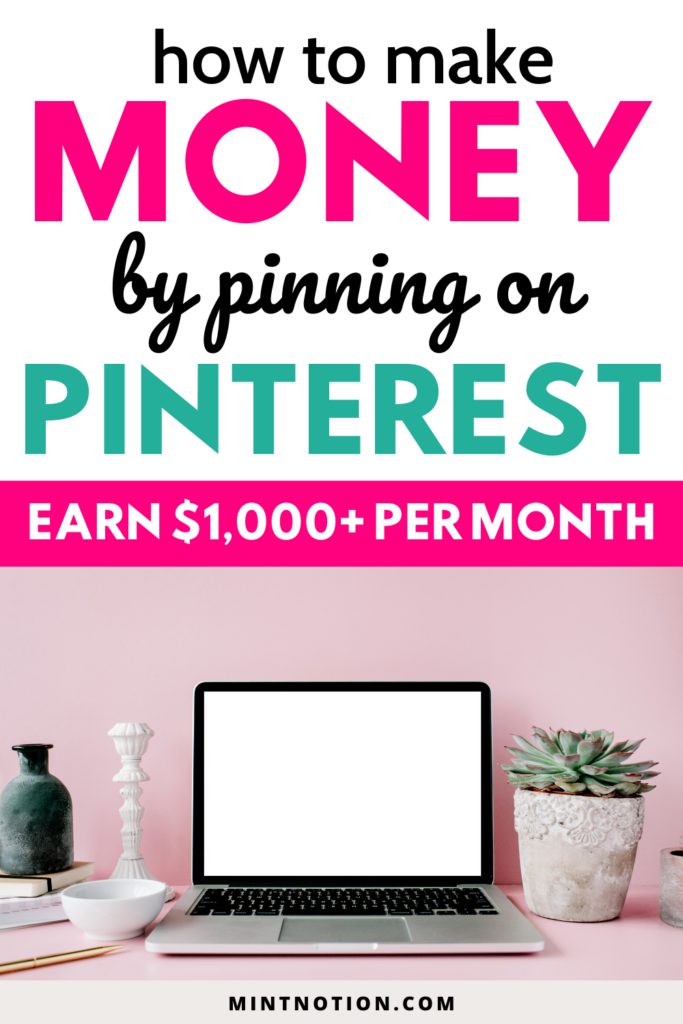 How To Make Money On Pinterest
If you're interested in making money on Pinterest, then you NEED a website.
Can you make money on Pinterest WITHOUT a blog? Yes. BUT it's very difficult.
Having a blog or website and pinning on Pinterest goes together like peanut butter and jelly. When you have a website and use Pinterest effectively, that's when the magic starts to happen!
Maybe you already have a website and use Pinterest, but you're not seeing results. I used to be in this situation a few years ago too. I signed up for a Pinterest Business account and pinned every single photo from my blog to Pinterest.
Then I sat there and waited for my content to go viral. But the truth is, nothing happened. I got zero traffic to my blog from Pinterest. My first Pinterest experience was an epic FAIL!
My horizontal photos looked awesome on my blog and received good engagement on Instagram, but they received NO engagement on Pinterest. My Pinterest account was basically a case study of what NOT to do to make money on Pinterest.
Does this sound like you too? Don't worry, there's hope my dear reader!
I gave up on using Pinterest during the first two years of my blogging journey. However, if I learned how to use Pinterest effectively from the start, I would've been able to grow my blog and increased my income A LOT faster.
Today you're going to learn how to make money on Pinterest step-by-step. Sounds good?
STEP 1: Start a website (it's easy and cheap)
Before you can start making money on Pinterest, you need to have a website. I recommend using a self-hosted website.
PRO TIP: Professional bloggers are self-hosted as this gives you the right foundation to make money on Pinterest. I recommend THIS web hosting because it only costs a few dollars per month and it's one of the top web hosting companies of 2021. Plus, they have 24/7 customer service which is great.
This is the same web hosting company I used when I first started my blog. It's the best option for beginners who want to start their own website for cheap.
Can I just start a free blog? I know you're probably thinking you can start a blog for free on Blogger, but this is a big mistake!
You do NOT want to choose a free blogging platform because they don't allow you to make money from display advertising or affiliates. These two are ESSENTIAL to making money from blogging and Pinterest.
It's nearly impossible to make money from free Blogger websites. Many advertisers don't view them as professional as self-hosted WordPress blogs. That's why I always recommend starting your blog the RIGHT way to anyone who wants to make money online.
It only costs $2.95 USD per month to start your own blog when you sign up for the Basic Plan through my tutorial. This is a special price that is only available to Mint Notion readers, plus it includes a FREE domain name.
Get access to my complete step-by-step tutorial here: How To Start A Money-Making Blog In Minutes
For my fellow Canadian friends, check out this guide: How to start a blog that makes money in Canada
STEP 2: Create content for your blog
Content is king in the blogging world. The key to creating awesome content is to write blog posts people actually want to read. This means you need to write blog posts that people are SEARCHING for on Pinterest.
For example, people are probably not searching for how your weekend went with your family. However, they might be searching for crowd-pleasing dinner recipes to serve at their next holiday party.
Do you notice the difference? People want to know how they will benefit from reading your blog post. Before a visitor will click to read one of your blog posts, they will always ask themselves — "What's in it for me?"
Not sure what content you should create? I recommend choosing a blog niche (topic) you're passionate about.
Many people pick a niche because they think it'll be easy to make money. But this is a bad idea. It almost NEVER works and you're readers will see right through you. You need to love what you write about.
PRO TIP: Your ideal blog niche will be a combination of your passion, knowledge, and profitbility.
Read Next: How to choose a profitable blog niche
For more tips on how to start a successful blog, I recommend signing up for my free 5-day blogging course. You can sign up in the form below!
STEP 3: Set up your Pinterest account
Pinterest is a visual search engine and it's a highly effective way to grow your blog. One of the reasons why I love Pinterest so much is because you don't need to have a large following to drive traffic to your blog.
It really comes down to creating Pinterest graphics that make people want to click through and read your post. Here's what you need to do to set up and optimize your Pinterest account:
1. Set up a Business account on Pinterest
It's completely free to set up a Business account on Pinterest. Having a Business account on Pinterest is super important if you want to make money because:
You cannot use a personal Pinterest account for business purposes. (I converted my Personal account into a Business account to make sure I was following the rules and regluations for Pinterest).
It also gives you access to Pinterest analytics. This will give you helpful information such as how many people are seeing your pins and which pins receive the most clicks.
A Business account also gives you access to rich pins, advertising (if you want to do promoted pins), and other income-generating features.
2. Claim your website
Claiming your business website will let you add a link to your website on your Pinterest profile (which is super important) and get access to your Pinterest anayltics.
To claim your website, you'll need to add a bit of code to your website (which is easy even for a non-techie like me).
3. Set up and apply for rich pins
Rich pins are free to apply for and they will help your content stand out on Pinterest. There are three tipes of rich pins that you can use:
Product Pins – This is great for those who sell products on their website. It shares real-time pricing, where to buy and availability.
Recipe Pins – This includes serving sizes, cooking times and ingredients.
Article Pins – This includes the headline of your article, the author and a story description.
4. Add keywords to your profile bio, board descriptions, and pins
Since Pinterest works like a search engine, it's important to optimize your profile with keywords. This will make it easy for people to find your content when searching on Pinterest.
I recommend creating at least five boards for your profile. Ideally, these boards should all be related to your blog niche. For example, I blog about saving money, making money, budget travel tips and intentional living. My Pinterest boards reflect these topics.

5. Pin, Pin, Pin!
If you want to learn how to pin on Pinterest for money, it's important to pin on a consistent basis. Below are several tips for pinning and making money on Pinterest:
Create new pins for each blog post or product: I recommend pinning at least 5 unique pins for each blog post. This might seem like a lot, but it's very manageable.
Create click-worthy and eye-catching pins: Use a free tool such as Canva.com to create your graphics. They offer free Pinterest graphics, which makes it easy to for beginners to create professional looking pins.
Save time by using pre-made Pin templates: If you're brand new to pin design, struggle to make eye-catching pins, or simply don't have much time available, using pre-made Pin templates is a total GAME CHANGER!
I'm a big fan of Kristin's pin designs. She has 6+ years of experience designing beautiful, eye-catching pins. Her easy-to-use templates are designed to help you quickly grow your Pinterest reach. If you're interested, you can grab all 120+ pin designs here.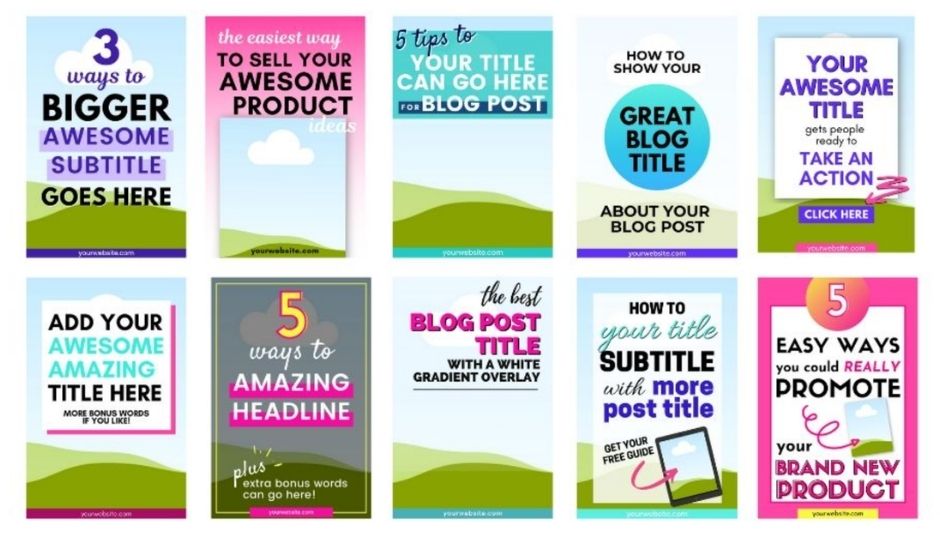 Use Tailwind to schedule your pins: To save time, I recommend using a scheduling tool such as Tailwind. I prefer to pin manually, but I know many people who swear by using Tailwind. You can sign up for a 30-day trial with Tailwind here.
Use keywords that people are searching for in your Pinterest descriptions: Pinterest is like a search engine, so it's important to use keywords that people are ACTUALLY searching for in your pin descriptions.
To do this, start typing into the Pinterest search bar to find keywords related to your niche. For example, if you type in "How to bake", Pinterest will show you what people are currently searching for on the platform.

Use Pinterest trends to find popular content: Open Pinterest Trends and select which country you want to see data from.
This can help you see what's currently trending on Pinterest, which can help you create ideas for pins or your blog if it's relevant to your niche.

Search for popular pins on Pinterest: To get inspiration, search for ideas on Pinterest to see which pins capture your attention. You can take elements from these pins to help you create graphics on Canva. Just make sure that you don't copy anyone's style. That's a big no-no!

---
So now that you have your own website and your Pinterest account set up to drive traffic to your blog, let's get to the nitty-gritty of how to actually make money.
Here are five ways that you can make extra money or even earn a full-time living from Pinterest!
How to make money on Pinterest with adsense
Since Pinterest is a great way to drive traffic to your blog, you can make money with display advertising.
Display advertising is a popular way to earn an income from blogging. It works well when your website receives a lot of traffic. You can expect to make around $7-10+ per 1,000 page views.
This means if your blog receives 100,000 monthly page views, you can earn $700-$1,000+ per month from display advertising. How can an extra $1,000 each month help you?
Keep in mind that rates will vary based on how many ads you have on your website and which advertising company you work with. For new bloggers, a popular choice is Google Adsense.
Once your blog reaches 100,000 monthly page views (which is possible when using Pinterest effectively), I recommend going with AdThrive. This is the display advertising company I use for my website.
Below is a screenshot that shows how much money I made from display advertising in one month from my blog.

How to make money on Pinterest with affiliate marketing
There are a couple of ways you can make money from affiliate links on Pinterest:
Step 1: Create an awesome blog post that has at least one affiliate link in it. Then pin an eye-catching graphic to your Pinterest boards that leads to your affiliate blog post.
Example: You can pin a blog post about how to save money on travel which includes affiliate links in the post.
PRO TIP: I like using Canva.com to create all my pins. It's free to use and they even have a Pinterest template to help you get started.
Step 2: Create an eye-catching graphic that leads directly to your affiliate link. This means instead of entering your blog post in the pin's URL, you'll enter your affiliate or referral link.
Keep in mind that you must ALWAYS disclose your affiliate link in the pin's description. You can do this by saying "affiliate" or "affiliate link" in the Pin description.
Example: You can pin an affiliate link that takes visitors directly to an eBook or product's sales page.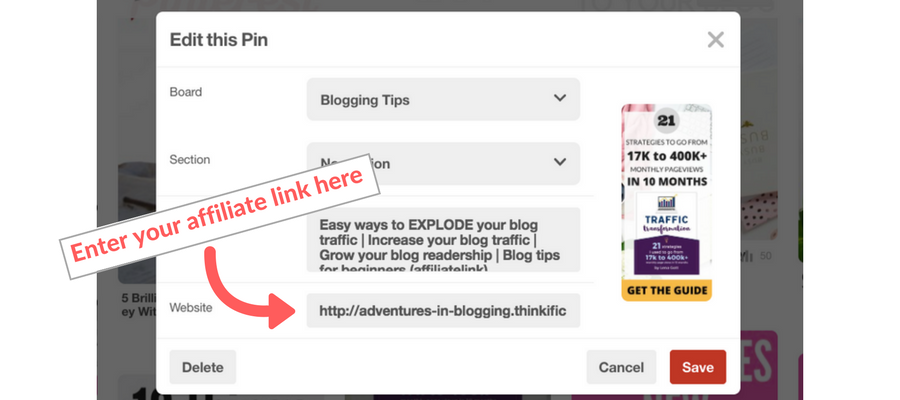 From my personal experience, I've had the BEST results from pins that lead to my blog posts (instead of directly to my referral links).
However, I know someone people who have had a lot of success by pinning direct affiliate links. I recommend experimenting with both options to see which one works best for you.
Below is a screenshot of how much money I made from one affiliate sale. I made this money while I was sleeping. Affiliate marketing can almost be like passive income.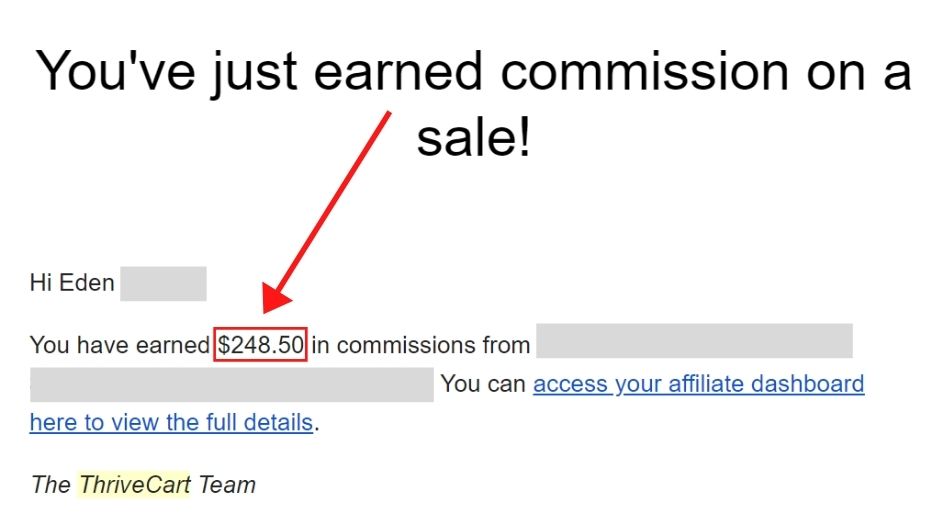 To learn more about how to make money from affiliates, I recommend signing up for THIS e-course. The course creator makes $100,000 per month from her blog, so I knew that I would be learning from the best.
She even made more than $300,000 from ONE blog post. She shares her exact strategies so YOU can do it too. Thanks to the teachings in her course, I have been able to turn my blog into a full-time job!
Check out this free 36-page book from my friend Michelle, the mastermind behind Making Sense of Affiliate Marketing. This ebook will teach you all about how affiliate marketing works, as well as give you 26 affiliate marketing tips so that you can get started.
Read Next: Best affiliate maketing programs for new bloggers
Make money by offering Pinterest Virtual Assistant services
You don't have to be an expert to make money as a virtual assistant.With over a million blogs and online businesses, it's no surprise that Pinterest virtual assistants are in high demand. This can be a great way to earn money from home.
What does a Pinterest Virtual Assistant do?
As a Pinterest Virtual Assistant, you can help build a client's reach on Pinterest and maintain their presence on the social media platform. This means you'll create pins to share on your client's Pinterest account to help drive traffic to their website or sales page.
How much money can you make as a Pinterest VA?
According Kristin, the mastermind behind Become a Pinterest VA, an absolute beginner can earn around $15-$20 per hour.
Some Pinterest VAs can earn up to $100 per hour. The amount of money you make will depend on your experience, skills, education, and so on.
How to get started: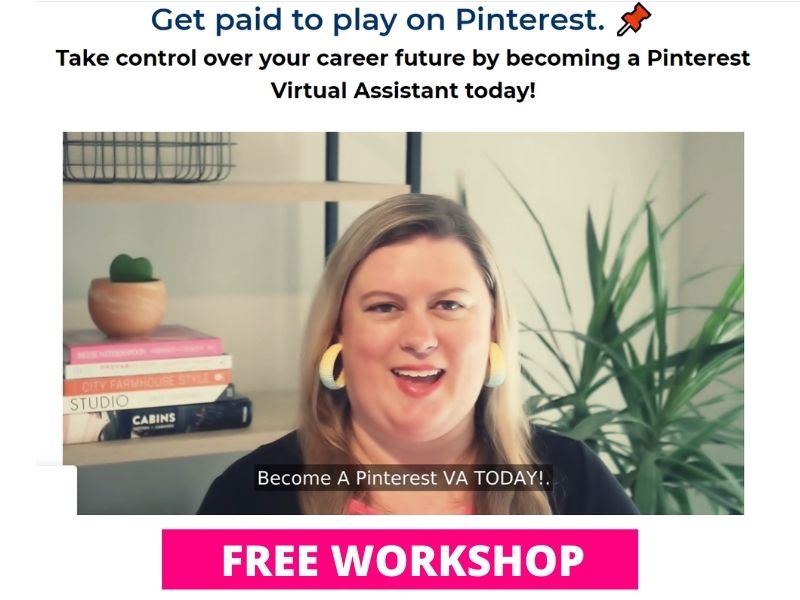 If you think that becoming a Pinterest virtual assistant sounds like a good fit for you, I recommend signing up for Kristin's free workshop.
Her workshop is completely free to join and it'll provide you with detailed information on how to elevate your skills to become a successful Pinterest VA.
Read Next: How to become a Pinterest VA today
Make money by selling your own products on Pinterest
Pinterest is a smart way to make money by selling your own products or services. You can create a pin that links to your "Hire Me" page on your website or links to the sales page for your product.
You can sell digital products (eBooks, eCourses, printables), physical products (clothing, home décor, books), or services (consulting, online coaching, virtual assistant).
I have pins that lead directly to digital products on my Shopify store. You can get a free 14-day trial of Shopify here.
You can even sell other people's products on Pinterest by creating a pin that links to your affiliate link.
Make money by offering Pinterest consulting services
If you're good at using Pinterest, you can make money by offering consulting services to other people or companies. You can even earn a full-time living through Pinterest consulting.
These services include providing an in-depth review of your client's Pinterest profile, website, and analytics. You'll then put together a list of suggested recommendations to help your client achieve their goal. Pinterest consulting is becoming more popular and can be a great way to monetize your social media skills.
Having your own self-hosted website and Pinterest account is essential to helping others to find out about your services and see your work in action.
You can share testimonials on your website from previous clients and showcase your knowledge too. Having your own website also helps to legitimize your consulting services because it looks more professional.
As you can see, there are many ways you can make money or even earn a full-time living on Pinterest. There has never been a better time to get started in turning your Pinterest profile into a money-making machine! What are you waiting for?
---
Make money on Pinterest FAQs
How do I monetize on Pinterest?
There are many ways to monetize on Pinterest, as already mentioned in this post. The most popular ways to monetize include:
Create pins for lead magnets or sales pages on your site.
Creat pins to drive traffic to your affiliate offers.
Find sponsorships in your niche.
Set up Product Rich Pins to connect to product pages on your website.
Work as a virtual assistant to help build a client's reach on Pinterest.
Can you get paid from Pinterest?
Pinterest won't pay you directly for using the platform or sharing pins. Instead, you'll share content on Pinterest that leads directly to your blog, website or sales page.
When a visitor clicks-through a pin you've shared on Pinterest, they will be directed to your blog, website or sales page. Then you can make money if you have display advertising on your site or they purchase a product through an affiliate link or sales page.
If you don't have a blog, website or sales page — you can make money on Pinterest by helping online business owners manage their Pinterest account. This is known as a Pinterest virtual assistant.
Does a Pinterest account cost money?
No. Pinterest is free to use. Whether you choose to set up a personal account or a business account, both are free to use. It doesn't cost you any money to sign up or use the features that are included with a business account, such as analytics.
How many followers do you need on Pinterest to make money?
The good news is that you don't need a lot of followers on Pinterest to make money. Some people on Pinterest have a million followers or more, but you don't need many followers to start making money.
If you share pins on Pinterest that generate a lot of clicks to your blog, site or online shop, this can help you make money.
How to make money on Pinterest without a blog
If you don't have a blog, you can still make money on Pinterest with affiliate marketing. Check out the simple steps below to make money on Pinterest without a blog:
Sign up to be an affiliate for your favorite product or service.
Create click-worthy Pinterest graphics using a free tool like Canva.
Share your graphics on Pinterest and enter your unique affiliate link in the pin URL.
Other ways you can make money on Pinterest without a blog is to link to your online store or become a Pinterest Virtual Assistant.
What are some other online platforms to make money?
WordPress – You can start a WordPress blog and make money through display ads, affiliate marketing, or sponsored posts.
Amazon – Amazon's FBA program allows you to resell products through the platform. Check out how Jessica makes over $5,000 a month from Amazon.
Shopify – This is a one-stop shop to create your online store and sell products or through drop shipping.
YouTube – If you enjoy making videos, YouTube can be a great platform to share your content online. You can make money from display ads on your videos, sharing affiliate links, or selling your own products.