As a popular honeymoon destination, visiting Quebec City on a budget may seem impossible at first glance. While many of its hotels and restaurants are some of the most expensive in the province, there are a variety of affordable ways to visit this picturesque city.
I've rounded up the best tips to enjoy a beautiful vacation to Québec City while saving money. Here is the ultimate guide to visiting Québec City on a budget!
Related Posts:
Arriving to Québec City on a budget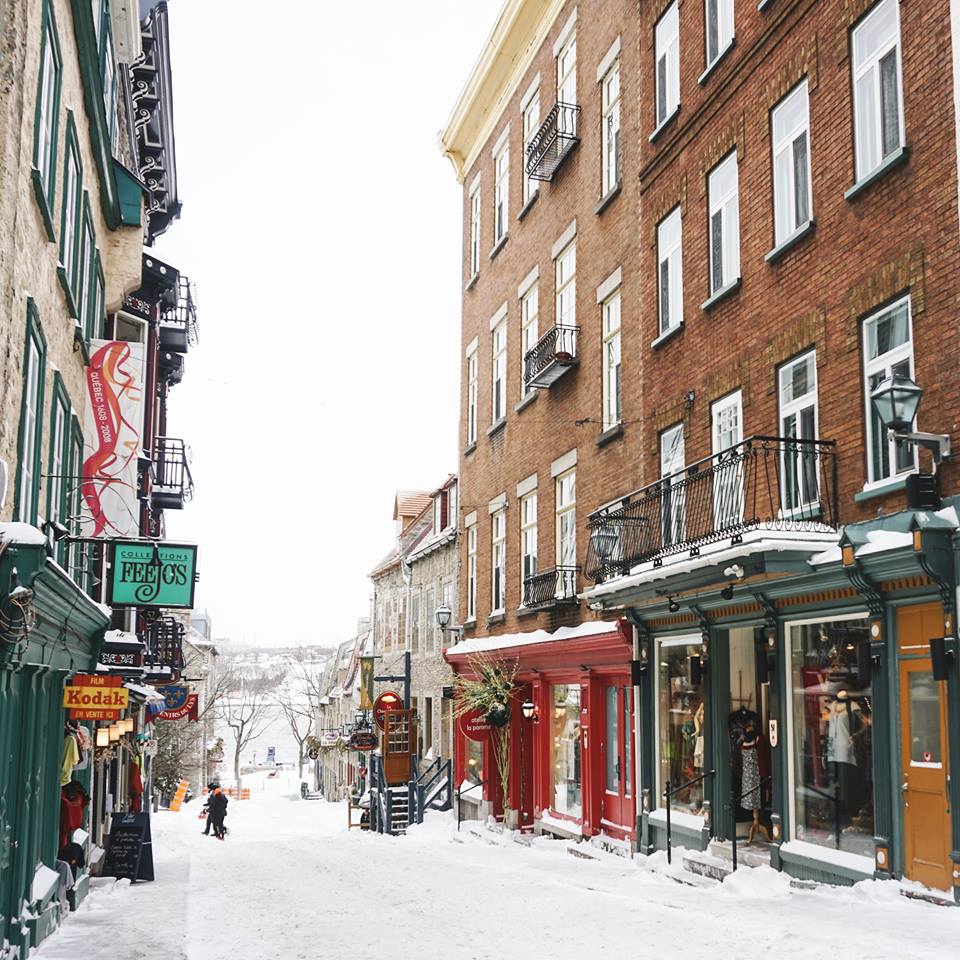 1. Check for discounts on VIA Rail
Traveling by train is one of the best ways to see Canada up close. Keep an eye out for advanced purchase tickets for the best deals.
2. Get a deal on flights to Québec City
Compare prices on Skyscanner to find the cheapest flight to YQB. Sign up for email alerts to know when the best price is available.
Related: 23 secrets to booking cheap flights
3. Fly into YUL and either drive or take the train to Québec City
Flying into Montreal is often more affordable than flying into Québec City. The cost of flying into Montreal and taking a train to Québec City might be cheaper than flying direct to Québec City.
I highly recommend spending a few days exploring Montreal (if you haven't already been), then driving to Québec City, which is approximately 2 ½ to 3 hours away.
Read Next: 2 day Montreal itinerary for first-timers
4. Drive to Québec City
Depending on where you live, driving to Québec City might be the cheapest option. Whether you rent a car, or take your own, driving to Québec City is beneficial since there are lots of fun day trips to do in the area too.
I like using Rentalcars.com to compare prices. You can compare 800 companies at over 49,000 locations to find the best price.
Accommodations in Québec City on a budget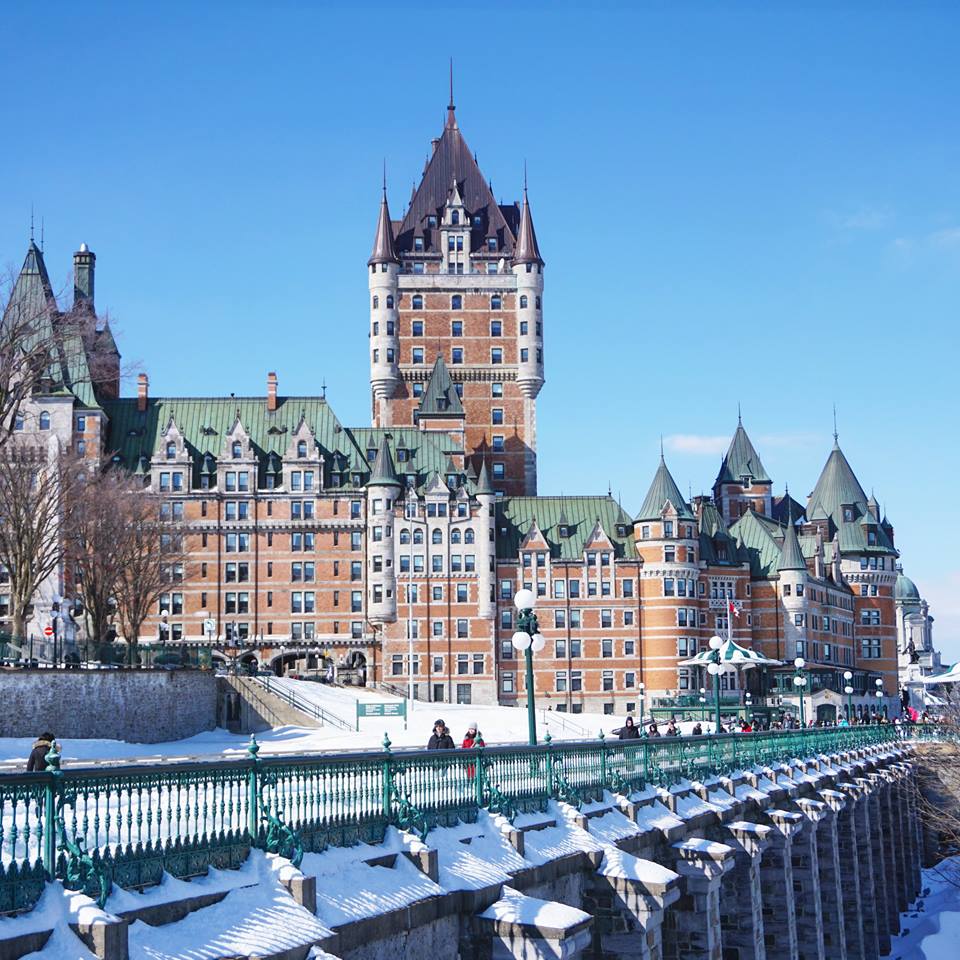 1. Check for seasonal promotions
Sometimes hotels offer seasonal promotions, such as save 20% off the regular rate. Check directly on the hotel's website for special discounts and packages.
2. Book your hotel through Hotwire
I'm a big fan of using websites like Hotwire to book luxury hotels at an affordable price. I booked the Hilton for only $82 per night through Hotwire. This was a great deal and the hotel was conveniently located.
3. Check for deals on third party websites like Travelzoo
Sometimes you can find great accommodation deals on websites like Travelzoo. These promotions may also include a free breakfast or restaurant dining cards too.
4. Book a vacation home through Airbnb
Choosing a vacation rental on Airbnb is usually comparable and often cheaper than staying in a hotel. Many homes include access to a full kitchen, which can save money by not eating out. Also, splitting the cost with a group is usually cheaper than staying in a hotel.
You can click here to get a free coupon for your next Airbnb stay.
Getting around Québec City on a budget

1. Travel on foot
Fortunately Old Québec City is fairly compact, which makes it easy to travel on foot. I recommend wearing a comfortable pair of walking shoes though, as this city is quite hilly.
To enjoy a more in-depth look of Quebec City, you may want to consider taking a walking tour. Here you can enjoy a fun 2.5 hour walking tour of Quebec City and visit sights such as Old Port, Chateau Frontenac, Place Royale and more. This can be a great way to learn about Quebec's history from a knowledge local guide. You can click here to learn more.
2. Catch a ride on the Hop On Hop Off Bus Tour
Be adventurous and take a ride on Quebec City's popular Hop On Hop Off bus tour. Capture beautiful views from the open-top, double-decker bus while learning about the sight's in this historic city.
The bus tour includes 12 stops including the Citadel of Quebec and Notre-Dame-des-Victoires church. You can click here to learn more.
3. Take the Québec – Levis ferry
Enjoy beautiful views of the city skyline for under $4.00 per person.
Want to see more of Quebec's beautiful skyline? Consider taking a Discovery Cruise of Quebec City. Here you can enjoy a beautiful view of Quebec City, the pastoral charm of Ile d'Orleans, and even see Montmorency Falls (the highest waterfall in Quebec). You can click here to learn more.
4. Cycle around Québec City
The city has a number of cycling routes that offer some beautiful scenery. If your budget allows, you may want to consider taking a local bike tour.
This is a fun way to explore the Lower Town of Quebec City and learn more about its historic sights from a local tour guide. You can click here to learn more.
5. Take public transportation
Riding the local buses can be a great way to explore the city and surrounding areas. I recommend getting to know the routes before your trip.
Eating in Québec City on a budget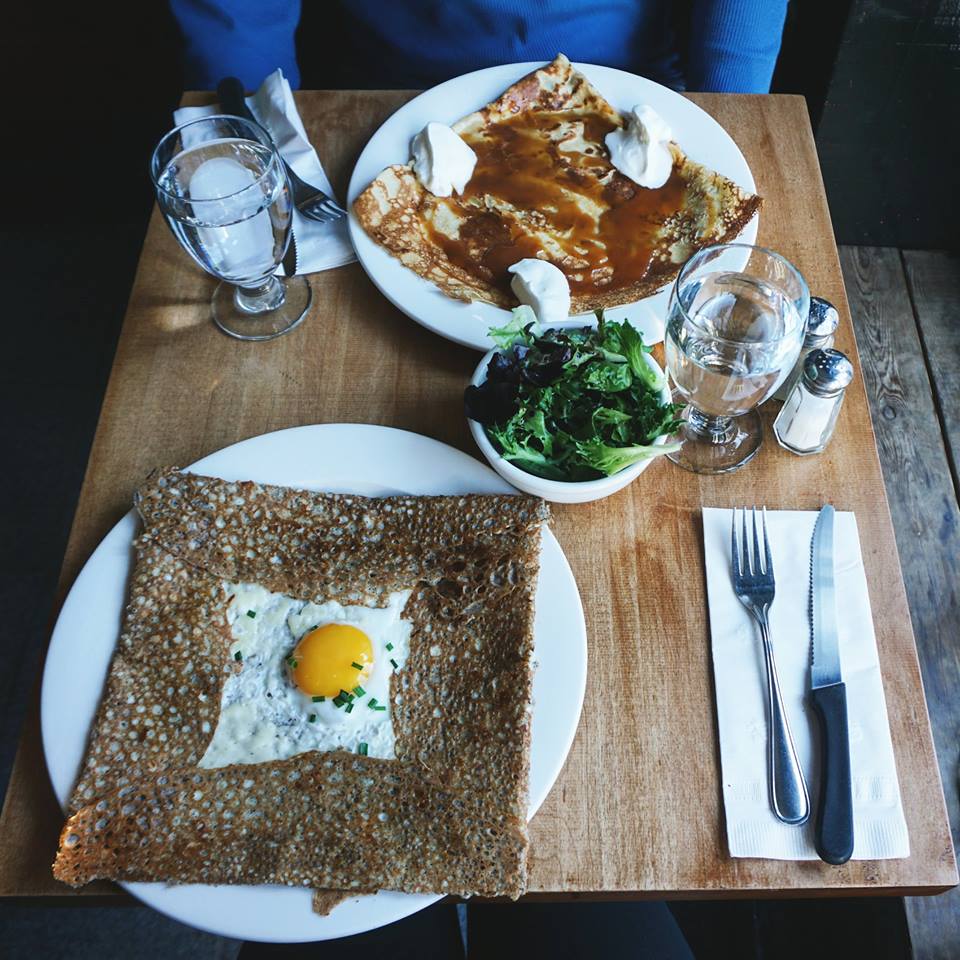 1. Choose table d'hôte at lunch time
While many of the better restaurants in the Québec City can get a bit pricey, a smarter option is to choose a table d'hôte at lunch time. This will give you exactly the same food at a more affordable price.
If your budget has some wiggle room, you may want to consider taking a food tour of Quebec City. This small-group food tour includes tastings from seven different venues. Here you'll get to try approximately 15 tastings of traditional Quebec delicacies and specialities. Plus, it's a great way to explore the beautiful districts of Old Quebec City. You can click here to learn more.
2. Have a picnic
Québec City has many wonderful spots to have a picnic, but the most popular is at the Plains of Abraham. Pick up some freshly baked bread, cheeses and a bottle of wine to complete your summer picnic. Don't forget to pack a wine opener.
3. Try Poutine
You can't visit Québec City without trying poutine – eat what the locals eat! This dish is a delicious combination of crispy French fries, brown gravy and cheese curds. You can also top it with extras for a filling meal.
Read Next: Where to eat and drink in Quebec City
4. Check reviews before you go
While many of the restaurants in Old Québec City look charming and inviting – be choosy about where you spend your money. Most places are fine for a drink, but the food might be disappointing. I always recommend checking reviews on TripAdvisor, Yelp or Google before you go.
Sightseeing in Quebec City on a budget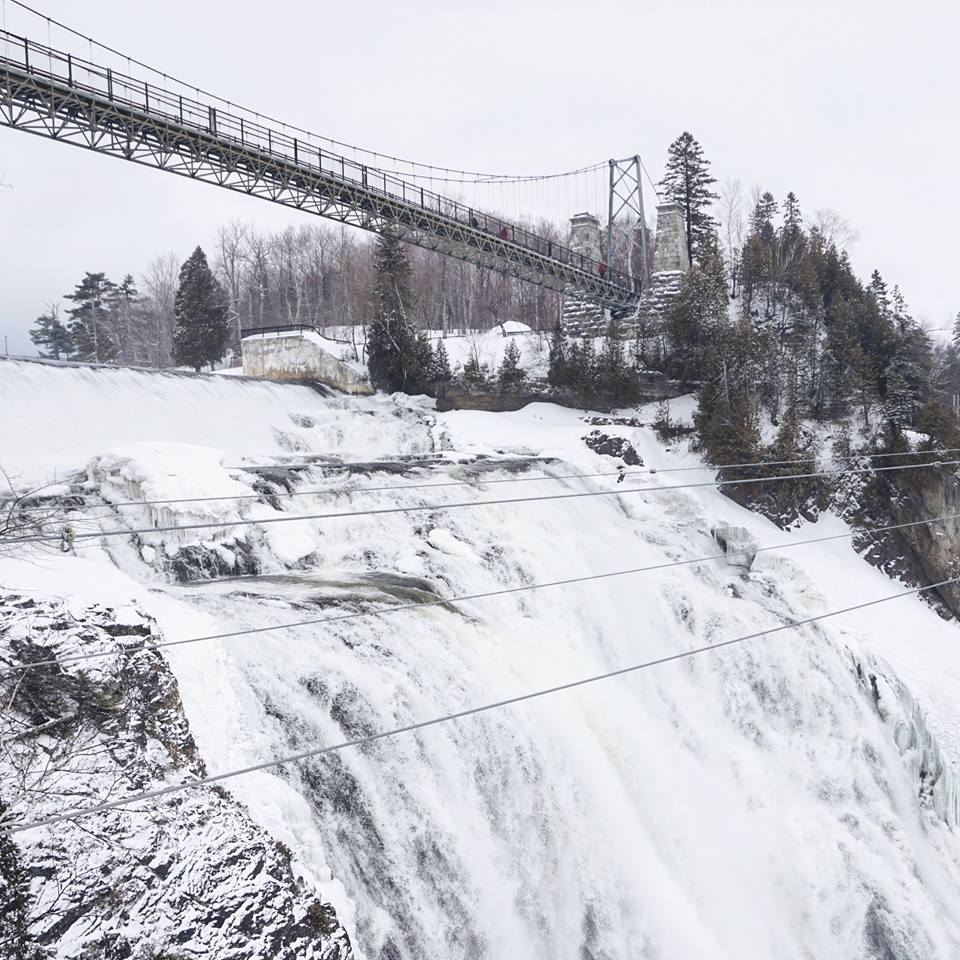 1. Take advantage of Québec City's discount coupons
Enjoy discounts on activities and restaurants to help you save money in Québec City. Select your offers and they will be sent to you via email.
2. Save your parking ticket from Montmorency Falls
If you're visiting Québec City, don't miss a chance to admire the beauty of Montmorency Falls – just a short drive from the city.
There are two parking lots at Montmorency Falls, one to get a view from the top and one to get a view from the bottom of the falls. You only need to pay for parking once – just make sure to keep your parking ticket so you can show the attendant.
If you didn't arrive in Québec City by car, that's no problem. Hop on the 800 towards Beauport (Est) which will take you to the falls.
Related: 10 romantic things to do in Quebec City
3. Ride the Québec —Levis ferry
As I mentioned already, this is an affordable way to ride along the St. Lawrence River while enjoying the view of Québec City from the water.
4. Explore Battlefields Park
Also known as the Plains of Abraham, this park is a great free attraction that is worth checking out. In 1759, the British and French fought here for control of the region.
Shopping in Québec City on a budget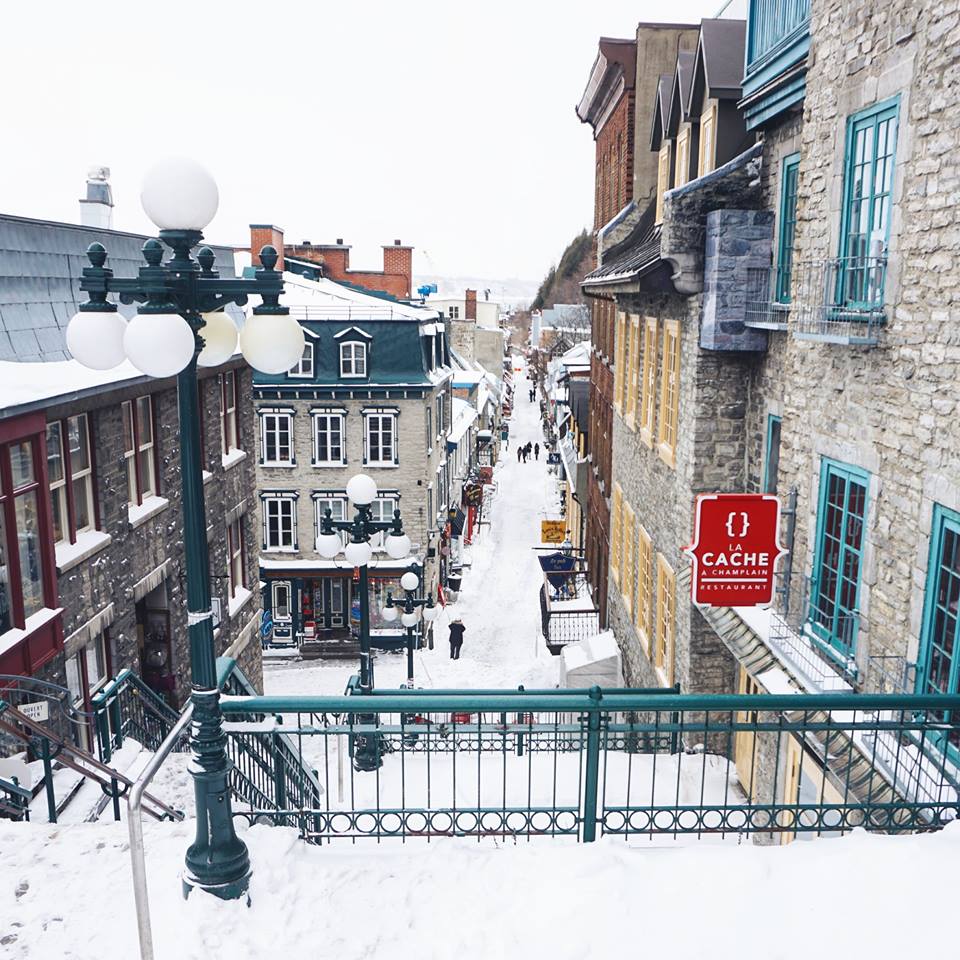 1. Browse unique shops in the Petit Champlain District
Visit North America's oldest shopping district and browse through its colorful art shops and unique boutiques.
2. Take a stroll down Rue Saint-Jean
Outside the fortifications, you'll find artisanal boutiques and specialty food shops. Don't forget to check out J.A. Moisan, which is North America's oldest grocery stores, founded in 1871.
3. Explore Avenue Cartier
In the heart of the Montcalm district, you'll find a collection of fashionable boutiques and gourmet food shops. This less-touristy area is worth a visit.
4. Step off-the-beaten-path on Avenue Maguire
Just a few minutes from Old Québec, Avenue Maguire has a variety of trendy restaurants, boutiques and cafes. During the summer, visitors can take a free shuttle from the promenade Samuel-De Champlain to the Maguire Avenue (website in French only).
My must-have Quebec City accessories:
Click the product to shop