Yes, it's possible to have great experiences, enjoy luxury items, and live rich on a small budget. Being smart with the resources you have can help you live richer without overspending.
Of course it comes down to your financial goals and priorities, but there are many ways to stretch your dollar and live the lifestyle you want on any budget. Want to find out how? Then keep reading, my friend!
Related Post: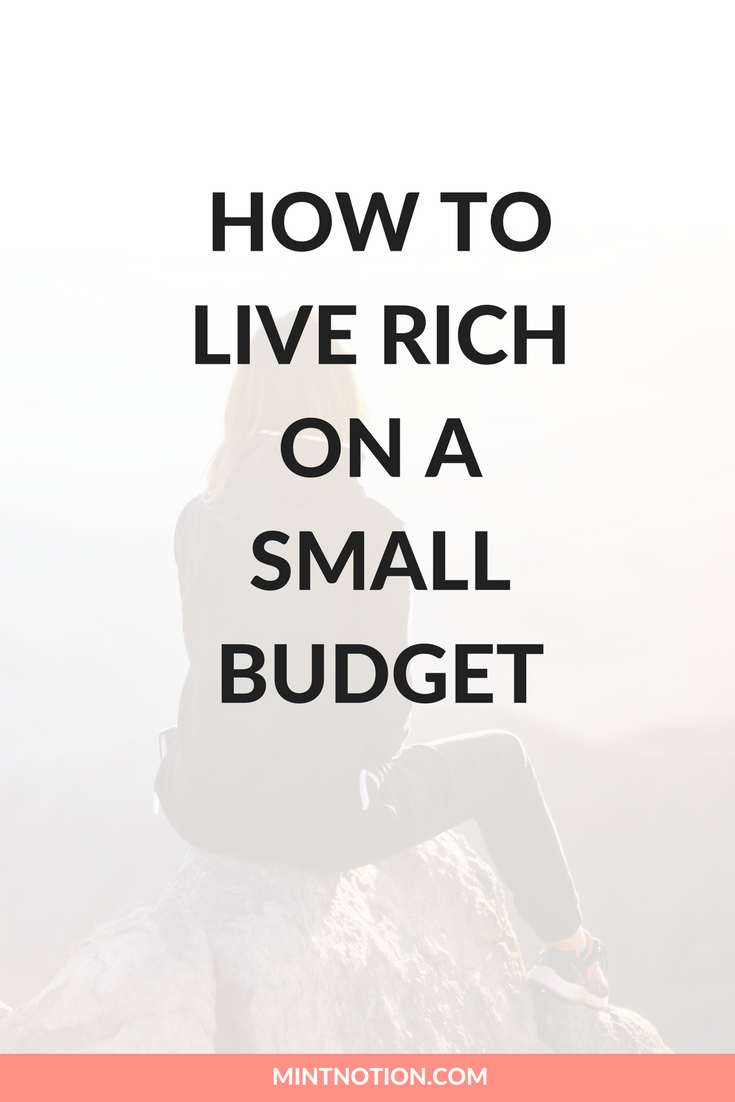 Budget & Expenses
Create a budget that works for you and stick to it
The first step in being able to live rich on a small budget is creating a financial game plan that works for you – and sticking to it!
Having a budget means telling your money where to go in accordance with your short and long-term financial goals. Money is simply a tool that can help you achieve your goal. In order for you to reach financial independence, it's important to start making your money work for you.
How can you do this? In order to break free from our bad financial habits and develop a healthy relationship with money, we need to do three things:
Create a budget (You can use my free budget binder here)
Get out of debt
Save and invest money
Save thousands on your student loans with LendKey
It's absolutely crucial to have a good repayment plan in place for your student loans. Letting your debt linger can hinder your financial success for years to come in the form of more interest payments and lower credit scores.
To get the best deal possible on your student loans, I recommend using LendKey. LendKey can help you save thousands of dollars by refinancing and consolidating your student loans into one manageable loan with a lower interest rate. Here are some of benefits of using LendKey:
A quick 2-minute rate check with NO impact on your credit score
You can reduce monthly payments up to 40% and save an average of $10,000
Over 275 not-for-profit and community lenders to choose from mean higher chances for approval and LOWER rates
How LendKey Works?
There are 5-easy steps to get started with LendKey. Each step only takes a couple minutes to complete, then you'll be on your way to saving a TON of money on your student loans.
Get Your Rate
LendKey will ask you to fill out a quick online form to see personal rates. This will only take a couple minutes to complete. Then LendKey will use a soft-pull of your credit to show you real rates. This WON'T impact your credit score.
Pick Your Loan
LendKey will show you the best rates from over 300+ community leaders. Then with just a simple click, you can select the right loan for you and your budget.
Upload Your Docs
You can easily upload files from your computer or photos from your phone for verification.
E-Sign & Click
You'll receive an email from LendKey letting you know that your documents have been verified. Then you just need to e-sign your loan agreement with DocuSign.
Loans Paid Off
LendKey will get to work paying off your existing loans immediately so you don't have to. Click here to learn more about how to get started with LendKey.
Move (if necessary) to a more affordable home
The cost of living – especially housing – can vary from city to city and even among countries. This means your current salary has the potential to take you further in another city. For example, if someone lives in New York City and makes $50,000 per year, they can have the same standard of living in St. Louis, Missouri for only $20,000 per year.
Of course you'll want to do your own research before you move to a new city, to see if the cost of living is really cheaper than your current location. However, if you're willing to relocate or find a new job in a different city (or country), your salary can potentially take you a lot further.
Buy a pre-owned vehicle instead of brand new 
Would you be interested in making an investment that was guaranteed to lose money every year? Of course not! But that's what a car is.
According to NerdWallet, a new car loses around 30% of its value by the end of the first year. This means if you buy a new car for $30,000 and sell it three years later for $15,000, the car has cost you $15,000 in depreciation.
However, if you bought the same car for $15,000 (when it was three years old), you can sell it three years later for $10,000. This means the used car depreciation only costs you $5,000.
Yes, driving a new car sounds way more appealing than driving a used car, and if it's worth an extra $10,000 to you, then go for it. Keep in mind though, buying a pre-owned vehicle is much more affordable and can allow you to live rich on a small budget.
Focus on quality over quantity
Being frugal isn't about pinching pennies to save money — it's really about spending your money wisely. This means that something might be cheap now, but actually costs you more money in the long run.
So whether you're choosing what clothing to wear or which groceries to buy, it's important to focus on selecting quality over quantity. This can help you live rich on a small budget.
Just a few years ago, I used to shop every weekend. Since making the choice to transition to a more minimalist lifestyle, I now shop less often. This gives me the opportunity to focus on spending more time with my family and saving money for quality purchases and experiences.
Cook more meals at home instead of grabbing takeout
There is no doubt that grabbing takeout is convenient for those busy work and school nights, however it's not cost-effective or healthy.
If you're wondering how to eat healthy on a tight budget, a good place to start is with meal planning. This means planning your meals before heading to the grocery store so you'll only purchase what you need. This is a great way to eat a nutritious meal while saving money and reducing food waste.
Of course meal planning only works if you commit. This means you don't want to toss out your packed lunch in favor for a burger and fries across the street from your office building. It's not worth wasting the money and time that went into preparing your lunch.
If you're new to meal planning, I recommend trying the $5 Meal Plan. Many of my readers have told me great things about how this service makes planning meals each week simple and easy.
For just $5 per month, you will receive a delicious meal plan, where every meal will cost about $2 per person (or less).  It's a great way to save time and money, plus they offer specialty plans, including gluten-free and vegetarian meals. Click here to try it free for 14 days.
If you are short on time and prefer someone else to do your grocery shopping AND meal planning, then I recommend trying Hello Fresh. I've personally tried Hello Fresh before and enjoyed my experience with them. They are perfect for those busy school or work nights.
With Hello Fresh, you'll get weekly easy-to-follow recipes and fresh ingredients delivered right to your doorstep. In less than 30 minutes, you can cook delicious, quick, and healthy meals at home! Click here to get $30 off your first Hello Fresh box!
Splurge on a nice lunch instead of dinner 
If you enjoy eating a nice meal out, opt for lunch instead of dinner. Lunch prices are usually less expensive or you can visit during special times such as happy hour (sometimes it's half the cost of the dinner menu). This means you can enjoy a delicious meal that won't break the bank.
 Take advantage of exercising and relaxing in nature
Exercising and finding healthy ways to relax are essential to our well-being, however you don't need to pay for an expensive gym membership to receive these positive benefits.
A great way to stay in shape is to take advantage of nature and your local neighborhood. Go for a walk, run, or even swim. Depending on where you live, you may even have access to a free community gym. This is very convenient during the winter months when the weather is not ideal to exercise outdoors.
Be up front with your friends about your financial goals
Unless you're invited over to a friend's house, many social gatherings involve going out and spending money. Instead of saying you're busy each time to get off the hook, it's important to let your friends know about your financial goals.
Polite ways to let your friends know you're on a budget is:
I'm saving up for Christmas
I have new responsibilities (such as a house, baby, pet, and so on)
I'm trying to stick to my budget
I'm saving money for a down payment on a home
If your friends genuinely care about you, they'll understand and respect your current financial goals. You can always suggest an alternative activity that fits within your budget too.
Brew gourmet coffee or tea at home
Just because you're on a budget, doesn't mean you have to give up your gourmet coffee or tea habit. Many grocery stores offer high-quality coffee and tea to suit your fancy.
Depending on where you live, grabbing a cup of coffee on your way to work might cost between $1 and $5 per cup. However, brewing your own coffee at home only costs between 16 and 18 cents per cup.
Even if you switch to brewing your own coffee just a few days per week, it can be a great way to save extra money each year. This can help you live rich on a small budget.
Fashion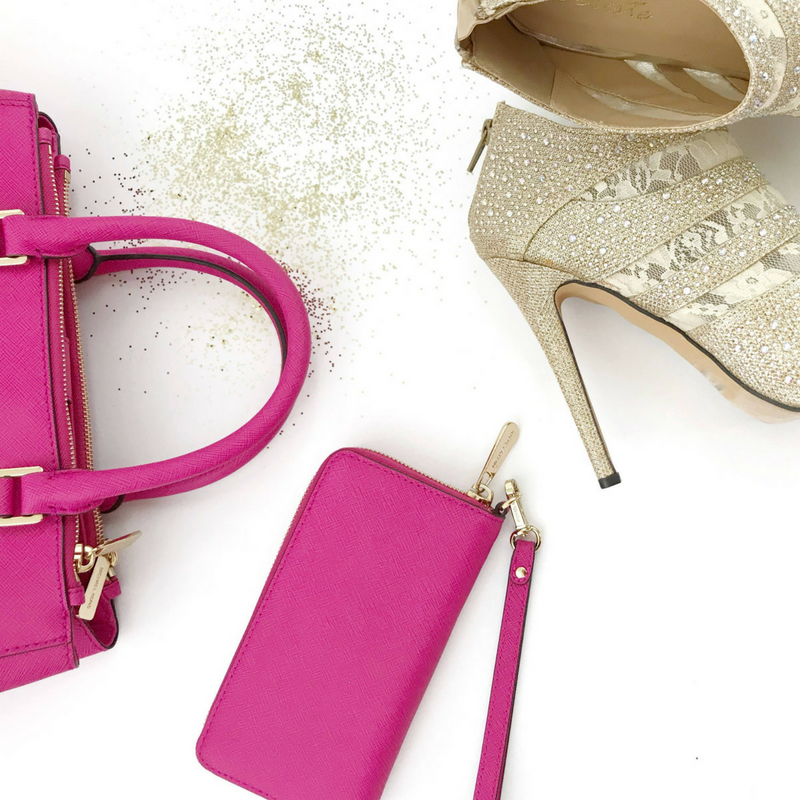 Shop at thrift stores in upscale neighborhoods  
One of the jobs I had during college was working at a local thrift store. While sometimes it involves a little digging around, you'll be surprised at how many quality pieces you can find at thrift stores. Many of the items we received still had the original price tag attached or looked brand new.
I recommend visiting thrift stores in high-end neighborhoods. You might be able to save big on a variety of designer items.
Rent luxury clothing and accessories instead of buying 
Rather than buying a dress that you'll probably only wear once, why not save money by renting it instead? This option is great for those who want to keep up with the latest trends, but don't want to buy items that will be out of style by next season.
Renting luxury clothing can allow you to wear designer items that would not typically be in your budget. Plus, it'll save you time from having to shop around.
Buy designer items used
If wearing designer items is important to you, a great way to save money while still looking stylish is to buy these goods used. This can help you live rich on a small budget.
A good place to start searching is to keep an eye out for auctions on eBay. You can also check estate sales, thrift stores, resale websites, and Facebook Marketplace. 
Get creative when it comes to accessorizing your outfits
Instead of constantly updating your wardrobe with new items, it's better to invest in just a few quality staples that can easily be dressed up or down with accessories.
I personally like to buy my staple items in neutral colors so it's easy to mix and match. This prevents me from feeling like I have nothing to wear and it makes it simple to play with different accessories. You'd be surprised at how a nice scarf can transform a basic outfit. 
Read Next: How to wear everything in your wardrobe
Host a high-end clothing swap with friends
Clothing swaps are a lot of a fun because it's a great way to spend time with friends while getting free clothes. This is a smart way to save money and re-use clothing instead of letting it go to waste. It can help you live rich on a small budget.
Of course it doesn't have to be limited to high-end clothing –you can create your own rules. However, I do recommend having everyone on the same page so you don't end up exchanging a high-end item for something that's of lower value.
Beauty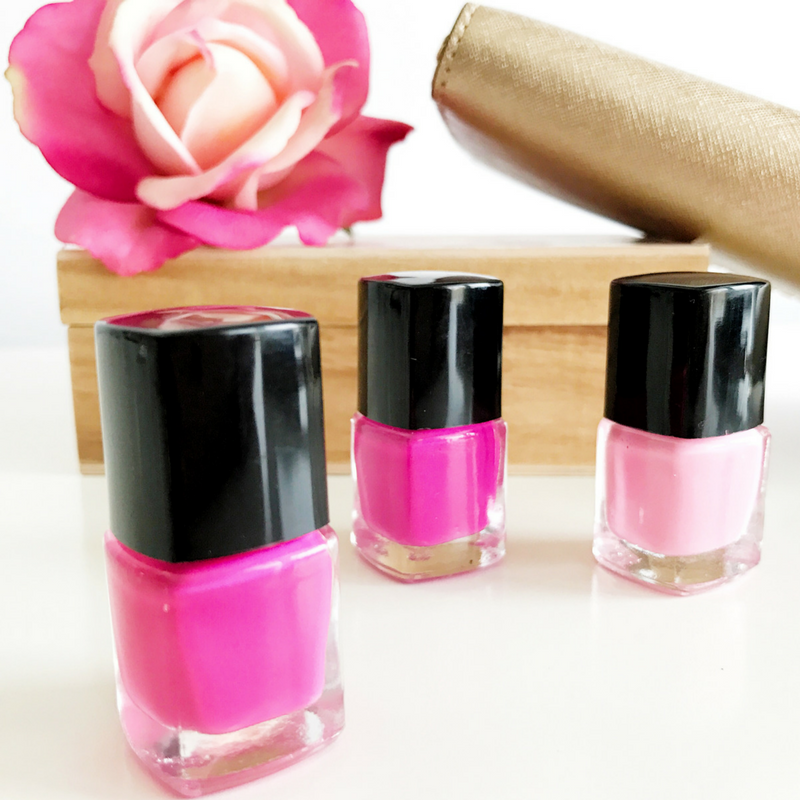 Get a high-end cut, color, and style at a Salon School 
Instead of having a DIY disaster when it comes to your hair, a better way to save money is to visit a Salon School. My mom has been getting her hair colored and styled at a local Salon School for years and she loves it!
Supervised students provide all services and prices are a fraction of the cost at a regular salon. Many salon schools don't take appointments though and operate on a first-come, first-serve basis. So I recommend arriving early during the day or when you're not in a rush.
Have a spa day at a Spa School 
Many massage therapy and spa schools offer student-supervised services for a lot less than you would pay at a regular spa. It might not offer the same frills as a traditional spa, but if you're looking to enjoy a relaxing massage, manicure, or a soothing facial, a spa school can be a great way to save money. 
Have a spa day at home 
If you're short on time and prefer to pamper yourself from the comfort of your own home, there are lots of DIY spa treatments to try.
Whether you give yourself a hydrating hair mask or create your own natural exfoliating scrub, having a spa day at home is a great way to save money. You can make it even more fun by getting together with friends and giving each other manicures. 
Invest in quality skin care (instead of high-end makeup)
I've always been a big believer in choosing quality skin care products instead of focusing too much on makeup. When you start with good skin, I feel that you don't need to wear a lot of makeup.
One of my favorite skincare products is 100% cold-pressed virgin argan oil. I've been using it every night for the past several years on my face and neck as a nighttime moisturizer. It's perfect for protecting my skin from drying out during our cold Canadian winters.
Read Next: How I finally cured my adult acne
 Only buy the most important products
Whenever I watch beauty gurus on YouTube, it seems like they keep adding more products into their everyday makeup routine. Honestly, I feel like I can't keep up with the latest beauty trends and all the must-have products.
Instead of buying a bunch of high-end makeup products, I prefer to only splurge on my mascara since this is what I like to wear on a regular basis. By saving money on other products, this allows me to spend a little extra on my most important items.
Travel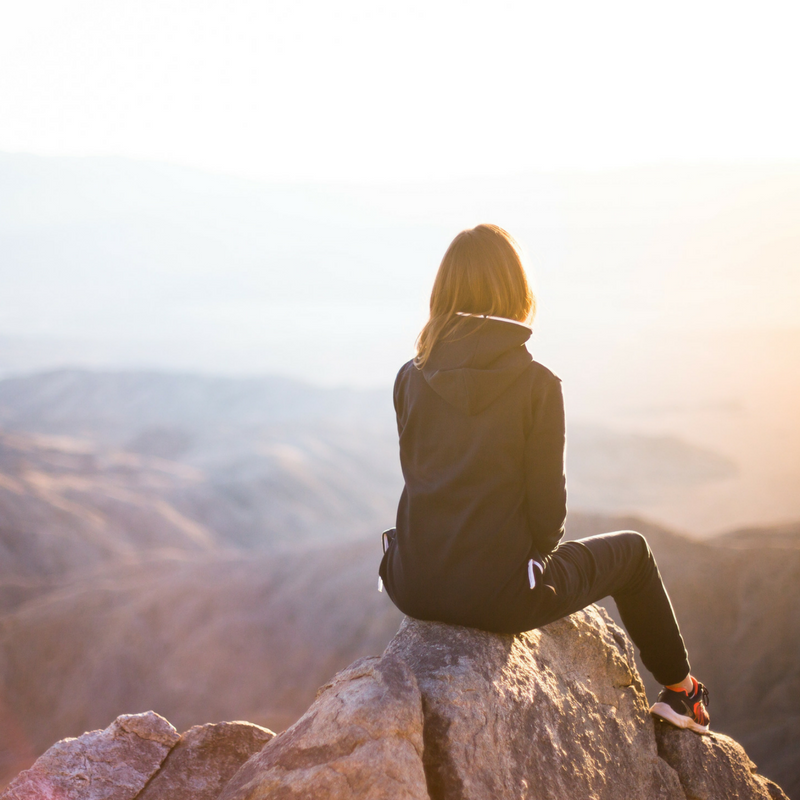 Be a tourist in your own city
 When you're trying to save money or you're short on time, it can put a dent in the fun of traveling. However, there are plenty of great ways to enjoy a staycation at home by being a tourist in your own city. This can help you live rich on a small budget.
If your budget allows it, you can book a nice hotel room for a night or two. This can make it feel like you're on vacation and provide a relaxing base while exploring your city. I like finding cheap hotel accommodations through Hotwire. It's a great way to book a 4-Star hotel for only a 2-Star price!
Other ideas include visiting a local museum or art gallery during it's free (or discounted hours), grabbing lunch at a touristy restaurant, taking cheesy photos in front of tourist attractions, attending a sports game, and so on.
Read Next: 27 staycation ideas that are actually fun
Save money by booking alternative travel accommodations
Staying in alternative travel accommodations is becoming the trend today. One of my favorite places to find awesome accommodations is through Airbnb. When booking through Airbnb, prices can be more affordable than chain hotels and it offers a more local experience. Whether you just need a private room or an entire home, there is something for everyone on Airbnb.
I just got back from staying at a beautiful cabin on Airbnb near North Cascades National Park. It was cheaper than staying at a hotel and we loved having the place to ourselves.
Today I have a coupon for you to save money on your next Airbnb stay! CLICK HERE to get a $45 CAD for your next stay on Airbnb.
If you're traveling on a super tight budget, I recommend looking for a place to stay on Couch Surfing. This can be a great way to save money on accommodations and even make a new friend. 
Learn the art of finding cheap flight tickets
I used to handle the corporate travel at my previous job, which meant that I become pretty good at learning how to find deals and knowing the right time to book.
On average, the best time to book your flight is 54 days before takeoff. This is when prices are low and you can score a great deal. If you don't book 54 days before takeoff, another way to save money is to book between 105 and 21 days before your trip.
A good place to start your search is on Skyscanner. This is my favorite website to find cheap flights since it's easy to use and they even offer email alerts. This means Skyscanner will let you know if the price has increased or decreased so you'll know when to book.
Visit countries where your dollar is worth more
If you're looking to stretch your dollar and get the best value, you may want to consider visiting a country where your currency is worth more. For example, you can visit Thailand for around $60 USD a day including flights, mid-range accommodations, and meals.
If you are open minded with your travels, you may fall in love with a new destination that wasn't initially on your radar. This can help you live rich on a small budget.
Opt for weekend trips instead of long vacations
Rather than take a big vacation each year (which can put a big dent in your budget), opt to enjoy shorter weekend trips instead. Shorter breaks might be a more sustainable way to relax and unwind, plus they can be more affordable too. 
Entertainment

Have movie nights at home
Putting on my comfy clothes, making a big bowl of hot popcorn, and watching a movie is my favorite way to spend the evening. It's fun, it's affordable, and it's a great way to relax with family, friends, or your significant other.
Even if you decide to head to the grocery store to purchase a variety of yummy snacks and drinks, it's significantly cheaper to stay in then go to the movie theatre. 
Search for discounts on movie tickets 
If there's a new movie that you're dying to see, a good way to save money at the movie theatre is to visit during its discount day(s). For example, Tuesdays are discount days here in Toronto. Check your local theatre to see if they offer any specials.
Save on entertainment with websites like Groupon 
Groupon can make luxury affordable, which can help you live rich on a small budget. Whether it's a fancy 3-course dinner, a yachting experience, or a relaxing massage, there are lots of great deals to find on Groupon.
One of my favorite Groupon purchases was when I surprised my boyfriend with a helicopter tour of the city. It was a lot of fun and made for some nice memories. 
Host a potluck at home
A fun evening with friends is usually associated with a night out for dinner and drinks, followed by dancing. But this can add up quickly and put a dent in your wallet. Suggest having a potluck instead.
You can even have theme potlucks, such as Taste of Italy where everyone brings over their favorite Italian dish — be creative! Even if you don't feel like cooking, it's still cheaper to bring over a pre-made dish instead of dining out. 
Search for free (or discounted) entertainment 
You'd be surprised at how much free entertainment and events are available in your city. Whether it's a local festival, a free concert, a free sports game, or a free walking tour, there are lots of great ways to have fun on a budget.