One of the easiest ways to make extra money on the side is to flip items you find at thrift stores, flea markets or garage sales. Today I'm sharing the best items to flip for profit in 2023.
There's plenty of opportunities to resell or flip items for profit and just about anyone can do it. If you're willing to learn and put in the work, this fun hobby can turn into a full-time income stream.
Can you make a living flipping things?
Yes, you can. One of the best ways to make extra money is to flip used items.
After reading about how Rob and Melissa from Flea Market Flipper, made over $100,000 from flipping items, their success story inspired me to find ways to flip stuff too.
I recently made over $5,000 selling some of my old stuff on Facebook Marketplace using Rob's reselling strategies.
I did this in my spare time over the past year and it was a great way to clear out the clutter in our small apartment.
Some of the best items to flip on Facebook Marketplace include furniture, sports and fitness equipment, and books.
If you're interested in flipping stuff for money, then keep reading. Here you'll find the best items to flip and resell, how to find things to flip, and how to sell them online to make money fast.
Related Post: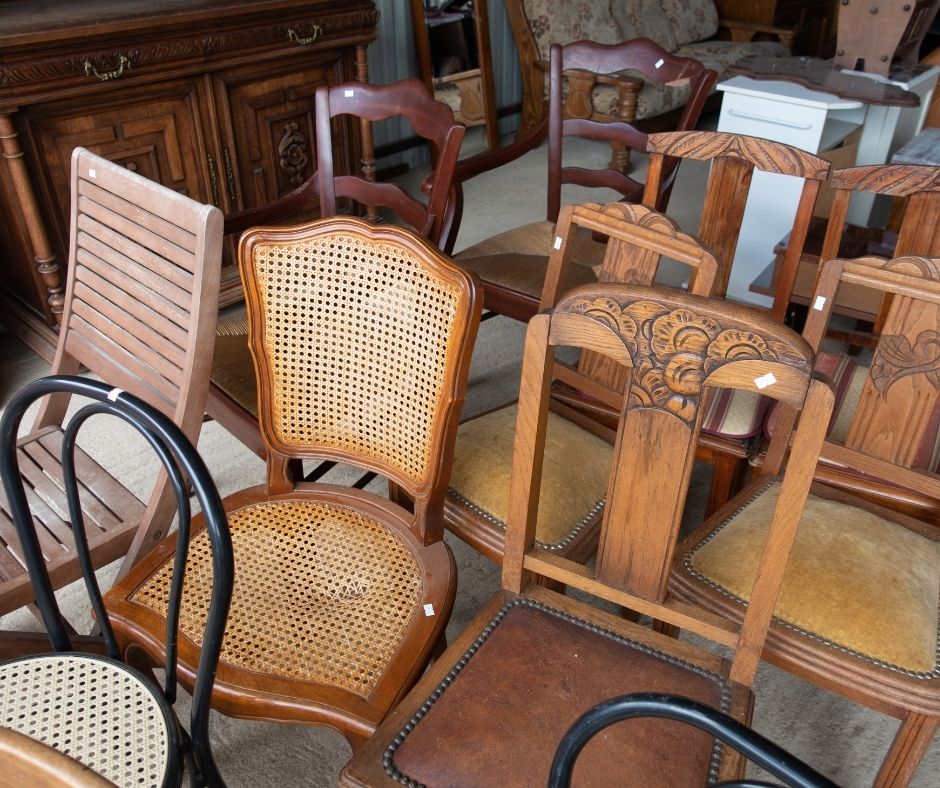 What are the easiest things to flip for profit?
The key to successfully flipping items for profit is to know exactly what items are valuable.
Once you know the best items to resell for profit, this can help you save time and maximize your earnings.
While some items follow trends, depending on the time of year or season, below you'll find 22 items that usually carry good resale value.
1. Wooden furniture
Wooden furniture is one of the best items to buy and resell. This is because good quality wood furniture can last for decades.
You can find wooden furniture at estate sales, yard sales, or thrift stores. If you don't mind restoring wood furniture, sanding and some wood stain can help you maximize the resale value.
Do you want to make extra money flipping but don't know where to start?
There's a good chance that you already have items in your garage or storage that are worth lots of money!
Check out this free list of 47 household items you can sell to make $100 this week.
Read Next: How to make a full-time income flipping furniture for profit
2. Furniture
Other types of furniture such as bookcases, dining tables, nightstands, and upholstered furniture can be one of the best items to flip for profit.
I recently sold my old bookcase and dining table on Facebook Marketplace. Many people are either moving or looking to upgrade their current home, which is why there will always be a demand for furniture.
Rob, from the popular blog Flea Market Flipper, picked up this patio set for $50 from a local flea market. The furniture was in good condition, but were different shades due to sitting out in the sun.
With a quick pressure wash and some teak oil, he made the furniture look like new again.
He was able to sell this patio set for $1,300! As you can see, furniture are high margin items to flip.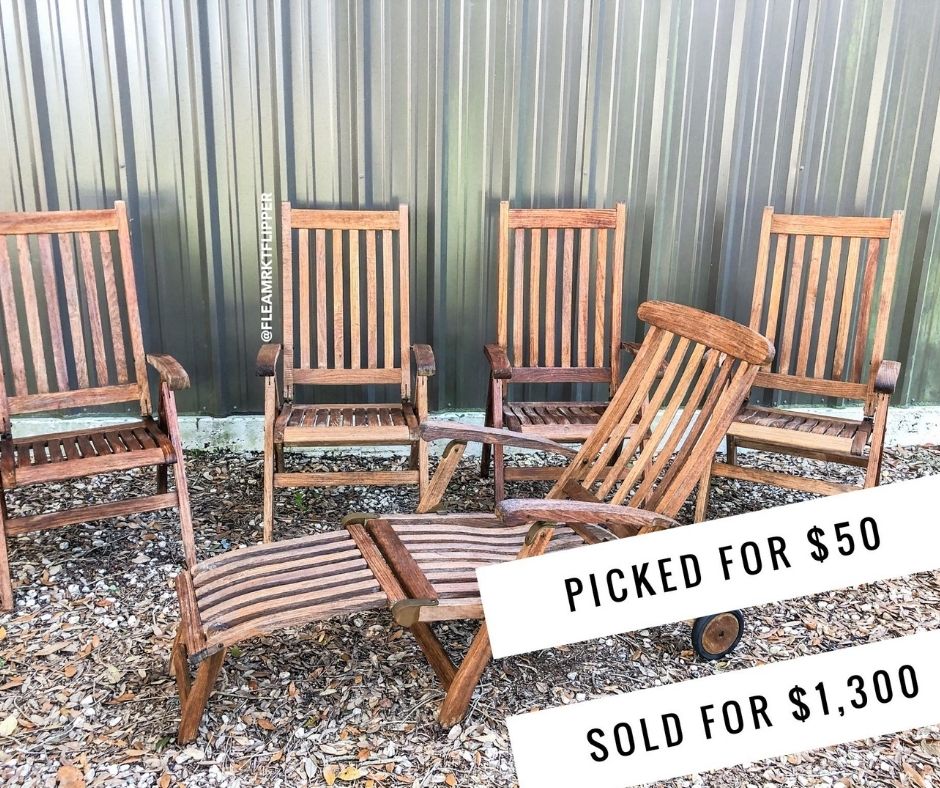 The best furniture to flip for profit are items that are in demend right now. For example, in 2022 home office furniture was really popular once more people started to work from home.
I sold my Ikea desk in less than 24 hours on Facebook Marketplace. In my experience Ikea furniture is one of the best items to resell online.
I've sold an Ikea bookcase, dining table, and desk for nearly the same price I paid retail for it.
Outdoor furniture and patio sets are also in high demand as more people are enjoying time in their backyard or balcony.
Read Next: How I made $700 in one week selling stuff on Facebook Marketplace
3. Clearance items
Finding items deeply discounted is a great way to increase the amount of profit you can make when flipping stuff.
The best place to find clearance items is in the discount section at local retail stores and websites.
Items that have the best resell value includes popular brands, limited edition products, and other highly desirable products.
An easy way to resell clearance items is to become an Amazon FBA seller. You can find discount items at nearby retail stores, send them to Amazon, and Amazon will pack and ship out the items when a customer makes a purchase.
Amazon takes care of all the customer service so you don't have to worry about storing inventory, returns, or shipping products to customers.
My friend Jessica makes over $100,000 a year as an Amazon FBA seller. She has a free course that you can take to learn more about how to get started selling on Amazon.
4. Used books and textbooks
While individual books are usually not big money-makers, selling popular book sets, textbooks and hard-cover non-fiction books can be profitable.
I recently sold over 80 old books from my own collection, which tells me that there's still a market for used books.
One of the best platforms to sell used books and textbooks is BookScouter. Simply search for the ISBN number through their site to see how much money you can make.
Read Next: 21 hobbies that make money
5. Strollers
Brand new strollers and other baby-related items can be expensive, especially for young couples just starting a family.
Because kids grow up so quickly, most strollers are in good or excellent condition.
You can do some research to see which strollers are the most popular right now, then search for used strollers on sale or on the cheap. You can price it for a markup and resell it online.
Below is a stoller that Rob and Melissa, from Flea Market Flipper bought for $25 from a local flea market and sold it for $200 + $50 for shipping. Not a bad flip!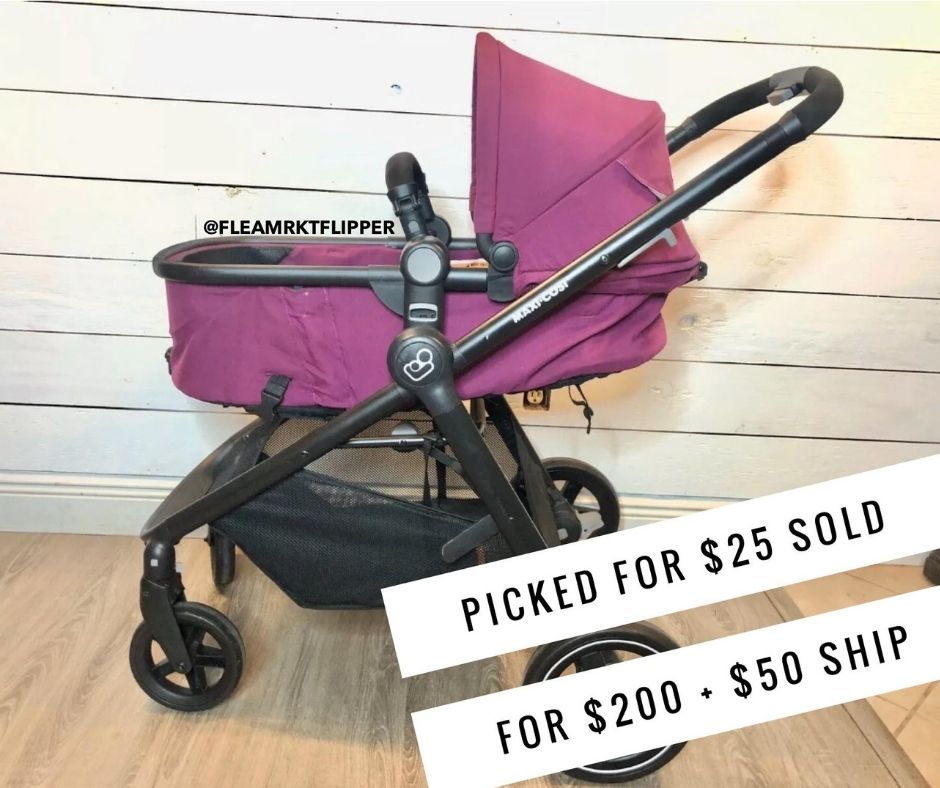 6. Records and record players
Vinyl records are back, which means old records and record players can be a great item to flip.
Before you head to your nearest thrift store to find cheap records, I recommend researching which records sell well online first. Then you'll know exactly what to look for when browsing the shop.
Below is a screenshot from an email Rob sent sharing how he likes to focus on high margin items to flip. In his course, Flipper University, he'll show you how to use this same strategy to make extra money.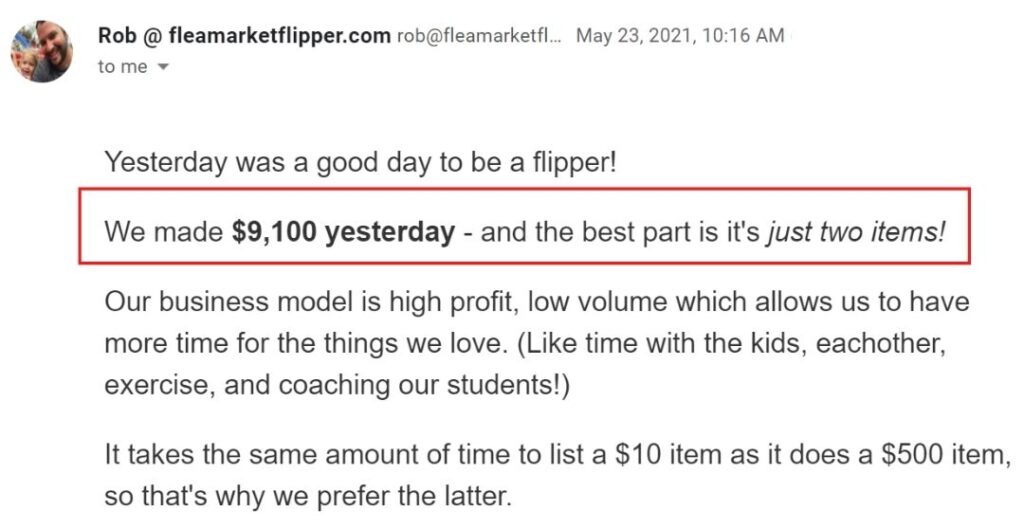 7. Rare or vintage clothing
One of my favorite things to do is declutter my closet and sell my gently worn or vintage items online.
This can be a great way to get rid of items you no longer wear and make extra money on the side.
The best clothing items to sell are rare or vintage clothing, sports jerseys, band t-shirts during a specific tour, designer items, clothing with the price tag still attached, and good quality shoes.
Some sites, such as Fashionphile will pay you for your gently used designer items.
Simply submit your items through their online form to see how much your item is worth, then they'll send you a free shipping label to mail your item, and pay you cash.
How to flip shoes for profit – FREE Workshop
In this free workshop, you'll learn:
> Where to find great deals on shoes.
> Which brands to look for.
> How to clean up all types of shoes so you can make the most money from them.
> How to take great pictures that will increase your sales.
> How to properly ship shoes so they don't get damaged and the buyer is happy to leave you a good review.
8. Websites
Physical products are not the only items that you can buy and resell for cash. Website flipping is actually a huge market!
Flippa is one of the most popular platforms where you can buy websites and resell them for profit.
This can be a great if you're a blogger looking to sell your website or already have some experience when it comes to flipping websites.
The best part is, there's no shipping costs, which means you can potentially make a big profit.
Ready to start flipping items for extra money?
9. Dirt bikes
If dirt bikes are popular in the area you're trying to sell them, this can be one of the best items to flip for profit.
To be successful in buying and reselling dirt bikes online, it's important to have some basic knowledge about dirt bikes.
This includes knowing how a specific dirt bike should sound (you can watch videos on YouTube to help with this), paying attention to the trade-in value vs. the asking price, and checking closely for scratches or other imperfections.
When you ask the seller a lot of questions, such as "are you the original owner" and pointing out scratches or dents, this can help lower the price so you can get a good deal. Then you can clean up the bike and flip it online for maximum profit.
Read Next: How to resell items on Amazon
10. Vehicles
Used cars and trucks are popular items to flip online. This works best a side hustle for those who love to negotiate, are good at finding undervalued cars, and have a general knowledge about car mechanics.
Below is a screenshot from an interview with Christine, a student in Flipper U. She's a stay-at-home mom of 2 young boys and made $1,000 in her first month!
She only put in a couple of hours each week and was able to earn her return on investment in the course with a good chunk left over.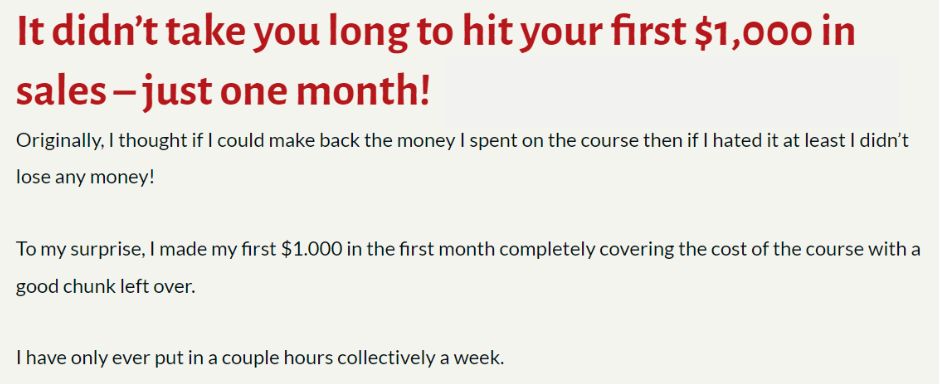 11. Computers and smartphones
While computers and smartphones are one of the best items to flip for profit, not all tech gadgets are created equal.
The most popular tech gadgets to resell include Apple iPhones, iPads, Macbooks, and Samsung Galaxy phones. You can flip these smartphones for hundreds of dollars and some Macbooks can resell for thousands.
If you have an old smartphone or computer that you want to sell for cash, consider using a site such as Gazelle.
They'll give you a quote for your device. If you like this quote, they'll send you a free shipping label to mail in your device, then pay you cash.
Below is a screenshot from an email Rob sent sharing one of his student's success stories from Flipper University. I love seeing success stories like this!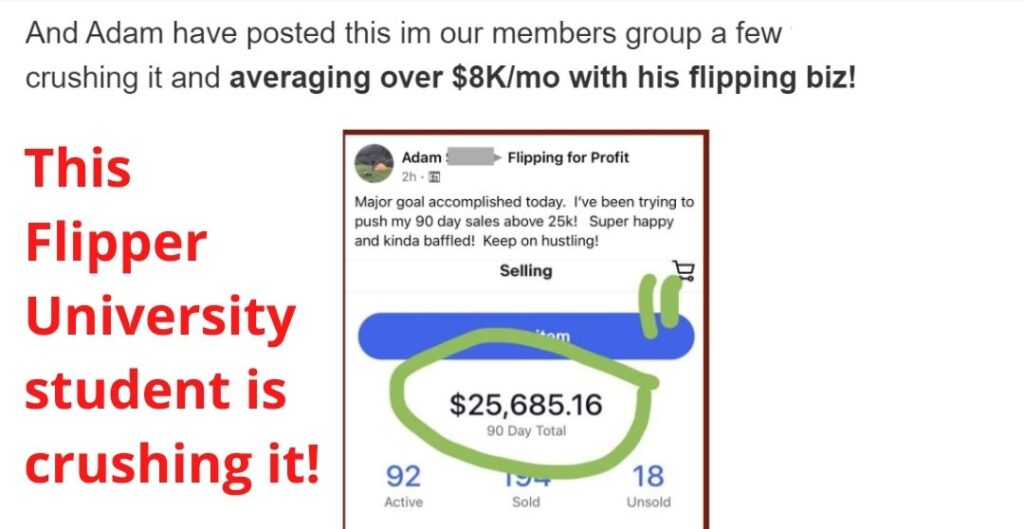 12. Baby and child items
Babies and kids grow up quickly, which means they outgrow their toys and gear quickly too.
Many parents who are looking to save money are searching to buy gently used baby and child items such as clothing, strollers, toys, high-chairs, swings and diaper bags.
After working at a popular thrift store during college, I used to see lots of good quality baby items available for sale.
Some baby or children's clothing still had the price tag attached. This can be a great way to find items to buy cheap and resell them for profit.
You may also want to consider finding grandparents who want to sell their grandkid's stuff. They are probably in excellent condition if they weren't used regularly at Grandma or Grandpa's house.
Rob from Flea Market Flipper found this toy in the trash on his walk home. He got it for free and flipped it for $25 on Facebook Marketplace.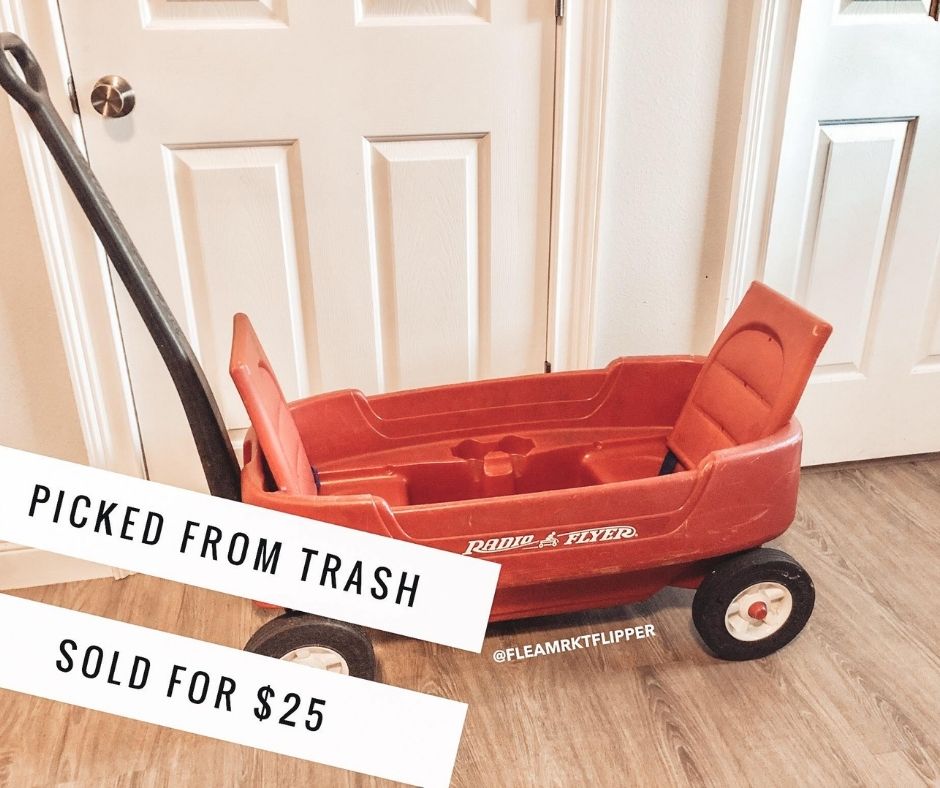 13. Power tools and yard supplies
There's a huge demand for power tools, which makes this one of the best items to flip for profit.
This is because new power tools can be very expensive, which means many people are on the hunt for secondhand tools to save money.
You'll find that most people sell their power tools after using it for a single project or after moving to a new home. Pay attention to the brand name because this is how most people search for power tools online.
Below is a concrete cutter that Rob from Flea Market Flipper picked up on OfferUp for $300. He flipped it on eBay for $1,200.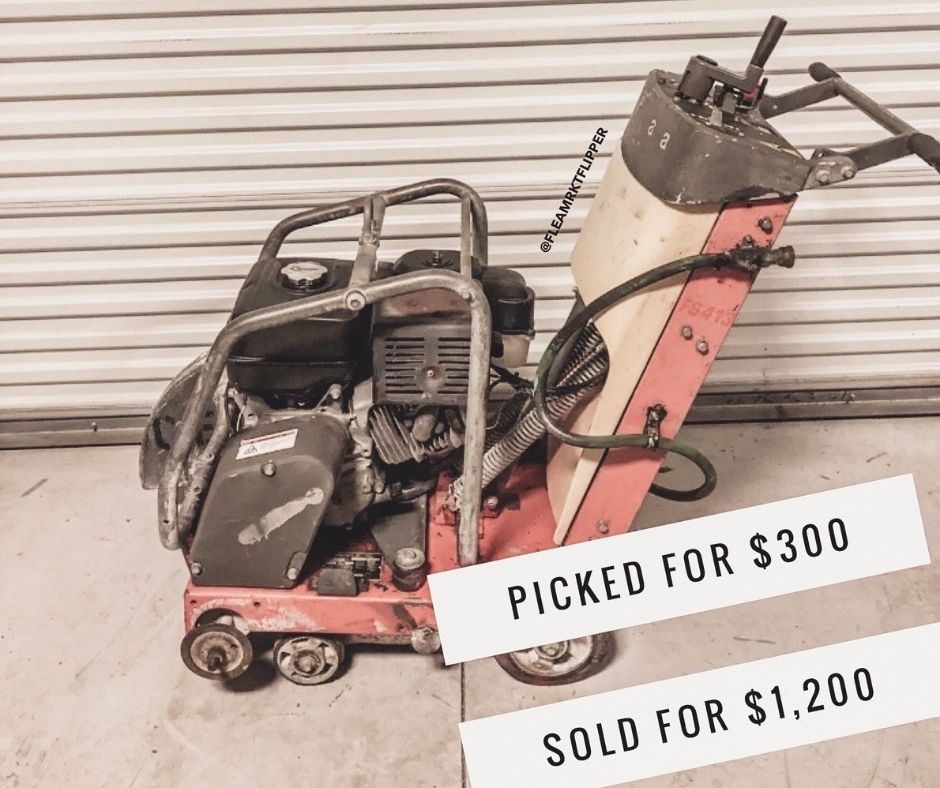 14. Sporting equipment
Brand new sporting equipment is expensive, which means many people are on the lookout for gently used items to buy online or at secondhand stores.
Before buying, check to make sure that items are in fairly good condition such as no foul odors or damage. The best sporting items to sell include golf clubs, bicycles, skiis, hockey equipment, ice skates, and rollerblades.
15. Fitness equipment
Since many gyms were temporarily closed over the past year, many people have started building their own at-home gyms.
This has made it difficult to find brand new fitness equipment at retailers, since they are selling out quickly or have long wait-lists.
Due to this, many people have been turning to platforms such as Facebook Marketplace, Craigslist and Kijiji to find gently used fitness items for sale.
My boyfriend and I recently sold an old workout bench and dumbbells for a good profit through Facebook Marketplace.
Rob from Flea Market Flipper bought this bike trainer for $5 from the 127 Yard Sale. He sold it on eBay for $350. Exercise equipment are great items to flip right now.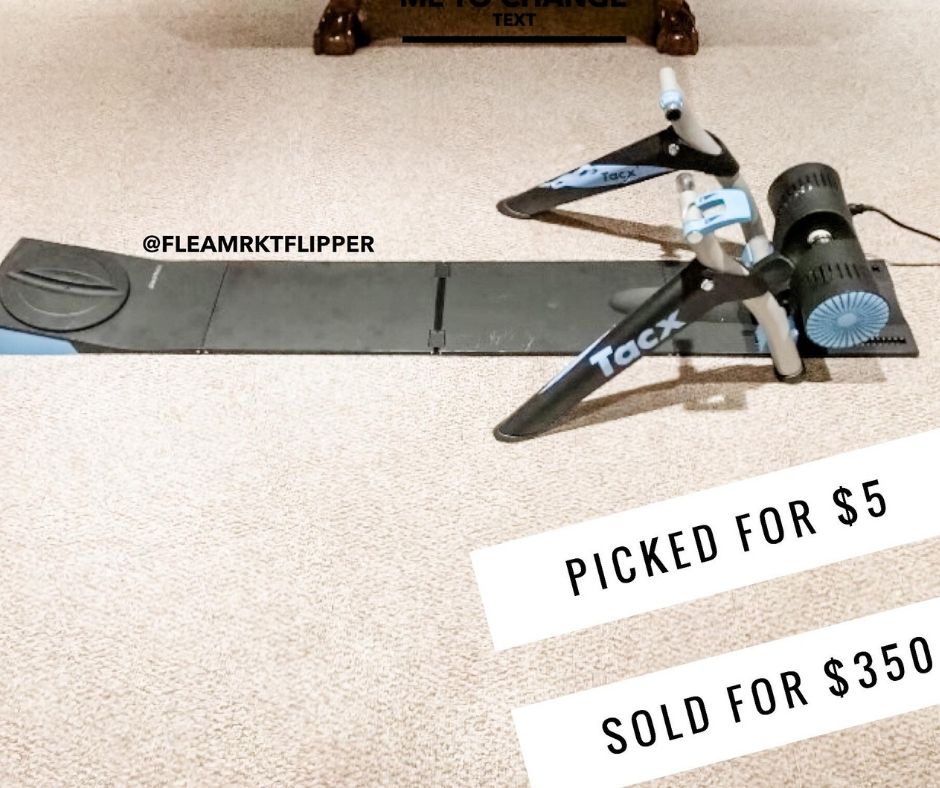 16. Picture frames
Picture frames, especially vintage or ornate picture frames, are some of the best items to flip for profit. You can find these usually at estate sales as they are often passed down from generation to generation.
17. Sports memorabilia
Rare and autographed items can be highly profitable if you find the right buyer. This may include cards, sports jerseys, bobbleheads, championship rings, vintage hats or shirts.
There will always be sports fans willing to search for items to buy as gifts or add to their personal collection. This is one of the best items to flip on ebay, where you're likely to get the most profit.
Read Next: How to flip items on Facebook Marketplace
18. Jewelry
If you have jewelry that you don't use anymore, such as diamonds, rings, or watches, you can sell them for money. Worthy is an online marketplace that makes it easy to sell your jewelry for cash.
Simply send your jewelry to Worthy (includes free shipping), and they will clean and photograph your items to prepare them for auction.
Their online auction has a network of over 1,000 professional buyers to compete for your jewelry.
Once the auction successfully concludes, you'll receive your final sale amount minues their fee (which is a percentage of the price your valuable was sold for). You'll get paid via a bank transfer, PayPal, or check.
19. Musical instruments
Musical instruments that are in good working condition can be a great item to flip for money. Many people take up music lessons in school or as an adult, but eventually outgrow their hobby.
You can find these items for a good price when people want to sell them quickly, then flip them for profit.
To be successful with reselling musical instruments, it's important to have basic knowledge of the instrument so you can tell if it's working properly and be able to answer any questions a potential buyer might ask.
20. Lego sets
There is a huge market for lego sets. I recently sold a lego set on Facebook Marketplace and was surprised how much people were willing to pay for it.
21. Chairs or sofas
I recently sold an accent chair for $250 on Craigslist. Furniture is always a great item to flip for profit.
Sometimes you can find a chair or sofa that has good structure, but it just needs to be cleaned or reupholstered. Check on the free section of Facebook Marketplace or local yard sales.
22. Tables
Tables are some of the easiest items to flip. I recently sold our dining table and coffee table on Facebook Marketplace.
You want to make sure that the table is in good shape and that there's no structural damage. Depending on the material of the table, it may just need to be polished and cleaned.
I've seen some people upcycle tables by giving them a fresh coat of paint or new staining.
23. Desks
Many people have transitioned to working from home, so looking for good quality desks is always in demand. This can be a high-ticket item to flip on Facebook.
---
Are you ready to start flipping things for money?
Flipping is one of the easiest side hustles to make extra money. If you're interested in learning more about how to flip items online from thrift stores, consider checking out Rob's Free Workshop.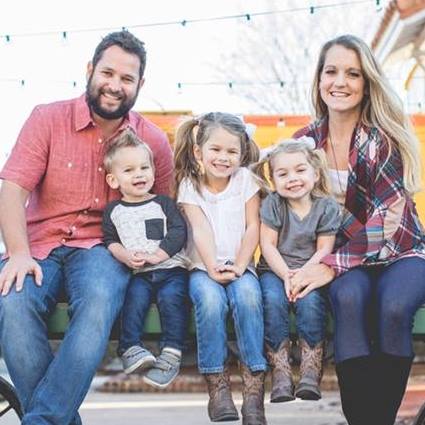 Rob is a pro flipper and has been flipping items for over 20 years. In his free workshop, he'll teach you how to turn your passion for visiting thrift stores, yard sales and flea markets into a profitable reselling business.
You'll also learn…
• Information about themselves, so you can get to know your teachers.
• 5 signs flipping/ reselling items could be a perfect fit for you.
• How flipping can be your ticket to lifestyle freedom and financial security.
• 3 insider secrets that will help you grow your flipping profits.
The workshop is free to join. You can save your seat here.
Buy me a coffee
---
Best things to flip FAQs
Where can I find things to flip?
Now that you know what some of the easiest items are to flip for profit, it's time to figure out where to find these items.
The BEST place to find items to flip is inside your home. This can be a great way to make $300 fast or more, depending on how many items you wish to sell. This can also be…
A great way to declutter and organize your space
An easy way to dip your toes into flipping items without any initial investment.
If you're selling items on Facebook Marketplace or eBay, this can be a great way to get experience and get reviews. Then once you start buying items to resell for profit, it'll help attract customers more quickly.
Some other places you can find things to flip include:
Facebook Marketplace
Flea markets
Yard sales
Estate sales
Thrift stores
Auctions
Craigslist or Kijiji
Other resale apps
How do you flip things to make money?
To figure out if an item is worth anything, the best way to do this is to look up the item online to see what it sells for.
Just because something is listed for a high price "new" doesn't mean that it will sell for a high price "used". Some items do depreciate in value over time, so it's helpful to know which new or used items actually sell for.
High asking prices also doesn't mean much if the items isn't selling. One way to check how much an item actually sells for is to view "Completed Listings" on eBay. This will show you sold items and give you an idea of what an item usually sells for.
Here are a few tips from Rob and Melissa, the masterminds behind Flea Market Flipper and their signature course, Flipper University.
1) Always research before listing your item for sale
This means finding out what similar items are listed for or what similar items have sold for recently. You'll want to list your product at a competitive price, but don't undersell yourself.
You may also want to experiment with cross-posting your item on different platforms. For example, you can have the item listed for sale on eBay, Facebook Marketplace or a reselling app like Mecari.
2) Include good-quality photos of the item
When listing your item, you'll want to take clear and bright photos of the product. Using a ring light can help make your photos look better.
Sometimes overhead lights or lamps in homes can cast shadows or not represent the item's true color. By using a ring light, you can take better photos of the item, which can lead to quicker sales!
Buyers also prefer to see photos of the actual item and not a photo from a company's website. The more photos you share, the more comfortable someone will feel messaging you to buy the product.
If you are selling shoes, used clothing, or furniture, make sure to clean the items before taking photos. No one wants to buy dirty looking shoes or dust-covered furniture.
3) Share a clear and honest description of the item
You'll also want to write a thorough and accurate description of the item you want to sell. People will trust you more when you are honest about the item's condition. It won't scare them off.
4) Sell and ship the product
This is the exciting part when you sell the item – YAY! Once you make your first sale and start seeing the money roll in, it'll motivate you to keep going.
You can sell items locally, where the buyer can pick-up the item from an agreed location. Or you can choose to ship the item to the buyer.
Shipping can make some people nervous, but it doesn't have to be scary. Rob and Melissa are the King and Queen of shipping.
They simplify the entire process for you in their online course Flipper University, and will teach you their strategy of how to buy cheap and sell high.
If you're selling on eBay, they recommend using the calculated shipping tool within eBay's platform.
Is flipping items illegal?
No, it's 100% legal to flip items for profit. As long as you follow the platform's rules, you can flip stuff on eBay, Amazon, Facebook Marketplace, and more.
Can you make a living reselling?
Yes, it's possible to make a full-time income from reselling items from thrift stores. If you buy things for a low price and sell it for a high profit, this will help you make the most money.
Is reselling easy?
Yes, it's pretty easy to resell items and anyone can do it! You can get started by selling items you have at home that you no longer need to make extra money. Then check the "free" section on sites like Craiglist or Facebook Marketplace to flip items for profit.