Flipping furniture for profit can be a great side hustle for beginners. Here you'll learn exactly what it means to flip furniture for profit, where to find the best furniture to flip, and how you can start making extra cash today!
If you're looking for ways to make money on the side, flipping furniture can be a great option.
You can earn money on your own schedule and feel good about upcycling pieces by giving them new life again.
In this post, you'll learn:
What does flipping furniture mean and how it works
Is flipping furniture even profitable?
What the best furniture is to flip for profit
Where to find affordable furniture to flip
What furniture you should avoid if you want to maximize your sales
Tips and tricks for flipping furniture for beginners
A comprehensive course on how to flip furniture (including a FREE workshop for beginners)
When the pandemic started, I felt like I was starting to slip back into my old days where I was addicted to online shopping.
In the past, I used to use shopping as a way to cope with negative emotions. Buying stuff made me feel safe and like I had a (false) sense of control over my life.
To prevent myself from falling back into these bad spending habits, I started taking inventory of everything I owned. I noticed I had so much stuff that I wasn't using anymore or didn't need.
That's when I decided to try selling some of these items online to distract myself from shopping. It was exciting put my DIY skills to good use and make my first sale.
Sam and I sold a beginner's golf club set for $225. This encouraged me to find more things in our home to sell.
For me, making money became a lot more fun than spending it. It also helped me to realize that having less stuff in our home meant more space and less time having to clean and maintain everything. Who wouldn't want that?
Related Posts: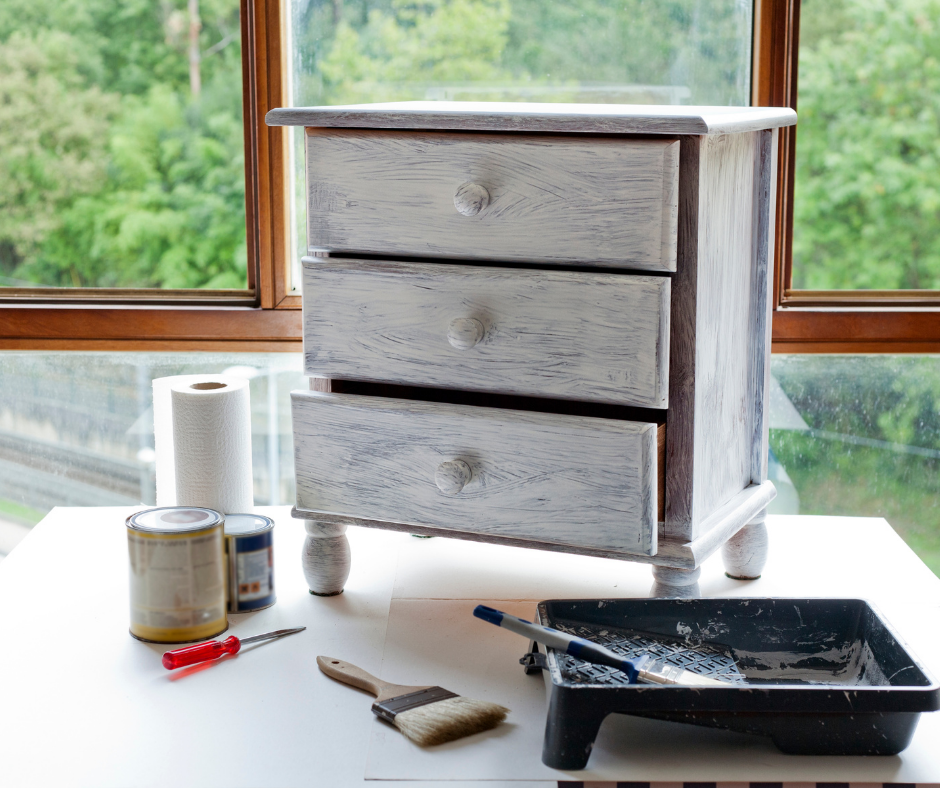 What does flipping furniture mean?
Flipping furniture is when you buy furniture for a low price (or get it for free), fix it up to make it look like new again, and resell it for a profit. Sometimes the item just needs a fresh coat of paint to bring it back to life.
Due to the increasing cost of living, many people are looking for buy furniture secondhand to save money and discover unique pieces that you can't find at the big box stores.
Is flipping furniture profitable?
Yes, you can make money flipping furniture in your spare time. Plus, it's a fun hobby that has the potential to turn into a full-time income like it did for my friends, Rob and Melissa, from the blog Flea Market Flipper.
They started flipping furniture for profit in their spare time. After their kids were born, they realized how much they enjoyed upcycling old stuff.
This motivated them to take their flipping side hustle seriously and turn it into a thriving business.
Today they make over $100,000 a year flipping stuff they find at flea markets and garage sales. It's pretty amazing how one person's trash can become another person's treasure.
Below is an appliance they bought for $200 and flipped for $2,800! That's a lot of flipping furniture income!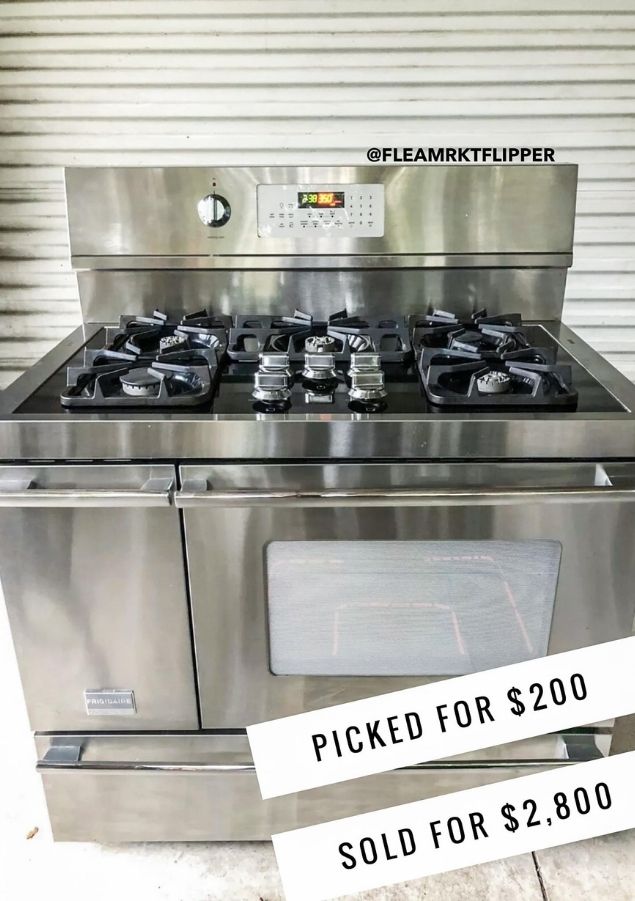 How much money can you make flipping furniture?
Most furniture flippers make between $100 to $500+ per month as a hobby. Some people earn $10,000 to $20,000+ per month.
If you're serious about making a full-time income from furniture flipping, then I recommend learning from Rob in Flipper U. He's one of the most successful furniture flippers I know.
The amount of money you'll make will depend on a variety of factors, such as:
Being able to find inexpensive (or free) furniture to flip
The cost of the materials needed to refinish or repair the furniture
How quickly you can flip items
How much you can resell those items for to make the most money
Below is a patio furniture set that Rob and Melissa bought for $50 and resold it for $1,300! It just needed a little elbow grease to clean it up.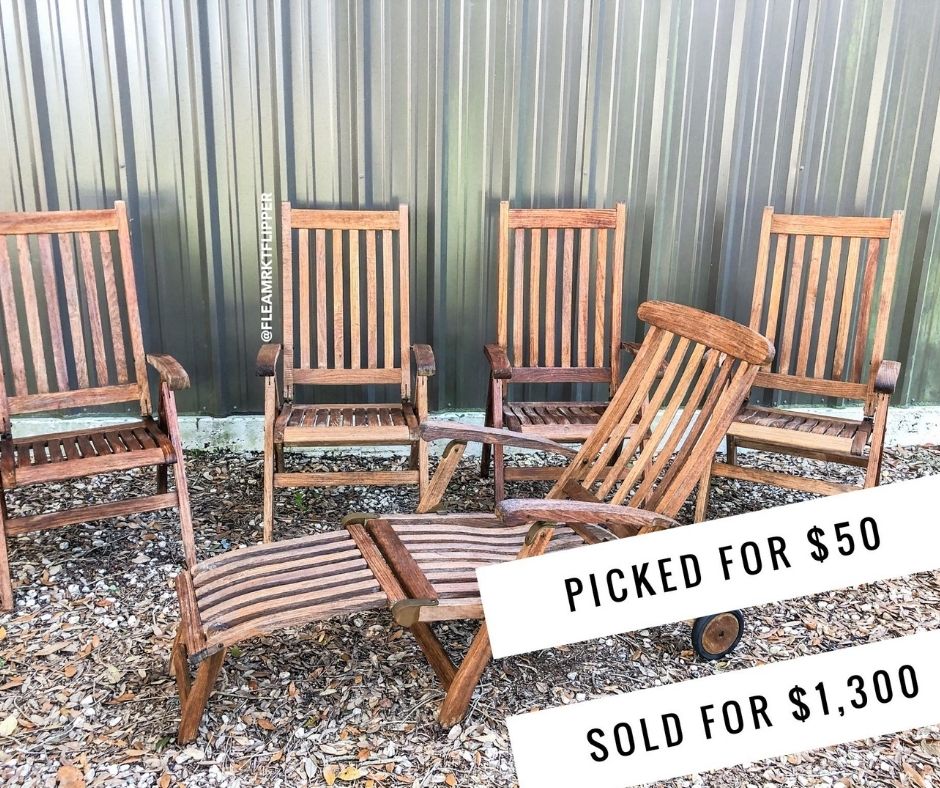 What is the best furniture to flip for profit?
Before you start flipping furniture, it's important to know which piece of furniture will give you the most profit and has the best resale value.
This can save you a lot of time and hassle, so you know exactly what to look for when buying furniture.
Below are the best furniture pieces to flip for profit:
End tables
End tables, side tables and coffee tables are relatively inexpensive, which make it a great item to flip for beginners.
Office furniture
Since many people are working from home, office furniture has increased in demand. This may include computer chairs, desks, or standing desks.
Below is a desk from IKEA that I bought new for $100. I used it for 6 years and sold it for $90 on Facebook Marketplace.
The desk and drawers are in excellent condition (no marks or scratches).
I got lucky with this sale because it was currently sold out at nearby stores, so it sold within a few hours after I posted the listing.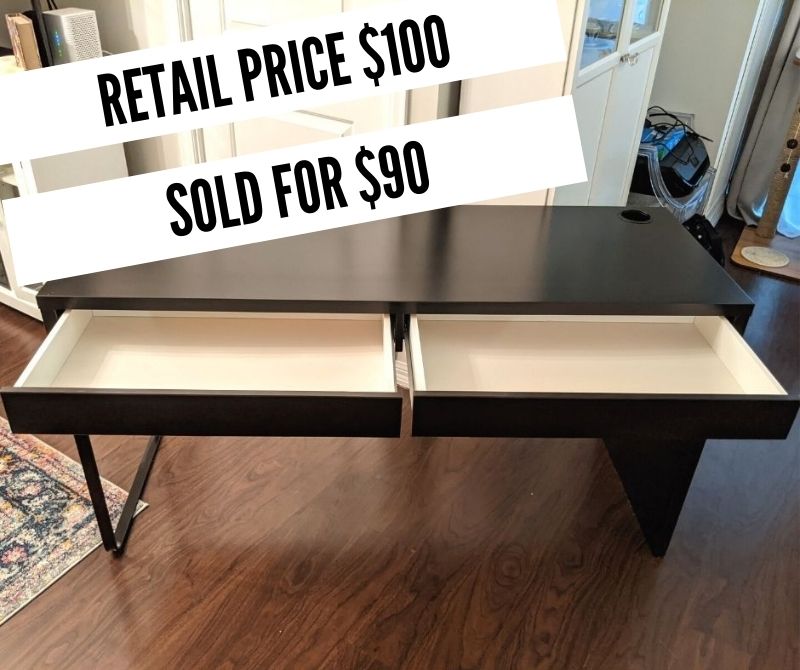 Bookcases
Bookcases are some of the best furniture to flip. I recently sold two bookcases on Facebook Marketplace.
Below is a bookcase that I bought when we first moved into our apartment on Wayfair for $230.
I used the bookcase for 3 years and sold it on Facebook Marketplace for $230 (the same price I paid for it). The bookcase was in excellent condition (no marks or scratches).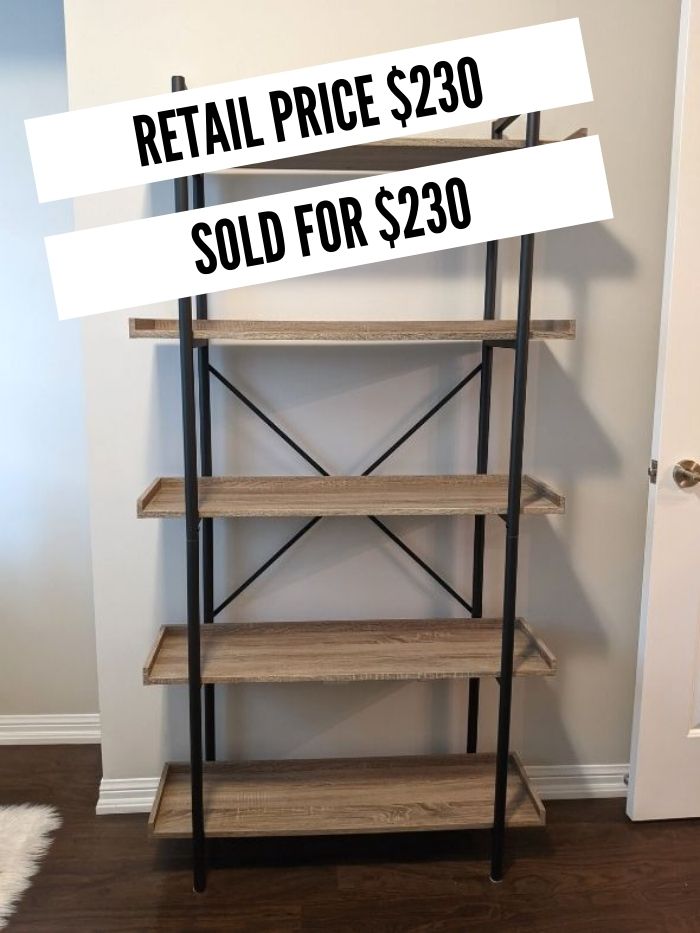 Dining tables
Sam and I recently sold our IKEA dining table on Facebook Marketplace. It was sold within 24 hours after listing it.
We originally bought the table and chairs for just under $700. We used it for 4 years then sold it for $500 on Facebook. Everything was in excellent condition.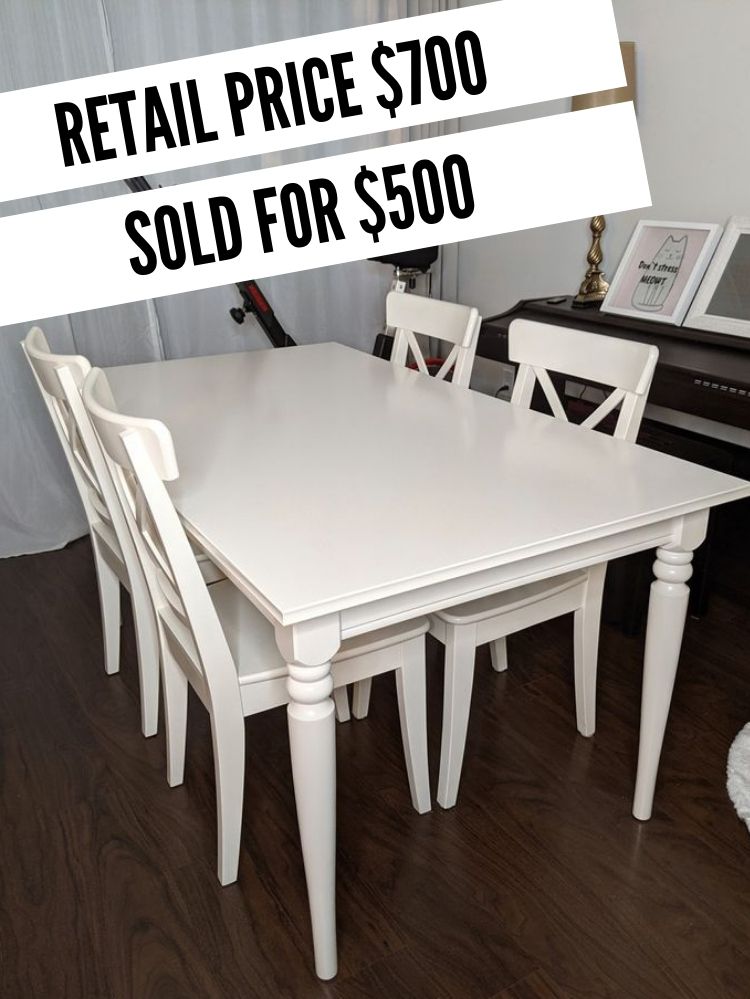 IKEA furniture
In my experience, I've had good luck reselling furniture from IKEA. When Sam and I first moved into our apartment, we bought a lot of furniture from IKEA.
Since then, we have sold some of our items for nearly their original retail price.
For example, we sold an IKEA desk, bookcase, dining table and chairs, and end table.
What helped us get us the highest profit for these items was making sure they were in excellent condition.
Items that are currently low in stock or sold out on the website are also in high demand on resale sites such as Facebook Marketplace or Craigslist.
Below is an IKEA Billy bookcase that we bought for $170. We used it for 4 years and sold it on Facebook Marketplace for $150.
We got lucky with the sale because this particular bookcase with glass doors was sold out at nearby stores.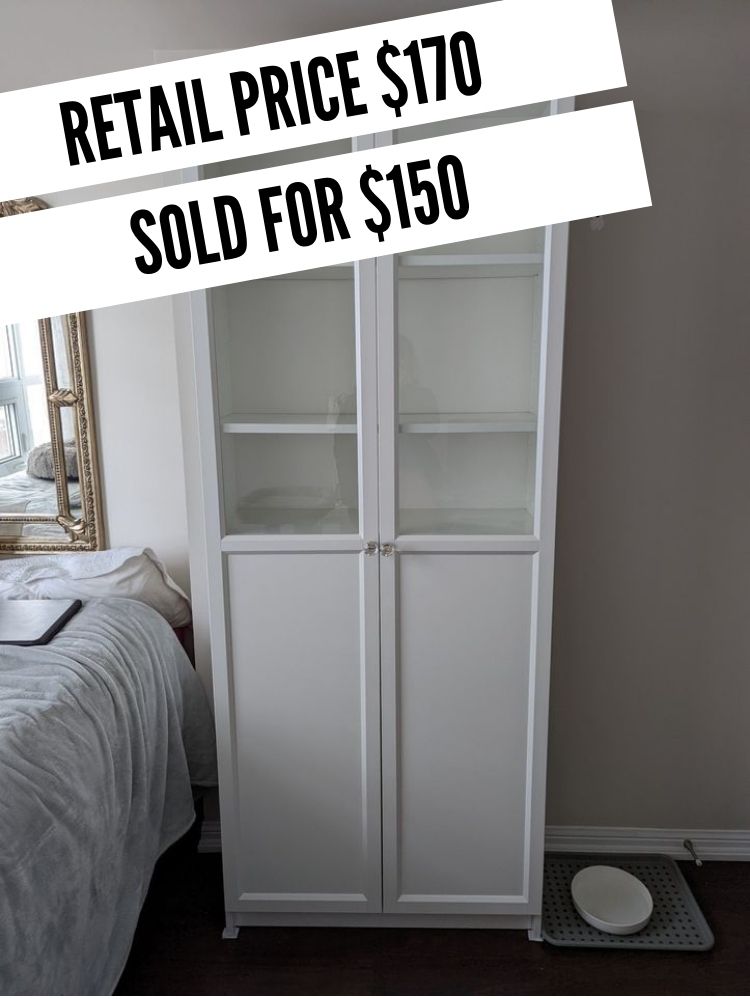 Other quick selling items include:
Dressers
Buffets
Storage chests
Read Next: How I made $700 in one week selling stuff on Facebook Marketplace
What furniture should I avoid?
In my experience, the quickest selling items are the ones that are most useful and practical for everyday life. Also, smaller pieces that only require one or two people to load in the truck sell fast.
Heavier items like dining tables might take a little longer to sell. These items also tend to cost you a little more upfront, so you want to make sure that you can make a profit.
Of course, it's important to pay attention to the time of year and the interest of your population when it comes to flipping furniture.
For example, most people don't use traditional china cabinets anymore, so you may find that this item is harder to sell.
But if you live in a location where traditional and classic furniture is still popular, then this may be a good opportunity for you.
Below are some suggestions on what type of furniture you should avoid flipping.
Antique furniture and items
In my experience, antique and old furniture isn't popular right now. When trying to sell older antique items, they sat for months before I was able to sell them.
Also, owners of antique furniture usually try to sell their items for more than they are actually worth, so it may be hard to find inexpensive pieces that are worth your time and money.
Furniture pieces that are overly ornate
When you look at furniture being sold in stores today, styles have moved away from heavily ornate and detailed pieces.
The most popular furniture styles today are mid-century modern, minimal, Scandinavian, urban, and contemporary.
Fake wood or particle board furniture
When buying furniture, many people consider solid wood to be the best option since it's extremely durable.
Solid wood furniture is also easier to restore than furniture made from fake wood or particle board.
This is because solid wood furniture can be sanded, painted, or stained to change the overall look of the piece.
Solid wood furniture also tends to increase or retain its value over the years. On the other hand, fake wood furniture usually decreases in value because it's less durable.
Below are some more items to avoid when flipping furniture:
Items that are broken and you're not sure how to fix. Unless you know how to repair it, don't buy it. You can check YouTube for free tutorials, but in the beginning, I would look for furniture that's easy to fix so you can sell it quickly.
Poor quality furniture. I find that many people ask about the quality of the item because they want to make sure that it's durable and long-lasting. Cheaply made furniture tends not to have a good resale value.
Items that have been previously painted. If an item looks like it's been painted over too many times, skip it. This will require too much work and may cut down on your profits.
Read Next: 21 best hobbies that make money
Where can I find furniture to flip?
One of the most important aspects of flipping furniture is being able to find affordable pieces that are easy to restore. Below are some of the best places to find furniture to flip for profit:
Facebook Marketplace
Facebook Marketplace is my favorite site to find and resell furniture for profit. You can search for items like bookcases, desks, or coffee tables. You can also filter your search based on neighborhood and radius.
If you live in or near a large city, you should have no problem finding plenty of good deals on quality furniture.
You may even find stuff that people are giving away for free, but the competition can be fierce.
Craigslist / Kijiji
This is another popular furniture flipping website to find deals. It's not as user friendly as Facebook Marketplace (in my opinion), but it's been around for years so people are used to selling their stuff through this site.
Yard sales and Garage sales
This can be a good opportunity to find inexpensive furniture that's still in good condition.
Most people who have yard sales are usually looking to get rid of their stuff quickly, so you might be able to score a great deal. You may even be able to negotiate the price.
Estate sales
While most estate sales often have lots of antique or older furniture, you may be able to find a few hidden gems that you can restore and flip for profit.
Flea Markets
My friends Rob and Melissa from Flea Market Flipper started their reselling business by finding deals at flea markets and flipping them for profit on eBay. Thrift stores like Goodwill are also good spots to find deals.
Below is a patio furniture set that Rob and Melissa bought for $100 and flipped it for $900!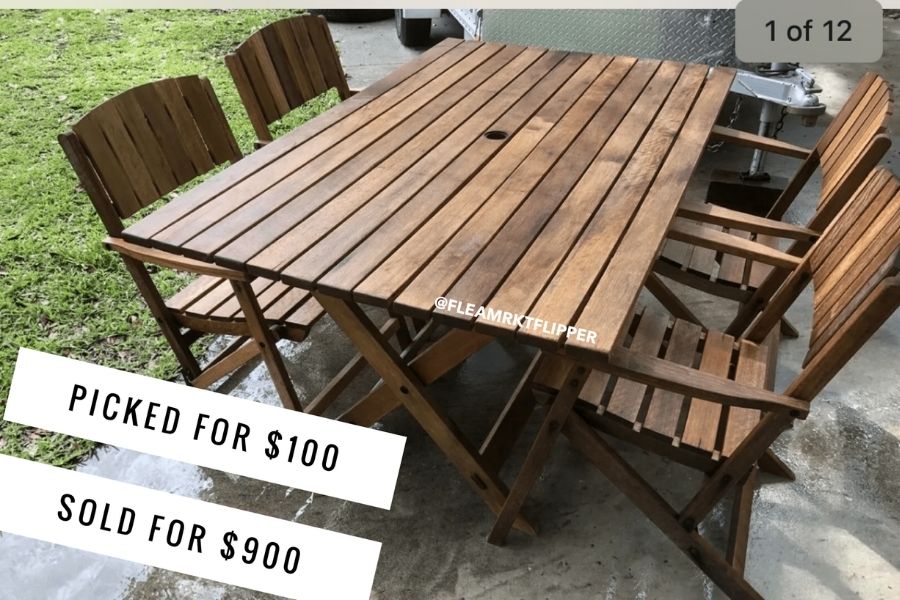 The best places to sell used furniture
Online is the best platform to resell and flip furniture for profit. This can help you get your listings in front of thousands of people compared to selling locally.
eBay
This is where Rob and Melissa have had the most success with their reselling business. Yes, eBay has selling fees, but they are fair. This is one of the only websites where you can get your items in front of millions of people.
eBay has over 150 million users, which makes it an ideal platform to quickly sell your items for maximum profit.
Facebook Marketplace
If you're selling locally, Facebook makes is easy to create your listing and reach potential buyers.
Craigslist / Kijiji
This platform has been around since 1995 helping millions of people buy and sell items. This can be a good option if you're trying to flip furniture for profit. You can even offer to ship items for a fee.
Etsy
This is a popular platform to buy and sell unique handmade pieces or restored furniture.
What furniture flipping supplies do I need?
Anyone can get into furniture flipping. To get started, you need a few supplies to help clean and make the furniture more desriable.
Best tips for furniture flipping:
Below are some tips for beginners on how to yield that maximum profit when flipping furniture.
Take excellent photos
This should be a no-brainer, but it's essential to take good quality photos.
I like using this ring light to help my photos look better.
Sometimes overhead lights or lamps in homes can cast shadows or not represent the item's true color.
By using a ring light, you can take better photos of the item, which can lead to quicker sales!
If you don't have a ring light, try to take photos in a well-lit area of your home or outside. Depending on the item, you may even want to stage it by adding decorative pieces on top.
Your photos can help potential buyers get a better sense of what the item would look like in their home. Plus, it makes you look like a pro instead of taking poorly lit photos in your basement.
Price to negotiate
When selling on online marketplaces such as Facebook or Craigslist, potential buyers will almost always try to negotiate the price.
Due to this, I recommend pricing a little higher than you originally wanted to sell it for.
For example, if you want to get $20 for an item, you can list the item for $25. If someone offers you $15, you can counter at $20 and get the price you really wanted.
Created a detailed listing
Try to anticipate any questions a potential buyer will have and make sure to answer them in your listing.
This will save you tons of time from having to answer the same questions over and over again through Messenger.
This means you should include every possible dimension, the material the item is made from, its features, and so on.
Rob from Flea Market Flipper also recommends being honest in your description. For example, if there is a scratch or mark on the item, let potential buyers know.
People will trust you more when you are honest about the item's condition. It won't scare them off.
Look for inexpensive furniture
One of the myths about reselling is that it takes a lot of money to start flipping. But as Rob and Melissa know – that's absolutely not true!
You can get started today for free. We all have items in our home that we don't need anymore. Check to see how much money those items are selling for on Facebook Marketplace or eBay.
Once you've sold items you already have, search for free items in your area that you can easily flip.
You'd be surprised how much stuff people are giving away for free. There are tons of hidden treasures out there!
Then once you start making money, Rob recommends finding low priced items to resell.
Look for solid wood furniture
As I already mentioned, solid wood furniture is easier to flip than fake wood or particle board furniture. This is because:
Solid wood furniture has better strength and durability.
Solid wood is easy to maintain by using a wood cleaner such as Murphy's Oil Soap.
Solid wood furniture can easily be refinished. This can help breath new life into a piece without costing a lot of money.
Look for easy-to-restore furniture
When you first get started, I recommend looking for affordable pieces that are easy to restore and renovate. This will help you yield higher profits and allow you to develop your skills.
Is there a class I can take to learn how to successfully flip furniture for profit?
If you're ready to start reselling furniture and flipping stuff for profit as a side hustle or full-time gig, then keep reading.
While starting a side business will require some work, it can be a lot of fun and rewarding in the long run.
To skip the trial and error and learn from someone who makes over $100,000 a year flipping stuff for profit, consider taking Rob's course, Flipper University.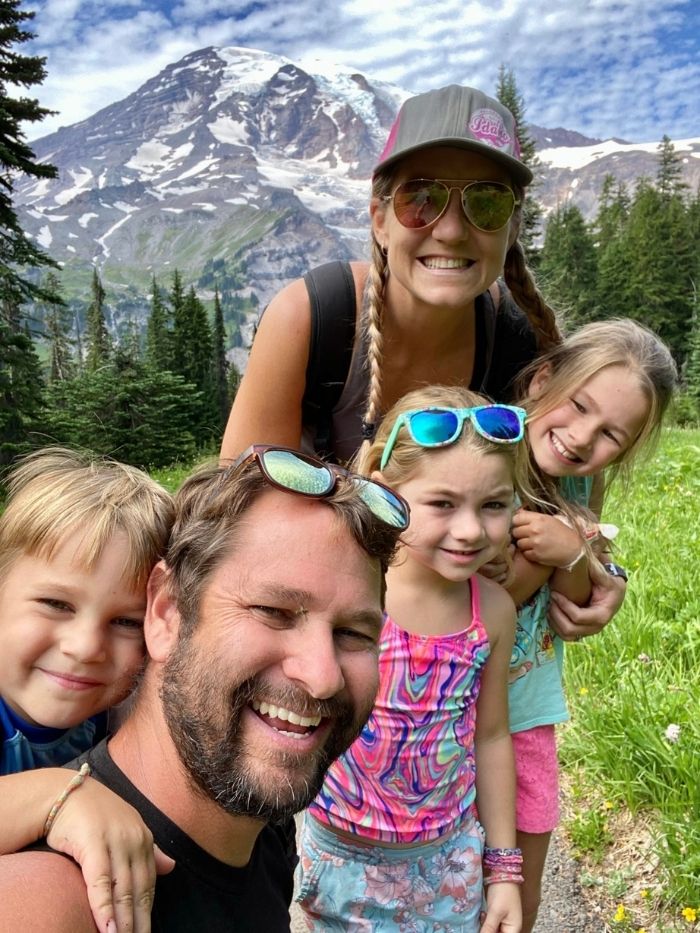 He'll walk you through the entire process of starting and growing your very own reselling business, including developing a furniture flipping business plan for success.
Whether your goal is to make an extra $1,000 a month or build a 5-figure recurring revenue business, Rob will teach you exactly what you need to know to break into this lucrative market.
You can sign up for Rob's free workshop to learn more about Flipper University and how to turn your passion for treasure hunting at thrift stores into a profitable reselling business in as little as 14 days!
What's included in the Flipper University course?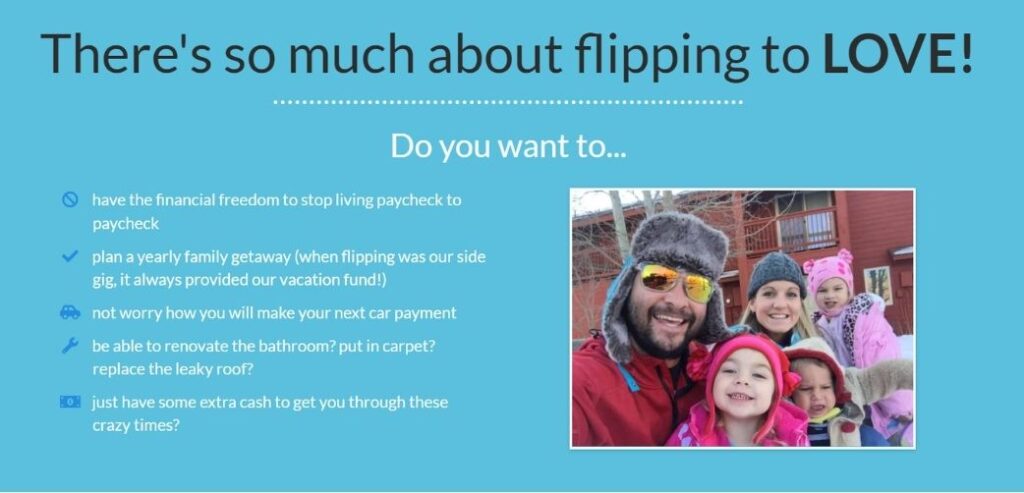 This is a self-paced course on how to start your own reselling side hustle, so you can take as much time as you need to go through the course.
Once you enroll, you'll have lifetime access to the course 24/7. Here's what you'll learn in Flipper University:
Module 1: Getting Started – This covers the pros and cons of reselling and how to clear out the clutter.
Module 2: Finding free items to resell – This covers where to look and what to look for when finding free items to flip.
Module 3: Setting up your eBay and PayPal accounts – This covers step-by-step how to set your up eBay and PayPal accounts and how to get feedback so you can start selling.
Module 4: How to list an item on eBay – This covers everything you need to know about listing an item on eBay including how to price an item, how to write a good description, using auction vs. fixed price format, if you should use UPS or FedEx, and how to choose calculated vs. flat rate shipping.
Module 5: Shipping basics – This covers how to package small items, how to cut down costs for shipping, and how to print a shipping label through eBay.
Module 1: Welcome – This covers the big question that many people have, does buying and reselling take advantage of people?
Module 2: Sourcing items – This covers where to find the best items to flip, finding items of value, how to use OfferUp to find great items to resell, how to use Facebook to find items to resell, and how to negotiate the sale.
Module 3: Getting your items ready to resell – This covers how to clean up and fix an item, how to take great photos, and make your items ready to sell for maximum profit.
Module 4: Selling on eBay – This covers the basics of selling on eBay (as taught in the Beginner Course) and also deep dive into how to improve your eBay SEO, tips for communicating with customers, how to hand refunds and returns, how to become a top-rated seller, and how to get rid of negative feedback.
Module 5: Selling on other platforms – This covers how to sell items on Craigslist, Facebook Marketplace and groups, OfferUp, and tips for meeting with buyers.
Module 6: Packaging and shipping – This covers the packaging materials you'll need, how to package medium and large boxes for FedEx and UPS, how to save money on shipping labels, shipping insurance and how to make a shipping insurance claim.
Module 7: Keeping good records – This covers the essentials for running a successful business such as how to set up your business, do taxes, and keep good records.
Module 1: Getting started with freight shipping – This is the advanced Flipper University course that covers how to list an item with freight shipping on eBay.
Module 2: Boxing, palleting, and crating large items – This covers how to determine if you need to ship UPS/FedEx or freight, how to box large items, how to pallet items to ship, and how to crate items for freight shipping.
Module 3: Getting quotes and shipping out your items – This covers how to get freight quotes and how to choose between freight pick up vs. terminal drop off for your items.
When you sign up for Flipper University, you'll also receive:
Flipper University Cliff Notes to help you hit the ground running right away.
Flipper Success Daily Habits Checklist
Reseller Tax Guide
Sourcing workshop to show you how to find items worth money to resell for profit.
Shipping 101 Bootcamp
Private members group to help get all your flipping questions answered.
Furniture shipping workshop (Pro Plus only)
4-Week Freight Training Bootcamp (Pro Plus only)
One month of sourcing membership free (Pro Plus only) Rob and Melissa will help you find items in YOUR area worth a total of $500-$2,000!
Walk you through your first freight shipment (Pro Plus only)
Ready to get started? Check out Rob's FREE workshop (details below).
How to start flipping furniture for profit (Free Workshop)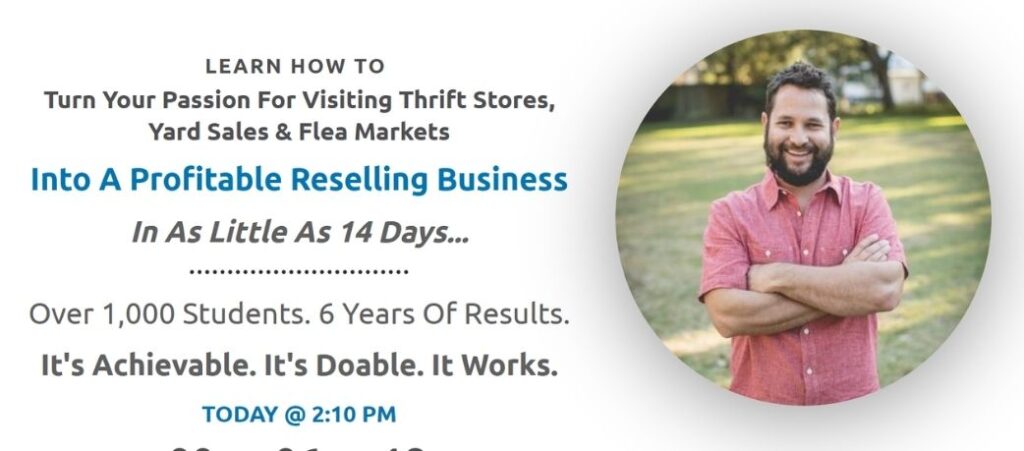 Rob has put together a free workshop where he'll share:
5 signs flipping / reselling items could be a perfect fit for you.
How flipping can be your ticket to lifestyle freedom and financial security.
3 insider secrets that will help you grow your flipping profits.
and so much more!
His workshop is completely free to join. Save your free seat here.