One of the reasons why I was inspired to transition to a minimalist lifestyle was because I used to have a shopping problem.
As a spender at heart, I loved the instant gratification I got when buying new things. I would shop because I was bored and unhappy.
Chasing that stimulation of searching for the next item to buy or waiting for a package to arrive in the mail gave me something to look forward to.
But the truth is – the more stuff I bought, the unhappier I became, and I couldn't understand why. I was spending money on things that I couldn't afford, which left me broke and with a home full of clutter.
That's when I started to ask myself, "what is it that I really need in life" and "how could I learn to want less?"
This led me to dig deep and get to the root cause of my shopping problem, which I now help others do in my new e-book, The Intentional Spender.
I didn't just wake up one morning and tell myself, "I'm going to stop shopping and buying things that I don't need".
It happened slowly over a period of time, as I learned more about the benefits of minimalism and paying attention to my own spending triggers.
I started off by focusing on the main area that I struggled with the most, which is clothing. I challenged myself to not buy any new clothes for 30 days and shop my closet instead.
It was tough, but I did it. So I challenged myself to keep going and try it for another 30 days. Eventually I went an entire year without buying any new clothes.
Minimalist living is all about living with intention and focusing only on the things that add value and meaning to your life and removing the things that distract you from it.
No matter where you are on your journey, decluttering the things that no longer serve you can help you gain clarification and re-center you on your path towards reaching your goals.
That's why I'm sharing a minimalist list of things to get rid of. Use this list to give you ideas of things to stop buying to save money. Remember, minimalism is about finding the right amount of stuff for you.
Everyone's list will look different, and this post isn't meant to shame or judge anyone for their spending habits.
For example, if you love using your gym membership, then by all means keep it. I just enjoy reading other people's list because it gives me inspiration and helps me to identify any areas in my own life where I can simplify or improve.   
If you want to learn more about how to get good with money, check out my free audio training.
Related Posts: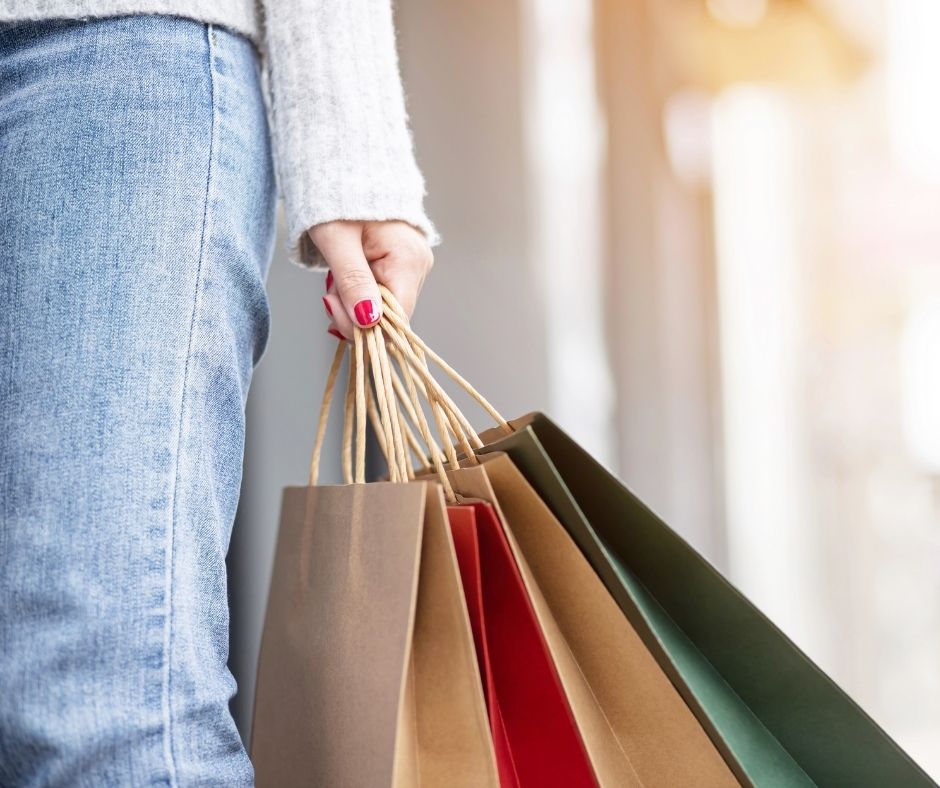 1. A traditional gym membership
Once the pandemic started, gyms had to close in my city. This forced me to switch to at-home workouts. In the beginning, I started watching free workout videos on YouTube, but found that I needed something more to motivate me to make exercise a daily habit.
I signed up for an at-home workout streaming service and invested in a few pieces of gym equipment for my condo. Being able to stream classes and follow a fitness program at home completely changed my life.
For me, this was much better than going to an actual gym because I was able to workout in the comfort of my own home.
The cost of an at-home workout streaming service is cheaper than paying for a traditional gym membership. I was able to use that extra savings to buy gym equipment. Some of my favorite workout streaming services include:
Beach Body on Demand
Peloton
Some of the gym equipment that I bought for at-home workouts include:
2. Makeup and beauty products
I haven't completely stopped buying makeup. Instead, I found an everyday makeup routine that works for me and only buy a limited number of products.
For example, since the pandemic started and I've been spending more time at home, I only wear concealer, a neutral eyeshadow palette, mascara, blush, and powder foundation. Sometimes I'll throw on some lip gloss.
In the past, I used to buy tons of different makeup and specialty beauty products, because it was fun to experiment with different styles and trends. Now I no longer buy makeup remover wipes, sheet masks, self-tanner, body scrubs, and other stuff that I don't find necessary.
I prefer to keep a simple beauty routine, save money by not getting so many products, and use that savings to put towards quality products for my skincare routine. When you focus on your skincare routine, you'll find that you'll need a lot less makeup to look your best.
3. Books and magazines
I used to dream of having a big at-home library (like the one in the movie, Beauty and the Beast). I felt like my taste in books was a reflection of my identity. But after collecting hundreds of books over the years, I realized that having a big library took up so much space and I didn't make time to read all the books.
Once we started spending more time at home, it became apparent how valuable space was when living in a small condo. This encouraged me to sell my book collection and free up the space for things that brought me the most joy in life. I recommend Bookscouter or Facebook Marketplace to sell used books.
Now I'm happy with my Kindle eBook reader. I can download free eBooks from the library or use Audible to listen to audiobooks and podcasts. The only books I do buy sometimes are cookbooks, which I refer to on a regular basis.
4. The latest gadgets
With new phones, cameras, TVs, and computer models being released every year, it can put pressure on us to upgrade to the latest and greatest gadgets. Even if you consider yourself an early adopter or like to stay on top of tech trends, avoid falling for this marketing trap.
You're not missing out if you don't upgrade your phone every year. Your stuff is still fine and will last for some time. There's no need to replace it unless it's absolutely essential.
If using the latest electronics and tech gadgets is important to you, then consider selling your old gadgets before upgrading them. This can help cover some of the cost of the new item.
I also recommend creating a sinking fund for electronic and tech purchases. Here you'll set aside a little money each month so by the time you want to upgrade, you will have enough money to pay for the item using cash.
My husband and I no longer upgrade our tech gadgets unless it makes sense. It's not a priority for us to use the latest gadgets and we are happy to use the ones we have until they no longer work.
For example:
I like to wait 3 years before upgrading my phone. My husband gets his phone covered by work so we don't have to pay for that.
We just bought a new TV to replace our 10-year-old TV. We are hoping our new TV will last another 10+ years.
We haven't upgraded our 8-year-old digital cameras or GoPro because they still work great.
We only upgrade our laptops when our current ones stop working.
We don't own fitness watches, smart watches, video game consoles, or other related gadgets because they are not essential for us. When we feel like playing video games, we visit friends who have them.
5. Jewelry and watches
I have never been a big fan of jewelry. I love the way jewelry looks, but I don't like the way it feels when wearing it. Instead, I try to keep it simple when it comes to jewelry. I have a few necklaces which I enjoy wearing, a few pair of earrings, my wedding band and engagement ring.
I haven't owned a watch since I was a kid because I don't like the way it feels on my wrist. I just use my phone to check the time and that works for me.
Of course, I can appreciate that this may not apply to everyone. There is nothing wrong with wearing or buying new jewelry. I just realized that it's not important to me and I rather use my money for other purposes.
6. Organic groceries
A few years ago, I watched a documentary about food and it inspired me on a health kick. I started buying organic groceries and avoiding all processed foods. This only lasted for a few months before I realized how expensive this new habit was costing me.
Groceries in Canada are very expensive, and they are continuing to increase in price each year. While eating healthy is important to me, I only buy organic groceries if they are on sale or they're the same price as conventional groceries.
By cutting back on processed food significantly, this also helps me save money which I can put towards buying fresh produce. I've also learned which grocery stores tend to offer the best prices for fresh produce, which helps keep our monthly grocery budget under $400 for two people.
If you live in Ontario, below are my favorite retailers to buy groceries:
Costco – Great for frozen fruits and veggies, greens (boxed spinach, arugula, spring mix, and romaine), quinoa, rice, and canned beans.
Farm Boy – Great for fresh produce and herbs.
No Frills – Great for canned goods that don't need to be purchased in bulk.
7. Online food delivery
I'll admit that Sam and I haven't ordered food delivery since moving to our condo 4 years ago. This is because if we choose to eat out, we prefer to walk or drive to our favorite restaurant to get take-out. We are very fortunate to live in a neighborhood that is close to so many great restaurants.
I know online food delivery can be a convenient option for many people, but it's not a priority for us. Food delivery is more expensive than buying the same meal at the restaurant and it usually arrives cold (especially in the winter months).
Instead I prefer to cook meals at home. I create a meal plan for the week and prep items in advance so it's easy to put together quick and healthy meals. Services like Chef's Plate or 5 Dinners in 1 Hour also make it easy to get dinner on the table fast.
On nights when I'm too tired to cook, we either have something simple like breakfast for dinner or we'll walk to our favorite falafel spot to grab take-out.
8. Smoothies and protein shakes
When I was on my previous health kick, I used to go to a local smoothie and juice bar a few times per week. But each visit was costing me $7-$10, which quickly added up over the month.
I really enjoy drinking fresh smoothies, juices, and protein shakes, but my budget didn't like the high prices. Instead, I set a savings goal to buy a Vitamix so I could make my own smoothies and shakes at home. Yes, a Vitamix is expensive, and it was a HUGE purchase for me. But it's now my favorite kitchen tool.
I've been using my Vitamix every single day for the past 8 years and love it! I use it to make smoothies, protein shakes, juices (use a cheese cloth to strain the pulp), salad dressings, dips, soups, and so much more.
I even taught Sam how to use it so he can make green smoothies for us each morning. My favorite recipe books for making smoothies are:
9. Fabric softener and dryer sheets
When I started getting into healthy eating, it inspired me to learn more about how the products we use on our skin and hair can impact our health.
For example, I switched from using conventional to natural laundry detergent because it's gentler on clothes, our skin, and it's better for the environment.
I also stopped using fabric softener and dryer sheets (which I used to use for years) because I realized that they weren't necessary. Also, they contain harmful chemicals that can adhere to our clothes and rub off on our skin.
Making the switch was easy and if I ever feel the need to add fabric softener, I just add a little bit of vinegar to the laundry cycle. I also use wool dryer balls, which are great for reducing static.
10. Designer handbags and shoes
In the past, I used to love buying designer handbags and shoes. I would literally scroll for hours online researching and looking for new things to buy. My shopping problem was getting out of control and costing me a fortunate trying to keep up with the trends.
To help improve my spending habits, I challenged myself to do the no new clothing challenge for a year. This included not buying any clothes, shoes, or accessories. During this time, I shopped my closet and used items that I already had.
I also learned more about the true cost of fashion and the environmental hazards of leather products. This inspired me to stop buying leather products and practice sustainable fashion by using items I already own and supporting eco-friendly brands.
Another reason why I stopped buying designer handbags was because I noticed myself "needing more" after making a purchase. I felt myself going down a black hole.
A new designer handbag would make me happy for a little while, but then I was quickly lusting after that next item I wanted. I didn't like the person I was becoming, which is why I made the change.
11. Takeaway coffee and tea
When I used to work a traditional 9-5 job, I would go to Starbucks every morning on my way to work. But this habit was costing me between $800-$1,000 per year, depending on what I would order.
To save money, I started bringing my tea in a tumbler to work. Eventually I realized that the only reason why I went to Starbucks was because it was convenient, and I liked collecting points to earn free drinks. But bringing my own tea to work became the new convenient and easy option.
When the pandemic started, Toronto made it mandatory to wear masks in all public spaces. Even in 2022, we are still wearing masks indoors. So grabbing Starbucks while running errands wasn't practical anymore, due to the mask mandate.
I've only been to Starbucks a few times in the past couple of years and I honestly don't miss it. I prefer the taste of my own coffee and tea at home. I bought a pour over coffee machine, which I love. I also have an espresso machine which makes it super easy to whip up tasty lattes and cappuccinos at home.
If going to Starbucks or your favorite coffee shop is important to you, that's fine. Make sure to include the cost in your budget. For me, it's no longer a priority and I get more joy from making my own handcrafted drinks at home.
12. Cable TV and multiple streaming platforms
When we first moved into our condo, I was researching options for cable TV and streaming services. Sam and I rarely watch cable TV and prefer to watch movies, so we decided challenge ourselves to go without cable TV for a few months and see how it goes. We told ourselves that we could always sign up later if we really wanted it.
It's been four years and we've been happy with no cable TV. Instead we share streaming services with our family. By sharing the cost, this helps reduce the expense and we can all enjoy watching our favorite shows and movies. We have Netflix, Disney+ and Amazon Prime.
We used to pay for more streaming services but have canceled the ones we rarely used. Every few months, I like to go through our monthly subscriptions, streaming services, and memberships to see which ones are important to us and which ones can be eliminated. This helps to keep our spending in check.
13. Clothing for special occasions
In the past, I used to have a bad habit of buying new clothes for special occasions that I would only wear once (or a small handful of times) before throwing it to the back of my closet and never wearing it again. This was for work functions, parties, vacations, weddings, and so on.
Not only was this wasteful, but I always felt guilty whenever I saw the item in my closet. I would tell myself that "someday" I'll find another occasion to wear it. But oftentimes the item would go out of style or my taste in fashion would change.
Since doing the no new clothing challenge for a year, I learned how to declutter my fantasy self and stop buying clothes that I never wear. Now I have a better method for finding an outfit for special occasions that works best for me.
Shop your closet first – See if there is anything in your closet that you can potentially wear for the special occasion. I like to look for fashion inspiration on Pinterest and try to put together a similar outfit using items that I already own.
Borrow – If you don't have anything suitable to wear, consider borrowing clothes from a family or friend. I've done this many times for weddings and parties, which has saved me thousands of dollars.
Rent – There are many companies that allow you to rent clothes for special occasions. This is usually cheaper than buying a new outfit and better for the environment.
Thrift – If you don't have anything in your current wardrobe, can't borrow or swap an item with a friend, and don't want to rent an outfit, then consider thrifting.
Buy – If the other options are not practical for you and you must buy, then try to find something that you can potentially wear again and pairs with other items in your wardrobe.
14. Home décor
One of the reasons why I transitioned to a minimalist lifestyle was because I hate cleaning. In the past, I used to have a lot of home décor, but it was always a pain to dust, clean, and maintain everything.
When Sam and I moved into our condo, we wanted to have a fresh start and didn't bring any home décor with us. Instead, I focused on choosing practical and functional items for the home that were easy to keep everything organized. I also have a rule to keep most surfaces clear, which now makes cleaning a breeze.
15. Professional hair cuts
After a horrible haircut in 2008, I taught myself how to cut my own hair at home. I bought a pair of hair dressing scissors, watched a tutorial on YouTube, and have been cutting my own hair ever since. I keep my hair all once length, so it's easy to maintain.
Of course, if you're hair requires a more complicated style, then you may want to consider going to a salon. But this works for me. Most salons charge around $80+ for a women's haircut, even if it's just a trim. I save a lot of money by cutting my own hair at home.
I use this savings to cover the cost of getting highlights in my hair. Being blonde is very expensive and costs me around $300 per salon visit to get my hair done. I try to only go two to three times per year, usually in the warmer months and let my hair grow out in the winter.
16. Fresh flowers
Fresh flowers are beautiful, but I've never been a big fan of paying for flowers. This is because:
I like to keep surfaces clear so it's easy to clean my home
My cats go crazy for flowers and will knock them over when I'm not looking
They're expensive and I prefer to spend my money on other things
They only last for a week, then they die, and you're left with a smelly vase to wash
I prefer to see flowers growing in nature or at the local botanical garden
17. Plastic Tupperware
I stopped using plastic Tupperware a few years ago and switched to using glass containers instead. While plastic Tupperware is lightweight and easy to transport, I've been trying to be more mindful about how much plastic I use.
For me, glass storage containers are superior because:
Glass doesn't absorb food, bad smells, or stains from previous food
Glass can be safely washed in your dishwasher
Leftover food can be heated up safely in a glass container
Glass containers are better for your health than plastic Tupperware
Glass containers are freezer safe, which makes it great for storing leftovers
Glass containers look nicer than plastic Tupperware
18. Expensive phone plan
The average cost of a cell phone plan in the USA is $113. In Canada, cell phone plans and home internet are also very expensive.
Sam and I pay just over $100 a month for our home internet. Due to this, I have a basic cell phone plan (unlimited talk and text) and only pay $25 a month. I don't have a data plan because I work from home and use Wi-Fi for my phone.
Sam's phone is covered by his work which has a data plan. So, if there's ever a need to use data, we can use his phone. There's only been a few occasions where I wish I had a data plan. But for the cost of adding data to my phone, it's not worth the price.
I can appreciate that this might not work for everyone, but it works well for us. For affordable plans, considering checking out Mint Mobile.
19. Air fresheners and candles
A few years ago I started doing research on how the products we use can impact our health and the environment. I used to be a HUGE fan of Bath & Body Works products, especially their air fresheners and candles.
But since learning that their candles contain chemicals that can be toxic, I've stopped buying them. This has saved me a lot of money because I used to go nuts when their new scents came out each season.
I still love the look of candles though, so now I use flameless candles. They are great because they are safe and easy to maintain. I also use an essential oil diffuser to make my home smell nice.
20. Impulse buys
In the past, I considered shopping as my hobby and couldn't control my spending. Since overcoming my shopping addiction, I've stopped making impulse buys.
Now I practice shopping intentionally, which means consciously choosing to spend my money on things that I truly value and being mindful before making a purchase.
If I feel tempted to buy something, I pause and ask myself these questions to help me understand if I really need to buy it and if it makes sense for my budget. Pausing also creates a "cooling off" period that can hep you think more clearly about the purchase instead of reacting to your emotions in the heat of the moment.
For more tips on how to stop impulse buying and shop with intention, check out my new e-book, The Intentional Spender.