Planning a monthly budget? Great choice! Before you get started, it's important to make sure that you're not making one of these common budgeting mistakes.
One of the reasons why many people don't stick to their budget is because they can't make their budget work for their needs. The truth is, we all make mistakes. And if you're like me, you'll probably make a few mistakes when planning your first budget. This is normal.
In fact, I made so many budgeting failures in my early 20s, which made me scared to create a budget again. But once I learned that money is a tool, this gave me the confidence I needed to get back on track to improving my finances.
Just a few years ago, I didn't have a budget and my spending was all over the place…and now, I've learned how to make my money work for me and became a savings expert!
To help you get started on reaching your financial goals this year, here's a list of some of the most common budgeting mistakes people make and how to avoid them! Are you making one of these top budgeting mistakes?
Related Posts: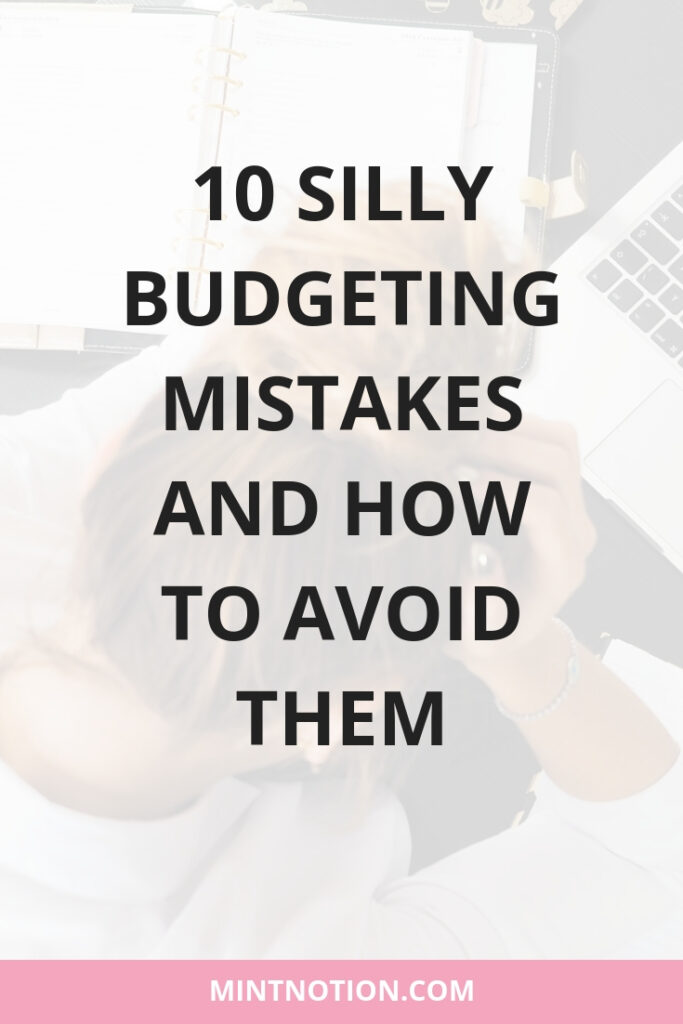 1. Not writing your budget down
This is the one of the biggest budgeting mistakes people make. If you're wondering where all your money went by the end of the month, then you need a budget. Even if you have a pretty good idea of how much money you make and spend, you still need a budget.
No matter how well you think you can budget in your head, there's always going to be an expense you forget about. I know making a budget isn't fun, but continuing to live paycheck to paycheck isn't fun either.
Writing down your budget can help you get a better handle on your finances and reach your goals. Plus, people are more likely to stick to their budget when they see it written down on paper. With the right tools, you can create a budget with ease.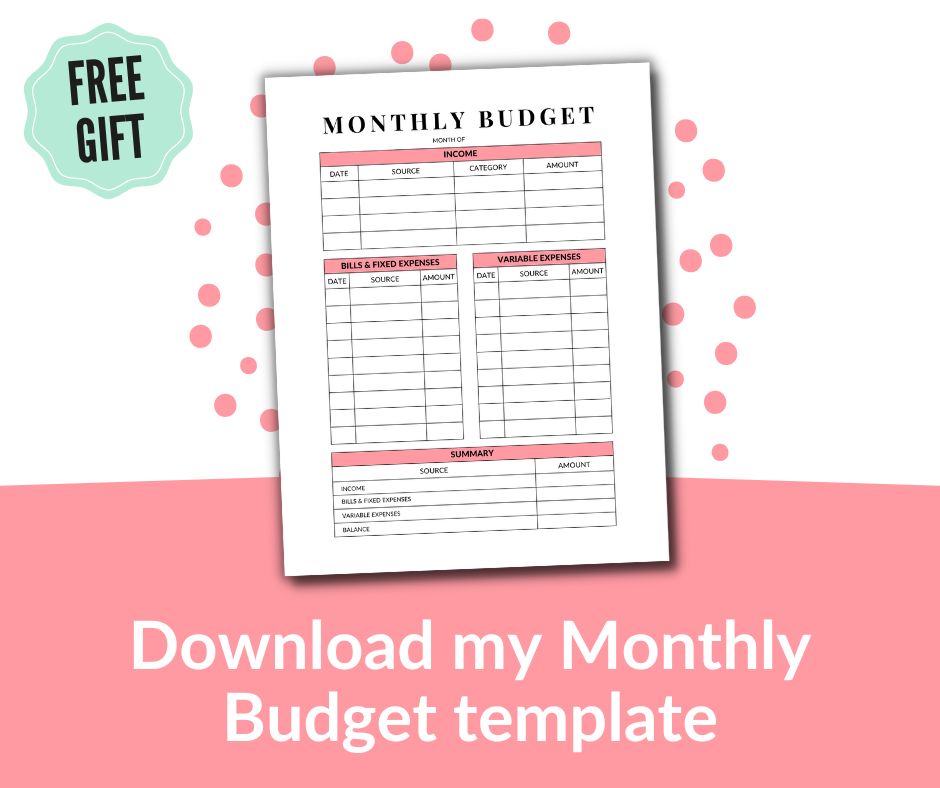 2. Setting an unrealistic budget
The key to sticking to your budget is to make it realistic. If you try to budget $100 per month for groceries to feed a family of four, you're going to fail. Common budgeting mistakes like this can make you feel frustrated when it comes to managing money.
If you're in your early twenties, there's a good chance you'll be going out for drinks with friends. Make sure to plan for this by including these expenses in your budget. While it's not a good idea to go out every weekend if you're trying to save money or pay off student loans, you should set aside a realistic budget for those "nights out" with friends.
Set yourself up for success by creating a budget that's tailored to your lifestyle. This will add more wiggle room to your budget, which can make it feel easier stay on track and stick to your plan.
3. Forgetting to track your spending
Many people write down their budget and create "wish lists" of how they'd like to spend and save their money. BUT they often forget to track their spending! If you don't know where your money is going, then your budget is not doing you any good. This is one of the most common budgeting mistakes.
To make it easy, I like to spend a few minutes every night writing down my spending for the day by category. You can use my Tracking Expenses worksheet to do this or create your own. Keeping track of your spending can help you stick to your budget and gain control over your finances.
New to budgeting? If you're new to budgeting, it may be hard to set spending amounts for your monthly expense categories. Instead, just track your spending for the first month. This will give you an idea of how much to budget for the second month.
4. Forgetting to budget for seasonal and one-time expenses
It's easy to forget to include your mom's birthday present, holiday spending, haircuts, or annual bills in your budget. Without proper planning, these expenses can hurt your finances when it's time to pay for them.
To avoid surprise expenses, I like to map out my bill payments, events, birthdays, and vacations on a calendar. This lets me know when those seasonal or one-time expenses are coming up, so I can include them in my budget. I have a printable calendar for each month of the year and keep it organized in my Budget Binder. You can download my printable calendar here or create your own.
For annual, semi-annual, quarterly and monthly bills, I like to write down everything in my Budget Binder. This helps me keep track of when bills are due, so I never miss another payment. You can download my Recurring Bills worksheet here or create your own.
PRO TIP: To budget for large annual expenses, you can divide the amount you need to pay by 12 and set aside this money each month.
5. Not budgeting for emergency costs
Every successful budget needs an emergency fund. No matter how organized you are, unexpected costs can happen, such as car repairs, medical costs, veterinary emergencies, and so on. This is one of the most common budgeting mistakes.
Having an emergency fund can help stop you from adding to your debt or busting your budget. I recommend setting aside money each paycheck and putting this towards your emergency savings. Think about your emergency fund as an expense. This will get you into the habit of paying towards it monthly.
Once you have 3-6 months worth of living expenses set aside, then you can reconsider how much you need to contribute. Having an emergency fund can make it easier to handle stressful financial situations because you'll be prepared for it.
Read Next: How to build an emergency fund
6. Forgetting to budget some "fun money"
Think you can live without having fun? You can't.
If your budget is too strict, you'll feel deprived and more likely to blow it. Having a budget is about taking control of your money so you can spend and save for the things that matter to you.
While you need a roof over your head and food in your belly, you don't need to get a manicure or splurge on weekly shopping sprees. The truth is, if you forget to budget some "fun money", you're going to spend it anyway.
You can budget as much "fun money" as you'd like. Whether it's $10 or $20 per week, it's important to choose an amount which works best for your lifestyle and financial goals.
The best part of having fun money is you don't know what you're going to buy with it yet. This is your money to spend as you wish, without guilt.
Read Next: How to stop impulse buying for good
7. Trying to keep up with the Joneses
A common reason why many budgets fail is because people create their budget based off someone else's lifestyle. They set numbers based on what they think people should be spending their money on, instead of aligning their budget with their financial goals.
Everyone is unique and a budget works best when its tailored to an individual's lifestyle. This is when your goals have the highest chance of being achieved.
For example, if your friend is saving money to travel around the world, but saving money for a home is more important to you, you'll want to budget accordingly. It's easy to feel a little FOMO (fear of missing out), but it's important to focus on what matters to you most.
Creating a budget which aligns with your goals will make you happier than trying to keep up with the Joneses. I encourage you to embrace JOMO – the joy of missing out. This is about choosing what you want to do (or not do). It directs your energy and time into activities that fully engage you.
Read Next: 5 reasons why it's SO hard to stop shopping + how to fix it
8. Not making a plan to pay off debt
Over 40% of American households carry credit card debt. If you keep a balance, this means you're accumulating interest each month.
Sure you can work towards paying off debt without having any strategy, but it's going to take considerably longer than it would have otherwise. This is one of the most common budgeting mistakes. Planning ahead can keep you organized and help you reach your goal of becoming debt free faster.
Debt doesn't have to be a normal part of life. Make a plan to pay it off using the debt snowball method. Here, you'll start paying off your debt according to the smallest balance first, while paying the minimum on the rest. The goal is to prioritize the smallest balance, then work your way up to the higher balances.
This is a good choice for those who are looking for quick wins and a boost of motivation. When you start with the smallest payments first, you can free up extra funds to focus on the next balances. This can give you a sense of accomplishment so you stay on track.
Read Next: Debt snowball vs. Debt avalanche method – What is the best way to pay off debt?
9. Assuming your monthly bills are set in stone
Many people assume their fixed monthly expenses are set and cannot be easily changed. This includes rent / mortgage, cell phone bill, cable TV, car insurance, and so on. This is one of the most common budgeting mistakes.
When looking at your monthly budget, you may not be thinking of ways to decrease the amount you spend on them. By shopping around, you can save money on everything from your car insurance to your gym membership to your cell phone provider.
It's a good idea to get into the habit of checking out the competition each year or seeing if you can negotiate a better rate with your current providers. I've saved a lot of money on my monthly bills by doing this.
Read Next: 50 creative ways to save money on a tight budget
10. Forgetting to monitor and make adjustments to your budget
Creating a budget is just the first step in getting on track to improving your finances. The second step is to monitor and make adjustments to your budget, as needed.
Your lifestyle may change, whether it's planned or unexpected. This is why it's important to review your budget on a regular basis to ensure it's working best for your needs. I personally schedule a "weekly reflection".
If you're single, then you don't have to worry about including others in your weekly meeting. If you have a partner or family, then budgeting is a team project.
You can set aside Saturday morning or Sunday afternoon to check-in and see how your budget did this past week. Then you can make adjustments (as needed) to prepare your budget for a successful financial week ahead. Monitoring your budget is the key to staying on track.
Here are some reasons why you may want to consider altering your budget:
Adopting a new pet
Preparing for a baby / Adopting a child
Your car is getting older and it may need to get replaced soon
Moving to a new home / apartment
Saving for a vacation (or a big expense)
Read Next: Sinking funds for beginners
Bonus Tip: Find ways to make more money
Saving money is important. A penny saved is a penny earned, right?
If you've cut back on your expenses and improved your spending habits, but you're still struggling to get by, then you may want to consider increasing your income.
Just a few years ago, I had the mindset which focused on ONLY saving money. I thought my income was set and it would be too difficult to get a second job. While saving money is great, it can only get you so far. Even if you've cut back to a bare bones budget, your savings is dependent on the amount you earn (and there's a cap to that).
Then one day I was reading the book, Rich Dad Poor Dad, and I realized that my money mindset was only seeing half the picture. I was good at saving money, but never thought about ways I could increase my income so I could hit my financial goals faster.
Since then, I've worked on changing my mindset to focus on earning more money. It wasn't easy at first, but now I can save more money each month without having to live off ramen noodles or Kraft mac & cheese. There's really no "cap" on how much money you can save, as long as you're willing to find ways to increase your income and avoid lifestyle inflation.
Here are some popular ways to make extra money:
As you can see, there are many ways to make extra money each month. By avoiding common budgeting mistakes, you can set yourself up for a successful financial future. You got this!
---
Live the life you've always imagined with the right tool at your fingertips. The Budget Planner can help you get there.
These printables were hand-crafted to help you save time when organizing your finances, stop living paycheck to paycheck, save more money, pay off debt fast, and more! Use these functional sheets to create a realistic budget tailored to your specific needs and goals.
You can learn more about the Budget Binder here.