What's the budget-by-paycheck method? Paycheck budgeting means you create a new budget each time you get paid. For most workers, this is usually every two weeks. If you struggle to stick to a traditional monthly budgeting, the budget-by-paycheck method can help you manage and monitor your spending better.
Living paycheck to paycheck can be stressful. One of the best ways to reach your financial goals is to make a plan for your money.
Whether you want to break the cycle of living paycheck to paycheck, build an emergency fund, or save up for a down payment on a house – it all starts by making a plan for your money.
What's the best way to make a plan for your money? Well, it's to create a budget. Now before you make a made dash to exit this page because I brought up the "B" word, please hear me out for half a second.
Chances are you've tried other budgeting methods, such as the 50/30/20 budget rule, but you still find yourself struggling to make ends meet.
That's because traditional budgeting methods don't always work for everyone.
Traditional budgeting methods usually follow a monthly format. Budgeting for the month means that all your income and expenses are planned out for 30 days at a time (depending on the month).
While this approach to budgeting can be highly effective for some people, it's important to understand that it may not work for everyone.
If you live paycheck to paycheck, you may have worried about running out of cash before the end of the month, despite all your best intentions.
Most of our large bills, such as rent or mortgage are paid once per month – usually at the beginning of the month – while our daily living expenses, such as groceries and transportation, are purchased multiple times per month.
If you get paid bi-weekly (or weekly), this can make it difficult to manage your cash flow when following the traditional budgeting method.
Since you don't have access to all your cash at the beginning of the month, you may struggle to find the money to cover these larger bills or have enough leftover to pay for smaller expenses.
If so, you may want to consider the budget by paycheck method. This is budgeting method I followed to help me graduate school debt free and save my first $100,000 in my twenties.
Related Posts: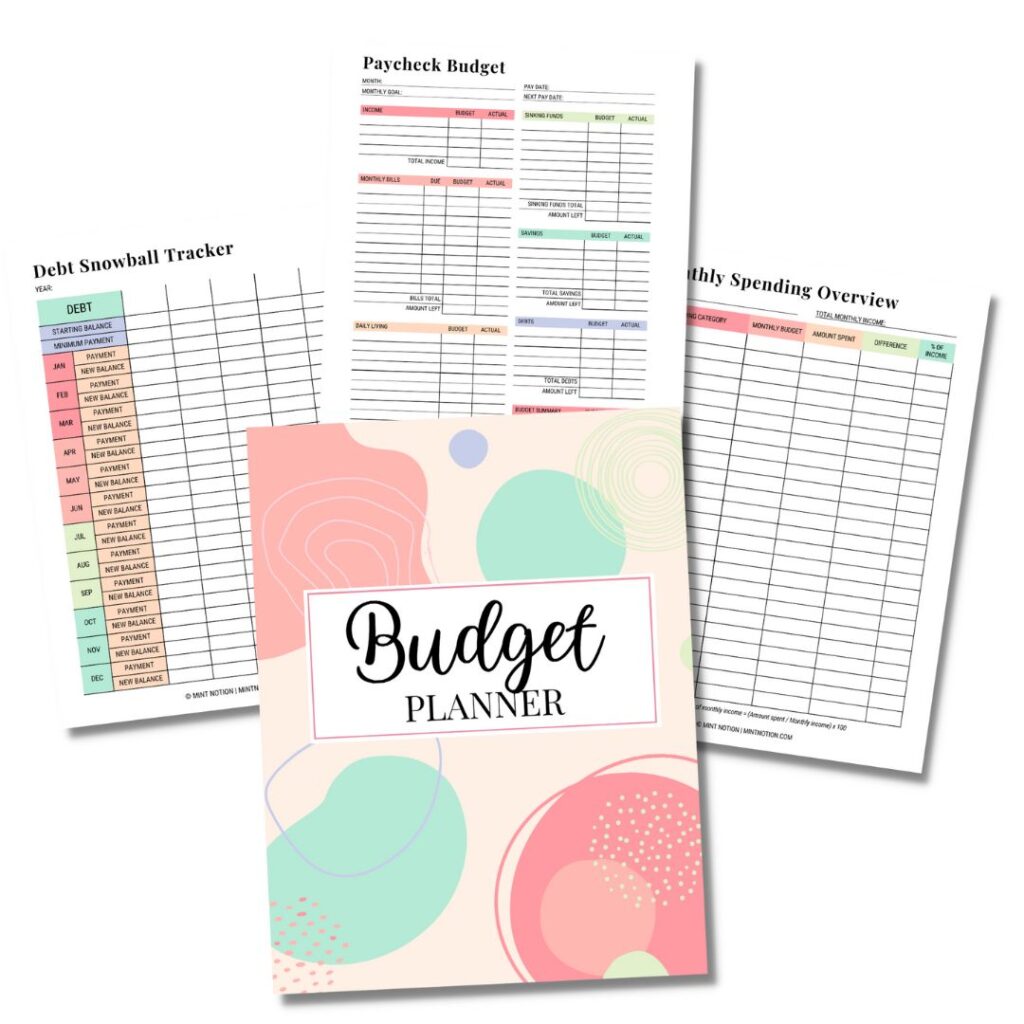 How does the budget by paycheck method work?
Instead of making a monthly budget, which can include multiple paychecks, paycheck budgeting helps you make a fresh spending plan based on how often you get paid.
One of the key reasons why paycheck budgeting works is because it forces you to sit down and evaluate your finances more frequently. This allows you to make a plan for your money before you receive it so you avoid running out of cash at the end of the month.
Is the paycheck budgeting method right for you?
If you're new to budgeting, you may find it difficult to stick to the traditional one-month budget.
Over 75 percent of Americans are currently living paycheck to paycheck, which means finding the right budgeting method can help improve your finances.
What does living paycheck to paycheck mean?
Living paycheck to paycheck means that most or all of your monthly income is used to cover your monthly expenses. This can leave you with no money leftover for savings.
It also means that if you missed a paycheck or became unemployed, you would be unable to meet financial obligations because your monthly income was predomiately devoted to expenses.
Living paycheck to paycheck looks different for everyone. For example, you could be making a lot of money and still be living paycheck to paycheck because your monthly expenses are high.
Budgeting by paycheck is a great option for anyone who wants to get a better handle on their money. It's especially ideal for:
People who live paycheck to paycheck.
People with regular paydays.
People who are paid more than once per month.
People who often run out of money before payday.
People who are new to budgeting.
People who are not sure where all their money goes.
People who want to learn how to budget money on low income.
Read Next: What is the 70-20-10 buget rule?
How to stop living paycheck to paycheck
No matter what your paycheck size looks like, sticking to a budget method can help you reach your money goals.
If you're currently living paycheck to paycheck though, trying to budget can be hard and stressful. Here's some ways to help you break the paycheck to paycheck cycle:
Decrease your spending and expenses
This is the easiest place to start when you're trying to save money and improve your financial profile.
While you'll want to make sure that your essentials are covered, such as housing, transportation, food, and utilities – many people can see big changes when they cut their other non-essential expenses.
Read Next: 15 fast ways to cut your monthly expenses
Increase your income
You can only reduce your expenses so much before it feels like you're living on a bare bones budget. This is why it's important to find ways to increase your income.
The good news is that everyone has the potential to earn more money. Just because you earn a certain income now doesn't mean that you have to stay at the same income forever.
There are many ways to make money. You just have to be willing to do the work, which may involve making temporary sacrifices.
Read Next:
Create sinking funds for large purchases
Sinking funds can be an excellent way to save up money for a large purchase, such as Christmas or an annual bill.
This simply means that you'll set aside a small amount of money from each paycheck to help you save up for this purchase.
Read Next: How to use sinking funds for beginners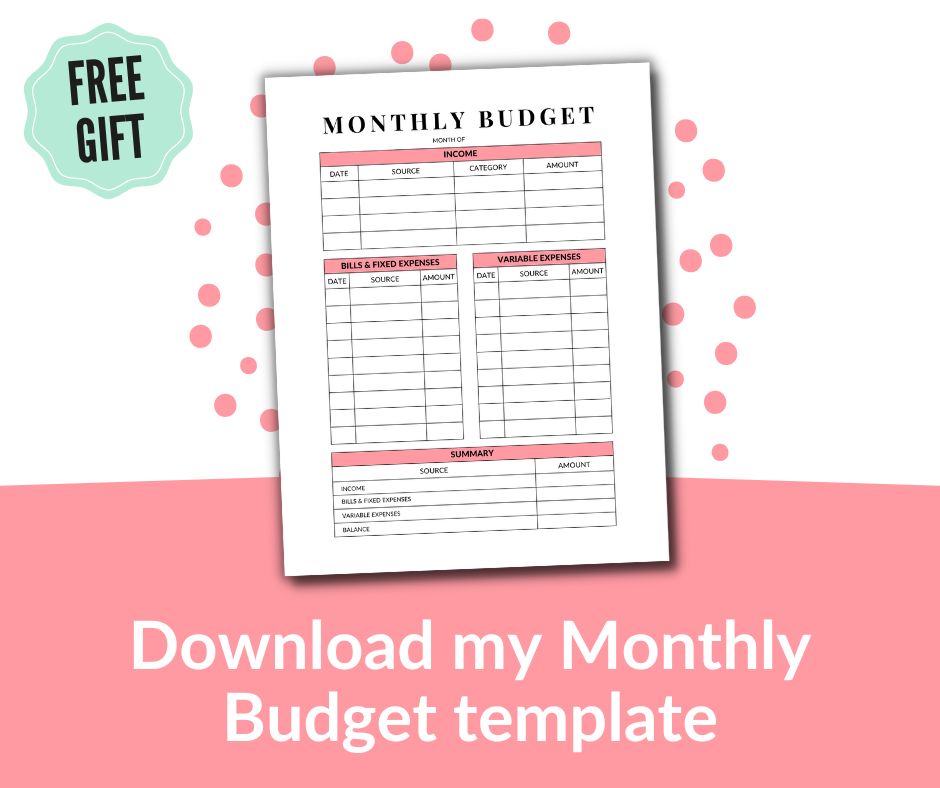 How to budget by paycheck: Step-by-step example
If you're a visual person like me, I highly recommend using a Budget Calendar to help you when following the budget by paycheck method.
It's an easy way to see your paydays, bills due dates, and when special events are happening in a given month. this is the first step to help you make a budget when you live paycheck to paycheck.
Below are some more tips on how to use a budget calendar successfully.
Read Next: What is a budget calendar and how to use it
Step 1: Figure your how much money you make per paycheck
This step should be easy. Take a look at your previous month's pay stubs and find out how much money you get receive each pay period. This is your take-home pay after taxes.
Write down the amount on this paycheck budget worksheet.
If you prefer, you can use a paycheck-to-paycheck budget spreadsheet, but I find that I'm more accountable with my finances when I write everything down on paper, using the template below.
You can grab this paycheck to paycheck budget planner in my Budget Binder – the complete budgeting resource I use to organize my finances.
If you want to make a budget plan with your spouse and have a two-income household, you'll do the same thing for both incomes.
Below shows an example of how to use this budget by paycheck printable.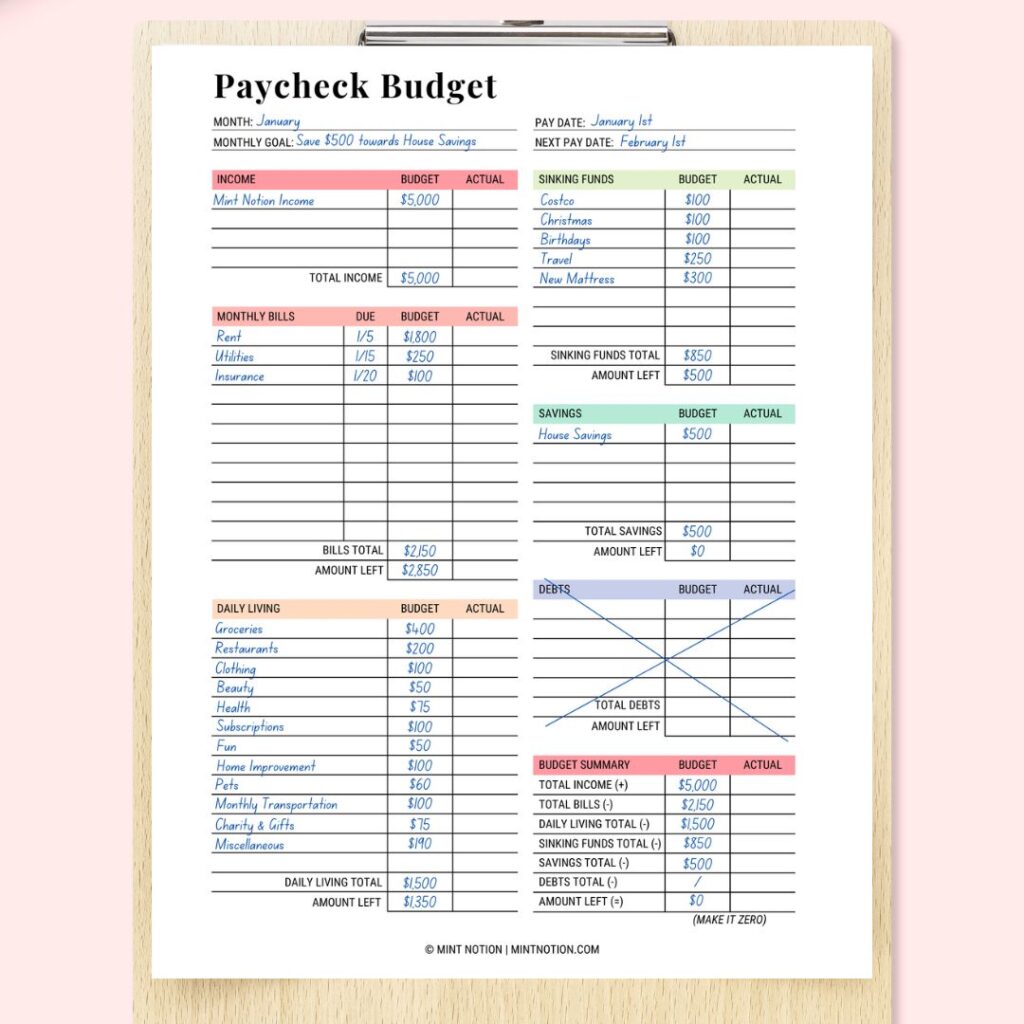 Step 2: Write down all your monthly bills and their due dates
I recommend using a Budget Calendar to do this so you can easily see when all your bills are due and which paycheck you'll use to cover each expense.
This is one of the best ways to budget money when living paycheck to paycheck. Below is an example of how I use a budget calendar.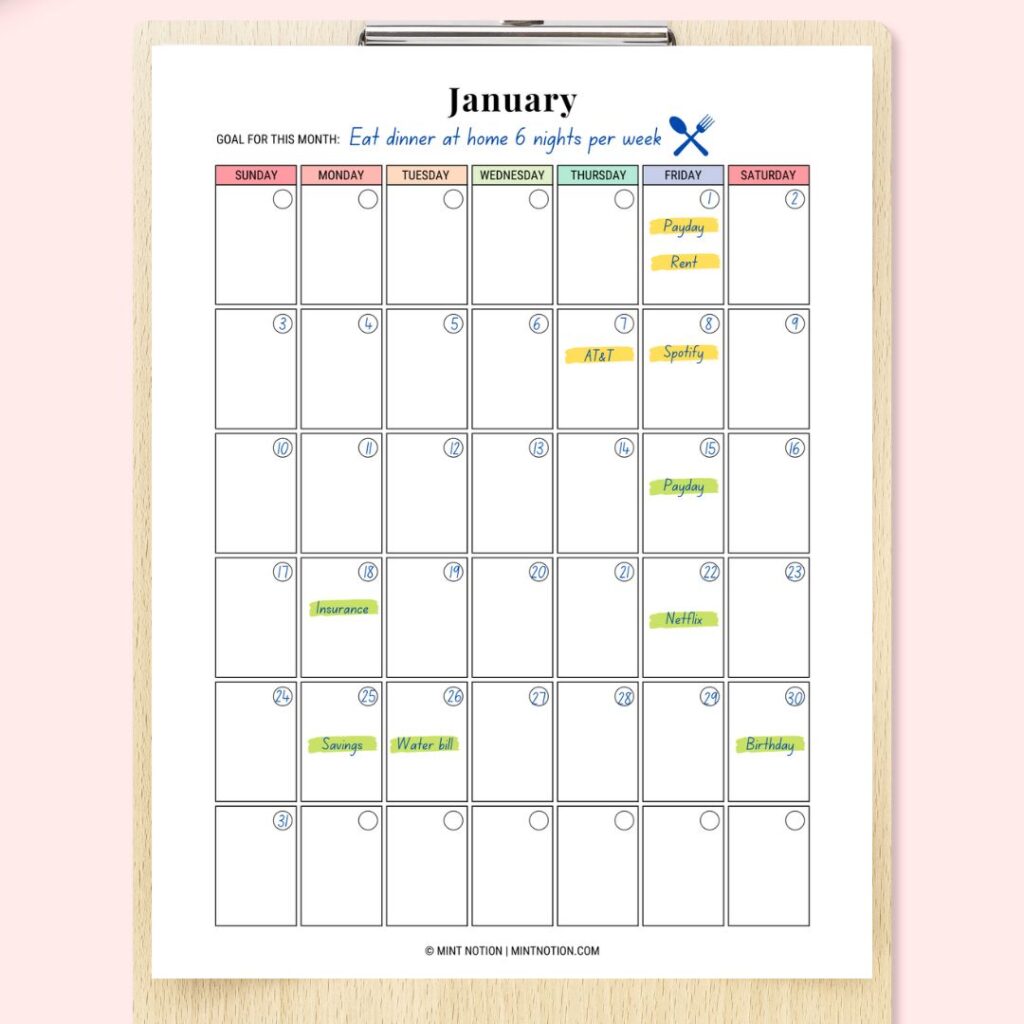 To figure out your recurring monthly expenses, you can go through your previous bank or credit card statements.
Examples of recurring monthly bills:
Rent / mortgage
Cell phone
Utilities
Insurance
Child care
Subscription services
Cable / Internet
Minimum payments on debts (credit cards, car payments, student loans)
Step 3: Set a budget for your variable expenses
Variable expenses represent your daily living spending, such as buying groceries, eating at restaurants, drinking Starbucks, buying clothes, kids stuff, or going to a bar with friends.
They are considered variable expenses because the amount you spend can change from month-to-month.
Focus on budgeting your necessities first, such as food, transportation, and household expenses.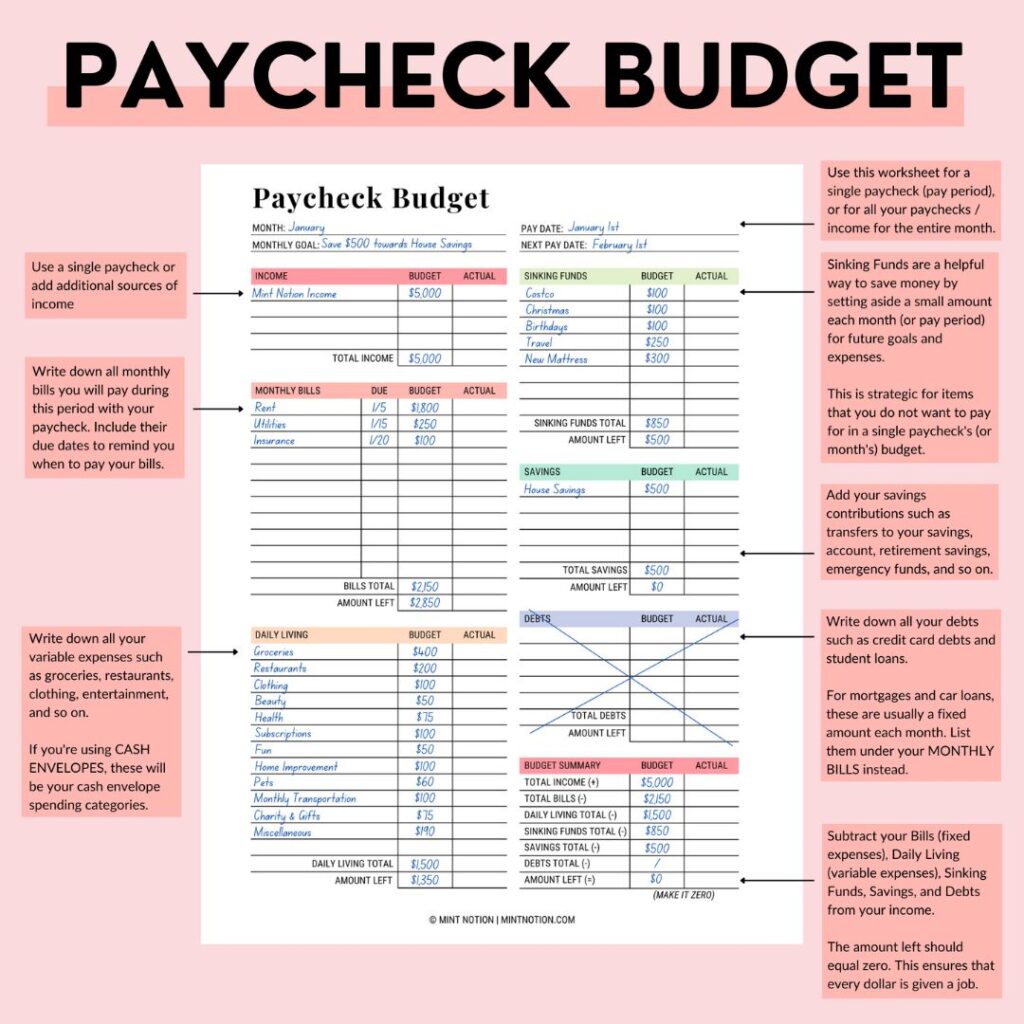 Examples of variable expenses:
Groceries
Transportation (gas)
Restaurants
Clothing
Personal spending
Entertainment
Beauty & Haircare
Giving
Figure out the average amount you spend on these expenses each month. Then you can split this amount evenly between paychecks.
For example, if you spend an average of $400 on groceries each month, then you'll need to allocate $200 from your first paycheck and $200 from your second paycheck to cover that expense.
How to use cash envelope system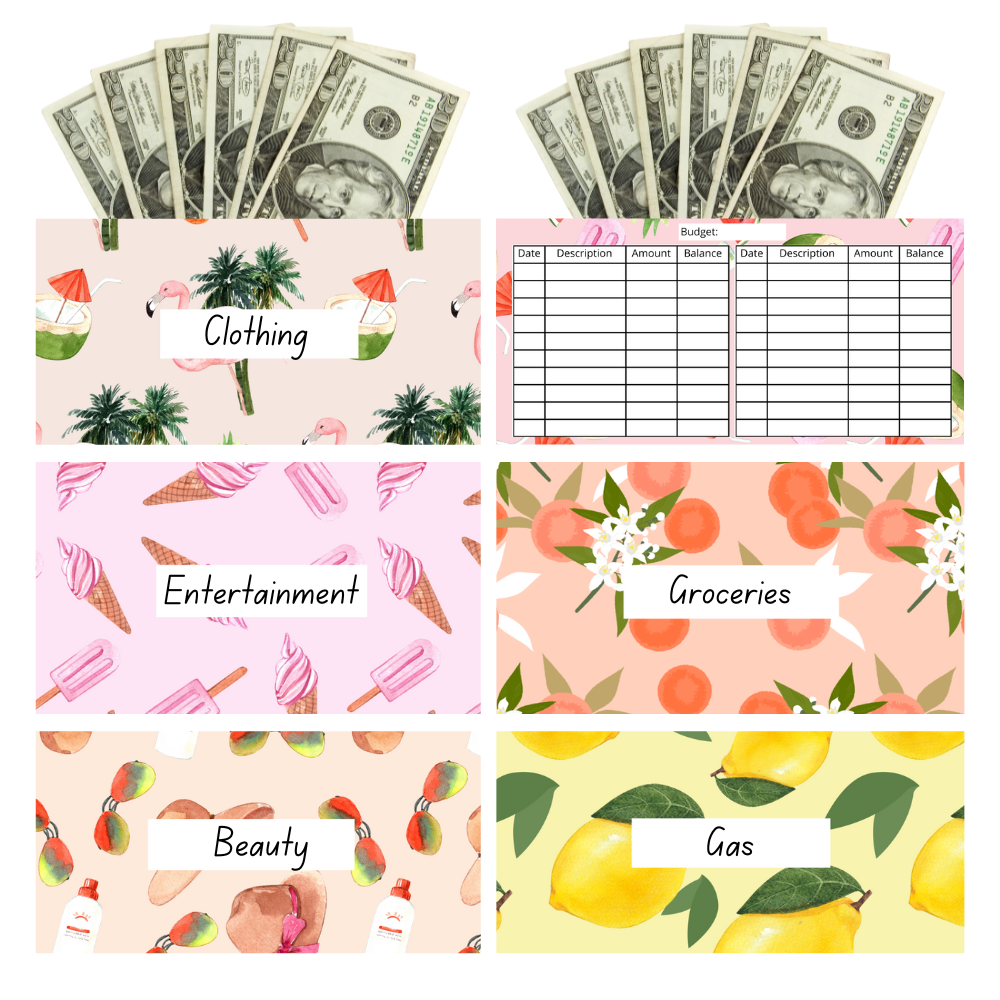 To help you track and manage your monthly variable expenses, you may want to consider using the cash envelope system.
You can create a separate envelope for each monthly variable budget category or just use envelopes for the categories that tend to bust your budget. This could be things like groceries, restaurants, entertainment, clothing, and so on.
Let's say you budget $400 for groceries. This means when you receive your first paycheck, you'll take $200 from your bank account and put the cash in your grocery envelope. This $200 will last until you receive your second paycheck. Then you'll take $200 from that paycheck and fill your envelope with cash again.
Below is more information on how to start using the cash or cashless envelope method.
Read Next: How to use the cash envelope method without cash
Step 4: Budget for irregular expenses
Irregular expenses are usually paid annually or intermittently. For example, you may pay insurance once per year.
To help you prepare for these irregular expenses, I recommend creating a sinking fund so you'll have the cash available to cover this cost when it's due without having to dip into your savings.
This means you'll set aside a little money each month towards this expense.
For example, let's say you spend $1,000 on Christmas. To help you create a sinking fund for Christmas and save money, you can divide the amount by the number of paychecks you receive each year.
I like to set aside $100 per month, starting in January, so by the time November rolls around, I'll have $1,000 saved up to spend on Christmas.
Examples of irregular expenses:
Christmas
Vacations
School tuition
Car insurance
Gifts
Birthdays
Weddings
Read Next: How to budget with an irregular income
Step 5: Figure out which expenses will be covered by each paycheck
Once you've written down all your expenses, the next step is to assign each expense to a paycheck.
This is where you might find a Budget Calendar helpful because it's an easy way to visually see everything planned out for the month. It serves as a reminder when bills are due and upcoming events.
Pay attention to bill due dates to make sure you have the cash available to cover these expenses before it's due.
When using a budget calendar, you can assign each pay period a different color. Then you can highlight the expenses and spending that will be covered by each paycheck the same color.
Sometimes you might find it necessary to set aside cash from multiple paychecks to cover large expenses, such as your rent or mortgage which is usually due at the beginning of the month. You can follow the half-payment method.
This means you'll split the cost of your fixed bills in two, so one paycheck covers one half of the expenses, and the next paycheck covers the other half.
Below are some more tips for using the half-payment method:
Read Next: How to start using the half-payment method to budget
How to follow the half-payment method:
During the pay period prior to when a bill is due, such as your rent or mortgage, you'll set aside money to cover half the cost of the payment.
You can put the money in a separate bank account to prevent you from spending it on other things.
Step 6: Make a plan for every remaining dollar
If there is any money leftover after budgeting for all your expenses, then make sure to give every dollar a job on your budget by paycheck template.
This means you can put that extra money towards your financial goals, such as paying off credit card debt, building and emergency fund, saving for retirement, or saving up for a large purchase.
If we don't designate leftover money to a specific purchase, we're more likely to spend it on stuff we don't need. Use this paycheck budgeting template to spend with a purpose.
Try to stick with the budget by paycheck method for at least a month or two. This will give you a chance to tweak and play around dates and numbers on this budget by paycheck worksheet.
Are you consistently running out of money before next pay day? You might need to cut back your spending in certain budget categories or adjust the timing of your payments.
Remember to give yourself grace. Budgeting takes practice and you'll get better the more you try to follow your plan.
PRO TIP: Schedul a budget date with yourself once a week. Treat it as a self-care activity for you, your finances, and your goals.
I like to put this Budgeting for Success playlist on and let it inspire me as I check-in with my budget to see where I'm doing well and where I can make improvements.
This also gives me time to make adjustments to my budget throughout the month as needed.
How to follow the paycheck budgeting method
There are helpful tools available to help you get started in making a successful budget. Here's some tools you might want to consider using: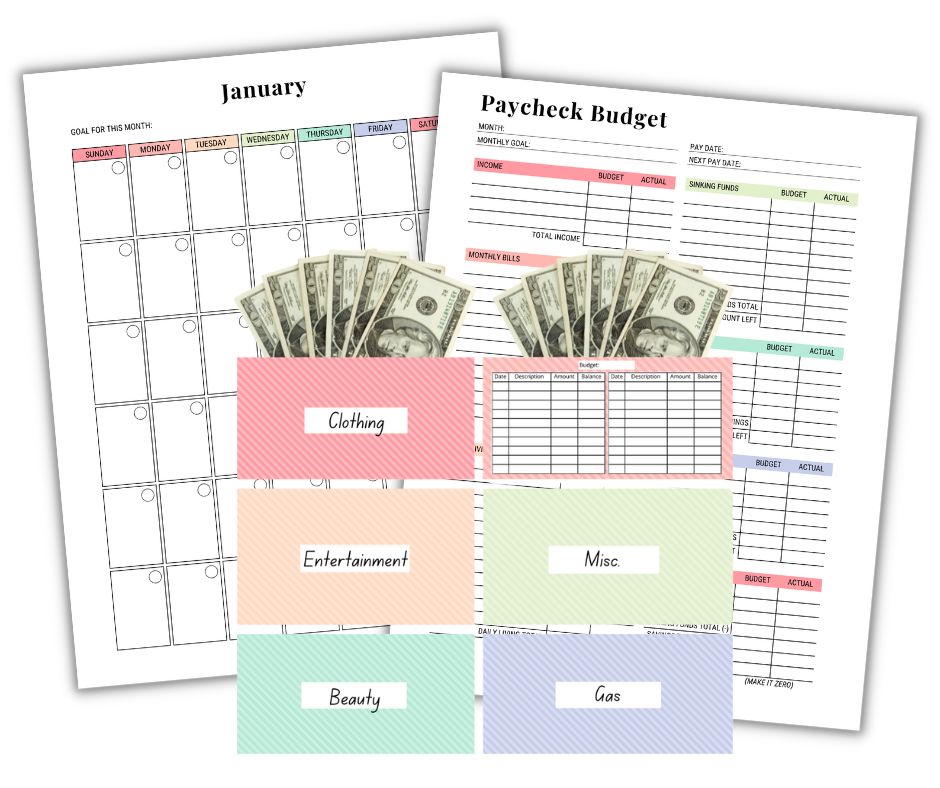 1. A monthly budget calendar
The paycheck budgeting method is about assigning expenses to a specific paycheck based on when you get paid and your bill due dates.
Due to this, you may find using a budget calendar particularly helpful to get a visual representation of your paydays and monthly bills.
2. Paycheck budget template
While you can use a pen and notebook to write down your budget, there's many Paycheck Budgeting templates available to help you get started.
I like using the printable worksheet included in my Budget-by-Paycheck Planner to organize my finances. It also include a Budget Calendar in this workbook.
3. Cash envelopes / Cashless envelopes
Cash envelopes can be a highly-effective tool to help prevent overspending. Use these envelopes to help track and manage your variable expenses. You can grab my free cash envelopes here.
Other budgeting methods you may want to consider include the 50/30/20 Budget Rule, budgeting a biweekly paycheck, or Zero-Based Budgeting.
---
Paycheck Budget FAQs
What is budgeting by paycheck?
This is a budget method where instead of making a monthly budget, you'll create a fresh budget each time you get paid. Since most people get paid on a weekly or biweekly basis, following the paycheck budgeting strategy can help you stay on top of your money.
What is the 50/30/20 budget rule?
This is when you divide your paycheck (take-home income) into 3 main budget categories: 50% of your income goes towards your needs, 30% goes towards your wants, and the remaining 20% goes towards your savings and debt repayment. This can be helpful when you're new to budgeting.
What is a reasonable budget for a month?
An easy budget to follow is the 50/30/20 rule. Here, you'll divide your take-home income into three categories: 50% for needs (housing, transportations, groceries), 30% for wants (vacations, restaurants, shopping), and 20% for savings and debts. You can adjust the percentages based on your lifestyle and goals.