Whether you're brand new to budgeting or you're really great at it, more people are realizing the importance of making a plan for their money during times of inflation.
No matter what your budgeting track record looks like, it's never too late to take action towards a brighter financial future.
And the good news is, you don't have to cut out all the fun stuff in order to combat inflation.
Adjusting your budget means that you're being more intentional with your money. You're choosing to focus on areas that you want to prioritize your spending on, while finding ways to cut back on non-essentials.
Here are some tips on how to create a budget that works best for your during inflation.
Related Posts: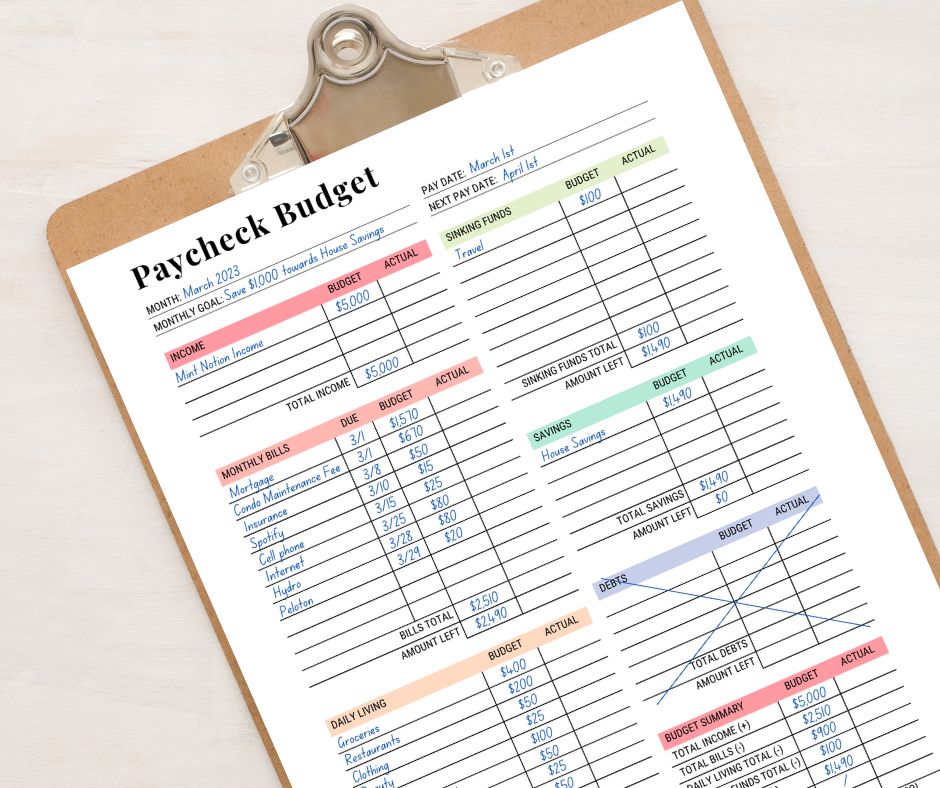 1. Decide on the right budgeting method for you
If you don't already have a budget, the first step is to set one up now. This is where you make a plan for your money. And during times of inflation, it's important to have a good plan in place.
Having a budget can help you get a better understanding of where your money is going instead of wondering where it went. This can lower your financial stress.
I recommend creating a zero-based budget. This means that your income minus expenses equals zero. Every dollar in your budget will be assigned a job, which can help prevent impulse purchases and overspending.
And if you need a budgeting template, you can click the link to grab the one I use here.
Inflation is an increase in the general prices of goods and services in the economy. This decreases the number of goods and services you can buy with a dollar in the future as opposed to a dollar today.
If you've noticed rising prices and have been relying on credit cards to help keep afloat each month, you're not alone.
Remember, this is not your fault. Inflation sucks. But the good news is that you can overcome inflation.
Once you've got your budget set up, follow the steps below to help fight inflation.
2. Review your current spending
It's important to figure out where your money is currently going. With rising prices, even if they may seem small can quickly add up.
If you're new to budgeting, review your bank statements for the past few months. If you're already a regular budgeter, then review your previous budgets to look at where your money is going.
Which areas of your spending have increased the most?
Which area of your spending are you having the most trouble keeping under the control?
Is there something you spend money on that you can reduce or eliminate temporarily?
3. Find areas that are being hit the hardest due to inflation
Having a budget can help you see where inflation is hitting you the hardest. Spending categories that tend to be the most vulnerable during inflation include:
Food
Rising food costs can impact the amount you spend at the grocery store and dining out. Creating a grocery and dining out budget can help you save money when trying to combat inflation.
Gas
Rising gas and fuel prices can mean that you've become more conscious of how you're using fuel and ways to cut back. For example, some people choose to take public transportation instead of driving or carpooling to get to work.
Travel
Rising travel prices can impact the amount of vacations you take per year. The price of rental cars and hotel rates have increased the most, which can make traveling more expensive.
Adjustable-rate mortgage
Inflation can also impact the cost of housing. If you have an adjustable-rate mortgage (ARM), this means the annual interest rate on a home loan can increase or decrease with inflation.
Depending on the kind of ARM chosen, it's important to pay attention to the market and adjust your budget appropriately for any upcoming adjustments to interest rates.
Another area of your finances that could be impacted is your income. This is because with inflation and higher prices, most incomes don't rise accordingly.
If your income has taken a significant hit recently, then you may want to switch a "bare bones" budget.
I call this a bare bones budget because it's the type of budget that I lived on when I was in college. You want to make sure that the four most important areas of your budget are taken care of, which include: Food, Utilities, Transportation, and Housing.
These are your essential living costs. Once these are covered, then you can use any leftover money for your non-essential spending (entertainment, travel, shopping), savings, and debt payments.
A bare bones budget is not right for everyone, but if your income has taken a hit, it may be worth asking yourself, "what would my bare bones budget look like?"
I know that when I was in college, I rarely ate out and made most of my meals at home. I paid close attention to where my money was going by doing things such as:
Canceling subscription or membership services that I wasn't using
Shopping the flyers at grocery stores
Switching to an affordable cell phone plan
Stop browsing stores and shopping apps unless I needed to buy something
Find free ways to have fun with friends
4. Shop smarter at the grocery store
Putting food on the table is a necessary cost, so you'll want to find ways to adjust your budget for inflation when prices are rising at grocery stores.
Here are some easy ways to slash your monthly grocery bill to manage your spending.
Meal plan – This is a plan for what meals and snacks you want to make that week. It can prevent food waste and unnecessary spending at the grocery store. Many of my readers love using the $5 Meal Plan.
Get your groceries delivered – If you're short on time or struggle to stick to your shopping list, getting your groceries delivered can prevent impulse spending at the grocery store. Instacart is the most popular option for grocery delivery.
Try a meal kit – If you don't have time to shop or meal plan, ordering a meal kit can be a great option. Hello Fresh and Chef's Plate are the most popular meal kit companies.
You'll receive easy step-by-step recipes with fresh pre-measured ingredients to help you whip up delicious dinners in 30 minutes.
Use cash envelopes – Figure out how much money you want to spend at the grocery store each week, then put that amount of cash in an envelope. You'll use that cash to buy groceries and this can help you stick to your budget.
Read Next: How to use the cash envelope method without cash
Use cash back apps – Cash back apps can help you earn cash back on your grocery purchases.
Shop the freezer section – Frozen fruits and vegetables are usually cheaper than buying fresh. They also last longer and are equally nutritious.
Learn to love leftovers – Making meals that provide leftovers can help you save time and money. You can also cook meals to store in the freezer so you can enjoy them later. This works great if you have an Instant Pot or slow cooker.
Comparison shop and check the flyers – Some stores price match and try to plan your meals based on what you have at home and what's on sale that week.
Below are some more helpful tips:
Swap out brand-name products with generic or store brand items.
Buy items in bulk that you'll know you use up before their expiration date.
Add more meatless meals to your weekly meal plan.
Use up items in your fridge, freezer, and pantry first before heading to the grocery store.
Shop at local farmer's markets or independent grocery stores if they are cheaper.
Try to limit processed, pre-made, or pre-cut food at much as possible.
Incorporate more low-cost pantry staples into your meals like rice, pasta, beans, and lentils.
Grow your own herbs and vegetables if possible.
5. Find easy ways to save money
Once you've tackled the areas where inflation is hitting your budget the hardest, the next step is to find more ways you can save money.
This is a great opportunity to low for low-hanging fruit, which are the easiest ways to reduce your spending.
Here are some examples to give you ideas. Choose the options that work best for your lifestyle and goals.
Remember, these are just temporary ways to cut back and save money. Trying to maintain your current lifestyle during a time of inflation can lead to debt if you're already living on a tight budget.
This isn't forever, but right now you've got to make temporary changes based on your budget needs.
Earn free gift cards to Amazon and Wal-Mart – Survey sites will pay you to complete simple surveys, play games, or watch entertaining videos. Swagbucks, Survey Junkie, Branded Surveys, and Inbox Dollars are the most popular.
Cancel unwanted or unused subscriptions – Use a service like Trim or Rocket Money to help you find and cancel unused subscriptions and memberships. They can even help you negotiate your cable, cell phone, and internet bill.
Lower your electricity bill by replacing filters regularly, running appliances only when they're full, turning off the lights when you're not using them, adjusting the thermostat appropriately, and using the dishwasher and laundry machine during off-peak hours.
Follow the 30-day rule – Whenever you feel the temptation to buy something you don't need, such as an impulse purchase, wait 30 days before buying it. This gives you a "cooling off" period to think about whether or not you need the item.
Unsubscribe from retail stores and shopping apps – This can help remove the temptation to browse and buy items just because it's on sale.
Shop your closet – If you want to get better mileage from your current wardrobe, look through your closet and challenge yourself to put together new outfit combinations. Try my 30-day shop your closet challenge for inspiration.
Have a staycation – If money is tight but you still want to enjoy some rest and relaxation, take a staycation instead. This is a great way to vacation at home.
Read Next: 38 staycation ideas for when you can't travel
Invest your spare change – If you're new to investing, a good place to start is with Acorns. Every time you make a purchase, Acorns will automatically round it up to the nearest dollar and invest that change towards your future.
6. Focus on increasing your income
Now that you've tackled the low-hanging fruit to slash your monthly expenses, you should also consider finding ways to make extra money.
When your expense are going up and you're already dealing with a tight budget, the best way to improve your finances is to boost your income.
While we can't control inflation, we do have the ability to control how much we spend and how much we earn.
Depending on your current skillset and goals, there are tons of different ways you can increase your income. Below are some ideas to consider:
Ask for a raise – The labor market is hot right now, which means that many companies are focusing on retention to keep employees happy and prevent them from leaving.
To ask for a raise, do some research on sites like Payscale to compare your salary to your industry peers.
You'll also want to make a list of reasons why you deserve a raise, such as positive performance reviews, recent accomplishments, and concrete metrics that show how you've improved.
Take on extra shifts at work – If getting a raise isn't possible for you right now, consider working extra shifts or asking for overtime.
Look for a new job – One of the best ways to increase your income is to search for a new job.
Many people find that staying with the same company for a long period of time doesn't always lead to promotions and pay increases as it once did in the past.
Getting a new job can help you boost your income and make sure you're getting paid your worth.
Start a side hustle – This is my favorite way to make extra money. I started this blog while I was in college as a creative outlet and side hustle. In just a few years, I was earning more from blogging than at my full-time corporate office job.
As you can see, there's a lot of earning potential when it comes to starting a side hustle. And some jobs you can do from the comfort of your own home.
Read Next:
7. Shop around and get creative
Just because prices are increasing everywhere doesn't mean that you can't roll up your sleeves and get a little creative. There are still better prices that can be found when you shop around. Below are some suggestions:
Groceries – Food prices have risen at popular chain stores, but you may be able to find better deals at independent or ethnic grocery stores.
Don't feel that you need to be loyal to one grocery store. Check the flyers to see what you need to buy that week and shop at the store with the lowest prices.
Also factor in the cost to travel to the grocery store. Sometimes shopping at the closest store is the most cost-effective option.
Shopping – Compare prices online before buying something. You can also use an app like Rakuten to earn up to 20% cash back on your purchases.
I'm also a big fan of using Honey, which can help you find coupons available to apply at checkout, which can instantly save you more money.
Negotiate your fixed bills – Depending on your situation, you may want to consider changing homeowners insurance or shopping around for a more affordable car insurance.
Find affordable ways to have fun – Just because you're adjusting your budget for inflation, that doesn't mean you have to sacrifice having fun.
A little non-essential spending is absolutely essential for your mental health and staying balanced. If you can, I recommend including some "fun money" in your budget to spend on whatever you want.
Some affordable ways to have fun include having a picnic, hosting a potluck with friends, checking out free local events, having a spa day at home, visiting a museum on free admission days, going on a free walking tour, hiking, visiting a farmer's market, and so on.
8. Make room in your budget for investing
When prices are rising and money feels tight, many people might think this is the wrong time to invest.
Sure, you may not want to jump into any short-term investments, but when you're investing in long-term goals, such as your retirement, it's important to make regular contributions.
Even if you have to reduce the amount you choose to invest, that's okay. Remember that this is just temporary.
Thanks to the power of compound interest, investing can actually help you fight inflation by growing your savings over the long term.
9. Forgive yourself if you mess up
Budgeting is hard – no matter what your financial situation looks like. There will be times where you'll probably mess up and overspend, but that's okay! Don't beat yourself up about it.
You're human and having a budget that isn't perfect, but is mostly correct can still be better than not having a budget at all.
You've got a lot on your plate and forces outside of your control may impact your finances and your ability to reach your short and long-term goals.
No matter what has happened in the past, you can still move forward by choosing the best option you have right now.
10. Stick with it and focus on the future
Inflation sucks, but you will be okay. You're already on the right track if you're reading this and thinking about taking inspired action towards your financial future.
As long as you're doing your best and picking yourself back up if you mess up with your spending, then you're on the right path.
When you're adjusting your budget for inflation, this mean that you're being intentional with your money and not taking this laying down. You've got this!
Example budget adjusted for inflation
For my husband and I, we've noticed that restaurants, groceries and our mortgage have taken the biggest hits in our budget due to inflation.
We have a variable rate mortgage, which was great when interest rates were low. But they've increased several times in the past year, which means our monthly mortgage costs has gone up too.
We live in a condo and condo fees have already recently increased, which we needed to factor into our budget.
Since our big goal is to purchase a house this year, we've made adjustments to our budget to reduce the amount we spend on shopping, entertainment, and fancy coffees.
This allows us to still afford healthy groceries, the occasional meal at a restaurant, the increase in our monthly mortgage payment, and being able to save towards our house downpayment fund.
Below is an example of our current budget adjusted for inflation. I like using this Budget Planner to help me take control of my money.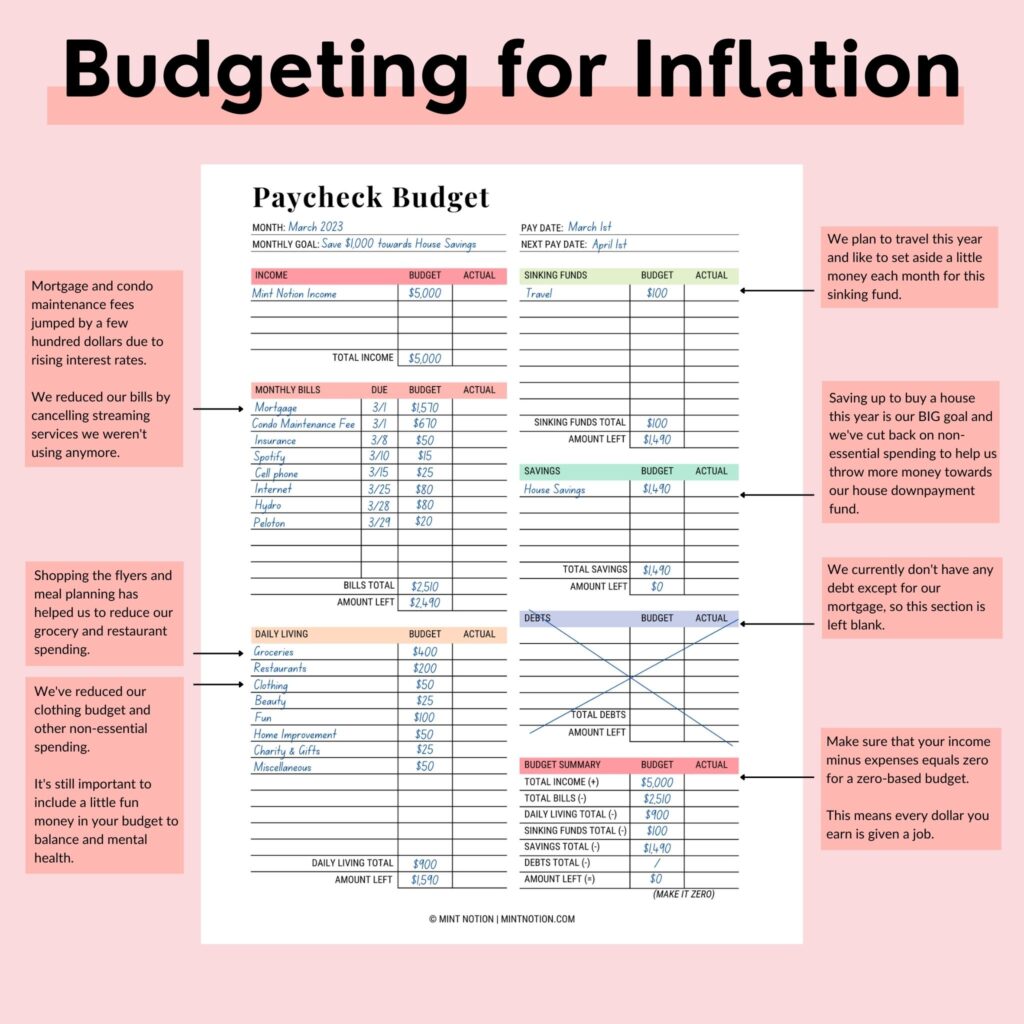 The key to making sure that we stay on budget is to track our transactions. This helps us to keep an eye on where our money is going.
When you're tracking your spending, you may need to make adjustments to your budget throughout the month.
For example, a bill might come in lower or higher than planned. You'll want to make sure to change your budget line total for this bill.
Making tweaks and adjustments to your budget throughout the month is normal. As long as you're spending less than you earn and your essentials are covered, then you're doing great!