Las Vegas may be known for its luxurious casino-resorts, but there's more to Sin City than just gambling and drinking. That's why I'm sharing my favorite things to do in Las Vegas off the strip and on the strip.
I understand that gambling and drinking can be an addiction for some and the sight of a casino alone can act as a trigger. However, for others, using the "I don't like to gamble" excuse to not visit Vegas would be a mistake.
There's so many fun things to do in Vegas besides gambling or drinking. My first trip to Vegas was with my family and I remember having a blast as a kid.
Here's the best family things to do in Las Vegas besides gambling and drinking.
How to save money on Vegas attractions
Visiting Las Vegas for the first time can be hectic. With so many great things to see and do, it can be challenging to plan an itinerary and determine which attractions are worth spending your money on.
Getting the most bang for your buck is my #1 factor when planning a vacation and the GO Las Vegas Explorer Pass was rated the #1 Vegas tourism pass by TripAdvisor.
They're also recommended by Expedia and Go City Passes currently have a TrustScore rating of 8.5/10 on Trust Pilot. Many people have already used the Explorer Pass for their Vegas trip and posted happy reviews.
With the GO Vegas Explorer Pass, you can save time, money, and enjoy stress-free sightseeing. But don't just take my word for it. Check out these TripAdvisor reviews.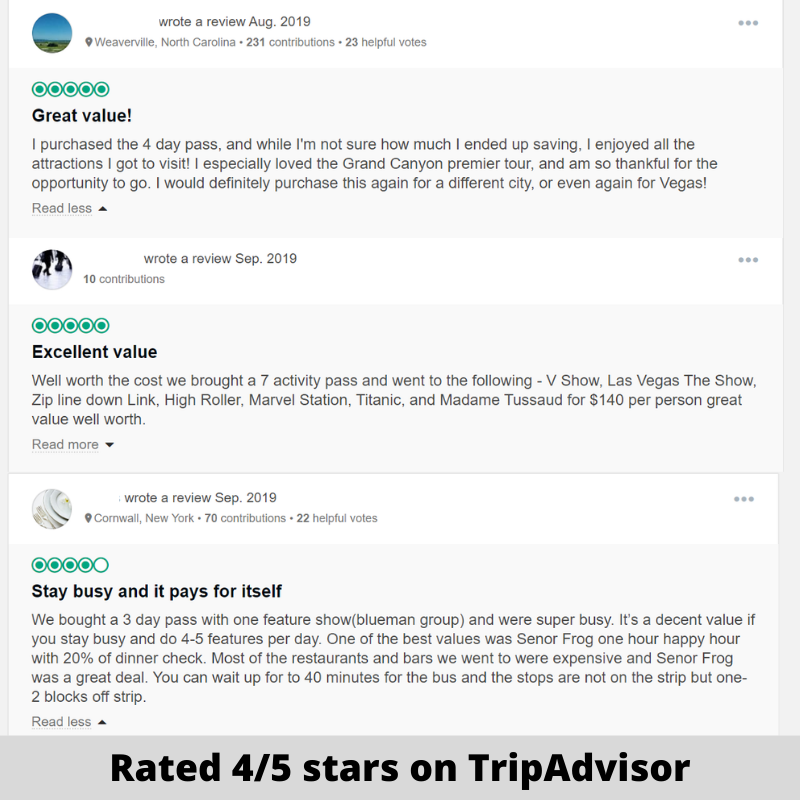 PRO TIP: Buy the pass online to save time and hassle. To buy the Las Vegas Explorer pass, click here to go to the official website. The pass is valid for 12 months from the date of purchase.
What's included in the Las Vegas Explorer Pass:
The Las Vegas Explorer Pass is a multi-attraction pass where you can choose to visit 3, 4, 5, or 7 top attractions all for ONE low price, including Hoover Dam, Stratosphere Tower, and the High Roller Observation Wheel.
You also have the option to include a free Hop On Hop Off Bus Tour to enjoy at your leisure. For those not renting a car, this is a smart way to get around Las Vegas.
Is the Explorer Pass worth it? Check out my honest review of the Las Vegas Explorer pass here.
How to get your Las Vegas Explorer Pass:
Step 1: Choose the pass which best suits your trip. You can visit 3, 4, 5 or 7 different attractions for one low price. Save up to 60% off vs. paying at the gate. You can click here to purchase your Vegas Pass from the official website.
Step 2: Download your pass instantly on any mobile device. Or you can print your pass at home.
Step 3: Simply show your pass at the attraction entrance and walk right in. Your pass is valid for 30 days after the first attraction you visit.
PRO TIP: Choose the 3 or 4 attraction pass if visiting for a couple of days. If staying 3 to 5 days, consider purchasing the 5 or 7 attraction pass.
For those hesitant about booking a trip to Vegas, here's a list of the best things to do that prove Vegas is is a great destination for everyone.
Related Posts:
1. Ride the High Roller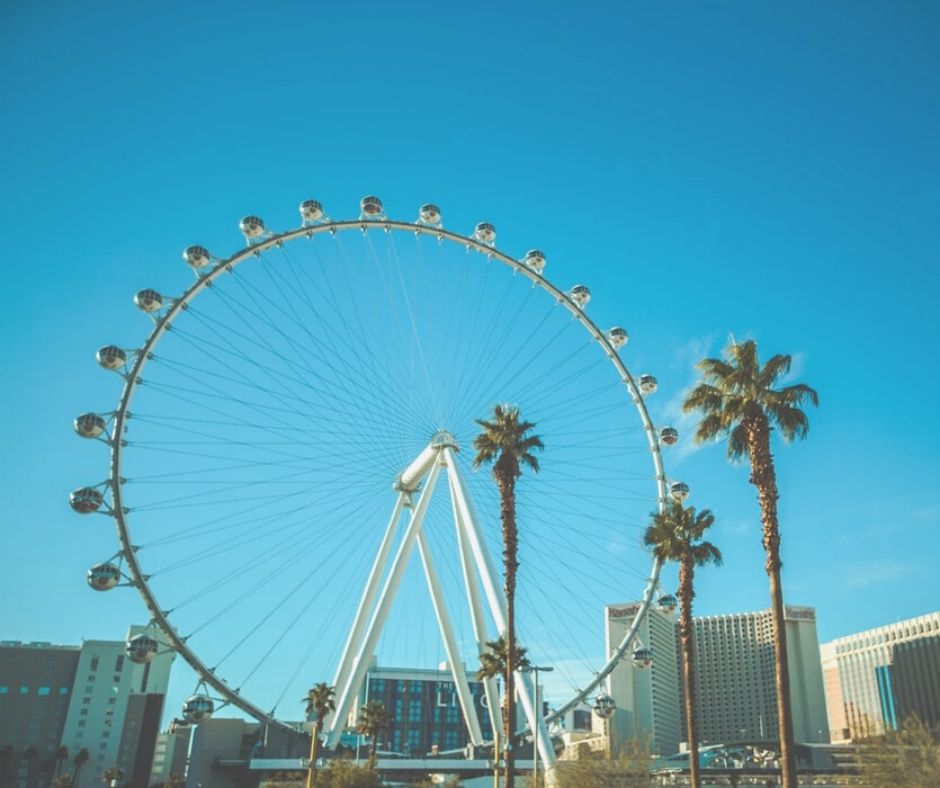 Take a spin on the world's tallest observation wheel and experience an incredible 360-degree view of Las Vegas and beyond.
At 550-feet above the ground, we were able to get an amazing view of the Vegas skyline and surrounding landmarks. I really enjoyed the High Roller and would definitely ride it again.
You can get free admission when you present your Las Vegas Explorer Pass. You can click the link to learn more about what's included in the pass.
A great way to save money on Higher Roller tickets is to book your ride through Vegas.com. You can save between $5-$17 per ticket and they offer a best price guarantee.
My must-have Las Vegas accessories:
Click the product to shop
2. Relax at the pool
Whether you're looking to relax in the lazy river or soak up the sun at a lavish oasis, Vegas has a pool to suit any preference. You can check out all the pool clubs and pool parties offered in Las Vegas on Vegas.com (click the "Clubs" tab to see a full list).
For Las Vegas Explorer Pass holders you can receive complimentary access to the Rockstar Pool Party Tour (a $89 value).
3. Experience the Eiffel Tower at Paris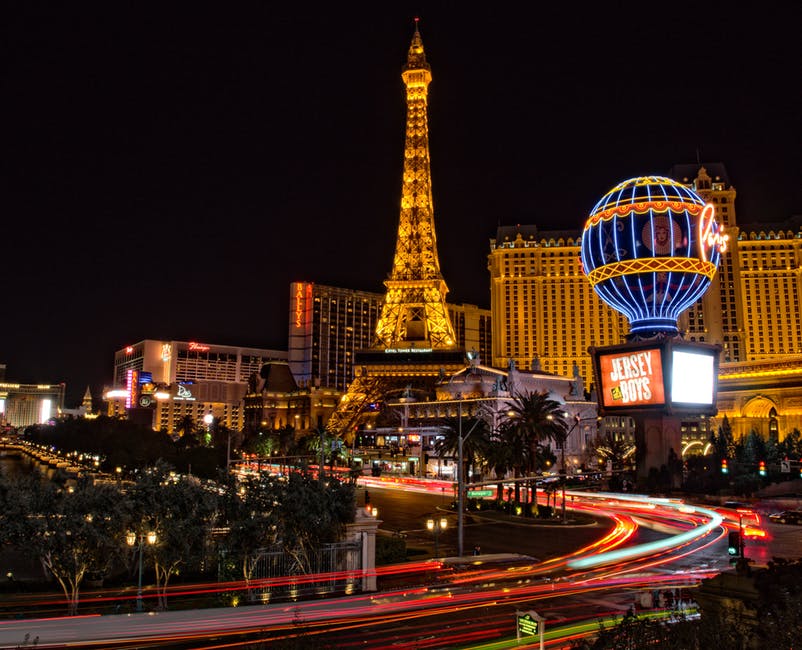 Yes, you can visit Paris while in the Nevada desert. Situated at The Paris hotel on the Las Vegas Strip, visitors can ride the glass elevator 46 stories high and marvel at the famous landmarks. You can get free entry to the Eiffel Tower with the Las Vegas Explorer Pass.
After enjoying the view from the top of the Eiffel Tower, head to Mon Ami Gabi for a delicious lunch or dinner. Here you can find Classic French bistro fare such as onion soup, steak frites, and crème brulee.
PRO TIP: If you're not using the Las Vegas Explorer Pass, you can save $10 per ticket when you book your ticket through Vegas.com. This website offers a best price guarantee so you'll always know you're getting the best deal!
Is Vegas.com a legit travel website? Yes! Vegas.com has been around for over 20 years and is a reputable site. I have personally been using this website for the past several years to save money on Vegas shows and attractions.
Vegas.com currently has a TrustScore rating of 4.6/5 on Trust Pilot with over 75,000 reviews. Here's a screenshot of real reviews from happy customers.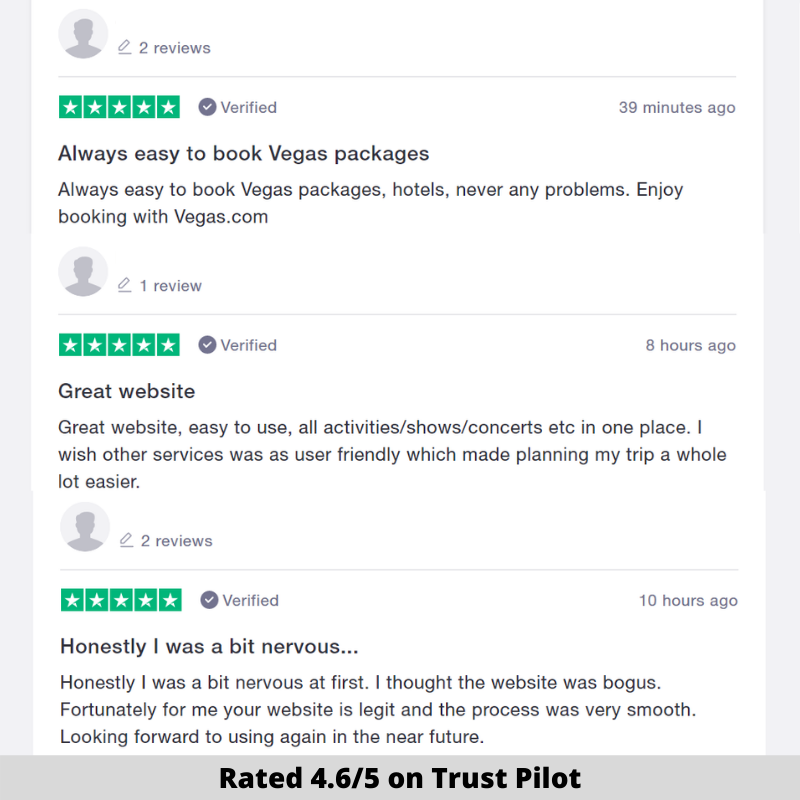 4. Ride the Roller Coaster at NY NY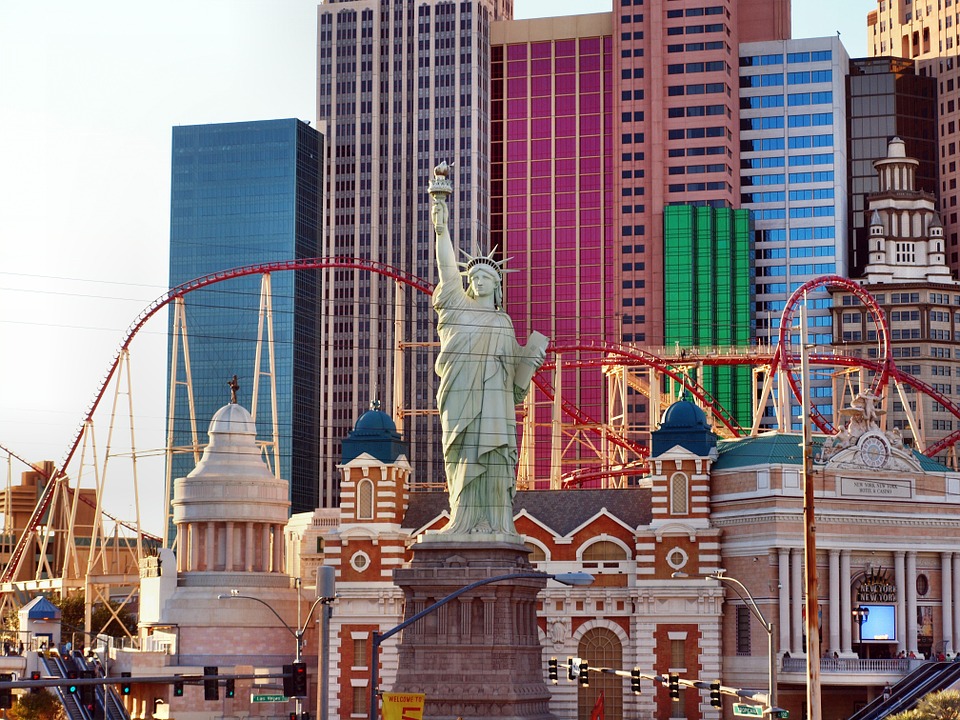 The roller coaster at NY NY is by far one of the most popular attractions on the Las Vegas Strip. If you're a thrill seeker, I highly recommend going for a ride on this fun roller coaster. It reaches speeds of up to 67 miles per hour and has drops of 144 feet.
This roller coaster is also special because it performs a 180-degree spiral and then performs a half-loop maneuver. This feature is only found on one other roller coaster in the world: the "Mega Coaster" at Hamanako Pal Pal Park in Japan.
For Las Vegas Pass holders, you can ride the roller coaster for FREE when you show your Vegas Pass. Click the link to learn more about the benefits of buying the Las Vegas Explorer Pass.
5. See a show
One of the first things you'll notice as soon as you arrive in Vegas is all the advertisements for shows and performances. From Blue Man Group to Cirque Du Soleil, there are so many great shows to see while you're in Vegas.
Many of the popular shows sell out fast. This is why I recommend purchasing your tickets in advance to secure your seats. You can check out the full list of shows in Las Vegas here.
LIMITED TIME OFFER:  Right now, you can book some of the top Vegas shows for $50 or less. Check out a full list of shows here.
6. Eat lots of food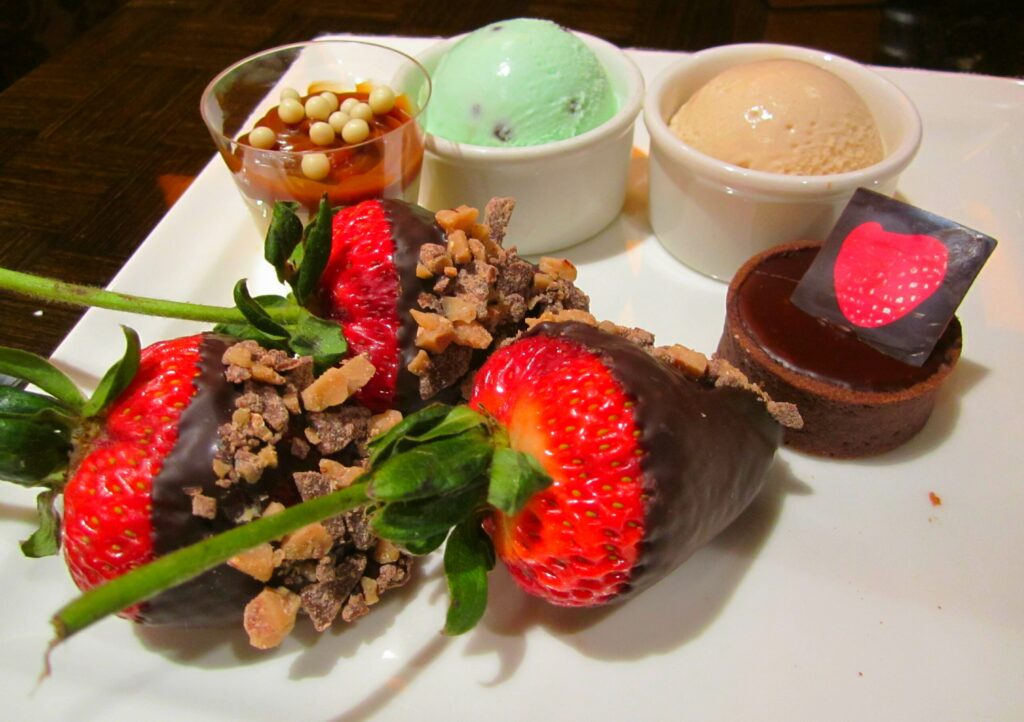 With so many restaurants in Vegas, there's no excuse not to dine well on any budget. Vegas has its fair share of celebrity restaurants, but the dining scene goes far beyond this as well. Check out this list of the most popular restaurants in Vegas here.
Over 40 million annual visitors from around the world come to Vegas which makes it no surprise that you can find many restaurants serving up delicious internationally-inspired cuisine.
PRO TIP: If you're planning on seeing a show in Las Vegas, I recommend booking a Dinner + Show Package. You can save up to 40% off the regular price!
I can't forget to mention the variety of buffet's Vegas has to offer. They really are part of the Vegas experience. You can even get a pass that gives you 24-hour access to eat at a list of buffets for a set price: breakfast, lunch and dinner. Some see this as a good value, but my limit is one buffet per trip.
Read Next: Las Vegas on a budget – 30 ways to save money
7. Have fun at the Gun Range
One of the most popular activities to do in Vegas is going to the gun range. Whether it's your first time or you've been before, each place has a variety of packages available to suit your needs.
I went for the first time last year and it was a great adrenaline rush. However, if firing off guns doesn't sound like your cup of tea, there are plenty of other activities to do in Vegas for thrill seekers. For example, ride the High Roller or the Rollercoaster at NY NY or even the VooDoo Zip Line! You can find a full list of attractions and discounts available in Las Vegas here.
Looking for more fun things to do in Las Vegas? Don't forget to check out this list of 20 FREE things to do for all ages in Vegas.