Breakfast could essentially be my middle name. It's my favorite meal of the day and quite frankly the type of meal I could eat for lunch and dinner too.
When visiting Las Vegas, there are countless restaurant and food options available at your door step. No matter what your taste buds prefer, you'll find something to satisfy your appetite here.
PRO TIP: If you want to enjoy a memorable experience in Las Vegas, I recommend going on a food tour. This is a fun way to savor the flavors of downtown Las Vegas. Here a knowledgable guide will walk you through the heart of the city while you get to enjoy some of the best food in Vegas. You can click here to learn more.
While there are plenty of breakfast and brunch buffets at the popular hotels (my favorite is Wicked Spoon at the Cosmopolitan), I recommend venturing off the Vegas Strip one morning instead. Bring your appetite and enjoy an amazing meal at one of these affordable restaurants.
Read Next: Visiting Vegas for the first time: Rookie Mistakes to Avoid
Babystacks
Location: Spring Valley (Flamingo/Buffalo)
4135 S Buffalo Drive #101
Las Vegas, NV 89147
Contact: (702) 207-6432
Hours: Open daily 7:00AM to 2:00PM (weekdays) and 7:00AM to 3:00PM (weekends)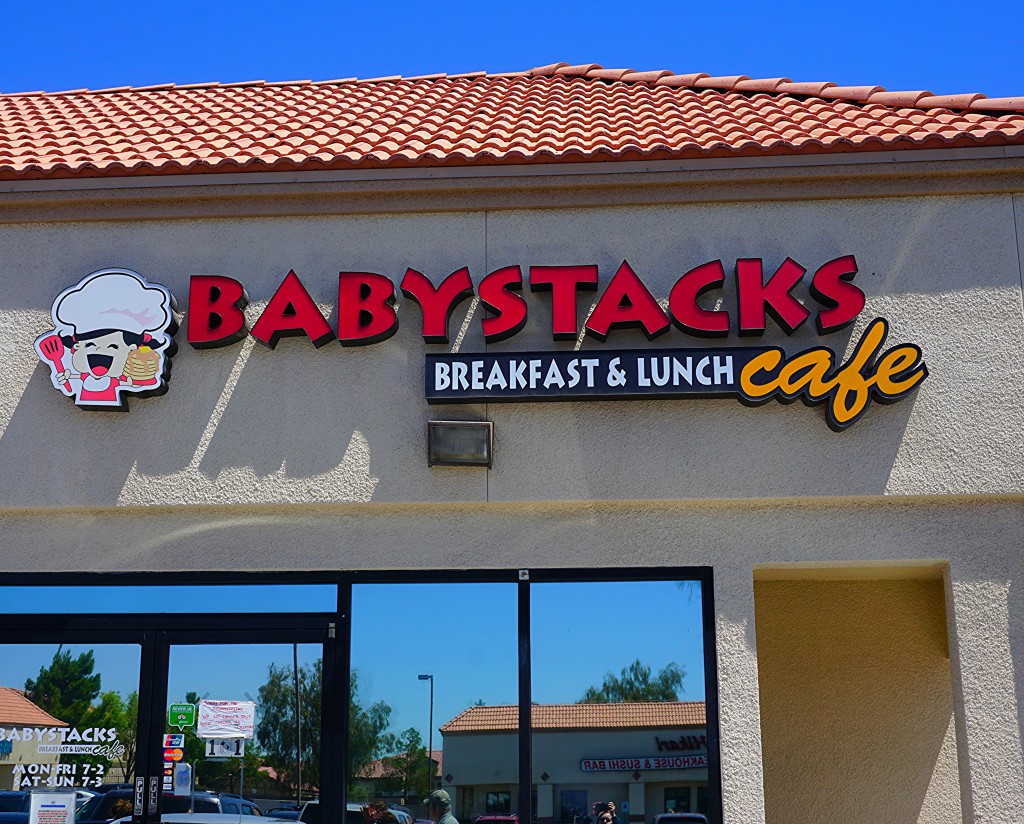 While there are a couple of locations in Las Vegas and Henderson, we dined at the Spring Valley restaurant. I recommend arriving early, especially on the weekends, since it can quickly get busy. Groups will not be seated until everyone in the party is present, so keep this in mind if you are coming with a large group.
Groups will not be seated until everyone in the party is present, so keep this in mind if you are coming with a large group.
We only had to wait a few minutes for a table when we arrived, but there was a line up at the front once we left mid morning.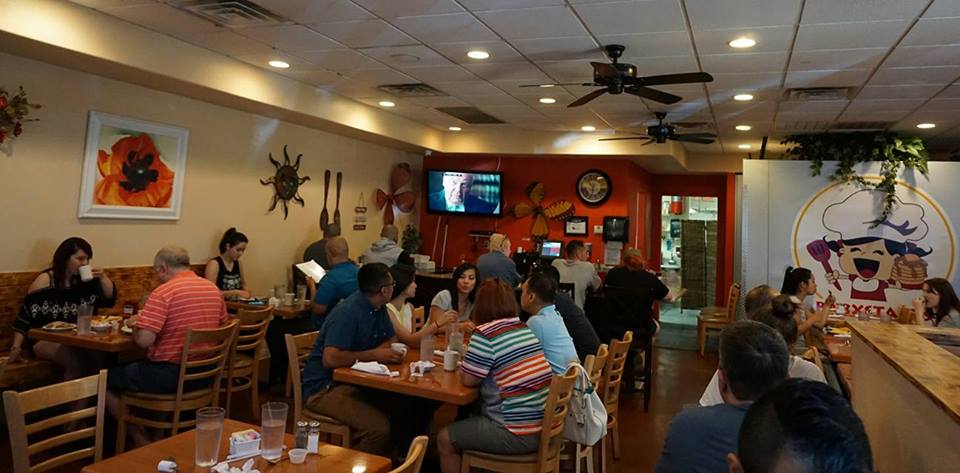 The menu offers a variety of breakfast and lunch options, however we decided to stick with their pancakes and omelets after hearing great reviews. I ordered the Red Velvet pancakes and my fiancée ordered the Huntington omelet.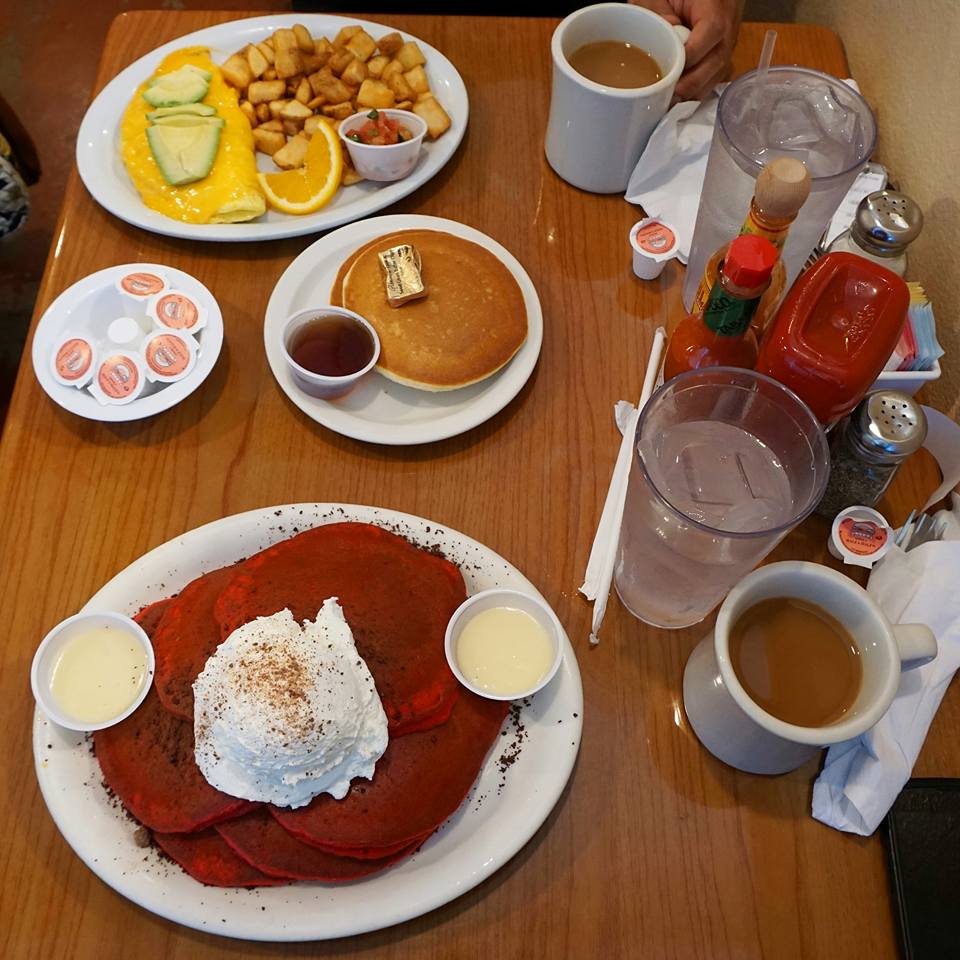 According to the menu, their Red Velvet pancakes are their best seller, which was no surprise since I saw several people who had ordered them too.
Other pancake options that sounded equally delicious included S'mores, Banana Cream Pie and White Chocolate Chip Macadamia Nut!
Seriously, are you getting hungry yet?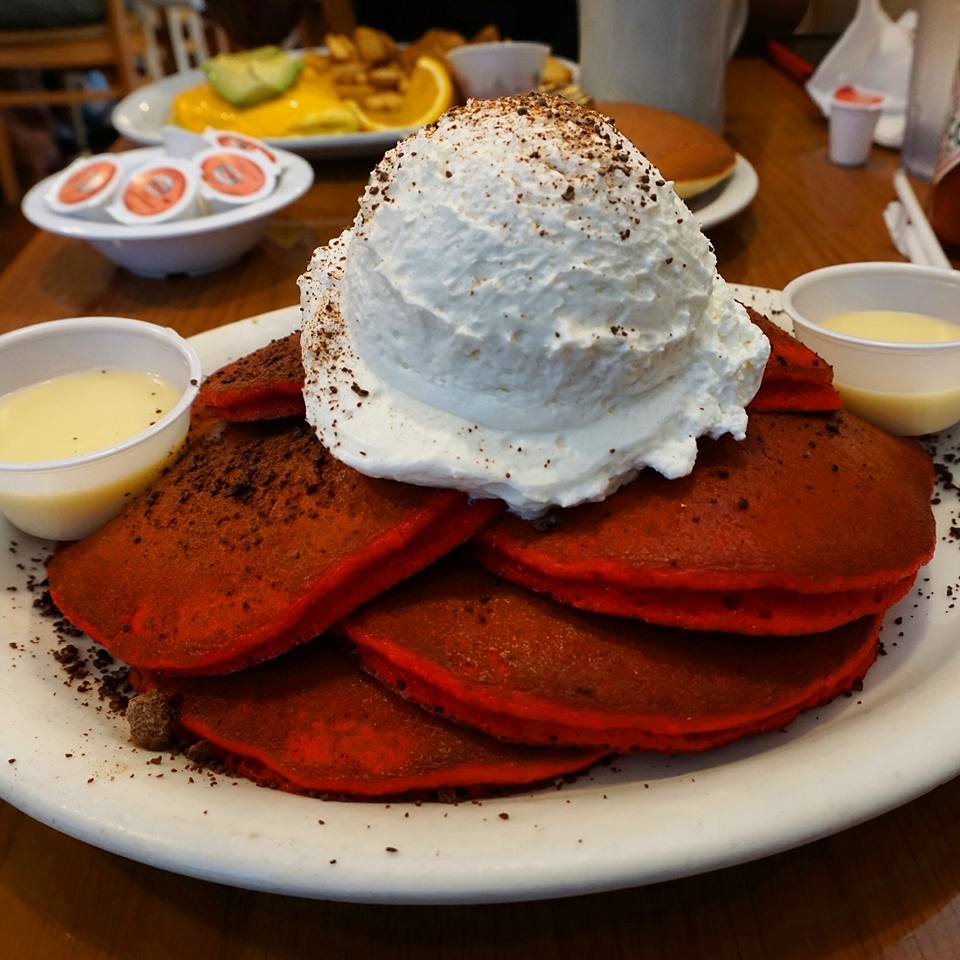 Their pancakes can be served as a full order (6) or a short stack of (3). We wanted to split the pancakes and omelet together so we decided to go with their full order. For a single person, I recommend getting a short stack of 3 unless you have a big appetite.
The Red Velvet pancakes are topped with a generous portion of fresh whipped cream and chocolate crumbles. It's served with their cream cheese syrup which allows guests to drizzle just the right amount on their pancakes.
While I tried to not think about all the red food coloring I was eating, these pancakes were absolutely delicious! The cream cheese syrup and whipped cream topping complemented these pancakes perfectly. I felt like I was eating dessert as opposed to breakfast, but my sweet tooth didn't mind.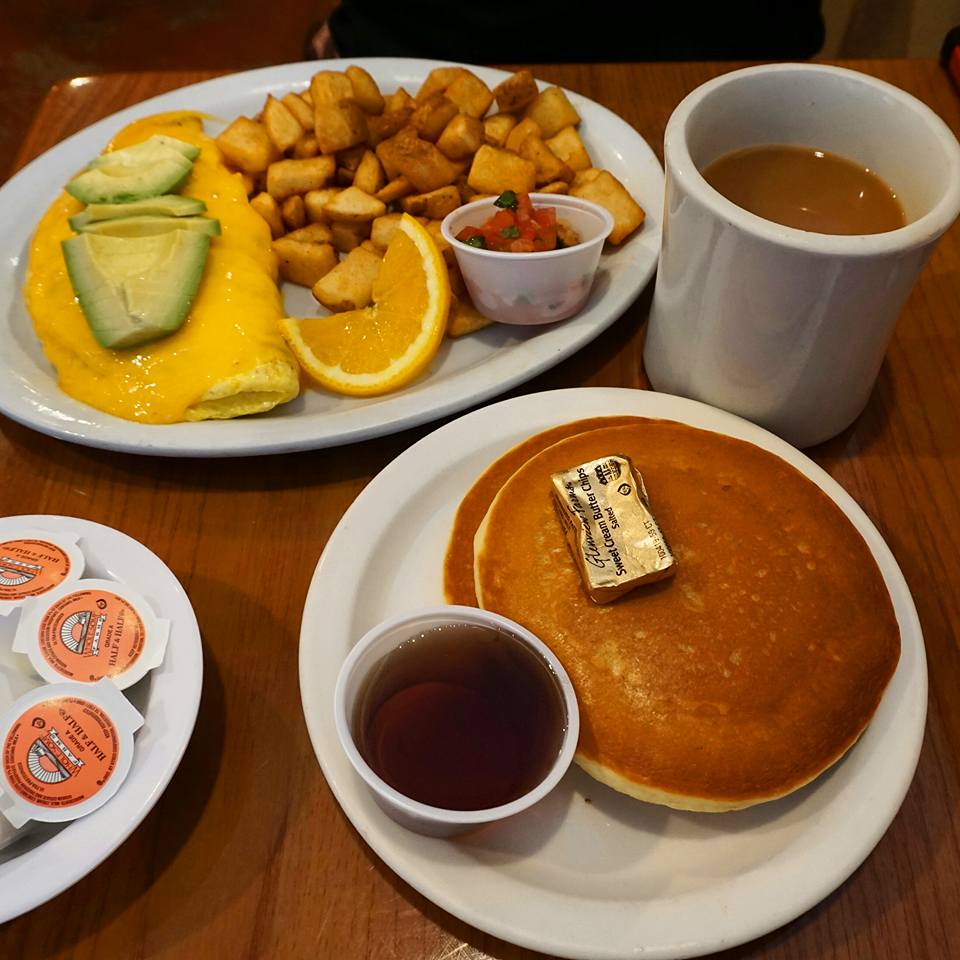 The Huntington omelet comprised of crispy bacon, avocado, cheddar cheese and fresh pico de gallo on the side. Their omelets are made with four eggs and served with (2) buttermilk pancakes or toast AND your choice of potatoes.
Where on earth were we going to put all this food? I was wondering this when we ordered, but we both came to the restaurant starving and ready to eat.
The omelet was fantastic and I loved the avocado and pico de gallo on top. I didn't save room to try the buttermilk pancakes, but my fiancée said they were good but he enjoyed the Red Velvet pancakes more.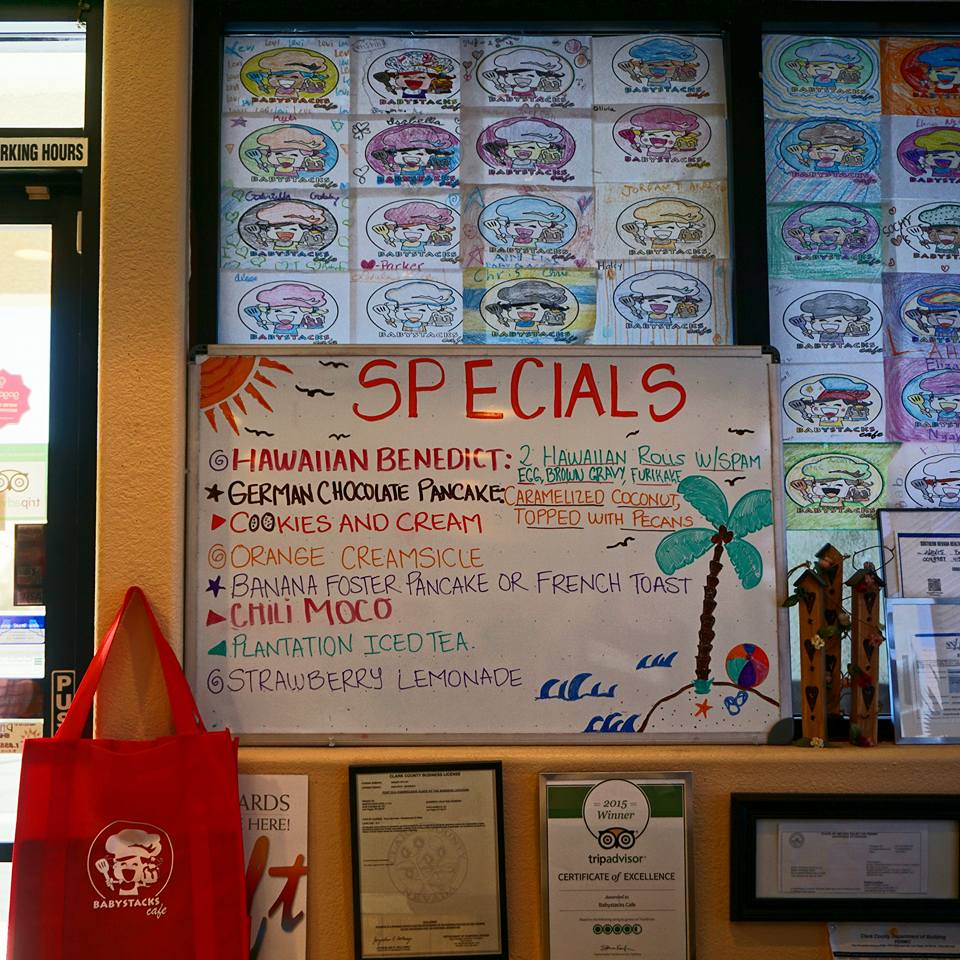 The service was friendly and quick. I loved the cute decor and logo of the restaurant. I highly recommend a visit here if you love pancakes and are looking for an affordable breakfast option off the strip.
Omelet House
Location: 2160 W Charleston Boulevard
Las Vegas, NV 89102
Contact: (702) 384-6868
Hours: Open daily (except Thanksgiving and Christmas) 7:00AM to 3:00PM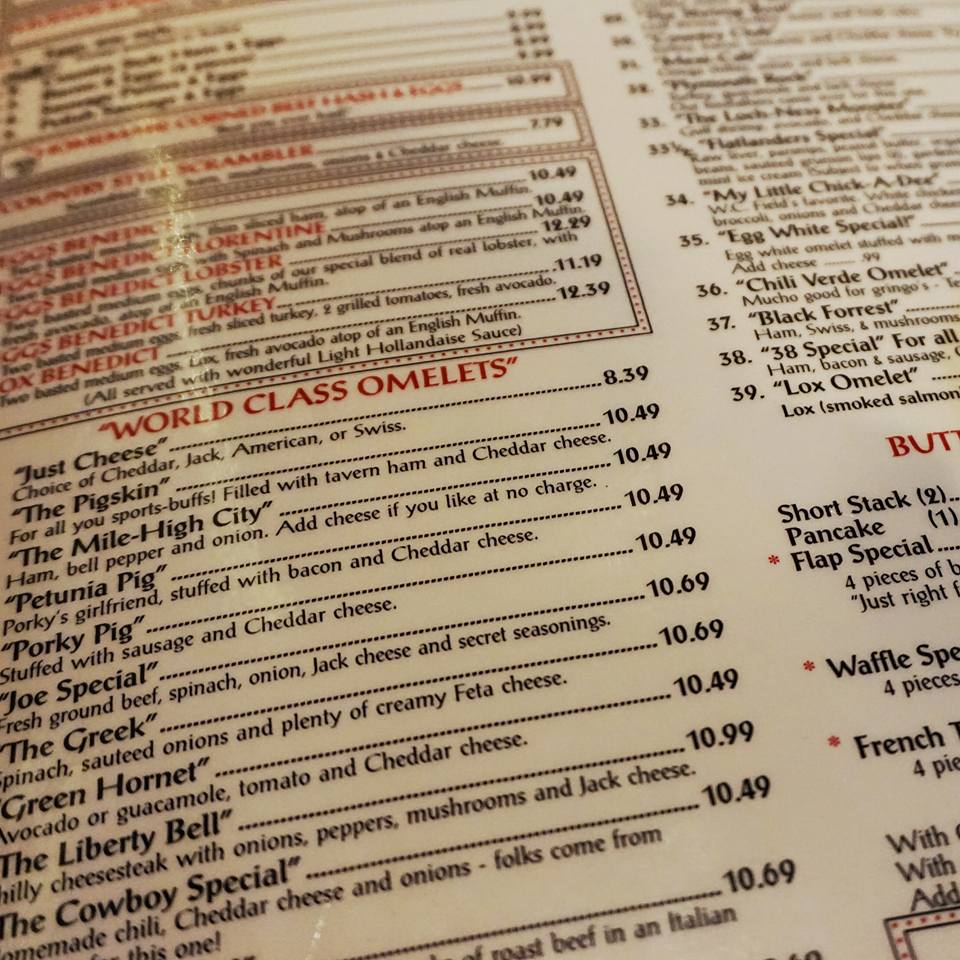 Omelet House has three locations, but we dined at their central restaurant on Charleston Blvd. The restaurant is bigger than Babystacks, but it can still get busy on the weekends so I recommend arriving early.
The menu offers a variety of breakfast and lunch options, but as the name suggests — omelets are their specialty.
Do come with a big appetite or plan to take any leftovers home. If you are unsure, I recommend splitting an omelet between two people since the portions are quite large.
We arrived early as we wanted to hike in the Valley of Fire State Park later, so we decided to each order an omelet. Despite how tasty it was, I still couldn't finish everything.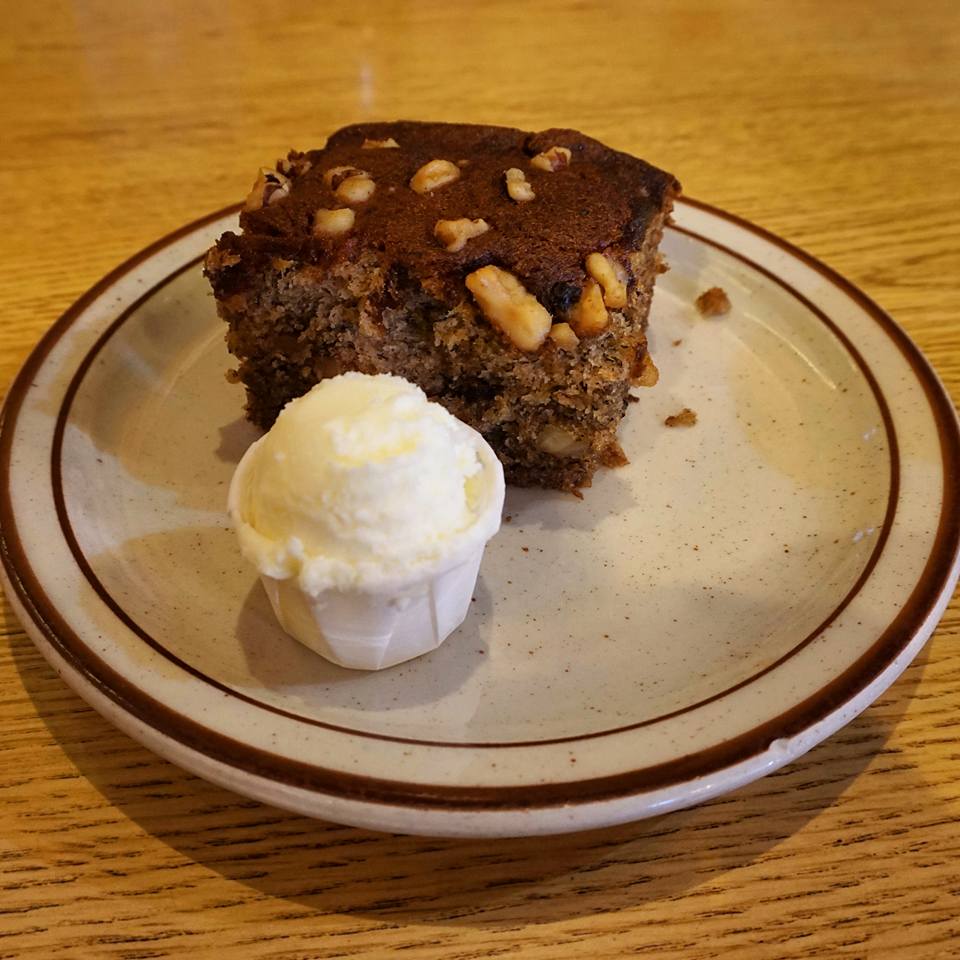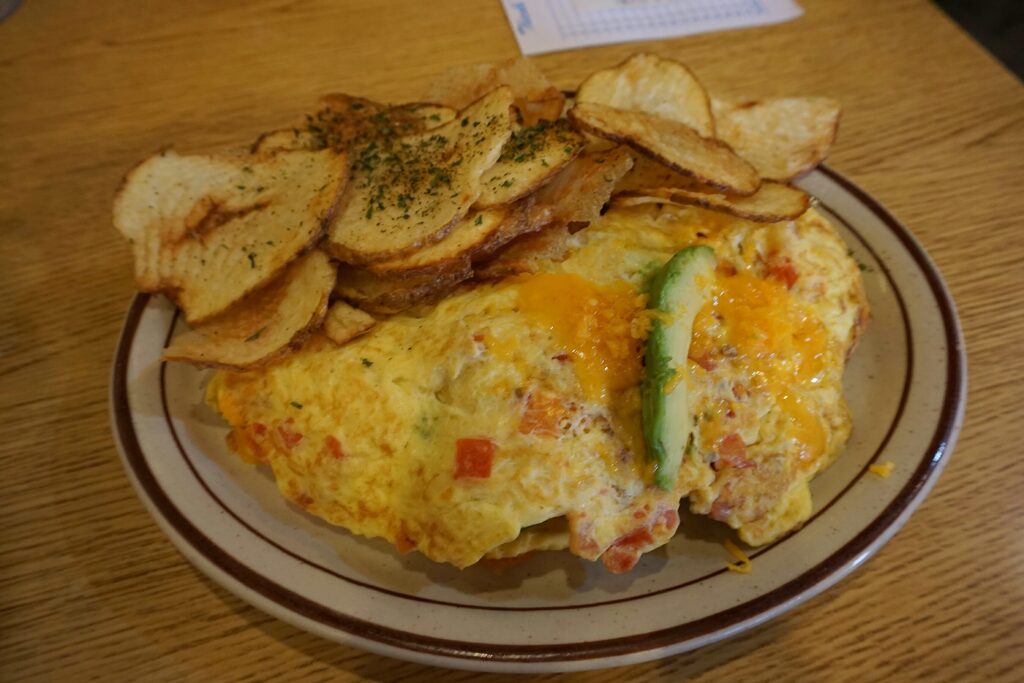 I ordered the Green Hornet omelet which comprised of avocado (or guacamole), tomato and cheddar cheese. Each omelet is served with spuds and a side of bread or toast. I got the banana bread which was delicious and came with a serving of whipped butter.
The omelet was fantastic. It had just the right amount of cheese and I loved how they stuffed fresh slices of avocado in the center. I'd love to try making this at home someday since it was so yummy!
Honestly, I can't get enough of avocado. Are you starting to see a theme here?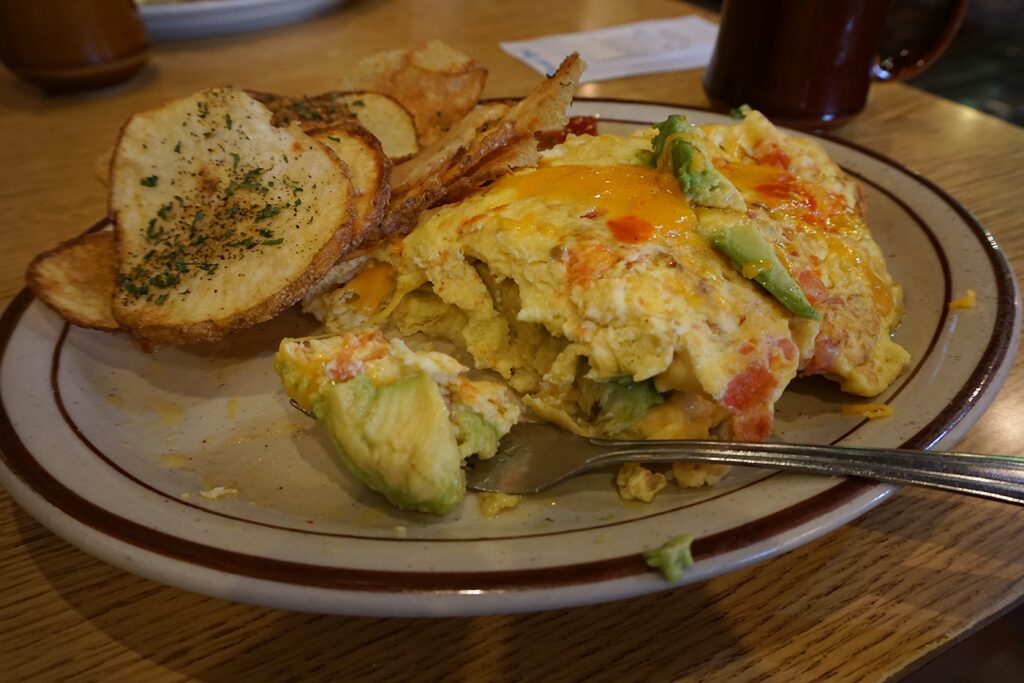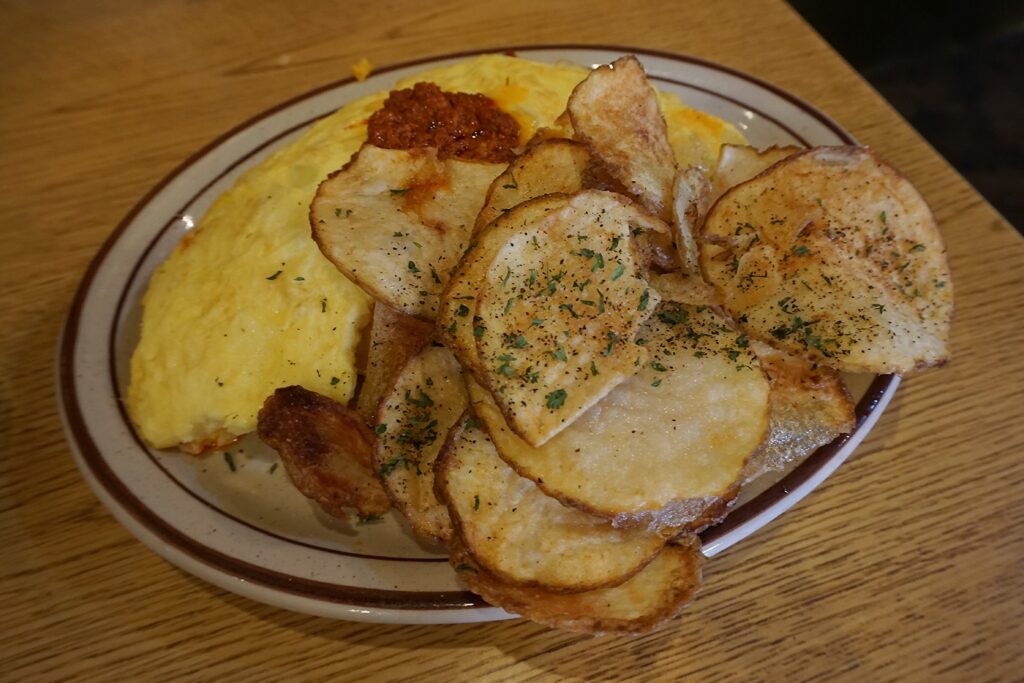 My fiancée ordered the Rio Grande Surfer omelet which comprised of chorizo, onion and cheddar cheese served inside the omelet. I didn't try it myself, but he said the chorizo had a nice kick to it.
However if you are looking to add some extra heat to your breakfast, there is hot sauce available on the table for guests. I drizzled a little on my omelet which added just the right amount of heat for me.
OK, now let's talk about their spuds. Oh boy, these are absolutely amazing! They are sprinkled with a little seasoning which adds a nice flavor. Again, this is something I'd love to try replicating at home someday. This is a great twist on the typical hashbrowns or breakfast potatoes that other restaurants serve.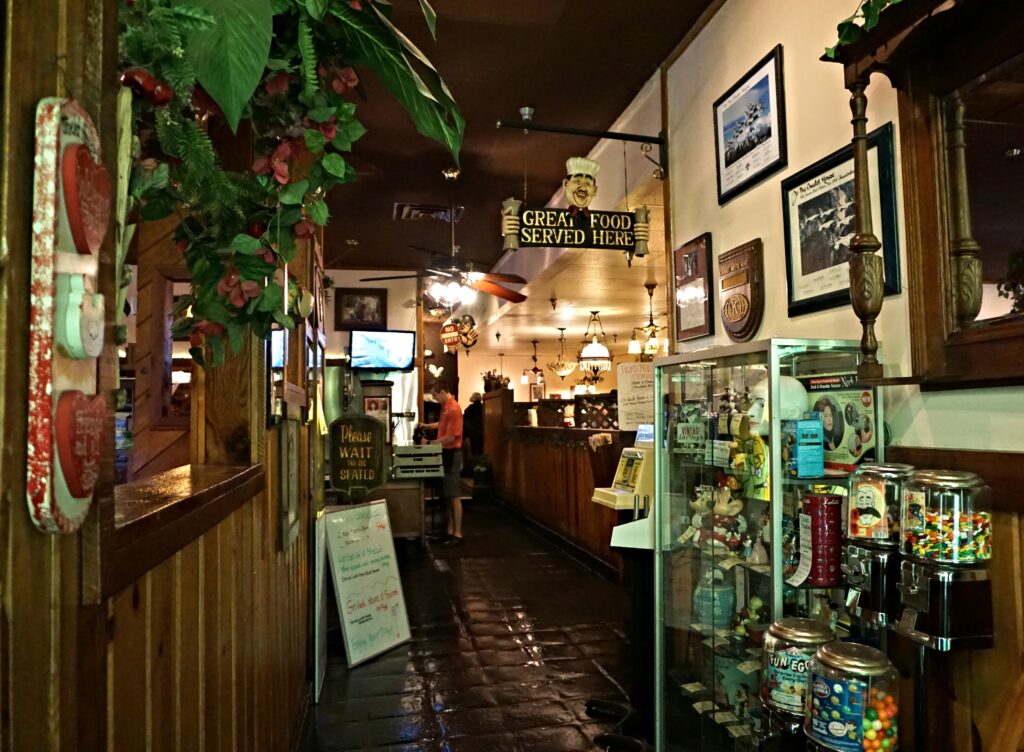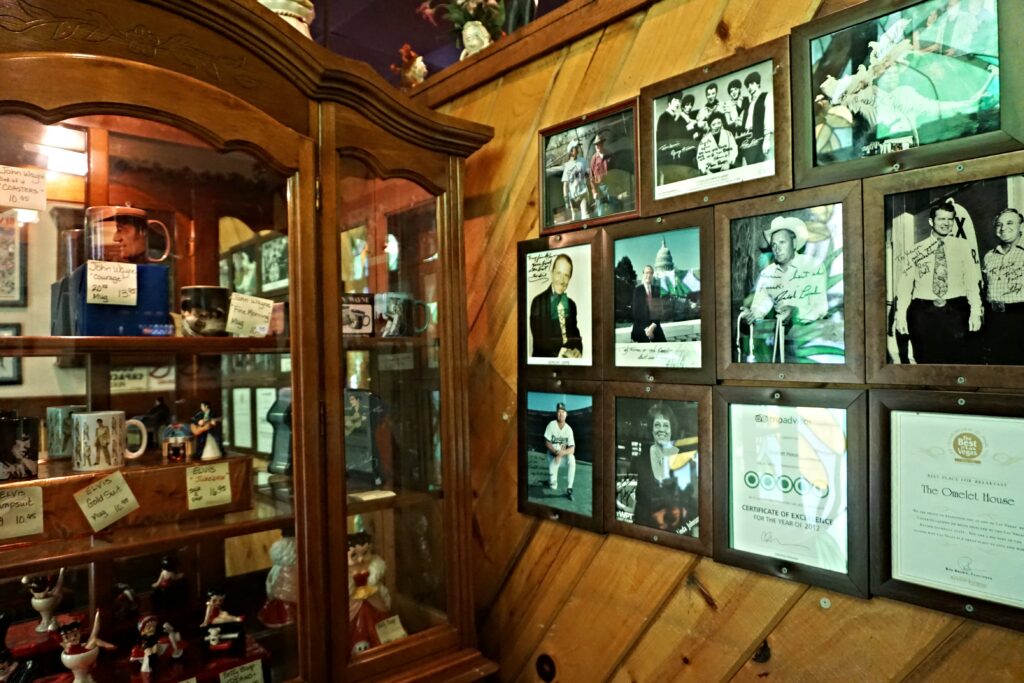 Service was quick and friendly. I really love the eclectic decor and vibe of this place. It adds a lot of personality and makes for a fun dining experience.
The only downside I can think of was their coffee. While our server was always coming around to refill our cups, the coffee was kind of weak. But for those that don't drink coffee, they offer a variety of different teas and other beverages too.
The Egg & I
Location: 4533 W. Sahara Avenue
Las Vegas NV, 89102
Contact: (702) 364-9686
Hours: Open daily from 6:00AM to 3:00PM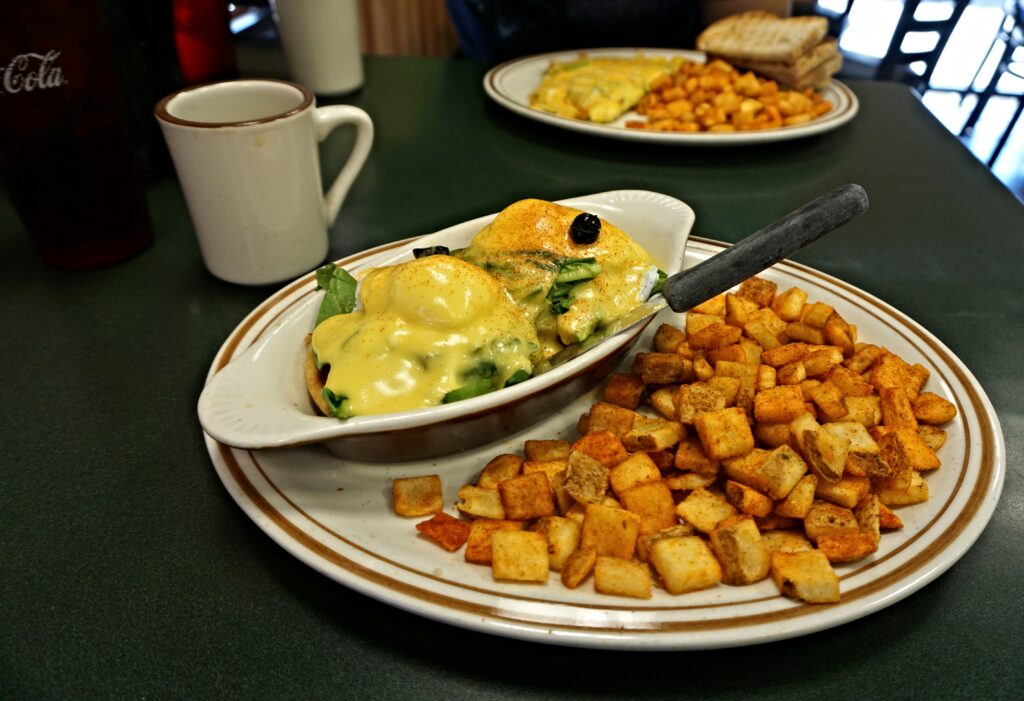 There are several locations in Las Vegas and one in Henderson. We ate at the Sahara Avenue location which is one of the most popular breakfast spots off the strip.
We arrived at 8:30AM on a weekday morning and the restaurant was about a quarter full. I can imagine this place getting pretty crowded on weekend mornings, so I recommend arriving early if you have a large group.
The menu is printed newspaper style which I thought was pretty creative. It offers a variety of — you guessed it — egg dishes and some lunch options as well.
I was in the mood for eggs benedict so I ordered the Veggie Works Benny which comprised of an english muffin grilled brown, topped with grilled tomatoes, fresh spinach, sliced avocado, two poached eggs and a generous serving of their "egg-ceptional" hollandaise sauce. It was also served with a side of their Habla Diablo seasoned potatoes.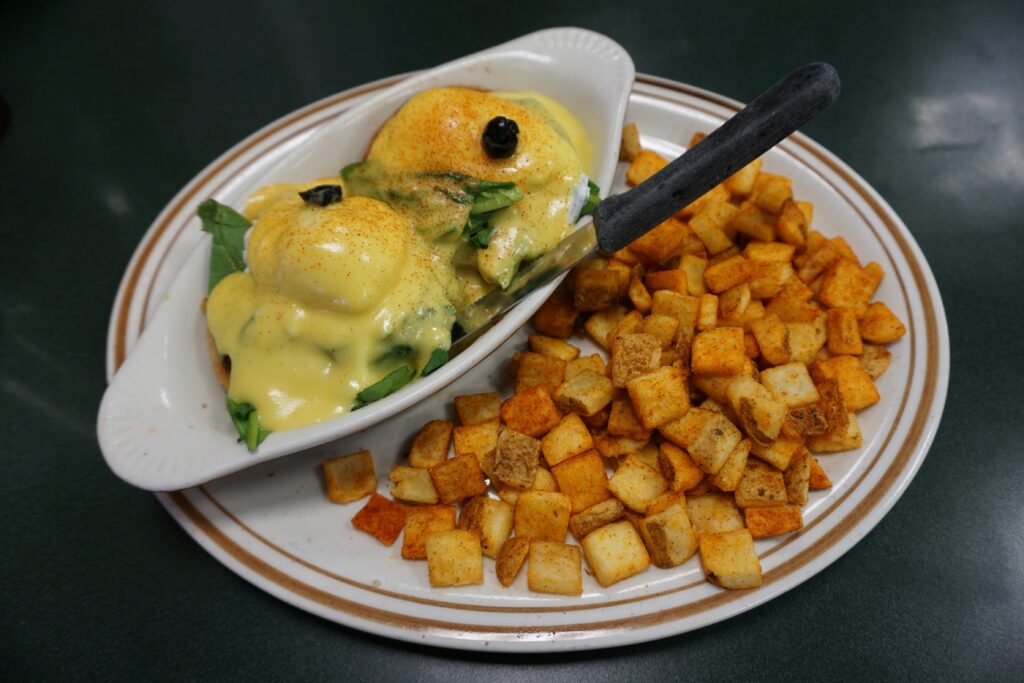 The poached eggs were cooked to perfection and I loved that they sprinkled a little of their special seasoning on top. Again, avocado somehow found its way into my meal and was the perfect addition. I cannot recommend their Veggie Works Benny enough!
The seasoned potatoes were nice and crisp, the Habla Diablo seasoning was very tasty — not too hot but full of flavor. You could buy some to take home from their general store too if you want to recreate these delicious potatoes in your kitchen.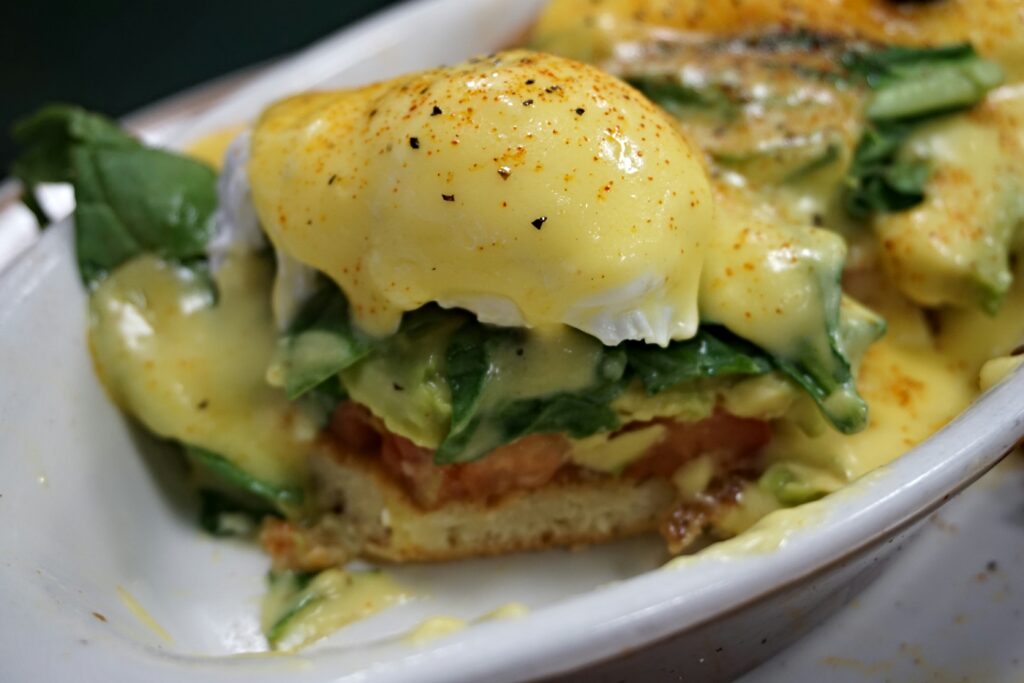 Let's just take a moment to appreciate how heavenly and mouthwatering this looks. I am craving this meal again as I write this post.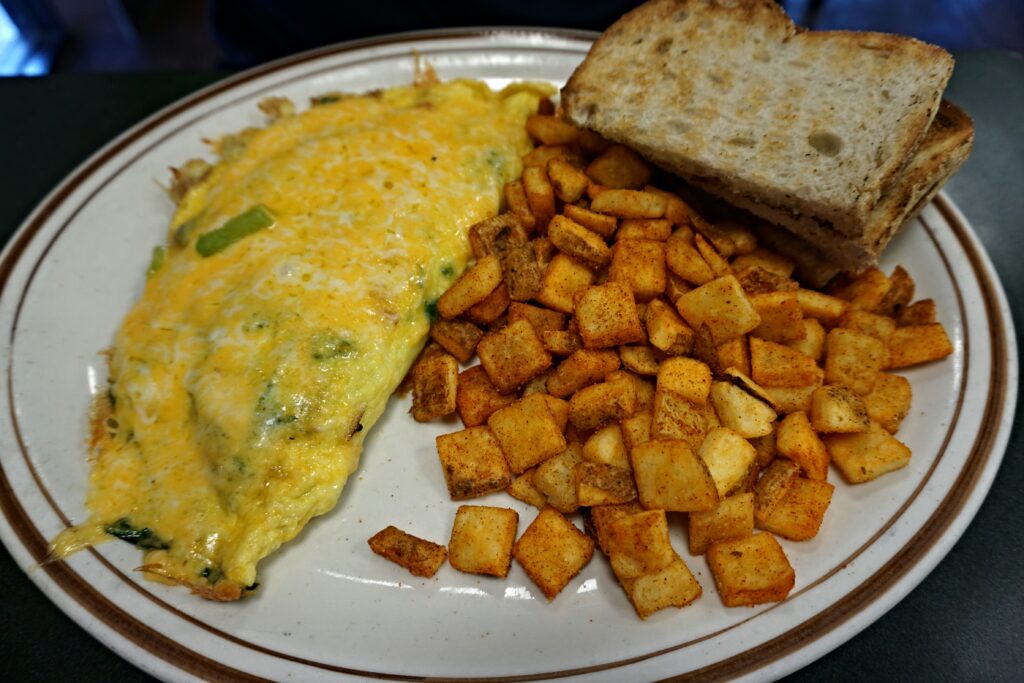 My fiancée went with the Fresh Veggie omelet which he said was delicious. It comprised of four eggs, diced onions, mushrooms, tomatoes, green bell peppers, fresh spinach folded with cheddar and jack cheese. All omelets are served with a side of their Habla Diablo seasoned potatoes and either toast or a banana nut muffin.
Service was friendly and quick. Out of all three restaurants that I recommended, this was the only spot where I was able to finish the entire meal. Portions were the perfect size and affordable.
Over to you — what is your favorite breakfast spot in Las Vegas?
My must-have Las Vegas accessories:
Click the product to shop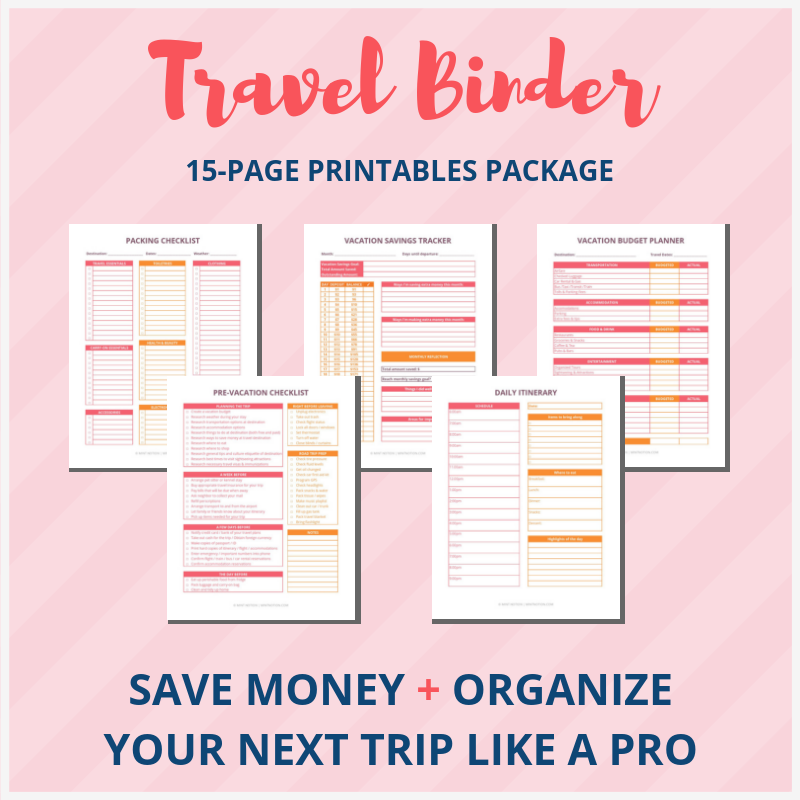 FREE Vacation Packing Checklist
Use this blank packing checklist printable when planning your next vacation. Enjoy it!