What is a budget calendar? A budget calendar looks just like a regular calendar, but it's used for the purpose of tracking your bills, due dates, paychecks, and other important dates in your life. It's a helpful way to get an overview of how much money will flow IN and OUT in a given month.
Many of us use a calendar to help us keep track of important dates in our life, such as doctor's appointments, meetings and vacations. But did you know that a calendar can also be a great tool for budgeting?
With a budget calendar, you can set reminders to pay bills on time or to purchase a gift for an upcoming birthday celebration.
If you're looking to get a better handle on your finances and manage your spending, a budget calendar is designed to help you do just that.
It's a visual aid to see your paydays, when bills need to get paid, and what's coming in the months ahead so you can plan accordingly.
A budget calendar goes together with your monthly budget like peas and carrots. (Or peanut butter and jelly if that's your jam!)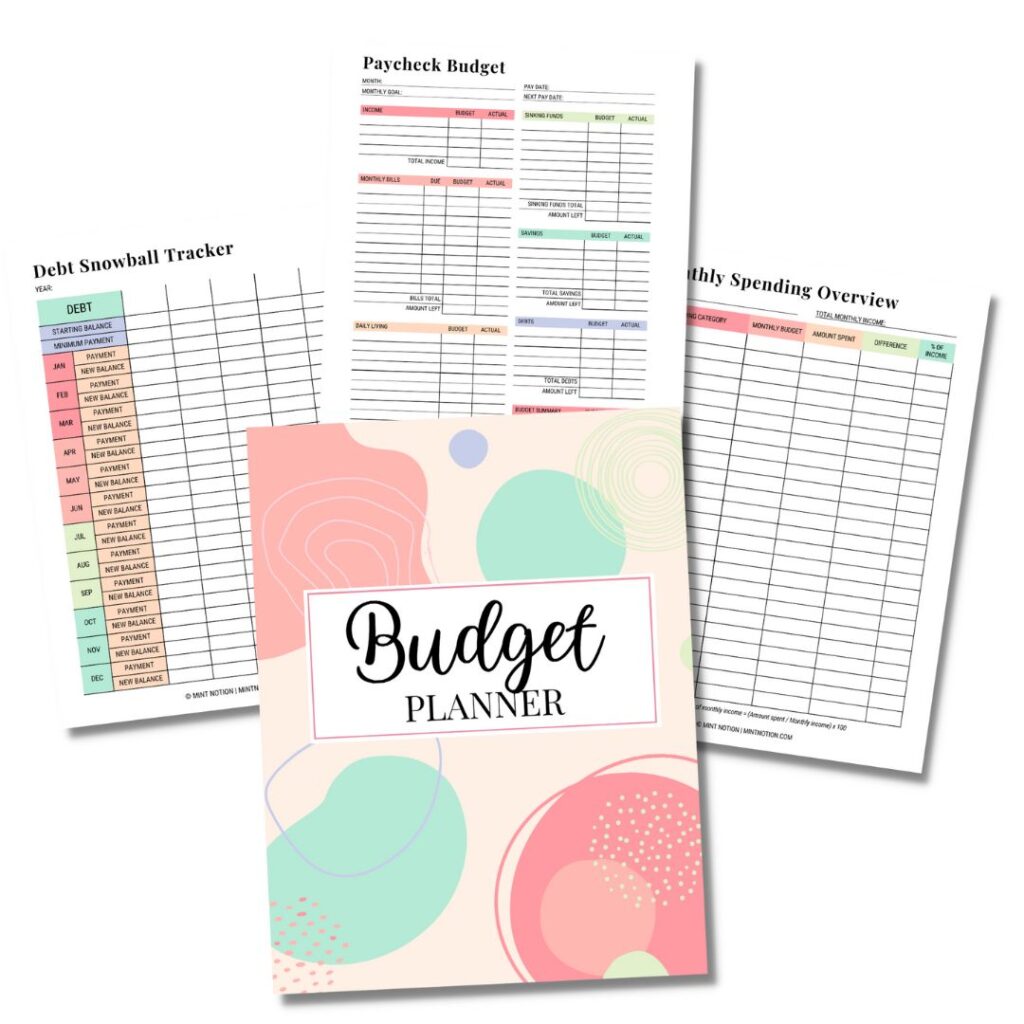 Related Posts:
What is the purpose of a budget calendar?
The purpose of a budget calendar is to keep track of all payment amounts and when their due dates.
It can be used as a calendar for paying bills and other financial obligations. Here's a few things that you may want to include in your budget calendar:
Income
Include your paychecks on your budget calendar, including other income sources. This will allow you to visually see which days you'll get paid and when money will be flowing in.
Bills
Make a note of all your regular monthly bills on your budget calendar, such as your rent / mortgage and cell phone bill.
Also make note of irregular expenses that are due during this month, such as yearly subscription charges.
When you have your bills and their due dates listed, you can decide which paycheck will cover each and every bill.
Savings
If you have automatic savings contributions set up, schedule them in your budget calendar so you'll know when money is automatically withdrawn from your account.
If you manually transfer money to your savings account, then list the days you plan to do this on your budget calendar too.
This can be a great way to save up for a wedding, a vacation, or build your emergency fund.
Special events or holidays
Each month will look different depending on the time of year. You'll want to include any special events, holidays, or birthdays on your budget calendar.
This will help you remember to include these extra expenses in your budget, such as buying a gift for a baby shower or setting aside money for a family dinner party.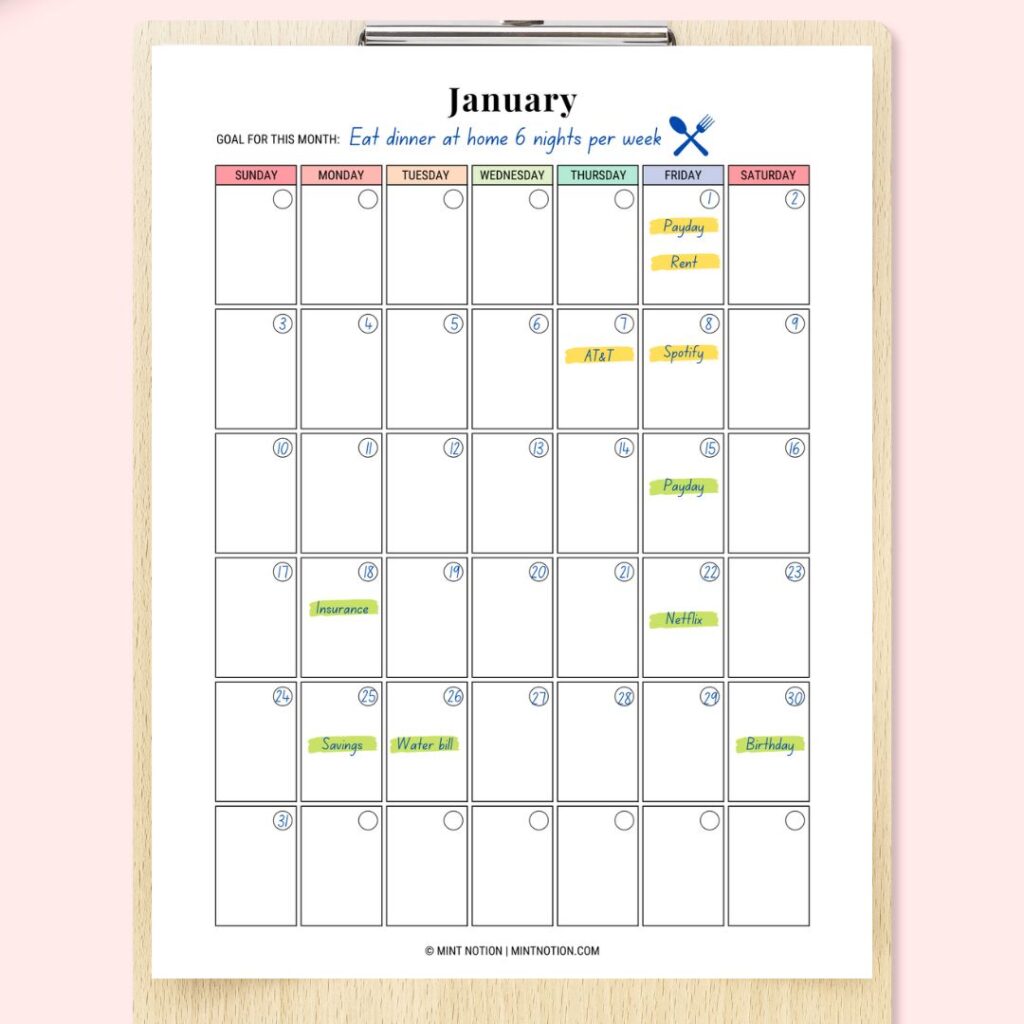 Do I need a budget calendar?
Anyone can benefit from using a budget calendar. It's free to use, easy to follow, and it can help reduce financial stress. What's not to love?
If you're living paycheck to paycheck though, using a budget calendar is essential.
Living paycheck to paycheck means you have $1,000 (or less) in savings. It means if something unexpected happens, like an emergency car repair, you could overdraw your bank account.
Read Next: How to budget when you live paycheck to paycheck
Being able to visually see your paydays, when bills are due, upcoming purchases, and savings contributions, can help you to better manage your money and reduce surprises. A budget calendar is an easy way to see what you'll spend money and when.
Being able to look ahead at the month's expenses and special events allows you to plan and get into the habit of making better spending habits so you can save money.
For example, if you have a big bill due this month, you might cut back on your daily spending a week prior to make sure that you have the money set aside to cover the bill payment.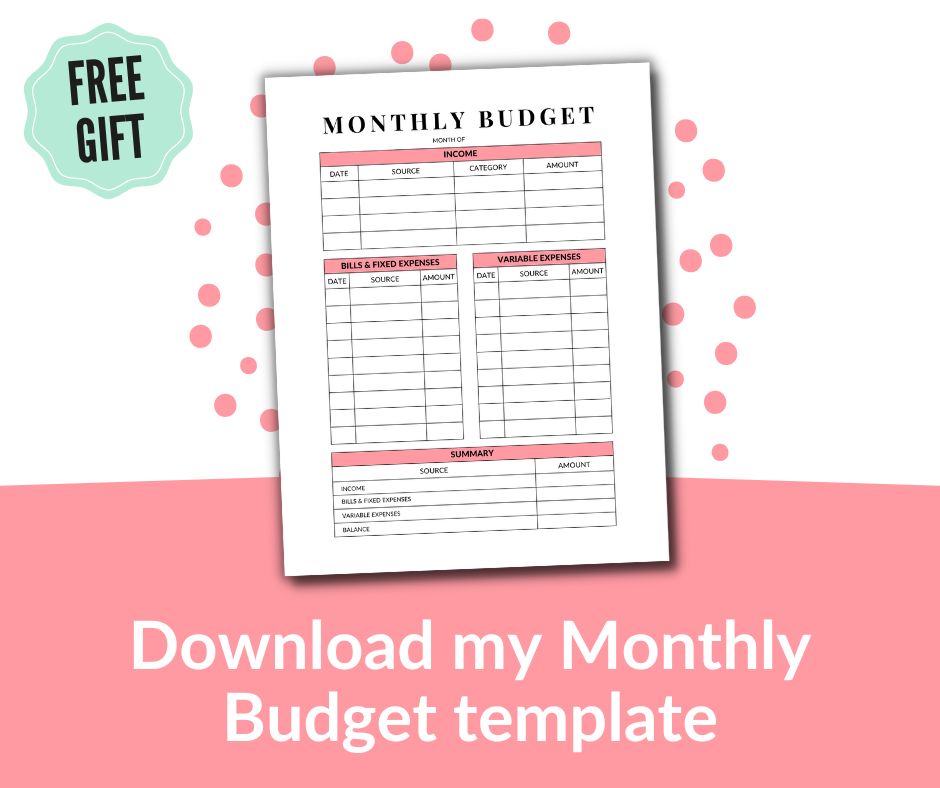 Benefits of a budget calendar
A budget calendar can help remind you of all the important dates in a given month. Here are a few of the key benefits of using a budget calendar:
Fewer missed bills
With a well-planned calendar, you'll minimize the chance of forgetting the due dates of important bills and special events, such as birthdays.
This can help you avoid those annoying late fees and improve your credit score if you're not missing payment due dates. You'll also notice that when you start paying off debt, you'll have fewer bills due each month. Sounds good, right?
Improve your cash flow
When you track your monthly expenses and bills, you'll get a better understanding of how your money flows in and out each month.
You can plan ahead to see when big expenses are due and set reminders to avoid late fees.
Works for regular or irregular paydays
Whether you get paid once a month, bi-weekly or once a week, a budget calendar can help you determine which paycheck will cover certain bills and expenses.
A budget calendar is the perfect tool to organize your finances, especially if you're living paycheck to paycheck.
Read Next: How to budget with an irregular income
Curb impulse spending
When you see all your monthly expenses laid out in your budget calendar, including how much money you have to cover them, this can help prevent overspending during the month.
When you spend money on unplanned purchases, you might have fewer funds to cover your major expenses.
Encourages you to save money
If you set reminders in your budget calendar to save money, you're more likely to follow through and set cash aside to build your emergency fund, retirement, a house down payment, and so on.
You can also choose to set up an automatic savings account to fund your savings goals.
Read Next: What is the 70-20-10 buget rule?
How do I make a budget calendar?
The good news is that you don't need anything fancy to make a budget calendar. A monthly budget calendar printable – like the one show below – works perfectly.
You can grab the one I use here, print it out at home (or your local office supply store), and then follow the steps below.
1. List your paydays for the month
Write down all your pay dates on your budget calendar template. Make sure to include all sources of income.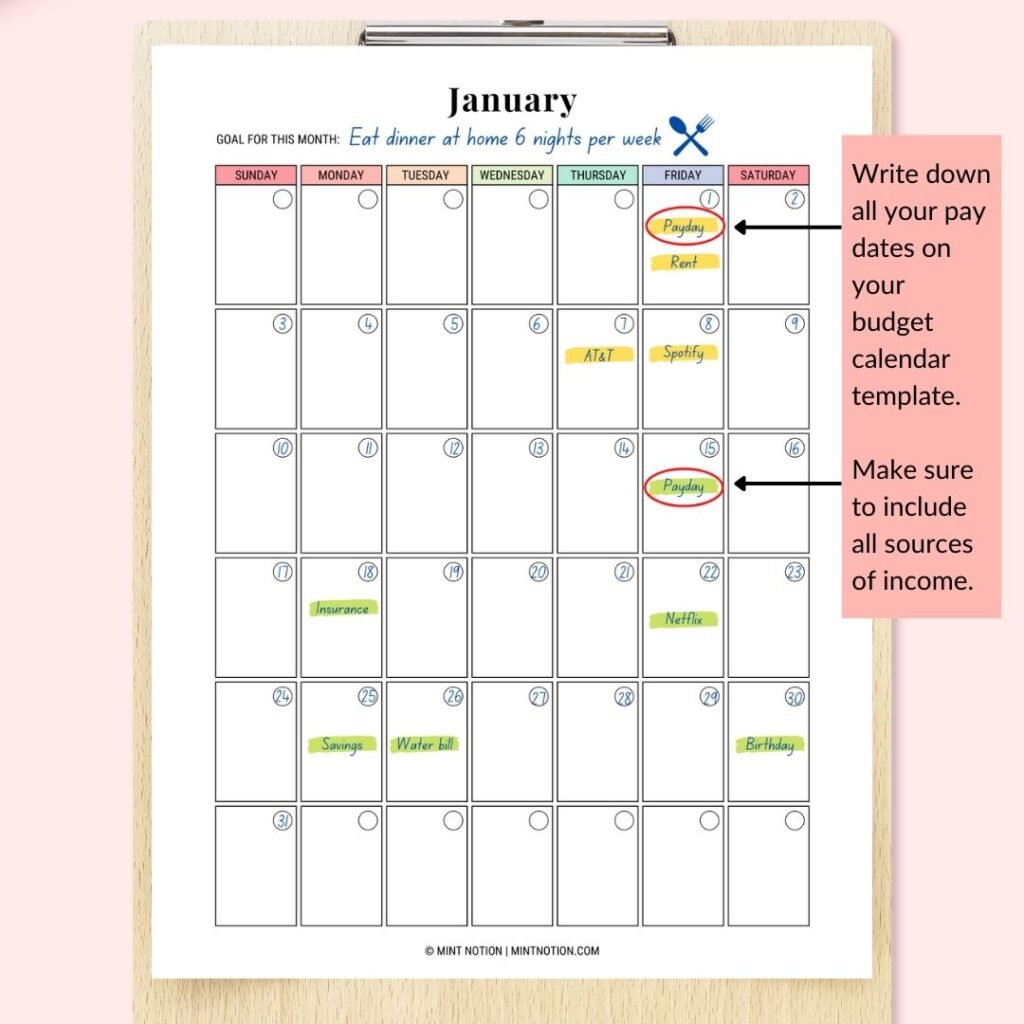 2. List your monthly bills and their due dates
Whenever a bill is due, write it down on your budget calendar. You can check your accounts or previous bank statements to figure out when each bill is due.
If you're constantly tracking your paydays and bills, you'll be more likely to curb impulse spending when you see an upcoming bill payment is due.
PRO TIP: I like to keep a list of all my recurring bills + subscriptions and their due dates so I can refer to it each month when putting together my budget calendar. This is a super easy and stress-free way to stay organized. You can grab the worksheet I use here.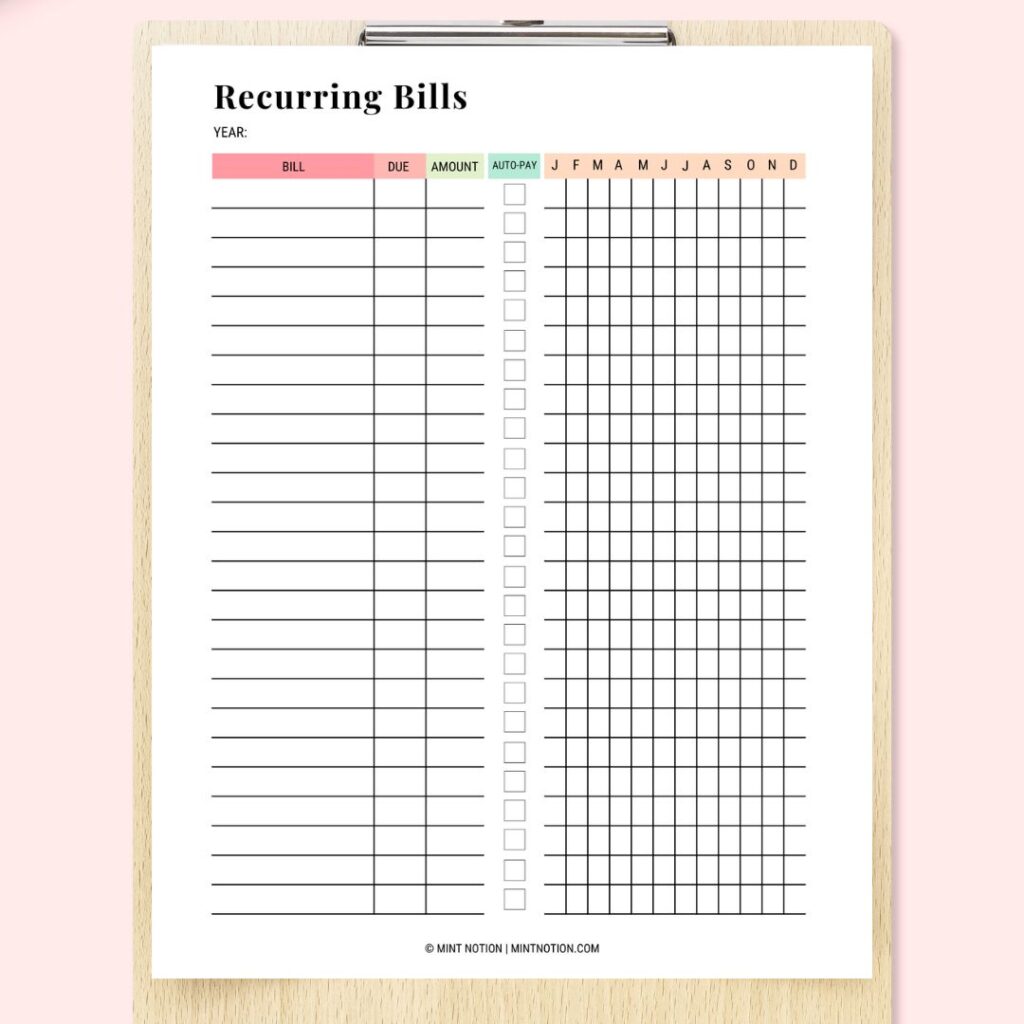 3. Add your savings contributions
If you have days where you're automatically withdrawing money from your bank account to go into savings, make sure to write down these days on your budget calendar.
You can also schedule days where you want to manually transfer money into your savings account.
Read Next: 50 creative ways to save money on a tight budget
4. Add any special occasions or holidays
This will look different each month, depending on the time of year. Remember to add birthdays, holidays or other special occasions to your budget calendar before the month begins.
This can help you plan ahead so you'll be prepared to cover any extra expenses, such as attending your friend's wedding or buying a birthday gift for your mom.
5. Color code your income and bills
**This step is optional, but recommend if you're living paycheck to paycheck**
The best way to do this is to use a few different highlight colors. This is perfect for those who get paid multiple times per month.
Assign each payday or pay period a different color
For example, if you get paid twice per month, take one color and highlight the first payday of the month, such as yellow. The second payday will use a different color, such as green.
Highlight the expenses and spending that will be covered by each paycheck
Go through each expense you've listed on your budget calendar and decide which payday will cover each expense.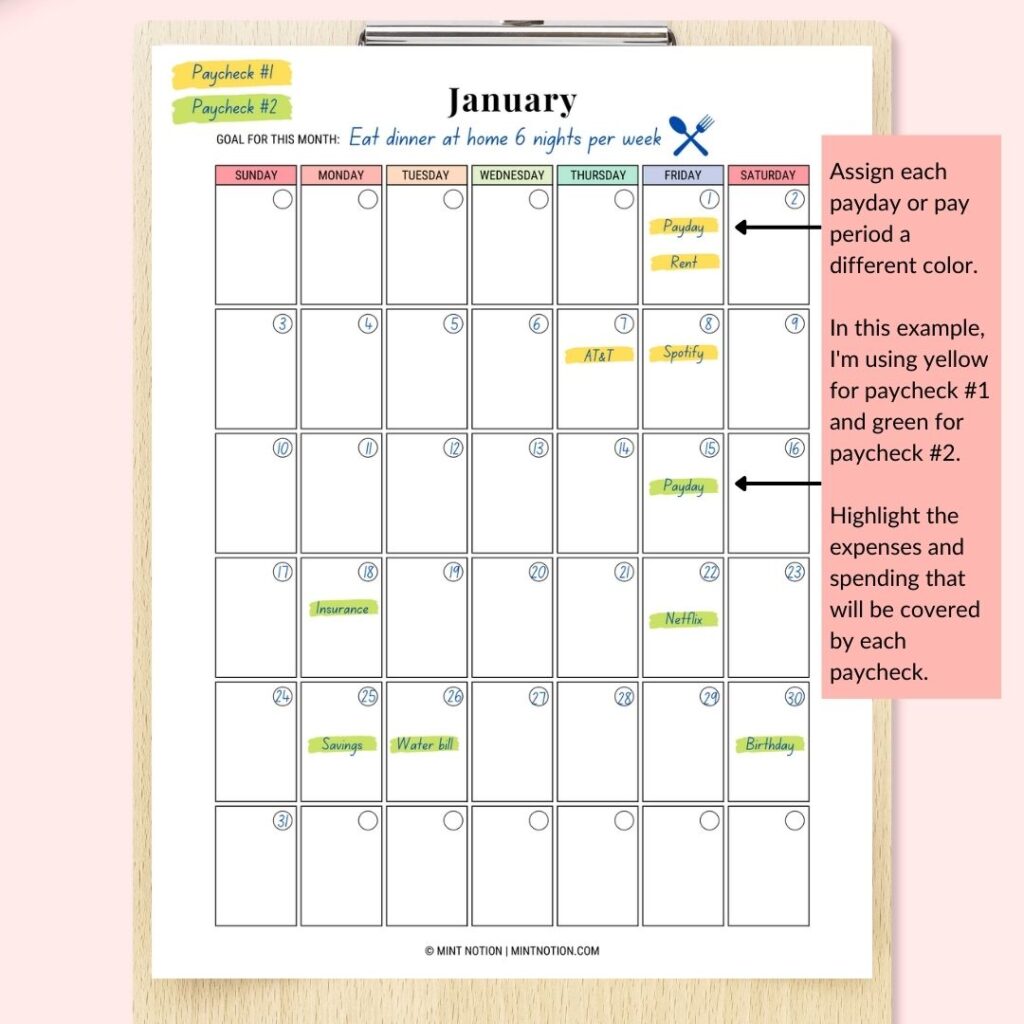 Use the same paycheck color to highlight the corresponding expenses that are due during the pay period.
For example, if you used the color yellow to highlight your first paycheck, use the same color to highlight the bills or expenses that this paycheck will cover. Apply the same method for each payday and expenses.
PRO TIP: Make sure to allow enough money leftover from each paycheck to cover your daily spending, such as groceries and transportation.
Color coding your budget calendar is optional, but it can be an easy way to organize your finances and plan ahead, so you'll be able to pay your bills on time.
What if I can't pay all my bills with just one paycheck?
Depending on your situation, you may find that a bill is larger than one of your paychecks, such as your rent or mortgage.
If you have a big expense that requires money from multiple paychecks, you can follow the half-payment method.
This means you'll split the cost of your fixed bills in two so one paycheck covers one half of the expenses and the next paycheck covers the other half.
Then you can underline the expense with the assigned colors, such as both yellow and green.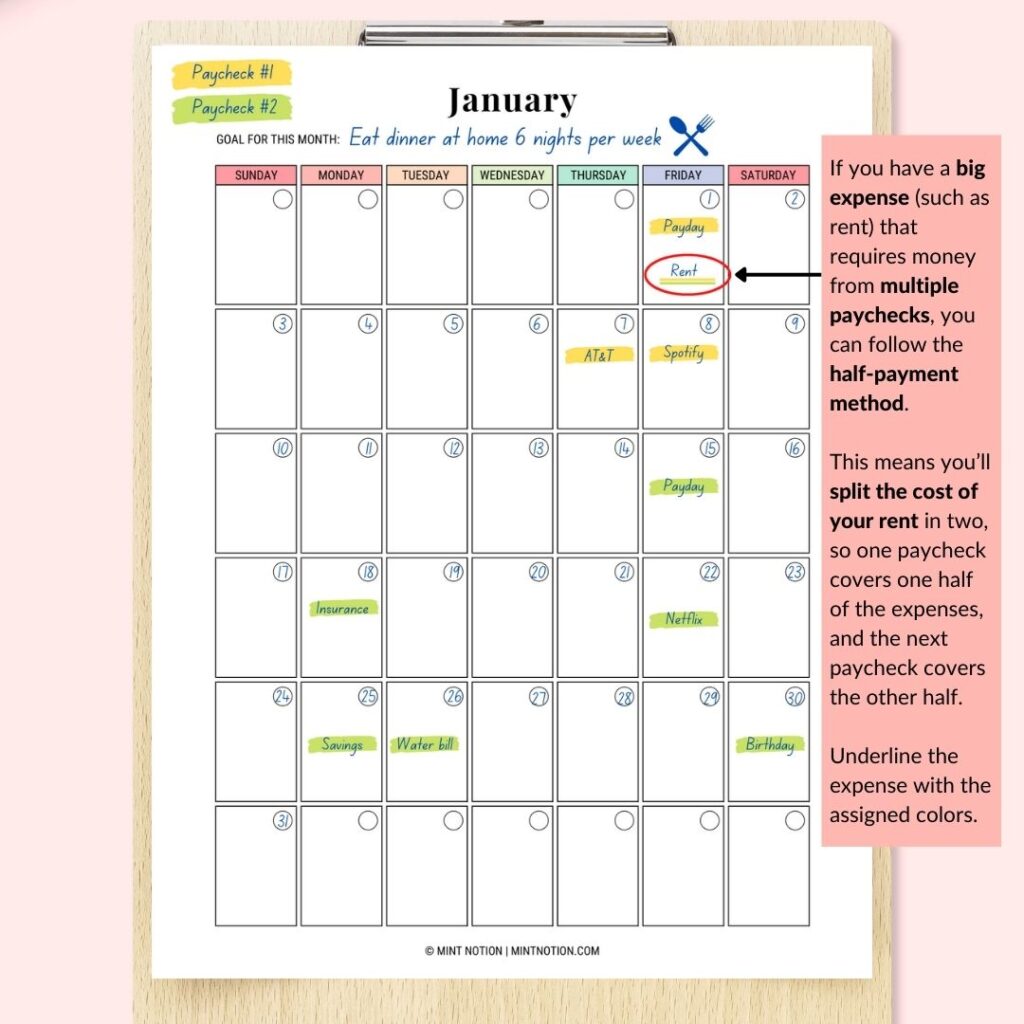 How the half-payment method works:
During the pay period prior to when a bill is due, such as your rent or mortgage, you'll set aside money to cover half the cost of the payment.
You can put the money in a separate bank account to prevent you from spending it on other things.
When the bill is due, you won't have to scramble to come up with the money for the entire amount from your most recent paycheck.
You'll only need half, since you've already set aside the other half from your previous paycheck.
PRO TIP: If you get paid weekly, you can follow the quarter-payment method. This means you'll use each paycheck to cover one-fourth of your regular fixed expenses.
Read Next: How to start using the half-payment method
How to use your budget calendar throughout the month
Now that you've put together your financial calendar for your budget, it's time to actually use it.
To stay on top of when bills are due, you can refer to your budget calendar throughout the month. Then as you pay each bill, you can put a check mark next to the bill or cross it out.
For bills that are automatically drafted out of your account, you can put an asterisk next to them.
This will remind you which bills you need to pay manually. You can organize your budget calendar anyway you'd like, these are just suggestions.
I recommend keeping your calendar in a spot where you'll see it every day, such as your fridge, workspace, family command center, and so on.
This will allow you to easily see when bills are due and what you have coming up.
Once the month is over, you'll want to put your budget calendar inside your budget binder or a folder to keep safe.
Then you can refer back to it if you need to check when a bill was due or other important dates. You can get a free budget calender when you download my budget workbook below.
PRO TIP: Schedul a budget date with yourself once a week. Treat it as a self-care activity for you, your finances, and your goals.
I like to put this Budgeting for Success playlist on and let it inspire me as I check-in with my budget (and budget calendar) to see where I'm doing well and where I can make improvements.
This also gives me time to make adjustments to my budget throughout the month as needed.
How do you create a monthly budget for a beginner?
Below are some helpful posts that will show you how to create a monthly budget.
How to make a zero-based budget (Great for those who get paid once a month or those who want to look at their month as a whole)
How to budget when you get paid bi-weekly (Great for those who get paid biweekly or twice a month)
How to budget when you live paycheck to paycheck (Great for those who want to budget by paycheck)
50/30/20 budget rule (Great for those who are brand new to budgeting)