Starting a blog was one of the best decisions of my life. What started off as just a hobby has now become a business for me.
Never again having to set my alarm for 6:00 AM and having to commute an hour on public transit every day to work at a job I didn't love. Never again having to stress about issues at work that I don't really care about, or working for someone else who determined how much I could earn.
I know a lot of you are looking to try something new, or you're not happy with your current situation in life. I get emails every day from the Mint Notion community letting me know all the incredible goals that you want to achieve. It's amazing and I feel so honored that you've chosen to share your goals and success stories with me. Thank you!
But first, let me start off by saying that this post is not your typical "I quit my full-time job to blog". Yes, I did quit my full-time corporate job at the beginning of 2014. I didn't have a blog back then though.
The reason why I quit my job was to go back to school. I was getting too comfortable in my dead-end job and began feeling unhappy because I wasn't challenging myself. I was simply coasting through life and I was hungry for change. At the time, I thought that going back to school was the answer and it would open the door to better career opportunities.
Related Posts: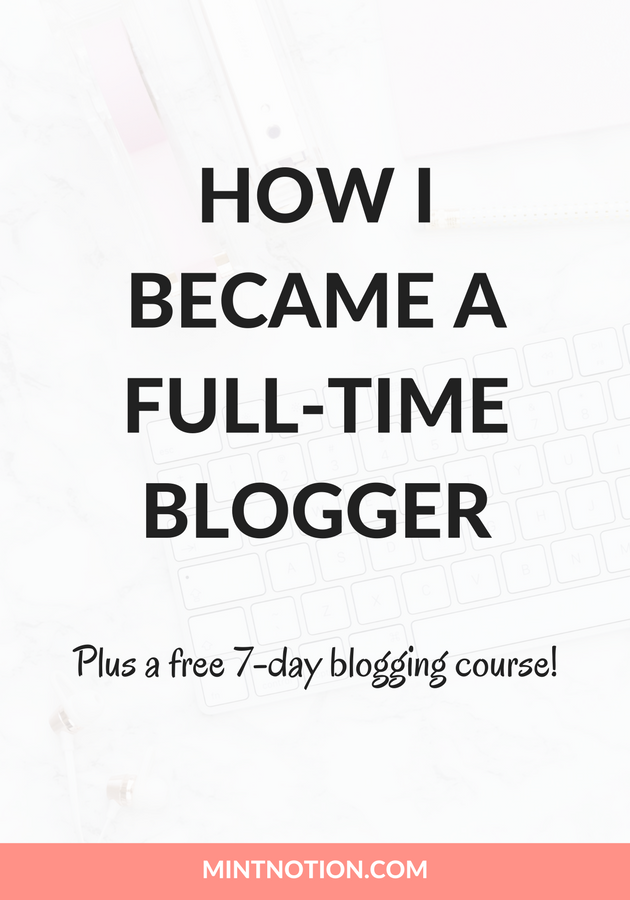 How It All Started
If you've been following me for a while, you may already know my story: I saved up a lot of money so I could quit my job, pay for the remainder of my school tuition, and have enough money to last until my graduation.
I started this blog a few months after I quit my job as a hobby while I was in school. I was looking for a creative outlet for myself and searched for ideas on Google. That's when I discovered blogging.
I never even read blogs before or knew anything about WordPress, so it was kind of strange for me to choose blogging as my "creative outlet". I think God was speaking to me the day I decided to start my blog.
My blog took a back seat though.
When I was in school, studying for exams was my #1 priority. When I graduated from school, finding a job became my main priority. While I would have liked to earn money from my blog, I didn't know how to make that happen at the time. Focusing my energy on getting a 9-5 job made more sense because that's what I was familiar with — that's what society expected me to do.
What I am about to share with you is very personal and I haven't shared this information with many people before. I think it's important to share this because I understand that it's NOT always easy to find a job after graduating from college. I want you to know that you're not alone.
I treated finding a job like it was my full-time job and I sent out applications almost every day. It was a tedious and exhausting process.
A few months went by and I didn't receive any callbacks to schedule interviews. I even went to a couple of recruiting agencies to get help modifying my resume. After incorporating their tips and sending out over 100 job applications, I still didn't receive any callbacks to schedule interviews.
Needless to say, I began to feel depressed. I felt like a failure and the worst part was — I hated being reliant on waiting for someone else to hire me. I felt like I was wasting my potential.
That's when I started reading THIS book (again). This time it was a wake-up call for me. It made me realize what I wanted in life and what truly made me happy. Finding a 9-5 job wasn't going to make me happy. What I really wanted to do was to find a way to work from home and be my own boss.
But I had no idea how I was going to do that. I enjoyed blogging, but as I already mentioned, I wasn't sure how to monetize my passion.
Do you want to start your own money-making blog? First you need to start a blog. If you're interested in starting your own blog, you can use my free step-by-step guide here to set up your blog. For only $2.95 per month, you can easily start your own blog and get a FREE domain name when you sign up through my link. This special price is exclusive for Mint Notion readers!
I Was So Scared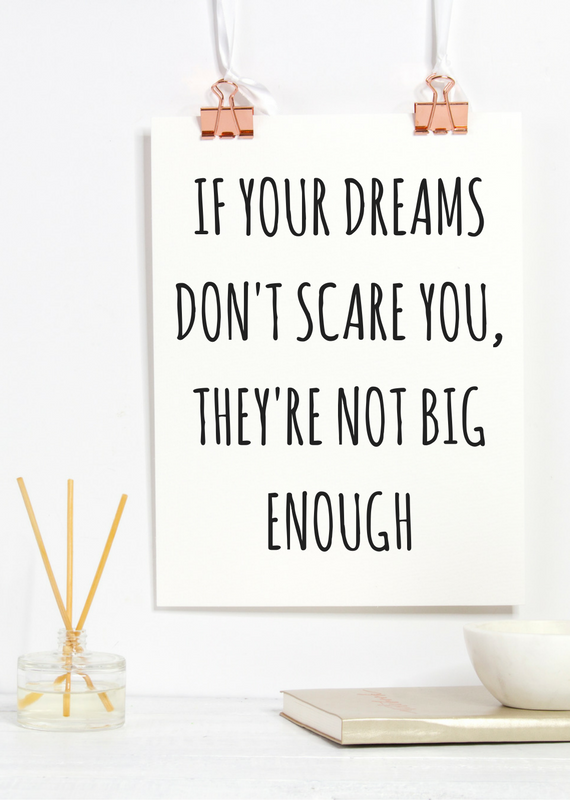 It was scary to make the decision to stop looking for a 9-5 job and focus my energy on monetizing my passion. I didn't know what to expect and I was afraid to tell anyone. It took me almost a month before I told my boyfriend (and I normally tell him everything).
Even though I felt scared, I think it's important to share this. Some bloggers make it seem like they are super confident and their journey to blogging success goes smoothly (which makes us feel like we're the only ones feeling scared).
However, one thing I learned in my blogging journey is that the path to success is NOT a straight line. Everyone's journey will look different and that's okay. It takes time to build a successful blog and you MUST believe in yourself. Believing in yourself is non-negotiable.
Also, not everyone is going to understand your journey and that's okay. You're here to live your life, not to make everyone understand. (Some of my friends still don't understand how I earn a living online).
Believe In Your Dreams
I truly believe that if there is something you want to do in life, you should do it. If it seems impossible, then accept the challenge. Don't wait, because the time will never be just right. If we wait until we're ready, we'll be waiting for the rest of our lives.
If I didn't choose to pursue my dreams to go back to school, I probably would have never started blogging. And if I didn't start blogging, then I would have never decided to focus on turning it into a business.
You need to believe in your dreams. They were given to you for a reason. Make a plan and make it happen!
Not sure how blogs make money? Don't worry, when I first started my blog I didn't understand how blogs made money either. That's why I wrote a detailed post here to share the best ways to make money blogging.
How I Started Making Money Blogging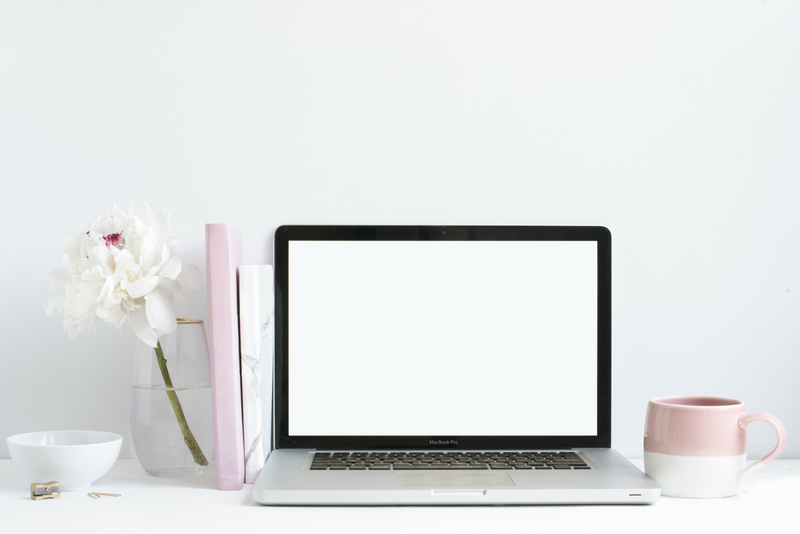 In 2016, I landed my first sponsored (paid) blog post. I received an email from Expedia saying that they wanted to collaborate with me and I couldn't be more excited! I felt like that this was the start of my journey toward turning my blog into a full-time job.
Then I started researching different ways to make money blogging and discovered other blogger's income reports, which taught me A LOT about how blogs make money. I also noticed a few common patterns from the top bloggers:
They started their blog the right way (you can follow my easy step-by-step guide here to start your own blog in minutes)
They wrote profitable content for their target audience (here is a list of blog niches that make money)
They invested in blogging education
They didn't give up!
I began to partner with different companies that I loved by getting referral links to their products and sharing them on my blog. As readers make purchases through my recommendations, I would receive a kick-back from the company as a thank you. (I remember earning my first $0.25 commission from Amazon and thinking – Wow, this is awesome!)
At first, I was afraid that recommending products would come across as spammy and I would lose my readers. But many of my readers actually appreciated the recommendations and found it useful.
I even bought my first blogging-related course to learn more about how to make money blogging, which helped take my blog to the next level. The course teacher makes $50,000 per month from her blog, so I knew that I would be learning from the best! She even earned $300,000 from ONE blog post and will show you how to do it too.
If starting a blog and making money is something that interests you, I also created a free 5-day blogging course which helps break this down even further. In this course, you'll learn:
The benefits of starting a blog and why you need to start yours
How to choose a profitable blog niche
The technical side of starting a blog (it's easier than you think)
The essential things every successful blog needs
How to grow your blog's readership
Different ways you can make money blogging
My top 6 tips for blogging success
Stop Putting Off Your Dreams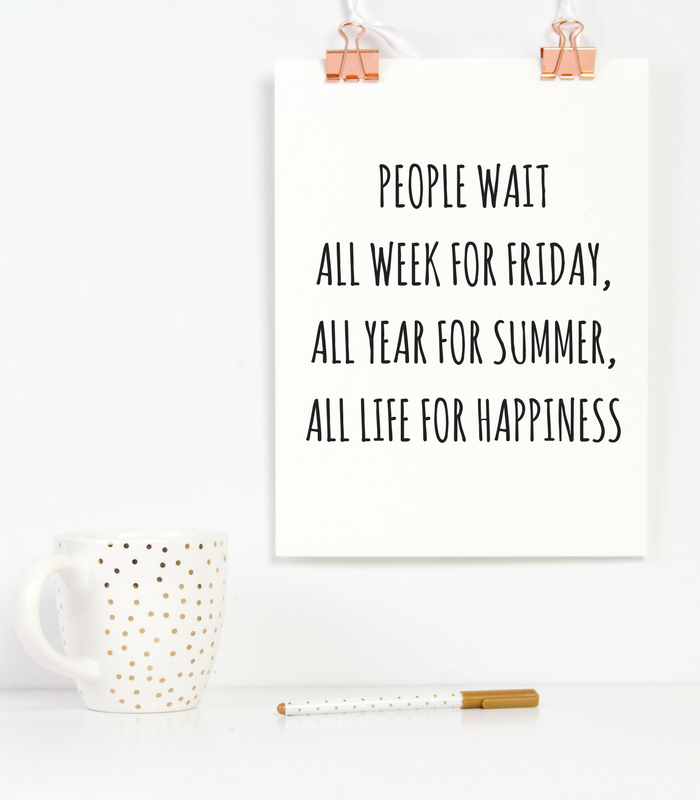 I understand that blogging is not for everyone and it may not be the right path for you. It's important to find your thing, make a plan, and to do your thing – whatever that is!
Stop complaining about your job and make the change. When we complain, we make ourselves the victim. Either leave the situation, change it up, or just accept it. Seriously – go for the next 24 hours without complaining, then watch how your life starts changing.
Yes, making a commitment to change is a BIG step. And I admit that I was scared when I made the commitment to change. I'm not saying that it's going to be easy, but I'm telling you that it's going to be worth it. 100% it's going to be worth it!
Your dreams are waiting for you, my friend.
Break free from your comfort zone. Take baby steps if you must, but don't keep putting off your dreams. Waiting for "someday" is just a safety net which holds us back from truly being happy now. This is your life and you have the power to choose. So make the choice that someday will begin today.
The time is now.
Do you want to start your own money-making blog? First you need to start a blog. If you're interested in starting your own blog, you can use my free step-by-step guide here to set up your blog. For only $2.95 per month, you can easily start your own blog and get a FREE domain name when you sign up through my link. This special price is exclusive for Mint Notion readers!