Do you feel stuck when it comes to creating a budget? Learning how to make a monthly budget can seem overwhelming, especially if you've had trouble sticking to a budget in the past. Today I'm sharing how you can easily create a successful budget using my free simple monthly budget template!
The #1 email I get from my readers is that they want to get their spending under control, but they can't seem to stick to their budget. Or…they don't even have a budget.
If you can relate, the best way to fix this is to look at the basic building blocks of creating a budget. These are the things you MUST do before putting together your budget.
If you're just making a monthly budget because that's what every personal finance expert recommends, then it probably won't help much. Sure it's easy enough to throw some numbers together.
But if you don't know WHY you're budgeting in the first place, you're going to get frustrated and wonder why you're not seeing the results you hoped for.
Here's the thing: Budgeting doesn't have to be complicated. The key to successful budgeting is to give your budget a purpose. Figure out WHY you want to create a budget.
Most people put together a monthly budget because they want to accomplish more with their money, such as paying off debt or saving up for a large purchase. Perhaps these are some of your goals too.
By knowing why you're making these temporary sacrifices in your spending, this can make it easier for you to stick to your budget and reach your goal faster.
Today I'm excited to announce the free monthly budget worksheet I created called, Budget Rock Star! 5 Steps to Tune Up Your Budget.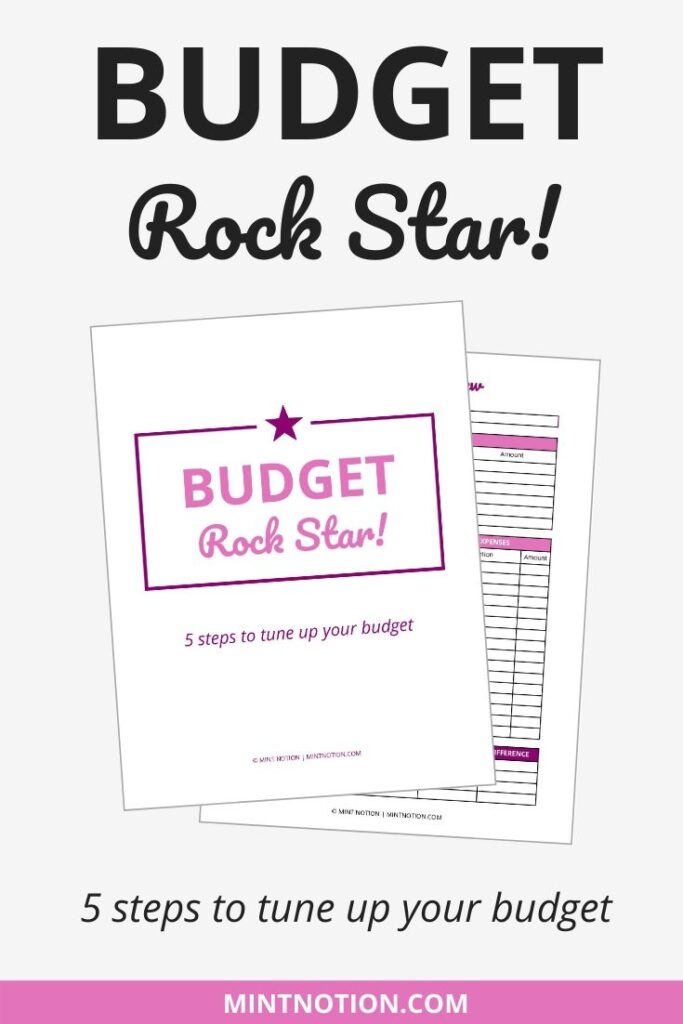 In Budget Rock Star, you'll learn how to create a realistic budget that you can stick to in just 5 steps. Grab your free monthly budget planner here!
Understanding the basic building blocks of budgeting is the #1 thing people fail to do before creating a budget. When you focus on the fundamentals first, this can help you put together a successful budget that actually gets you results.
In Budget Rock Star, I'll walk you through every step in the process so you can create a successful budget. You'll learn…
How to find your WHY so you can stay motivated even on days when you don't feel like it.
The right way to set your financial goals so you can align your budget around achieving them.
How to figure out exactly where your money is going every month so you can make a solid plan for your money.
How to find the right debt payoff strategy so you can get out of debt faster.
The #1 tool I use to avoid surprise expenses and be prepared for those seasonal or one-time costs.
The easy way to create a monthly budget that will set you up for success.
Click here to download your free monthly budget planner.
My Budgeting Story
Just a few years ago, I struggled to save money.
Even though I denied it at the time, I was a shopaholic. I used to work in an office and would spend my lunch hour shopping online. I was constantly buying things I didn't need, and I felt like my life had no direction.
You can read my story here about dealing with a shopping addiction.
As soon as my paycheck would hit my bank account, I would spend it. Saving money was not something I knew how to do. I was a spender at heart.
Then one day I was sick and tired of always wondering where did all my money go? I was tired of hiding from my money problems and feeling like I could never get my finances under control. Enough was enough!
That's when I decided to create my first budget…and it was a disaster. I had no idea what I was doing. Maybe you can relate?
At the beginning of the month, I would sit down and make a list of all the things I wouldn't be buying that month to save money.
Then I would stick to my budget for the first few days of the month and think to myself, "This is easy, I can do this!"
But then by the following week, life happened and all those things that I told myself I wouldn't buy became a distant memory. At the end of the month, I would be left feeling frustrated (again) because I didn't stick to my budget. Oops.
There had to be an easier way, right?
And there was. After years of struggling with money, I finally recognized the importance of starting with the basic building blocks of budgeting. That's why I created this comprehensive resource, so you too can better manage your money.
Just like a rock band wouldn't play a live concert without tuning up their instruments first, you shouldn't jump head-first into budgeting without covering the basic building blocks.
Here's another way to think about this: You wouldn't build a home without laying the foundation first. Then why do so many of us try to make a monthly budget without mastering the basic building blocks?
When you master the fundamentals first, this can help set yourself up for budgeting success. You'll be more likely to stick to your budget and feel in control of your spending.
Read Next: How to budget money on a low income
How to make a budget
My hopes are for you to use these worksheets to help make your financial journey easier for you to navigate. You deserve to have peace of mind about your finances. Use these printable worksheets to get your money under control so you can budget like a Rock Star!
If I can do it, you can too! I believe in you and I want you to be successful!
Are you ready to accomplish more with your money and create a successful budget? You can grab your free workbook here or enter your information below!
Make
Fast Money

with Surveys

Online survey companies, such as Survey Junkie want to pay you cash for your opinion. Start making extra money in your spare time. Join for free today!