Managing your finances can be a little overwhelming, especially when you're young. However, the sooner you start making a financial plan for yourself, the more time you have to create a bright future.
The smart money habits you make now can contribute to your long-term success. I'm not claiming to have all the answers since I'm still learning myself, but I am fortunate enough to not have any debt (nor have I been in debt before).
In order to pay for my graduate school and fund all my trip (in cash), I've had to make some sacrifices and created a realistic budget for myself.
Being smart with your money involves more than just saving a portion of your paycheck each month. It also includes spending wisely (by making educated purchase decisions) and building wealth by investing the money you save in a fairly risk-free option.
Here are a few ways I've learned how to save, spend wisely, and build wealth in the last few years. When you make a strategic plan for yourself, your finances will grow and you'll continue to practice these smart habits going forward. Here's how to be rich in your 20's!
Related Posts: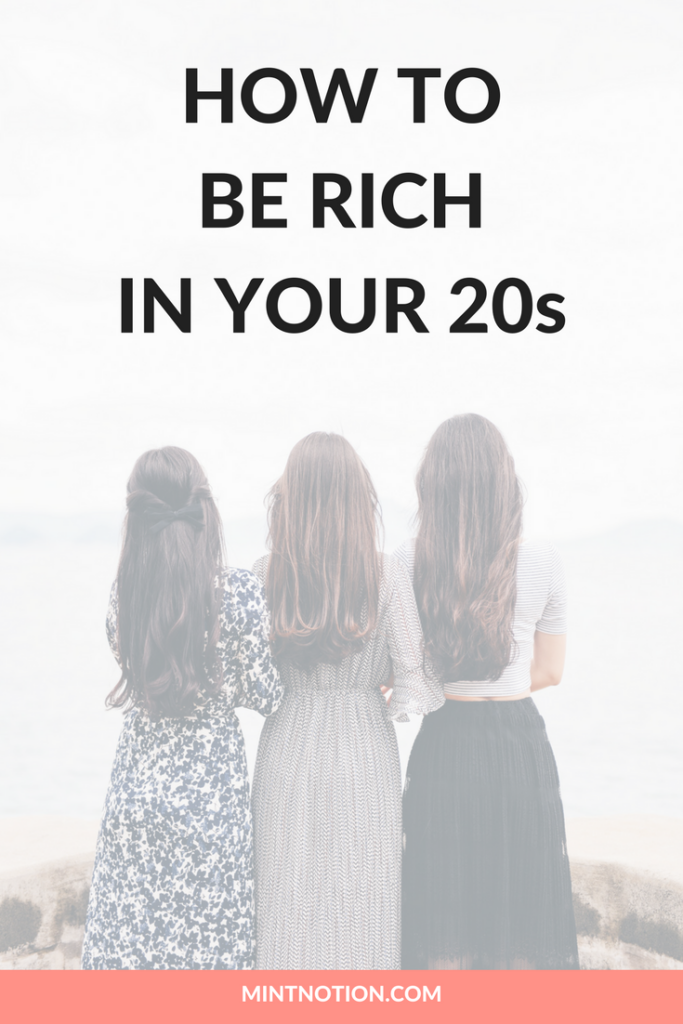 1. Pay off your student loans (and credit card debt)
It's absolutely crucial to have a good repayment plan in place for your student loans. Letting your debt linger can hinder your financial success for years to come in the form of more interest payments and lower credit scores.
To get the best deal possible on your student loans, I recommend using LendKey. LendKey can help you save thousands of dollars by refinancing and consolidating your student loans into one manageable loan with a lower interest rate. Here are some of benefits of using LendKey:
A quick 2-minute rate check with NO impact on your credit score
You can reduce monthly payments up to 40% and save an average of $10,000
Over 275 not-for-profit and community lenders to choose from mean higher chances for approval and LOWER rates
How LendKey Works?
There are 5-easy steps to get started with LendKey. Each step only takes a couple minutes to complete, then you'll be on your way to saving a TON of money on your student loans.
Get Your Rate
LendKey will ask you to fill out a quick online form to see personal rates. This will only take a couple minutes to complete. Then LendKey will use a soft-pull of your credit to show you real rates. This WON'T impact your credit score.
Pick Your Loan
LendKey will show you the best rates from over 300+ community leaders. Then with just a simple click, you can select the right loan for you and your budget.
Upload Your Docs
You can easily upload files from your computer or photos from your phone for verification.
E-Sign & Click
You'll receive an email from LendKey letting you know that your documents have been verified. Then you just need to e-sign your loan agreement with DocuSign.
Loans Paid Off
LendKey will get to work paying off your existing loans immediately so you don't have to. Click here to learn more about how to get started with LendKey.
2. Increase your income
At the end of the day, there are only so many ways you can slice and dice your monthly budget without wanting to pull your hair out.
Instead, challenge yourself to increase your income. Here on Mint Notion, I love sharing ways to increase your earning power so you can get on track to reaching your financial goals.
Whether it's an extra $100 or an extra $1,000 each month,there are lots of different side hustles to increase your income. Here are a few of my favorite ideas to get you thinking:
Start a blog
Blogging is my favorite side hustle because the start-up costs are low and it can be a great way to make extra money in your spare time. Blogging even has the potential to turn into a full-time job (like it did for me). You can use my free step-by-step guide here to create your blog.
Earn Cash Back
You can earn up to 20% cash back on all your online purchases with Rakuten. This is a legit company and I use them all the time when shopping online. It's free to use and can be a great way to earn extra money.
For USA shoppers, you can click here to sign up for Rakuten (free $10 welcome bonus).
For Canadian shoppers, you can click here to sign up for Rakuten (free $5 welcome bonus).
Online Surveys
Companies are willing to pay you to get your opinion. If you're looking for an easy way to make money fast, this can be a great option. I started doing online surveys when I was in college to help me make extra money. It's been a good way to help my bank account grow each month.
PRO TIP: Earn the most money when you sign up for several survey websites. Then you'll get to choose the surveys which pay the most money. Save time and earn more cash!

Survey Junkie – This is my favorite legit survey company and it's a great way to make money. It's one of the largest survey companies in the world. It's similar to Swagbucks, where you'll earn points for each survey you complete. Then you can exchange your points for cash paid directly to a PayPal account, or you can redeem your points for a gift card. It's super easy.
Sign up to start making money with Survey Junkie today
---
American Consumer Opinion – This website has over 6 million members worldwide. They'll pay you for each survey you complete. It's an easy way to make extra money.
Sign up for a free account with American Consumer Opinion
---
Swagbucks – This is one of the most popular survey websites. I've been using Swagbucks for years to earn free gift cards. For each survey you complete, you'll earn "swagbucks" which can be redeemed for free gift cards, or you can get cash paid to a PayPal account. Plus, you'll get a free $5 welcome bonus just for signing up today.
Sign up for Swagbucks and claim your free $5 here
Become an Airbnb host
If you have a cabin, cottage or extra room in your home, consider becoming an Airbnb host to make extra money. Don't have any extra space? You can choose to become a host for your neighborhood or make money by hosting a unique experience (hiking, cooking classes, and more). You can learn more about Airbnb here.
If you need some more inspiration, I wrote several posts about how to make money with side gigs. You can check them out here:
3. Think about your retirement
It's never too early to start thinking about your retirement.
Yes, it may seem far away and hard to imagine right now, but it's important to plan and take the appropriate steps towards saving for your retirement.
One way to do this is to take advantage of what your workplace offers to their employees. If your employer offers to match your retirement (such as an RRSP), make sure you're getting the maximum dollar amount possible.
The actions you take now can (and will) impact your financial success in the future.
My recommended personal finance books for further reading:
Click the product to shop
4. Live below your means
Many twenty-somethings look to their friends in order to measure how they should be spending their money, but this is not always the best method for success.
If you surround yourself with frugal spenders or friends who practice wealth-building techniques, you can certainly learn a lot from them. However, I recommend living by this motto: spend less than you make (or a lot less than you make).
If you're making $40,000 per year, don't spend like you're making $60,000 per year. Some people try to live a lifestyle on an income they wish to make, rather than spending less than they make.
If you want to maintain your current spending, aim to find a job that makes more than enough to cover this lifestyle. Alternatively, you can use money-saving tools to be more resourceful so you can afford the lifestyle you want:
Swagbucks – Earn cash and gift cards for things you already do online, such as surfing the internet, playing games, and filling out surveys. Sign up for Swagbucks and claim your free $5 here.
Rakuten – Get cash back when shopping online at over 2,000 stores. Plus, it's free to use. For USA shoppers, you can click here to sign up for Rakuten (free $10 welcome bonus). For Canadian shoppers, you can click here to sign up for Rakuten (free $5 welcome bonus).
Automate your savings with Trim – This is a free app that analyzes your accounts to find recurring subscriptions and determine where you can save money. You can sign up here to see how much you can save and get your results in less than a minute.
5. Invest your money
It can be a little daunting to invest your money if you're not sure where to start, which is why I suggest reading a book (or two) about investing for beginners or talking to a financial planner about your long-term goals.
I just recently finished reading The Only Investment Guide You'll Ever Need
by Andrew Tobias (which I recommend reading if you haven't already). Even if you didn't fully grasp everything he mentioned in his book, his take home point is this:
"If you save at least 10% of each paycheck and earn a 7% annual return, it will take just over 30 years to grow your nest egg to equal 10 years of income."
Saving 10% of each paycheck should be easy, but earning a 7% annual return is not so cut and dry. Here are a couple of trusted and popular ways to start investing money for beginners.
Acorns – Acorns is one of the easiest ways to make money money. Every time you make a purchase, Acorns will automatically round it up to the nearest dollar and invest that change towards your future. Your spare change can quickly add up and every nickle and dime counts. With Acorns, you can also earn cash back on your everyday shopping or set up recurring investments. You'll even get a $5 welcome bonus just for signing up.
Sign up with Acorns today and claim your free $5 bonus
---
Lending Club – This investing platform is straightforward and easy to use. Lending Club is the largest online lender of personal loans in the United States. This means investors, such as yourself, provide loans to borrowers. You can choose which loans you wish to invest in and earn monthly returns from the payments that borrowers pay. This is a great platform to start investing and has the potential for you, as an investor, to earn a steady cashflow.
You can learn more about Lending Club here
6. Socialize outside of meal times
Many friends suggest getting together for lunch or dinner, as this is a convenient setting to catch up and socialize. However it can be quite expensive, especially if you decide to order drinks.
Suggest meeting after lunch or after dinner instead. If you must get together during meal times, try hosting a potluck or have a picnic in the park. You can make your own drinks and there won't be any shortage of fun.
Read Next: Saying "no" to friends when you're trying to save money
7. Get to know the library
Just like Arthur said — having fun isn't hard when you've got a library card. If you're too young (or old) to get that reference, you can still benefit from it right now.
Even though I'm finished school, it's still important to continue your education by reading and getting informed. I use the library to borrow travel books, cookbooks, self-help books, business books, fiction books, movies, and so on.
Other great free things available from the library are internet access, classes, lectures, talks, city museums tickets, etc.
Read Next: 10 ways to save money fast
8. Make your own lunch for work
Instead of spending $10-$15 each day for lunch, take five minutes out of your morning (or evening) to prepare lunch.
Only $10 per day may not seem like much, but it becomes $200 per month and approximately $2,400 per year.
That money could've went towards your next vacation or paying off debt instead of being spent on eating out for lunch at work.
Don't worry about what your co-workers are doing for lunch, focus on your budget and eat healthy. Fast food and restaurant food contains excess sodium, sugar and fat – you can control that by making your own meals.
NOTE: In some circumstances, going out for a business lunch can be a good way to network and escalate your career. You may want to consider setting aside money to cover these networking meetings.
Read Next: 12 ways to pay off debt fast
9. Cut back on Starbucks
If you frequently visit a local coffee shop each day, consider how much it's costing you. A $2-$5 coffee per day adds up to $480-$1,200 per year.
If your office doesn't have a facility to make your own coffee, consider making it at home. For those that don't have time to enjoy a cup of coffee at home, bring it to work in a tumbler. I swear by my Yeti tumbler. It's perfect for my morning coffee.
NOTE: You don't have to give up your daily Starbucks habit. Instead, set aside money in your budget to visit Starbucks (or your favorite cafe) once per week. I've been doing this for years to help me save money without completely giving up Starbucks.
Read Next: 17 easy ways to save money at Starbucks
10. Don't feel that you need to be brand-loyal
I admit that for I am brand loyal for some items.
For example, I use a particular brand of skincare products which works for me. However, when it comes to other toiletries or food, I usually buy what's on sale that week.
If you are brand loyal, only buy when it's on sale. Stock up when the price is discounted (make sure the product will not expire before you can use it) and this will help you save money and hedge against inflation.
NOTE: Consider buying generic or store brand products. They are often cheaper than brand name products.
Read Next: 8 tips that helped me quit my shopping addiction
11. Stop buying just because it's on sale
One of the worst things you can do is to buy items just because they are on sale. I used to fall for this shopping trick in the past – I would buy clothing, shoes and accessories because I loved the thrill of finding a deal.
But in the end, they would sit in my closet (sometimes with the price tag still attached) and never get worn. It was like I was just throwing money down the drain. What a waste!
It took me awhile to learn, but now I've come to my senses and only buy items that I actually need. I am much happier now and feel good about the items I own.
12. Ditch the habit of impulse spending
I wrote a whole post about how to stop impulse spending. Marketers are really good at encouraging consumers to make impulse purchases, but there are simple ways to help kick this bad habit.
13. Create a minimal wardrobe
Creating a minimal wardrobe means buying classic pieces that are timeless, good quality and versatile. Avoid buying trendy pieces since they'll only last one season and go out of style quickly.
A minimal wardrobe is a good investment for both your budget and the environment. It can be a great way to save money by preventing impulse spending. Also, having a minimal wardrobe will help you to mix and match items more easily.
Some non-monetary gains include spending less time getting ready in the morning, having less guilt about all the unworn clothing (from previous impulse purchases), and having a wardrobe that reflects you better because it's made up of pieces you love.
Read Next: How to build a capsule wardrobe: Step-by-step guide
14. Pretend you make less than you do
One way to save money and build good spending habits is to pretend that you make less than you actually do. Not only will this help you to spend less money, but you will also have more saved up in the bank.
The easiest way to pretend that you make less than you do is to automatically deduct a percentage of your paycheck each month and put that money into a separate savings account. (Aim for 10% if possible).
Then what you do next is simply forget about it. That money is now your emergency fund, your vacation fund, your graduate school fund, your down payment for a home fund, etc.
Read Next: 15 easy ways to save money in your 20s
15. Paint your own nails
Many girls like to have fake nails or get them done at the salon. This is an expensive and unnecessary habit.
I know it's nice to get pampered, but a better idea is to learn how to pamper yourself at home. Watch YouTube tutorials and learn how to paint your own nails.
I invested in a few nail tools and give myself manicures and pedicures at home. It used to cost me $40 every 2 weeks to get my nails done at the salon. That's $80 a month! Now I save SO much money by doing my nails at home. I can't justify going to the salon anymore unless it's for a special event.
NOTE: I understand that painting your nails at home won't save enough money for college or a down payment on a home. The point is that many people have a habit of spending money on false needs and the media is really good at selling us these false needs. It's perfectly fine to treat yourself to a manicure or pedicure once in awhile, but it's not necessary to be part of your regular beauty routine. You could be using that money (and time) towards activities that move you closer to your goals. For example, finding ways to increase your income is a more productive way to spend your time.
Read Next: 12 legit ways to make an extra $500 per month from home
16. Get a low maintenance hairstyle
I used to go to the salon every two months to get highlights which cost me $200 each time. Now I only go three times per year for highlights. Because my hair is naturally light, I let the sun work its magic during the summer months.
This is currently my low maintenance hairstyle which works for me. I recommend finding something that works for you – this includes haircuts as well – get a hairstyle that doesn't require frequent touch-ups and visits to the salon.
If you need to take care of split ends, you can even invest in a pair of good hairdressing scissors and trim your own spit ends between regular hair cuts. Confession time: I haven't paid for a professional hair cut since 2008. I cut my own hair at home.
17. Consider affordable transportation options
Do you really need to buy a new car? Do you even need a car?
Consider your transportation options and your needs. I live in the city and use local transit to get around town, but my boyfriend commutes to the suburbs for work, which is why a car is the best option for him. He is very fortunate that his job offers him a monthly car allowance to cover the costs of his gas.
If you do require a car, opt for a used car in good condition. You also want to look for one that is fuel efficient, safe and reliable.
Read Next: How we save 50% of our income living in an expensive city
18. Don't neglect your health
Maintaining a good diet and regular exercise can help prevent health issues later in life. This can save you money in unnecessary medical bills, and you'll live longer too.
If you need some inspiration to lose weight and get healthy, consider checking out Healthy Wage. This company will actually pay you too lose weight. If you stick to your goal and lose the weight you say you're going to, Healthy Wage will pay you. It's that simple!
How to get started with Healthy Wage
Use the Healthy Wage Prize Calculator to enter how much weight you want to lose, how long you'll take, and how much you'd like to bet. Then the calculator will determine your winnings amount, up to $10,000. Who wouldn't want to win up to $10,000?
Sign up and make your bet. You can increase your prize amount by adjusting your goal weight, how much you contribute, or how long you'll take.
Lose the weight. Achieve your weight loss goal and get paid! You can stay on track throughout the contest with weekly weigh-ins. You can also get support from other contestants.
Win money! If you reach your weight loss goal, you'll win your prize. It's that simple! If you don't hit your goal, your money goes to support Healthy Wage, including prizes for other contestants who achieve their goals.
19. Decide if pursuing further education is right for you
Your 20s is the best time to pursue further education if you decide to do so. This could be to get certified or obtain an advanced degree, but it's important to make sure that you will get an adequate return on your investment before making your final decision.
Consider the field you would like to go into, what education is required, and if that field is growing (hiring) or declining (not hiring).
The last thing you want to do is invest your time and money by going to school only to find that you can't get the job you want once you graduate.
Sometimes your workplace will offer to help pay for your tuition while you attend school part-time. Consider this option if you would like to stay and grow within the company.
An example would be someone who works in accounting and wants to move up in the company. They can choose to pursue their CPA part-time while still working at the same company.
Related: How I saved $35,000 in less than 2 years on an entry level salary
20. Don't buy consumer products based on price alone
Don't just gravitate towards the cheapest item on the shelf. Sometimes you can find affordable products that are well made and last a long time. But usually it's better to spend a little more up front for something you know that's built to last.
Read Next: 20 products that will save you money in the long run
Bonus! Remember your 20s are the best time to start building wealth
Have you ever heard of the term hyperbolic discounting?
If you're thinking, WTF is hyperbolic discounting, don't worry – that's how I reacted when my Psychology professor introduced the term during class one day.
It simply means that people would rather receive $10 right now instead of $20 in a month. People prefer the immediate reward and discount the value of the later reward, by a factor that increases with the length of the delay.
What I'm trying to say is that retirement may seem far away, but it's crucial to start planning and preparing for it now, rather than later.
Don't wait until your 30s to start building wealth, your 20s are an important decade to start making important financial decisions.