Saving money for a house down payment isn't easy. My boyfriend and I currently enjoy living in our small condo downtown which he bought back in 2011. But since the pandemic started in March, we've been dreaming about owning a home someday.
That's why we've started to save money for a house down payment in Canada. However, the average cost of a home in Toronto is over $1 million dollars – which means thinking about our massive down payment goal can sometimes feel out of reach.
This is especially true if you're trying to save money for a house in 6 months or you're saving money while renting. Our goal is to save for a house in 2 years.
But with some smart planning, hard work and discipline, we've been setting aside money each month to put towards our down payment fund. As we continue to find new ways to boost our income and cut back on unnecessary expenses, we hope to finally save enough to buy our dream home someday!
Today I'm sharing helpful tips on how to save for a house down payment while renting. Whether you want to save money for a house in a year or you're looking for fast ways to boost your savings, I hope you will find these budget tips helpful. You could essentially apply these tips for any large purchase you'd like to save for.
Related Posts: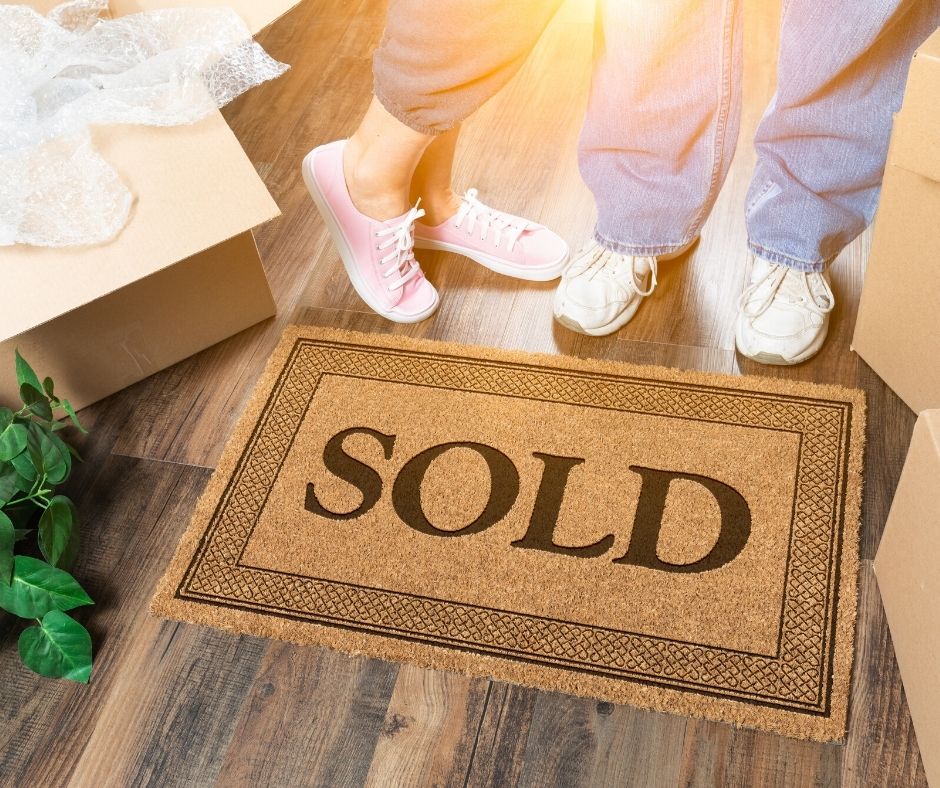 Figure out how much you'll need to save
Before you begin to save money for a down payment on a house, the first step is to determine your budget. This will help you figure out what amount you can comfortably afford.
You can sit down with a mortgage lender to let you know how much of a mortgage you can qualify for. Keep in mind that what the bank may say you can afford might be very different from what you can actually afford.
Before you decide to make an offer on a house, you'll want to make sure that your new mortgage payment is realistic for your budget and lifestyle.
How much should you save up before buying a house?
Most financial experts recommend you spend no more than 25 percent of your monthly take-home pay on your mortgage payment. Most buyers take out 30-year mortgages, but it's recommended to get a 15-year or less, fixed-rate mortgage. This can literally save you thousands of dollars compared to the traditional option.
The reason why you want to spend no more than 25 percent of your monthly take-home pay is because even though you may qualify for a much larger loan, too much of your income will be going out in payments. This could potentially put a strain on the rest of your budget and not leave much room for savings and other areas you want to spend money on.
Ideally, you'll want to aim for between 10% and 20% for your down payment. It's important to choose the down payment percentage that works best for your family.
When you put at least 20% down, this can help lower your interest rate and help you avoid private mortgage insurance (PMI) or CMHC insurance in Canada. This insurance protects lenders in the event a borrower ever stopped making payments or defaulted on their mortgage loan.
Ready to get your money under control? Making a plan for your money is the first step in taking responsibility for your finances. Below are the same budgeting worksheets I used to help me stop buying unnecessary things and save my first $100,000 in my mid twenties. If you're interested, you can grab them here.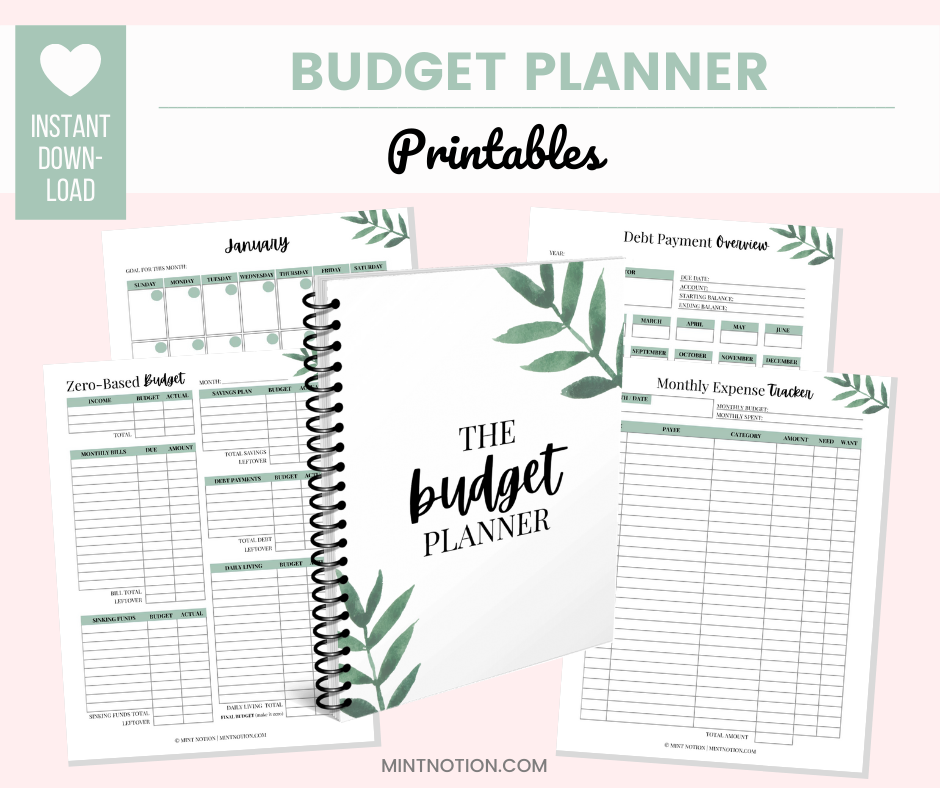 Pay off your debt
I know it's exciting to start dreaming about buying a home, but it's important to pay off all non-mortgage debt first. I know it sounds silly to pay down debt before you save for a house down payment. But once these debts are paid off, this can help free up hundreds (or thousands) of dollars that you can help you save money faster.
When all your non-mortgage debt has been paid off, this can help alleviate some of the financial strain on your monthly budget, help you secure a better mortgage rate, and prepare you for the inevitable emergencies that come with home ownership.
Read Next: 12 ways to pay off debt fast
Save money on rent
Rent tends to be one of the biggest monthly expenses. If you want to learn how to save for a downpayment on a house fast, then finding ways to cut back in this area is essential. Here are some ways you may want to consider reducing your current housing costs:
Read Next: How I save 50% of my income living in an expensive city
Track your progress with a house savings tracker
Once you figure out how much money you'll need to save, I recommend setting up a down payment fund in your monthly budget.
Set a realistic timeframe for your goal – How many months away is your goal date? Do you want to save money for a house in 6 months? A year? or 2 years? Divide the amount you'll need for your down payment by the number of months you have to save.
For example, let's say you need to save $50,000 for a down payment on a new home. If you'd like to buy a home in the next two years, this means you'll need to set aside $2,083 each month to hit your goal.
Having a visual savings tracker can be a great way to track your progress and stay motivated. I love using savings tracker coloring pages to keep myself accountable for my goals. I'm currently using this one to help us save up for a down payment on a home.
Where should I keep my money while saving for a house?
I recommend opening a separate savings account. If you keep it in your regular checking account, it may be tempting to spend it. You'll want it to be readily available so you can automatically transfer any savings to your house savings account.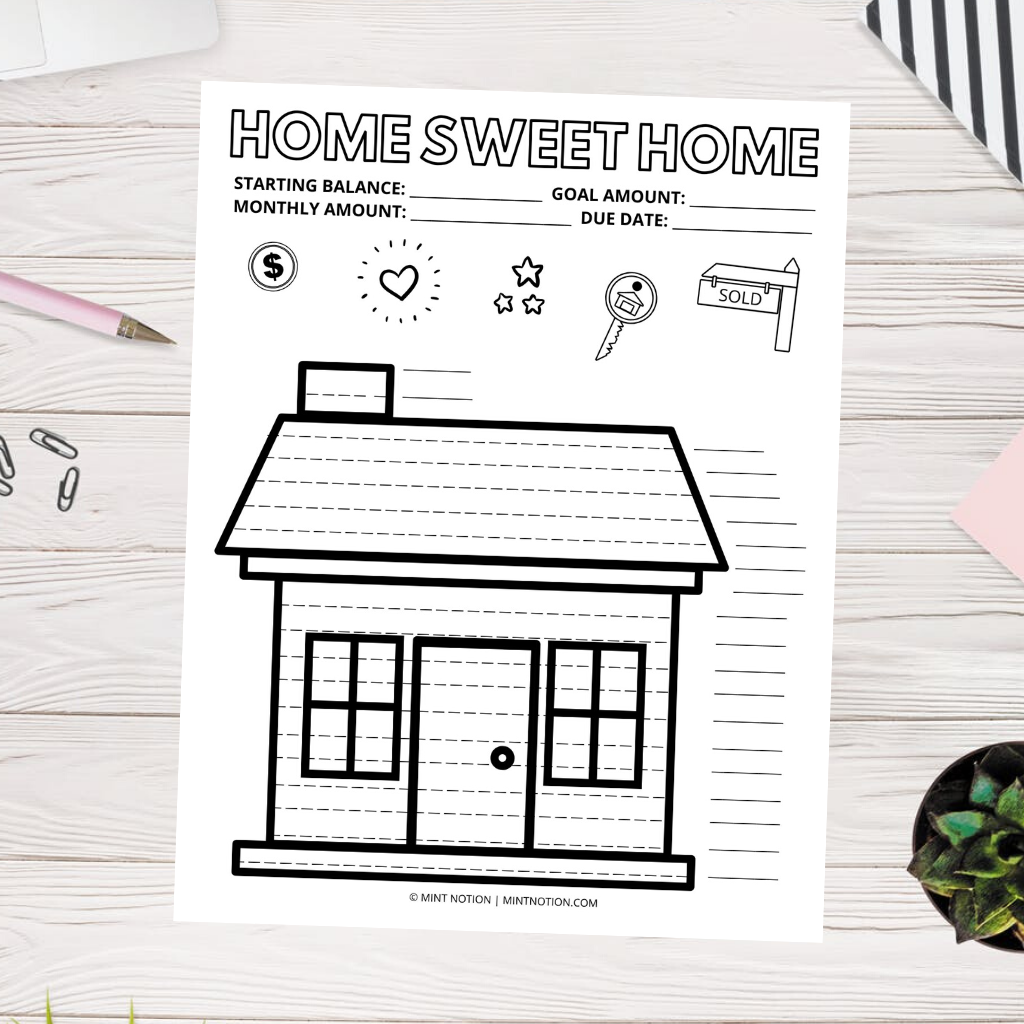 I HIGHLY recommend putting your tracker somewhere you will see it often. Ideas include your fridge, your workspace, your journal or planner, or your bedroom mirror.
The more visible it is, the more likely you'll use it and be able to reach your savings goal faster! That's what we all want, right?
Read Next: 47 creative ways to save money on a tight budget
Cut down on unnecessary expenses
No one likes to cut back on their spending, but if you want to save money for a house, it will require making some temporary sacrifices. Cutting back on unnecessary expenses is one of the easiest ways to save. Then you can throw this extra money towards your down payment fund.
For most people, their biggest expenses include housing (rent or mortgage), transportation, and food (groceries and dining out). Finding ways to reduce these expenses is a good place to start if you want to save money for a house.
Here's a few ways that we've been able to cut our monthly expenses:
Earn cash back when shopping online with Rakuten – If we need to buy something online, we always use Rakuten to earn up to 20% cash back on our purchase. It's free to join and they'll even give you a $10 welcome bonus just for signing up!
Reduce or eliminate unnecessary subscriptions – Trim is a free app that analyzes your spending patterns to find ways to take action and save you money. It can even negotiate your monthly bills, such as your cable, cell phone or internet bill so you can reduce your expenses and save more.
Reduce your grocery bill by meal planning – I like to spend about 10 minutes each week (usually on Sundays) to plan out all my breakfasts, lunches, and dinners for the week. Meal planning helps us save time, money, and reduces food waste. I use my Meal Plan Binder to keep track and organize healthy meals for my family.
Save money on your utilities – Every little bit counts when you're trying to save for a house. I like using OhmConnect to save on our utilities. It's free to join and you'll get rewarded just by saving energy. OhmConnect community members can earn up to $300 per year.
Cancel your gym membership if you rarely use it – Since our condo gym closed at the start of the pandemic, I've been finding fun ways to stay healthy and active at home. I'm currently doing 80 Day Obsession at home using these resistance bands and core sliders. It's affordable and much cheaper than a gym membership!
Shop your closet for new outfits – Many of us have items hiding in the back of our closet that we've forgotten about or still have the price tag attached. Now is your chance to get creative and wear these items. To help you stay inspired, I've created this free 30-Day Shop Your Closet Challenge. I share this same challenge in my e-book, The Intentional Spender, and many of my readers LOVE it!
Read Next: 15 fast ways to cut your monthly expenses
Pay yourself first
If you're like most people, it's easy to wait until the end of the month to see how much money you have left over before putting any money into your savings account. The only problem with the strategy is that most people find that they don't have any money left over. Uh oh!
Instead, challenge yourself to pay yourself first. This means you'll be setting aside money from each paycheck to put towards your savings or investments BEFORE monthly expenses or other discretionary purchases are made.
This can help alleviate some financial stress and remove the temptation to skip contributing to your savings account.
Let's say you need to save $50,000 for a down payment on a house in the next two years. This means you'll need to set aside $2,083 per month in your down payment fund. If you get paid bi-weekly, you can put $1,041.50 from each paycheck toward your down payment fund. Or you can save $480.77 per week.
If you're tempted to dip into your down payment fund, you may want to consider keeping your savings account at a different bank from your checking account.
Read Next: How to save money with sinking funds
Increase your income with a side hustle
Saving money can certainly help you save for a house, but if you're already living on a tight budget, you may want to consider finding ways to increase your income. Boosting your income while continuing to practice good money habits can help you save up for a down payment on a house faster!
If your regular full-time job already takes up a lot of your time and adding a side hustle isn't possible right now, then try to increase your income where you're already working. Perhaps you can negotiate a pay raise or a promotion.
If earning more money at your current job isn't available, then you may want to consider finding a higher-paying job somewhere else. Now can be a good time to update your resume.
For those who are interested in getting a side hustle, you'll want to find an option that you genuinely enjoy. If you enjoy photography, why not offer wedding photography services on the weekend? If you enjoy baking, why not offer to sell your baked goods or cater to a local café. If you enjoy playing with dogs, why not get paid to take them for walks over the lunch hour?
Here's a few of my favorite side jobs you may want to consider:
If you're interested in learning about more way to make extra money, I recommend checking out these posts: