Hey friend! Do any of these sound familiar?
You're ready to break the cycle of living paycheck to paycheck
It seems like you always have MORE month left at the end of your paycheck. You never have enough money. Saving money and building an emergency fund seems impossible right now.
You're tired of working long hours, only to feel like it's never 

enough
Despite working long hours, you have little savings to show for it. By the time you get home, you only have enough energy to watch TV. You know you deserve more, but are unsure how to get ahead financially.
You want to build healthy spending habits
Your money comes in and goes out, but you have no idea where it's being spent. You're a spender at heart, but don't have a budget or plan for your money.
You're ready to follow a proven strategy to pay off debt
You grew up believing that debt is "normal". But now debt it taking over your life. It's putting unnecessary strain on your relationships and preventing you from reaching your goals.
You've tried to stick to a budget in the past, but flopped
You've tried sticking to a budget in the past, but flopped. You constantly think about what you want and what you can't have, which makes you spend more money.
If you said yes to any of the above, then this budget binder printables package was created for you!
With these printables, you'll get everything you need to finally organize your finances, create a realistic budget tailored to your needs, and develop a healthy money mindset so you can get on the right track to reaching your goals.
Just a few years ago, I didn't have a budget and my spending was all over the place…and now, I've learned how to make my money work for me and became a savings expert!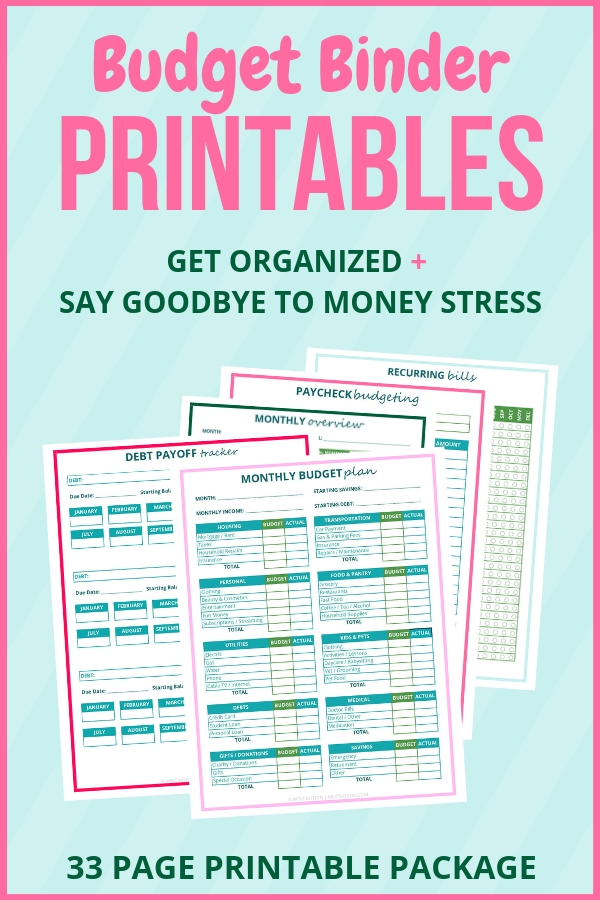 My Story
Hi, I'm Eden.
A couple of years ago I didn't have a budget. I was spending my money without a care in the world.
Next thing you know, I was living paycheck to paycheck and spent my days working my butt off, only to see my bank account get smaller and smaller.
This happened because I was afraid to sit down and learn how to manage my money. I was too embarrassed to admit that I had no control over my finances.
Then I started spending 5 minutes every day tracking my spending. Over time, I learned how to create a budget and broke the cycle of living paycheck to paycheck. This was a game-changer for me. I was finally seeing my savings grow.
All it took was just 5 minutes a day!
I used what I learned from my experiences and created this Budget Binder Printables package. It's the same worksheets I use to manage my finances and it can help you get started on taking back control of your money.
Even as little as 5 minutes a day can make a difference in the long run. Over the past few years, I've gone from being a shopaholic to becoming a master of my finances.
Highlights of the Budget Binder Printables package:
You'll get printable worksheets to help you organize your finances, create a realistic budget, save more money, stop living paycheck to paycheck, and so much more!
There are 33 pages.
The Budget Binder printables package includes 2 different color designs: Bold Blue or Absolute Pink. Choose the one that speaks to your money personality.
FREE BONUS: Includes a how-to use ebook full of tips on how to best use this Budget Binder printables package.
Instant digital download with the click of a button.

How the Budget Binder can transform your finances
1. Stop spending and actually start saving money
Instead of wondering where your money went at the end of the month, you can plan ahead and tell your money where to go.
2. Budget with ease
You'll have the right tools at your fingertips to help you create a budget with ease. Instead of stressing about money, you can gain control of your finances.
3. Stop living paycheck to paycheck
Instead of worrying about trying to stretch your money each month, you can create a game plan for each paycheck. My Paycheck Budgeting worksheet can help you do this effectively.
4. Create a plan that's tailored to your unique lifestyle
Each of us is unique, but we all need to create a plan for our money. Use my budgeting worksheets to help you map out a realistic plan for your spending. You'll plan ahead and tell your money exactly where to go. Feel at ease knowing that you have a plan in place for how you wish to spend and save your money.
5. Budget with irregular income
You'll get an Income Tracker sheet to help you keep track of your irregular income. If your income fluctuates each month, you can use these sheets to create a budget plan that's suited to your needs.
Want to take a peak inside the Budget Binder? Here's a closer look!
Below are some of my favorite sheets included in the Budget Binder Printables package.
Debt Payoff Goal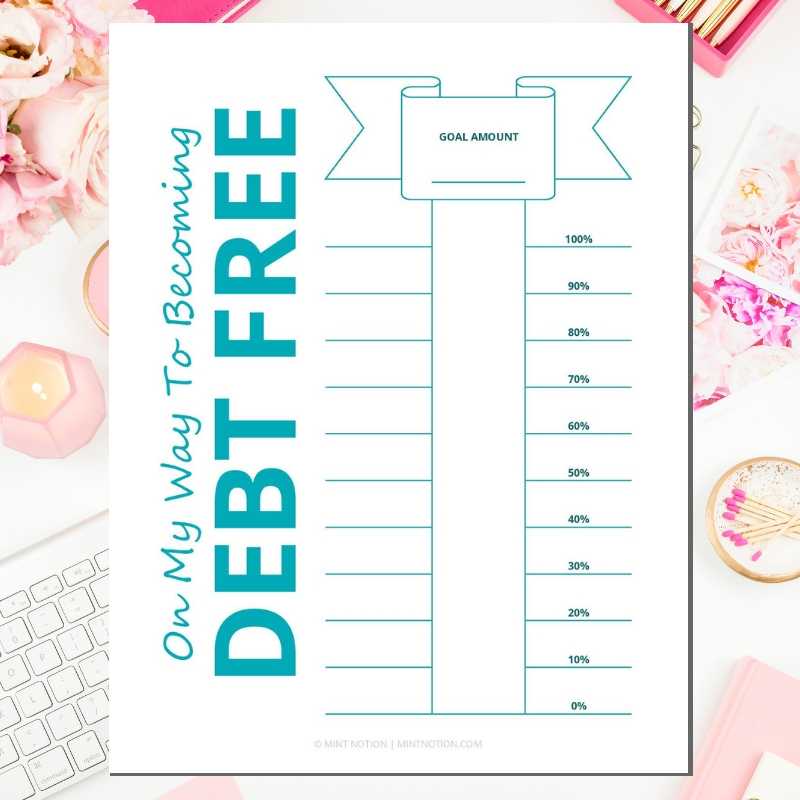 One of the best ways to stay motivated when paying off debt is to have a visual aid. This sheet can help you visualize just how close you are to achieving your debt payoff goal.
You can use this sheet however you wish. It can represent a specific debt goal you have, or all of your debts combined. By seeing how much you've already accomplished, this will keep you motivated to reach your goal.
PRO TIP: Even if you're just starting your debt payoff journey, tracking your progress can make a huge difference. Because I'm so excited about this printable, I'm offering you this worksheet here for FREE. Click here to grab your free debt payoff chart.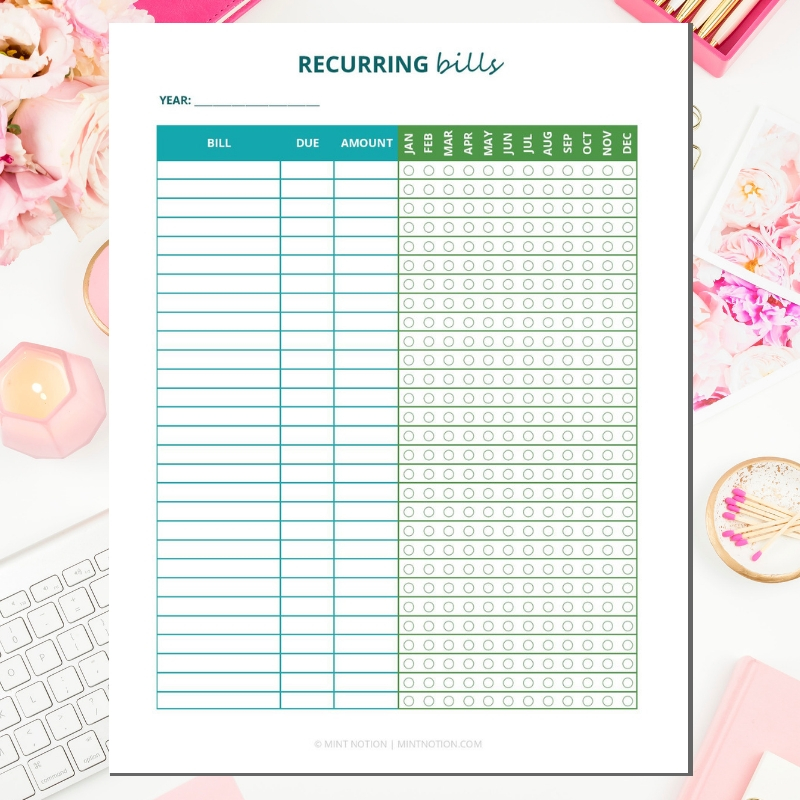 A smart way to never miss another bill payment is to keep track of all your recurring expenses. This includes any bills you pay on a monthly, quarterly, or yearly basis. Here are some examples of recurring bills: utility bills, loan payments, cellphone bill, gym membership, and so on.
PRO TIP: By just spending a few minutes organizing your recurring expenses with this worksheet, you can make a positive change to your finances!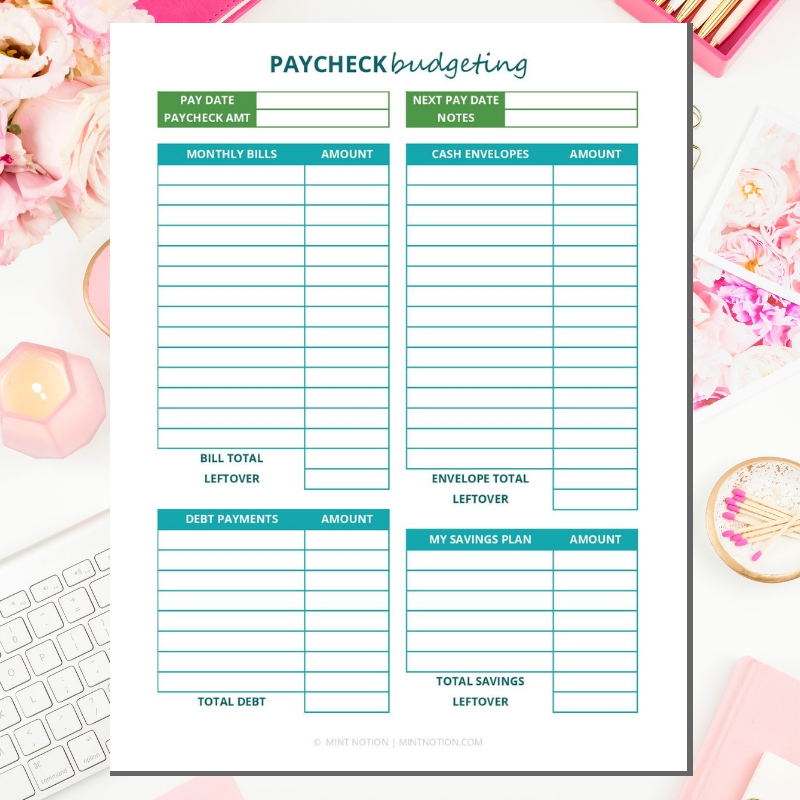 Some of us live paycheck to paycheck and want to get out of this situation. This will allow us to save more money, pay off debt, and reach our financial goals faster.
When I was in college, I was working two part time jobs. I found the best way to budget my money was to do paycheck-to-paycheck budgeting. Once I was able to get a better handle on my money, I moved on to a different type of budgeting method.
If you're new to budgeting, I recommend using this sheet to help you create a workable monthly budget. Here you'll be able to see which paycheck pays for which expenses.
PRO TIP: By spending just 10 minutes each payday organizing your expenses with this worksheet, you can make a huge improvement to your finances. It's the baby steps that add up to big growth!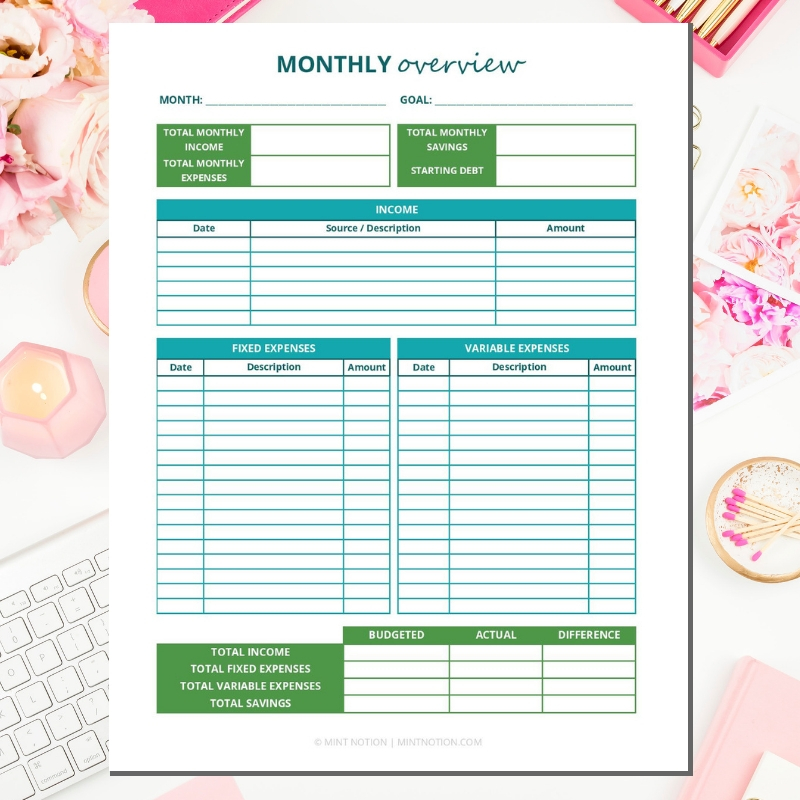 Use this Monthly Overview sheet to get an overview of your finances each month. Here you'll write down any income you receive during the month (from your job, your side hustle, or your business).
You can use the space provided to write down all your monthly fixed and variable expenses, so you can keep track of how much money you spend during the month.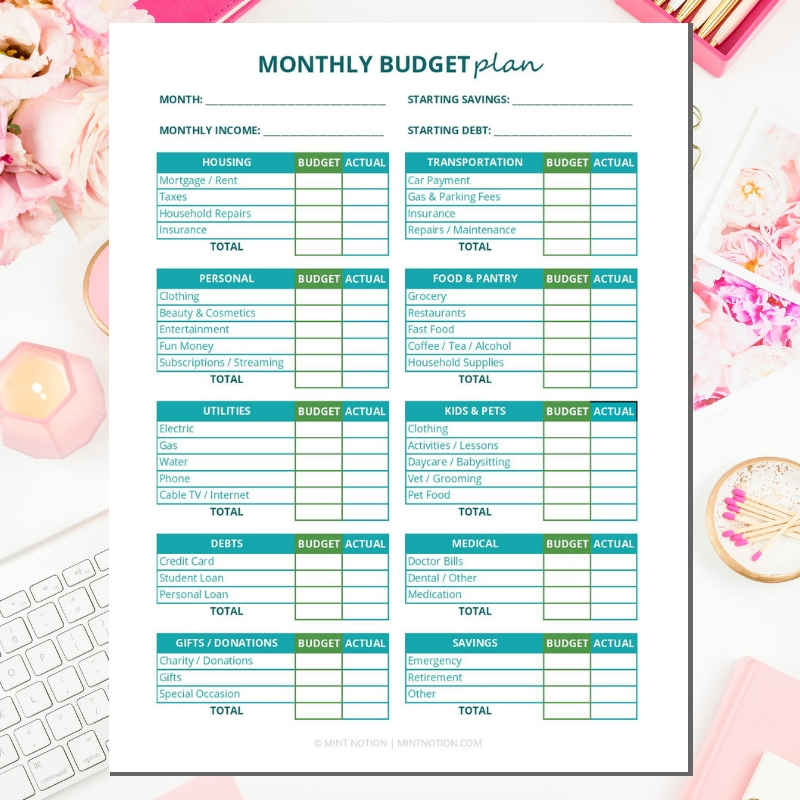 It can be hard to understand where exactly your money is going each month. This detailed Monthly Budget Plan sheet can make it easy to get your finances in order. It includes monthly expenses which many budget sheets leave out, including kids, pets, fun money, and monthly subscriptions or streaming services.
When everything is written out, it will be easier to see where your money is going each month. It will also let you know if there are any drastic changes in your monthly bills.
My Budget Binder Printables package also includes a blank copy of the Monthly Budget Plan sheet. This lets you customize it to your unique lifestyle. 
It's time to make 2019 your best financial year yet! Grab your copy of the Budget Binder Printables today. This is an instant download, which means nothing will be shipped.