Budgeting doesn't have to be complicated. It's an opportunity for you to take charge and be in control of where your money is going.
Balancing your budget though can be tough, especially when life throws an unexpected expense your way or you're trying to pay off debt.
After living on a budget for the past several years, I've learned how to get good with money and develop better spending habits.
While I don't always stick to my budget (because I'm human too), I've learned how to get back on track before it sabotages my finances.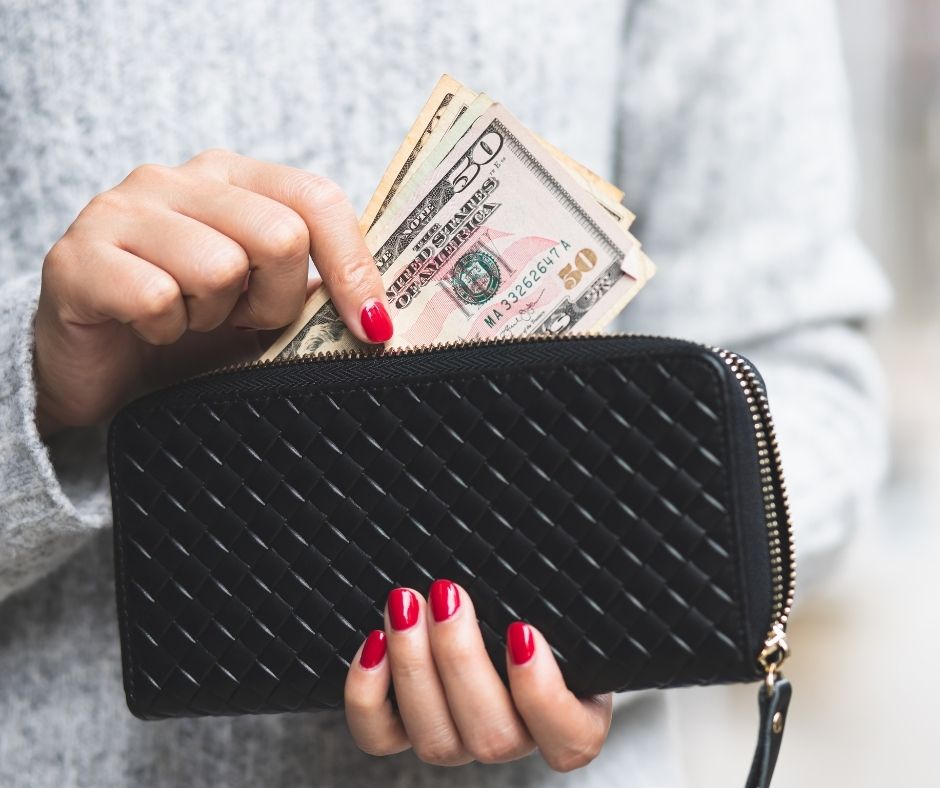 If you're ready to take back control of your money, today I'm sharing easy budget hacks that can help you stick to your budget, reach your financial goals faster, and make managing your money a little easier.
Related Posts:
1. Use cash for spending categories that tend to bust your budget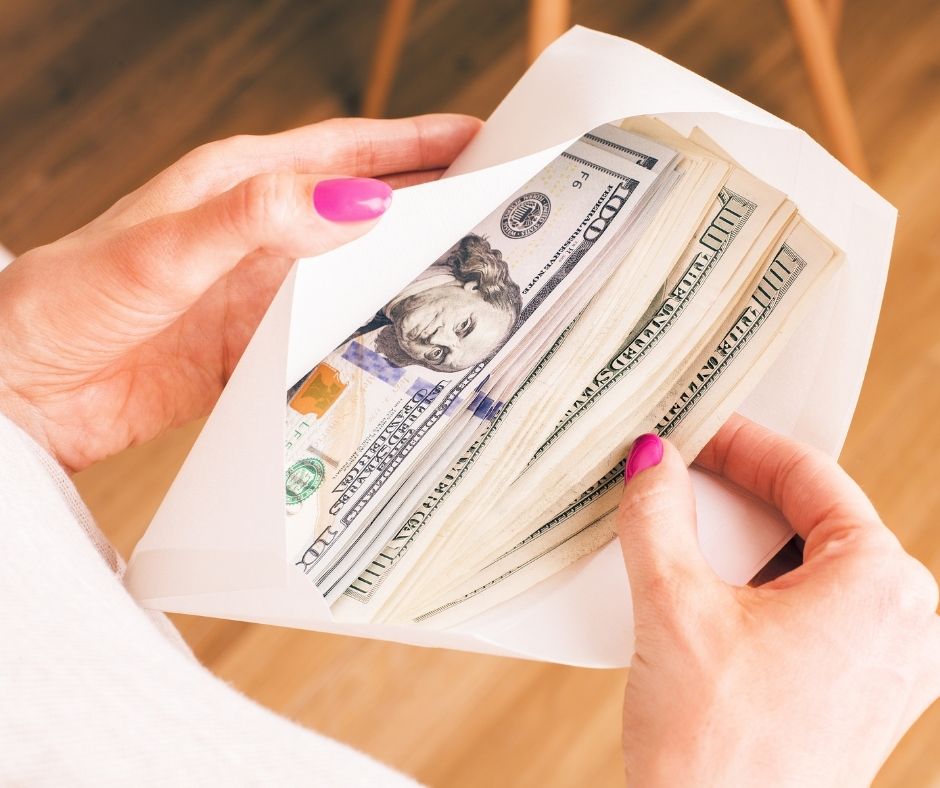 Studies have shown that credit card spenders are willing to pay almost twice more than those who are paying with cash. This means we are willing to spend more when using credit cards.
This can be explained by what psychologists call, "the pain of paying". Whenever we make a purchase, this activates the pain processing regions in our brain. They light up even with the anticipation of making the decision to purchase something.
Paying with credit cards reduce the "pain of paying" because it makes money less tangible than when paying with cash.
This is because when you pay with cash, you're actually handing the money over and watching it disappear. Ouch!
But when using a credit card, the card is always returned to the customer or the customer just taps the card to pay, so you don't see the money disappear.
Switching to a cash-only budget can be a great way to keep your spending on track as you work towards your financial goals.
This means you'll use cash for all of your spending needs. If this is not realistic for your lifestyle, then consider moving to a cash-only budget for spending categories that tend to bust your budget.
Commons spending categories that many people struggle includes groceries, restaurants, clothing, beauty & makeup, entertainment, and kids' stuff.
For example, if you're spending too much money on clothes each month or have trouble cutting back on eating out, then withdraw a certain amount of cash each week for these spending categories.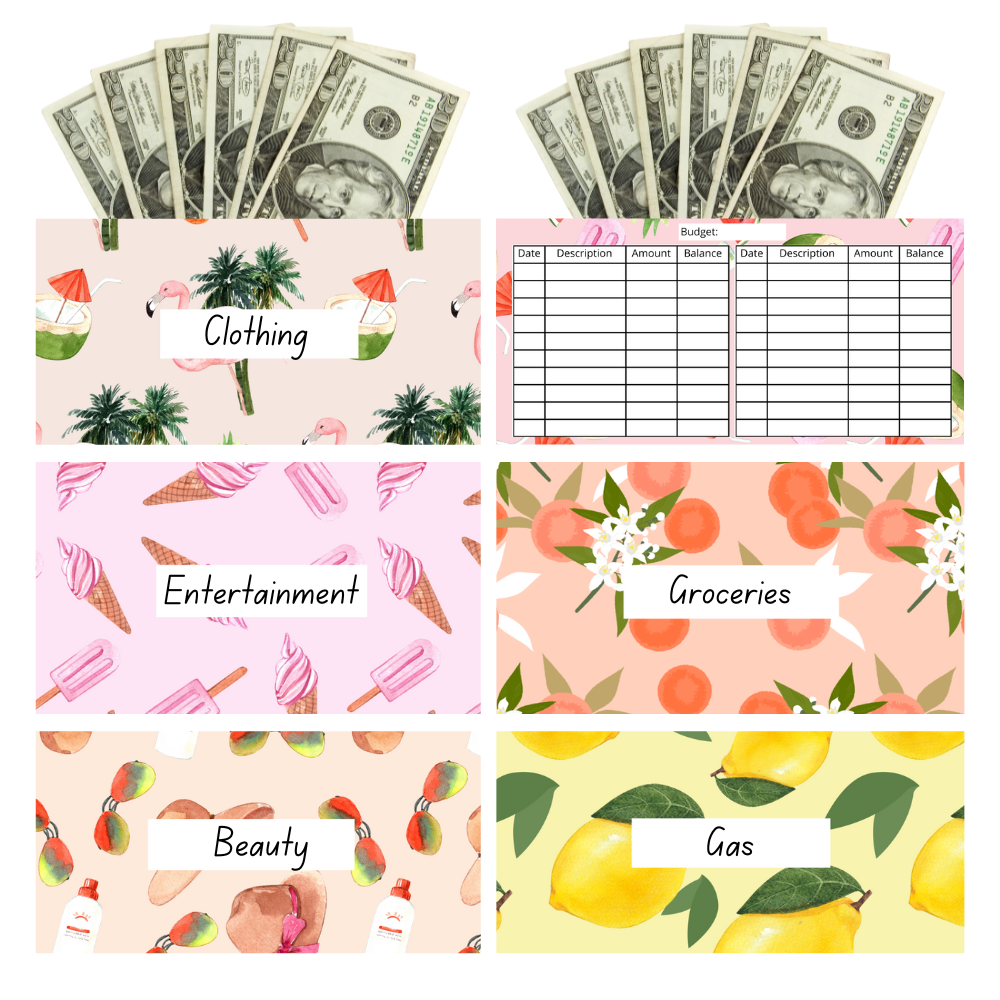 This means you'll only use cash when spending in this specific budget category, such as $50 per week for clothing. Once the cash is gone from your envelope, it's gone!
Don't be tempted to move money around from different spending categories to cover clothing costs. Wait until next week when you can refill your envelope with $50 to pay for clothing.
You can use cash envelopes for ANY category to help you tack back control of your spending. It's a fun and simple way to stick to your budget.
Below is an in-depth guide on how to get started with cash envelopes.
Read Next: How to follow the cash envelope method without cash
2. Follow the half payment method for big expenses
If you're struggling to make ends meet before paycheck, then consider using the half payment method. The half payment method is a budgeting technique where you take your regular monthly bills and divide them in half.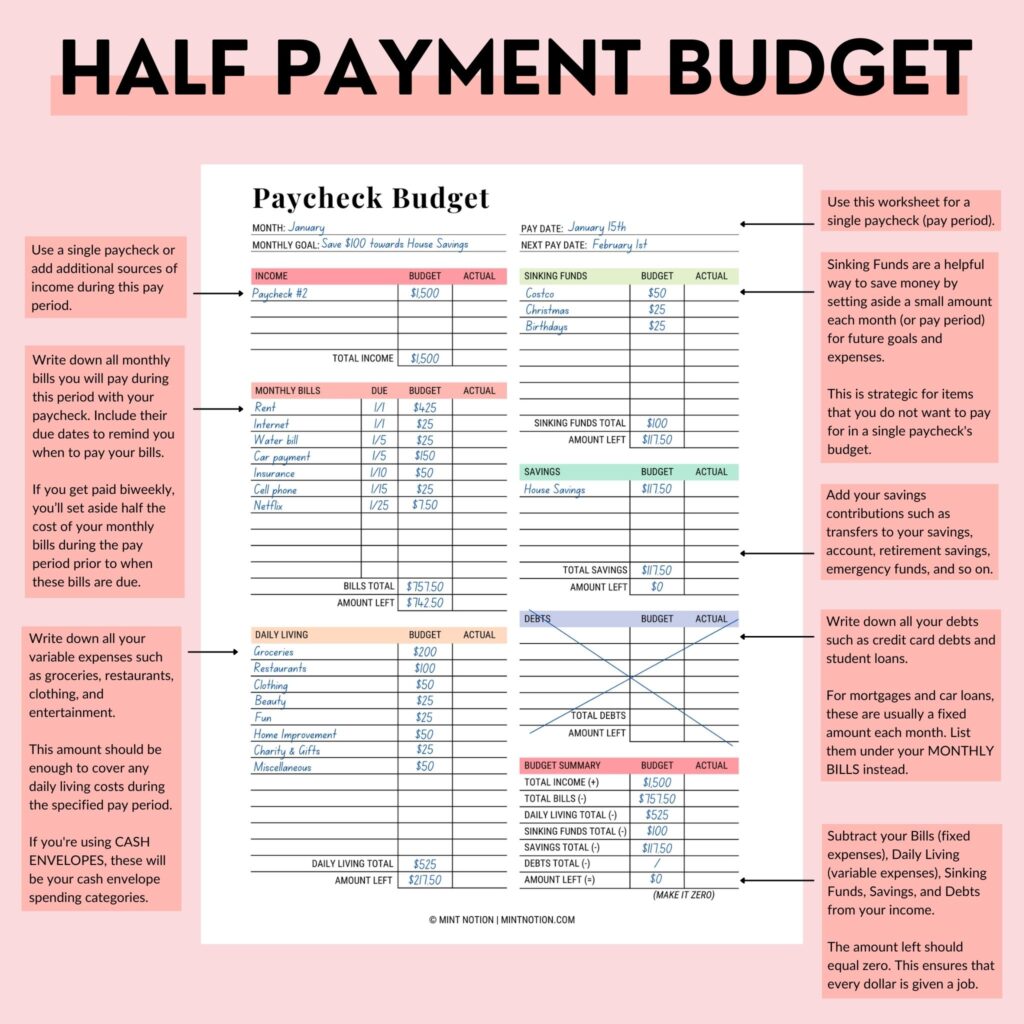 This means If you get paid biweekly, you'll set aside half the cost of your bills during the pay period prior to when these bills are due.
Then when it's time to pay your bills, you'll have the money ready and won't have to struggle to come up with the entire amount from one paycheck.
You will only need half because you've already set aside the other half from your previous paycheck. This is a simple and effective way to pay bills twice a month.
For example, if your rent is $850 per month, this means:
Paycheck #1: You'll set aside $425 from one paycheck, during the pay period prior to when your rent is due.
Paycheck #2: Then next time you get paid, you'll set aside $425 to cover your full rent payment.
Read Next: How to use the half payment method in your budget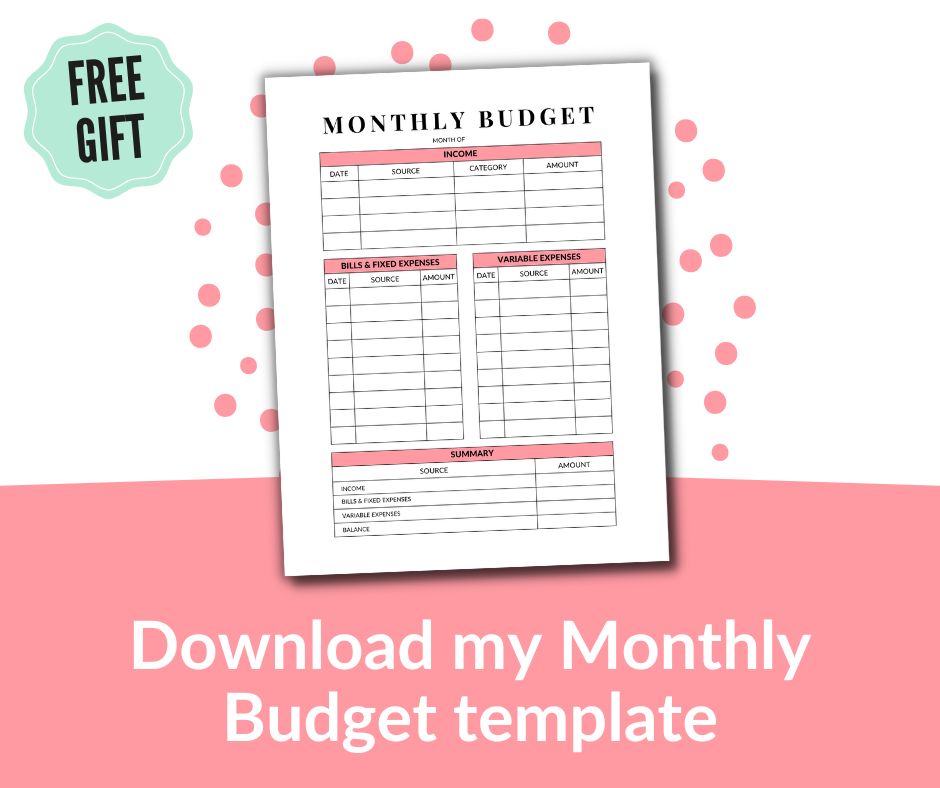 3. Create a new budget for each paycheck
If creating a traditional monthly budget sounds overwhelming to you, then I encourage you to start small.
You can do this by creating a new budget for each paycheck.
This can work well for those who are paid once a month, biweekly, or on a weekly basis. Below is an example of how to do this using my Paycheck Budget printable.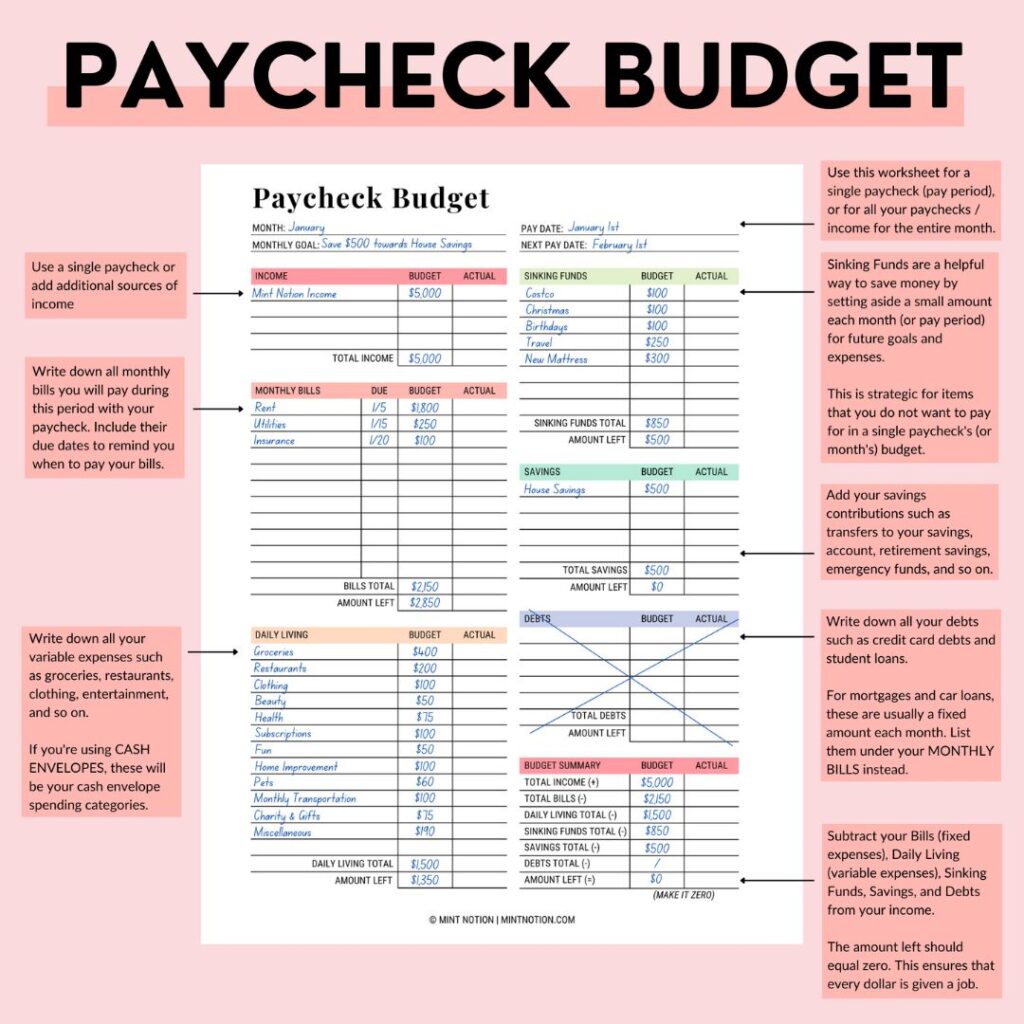 Before you create a budget, you'll need to know how much money is coming IN and OUT each month.
To figure this out, look at your bank statement for the past month. This will tell you how much your take-home pay is and where money is going each month.
It's essential to know your income and spending habits before thinking of ways to cut back and save money. This can also help you create a more realistic budget that's aligned with your goals.
An easy way to start budgeting is to break down your expenses into three categories using the 50/30/20 budget rule:
50% towards your needs – Essentials like mortgage / rent, utilities, transportation, groceries.
30% towards your wants – Non-essentials like clothing, entertainment, restaurants.
20% towards your savings or debts – Sinking funds, savings contributions, retirement, credit card debt.
You can always change the percentages to reflect your lifestyle and spending habits.
For example, if you're living in a high-cost area, then you may need to increase the amount of income you put towards your needs and reduce the amount for your wants, such as 60% needs / 20% wants / 20% savings.
I like to follow a zero-based budget, which means every dollar has a job. If there is any money left over, then I put it towards my savings goals. This helps prevent me from spending the leftover money on non-essential stuff.
PRO TIP: If you don't like the word "budget", then call it something else. You are the master of your money! Some fun ideas to call your budget planner include: Wealth Book, Freedom Planner, Dream Life Blueprint, or Opportunity Fund. Let yourself be creative.
Read Next: How to budget when you get paid bi-weekly
4. Set regular budget meetings
To make sure you're staying on track, set regular budget meetings with yourself, with your partner, or with an accountability buddy.
You can make it fun by treating it like a "money date". Do this once a week, biweekly, or once a month – it's up to you how often you want to schedule your budget meetings.
I like to put this Budgeting for Success playlist on and let it inspire me as I open my Budget Planner to go through my expenses.
This also gives me time to make adjustments to my budget throughout the month as needed. Below are some things that you may want to cover during your budget meeting:
See what is going well in your budget and areas where you can make improvements.
Follow up on any action items from your last meeting.
Talk about your dreams and savings goals that you want to work towards.
Review your expenses and cancel any subscriptions or memberships that you're not using.
Make adjustments as needed. You may need to move money from one category to another. For example, if you've overspent in your clothing budget but underspent in your restaurant budget, then move money between these categories to help cover the difference.
Read Next: How to budget with an irregular income
5. Practice the power of pause
If you're a spender at heart like me, then you know how hard it can be to say "no" to yourself when you see something that you want to buy.
We are experts at being able to rationalize or justify our purchases, especially impulse buys.
While we have good intentions to be more mindful with our spending, when we see something that we want to buy, it's easy to justify why we "need it right now" and why it's worth breaking your budget for.
However, if we force ourselves to take a step back and ask ourselves, "why do I really want to buy the item", this can help us better understand our spending triggers and the emotions that we're feeling in the heat of the moment.
Responding with the power of pause works because it interrupts our automatic spending behavior and makes sure that the potential purchase fits in our budget and aligns with our goals. This is what shopping with intention is all about.
How to practice the power of pause:
Whenever you feel the urge to buy something, such as an impulse buy, force yourself to wait a certain amount of time before purchasing the item.
(This isn't for essential items like groceries, it's for non-essential items that you don't need).
How long should you wait before making the purchase? The answer depends on you, your lifestyle, and your money goals. Below are some suggestions that I like to follow.
For items under $25, wait 24-hours before purchasing them.
For items $50-$100, wait at least one week before purchasing them.
For items $100-$500, wait at least 30 days before purchasing them.
For items, $500+, wait at least six months before purchasing them.
Read Next: How to stop impulse buying for good
6. Use a budget calendar to track paydays and bill payments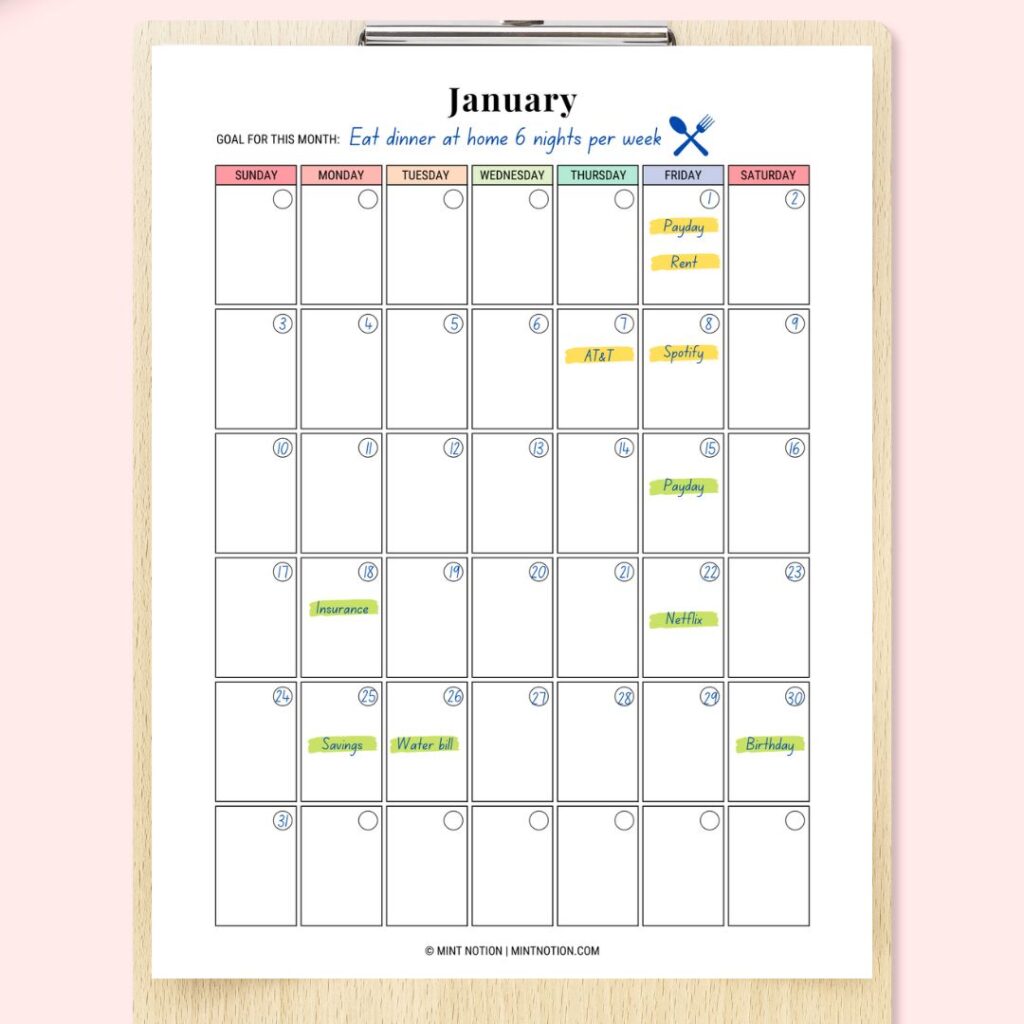 If you're looking to get a better handle on your finances and manage your spending, a budget calendar is designed to help you do just that. This is one of my favorite budget hacks.
It's a visual aid to see your paydays, when bills need to get paid, and what's coming in the months ahead so you can plan accordingly.
A budget calendar can help you stay on top of bill payments, encourage you to save money, and help curb impulse spending.
For example, when you see all your monthly expenses on your calendar and your pay days, this can help prevent overspending during the month.
Read Next: How to make a budget calendar
7. Use sinking funds to save money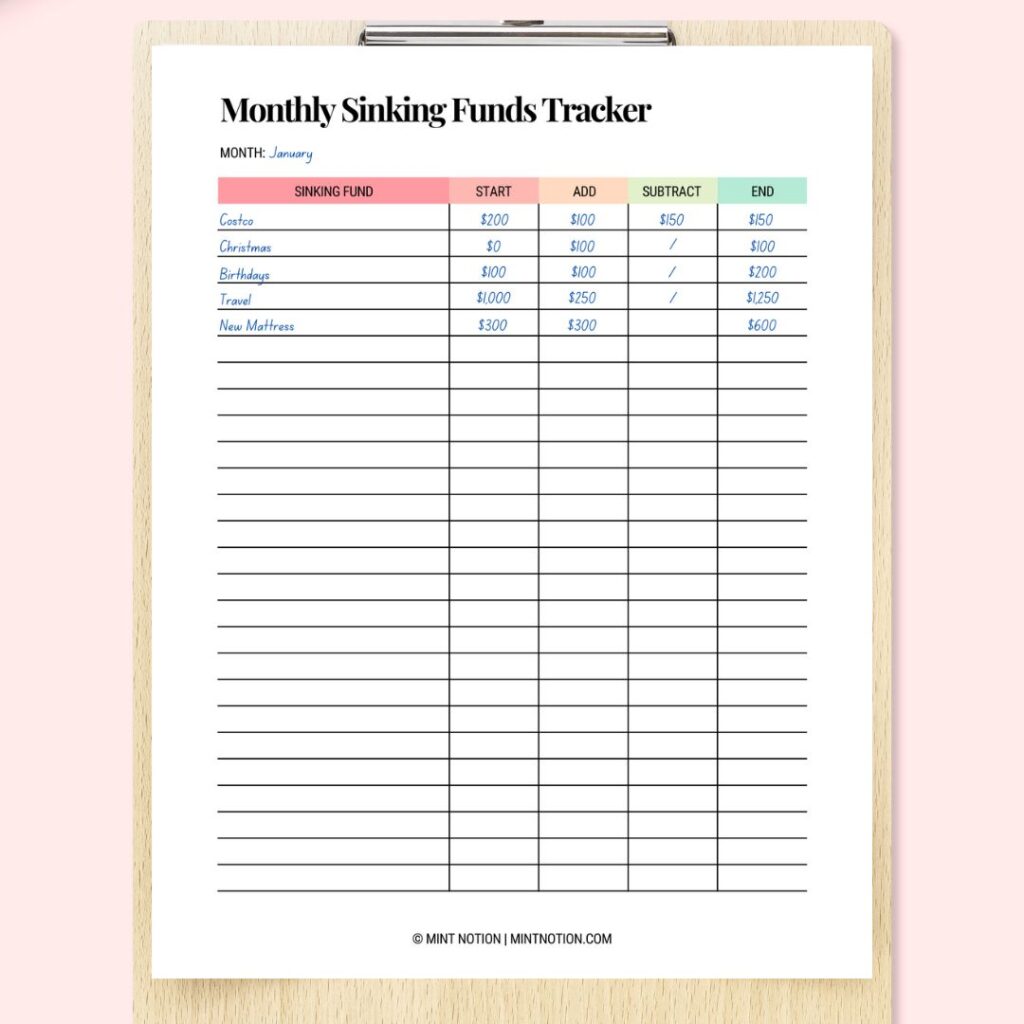 A sinking fund is one of my favorite budgeting hacks to save money for a planned or known expense.
Each month, you'll set aside a little money in one or multiple spending categories to use for a later date. This means you'll be saving a certain amount of money each month for a period of time before you spend it.
Sinking funds are for future expenses. Below are some sinking fund categories you may want to include in your budget.
Saving for a vacation
Buying a car
Saving for a wedding
Budgeting for Christmas gifts
New tires for your car
Vet bills
School books, supplies, and tuition
Birthday parties
Medical expenses
Home upgrades and remodeling
Insurance or yearly renewals (subscriptions services, memberships)
Clothes for special occasions
New furniture
How much you need to save will be dependent on your goal. For example, you know that you'll need to do some home repairs within the next year, but you don't know when exactly or how much it will cost.
This means you should create a Home Repair sinking fund and set aside a little money each month towards this.
If you know approximately how much the expense will cost, take the total amount to be spent and divide it by the number of weeks or months you have left until you'll need to spend the money.
For example, if you want to spend $1,000 on a vacation that's three months away, then you'll need to save around $330 every month until your trip's departure date.
I include a Sinking Fund section in my budget to make it easy to save money for my financial goals.
Read Next: How to save money with sinking funds for beginners
8. Pay off debt using the debt snowball or avalanche method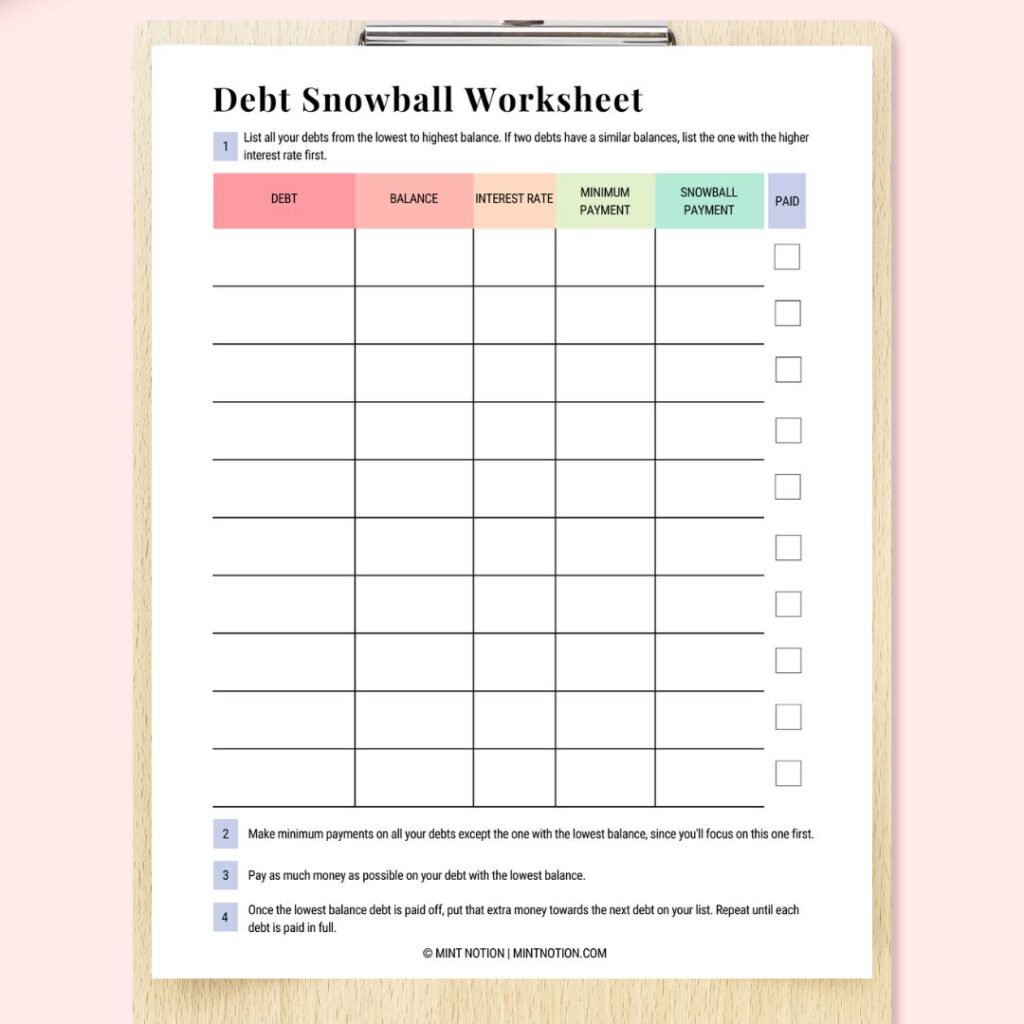 If you have debt, now can be a great time to make a game plan to pay it off. Choose a debt payoff plan that makes sense for your lifestyle and financial goals.
The two most popular methods are the debt avalanche method or the debt snowball method.
The debt avalanche method attacks debt with the highest interest rate first. This is the fastest and most effective way to pay off debt, which will save you money on interest fees.
Here you'll list all your debt by their interest rates, from largest to smallest. Then make minimum payments on all your debts except for the one with the highest interest rate.
You'll pay as much as you can on your debt with the highest interest rate. Once that debt has been paid off, then you'll put that extra money towards paying off the debt with the next highest interest rate until all your debts have been paid in full.
The debt snowball method targets debt with the smallest balance first. If you're motivated by quick wins or you're living on a low income, then this is the best method to pay off debt.
Here you'll list all of your debts from the smallest to largest balance. Then you'll make minimum payments on all of your debt except the one with the smallest balance. You'll pay as much as possible on your smallest debt.
Once that debt has been paid off, you'll funnel that extra money towards paying off the debt with the next smallest balance until all your debts have been paid in full.
No matter which option you choose, the key is to pay at least the minimum monthly payment on all your debts. Then you can throw as much extra money as possible towards tackling one debt at a time.
Read Next: Debt avalanche method vs. Debt snowball method – Which is the best way to pay off debt?
9. Meal plan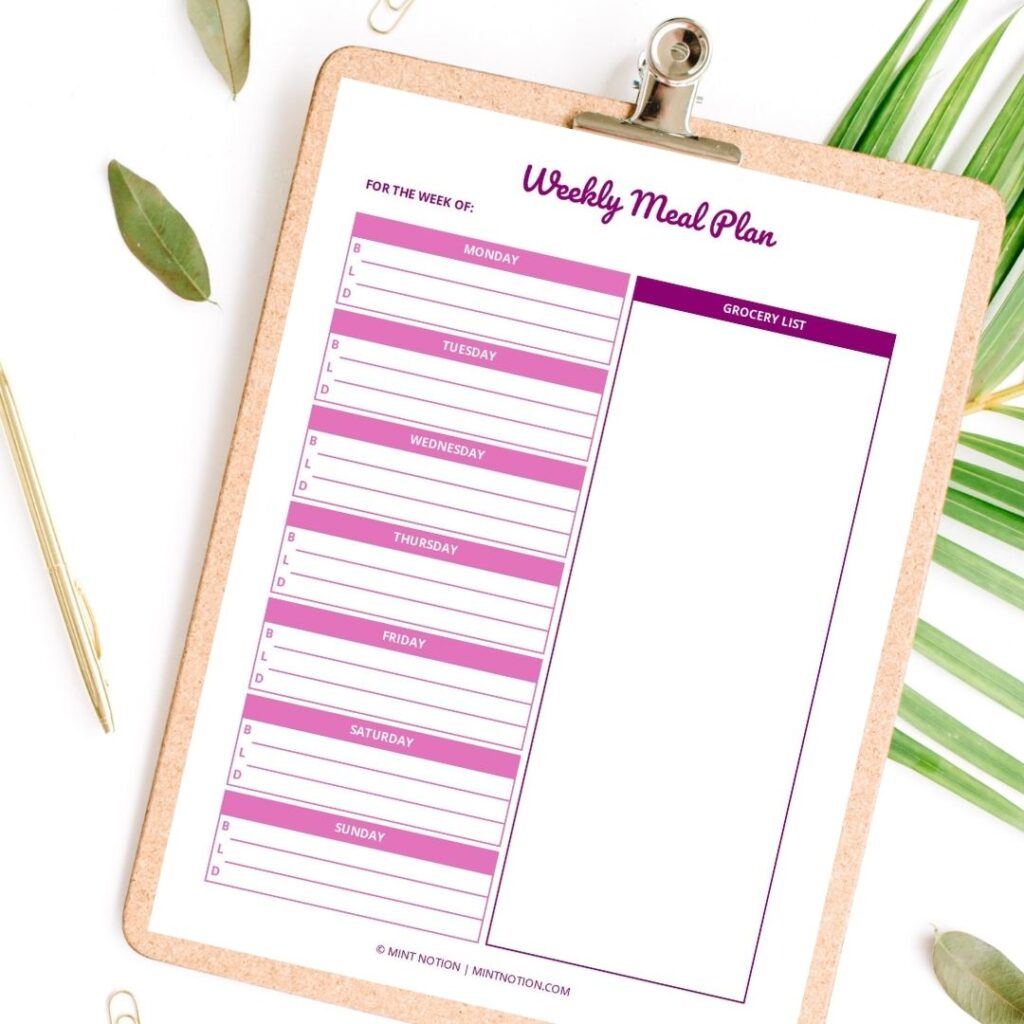 Food is one of the biggest expense categories for many people. Meal planning has helped my husband and I keep our food budget in check, despite the rising cost of groceries each year due to inflation.
A meal plan is where you decide which meals you plan to have that week ahead of time.
You can choose to just focus on planning your dinners, or you can plan all your meals for the week (breakfast, lunch and snacks). You can even choose the meals that you plan to get take-out if you wish.
Below are some tips that helps us save money and stick to your meal plan:
Start by shopping your fridge, pantry, and freezer for meal ideas BEFORE going to the grocery store. Chances are you already have enough items to throw together a quick and easy meal. This helps to reduce food waste because you're using up items you already have.
Meal plan based on the flyers. I like to check the grocery store flyers each week to see which items are on sale which helps us save money.
Keep meals simple. When choose easy meals to make that you actually enjoy, you'll be less tempted to grab take-out on your way home from work.
Save time by using a meal delivery service like Chef's Plate.
Make life easier by using a meal planning service. My readers love 5 Dinners 1 Hour and the $5 Meal Plan.
Read Next: How to meal prep for a week – Beginner's guide
10. Learn to want less and focus on what you truly value in life
Personal finance IS personal and you're the master of your finances. Having a budget is about telling your money where to go instead of wondering where it went at the end of the month.
With a budget, you'll know how much money you can spend that month on living expenses, the fun stuff, savings, and debts.
In the past, I had a problem with shopping. I was living above my means because I was ashamed of my income.
I was trying to keep up with my peers and shopped for my fantasy self. This led to many impulse purchases that I later regretted.
I was tired of filling a void in my life with more material stuff (that I couldn't really afford) and decided to transition to a minimalist lifestyle.
Choosing to own less has given me more time to pursue my passions, more freedom, more money, and less stress. Minimalism is about finding the right amount of stuff for you.
Sometimes we want things without thinking about WHY we actually want them. It's important to dig deep and ask yourself what you truly value in life.
This has helped me to stop comparing myself with others, which previously led to excessive spending, and focusing on aligning my budget with the things I value most.
When you get in tune with matters most to you, this can help you be happy with less and feel grateful for everything you have in life.