If you're looking to make money online, there are several effective and legitimate ways that you can make real money.
Whether you need money to help pay off debt or you're looking to earn some extra income, there are a variety of ways to start making money online.
The only problem though with making money online is that it's not a "get rich quick" option, and making real money involves some hard work and dedication.
However, don't let that deter you. If you really want to make money online, or work from home, you have to believe that you can actually do it. That's the first and most important step in making money online.
OK, now let's get started. Here are 10 legit ways to make money online!
Related Posts: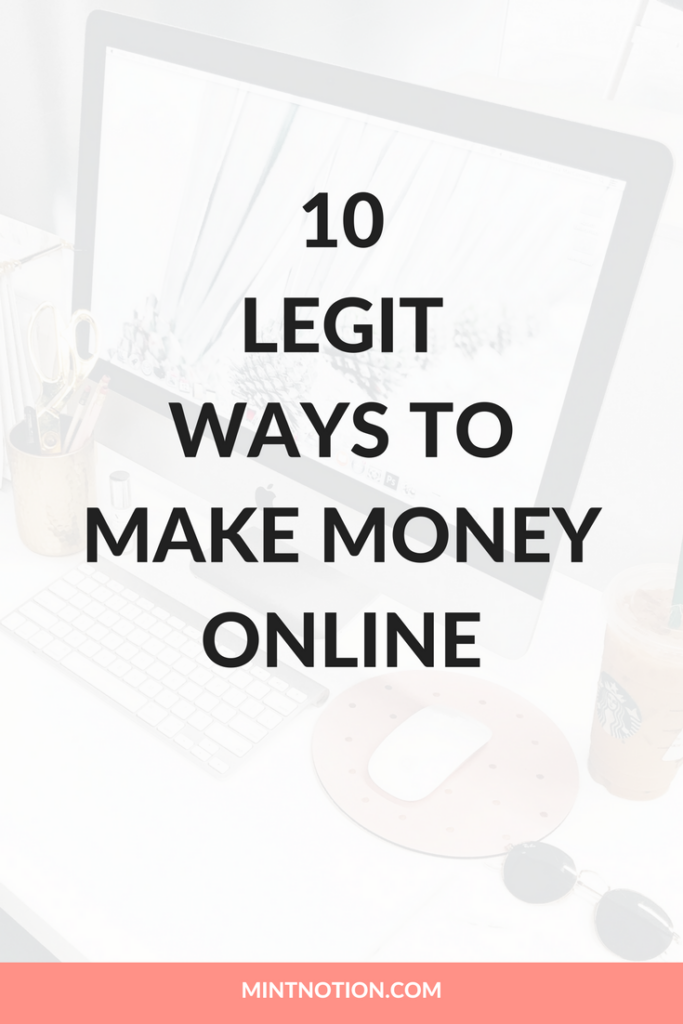 1. Start a Blog
Blogging is my favorite way to make money from home because the start-up costs are low and it can be a fun side hustle or a creative outlet. Blogging even has the potential to turn into a full-time job (like it did for me).
Just a few years ago, I had no idea that blogs could make money. I'm not special and I didn't have any previous social media experience. In fact, I knew NOTHING about blogs or WordPress or websites when I first started and learned everything from scratch.
That's why I put together this free step-by-step guide so you can easily start your own profitable blog too. You can click here to get instant access.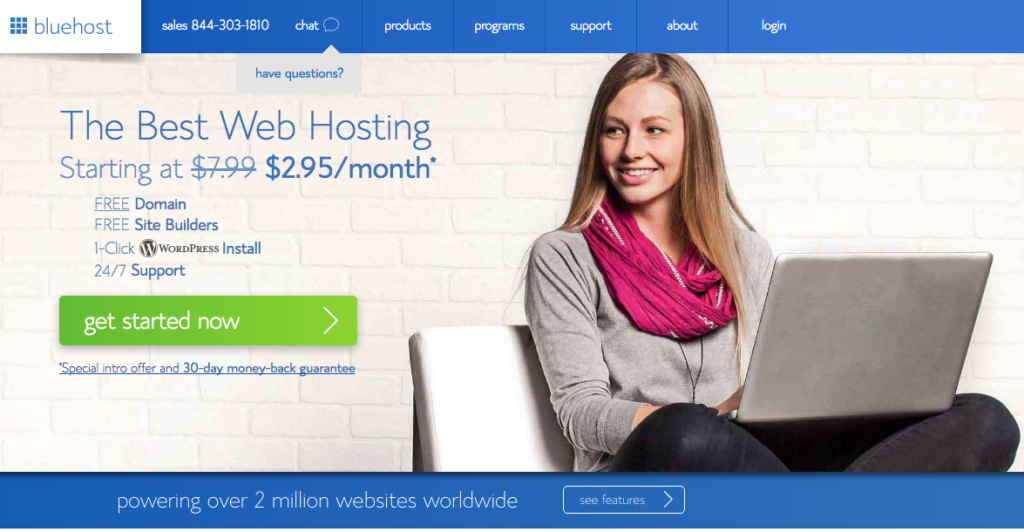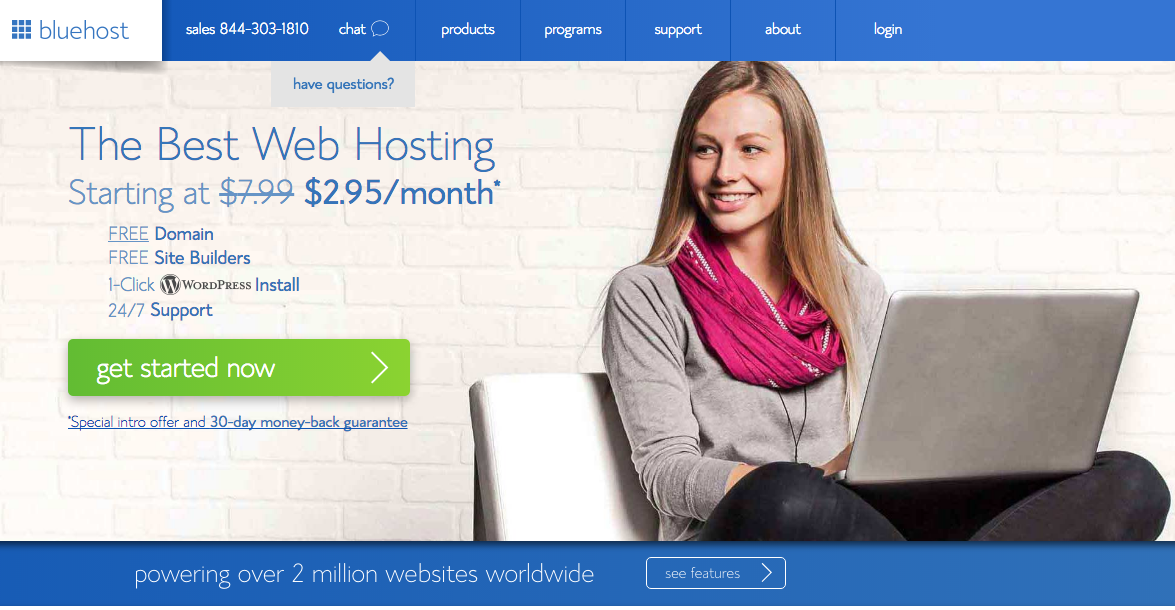 Want a free crash course on how to start a successful blog? I recommend signing up for my free 5-day email course which will teach you everything you need to know about starting a blog, growing your readership and even making your first dollar! You can learn more about the course and sign up here!
2. Get paid to lose weight with HealthyWage
HealthyWage pays you to win weight loss challenges. You can make a personal weight loss bet, get your friends together for a team weight loss challenge, or compete in a corporate wellness program. You can even win up to $10,000 when you join a team challenge, which makes getting healthy fun.
If you stick to your goal and lose the weight you say you're going to, HealthyWage will pay you. It's that simple!
Many people who have used HealthyWage say betting money they don't want to lose keeps them motivated to get fit. If you've struggled to lose weight in the past, HealthyWage may offer the encouragement you need to reach your weight loss goal.
With up to $10,000 in prize money, you can use this cash to pay off debt faster or put toward a down payment on a new home. It's up to you!
How to get started with HealtyWage
Use the HealthyWage Prize Calculator to enter how much weight you want to lose, how long you'll take, and how much you'd like to bet. Then the calculator will determine your winnings amount, up to $10,000. Who wouldn't want to win up to $10,000?
Sign up and make your bet. You can increase your prize amount by adjusting your goal weight, how much you contribute, or how long you'll take.
Lose the weight. Achieve your weight loss goal and get paid! You can stay on track throughout the contest with weekly weigh-ins. You can also get support from other contestants.
Win money! If you reach your weight loss goal, you'll win your prize. It's that simple! If you don't hit your goal, your money goes to support HealthyWage, including prizes for other contestants who achieve their goals.
Ready to get started? Start at the HealthyWage Prize Calculator and find how how much you can win!
3. Get paid to do online surveys
Companies are willing to pay you to get your opinion. If you're looking for an easy way to make money fast, this can be a great option. I started doing online surveys when I was in college to help me make extra money. It's been a good way to help my bank account grow each month.
PRO TIP: Earn the most money when you sign up for several survey websites. Then you'll get to choose the surveys which pay the most money. Save time and earn more cash!

Survey Junkie – This is my favorite legit survey company and it's a great way to make money. It's one of the largest survey companies in the world. It's similar to Swagbucks, where you'll earn points for each survey you complete. Then you can exchange your points for cash paid directly to a PayPal account, or you can redeem your points for a gift card. It's super easy.
Sign up to start making money with Survey Junkie today
---
American Consumer Opinion – This website has over 6 million members worldwide. They'll pay you for each survey you complete. It's an easy way to make extra money.
Sign up for a free account with American Consumer Opinion
---
Swagbucks – This is one of the most popular survey websites. I've been using Swagbucks for years to earn free gift cards. For each survey you complete, you'll earn "swagbucks" which can be redeemed for free gift cards, or you can get cash paid to a PayPal account. Plus, you'll get a free $5 welcome bonus just for signing up today.
Sign up for Swagbucks and claim your free $5 here
---
Harris Poll Online – This is one of the oldest legit survey companies around. It's also open to many countries, which is great for international readers. For each survey you take, you'll earn HIpoints. These points can be redeemed for gift cards to retailers and restaurants such as Amazon, iTunes, and Starbucks. Plus, you can receive an entry to their quarterly $10,000 sweepstakes.
Sign up to start making money with Harris Poll today
4. Stella & Dot
Do you have a passion for fashion and accessories? Stella & Dot is looking for aspiring fashionistas just like you to join their team as an independent stylist — no experience required!
As an independent stylist, you can make money by selling Stella & Dot jewelry and accessories through in-home Trunk Shows or online. You have the flexibility to set your own schedule so you can create a thriving business you love. Trunk Shows can bring in a few hundred dollars in sales and some bring in thousands of dollars!
Whether you're looking for an opportunity to earn "fun money" or a six-figure full-time income, becoming a stylist at Stella & Dot may be a good side hustle for you. Sign up as a Stella & Dot Stylist for $199 and get $350 in FREE accessories! 
5. Become a Virtual Assistant
A virtual assistant provides services to organizations, companies or individuals. Instead of working at an office, they work online at home, and it's a surprisingly effective way to make money.
This means that if you're good with social media, graphic design, websites, email marketing, and other related tasks, you can find virtual assistant opportunities to make money in your spare time.
If you're interested in becoming a virtual assistant (VA for short), the first step is to get your own website. Having your own website or blog is not mandatory, but it gives you a chance to highlight your skills and helps others to find you. Building a presence on the web is crucial for helping you land VA work.
To learn more about making money as a virtual assistant, I recommend checking out this great blog post here: Everything You Need To Know About How To Become A Virtual Assistant
Not sure which VA services to offer? Check out this FREE list of 150+ virtual assistant services that you can offer today! This list will give you some great ideas to help you land a paid virtual assistant job.
6. Affiliate Marketing
Do you ever wish that you could earn a commission every time a friend or family member buys a product / service you recommend?
Well, affiliate marketing is exactly that! It's the process of being rewarded with a commission when you promote other people's (or company's) products.
As a general rule, you should ONLY promote products or services that you really love, otherwise your recommendations will come off as slimy and nobody will trust you.
How do you get started with affiliate marketing? Google your favorite brands or services to see if they offer an affiliate program. Once you've received your unique referral link, you can share it with your friends and family on your blog, website, social media, and so on. One of my favorite affiliate networks is ShareASale. It's a great way to make extra money from home and it can be passive income too!
To learn more about how you can make money from affiliate marketing, I recommend THIS e-course. The course creator makes $100,000 per month from her blog, so I knew that I would be learning from the best. She even made more than $300,000 from ONE blog post. She shares her exact strategies so YOU can do it too. Thanks to the teachings in her course, I have been able to turn my blog into a full-time job!
7. Become a Freelance Writer
Do you love writing and wish that you could get paid to write? Well, I'm here to tell you that you can! Freelance writing is a popular way to make money from home and it's perfect for those who enjoy writing (obviously)!
Many successful freelance writers can earn thousands of dollars each month, but of course it doesn't start off like that in the beginning. It takes time and dedication, however if writing is something you love, you can turn it into a highly profitable side hustle or even into a full-time job.
The first step to becoming a freelance writer is to launch a blog or website so you can build a portfolio and establish a web presence. You can use my easy step-by-step guide here which will show you how to start your own blog in just a few minutes.
Once you've set up your writing portfolio, you can start making money by pitching to freelance writing companies with your ideas. If you're serious about making money as a freelance writer, I recommend checking out this awesome post: 7 Steps To Become A Paid Freelance Writer
Interested in freelance writing, but not sure what to write about? Check out this FREE list of 200+ niches to choose from! This list will give you some great ideas to help you land a paid freelance writing job.
8. Drop Shipping
There has never been a better time to start a drop shipping business and some people have turned it into a full-time job.
What is drop shipping?
Drop shipping is a way to run an online store (on Shopify for example), however your online store doesn't keep any inventory in stock and you don't have to ship product. Instead when your online store sells a product, it purchases the item from a third party (at a wholesale price) and it's shipped directly to the customer.
While drop shipping isn't perfect and it involves a lot of hard work, if you sell products that you love, it can be a rewarding side hustle, or full-time job.
9. Shop on Ebates
If you need to buy something, why not get paid to shop online? Ebates is a legit company and I always use them because I can earn up to 20% cash back on all my purchases. These is such an easy way to save and make extra money when shopping.
How does Ebates work?
Ebates has over 2,000 stores to choose from, which makes shopping online easy. When you make a purchase, Ebates will track your purchase and deposit the cash you've earned into your Ebates account within a few days.
There are a few ways you can receive your cash back: by check, by Paypal or you can send your cash back payments to a charity/organization/family member of your choice. It's actually pretty cool!
For USA shoppers, you can click here to sign up for Ebates (free $10 welcome bonus).
For Canadian shoppers, you can click here to sign up for Ebates (free $5 welcome bonus).
10. Sell your Stuff
Selling your stuff is one of the easiest ways you can make money online. Here are some tips to help you get started:
Sell your gently used stuff:
Selling your gently used items is a great way to make money online. It also plays double duty in helping you to declutter and get organized. My sister and I recently went through our closets and sold some of our clothing and accessories. This was a great way to earn some extra cash.
There are a few things to keep in mind when selling your used items online:
Take good photos
While you don't need a fancy camera to take good photos, you'll want to make sure that you have good lighting. Quality photos can help make your product stand out and lead to more sales.
Sign up for PayPal
This is the standard for doing business online. PayPal makes it easy to receive and send payments.
Be prepared to negotiate the price
Depending on what you are selling, be prepared for your customer to try and negotiate the price.
Be honest
If you are selling a handbag that has a small stain on the interior lining, make sure to be honest and let your customer know.
Some of my favourite websites for selling your gently used items are:
Sell your arts & crafts:
If like to create arts and crafts or have your own products to sell, the online marketplace is a great option.
Some popular websites to list your handmade items include: Etsy, Zibbet, ArtFire and Bonanza. Simply sign up, choose your payment option and post quality photos of your creations. Some websites charge a small listing fee or take a percentage of each sale.
Now you've learned about ten effective ways to make money online. If you found something that interests you, I encourage you to learn more and try it out.
Whether you are looking to earn an extra $100 each month or make a full-time living online, there are tons of great resources out there to help you get started.
[clickToTweet tweet="10 legit ways to make money online" quote="10 legit ways to make money online"]